When the cold weather starts to settle in, what is better than a nice bowl of stovetop beef stew? This is one of those dishes that warms you up from the inside out. It's packed with tender meat and lots of veggies – perfect for a hearty Sunday meal with the family.
Note: This recipe was originally published in October 2015 and has been updated in May 2021.
I came up with this recipe several years ago, and it was the first beef-based recipe I added back to our repertoire after my son outgrew his allergy to it. We still love it today!
Ingredients
Here's everything you'll need to make this dish: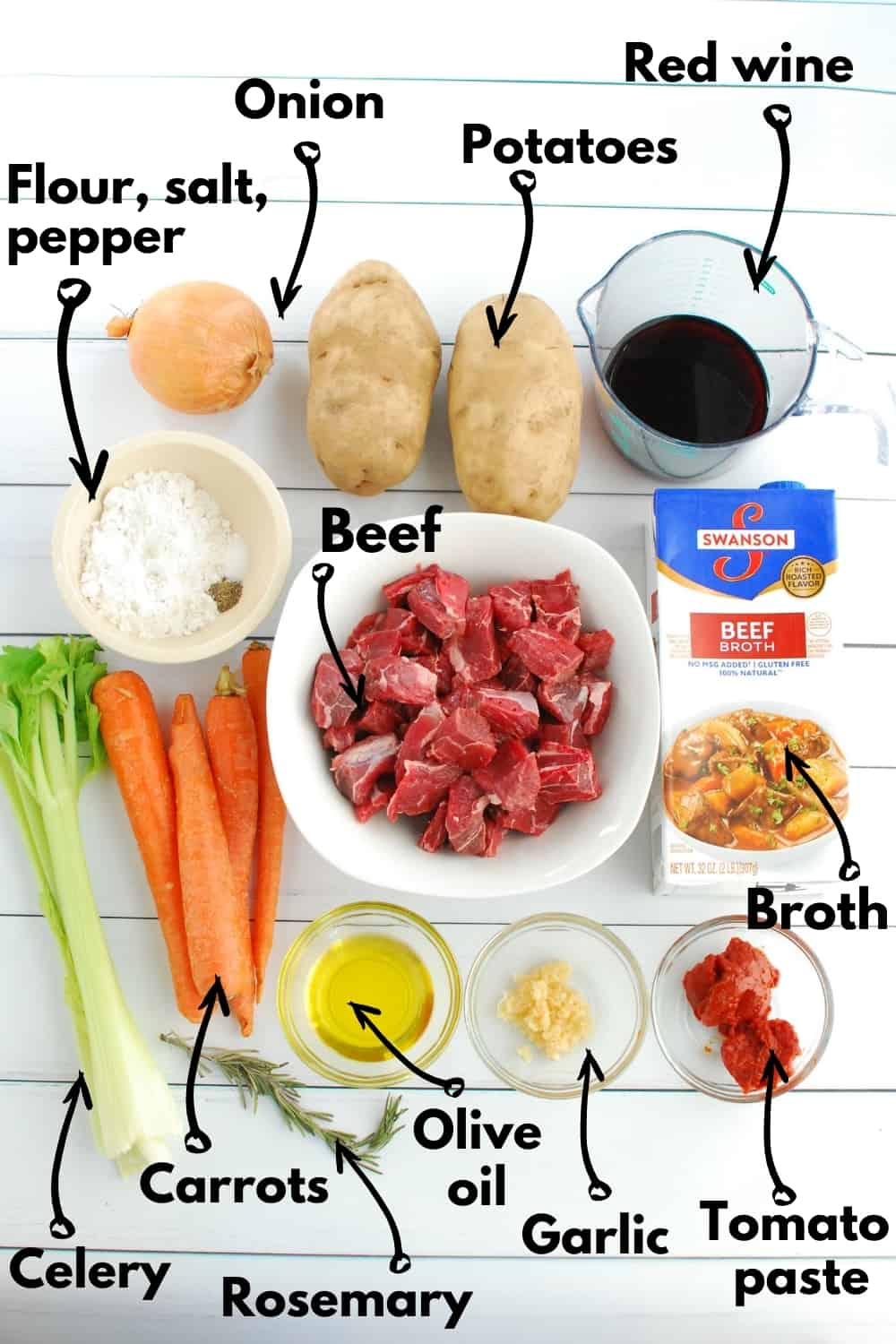 Flour, salt, and pepper – This sounds odd, but it's used to dredge the beef before browning. When you add the browned beef back to the pot later, the flour on there helps to thicken up the stew.
Beef – See recommendations below for best types.
Olive oil
Celery
Onion
Carrots
Garlic
Red wine – While you can skip this, I don't recommend doing so. Red wine adds body and richness to the final broth. Any kind of red wine you have on hand will work!
Potatoes
Tomato paste
Beef broth
Fresh rosemary – Feel free to leave this out if you don't have any on hand.
What kind of beef should be used for stew?
Good news – the best kinds of beef for stew are inexpensive cuts! These cuts can be a bit tough when cooked quickly, but when simmered on the stovetop for a while, they break down and become tender and delicious.
Here are my two top choices for this stovetop beef stew:
1. Beef shank
This is by far my favorite cut to buy, which comes from the leg portion of the cow. The meat tastes incredibly rich, and you can also use the bones in cooking. Here's what the bones look like: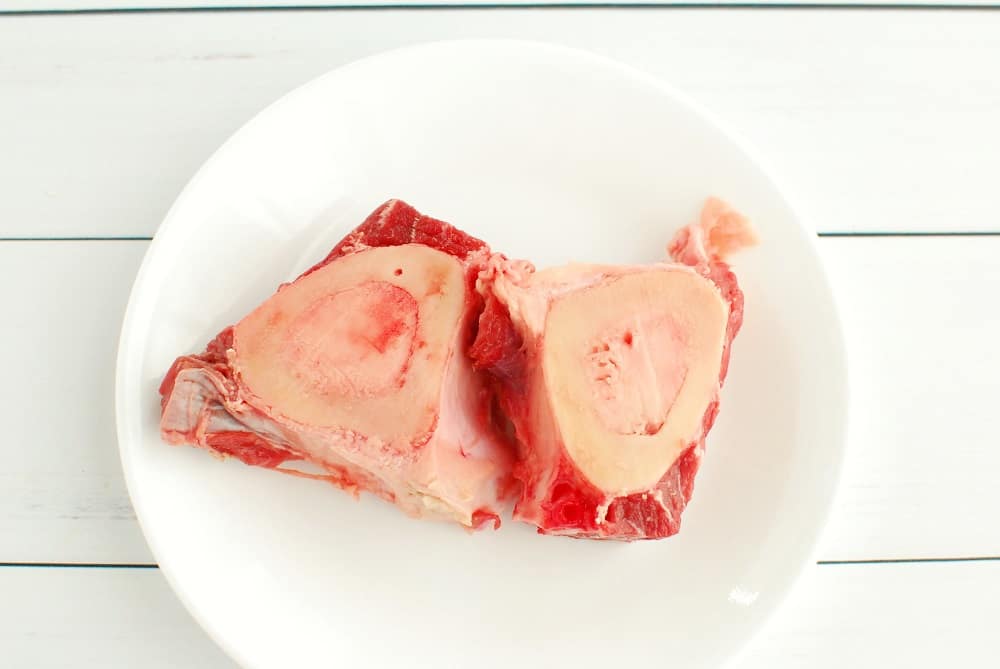 Those bones add flavor – plus any bits of remaining collagen on the bone will help add thickness to the stew, while the bone marrow adds richness.
Keep in mind that you want at least a pound of meat, and that beef shank cross cuts are sold including the weight of the bone. When making this recipe, I usually buy two beef shanks around 1.5 pounds each, and this yields around 1 ¼ pounds of meat, plus the bones that I can toss in during the simmering process. Just remove those bones at the end of cooking.
2. Beef chuck
Beef chuck comes from portions of the neck, shoulder, and upper arm. It's cheap and flavorful, and often sold in the grocery store as "stew meat". This is perfect when you want to shorten your prep time and buy meat that's already cut into the chunks you need.
This type of meat tends to have a lot of collagen-rich connective tissue, which breaks down (the longer it cooks, the more it breaks down). This is what helps give you a nice thick broth.
Beef chuck has a bit more fat than beef shank, which some people prefer and others don't – totally a personal call. Just keep in mind using chunk may affect the final nutrition facts.
Step by Step Directions
You'll find the full recipe amounts and instructions in the recipe card, but here's a helpful overview with photos.
You're going to start by combining the flour, salt, and pepper, then tossing your beef in that. Here's what it'll look like: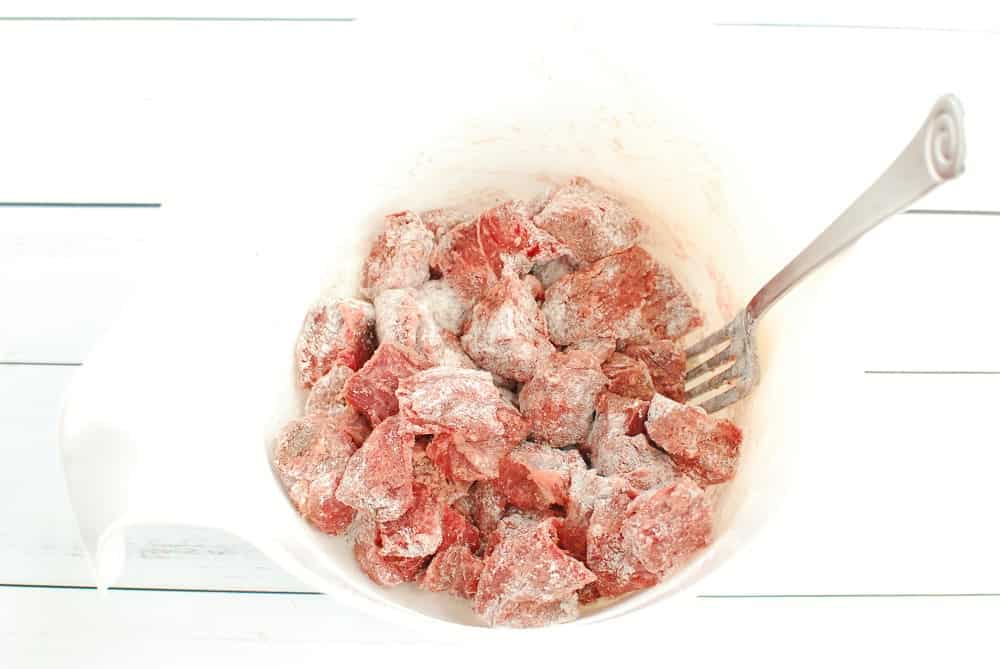 Now heat up olive oil in a pot, and brown your beef. If you're using any bones, you can toss them in too to brown any remaining meat that might be left on them.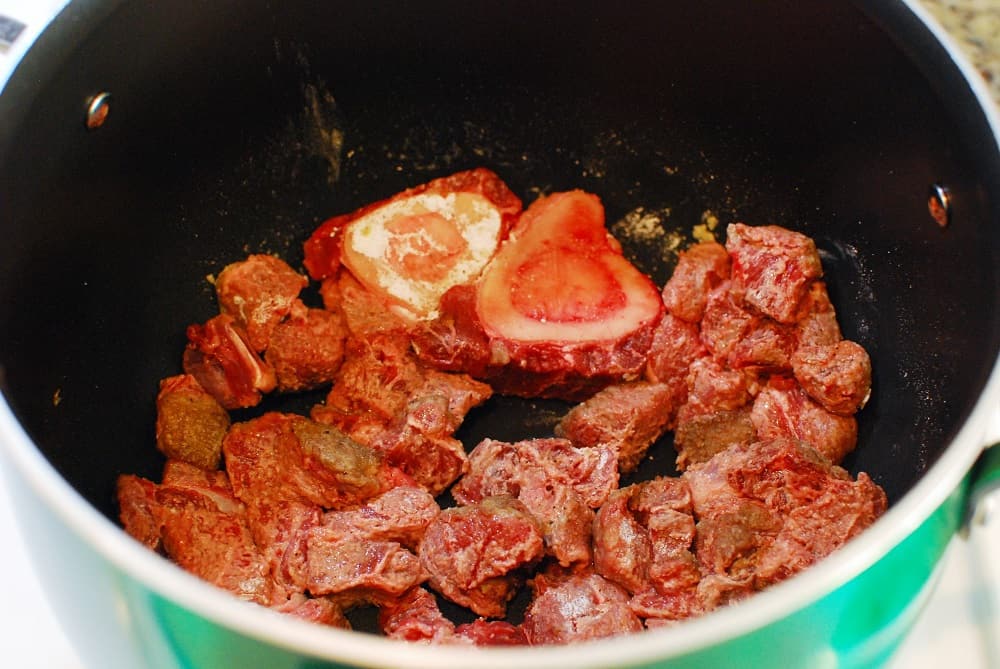 Remove everything with a slotted spoon and set it aside.
After that, heat up a little more olive oil and add the celery, onion, and carrots to the pot. Add the garlic.
Next, add the red wine. This adds incredible flavor. You want to let it cook until it's reduced down by about half. Here's what that'll look like: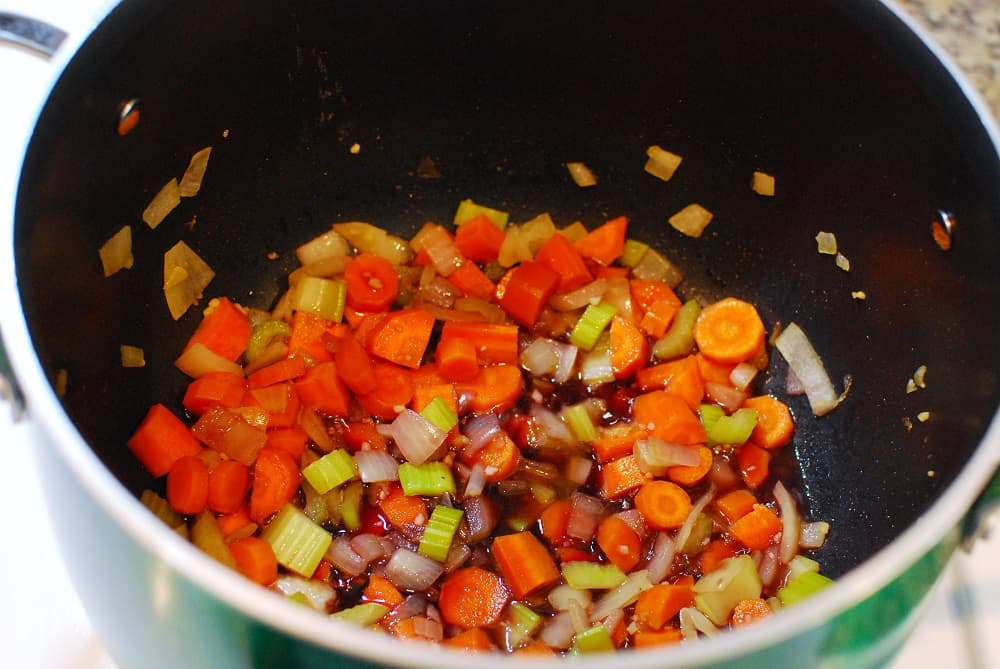 At this point, add in the potatoes, tomato paste, stock, rosemary, and your browned beef (along with any bones, if using). Cover it up and let that pot simmer for a while.
When it's done, you'll have this amazing thick, rich, flavorful stew! Before serving, remove the sprig of rosemary, along with any bones you may have used during the simmering process. Then go ahead and dig in!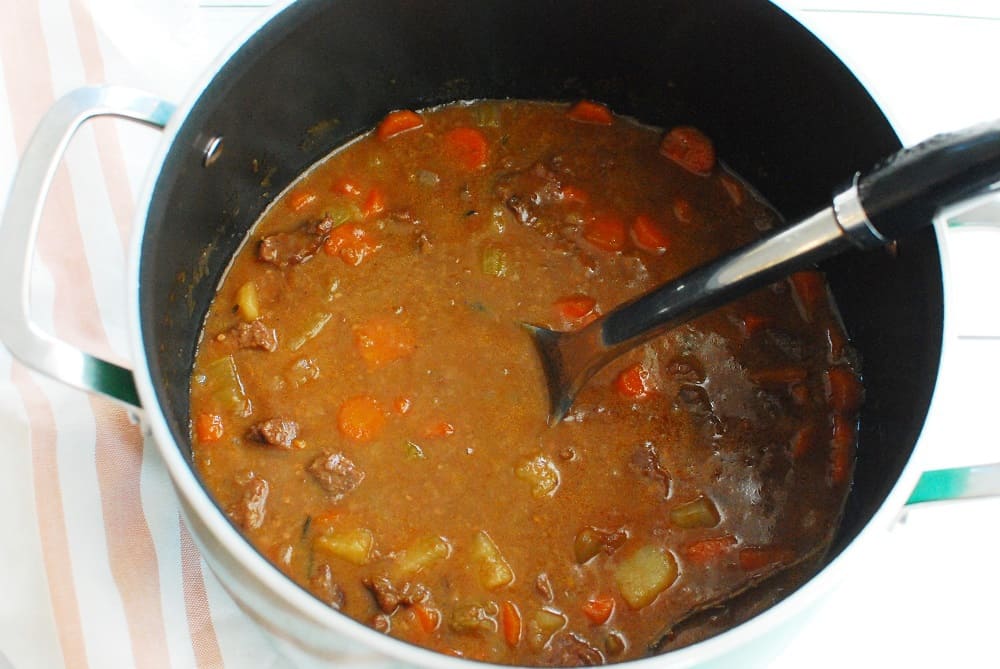 Side Dish Suggestions
This dish can be eaten on it's own without any side dishes – it's very filling. However, if you'd like to add a side dish, here are a few suggestions:
Fresh baked French baguettes (great for sopping up any broth left in the bowl)
Side salad
Biscuits
Sautéed green beans
Sautéed sugar snap peas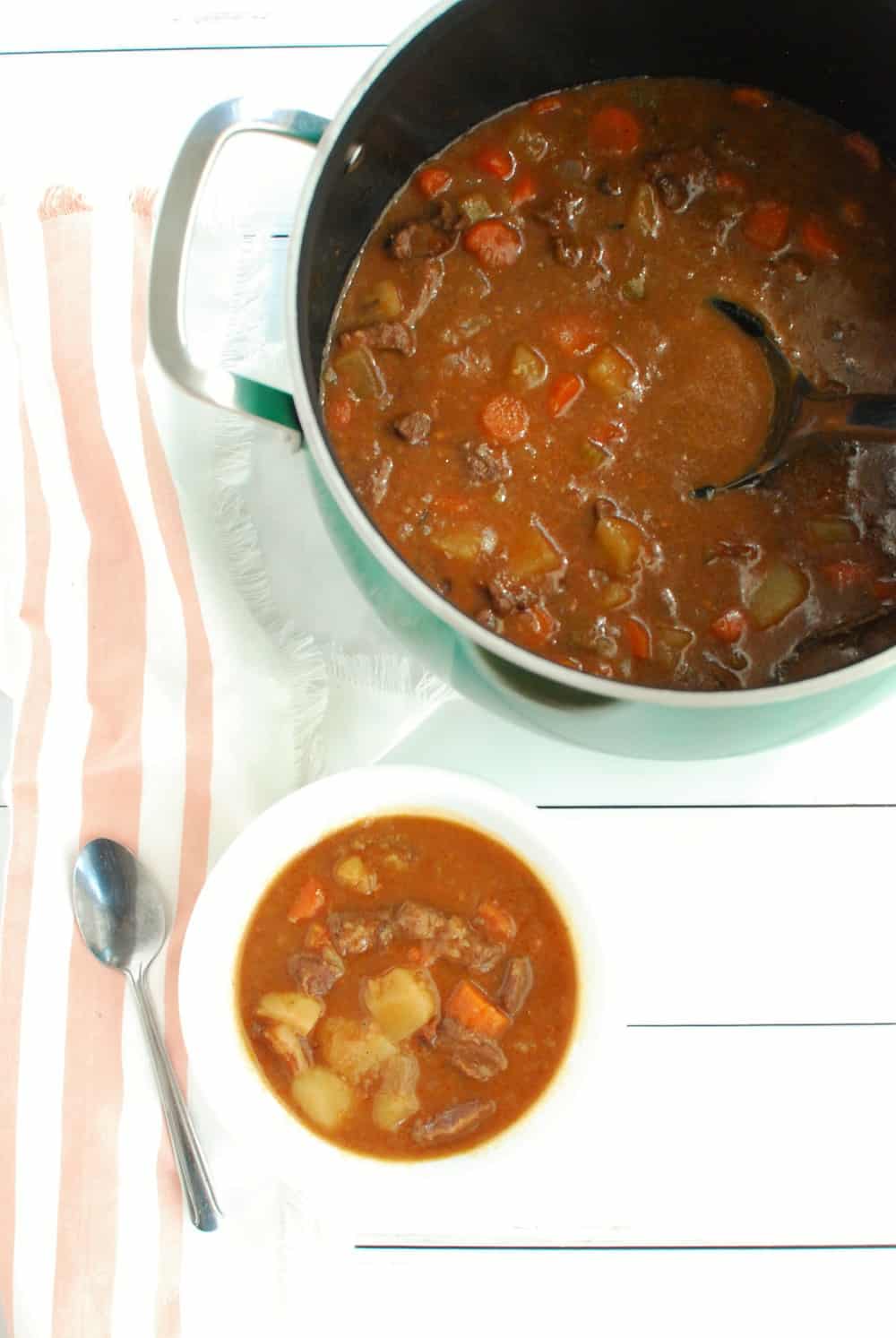 I think you'll love this stovetop beef stew! It's rich thanks to the beef, wine, and tomato paste. It's also warm, hearty, has a good amount of vegetables, and is just perfect for the fall and winter. Yes, it takes quite a while simmering on the stove, but that makes it a nice option for a lazy Sunday at home.
If you give this recipe a try, feel free to pop back over here and let me know what you think.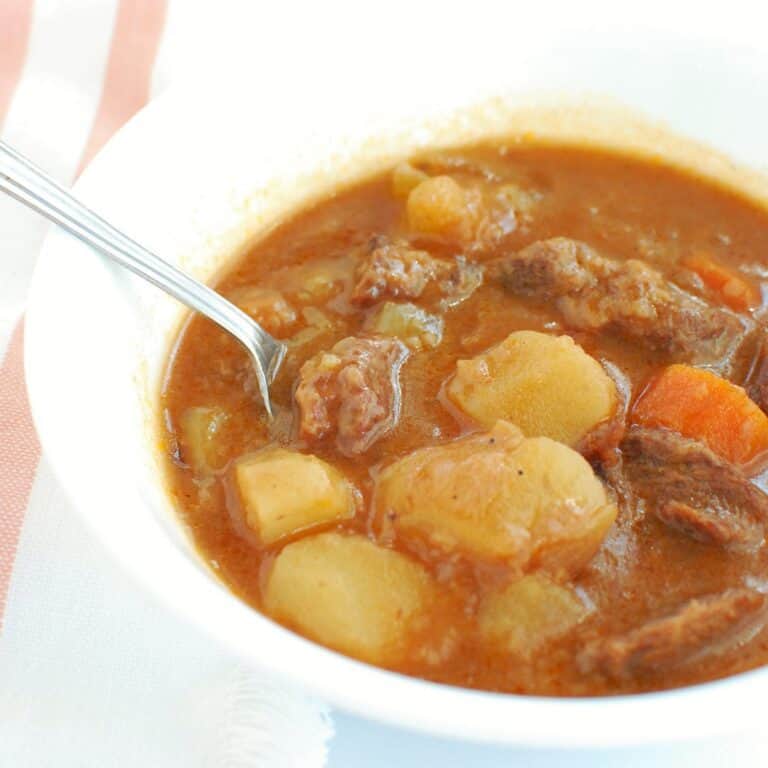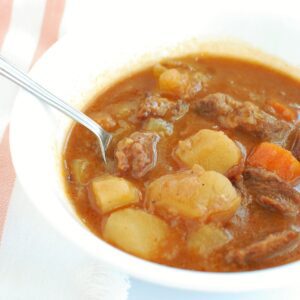 Stovetop Beef Stew
This stovetop beef stew is hearty, comforting, and rich in flavor.  It's a perfect meal for a chilly night!
Ingredients
¼

cup

flour

⅛

tsp

salt

(plus extra to taste at the end)

⅛

tsp

pepper

1 ¼

lb

beef chunks from beef shank

(yield from about 3 lbs beef shank including bones; save bones for simmering; remove and discard any visible fat from meat)*

2

tbsp

olive oil, divided

1

medium onion, diced

2

stalks celery, diced

1 ½

cup

carrots, chopped

2

tsp

minced garlic

½

cup

red wine

2

white potatoes, peeled and chopped

2

tbsp

tomato paste

3 ½

cups

beef broth

1

sprig fresh rosemary
Instructions
In a large bowl, mix together the flour, salt, and pepper. Toss the beef in the flour mixture.

Heat 1 tablespoon of the olive oil in a large pot over medium heat. Add the beef and cook for about 4-5 minutes, stirring occasionally, until all sides are browned. (Include any beef shank bones if using). Remove the beef with a slotted spoon and set aside for now.

Heat the additional 1 tablespoon of olive oil in the same pot over medium-low heat. Add the onion, celery, and carrots. Sauté for 4-5 minutes, until they start to get tender. Add the garlic and cook for another 1 minute.

Add red wine and cook for 3-4 minutes, or until reduced by about half.

Add the potatoes, tomato paste, beef stock, and rosemary to the pot. Add browned beef (and any bones) back as well.

Cover and let simmer for about 2 hours on low heat. Remove the sprig of rosemary (and any bones). Season with salt to taste if needed. Enjoy!
Notes
*Beef shank works very well for this recipe. I recommend buying enough (about 3 pounds with bones) so that you can get 1 ¼ pounds of beef chunks cut from the shank, and then also including the bone(s) in the pot while cooking.
*Beef chuck, often sold as beef stew meat, also works well in this recipe.
I have not had any issues with consistency when preparing as directed, but if your stew is too thin after 2 hours, let it simmer for another 20-30 minutes at room temperature.
This recipe makes 4-5 servings, depending on portion size. The nutrition analysis below is based on 4 servings.
Nutrition analysis (approximate per serving, assumes beef shank was used and trimmed of visible fat):  469 calories, 13.5 g fat, 3.5 g saturated fat, 950 mg sodium, 35 g carbohydrate, 5.5 g fiber, 7 g sugar, 48 g protein, Vitamin D: 0%, Calcium: 6%, Iron: 32%, Potassium: 30%
Nutrition
Share with me: What is your favorite cool weather comfort food?
Feel free to pin this post to share with others!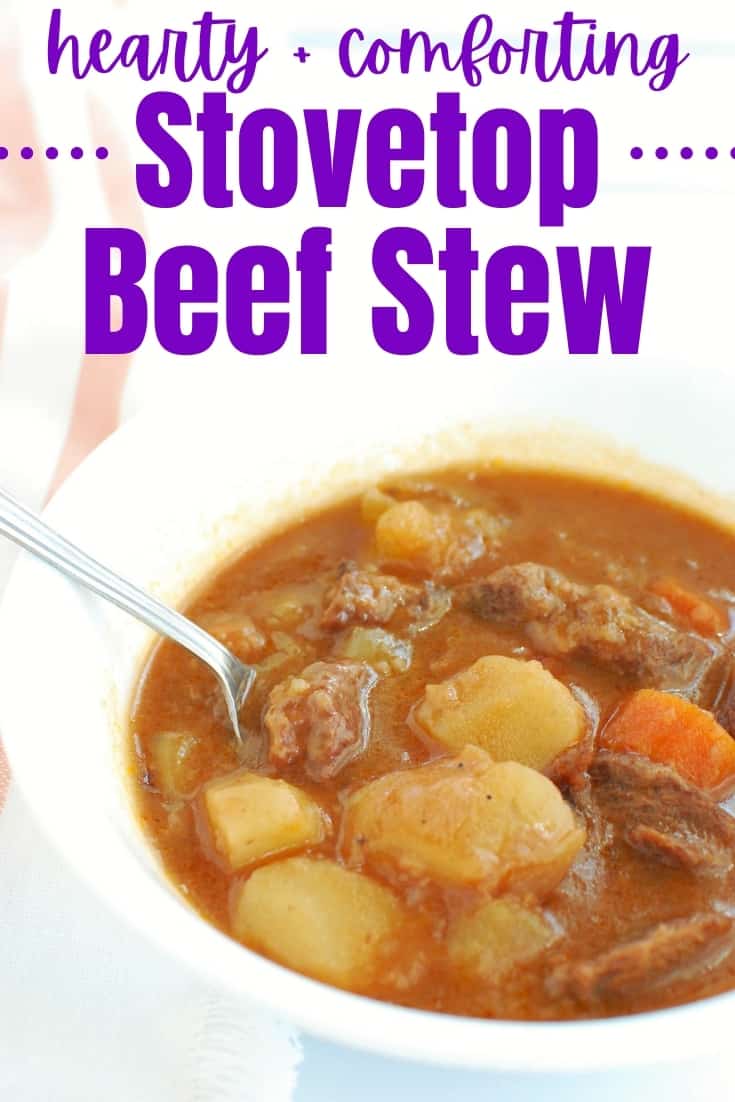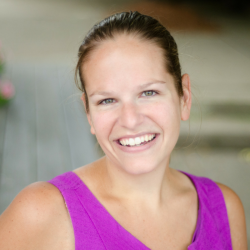 Latest posts by Chrissy Carroll
(see all)