This low carb cucumber salad with scallions clocks in at just 28 calories with 5 grams of carbs!
We've been getting an abundance of cucumbers in our CSA lately, and I've been trying to figure out some new recipes for them. Of course, our standard is to use them either in salads or just sliced plain for a snack. I also make quinoa salad often, where I'll throw in cucumbers, bell peppers, avocado, and then toss it in a lime/cumin vinaigrette.
To switch things up a bit from my standard go-to recipes, I decided to make a new kind of salad – this low carb cucumber scallion salad. It's a little sweet, a little salty, and fits very well as a side dish for either Asian food or for any pub-style food (like a burger).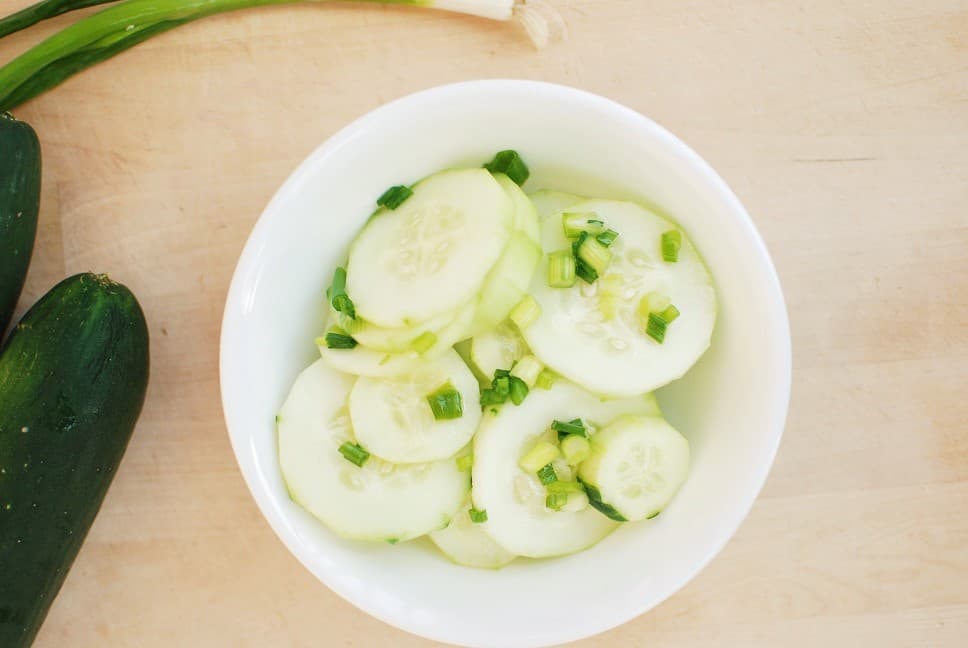 While I don't personally follow a low-carb lifestyle, I know a lot of people are experimenting with low carb diets or keto diets these days. This recipe can be a great fit for those dietary preferences. But it's also just a great fit for anyone looking to increase their vegetable intake and experiment with new side dishes!
And at 28 calories a serving? Fill up that plate, my friend!
[Tweet "This cucumber scallion salad is a delish, easy side dish – at less than 30 calories a serving!"]
I will openly admit that I don't usually measure exact quantities for this low carb cucumber salad – I just toss stuff in and taste it until I like it. But I tried with these proportions the other day and it seemed to fit about right. 😉
It's easy to adjust to your personal liking though – just start with about half the quantities of salt, sugar, and vinegar and adjust from there. Want it less sweet? Don't add the rest of the sugar. Want it to be saltier? Throw in an extra pinch of salt.
I also personally LOVE scallions – I seriously put them on everything – so feel free to go lighter on those if you're not a green onion lover like me.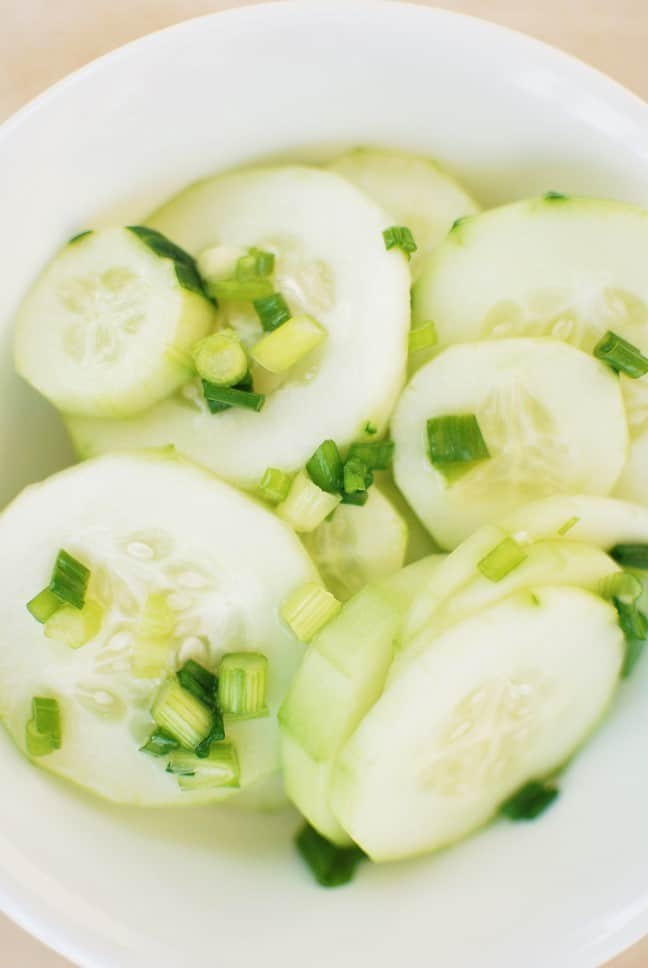 Give this quick side dish a shot and let me know how you like it.
As an aside, I've still got more cucumbers left though, so be sure to comment below with some of your best cucumber recipe ideas! (Next up on my list is to make refrigerator pickles. Have you ever made them? I've done them before and really liked them. I definitely prefer pickles to taste more cucumber-y than pickle-y. I also want to try this recipe from an old coworker of mine – it's basically a hummus, tabbouleh, cucumber, and tomato dip that you can eat with veggies or pita chips.)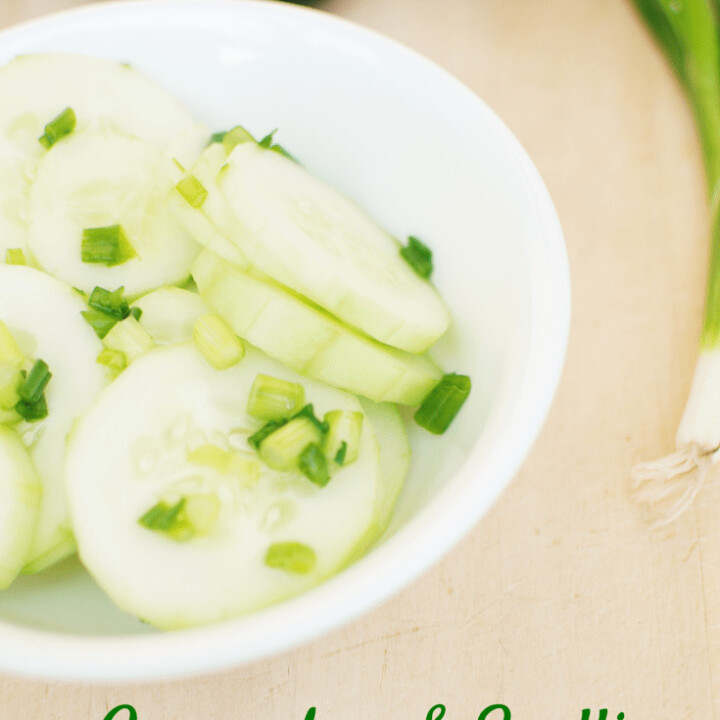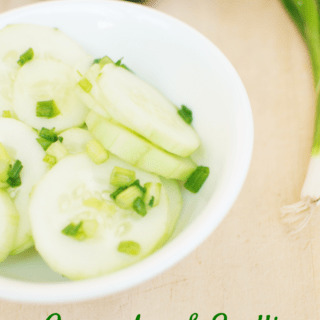 Low Carb Cucumber Salad with Scallions
This easy low carb cucumber salad is made with just a few simple ingredients, and makes a perfect summer side dish!
Ingredients
1

large cucumber, peeled and sliced

(or two small)

2

scallions, chopped

2

tbsp

rice vinegar

½

tsp

sugar

¼

tsp

salt

or adjust to taste
Instructions
Mix all ingredients in a bowl and enjoy! Easy peasy.
Notes
Nutrition analysis (approximate per serving):
28 calories, 0.5 g fat, 296 mg sodium, 5 g carbohydrate, 1.5 g fiber, 3 g sugar, 1 g protein, Vitamin A: 5%, Vitamin C: 28%, Calcium: 3%, Iron: 3%
Nutrition
Share with me: What is your favorite way to use cucumbers? Do you think you'd love this low carb cucumber salad?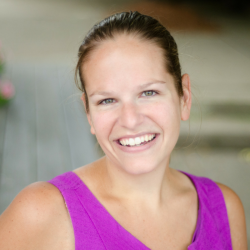 Latest posts by Chrissy Carroll
(see all)