Trying to eat a nutritious diet, but struggling with busy nights or a lack of mealtime inspiration? Learn how meal prep for athletes can be a great strategy towards fueling your workouts and ensuring you've got enough energy for every sweat sesh.
The Meal Prep Illusion
Ever look at the rows of perfectly portioned meals on your favorite Instagram influencers page and feel envious? Do you wish that you had the ability to do that? Think it'll take you too much time?
There's good news – athlete meal prep doesn't have to take days or involve fancy meals. It is not nearly as hard or as complicated as it may look. A few hours one day a week is all you need to get started – along with some food and a few containers to put it all in, of course.
Benefits
When it comes to staying on track with your nutritional and fitness goals, there is no easier nor better way to keep your food consistent than doing some form of meal prep. Meal prepping helps…
Prevent aggravation for those times when you get home and are hangry and nothing is ready to eat
Avoids wasted time wondering what's for dinner (you know, where you go from looking in the fridge…to the freezer…to the pantry…and back to the fridge 😉 )
Allows you to think ahead to prepare meals that support your athletic goals (whether that's fueling up for a weekend long run, supporting recovery from strength training, or just eating an overall balanced diet to keep your body healthy)
Allows you to prepare meals that may fit a certain diet you follow
Without meal prep, it's easy to fall subject to grabbing convenience foods or swinging through the drive through line (especially if you generally don't enjoy cooking each night).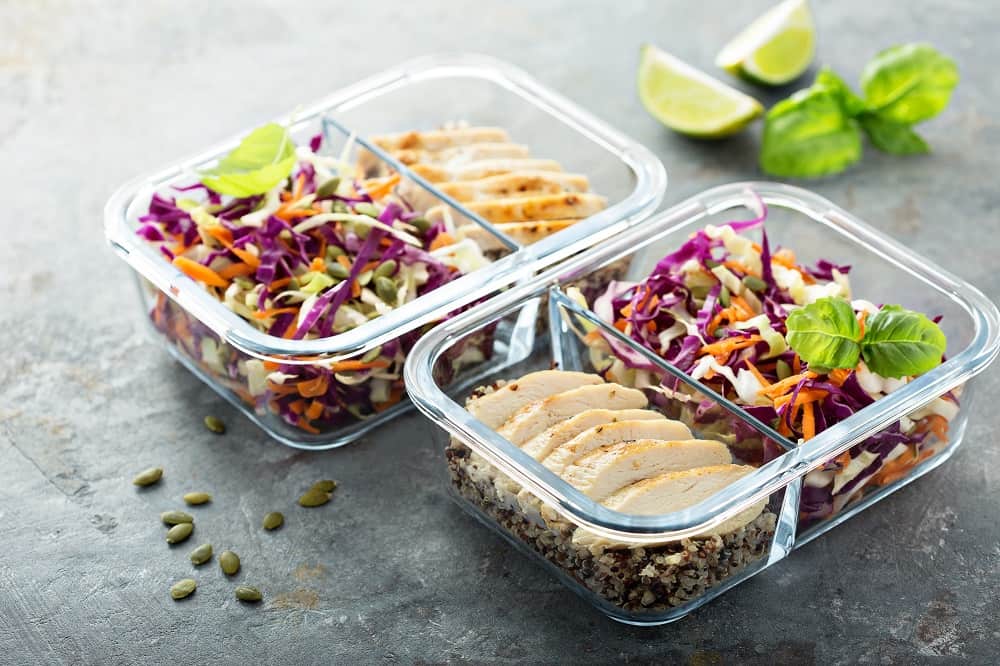 How to Start
Here's a step by step guide to start meal prepping:
1. Make sure you have enough food storage containers.
Prior to beginning anything, you're going to want to make sure you have enough storage for your food.
Keep in mind, there is no one "right way" to do meal prepping. Some people like to create and store all their full meals for the week in individual containers. Others prefer to bulk prepare a few things – maybe a big bowl of salad, a bowl of roasted veggies, and a few cooked protein items – and then create their meals from those each night. The option is yours.
Whatever methodology works best for you, ensure you have a myriad of containers with lids that are big enough and preferably microwaveable. I prefer glass containers at home for microwaving (as there are fewer concerns with chemicals leeching out compared to plastics), but some high quality plastic containers can be very convenient for on-the-go meals.
You may want to consider smaller containers for things like dressings, condiments and nuts, among other things so they don't ruin your food or get soggy throughout the week.
You also may want to stock up on gallon size zip top freezer bags. These are convenient for storing things like frozen breakfast sandwiches or protein pancakes.
2. Set aside time each week.
Yes, it will feel like you need to allocate extra time to this when you start. But by allocating a few hours on one day, you'll find that you save so much more time as the week progresses.
Sundays usually work well as you have enough food to get through the work week and run out on the weekends when we generally have a bit more time.
Depending on how much food you need, and your comfort level on eating the same foods after a couple of days, you may even want to set-up a second day which could give you extra variety and be helpful if you're an athlete with high calorie needs.
3. Create a game plan.
Decide what you want to make and how you want to make it. Do you want full meals? Do you want to just prep proteins, starches and vegetables separately so you can pull them together?
If you want full meals, first decide two things:
a) How many times during the week you want to eat the same meal?
b) Do you want hot meals or cold ones?
These two questions will help you on your quest of deciding what to make.
Keep in mind, your athlete meal prep doesn't have to be plain grilled chicken, brown rice and a vegetable (though that's fine if you like that!). There are a ton of delicious ideas you can experiment with. If you don't have any ideas in your head, check out healthy recipe websites or our ideas below where you can gather inspiration.
You can also go simple by just thinking about pairing a protein, a starch, and one or two vegetables. You can also think about preparing one protein and figuring out different ways of serving it – for example, grilled chicken could go into a burrito bowl, a greek bowl, and a wrap all in one week.
Once you've outlined a few meals to make for the week, go shopping! Sticking to your list will be a budget friendly way to shop and help prevent food waste by giving you the opportunity to buy just what you need.
4. Get cooking!
Start by taking a look at all the recipes or general ideas you plan to make. Figure out what takes the longest to cook and can go into the oven at the same temperature. Start by getting those things chopped, seasoned, and on baking sheets to go in the oven.
You can load up the racks with different pans. Roasted vegetables, potatoes, and meats work very well for easy oven preparation. Set timers for everything so that you aren't overwhelmed trying to remember how long your food has been in the oven while you move onto the next steps.
Next, start working on anything that requires the stove top. Boil water for rice, sauté up chicken, or steam vegetables.
You can also use this time to prepare anything that doesn't require cooking, like energy balls or raw veggies for salads.
5. Assemble.
When everything has finished cooking and cooled down a bit, it's time to assemble!
For bulk items, dump into a container and store in the fridge. For individual meals, lay out containers across a counter and assemble in pieces. It's easiest to work assembly-line style, doing all of the carbs, then all of the veggies, then all of the proteins — instead of trying to create one meal at a time.
When putting things together, many people prefer adding food to the container in horizontal rows versus items on top of one another. Some say it helps keep the best taste and texture as it sits in the fridge for a few days. I haven't personally found issues with mixing stuff together, but just figured I'd mention this!
For anything fresh, such as salads, place a paper towel on top of greens and keep toppings such as nuts, seeds, berries, etc., on the side so they don't get soggy or bleed into the lettuce. Never dress the salad in advance or you'll end up with some soggy lettuce soup for lunch instead of a beautiful, fresh bowl.
6. Label.
Pop a top on each container and throw a piece of masking tape on the lid. Label each container with the name of the meal and the date. Leftovers generally last in a home fridge for 3-5 days, so having the date on there will help you easily see if the food is still fresh or not.
For freezer-friendly items, it's also a good idea to label with the date. Food in the freezer will stay safe for a very long time as far as food safety goes, but quality can deteriorate after a few months for some items.
And there you have it–some (or all-you do you) of your meals, prepared in advance, and ready for you to reheat and eat!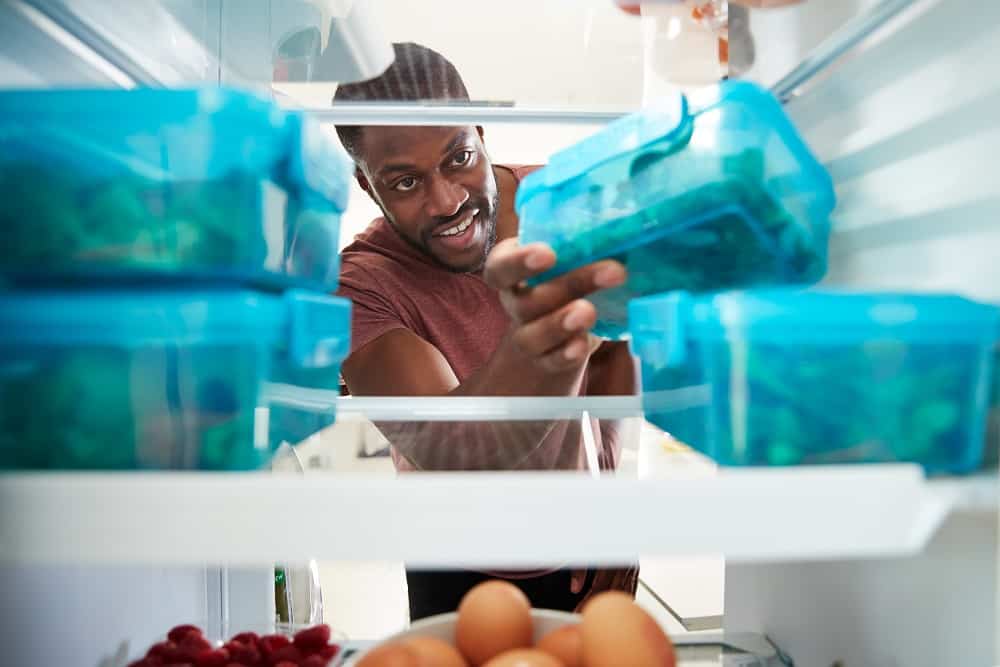 Meal Prep Recipe Ideas
Obviously some recipes and food ideas are better for meal prep than others, depending on how many days you're prepping for and whether some of the meals will be put in the freezer. Here are some of our favorites!
Breakfast:
Meal Prep Breakfast Sandwiches – You can make a variety of ways depending on your flavor preferences. My two favorites: 1) eggs, mushrooms, chives, and swiss cheese on an English muffin, or 2) eggs, ham, and cheddar cheese on an English muffin. This post has more instructions about how to freeze and reheat, but really all you need to do is prep a big batch of sandwiches, wrap each individually in plastic wrap, then freeze. You can remove each from it's wrap and microwave it in the morning when you're ready to eat.
Make Ahead Breakfast Burritos – The same idea as above, but in a tortilla instead of an English muffin! You can get creative with these and add veggies, but keep in mind if you're freezing them, you don't want too many watery veggies. That will create a soggy burrito upon reheating.
Protein Pancakes – A high quality protein pancake mix (like Kodiak cakes) is a great option to keep on hand. You can whip up a batch of these and the freeze them, pulling them out in the mornings to reheat in the microwave. Use pure maple syrup on top or use frozen fruit that you've defrosted in the microwave.
Chia Seed Pudding – While different recipes use different ratios of ingredients, I find the texture best when using 2 tbsp chia seeds plus 1/2 cup milk or milk alternative as the base. From there, you can add fruit, sweeteners, greek yogurt, or even protein powder to create your own unique combos. You can meal prep this the night before so your breakfast is ready to go the next morning.
Overnight Oats – The basic ratio you can use for overnight oats is 1/2 cup rolled oats, 1/2 cup milk of choice, 1/4 cup greek yogurt, and 1 tbsp of chia seeds. (If you're not using yogurt, boost the milk a bit.) From that, you can mix it up however you want by adding different fruits, sweeteners, nuts/nut butters, or other add-ins of your choice. I personally love this base recipe mixed with a spoonful of cashew butter, a drizzle of maple syrup, and a handful of dark chocolate chips. Overnight oats will last in the fridge for a few days, so you can feel free to make a few jars over the weekend for your weekday breakfasts.
Baked Egg Cups – Whisk together 10 eggs in a bowl with a splash of milk. Set aside for now. Sauté a bell pepper, a small onion, and either another veggie or a breakfast meat of your choice in a pan with a bit of oil. Add to the bowl with the eggs, along with a cup of cheese, a pinch of salt, and a few shakes of pepper. Pour into a greased muffin tin and bake for about 20 minutes at 350 F, or until the eggs are set. It's like a portable omelet! These can be stored in the fridge for up to 4-5 days and reheated in the microwave.
Breakfast Hash – A hash is easy to make, reheats well, and gives you flexibility based on what you have on hand. One of my go-tos is sweet potatoes, peppers, onions, and ground turkey. Want a vegetarian option? Try this sweet potato, plantain, and brussels sprouts hash.
Lunch/Dinner:
Burrito Bowls – These are my absolute favorite meal prep dish. Start with a base of either rice, quinoa, sorghum, or cauliflower rice. Add in whatever protein source you prefer – chicken, steak, beans, ground turkey, etc. Then add in whatever veggies you'd like – a few examples include sautéed peppers, diced tomatoes, diced red onions, corn, roasted sweet potatoes, roasted cauliflower, etc. You can include some cheese, salsa, or sour cream in a separate container to top it with after reheating.
Greek Bowls – Similar to burrito bowls, these are flexible based on what you have on hand. Your base can be rice, quinoa, sorghum, pita bread, or mixed greens. Add a protein like chicken or chickpeas. Then add in veggies like tomatoes, cucumbers, and pickled red onions (my absolute favorite). You can add a small container for a topping like hummus or feta cheese.
Quiche – This is easy to prep ahead of time and makes for a good breakfast, lunch or dinner. To create a better-for-you version, use milk rather than cream in your base and add in lots of veggies. I personally love this green bean quiche for a fun way to sneak an unconventional veggie in there.
Stir Fry – Sautee a bunch of different sliced vegetables with a protein of your choice. Either make your own sauce or purchase a better-for-you premade one (look for those that are lower in added sugar). Serve with rice or noodles.
Meatballs – Meatballs make a great, versatile lunch. Make a large batch of baked turkey or beef meatballs (quick tip – add in finely chopped mushrooms, which will help extend your meat and pack in some extra veggies). Then experiment with different ways to serve them throughout the week to combat boredom. For example, one day you could serve them with pasta (whether traditional or lentil/bean based) and red sauce along with a side of veggies. Then next day, serve them with rice and a curry sauce. The day after, douse in buffalo sauce for buffalo meatballs and serve with baked sweet potato fries. And the day after that, serve alongside over some quinoa and veggies topped with tzatziki.
Salads – Salads can be meal prepped ahead of time and don't have to be boring! Start with your base of greens, whether that's mixed greens, romaine, green leaf lettuce, etc, and then add in as many veggies as your heart desires (tomatoes, mushrooms, roasted squash, roasted beets, roasted potatoes, cucumbers, zucchini, etc). Then add in a protein – get creative with chicken, steak, ground beef, ground turkey, black beans, chickpeas, or anything else you enjoy. Lastly, think of any other add-ins that would boost flavor and texture. A few of my favorites include dried fruit, nuts, seeds, hemp hearts, and cheese.
Tuna Waffles – I know, it sounds strange – but these tuna waffles are a great option for meal prep because they're freezer friendly. You can pop out two from the freezer and reheat in a toaster oven, conventional oven, or air fryer when you're ready for lunch or dinner. Top 'em off with tomatoes and avocado and you've got a balanced meal.
Chili – This is one of those kinds of meals that generally makes a ton and reheats well, whether you're storing a few days worth in the fridge or you're freezing in single serving containers. You can find tons of different chili recipes online, though I'm partial to my turkey apple chili and steak mango chili.
Stuffed Cabbage Rolls – These are great for meal prepping for the week or freezing for later weeks. You only need a handful of ingredients to make them. It does take a bit of time on the weekend to cook 'em, but it's really just letting them simmer on the stovetop.
Chicken Wraps – It sounds kind of boring, but there are so many things you can do with some cooked chicken breast and a wrap! Make a chicken Caesar wrap by combining the chicken with lettuce, croutons, and parmesan, then placing that in the wrap (portion out the dressing separately and dip it the day you eat it – that way it doesn't get soggy). Toss the chicken with a little buffalo sauce and add it to a wrap with greens, then serve alongside celery and carrots. Or go Greek by mixing the chicken with greens, cucumbers, tomatoes, and feta, and placing that in the wrap.
Stuffed Sweet Potatoes – Sweet potatoes are an excellent source of healthy carbs for athletes, and you can stuff 'em with pretty much anything. Give it a Mediterranean flare by stuffing it with chickpeas, spinach, and feta, or go cozy comfort food by making BBQ ground beef stuffed sweet potatoes. You can even make a sweet lunch by stuffing your sweet potato with nut butter and raisins, like in this recipe.
Homemade Hot Pockets – If you enjoy cooking, these are a fun option to meal prep and place in the freezer for a quick lunch. I make a ham, cheese, and mushroom pocket with a homemade crust. But you can also buy canned pizza crust and make these that way to save time!
Snacks:
You can meal prep snack recipes but don't forget there are also plenty of store-bought snacks that are nutritious and can help fuel your needs! Here's some of my personal favorites that are great for making ahead of time (or buying ahead of time):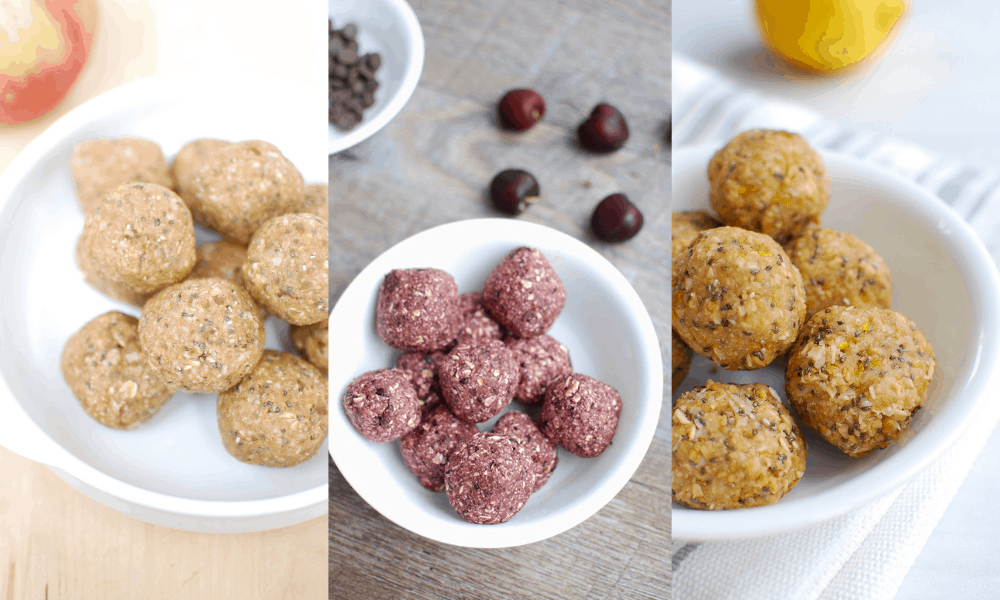 Homemade:
Store bought:
RX Bars
Larabars
Grabanzos (chocolate chickpea snack that tastes like candy! Use code CHRISSY06 to score 15% off your order)
Whole grain crackers with cheese
Veggies – serve with hummus or guacamole if you'd like to add some healthy fats
Fruit
Greek yogurt (a few of my personal favorites include Siggi's and Chobani's new lower sugar line)
Instant oatmeal packets/cups
Nuts and seeds
Nut butter (along with fruit, pretzels, etc)
Store-bought trail mix
String cheese
Cottage cheese and fruit
Pouches of tuna (flavored or unflavored) – can eat solo or with crackers/pita/bread
Beef jerky
Stovetop or air popped popcorn (you can make a big batch on the weekend and portion it out in bags for the week)
Rice cakes with toppings (find a TON of tasty topping ideas in this post)
Cans of soup
Fuel:
Outside of snacks, you also want to make sure you have any fuel you need for during your workout on hand. You know how disappointing it is when you are about to go out the door for a run and realize you're all out of your favorite gel flavor. 😉 Whether you need fuel during your workout will depend on your sport and level of competition, but here are a few options that might be good to have on hand:
Sports drinks (fluid + electrolytes + carbs)
Electrolyte drinks (fluid + electrolytes)
Gels, gummy blocks, or sports beans
Bananas or raisins
Swedish fish or gummy bears
Clif bars or bonk breakers
Protein powder (for post workout shakes)
There you have it – everything you need to get started with meal prepping to support your athletic goals! Now it's time for you to take action – write down a few meal ideas for this week, head to the store, and get to preppin'!
Share: Do you do meal prep? Do you find it helpful? What are some of your favorite recipes to prep?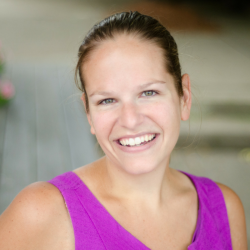 Latest posts by Chrissy Carroll
(see all)