Whether you're looking for an easy dinner now that the back to school routine is in full swing – or you want something filling to eat while you watch Sunday football – these BBQ ground beef stuffed sweet potatoes are the perfect option!
Picture this: You've got some tender whole sweet potatoes that were baked to perfection. Then they're loaded up with a beef and veggie mixture that's got a homemade BBQ style sauce (almost like sloppy joe filling). The result is a meal that's nutrient-dense and filling to please the adults, but still tastes yummy and familiar to get a stamp of approval from the kiddos.
Disclosure: This post is sponsored by the Northeast Beef Promotion Initiative, a subcontractor to the Beef Checkoff. As always, all opinions are my own.
Why I love this meal for active folks
I know many of you are trying to fuel your fitness goals while juggling parenting, jobs, household chores, and more. Not only is this recipe simple to make – key for all you busy moms! – it's also got a nice balance of carbs, protein, and fat to help satisfy you and keep you full longer. That's key for those days when you've done a long workout and later you're just feeling hangry alllll afternoon!
Plus, this is packed with vitamins and minerals. A few highlights:
37% of your daily potassium needs, an electrolyte that's key for muscle function and blood pressure regulation (and one you lose in sweat during long training sessions)
31% of your daily iron needs, involved in transporting oxygen to your muscles (key for fitness-minded folks!)
103% of your daily Vitamin C needs, essential for a healthy immune system
How to make these BBQ ground beef sweet potatoes
If you take a quick glance at the stuffed sweet potato recipe you might think there's a lot of ingredients – but about 75% of them are spices and other pantry staples. I promise, this is actually super simple to make and you probably have most of it on hand already!
You'll start by baking your sweet potatoes. All you need to do is poke a few holes with a fork in each potato, then drizzle it with a little olive oil and sprinkle with a little salt.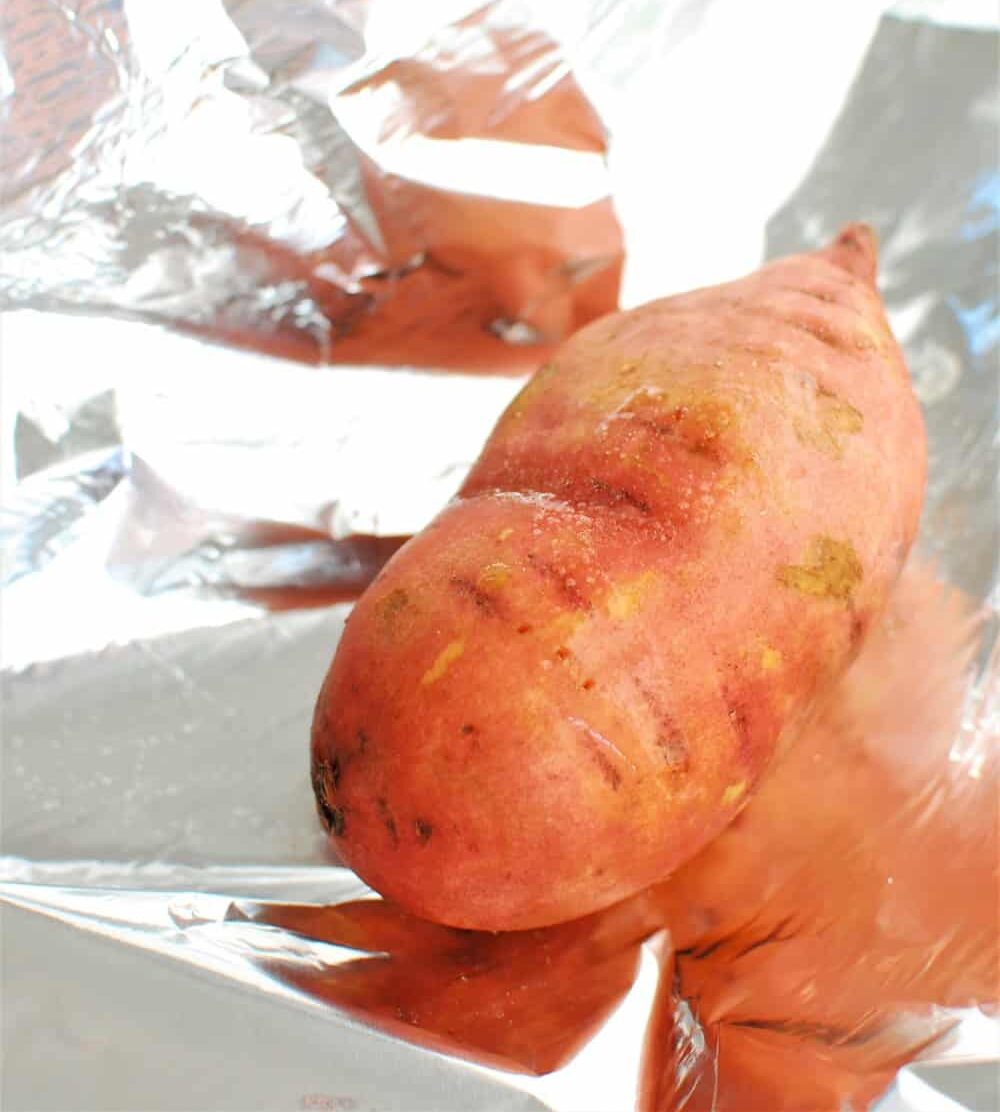 There are two schools of thought on baking a sweet potato – foil vs. no foil. Honestly, I've made them both ways at various times and they come out tender either way.
If you prefer a crispier skin (yes – you should eat the skin!), then go without the foil. If you're looking for an easy option with less clean up, put each potato in a foil pack before you add the oil and salt.
You'll bake the potatoes for around 45-55 minutes, and then pop 'em out of the oven and let them cool for a few before slicing in half.
Meanwhile, you'll whip up the BBQ ground beef. I feel like this mixture is kind of in between traditional BBQ and sloppy joe mix, so I wasn't sure exactly what to call it – but all I know is it tastes delish.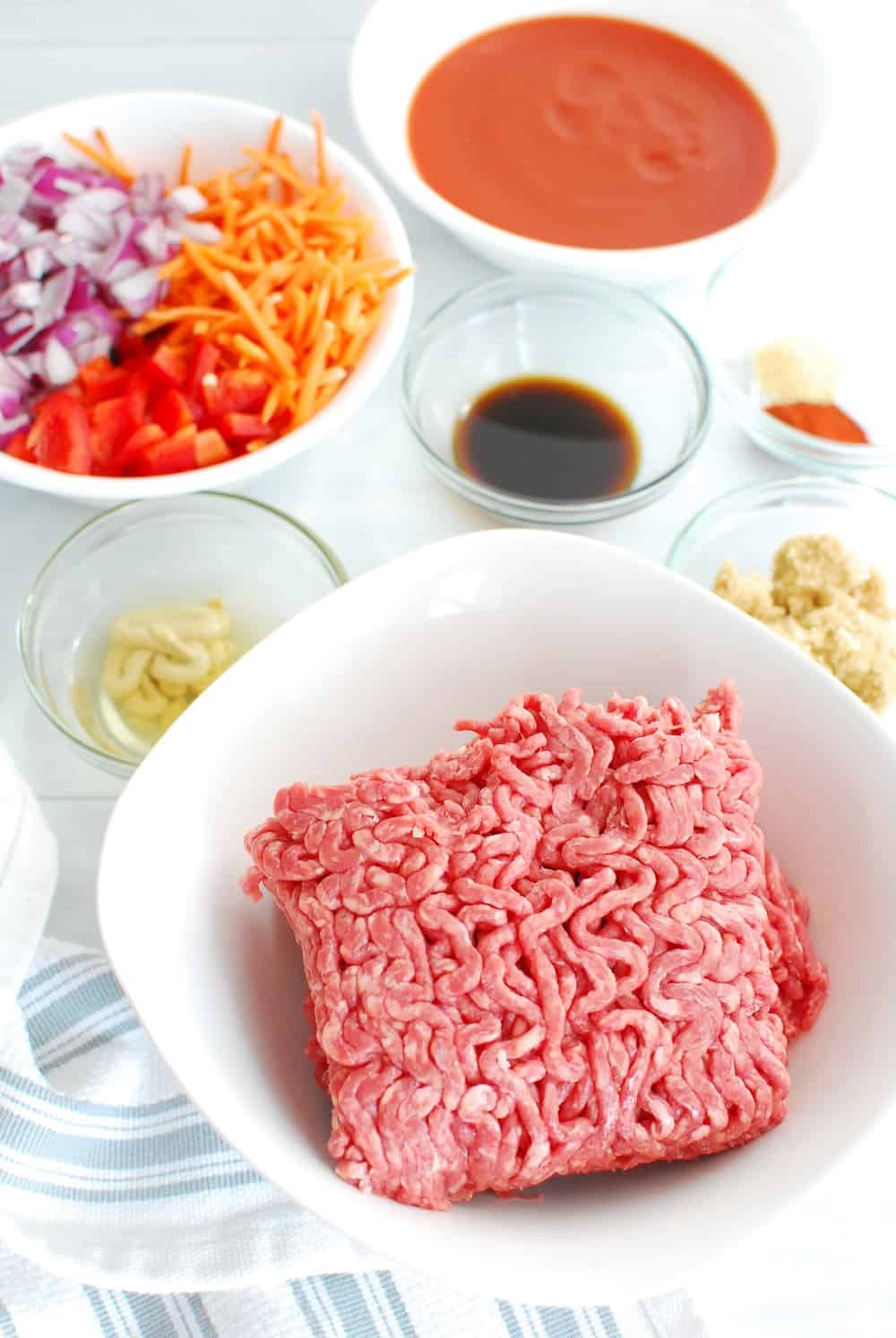 You'll cook up your beef in a skillet with your veggies – onions, carrots, and bell pepper. Not only do these add some extra texture to the filling, but it means you're building non-starchy veggies right into the meal.
Once the meat is browned and the vegetables start getting tender, you'll add the seasonings and other ingredients to create your BBQ style sauce. Let it simmer for 5 minutes, and it's done!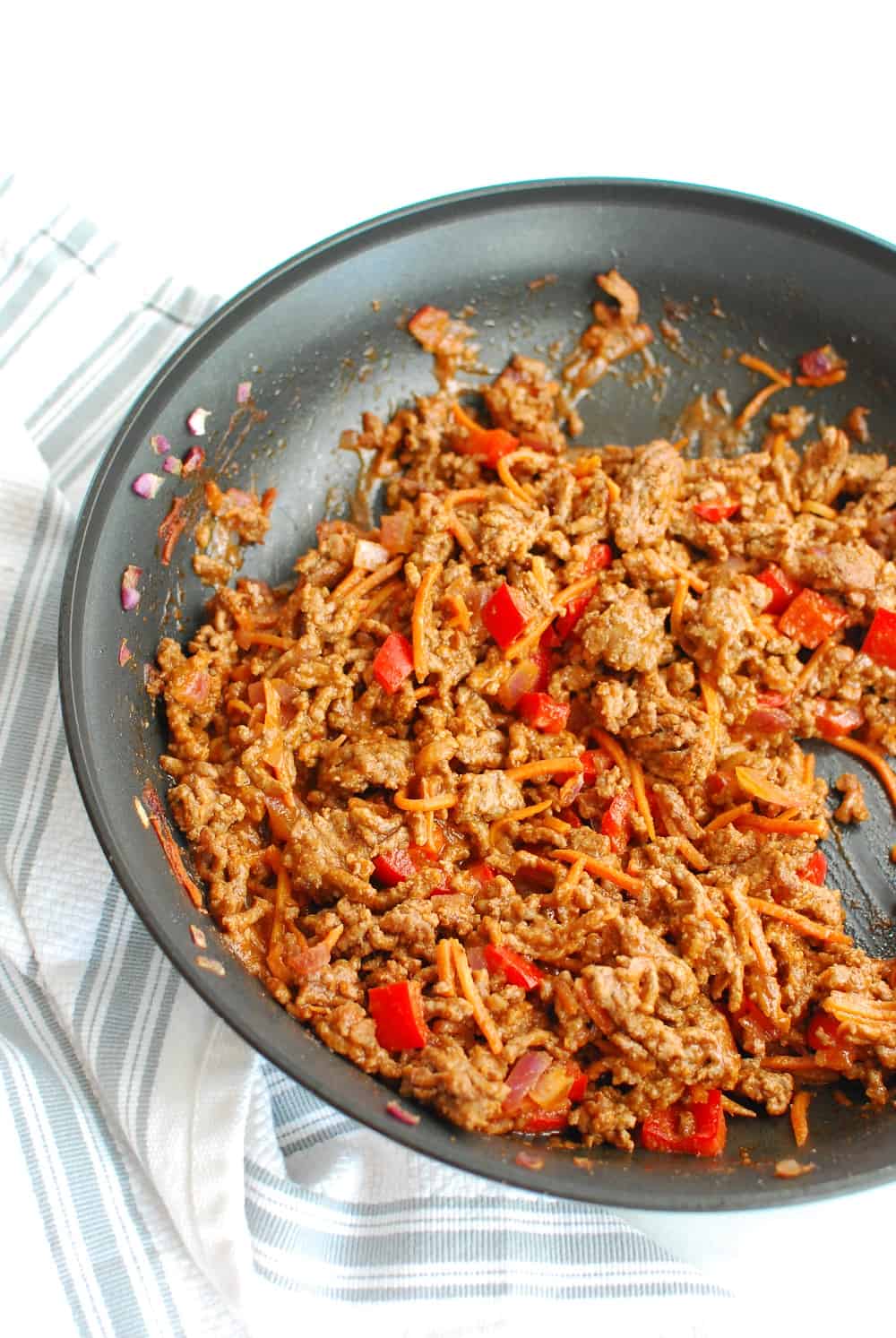 Now all you've gotta do is load up your sweet potato with that yummy beef filling. Optionally, you can add on some sharp cheddar cheese (my favorite) and/or some chopped scallions. And that's it! It's an all-in-one balanced meal.
How to save time cooking the sweet potatoes
Now, I know cooking potatoes for almost an hour can seem long on a weeknight. The good thing is that the beef mixture is going to come together super quickly while those potatoes are cooking, so there's no extra time after they're done.
But if that's too much cooking time for a weeknight, here are three options to make this dish come together faster:
1. Cook the sweet potatoes in the microwave.
I recommend doing two at a time for this, especially if your sweet potatoes aren't all the exact same size. Poke a few holes in each, and then put two on a microwave safe plate or bowl and cover with a damp paper towel. Cook for 4 minutes, then flip and cook for another 2 minutes. Let sit for a few, and then check if they're done by inserting a knife. It should feel easy with no resistance.
If it's still hard to cut through, put them back in for another 1-2 minutes then check again.
Repeat with the second batch of potatoes when you're done with the first. You'll know have an estimate of how much time to put them in for based on the first batch.
This can all be done at the same time while you're making the beef, so you can finish everything in just about 15-20 minutes!
2. Bake extra sweet potatoes another night.
If you're serving up baked sweet potatoes as a side dish in another meal that week, make an extra batch at the same time. Then just set aside that batch to use for these BBQ stuffed sweet potatoes. You can reheat them in the microwave or oven while you're preparing the beef.
3. Cook the sweet potatoes in the slow cooker.
That's right – did you know you can "bake" sweet potatoes in the slow cooker?! Just rinse them, poke them with a fork to create holes for the steam to escape, and then put them right in your slow cooker. Cook for 6-8 hours on low.
This means you can get the sweet potatoes going before you walk out the door in the morning, and finish up the beef on the stovetop in just 20 minutes when you get home.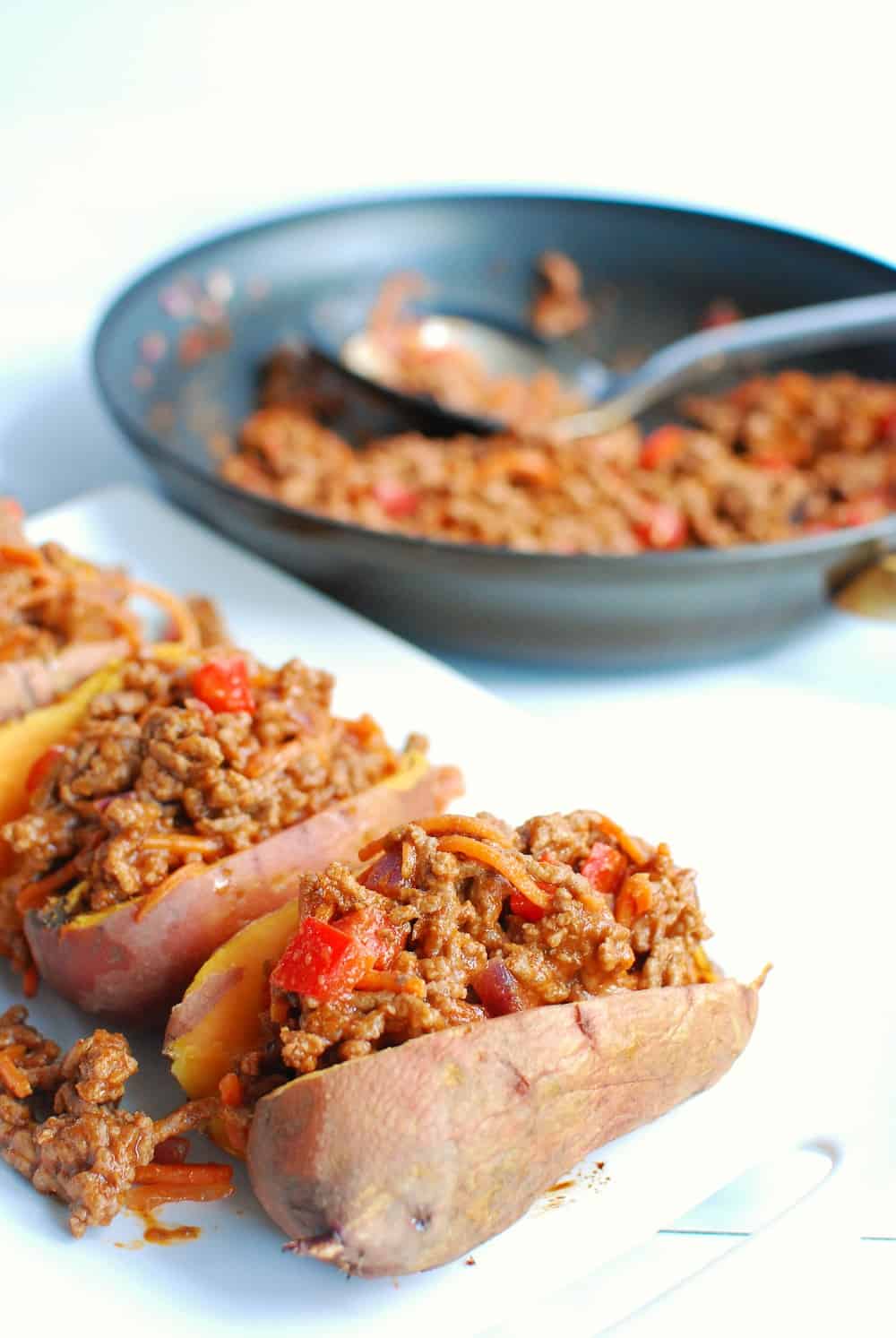 Slow cooker variation for the entire meal
Alright, so you know you can do the sweet potatoes themselves in the slow cooker – but if you really love those kinds of meals and don't want to worry about cooking anything when you get home, I've got a full recipe variation for you.
To make your BBQ beef stuffed sweet potatoes using just the slow cooker, you can stick to the exact same ingredients except for two small changes:
You'll use about a pound of beef chuck rather than ground beef.
You'll cut back to about 2/3 cup of tomato sauce rather than 8 ounces.
Everything else stays the same; just throw the chuck in there with all the same spices and sauce.
Then wrap the sweet potatoes in foil and put them on top of the chuck in the slow cooker. Cook it in your slow cooker on low for 7-8 hours, and it'll be all ready when you walk in the door from work. You can remove the sweet potatoes, and then shred the chuck in the sauce mixture before you scoop it out to load up on the potatoes.
The dish does have a slightly different flavor out of the slow cooker compared to the stovetop (related to the browning of the meat and reduction of the sauce on the stove, which doesn't occur in the slow cooker). If you want a little more BBQ flavor, just top it off with your fav sauce.
Whether you make it as I've written or you put your own variation on it, I hope you love these BBQ ground beef sweet potatoes as much as I do! If you get a chance to try it, be sure to leave a recipe rating or comment.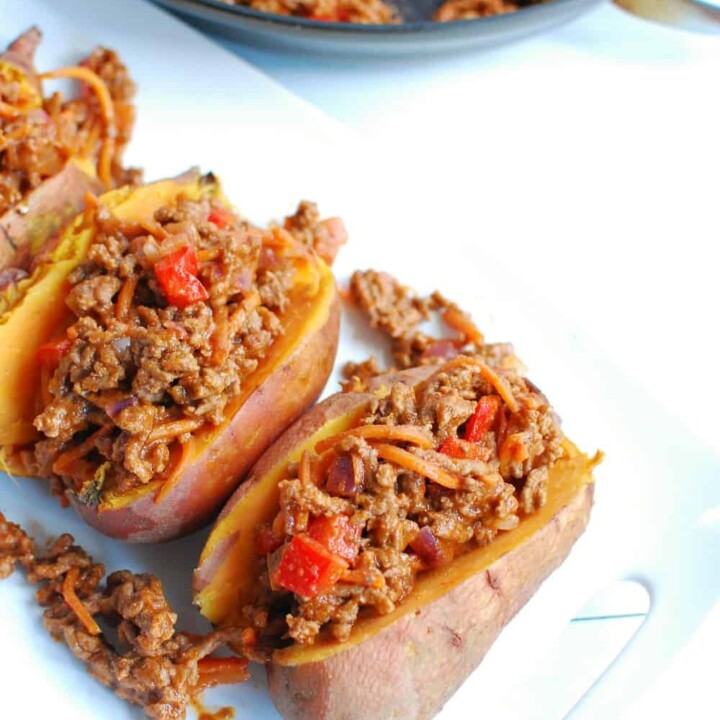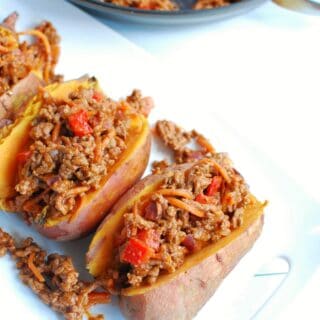 BBQ Ground Beef Stuffed Sweet Potatoes
These BBQ stuffed sweet potatoes are perfect for an easy family dinner or a tasty meal during Sunday football!
Ingredients
For the potatoes:
4

medium sweet potatoes

1

tbsp

olive oil

1/4

tsp

salt
For the BBQ beef:
1

lb

90/10 ground beef

1

small red onion

diced

2/3

cup

carrots

shredded

2/3

cup

bell pepper

diced

1/4

tsp

salt

1/4

tsp

garlic powder

1/2

tsp

paprika

8

oz.

tomato sauce

2

Tbsp

brown sugar

2

Tbsp

apple cider vinegar

2

Tbsp

Worcestershire sauce

2

tsp

Dijon mustard
Instructions
Preheat the oven to 400 degrees. Clean the sweet potatoes. Poke the potatoes with a fork a few times, and then place on a baking sheet (make a foil packet for each if you like easy clean up!). Drizzle olive oil over them and sprinkle with salt. Bake for 45-55 minutes, or until tender.

When the potatoes are about 20 minutes from being done, start preparing the beef. Add the beef, onion, carrots, and bell pepper to a large skillet over medium heat. Cook for about 5-6 minutes or until the beef is browned, breaking up meat as it's cooking.

Drain excess fat from skillet if necessary. Then add the salt, garlic powder, and paprika and cook for another minute.

Stir in the tomato sauce, apple cider vinegar, brown sugar, Worcestershire sauce, and Dijon mustard. Let simmer for about 5 minutes, or until sauce has reduced a bit. Remove from heat.

When sweet potatoes are done, slice them in half and top with the beef mixture. Add any optional toppings, like scallions or cheddar cheese. Enjoy!
Notes
Nutrition analysis (approximate per serving, does not include optional toppings):
450 calories, 16.5 g fat, 5.5 g saturated fat, 850 mg sodium, 40.5 g carbohydrate, 6 g fiber, 34 g protein, Vitamin A: 524%, Vitamin C: 104%, Calcium: 10%, Iron: 31%, Potassium: 37%
Nutrition
Share: What's your favorite way to load up a potato? If you tried these BBQ ground beef stuffed sweet potatoes, what did you think?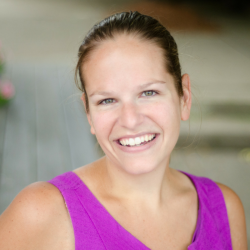 Latest posts by Chrissy Carroll
(see all)