Easter is coming up soon, and if you're like most people – you'll probably have a whole lot of extra ham in your fridge after the holidays. While go-to options like soup and sandwiches are nice leftover ham recipes, it's also fun to be able to make something different. Which brings me to what's sure to be your family's new favorite leftover meal: freezer-friendly mushroom ham and cheese pockets.
Disclosure: This post is sponsored by Monterey Mushrooms. As always, all opinions are my own.
Homemade take on a classic freezer meal
Have you ever thought to yourself "I wish I could make a homemade hot pocket"? Don't get too excited – I don't have any kind of official insight into your store-bought fav. 😉
But I'd like to think these mushroom ham and cheese pockets have all the key elements – a nice flour-based crust, cheesy filling with chunks of ham, and the ability to go from freezer to microwave.
Plus, this is the perfect way to use up leftover ham. You store these homemade pockets in the freezer, so there's no rush to finish those leftovers in the next few days. You can keep these frozen for months and they'll still be good.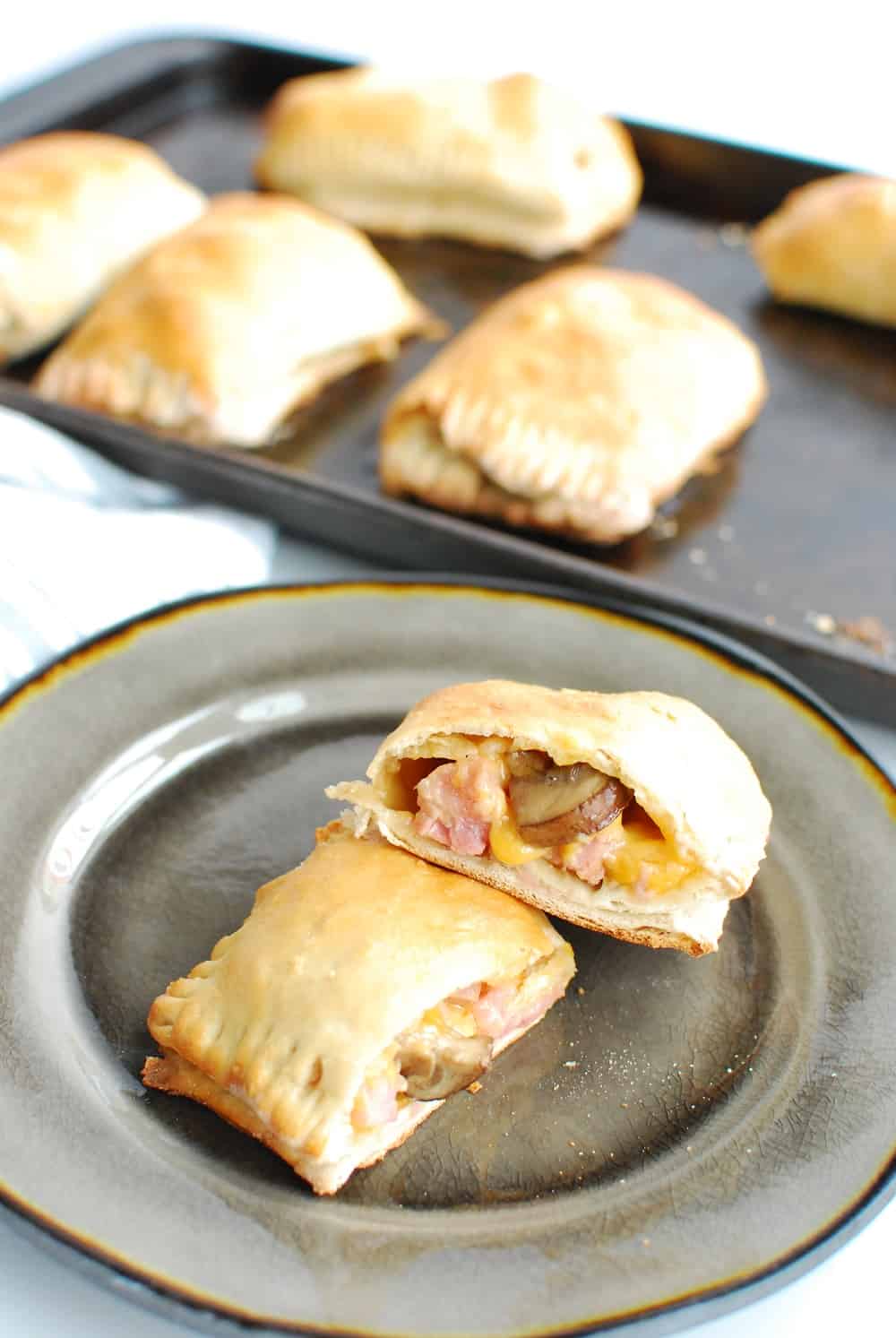 Nutritious addition – mushrooms!
The big bonus for this recipe? You're adding nutritious mushrooms to your ham and cheese pockets!
You all have probably seen by now that I'm a huge mushroom fan. In particular, I love Monterey Mushrooms – you may have spotted quite a few recipes on the blog with their Let's Blend product (pre-seasoned, finely chopped mushrooms). If you missed those, be sure to check out some of the recent highlights – like this Szechuan pork with mushrooms or these chicken parm stuffed peppers.
Back to this recipe though! Monterey Mushrooms also produces a huge variety of whole mushrooms. Think white, portabella, shiitake, oyster, and more.
For these homemade ham and cheese pockets, I'm using my standby favorite: baby bella mushrooms. I find most people enjoy the taste of these and they are incredibly versatile for many meals.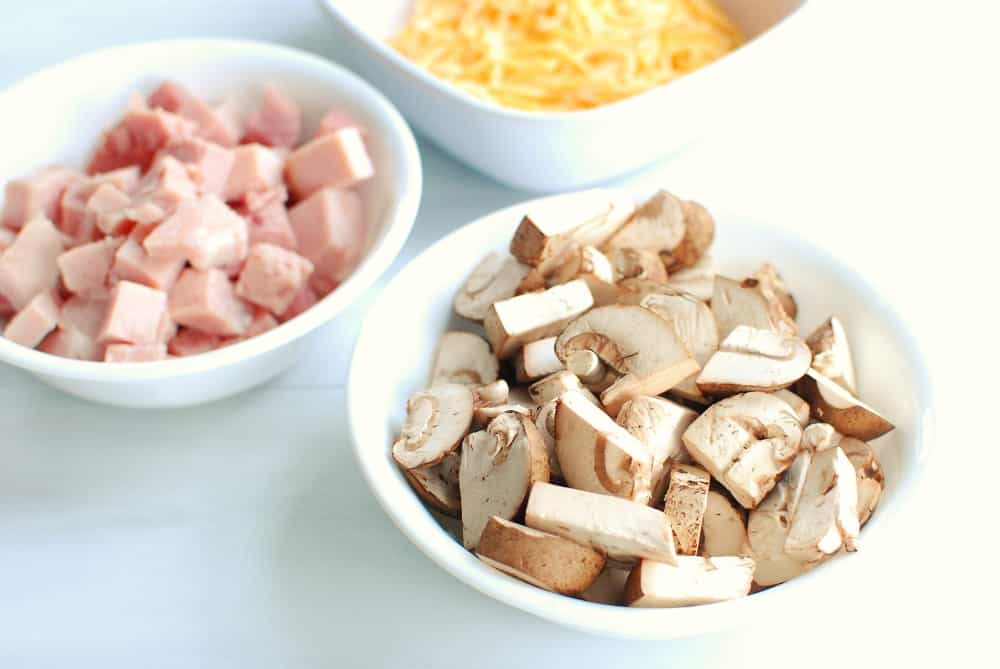 I love the umami flavor that these add to this recipe, and they help to bulk up the filling for minimal calories. Mushrooms are a great veggie component that adds a bit more balance to this on-the-go meal.
PS – Did you know that some of the baby bella mushrooms produced by Monterey Mushrooms are grown with a special light that helps increase the Vitamin D content in them? Vitamin D is a nutrient so many of us fall short in (especially in the Northeast) so it's neat that those are an option.
How to make mushroom, ham and cheese pockets
You'll start these by making a quick and easy dough for the crust. The dough is made from simple ingredients – yeast, sugar, oil, salt, and flour. And while most dough needs to rest for an hour or so, this one is ready to use in just 20 minutes!
Once the dough is ready, you'll break it into 6 balls and roll each out into a rectangular-ish shape.
Your filling will be made of sautéed mushrooms, chopped ham (hello, Easter leftovers!), and shredded cheddar cheese. Spoon that filling onto one side of the dough, then fold it up loosely burrito-style. Use a fork to crimp down the edges a bit just to secure everything, and cut off any excess dough if there happens to be any.
Side note – if folding up burrito style is too confusing, just fold the dough over and crimp all the edges down. I just found the above method produced better shaped pockets – folding over sometimes just ended up looking more like an empanada. But of course, the look doesn't impact the taste at all.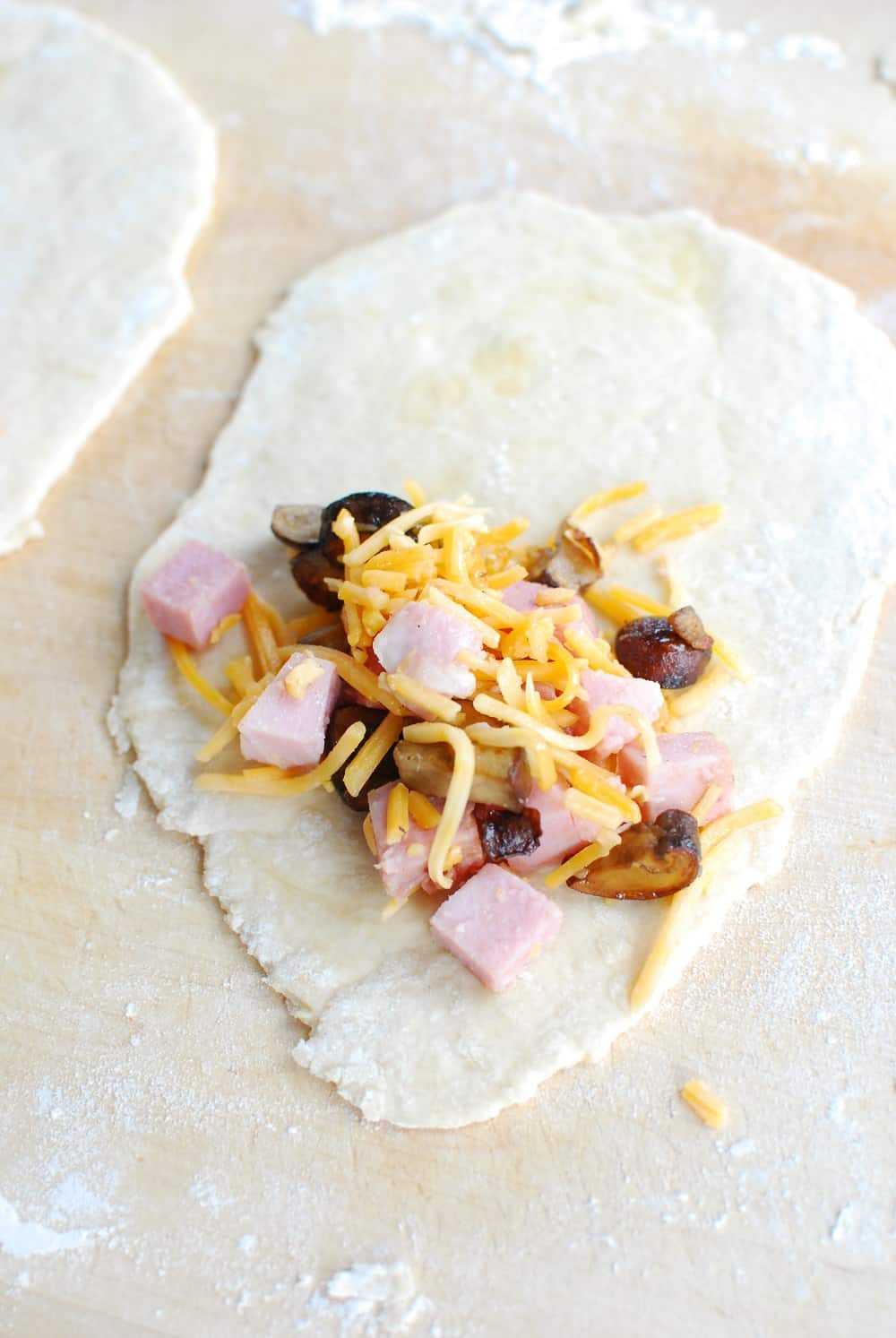 Brush those with an egg wash, cut a few slits in top, and then toss them in the oven. They only take about 12-15 minutes to bake at 450 degrees, so they're done quick!
You can enjoy them after letting it cool down for a few, or you can freeze them for later.
To reheat, just pop them in the microwave for about 1:30 and they're ready to go. One quick note – the crust is a little softer coming out of the microwave, so if you want that crispy crust, pop them into a hot oven or toaster oven for a few minutes.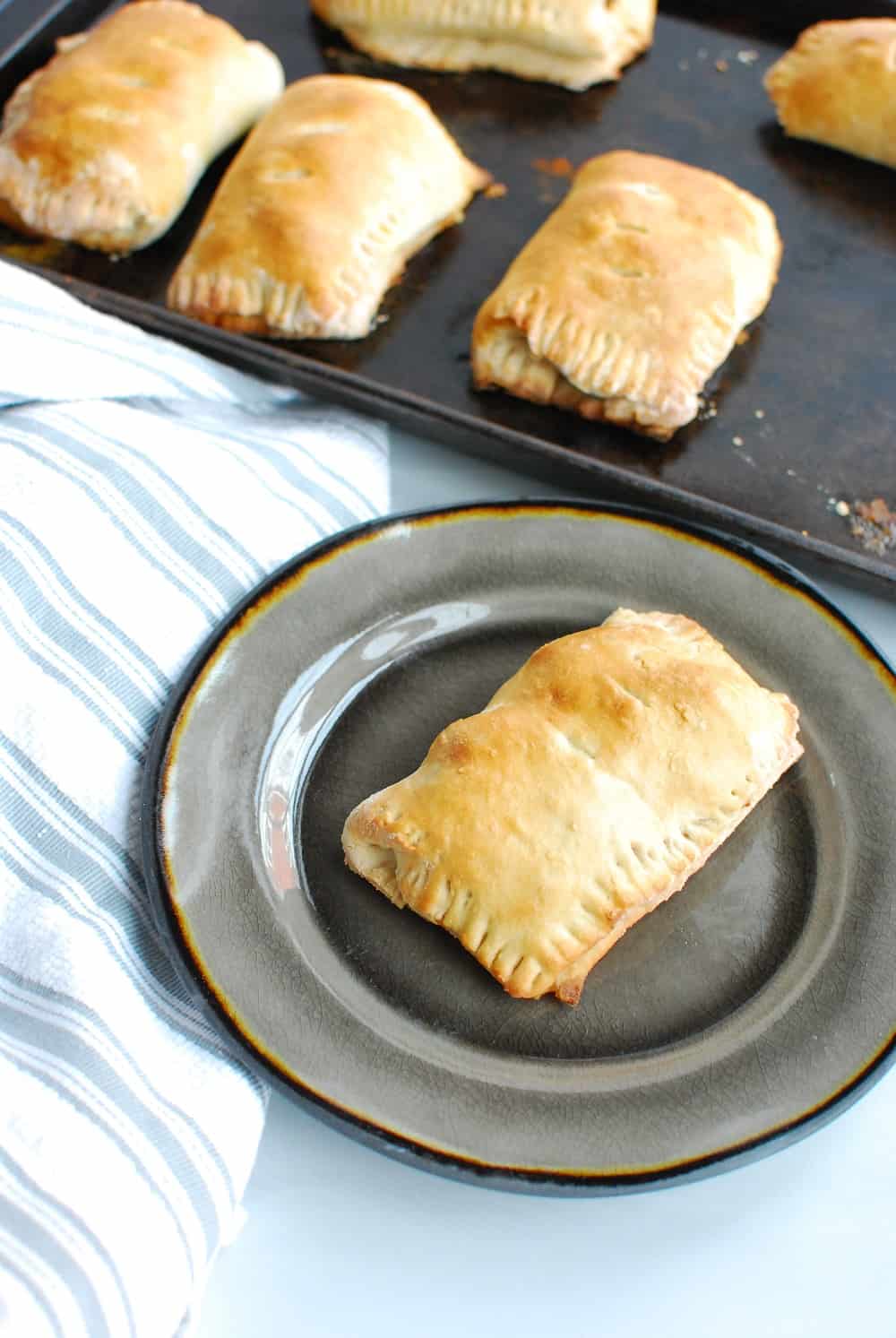 Can you make mushroom ham and cheese pockets without yeast?
Yes! There are several ways that you can modify this recipe if you don't have yeast to make a true dough. My favorite way is to use this combination of self-rising flour and Greek yogurt:
2 cups self-rising flour
1 1/3 cups plain Greek yogurt
Just mix that together and knead it well several times. Then roll it out just like you would a normal dough. It will be a little harder to work with than a traditional yeast-dough, doesn't look quite as pretty, and may crisp up a bit more – but it still tastes delicious! (And so easy, right?)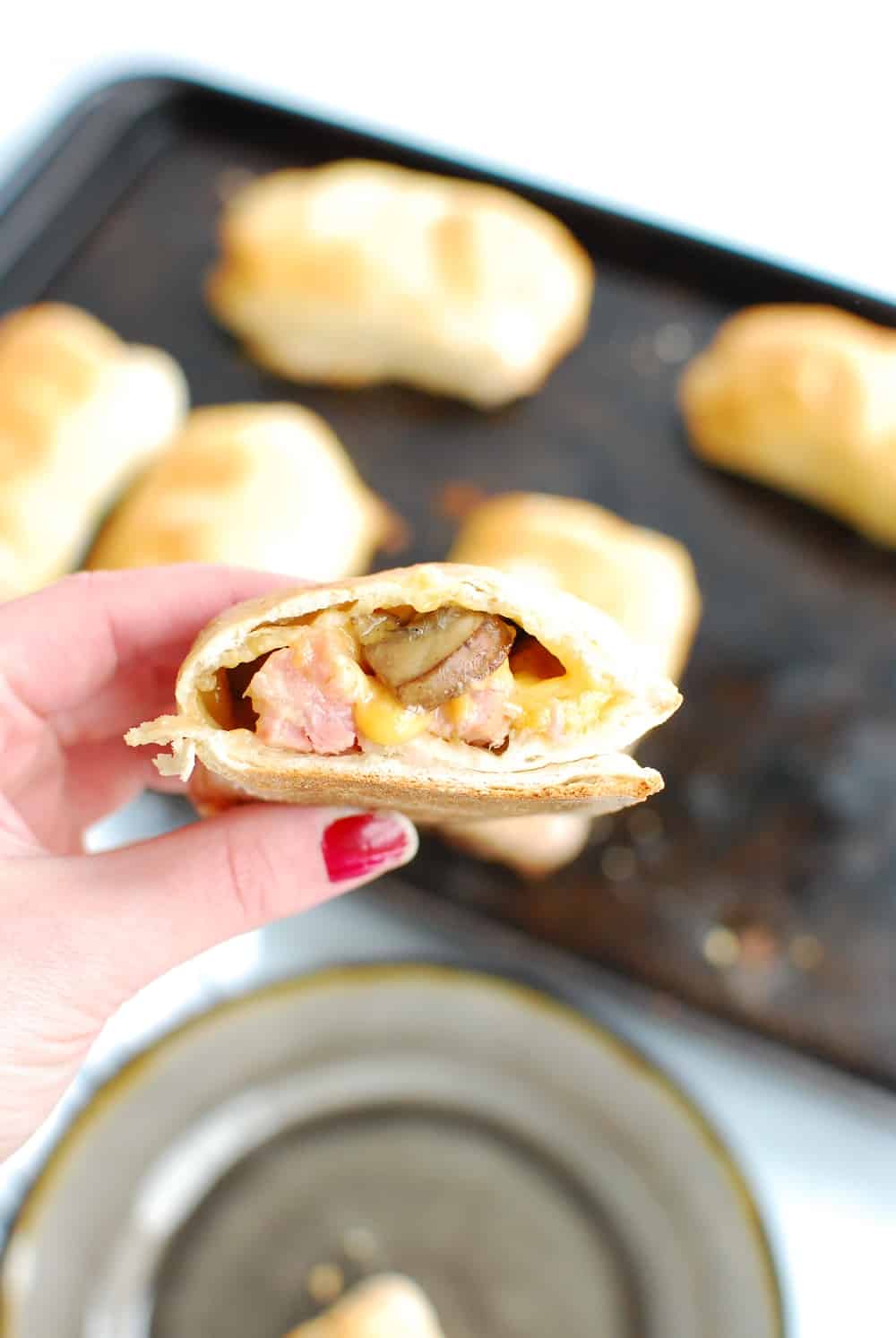 I hope you enjoy these mushroom ham and cheese pockets as much as we do at my house! They're perfect for an easy breakfast to fuel your day, or a quick lunch to pair with a side salad. If you try 'em out, be sure to leave a rating and let me know what you think.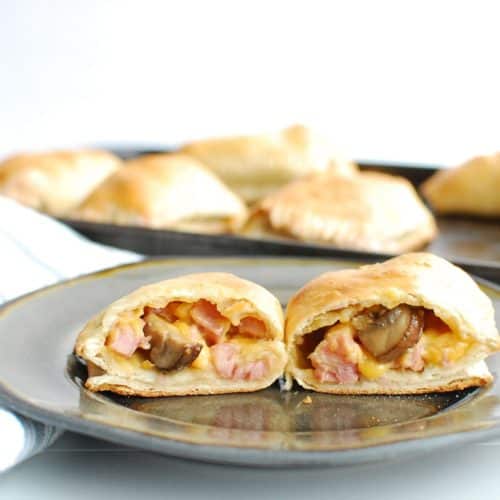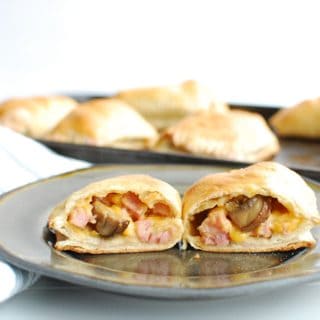 Homemade Mushroom Ham and Cheese Pockets
Looking for a leftover ham recipe? Try these insanely good mushroom ham and cheese pockets, kind of a like a homemade hot pocket! Freezer friendly + delish.
Ingredients
Dough:
2 1/4

tsp

active dry yeast

1

tsp

sugar

1

cup

warm water

2

tbsp

olive oil

1

tsp

salt

2 1/3

cup

flour
Filling:
1/2

tbsp

butter

1 1/4

cup

mushrooms, chopped

1 1/4

cup

ham, chopped

1 1/4

cup

cheddar cheese, shredded
Instructions
Add yeast, sugar, and water to the bowl of a stand mixer. Let sit for 10 minutes – it should be a bit bubbly.

Add oil, salt, and flour. Use dough hook attachment on medium speed on your mixer until it's well combined. Let rest for another 10 minutes.

While dough is resting, preheat oven to 450 degrees. Also during this time, heat butter in a skillet over medium heat. Add mushrooms and cook for about 5-7 minutes, until tender.

Pour mushrooms into a mixing bowl. Add ham and shredded cheddar cheese. Set aside for now.

When your dough has finished resting, divide it into 6 balls. Roll out each ball in a rectangular(ish) shape.

Spoon your mushroom ham and cheese filling onto one side of each piece of dough. Carefully fold them up, similar to how you would fold up a burrito. Use a fork to crimp down the edges to secure everything, and cut off any excess dough if there happens to be any.*

Cut a few slits in the top of each pocket with a knife. Place the pockets on a baking sheet sprayed with cooking spray.

In a small bowl, whisk together the egg and milk for the egg wash. Brush the egg wash on each mushroom ham and cheese pocket.

Bake at 450 degrees for 12-15 minutes, or until the outside is golden brown and dough is cooked through. Let cool a little and enjoy now, or place in a gallon size freezer bag to enjoy later.

To reheat from frozen, put on a plate and cover with a slightly damp paper towel. Heat for 1:30 minutes in the microwave, or until center is hot (add another 30 seconds if needed).
Notes
Notes:
*Instead of folding it up burrito-style, you can also just fold down the edges and crimp them.
The crust is a little softer coming out of the microwave compared to fresh out of the oven, so if you want that crispy crust, pop them into a hot oven or toaster oven for a few minutes.
Nutrition analysis (approximate per serving):
383 calories, 16.5 g fat, 7 g sat fat, 981 mg sodium, 39.5 g carbohydrate, 2 g fiber, 1 g sugar, 18.5 g protein, Vitamin A: 5%, Vitamin C: 0%, Calcium: 18%, Iron: 18%
Nutrition
Share with me: What's your favorite way to use up Easter leftovers? Would you dig into one of these mushroom ham and cheese pockets? If you made this recipe, what did you think?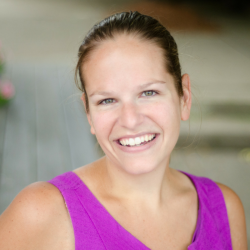 Latest posts by Chrissy Carroll
(see all)