This green bean quiche is a lovely option for weekend brunches or holiday breakfasts!
The holiday season always seems to be a hectic whirlwind of festivities, shopping, decorating, traveling, etc. And while I really do love most of those activities, I also know that I tend to overcommit to far too much this time of year. After reading Present Over Perfect (<– affiliate link) last week, I'm trying to refocus on the meaning of the season and enjoy what's most important.
If you haven't read that book, I highly recommend it. As the book description says, it's about "leaving behind busyness and frantic living and rediscovering the person you were made to be." For me, in this season of life and in this season of the year, that means:
thinking about what responsibilities are necessary versus unnecessary
trying to slow down rather than be as productive as humanly possible
enjoying more time with my family
embracing the holiday activities I do love (because let's face it, I have always been and will always be a Black Friday shopper 😉 )
focusing more on my relationship with my husband
learning to say "no" to the things I don't really want to do.
OK, OK, I know you're probably thinking – how the heck does this relate to green bean quiche? It falls in line with my goals above to embrace the activities I do love and spend more time with my family.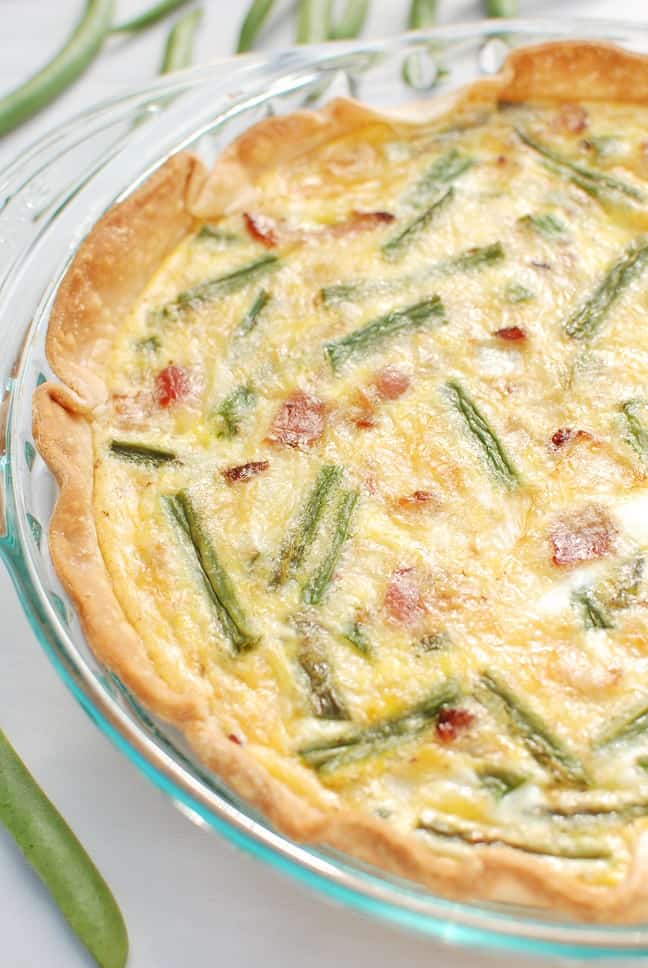 One of the things I truly do enjoy is cooking a big breakfast on the weekend for my husband and son, and sitting down together to devour it. Weekend breakfasts are a time for me to experiment with new recipes and old favorites; to cook things that I wouldn't have time to make during the rush of a weekday; to indulge in some treats that wouldn't necessarily be an everyday occurrence.
Especially during the holiday season, there's something a little magical about a big breakfast with family near the lights of the Christmas tree. Bonus points if there are some flakes of snow that happen to be falling outside (but those big ol' pretty flakes that don't actually stick to the ground, lol).
This green bean quiche has been one of my go-to weekend breakfasts the last month. On a cold morning, this straight-from-the-oven breakfast is just perfection.
[Tweet "Looking for your next weekend brunch meal? Try this green bean quiche recipe!"]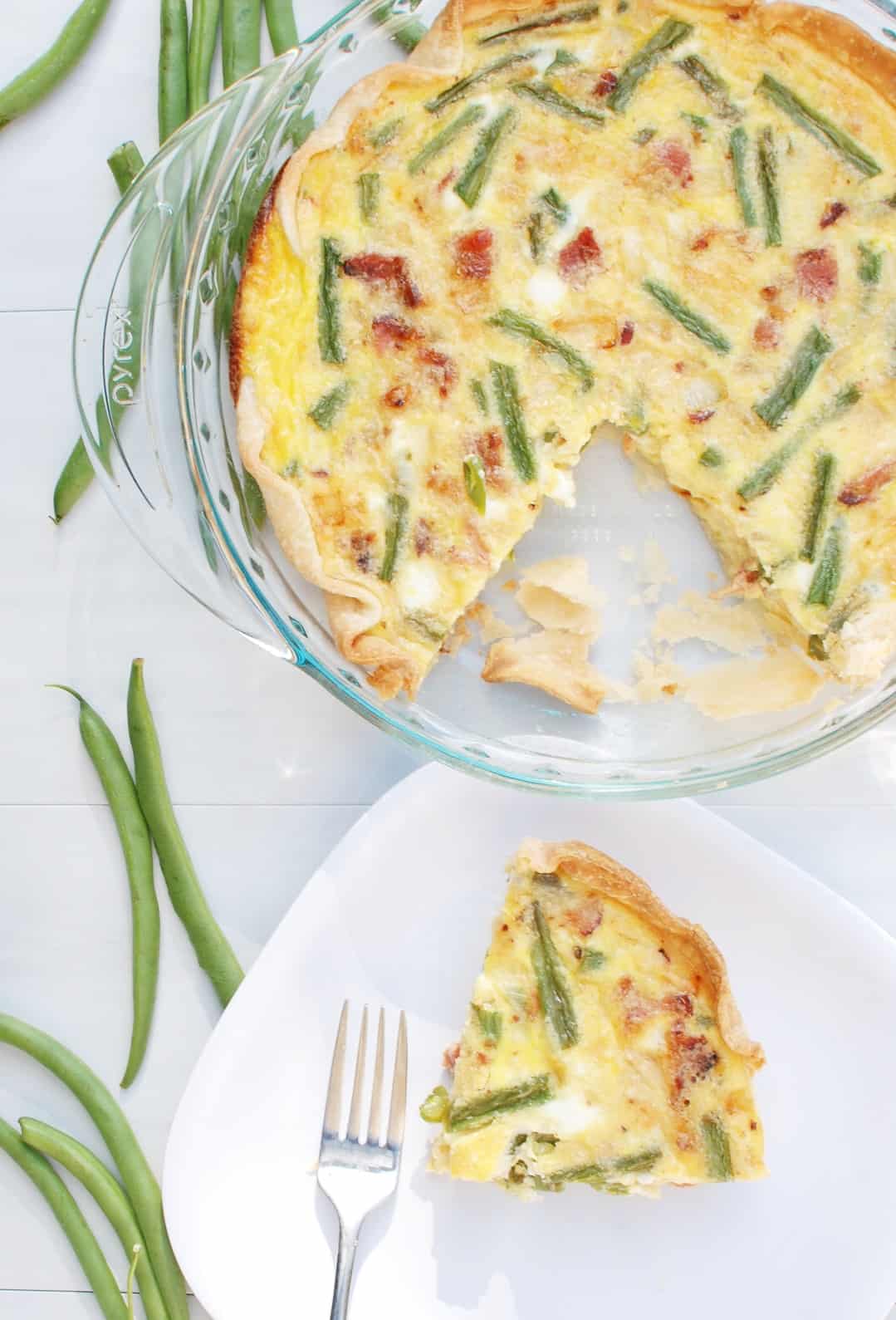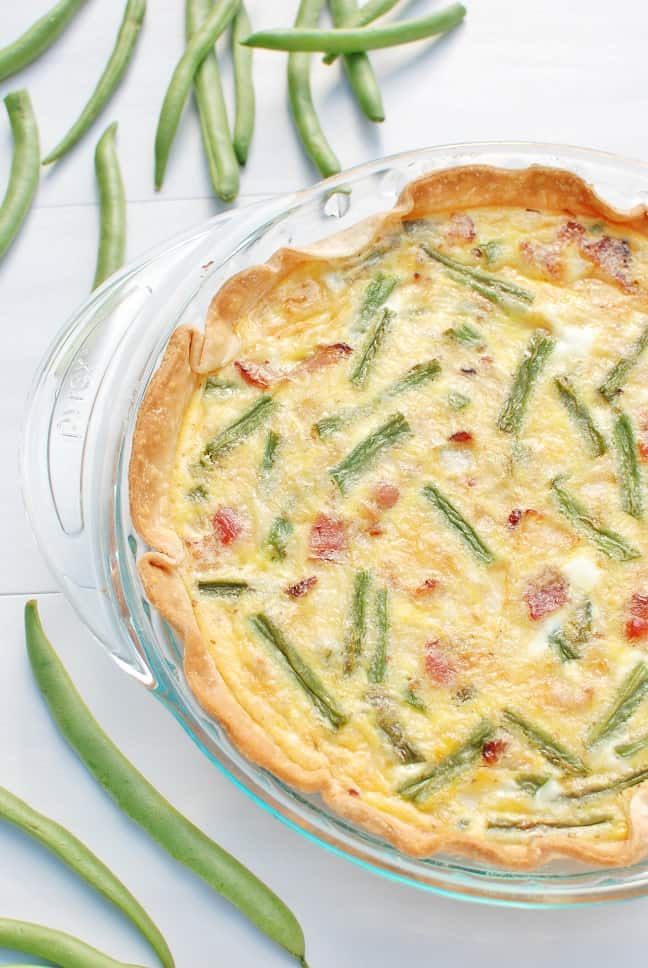 Is it the healthiest dish in the world? Nah. But I did make a few changes from standard recipes to make it a bit of a better-for-you option:
Most times I've had quiche elsewhere, it tends to be stocked up with lots of ham or bacon, and the veggies are few and far between. Instead, I've loaded up this dish with a bunch of green beans. It might sound weird, but they taste so good in here. I still include some bacon for that salty, savory flavor – but only a few slices that are crumbled in throughout.
Instead of half and half or cream, we're going with 1% milk. I don't skimp on the cheddar cheese, so you'll still get a rich filling. Just fewer overall calories with the milk.
Most recipes call for 3-4 eggs, but I use 5. I figure it adds a smidge of extra protein throughout.
Now, I might get some side eyes over here for using a store bought refrigerated pie crust. I mean, we all know they're not really good for us. I'm not pretending that they are nutrient dense or anything.
But I love the rich, flaky dough when it comes to my quiche. If I wanted "crustless" quiche, I would just make egg muffins instead. No, no, my friends, if I'm going to eat quiche, I want the pie crust there in all its glory.
You could of course make your own, but obviously those store bought ones are nice for convenience.
But even with that pie crust, this quiche is still reasonable for anyone's meal plan. When all is said and done, you're eating a rich, delicious breakfast for 275 calories a serving. Count me in
Give it a try, and be sure to let me know what you think!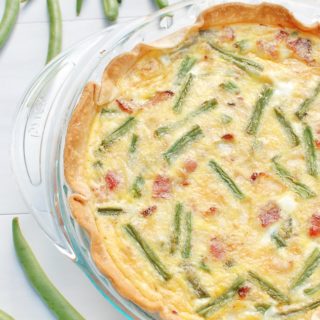 Green Bean Quiche
This easy quiche is made with just 8 ingredients! Plus, it's a relatively healthy quiche, made using milk rather than half and half or cream, and loaded with nutrient-rich green beans.
Ingredients
1

pie crust (store bought or homemade)

5

slices

bacon

1/2

onion, diced

1 1/2

cups

green beans, ends removed and chopped into 1 inch pieces

2

cloves

garlic, minced

5

eggs

3/4

cup

1% milk

1

cup

shredded cheddar cheese
Instructions
Preheat oven to 400F. Place pie crust in glass pie plate and set aside for now.

Place the bacon in skillet. Turn heat to medium-high and cook bacon through, then remove from heat. (I recommend cooking to more on the well done side as you want to be able to chop/crumble this into the egg mixture). Set bacon aside on a paper towel lined plate to cool. When cool, chop or crumble into small pieces.


Remove all but about 1-2 tbsp of bacon grease from the skillet. Place skillet with reserved bacon grease back on a burner and turn heat to medium. Add onion and green beans. Cook for approximately 3-4 minutes, or until vegetables start to get a bit tender. Add garlic and cook for another minute. Remove from heat.


In a large mixing bowl, whisk together eggs and milk. Stir in the crumbled bacon as well as the green bean, onion, and garlic mixture. Finally, stir in the cheddar cheese.


Pour this into the prepared pie crust. Bake at 400F for approximately 30-35 minutes, or until eggs are cooked through.

Notes
Notes:
If you have leftover green beans that have already been cooked, you can skip adding them in to sauté with the onion. Instead, just sauté the onion and garlic, and then add the green beans into the egg mixture directly. You can also use canned green beans if you like in this way.
Nutrition analysis (approximate per serving):
275 calories, 17 g fat, 7 g sat fat, 375 mg sodium, 19 g carbohydrate, 1.5 g fiber, 11.5 g protein, Vitamin A: 10%, Vitamin C: 7%, Calcium: 16%, Iron: 7%
Nutrition
Share with me: Do you ever get overwhelmed during the holiday season? Are you trying to slow down this season too? Do you love making weekend breakfasts for the family? What do you think about this green bean quiche?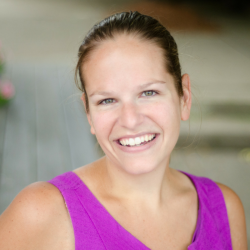 Latest posts by Chrissy Carroll
(see all)