Who else is obsessed with all things buffalo flavored?! (Raises hand). From buffalo chicken stuffed sweet potatoes to buffalo cauliflower, I'm all about the spicy stuff these days. And the latest favorite to add to my list? These buffalo turkey meatballs!
These meatballs are perfect to use as part of a main dish for dinner, or to whip up for a game-day appetizer. And the best part? They're actually quite nutritious!
Disclosure: This post is sponsored by Monterey Mushrooms. As always, all opinions are my own.
How to make buffalo turkey meatballs
You'll love just how easy it is to make these meatballs. Pretty similar to other meatball recipes, you'll mix up your ground turkey with egg, garlic, and breadcrumbs. But in this dish, we're also adding green onions, blue cheese, and baby bella mushrooms.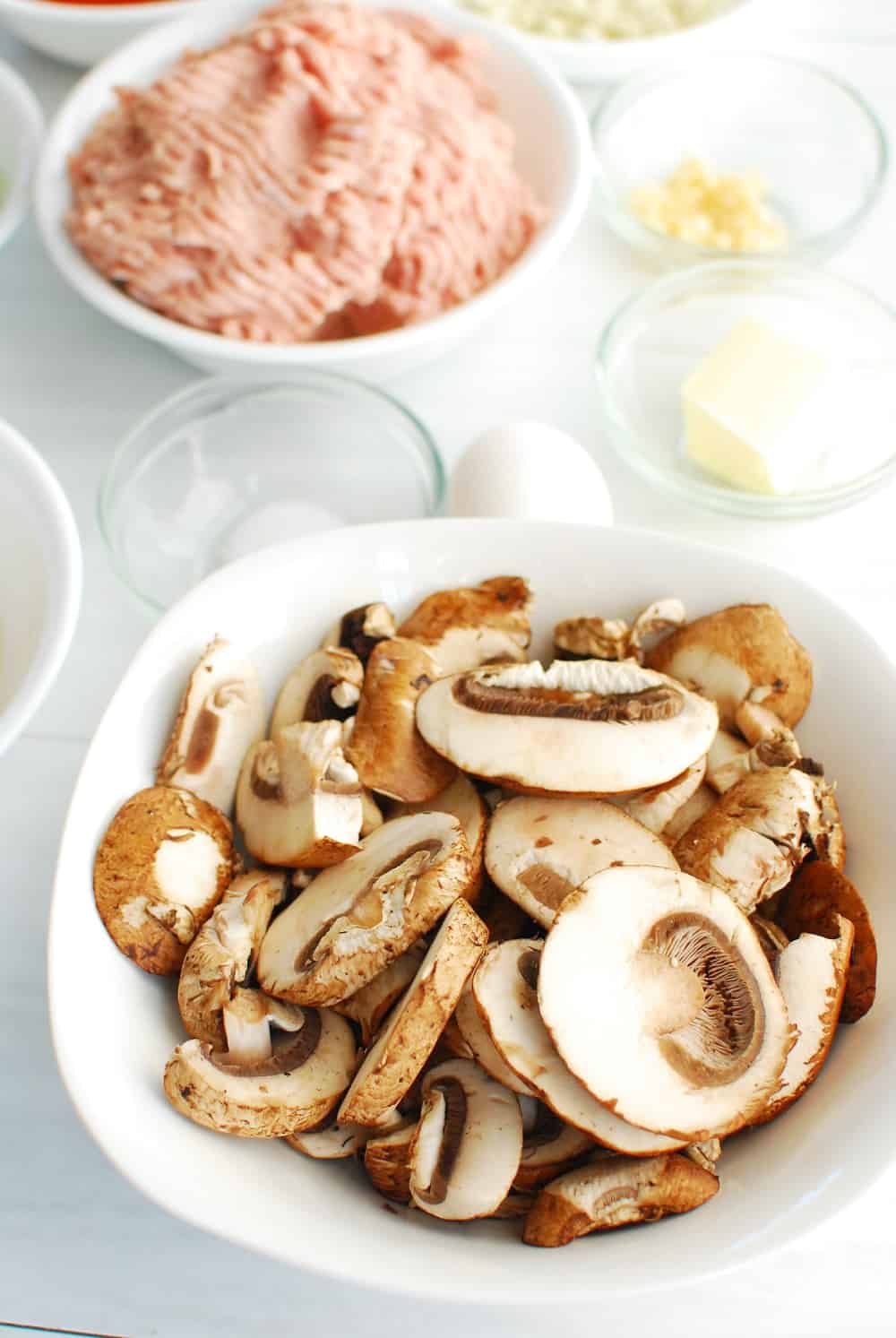 Here's how you'll make the meatballs:
First, you'll grab your mushrooms and pop them into a food processor. Pulse a few times to dice them finely. You can also chop them by hand, but the food processor makes this go more quickly.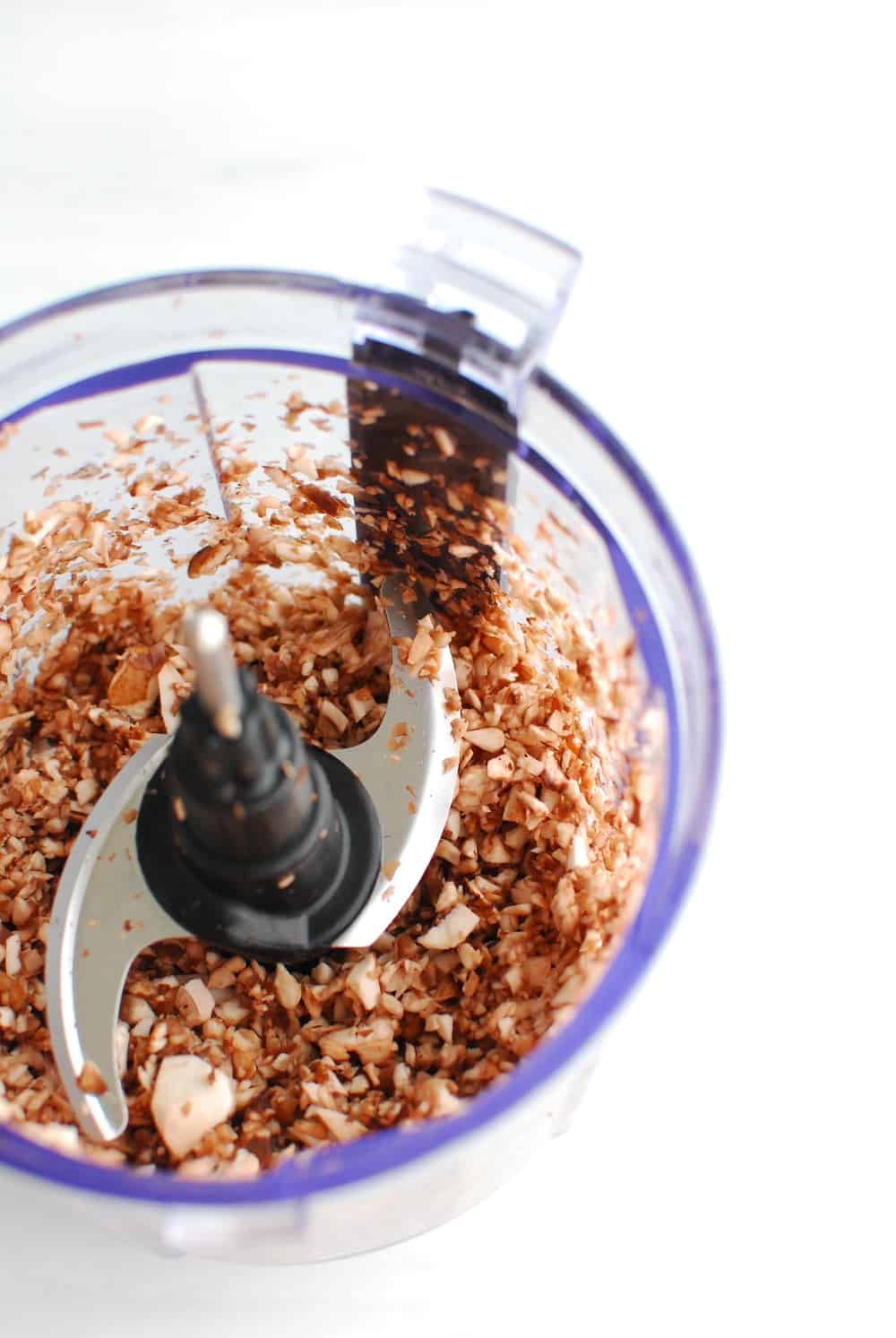 After that, you'll saute the mushrooms in a little olive oil. When they're golden and tender, you'll take them off the heat and let them cool for a few minutes.
Then, you'll mix the mushrooms with the rest of your turkey meatball ingredients. Roll the mixture up into about 30 small meatballs, then bake them in the oven. Here's how they look before they go in the oven: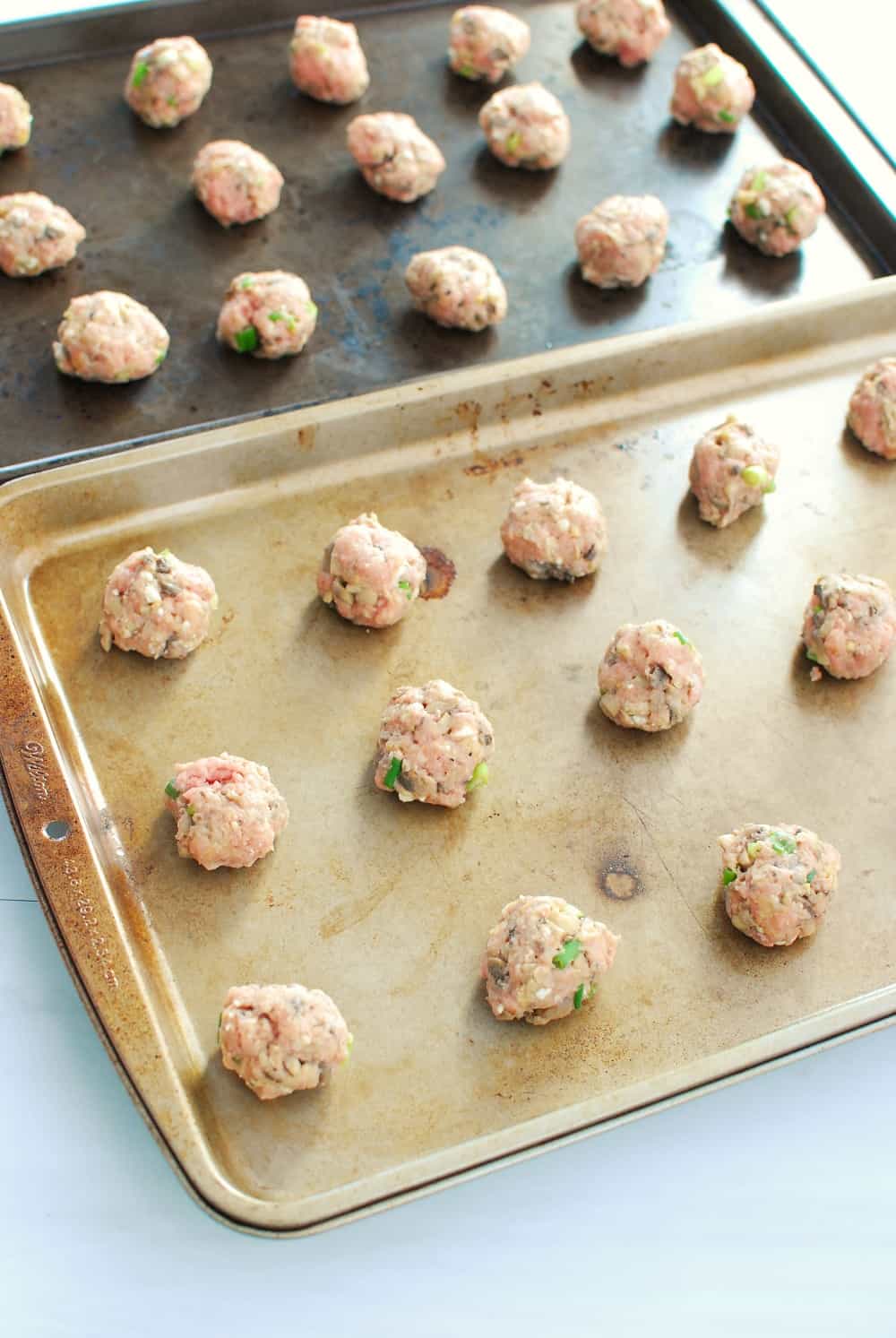 And after being cooked: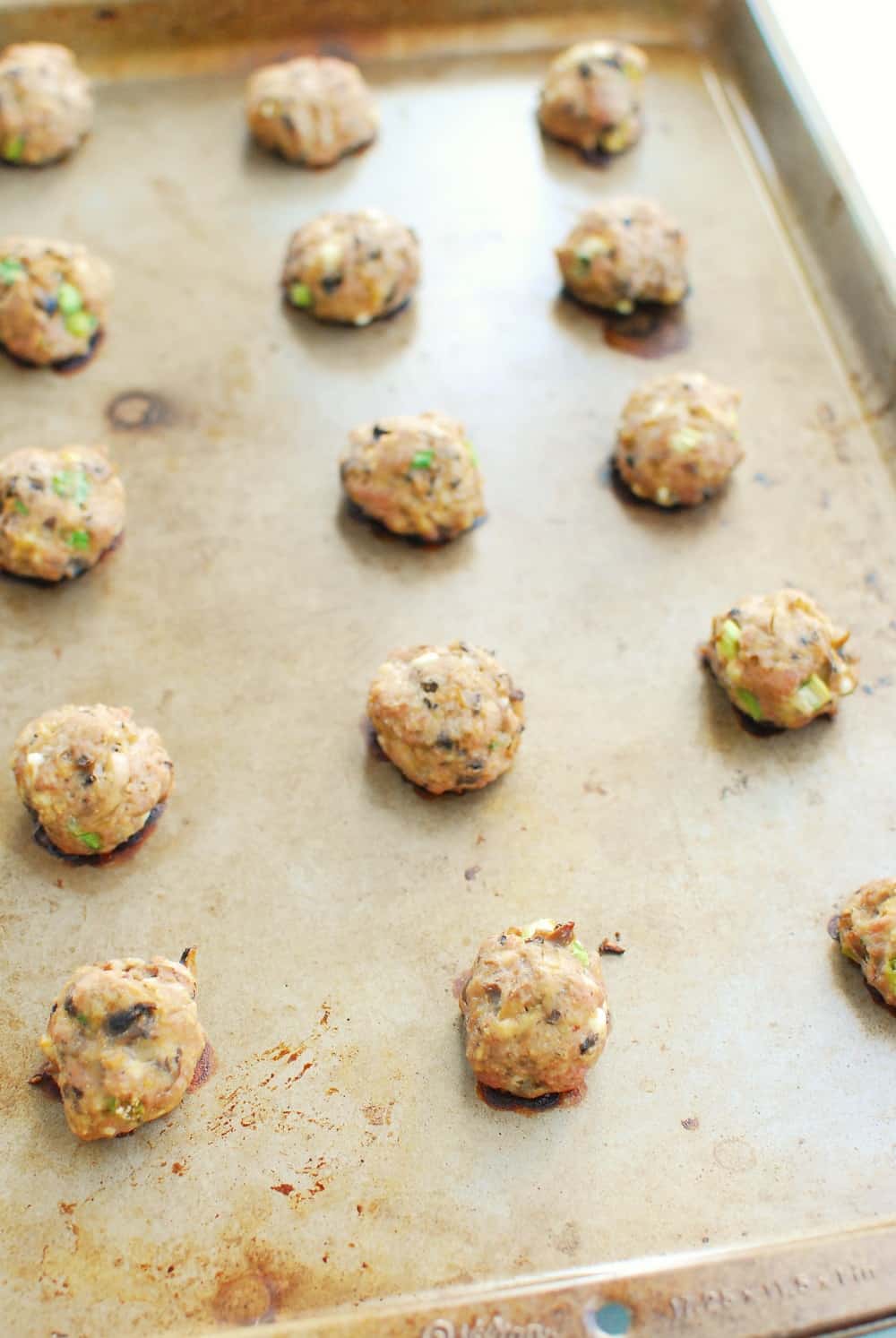 Then toss 'em in a mixture of hot sauce and a little butter. The result is tender meatballs that pack a little heat and a lot of flavor – in a nutritious way.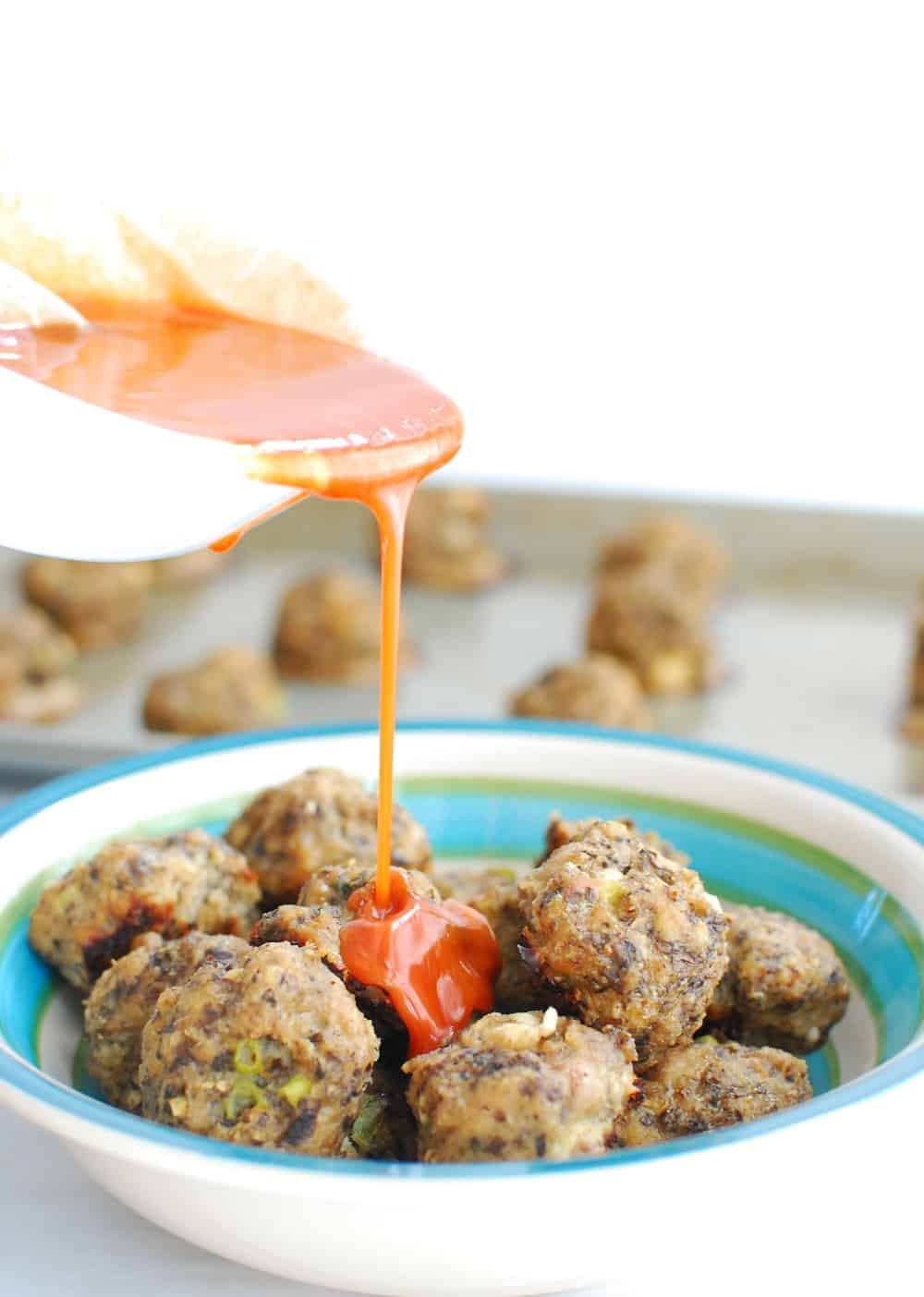 Why add mushrooms?
Have you ever had a ground turkey or ground chicken meatball that was a little dry? Often times, this can be the result of slightly overcooking. But sometimes, people are surprised by the texture even if it's properly cooked, especially if they're used to traditional beef-based meatballs.
The solution to this? Add fresh Monterey Mushrooms! They produce high quality mushrooms that work well in a ton of recipes, from ham and cheese hot pockets to the blended burger in my apple sliders.
For these buffalo turkey meatballs, I've gone with baby bella mushrooms, which help keep a tender, rich texture. No dried-out meatballs here!
And bonus – who doesn't want to include more veggies in their meals? These mushrooms work great for picky kids because they don't even realize they're in there.
PS – If you do have kids around that don't like spicy stuff, you can set aside some of the meatballs before tossing them in the buffalo sauce. My son likes the plain meatballs dipped in ketchup, or the plain meatballs with a bowl of mashed potatoes!
You can find Monterey Mushrooms at a lot of major supermarkets – definitely pick some up to make this dish!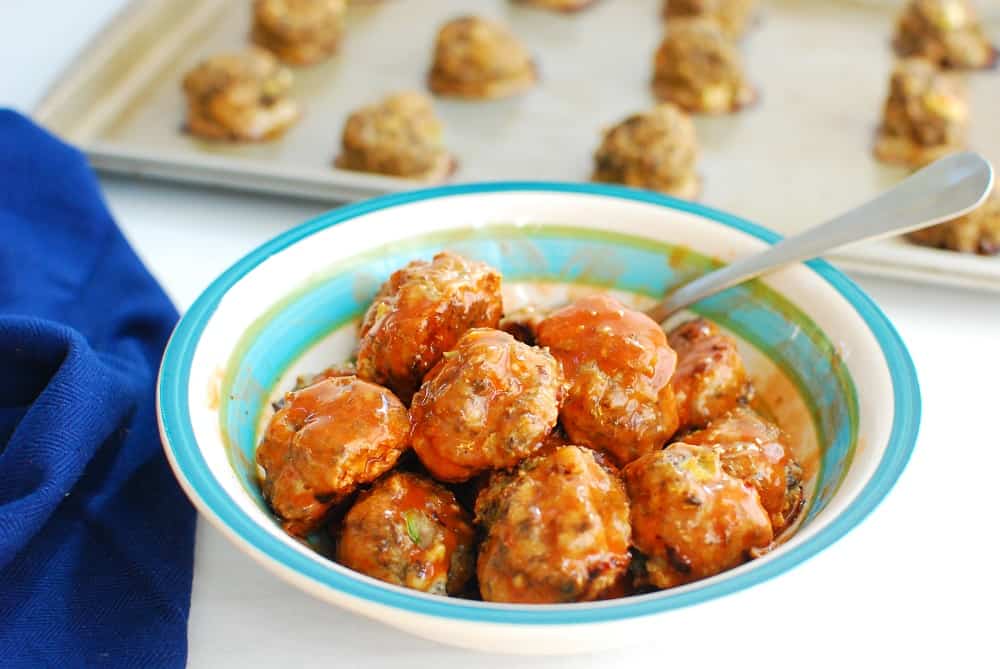 How to serve buffalo turkey meatballs
If you're making these as an appetizer, you can simply make the recipe and put toothpicks on each meatball. It's perfect one-bite party food.
If you're making this as a dinner option for the family, here are some ideas for ways you can serve them:
Toss the buffalo turkey meatballs with cauliflower rice or cooked brown rice.
Serve them with mashed potatoes or cauliflower – like these blue cheese mashed potatoes or this garlic cauliflower mash!
Pop them on a bulkie roll for a creative take on a "meatball sub".
Serve them over a big 'ol salad of mixed greens, cucumbers, and celery.
Plate the meatballs over roasted spaghetti squash.
Serve the meatballs picnic style, alongside either macaroni salad or potato salad.
Whether you're serving them as an appetizer or entrée, I personally like adding just a little drizzle of ranch dressing on top of the meatballs to balance out the spice of the hot sauce. You can go with a traditional store-bought ranch, or if you're looking for a homemade version, here are a few options: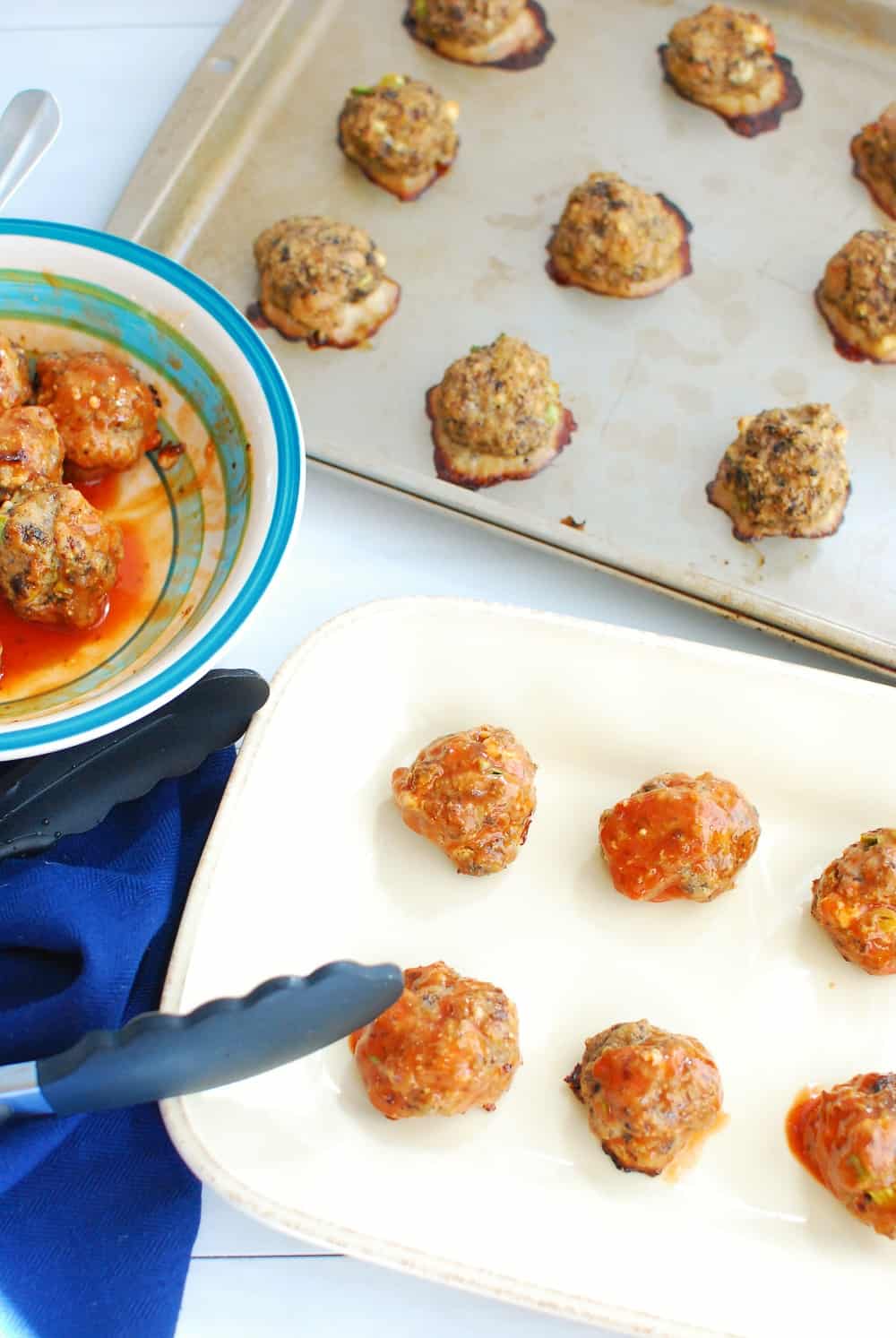 Modifications for this recipe
If you have specific dietary needs, there are easy swaps to make this recipe work for you:
Dairy free: Skip the crumbled blue cheese in the meatballs, and use a vegan butter spread in place of the butter for the buffalo sauce. (And if you top with ranch, use a dairy free ranch.)
Egg free: Substitute a flax egg, a few spoonfuls of applesauce, or a few spoonfuls of milk.
Gluten free: Use gluten free bread crumbs.
Low carb: These meatballs are actually quite low carb already, with only 6.5 grams per serving. But if you're following a very low carb diet, you can try using almond flour in place of the breadcrumbs in the recipe.
I hope you enjoy these buffalo turkey meatballs! 🙂 If you get a chance to try them, feel free to leave a recipe rating or comment below.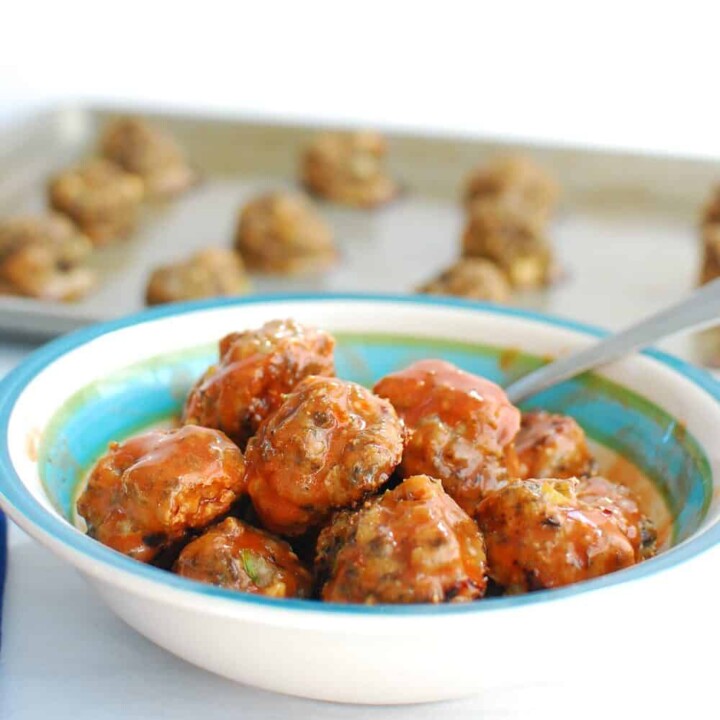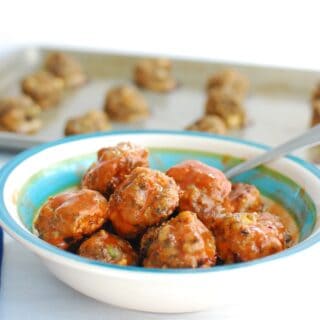 Buffalo Turkey Meatballs
These buffalo turkey meatballs are easy to make and have the perfect amount of buffalo flavor! Great for a game day snack or as part of a dinnertime meal.
Ingredients
For the meatballs:
1

tbsp

olive oil

8

oz

Monterey Mushrooms baby bella mushrooms

1

lb

ground turkey

2

cloves

garlic, minced

1

egg

1/3

cup

breadcrumbs

1/3

cup

green onions, chopped

1/4

tsp

salt

1/4

tsp

pepper

1/3

cup

crumbled blue cheese

(optional)
For the buffalo sauce for tossing the meatballs:
2

tbsp

butter, melted

1/2

cup

hot sauce
Instructions
Preheat oven to 350 degrees.

Add the mushrooms to a food processor and pulse until they're chopped finely (or chop finely by hand).

Heat the olive oil in a large skillet over medium heat. Add the mushrooms and cook for about 5-7 minutes, until tender and golden brown. Let cool for a few minutes.

Combine all the remaining ingredients for the meatballs along with the cooked mushrooms in a large bowl. Mix well, then roll into meatballs and place on baking sheets.

Bake the meatballs for 35 minutes, or until the internal temperature reaches 165 degrees.

When meatballs are done, combine the butter and hot sauce together in a large bowl. Toss with the cooked meatballs. Enjoy!
Notes
Notes:
This recipe makes approximately 30 small meatballs. One serving = 5 small meatballs.
Nutrition analysis (approximate per serving):
243 calories, 15.5 g fat, 6 g sat fat, 1000 mg sodium, 7.5 g carbohydrate, 1.5 g fiber, 1 g sugar, 18 g protein, Vitamin A: 6%, Vitamin C: 26%, Calcium: 8%, Iron: 10%
Nutrition
Share: What's your favorite buffalo-flavored dish? If you tried these buffalo turkey meatballs, what did you think?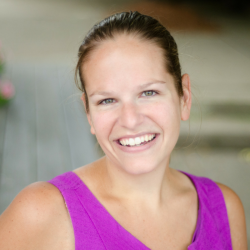 Latest posts by Chrissy Carroll
(see all)