Fall always brings back early memories of visiting Vermont with my hubby, seeing the changing leaves and buying (you guessed it) – fresh maple syrup. This maple flavored fall trail mix recipe always brings me back to those times!
It's a perfect prep ahead snack for the week. Picture nuts and seeds that are lightly glazed in maple syrup, then tossed with dried cranberries and white chocolate chips. It's a tasty combination that adults and kids alike will love.
Why I love this trail mix for active women
I know when I'm in a tough training cycle, I go through "hangry" phases. Who's there with me? You know, when you're feeling hungry all the time and start to get cranky if you aren't getting some food in yo' belly?
This trail mix is the perfect kind of snack for those situations. It's got both fat and protein to help you stay full longer. And because it's lightly sweetened with maple syrup and a few white chocolate chips, it tastes like a treat!
Now of course, if you want to reduce your added sugar intake further, you could leave out the sweetener and chocolate. But as long as you keep the rest of your daily added sugar intake controlled, I believe it's perfectly fine to include a small amount via this trail mix.
The other great thing about this trail mix? So many of the foods in it are nutritional powerhouses! Just take a look at some of the highlights on these items:
Walnuts:
Almonds:
Good source of healthy fats, helping you stay full and satisfied.
A 2018 review in Nutrients concluded that almonds can help lower LDL ("bad") cholesterol and maintain HDL ("good") cholesterol.
May help reduce fasting plasma glucose, according to preliminary research.
One study showed that when endurance athletes ate almonds for several weeks, they improved their time trial performance more than a group that ate cookies of the same calories.
Pumpkin seeds:
Good source of magnesium and iron, two minerals that athletes may fall short on.
Research shows they are rich in antioxidants, which may be important for athletes that workout a lot – in addition to other health promoting effects.
An observational study in Nutrition and Cancer found that consumption of pumpkin and sunflower seeds was associated with reduced breast cancer risk (though of course, correlation doesn't necessarily equal causation).
Sunflower seeds:
Good source of healthy fats and Vitamin E.
One review suggests that the oil found in sunflower seeds may play an anti-inflammatory role in the body.
As mentioned above, an observational study in Nutrition and Cancer found that consumption of pumpkin and sunflower seeds was associated with reduced breast cancer risk.
Dried cranberries:
Dried cranberries are a fruit rich in antioxidants.
A few studies have looked at dried cranberries as they relate to urinary tract issues – and while the data isn't clear, three studies did find promising effects of sweetened dried cranberries (for more reading, look at this 2005 study, 2010 study, and 2013 study).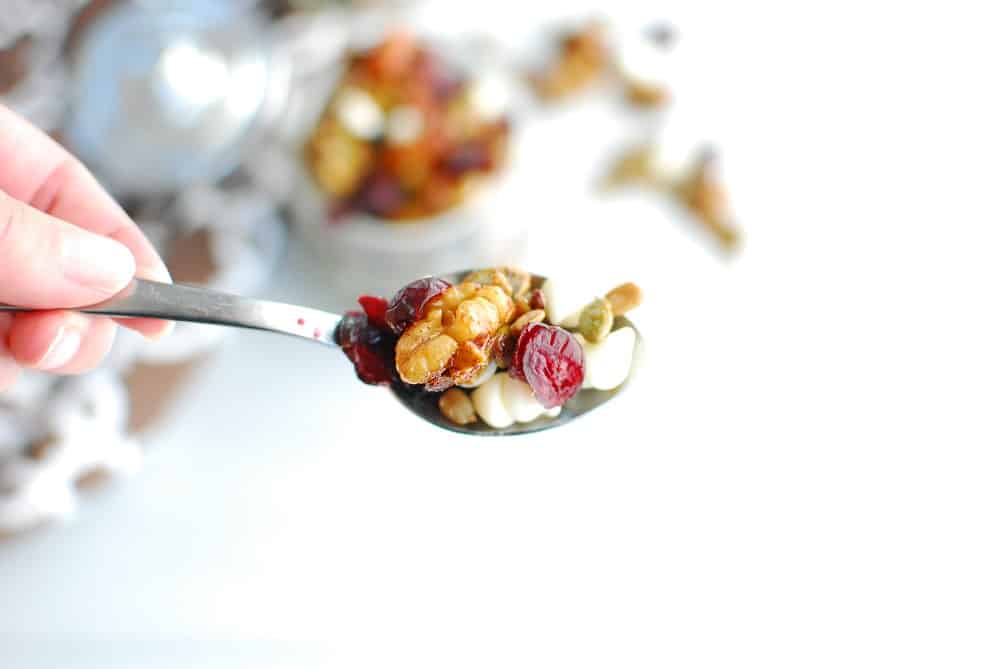 How to make fall trail mix
Alright, now you know why it's a good choice – let's get to making it! Here's what you'll need to make this recipe:
Maple syrup
Salt
Pumpkin spice or cinnamon (or skip if you don't have either on hand)
Walnuts
Almonds
Pumpkin seeds
Sunflower seeds
Dried cranberries
White chocolate chips
First, you'll heat up the maple syrup with the salt and pumpkin spice (or cinnamon, or skip this – it doesn't add a ton of extra flavor, just a hint). You'll toss the nuts and seeds in this mixture and cook it for about 3-5 minutes. Stir often, and remove from heat when the maple syrup has thickened up and is really coating the nuts and seeds.
Keep in mind it's a *very* small time frame from maple glazed deliciousness to burnt grossness, haha – so you'll want to be actively next to your stove for this part. My kiddo always seems to want me to watch something he's doing righttttt in this moment ("mom, loooooook at me!") so I have had the disappointment of burnt sugar happen more than once. 😉 Keep a close eye, my friends.
When it's all set, turn off the heat and then spread it along parchment paper on a baking sheet to cool.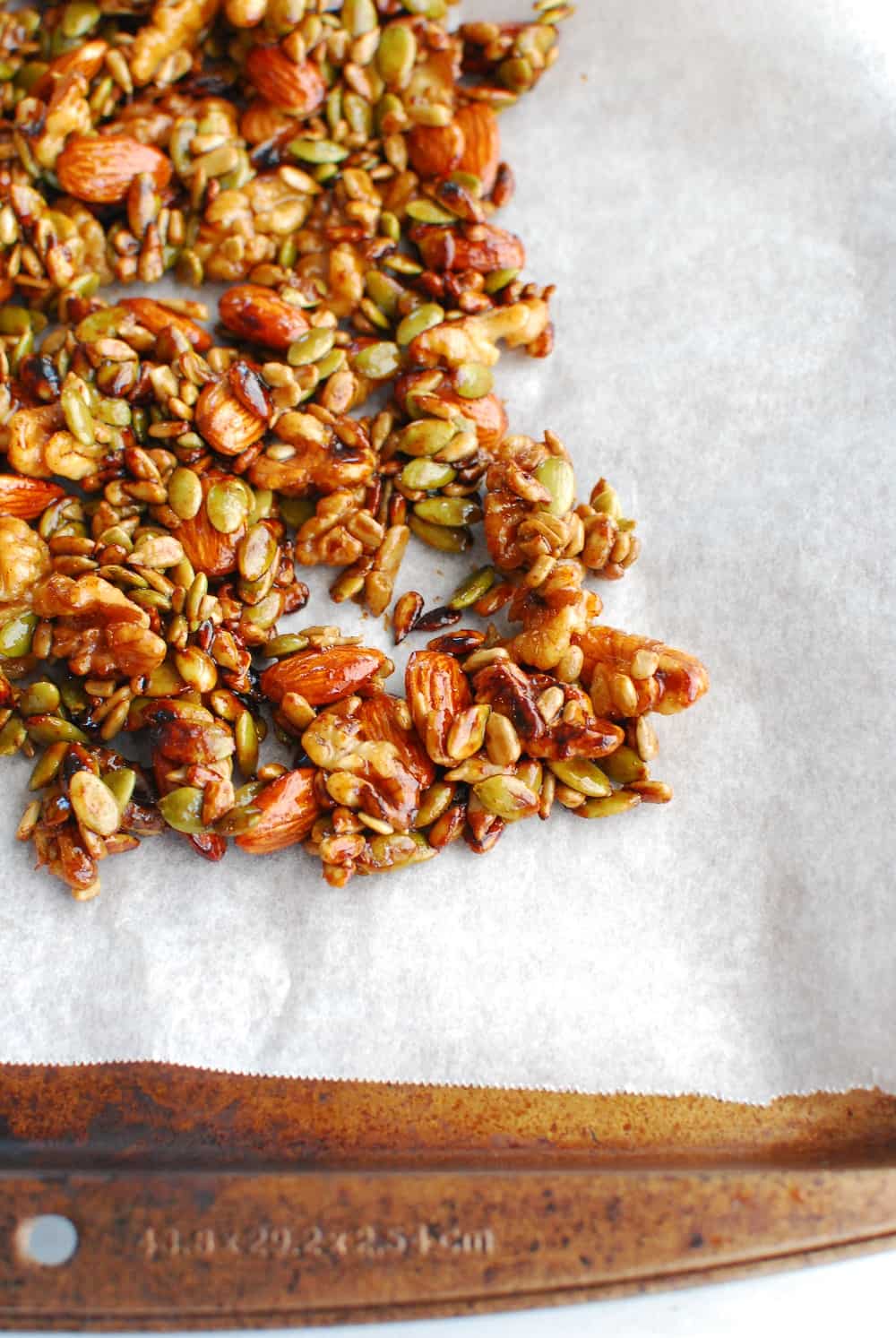 It'll take maybe 20-30 minutes to fully cool down and solidify. They should feel hard and smooth (and maybe ever-so-slightly tacky).
If after a half hour it's still sticky or wet, you probably didn't cook it long enough. You don't want to use these undercooked ones for the trail mix, as it'll get yucky sitting out at room temperature. But you can store it in your fridge and use it for topping yogurt or a salad later.
If you did get the right texture – way to go! Now you can break up any clusters and toss it in a bag or food storage container along with your dried cranberries and white chocolate chips. Yum!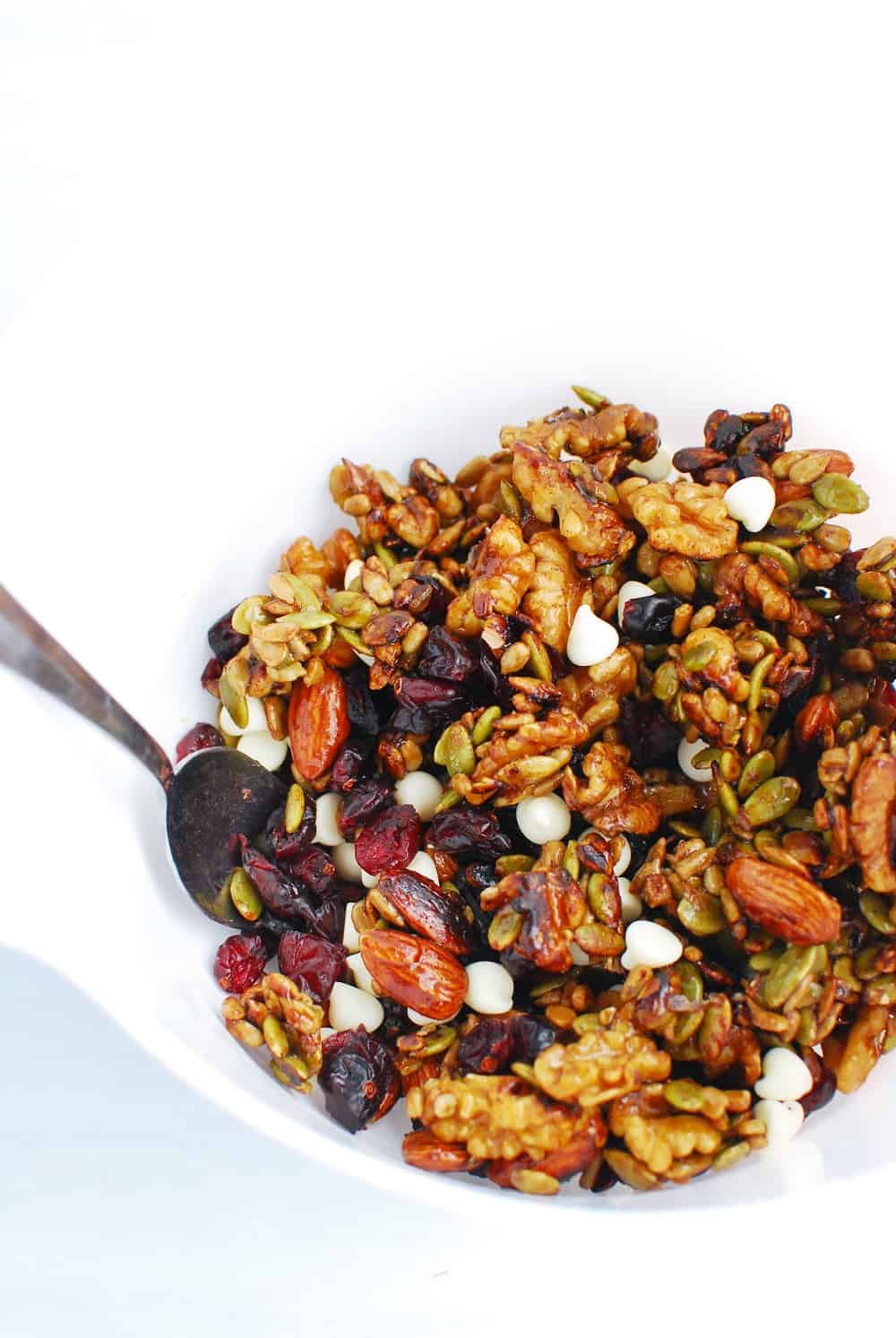 How to store this trail mix
As long as you've glazed the seeds correctly (i.e. they are firm; not sticky or wet) – you can store this trail mix at room temperature in an air tight food storage container or zip top bag.
For best quality, use within a week or so (but it should last a bit longer as long as it was made correctly).
Other homemade trail mix ideas
Homemade trail mix is wonderful because you can customize it based on your needs! While I love this fall recipe, you can really create any trail mix recipe of your choosing.
For example, trying to eat more healthy fats? You can go heavy on the nuts. Have a child that needs a nut-free trail mix? Load up a nut free trail mix with different types of seeds and dried fruit. Need a cheap way to bulk it up a bit? Dry cereal is a great addition!
To help spur your creativity, here are some other ideas for creating different versions of homemade trail mix (in addition the ingredients that you can find in this fall recipe):
Pecans
Macadamia nuts
Peanuts
Dry cereal
Dark chocolate chips
Chocolate covered espresso beans
Cacao nibs
Beef jerky
Pretzels
Dried mango
Dried pineapple
Dried apples
Banana chips
Freeze dried fruit
Coconut chips
Air popped popcorn
Toasted hemp hearts
Dried peas
Roasted chickpeas
Sesame sticks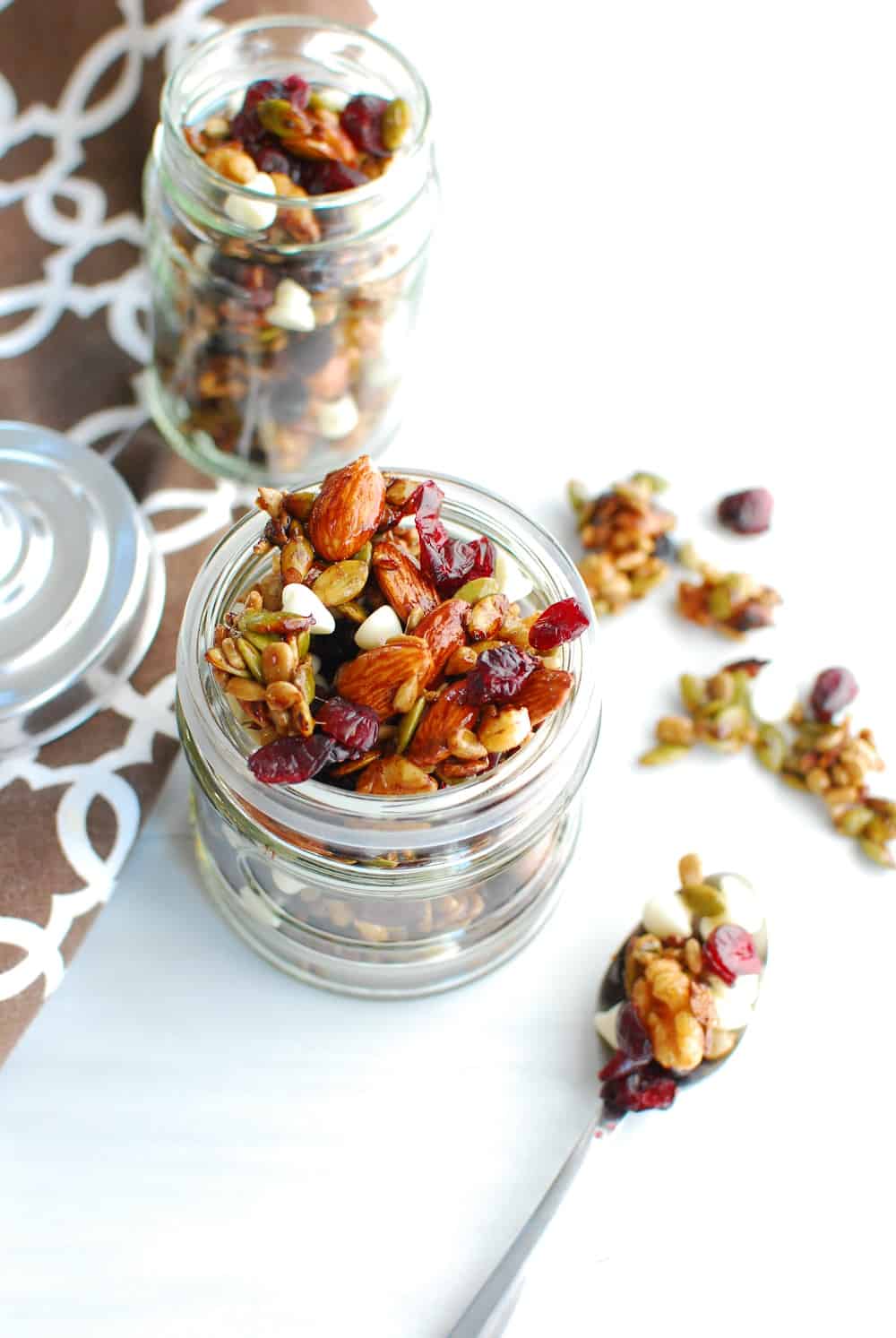 I hope you get a chance to try this harvest trail mix recipe – or maybe you'll try a version of your own with some of the ingredients above! Either way, I'd love it if you'd leave a comment or recipe rating below. (PS – if you're looking for more fall recipes, be sure to check out these pumpkin spice energy bites or pumpkin baked oatmeal cups!).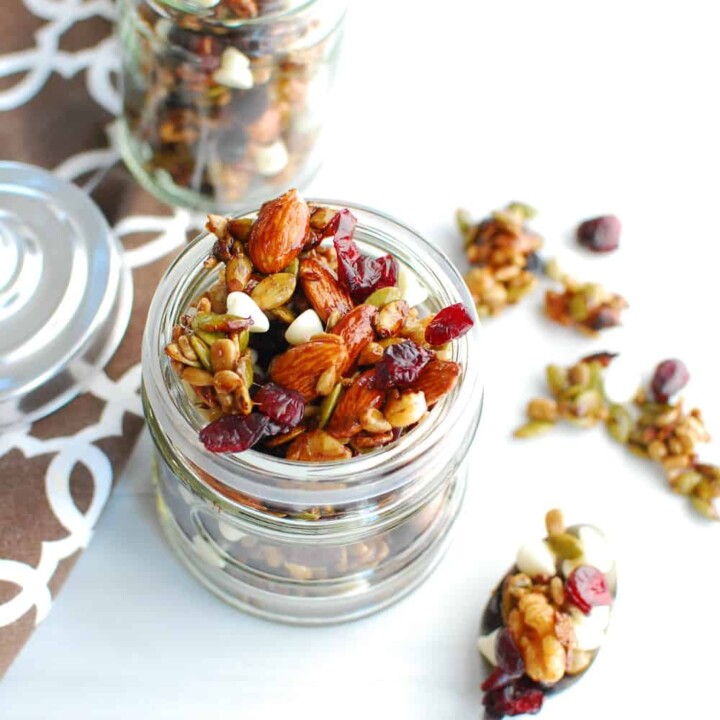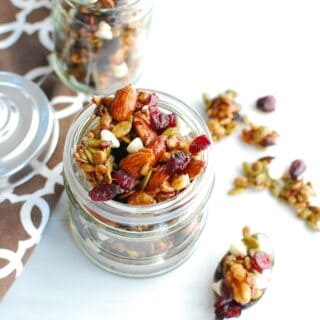 Fall Trail Mix
This maple flavored fall trail mix offers a delicious blend of nuts, seeds, dried cranberries, and white chocolate - a perfect sweet & savory combo!
Ingredients
1/4

cup

maple syrup

1/8

tsp

salt

1/2

tsp

pumpkin pie spice or cinnamon

2/3

cup

walnuts

1/3

almonds

1/3

cup

pumpkin seeds

1/3

cup

roasted sunflower seeds

1/2

cup

dried cranberries

1/4

cup

white chocolate chips
Instructions
Prepare a baking sheet with parchment paper. Set aside.

Add the maple syrup to a small pot over medium heat. When it starts to bubble, stir in the salt and pumpkin pie spice. Reduce heat to medium low, and add the walnuts, almonds, pumpkin seeds, and sunflower seeds.

Continue to cook for 3-5 minutes, stirring often. Be sure to watch this closely as it's a fine line between a nice maple coating and burning the mix. When there appears to be no more "extra" syrup in the pot and everything is sticking to the nuts/seeds, remove from heat and pour the mixture onto the parchment paper. Let cool.

When the nuts/seeds have cooled completely, break any clusters as needed and mix with the cranberries and white chocolate chips. Enjoy!
Notes
Notes:
Store extra trail mix in an air tight bag or container.
This recipe makes 8 servings of about 1/3 cup each.
Nutrition analysis (approximate per serving):
240 calories, 15 g fat, 2.5 g saturated fat, 85 mg sodium, 22.5 g carbohydrate, 2.5 g fiber, 17 g sugar, 5.5 g protein, Vitamin A: 0%, Vitamin C: 1%, Calcium: 6%, Iron: 6%, Magnesium: 16%
Nutrition
Share: What flavors remind you of fall? If you tried this fall trail mix, what did you think?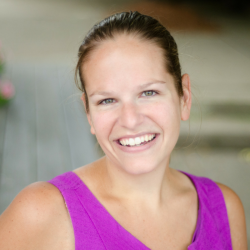 Latest posts by Chrissy Carroll
(see all)