These hungarian cookie energy balls are a great sweet snack any time of day – but are also perfect for cyclists or ultra runners to use during long events!
Growing up, my great grandma Liz used to make us these amazing Hungarian cookies whenever we visited her. They've got a dough base that gets wrapped around a sugary walnut and raisin filling. I honestly don't even know if they are actually authentically Hungarian but that's what everyone called them so I'll stick with it.
The recipe got passed down to my mom, and when my great grandma passed away, my mom took to making them for me each year for Christmas. To this day each year I get a gallon size ziplock bag of the most amazing cookies in existence at the end of December. They are seriously one of my favorite foods in the world.
I promise to share the actual cookie recipe on here at some point, probably as a little Christmas gift of my own to ya'll. But it is a rich recipe – we're talking two sticks of butter and a half pint of sour cream in the dough alone, plus a whole lotta nuts and sugar in the filling. I enjoy my one bag a year at Christmastime and skip them the rest of the year because willpower just doesn't exist when those are in front of me. 😉
Instead, I wanted to come up with something that was reminiscent of these cookies but a smidge healthier. That's where these Hungarian cookie energy balls come in.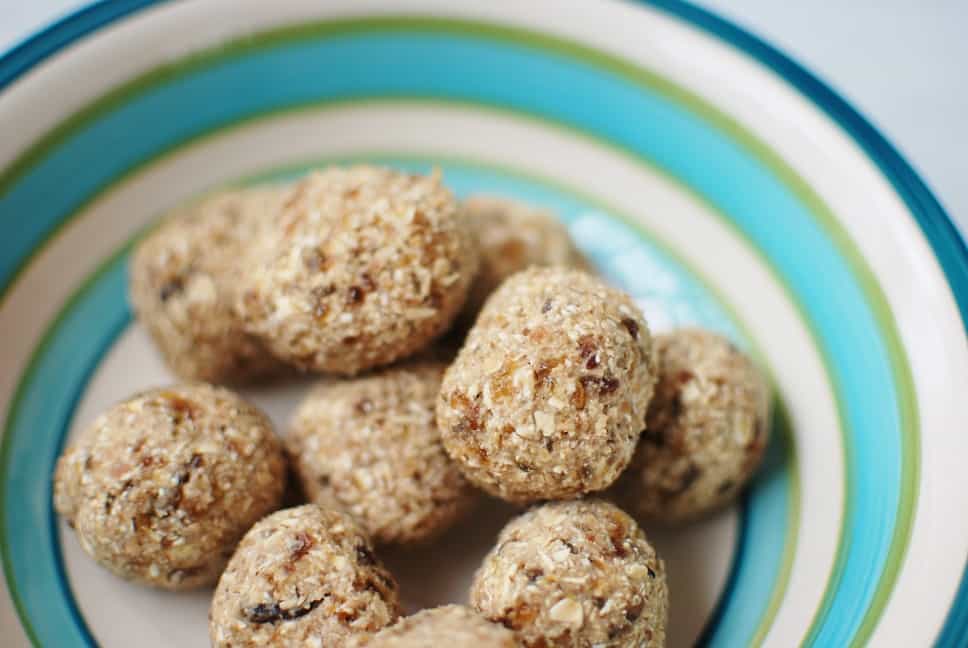 I took two of the key ingredients in the cookie filling – walnuts and golden raisins – and blended them with oats, dates, and applesauce. The result is a sweet treat that reminds me oh-so-much of those tasty cookie treats, but that only clock in at 100 calories a pop.
My son even helped me with recipe testing. And by helped, I mean climbed into this photo shoot and started eating my final product 😉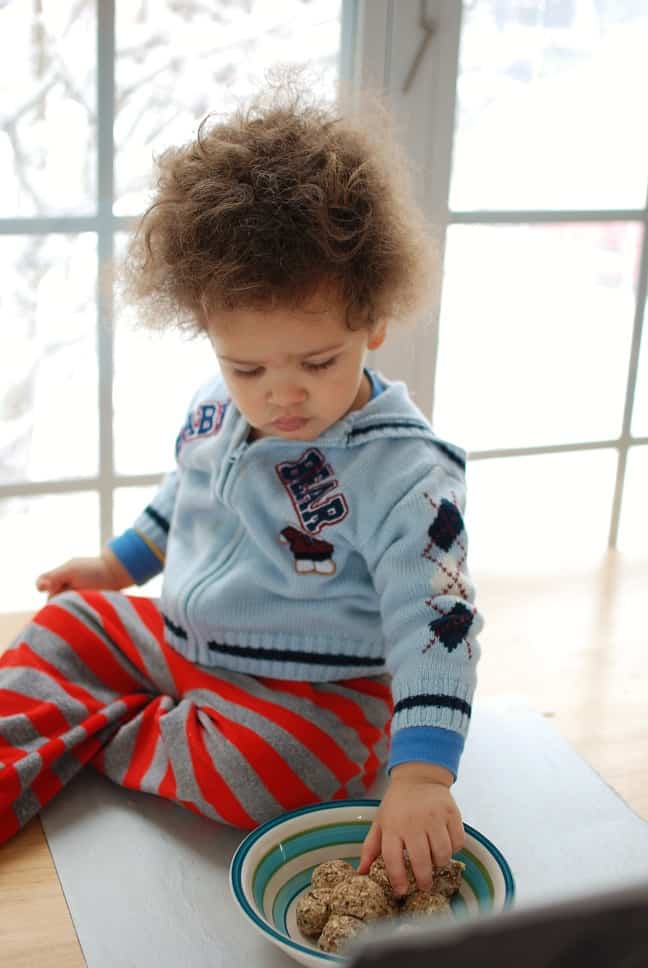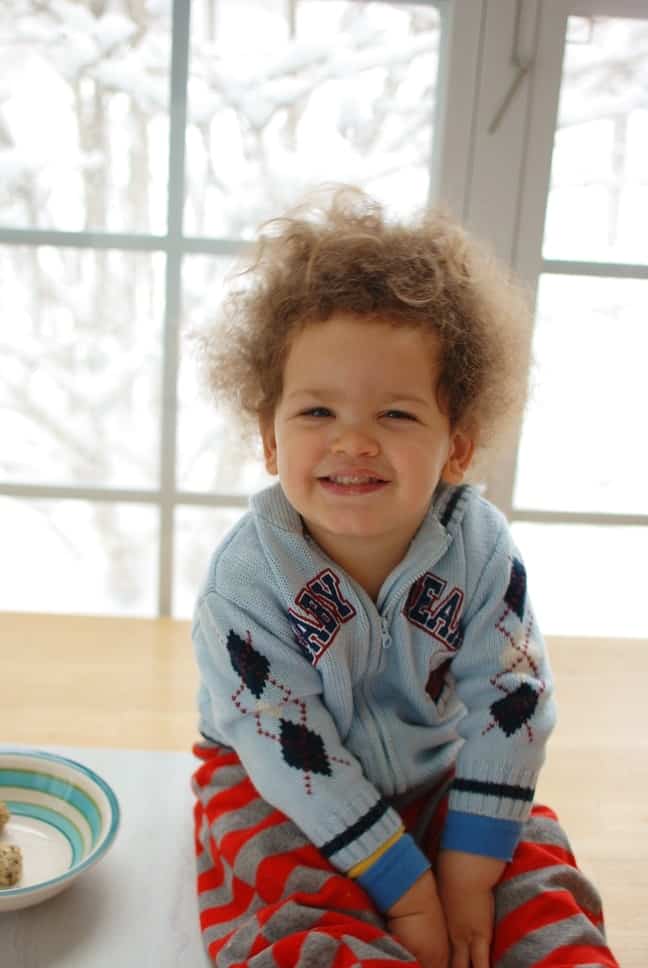 Outside of my own selfish reasons for making these, I also wanted to work on this recipe because I've been getting more questions from longer distance athletes – like ultra runners. Many have metioned looking for some homemade fuel options so they can add choices beyond gels, drinks, and blocks.
For most runners in a 13.1/26.2 distance, I recommend carb choices that have minimal fat and protein. Focusing on carbs supplies the muscles with energy and minimizing fat and protein reduces the risk of GI upset.
For ultra runners, though, you still want most fuel to be rich in carbs but there's some flexibility for mixing it up a bit. A little satiating fat or protein can be just what's needed to help get someone through a long event (hence why you'll see M&Ms and pizza at ultra aid stops). No one wants to eat gel after gel after gel after gel in a 6-12 hour event.
[Tweet "Ultra runners + long distance cyclists, check out these hungarian cookie energy bites for fuel!"]
For those that are training for these long events that enjoy mixing up your fuel options a bit, these energy balls can be great to make ahead and carry with you. They're also great for long bike rides.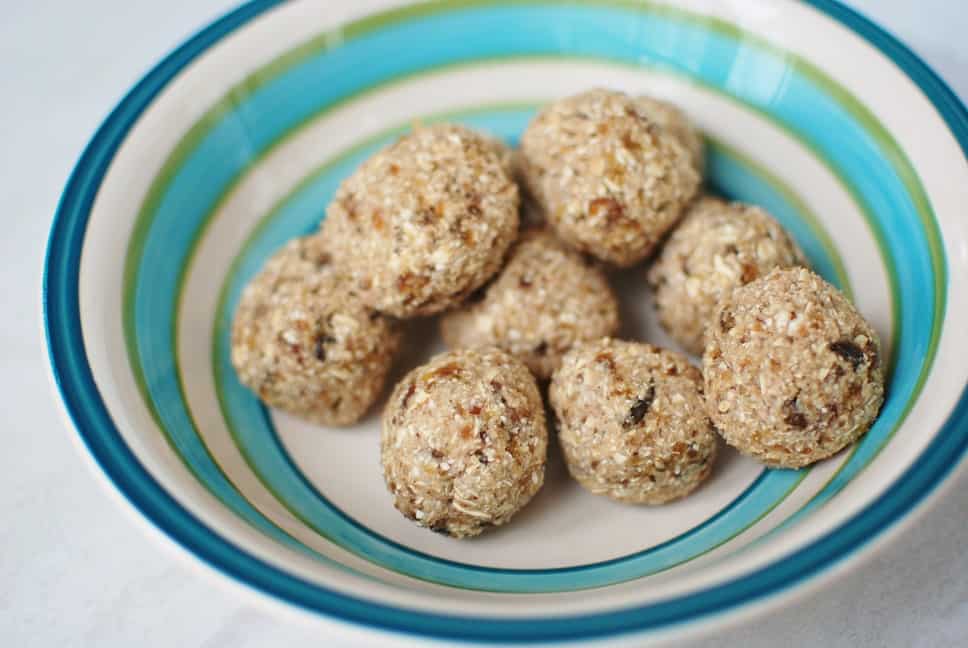 They have 4 grams of fat and 2 grams of protein per ball (in addition to 15 grams of carbohydrate) so try them as see how they feel on your stomach. I wouldn't use them as a sole fuel source but recommend mixing them into your plan. They're sweet, but not overly sweet – a nice change from the gels and drinks. You can also add a little salt to the mixture if you're looking to up your sodium intake for the event.
And of course, anyone can just use these as a yummy healthy snack any time of day too – no ultra race necessary! Give them a whirl and let me know what you think.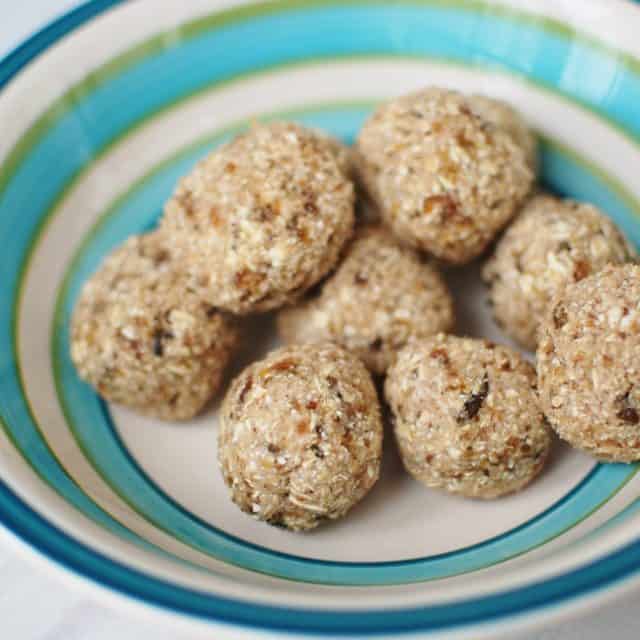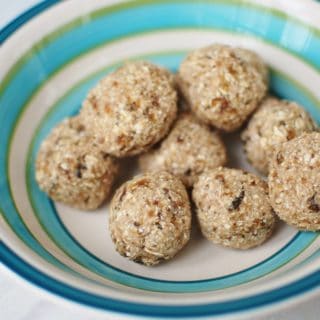 Hungarian Cookie Energy Balls
These hungarian cookie energy balls are a great option for a sweet snack any time of day – but are also perfect for cyclists or ultra runners to use during long events!
Ingredients
Ingredients:
1/2

cup

shelled walnuts

1

cup

rolled oats

(for gluten free, be sure to purchase certified gluten free oats)

1/2

cup

golden raisins

1/4

cup

pitted dates

1/4

cup

applesauce
Instructions
Directions:
Add walnuts to a food processor and pulse a few times (until it reaches a loose crumb like consistency).

Add oats, raisins, dates, and applesauce to walnuts in food processor, and process until everything is combined. (It only takes a short amount of time; you can tell it's done if you grab some of the mixture and it holds when rolled into a ball).

Roll mixture into 10 balls. Store in an airtight container in the fridge for several days.
Notes
Note for Athletes - Sodium:
You can add salt to this recipe to boost your sodium intake during events. I recommend starting with 1/4 tsp per batch and giving it a taste. If you can add more from there, go for it.
Nutrition Analysis (approximate per ball):
100 calories, 4 g fat, 15 g carbohydrate, 2 g fiber, 7 g sugar, 2 g protein
Nutrition
Share with me: What's your favorite family-made treat? Do you think you'd like these hungarian cookie energy balls? Have you ever made homemade fuel options for running or cycling?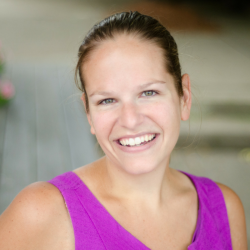 Latest posts by Chrissy Carroll
(see all)