These savory tuna waffles are a delicious way to get more seafood in your week! They're great for active women who are looking for a dinner packed with protein and omega-3 fatty acids, and are also a fun way to encourage kids to eat fish. Plus, they're simple to make and are great for busy weeknights.
Disclosure: This post is sponsored by Blue Harbor Fish Co®. As always, all opinions are my own.
How to make tuna waffles
This recipe is very simple! To make the waffles, here's what you'll need:
Blue Harbor Fish Co.® Albacore Tuna in Water with No Salt Added
Eggs
Mozzarella cheese
Mayonnaise (just a little)
Lemon juice
Green onions
Salt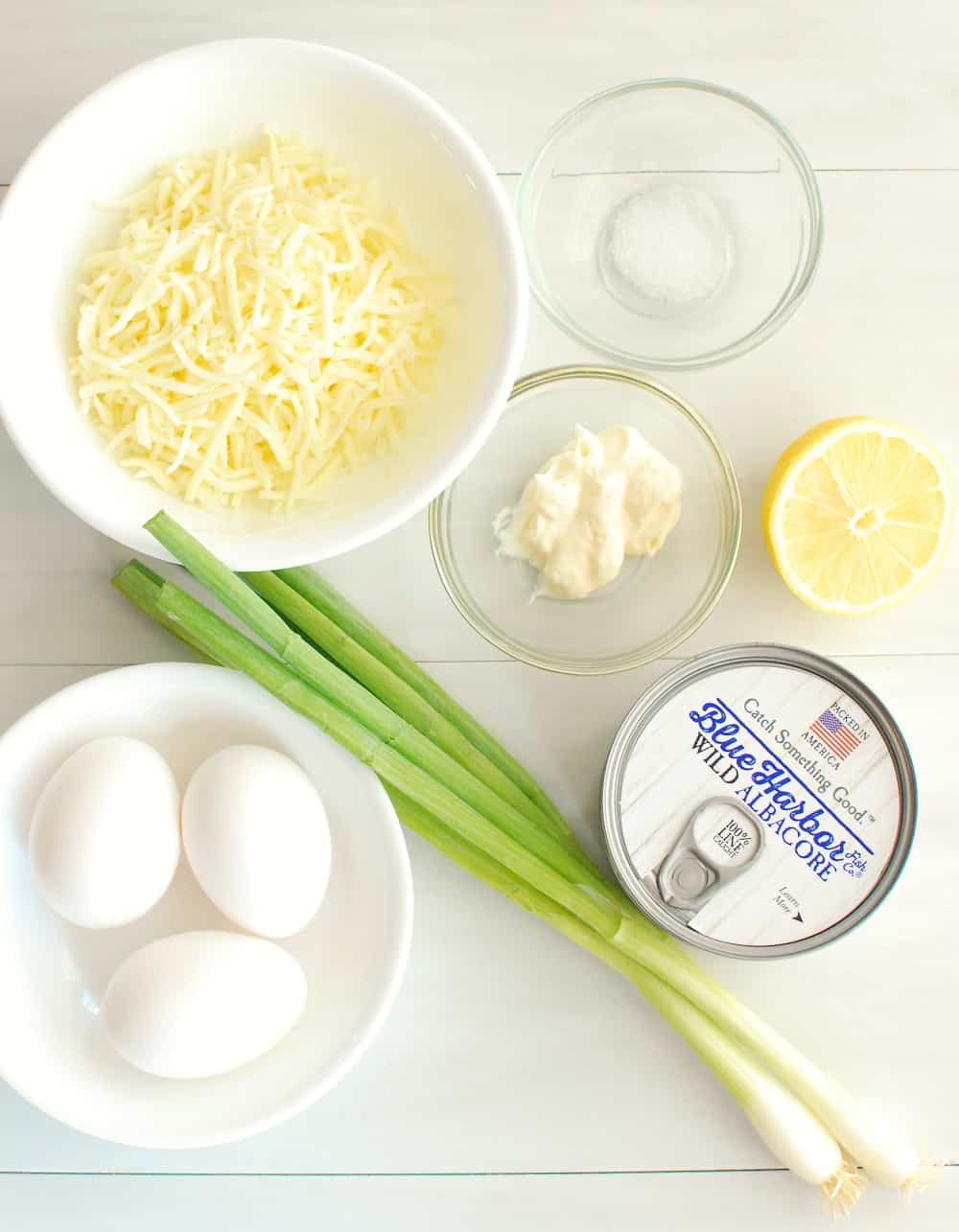 You might notice I specifically love to use Blue Harbor Fish Co.® Wild Albacore. That's because it's a really high-quality product with great taste. Seriously, every can is jam-packed with big 'ol chunks of delicious Albacore tuna.
It's also Marine Stewardship Council Certified. This means they follow certain protocols to support sustainability. For example, they fish from areas with healthy populations and they aim to make only minimal impacts on the overall ecosystem. Can't recommend Blue Harbor Fish Co.® enough for this recipe (and for your snacking needs too – their pouches are so convenient for tossing on some whole grain crackers)!
Back to the recipe – so once you've got your tuna, all you need to do is drain it and break it up a bit in the bowl, then add the other ingredients and mix it all up. That's your waffle batter!
It might seem strange because there's no flour or anything like that. I suppose this is more similar to a "chaffle" (cheese and egg waffle) in that way. This formulation is great for a very savory style waffle.
After you make your batter, you'll cook your waffles. It does take a little bit of time to cook each waffle individually if you've only got a one-serving mini waffle maker like me – but they cook in just 3 minutes each, so it's still under a half hour of cooking time. And that's what a good podcast episode is for. 😉
When they're all done, you can pop 'em in the oven for a few minutes just to get them all warm and crispy again if needed.
Lastly, add a little topping to them. I made a very simple topping by mixing together:
Cherry tomatoes
Avocado
Balsamic vinegar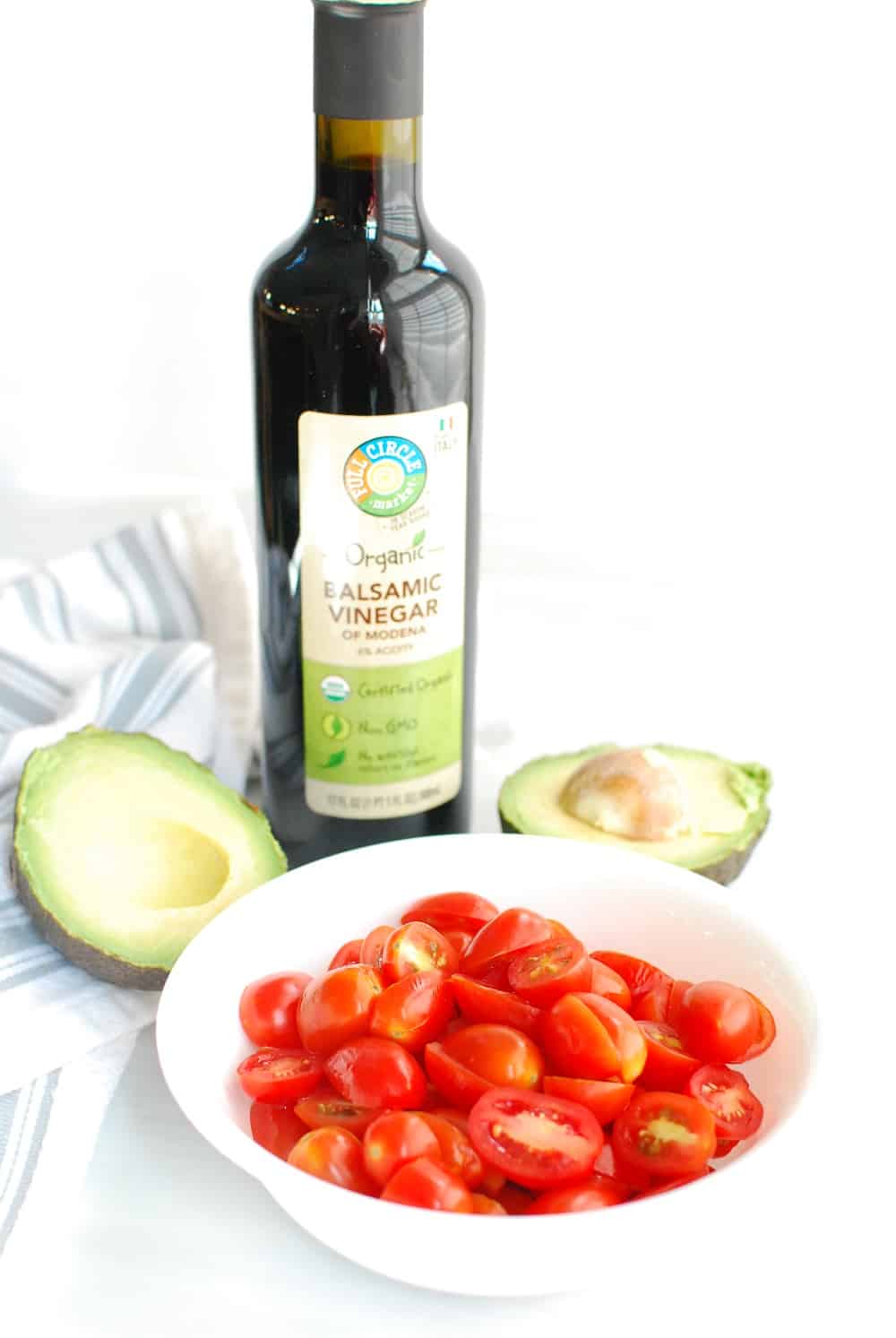 This is a great addition that pairs well with the rich flavors of the waffle, adding a bit of brightness and a pop of acid to the dish.
Recommended Waffle Iron
Here's the key to this recipe – you need to use a small waffle iron that makes thin waffles. This recipe will not work in a large Belgian waffle maker.
I use this mini waffle maker and it works perfectly. Plus, these little mini ones are inexpensive, so you can buy two and have both running at the same time if you want to be more efficient.
There are also 4-count thin waffle makers out there. I don't have one, but I'd imagine they would work fine too. You just want to avoid any waffle maker that makes thick Belgian-style waffles.
Nutrition Benefits
This recipe is a great choice for active women. Here's just a few highlights:
Packed with protein: Each serving (two small waffles plus the topping) packs in 29 grams of high-quality protein. Protein helps you feel full after meals, and is also involved in muscle repair and recovery.
Natural source of omega-3s: By now, I'm sure you've heard the hype about omega-3 fatty acids! These good fats are involved in heart health, cognitive health, and may even play a role in supporting athletic performance for endurance athletes (source). Blue Harbor canned tuna is an easy, shelf-stable source of omega-3's, so it's great to always have on hand – whether for this recipe or another!
Good source of potassium: This mineral is involved in muscle and nerve contractions, as well as regulating blood pressure. Athletes lose a little potassium in sweat, so it's wise to make sure you're getting enough each day. One serving of this recipe provides 19% of your daily potassium needs.
Good source of Vitamin D: With 12% of your daily Vitamin D needs, this recipe is a great choice to include in your meal plan. In addition to its role in bone health and immunity, some research also suggests Vitamin D may be involved in exercise performance (source).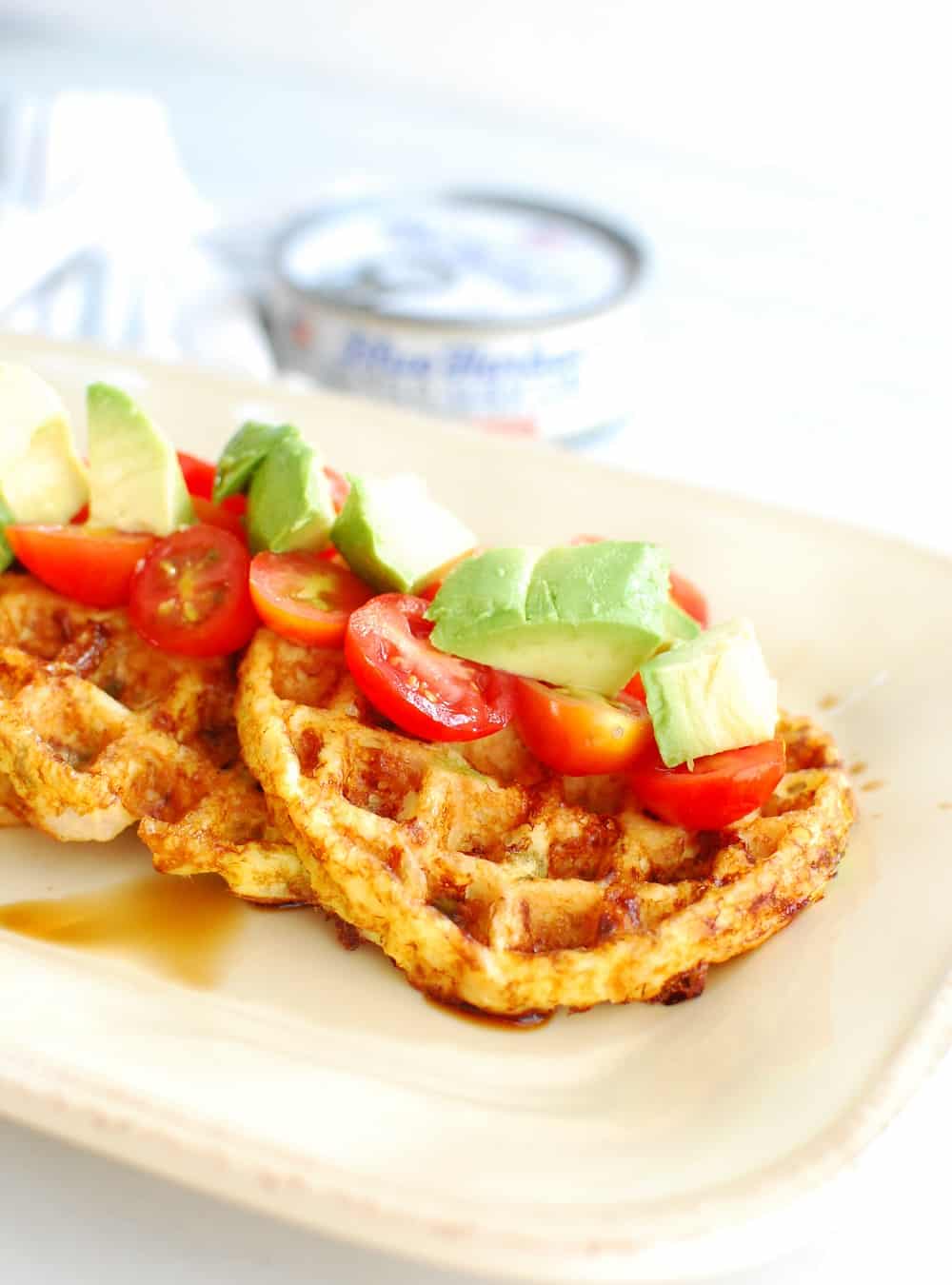 Recipe FAQ
Here are some common questions that may come up as you make these:
Can you freeze these? Yes! Place the waffles in a single layer in a zip top bag, and freeze. When you're ready to eat, reheat them in a toaster oven or conventional oven at 300 degrees for about 7 to 8 minutes. You can also reheat them in an air fryer. Note that the topping does not freeze well, though, so that should be made fresh on the day you eat them.
Can you use another type of cheese? You sure can – most shredded cheeses like cheddar or Colby jack should work in this recipe. It changes the flavor slightly, though, so you may want to test a bite with the balsamic to see if that combination still tastes right.
Any other tuna recipes you'd recommend? My absolute favorite is my tuna potato salad recipe, followed in close second by my tropical tuna lettuce wraps, both made with Blue Harbor Fish Co.® tuna of course!
I hope you enjoy these tuna waffles as much as I did! If you get a chance to try them, don't hesitate to leave a recipe rating or comment below. And if you're looking for more delicious seafood inspiration, be sure to follow Blue Harbor Fish Co.® on Facebook and Instagram!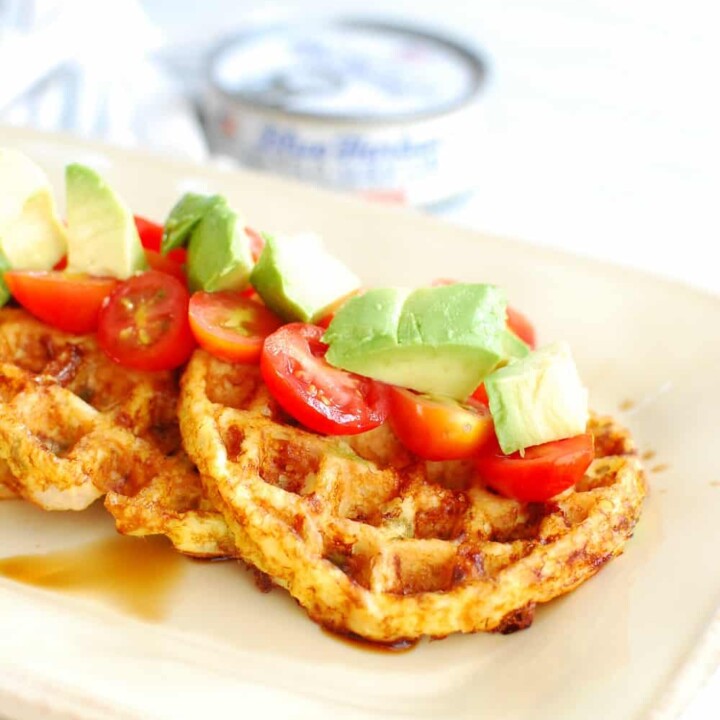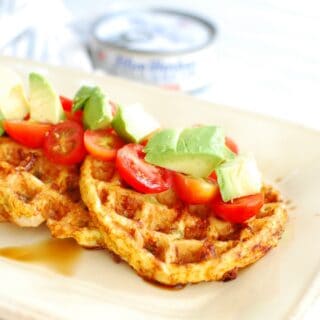 Tuna Waffles
These tuna waffles are a fun, savory dinner recipe that taste delicious topped with tomato, avocado, and balsamic!
Ingredients
For the Tuna Waffles:
(2)

4.6-oz.

cans Blue Harbor Fish Co.® Wild Albacore Tuna in Water with No Added Salt

3

large eggs

1

cup

shredded part-skim mozzarella cheese

1

tbsp

mayonnaise

1/2

tbsp

lemon juice

2

green onions, finely chopped

1/8

tsp

salt
For the Topping:
1 1/2

cups

halved cherry tomatoes

1

avocado, peeled, pitted, and chopped

1 1/2

tbsp

balsamic vinegar

(optional)
Instructions
Preheat oven to 250 degrees.

Add the tuna to a large mixing bowl. Break up the pieces a bit with a fork.

Add the eggs to the bowl, whisking with the fork. Add the remainder of the ingredients, stirring well with a spoon until combined.

Heat a mini waffle iron. When ready, add 1/4 cup of the tuna waffle batter to the waffle iron. Close and cook for approximately 3-4 minutes, until cooked through. Repeat for all the waffles.

Place all the waffles on a baking sheet(s) in a single layer. Place in the preheated oven for 5 minutes (this helps them all warm back up evenly and crisp up).

Meanwhile, prepare the topping, combining the tomatoes, avocado, and balsamic vinegar (if using).

When waffles are ready, serve immediately with the topping.
Notes
The batter for these sometimes separates out from liquid and solid ingredients; just stir for a few seconds each time before you add it to the waffle iron.
The oven step is optional but best for temperature and texture when making these mini waffles one at a time.
This recipe makes 8 small waffles – one serving is equivalent to two waffles with the topping.
Nutrition analysis (approximate per serving): 340 calories, 20.5 g fat, 6 g saturated fat, 440 mg sodium, 10.5 g carbohydrate, 4.5 g fiber, 4.5 g sugar, 29 g protein, Calcium: 23%, Iron: 9%, Potassium: 19%, Vitamin D: 12%
Nutrition
Share: What's your favorite tuna dinner recipe these days?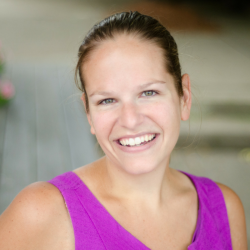 Latest posts by Chrissy Carroll
(see all)