Are you craving some cold weather comfort food? This steak and mango chili is about to rock your world! It's hearty and flavorful, with a wonderful blend of subtle heat, savory elements, and a bit of sweetness to pull it all together. Plus, you'll find a ton of nutritious ingredients in this satisfying dinner.
Disclosure: This post is sponsored by the Northeast Beef Promotion Initiative, a subcontractor to the Beef Checkoff. As always, all opinions are my own.
How to Make Steak and Mango Chili
Feel free to scroll down to the bottom to check out the full recipe. In this section, I like to break it down a bit more with some helpful photos!
This dish seems like it has a lot of ingredients, but that's just because I like to use a custom spice blend that really builds layers of flavor. To make that, you'll need:
Chili powder
Cornmeal
Cumin
Cocoa powder (no, the chili won't taste like chocolate – just adds a bitter note that helps cut sweetness from the tomato and mango)
Paprika
Coriander
Salt
Pepper
You'll just mix that all together in a small bowl like this: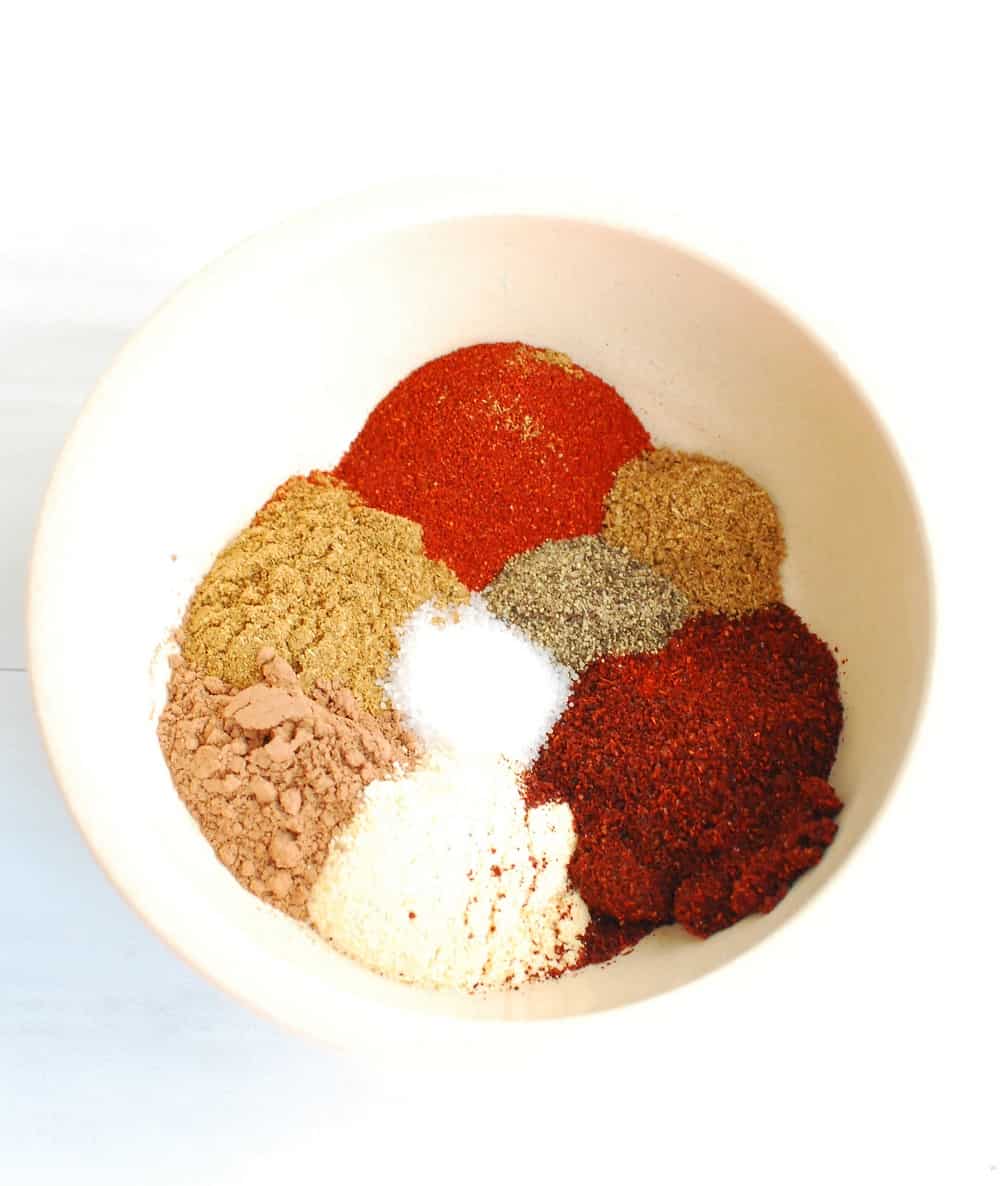 Then add some hot water to make a paste and set it aside for now.
Once you've got that made, you'll get your chili going. You'll need these ingredients:
Olive oil
Top sirloin steak (seasoned with a little salt and pepper)
Onion
Bell pepper
Garlic
Worcestershire
Canned fire roasted tomatoes
Canned tomato sauce
Canned green chiles
Beef broth
Black beans
Mangos
First, you're going to chop up some sirloin steak into bite-size pieces and brown them in the oil in your pot. Then remove them with a slotted spoon and set them aside for now.
Next, you'll work on sautéing your onion and pepper until tender, then mixing in the garlic. Then add the Worcestershire and that awesome spice paste you made earlier.
The last thing you'll do is add the tomatoes, tomato sauce, chiles, broth, black beans, and mango, along with the steak you set aside.
If you're not familiar with cutting a mango, here's some helpful tips. Mangos have a flat pit that feels almost like a stone in the center of the fruit. You want to cut each side off of the mango first. Then, checkerboard cut the sides, and flip the skin "inside-out" so you can easily slide your knife along to cut the chunks off the skin.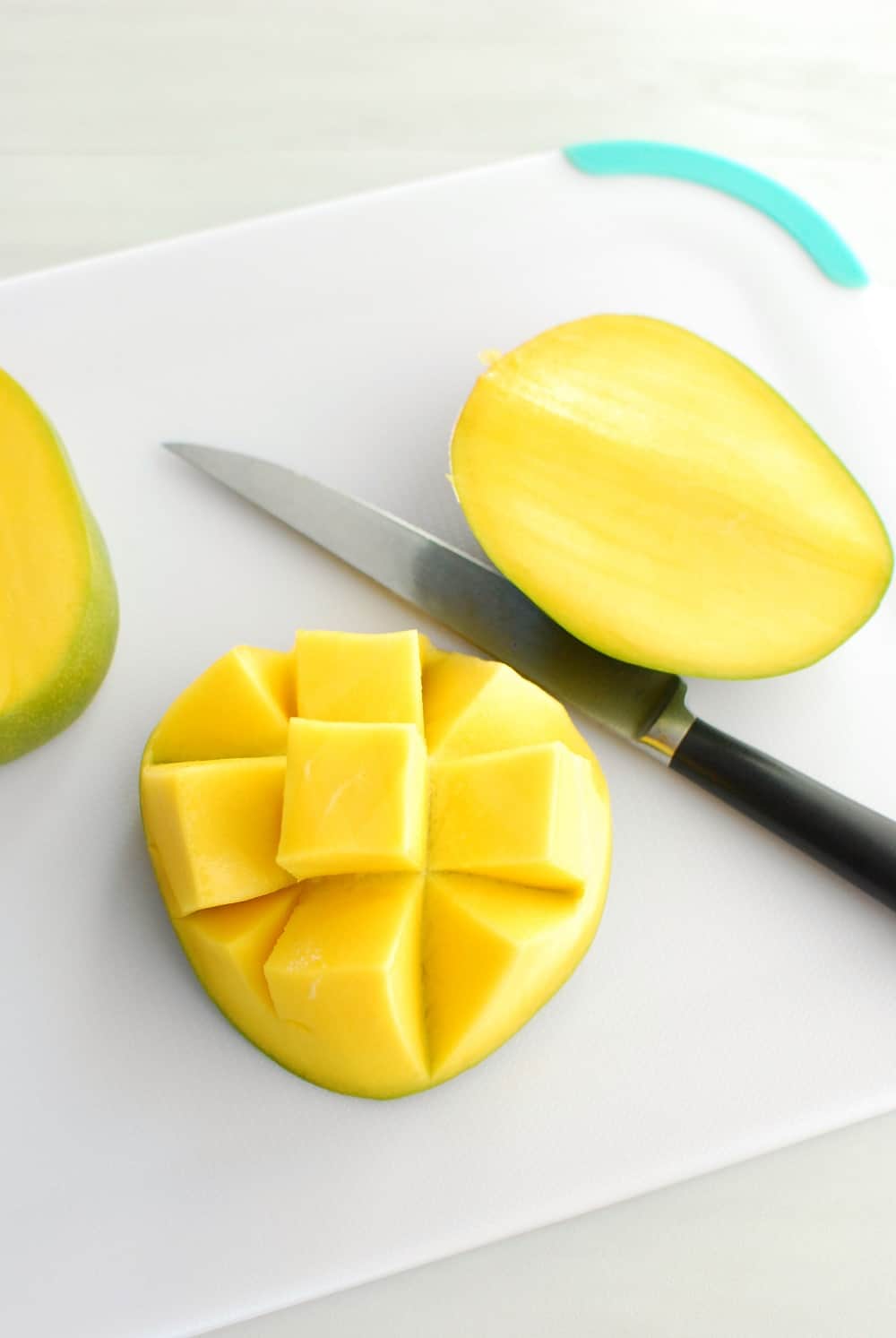 Mango sounds like a unique ingredient in a chili, but it's really a surprisingly tasty addition that adds more depth of flavor.
OK, now that you've got everything in your pot, you're going to let that baby simmer for a half hour, then enjoy!
Why I Love This Dish for Active Folks
When you come in from a long run or ride in the winter, do you ever get that cold-through-your-bones kinda feeling?! Like you just can't shake that chill? This is a perfect recovery meal to treat yourself to after those workouts. It's warm and comforting, which feels amazing after chilly sweat sessions.
Plus, when you combine a bowl of this chili with a side of cornbread or a dinner roll, you'll get a great blend of carbohydrates and protein to help support recovery.
(PS – If you're making this for dinner on a regular night and not in the recovery time frame, I recommend veering towards the lower-sodium canned goods. But if you're using it for recovery, feel free to use regular canned goods to help replenish those sodium losses).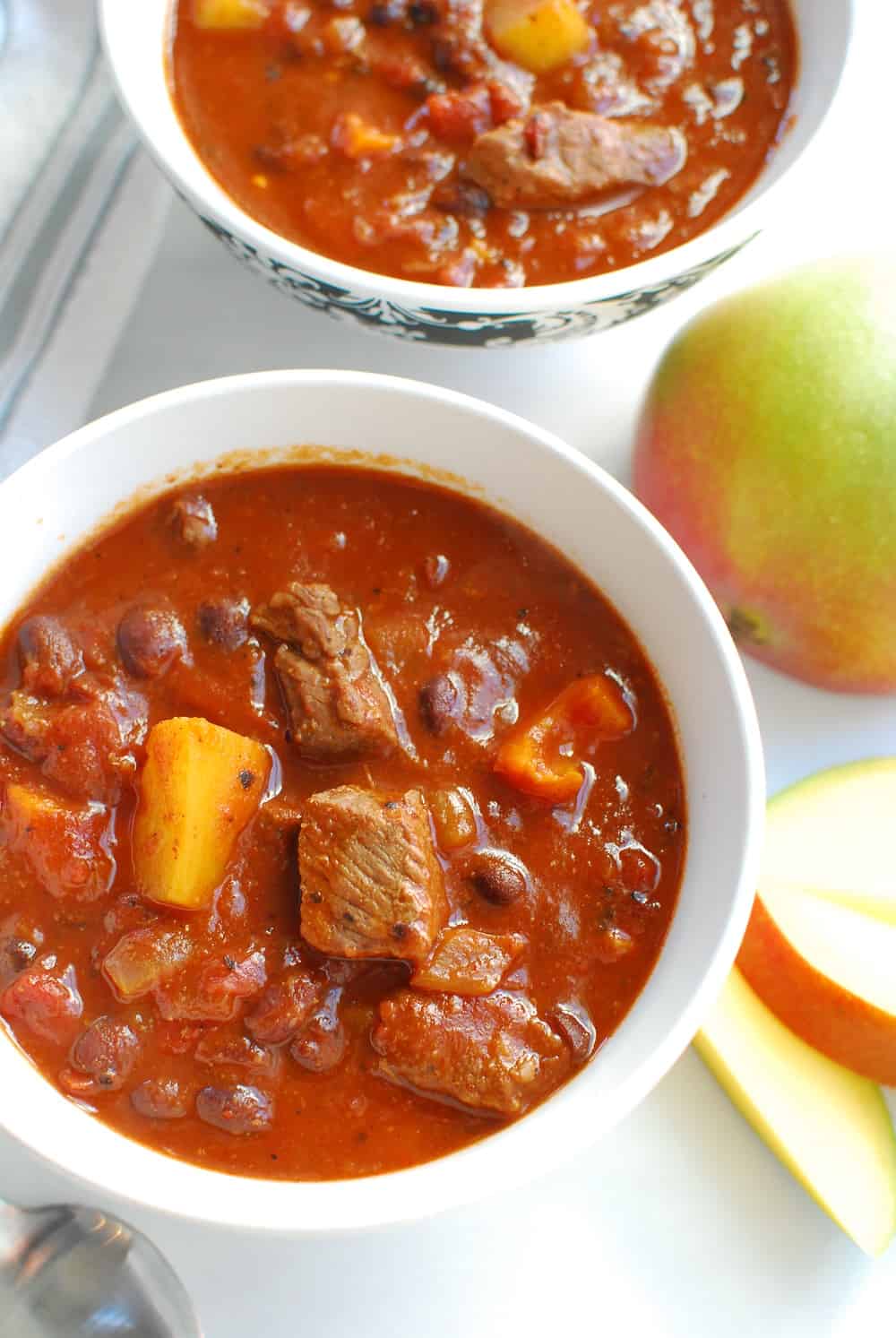 Ingredients to Promote Heart Health
Since February is National Heart Month, I wanted to highlight a few ingredients in this chili that are actually great to include in a heart-healthy diet. Some of them might surprise you!
1) Tomatoes
We all know eating more vegetables is important, and tomato products in particular contain an important phytonutrient called lycopene that may impact heart health. For example, a 2019 study in Critical reviews in food science and nutrition concluded that high intakes of lycopene were associated with reduced risk of stroke, cardiovascular disease, and death.
Interestingly, the amount of lycopene is higher in cooked, canned tomato products compared to fresh, raw tomatoes. You'll get a double dose in this chili recipe, as I use both canned tomato sauce and canned fire-roasted tomatoes.
2) Lean Beef
We tend to hear a lot about "plant-based" eating these days, but to me, that doesn't mean eliminating meat – instead, I view it as including more plants in your diet overall. I consider "plant-forward" meals those dishes that contain mostly plant foods along with reasonable portions of animal foods to round out the dish. This chili is an excellent example of that type of meal, as-is my cranberry steak salad recipe or BBQ stuffed sweet potatoes.
Plus, did you know boneless top sirloin steak (center cut, select grade) is certified by the American Heart Association's® Heart-Check program? That tells me this cut is lean, delicious, and fits into a heart-healthy diet.
Are you surprised at this?! I know beef has gotten a bad rep, but several studies also support the inclusion of fresh, lean beef in a heart-healthy diet. Lean beef contains less than 10g(grams) total fat, 4.5g or less saturated fat, and less than 95 mg (milligrams) of cholesterol per serving and per 100g (about 3 ¾ ounces by weight) just under a quarter of a pound.
For example, the BOLD study looked at a standard DASH Diet (Dietary Approaches to Stop Hypertension), which is typically low in red meat, and compared it to diets with similar nutrient breakdowns but with more red meat. They found that either diet resulted in similar reductions in cholesterol.
In addition, lean beef contains satiating protein that can help you feel full longer. This may help you regulate your weight better, which is a key factor in cardiovascular (and overall) health.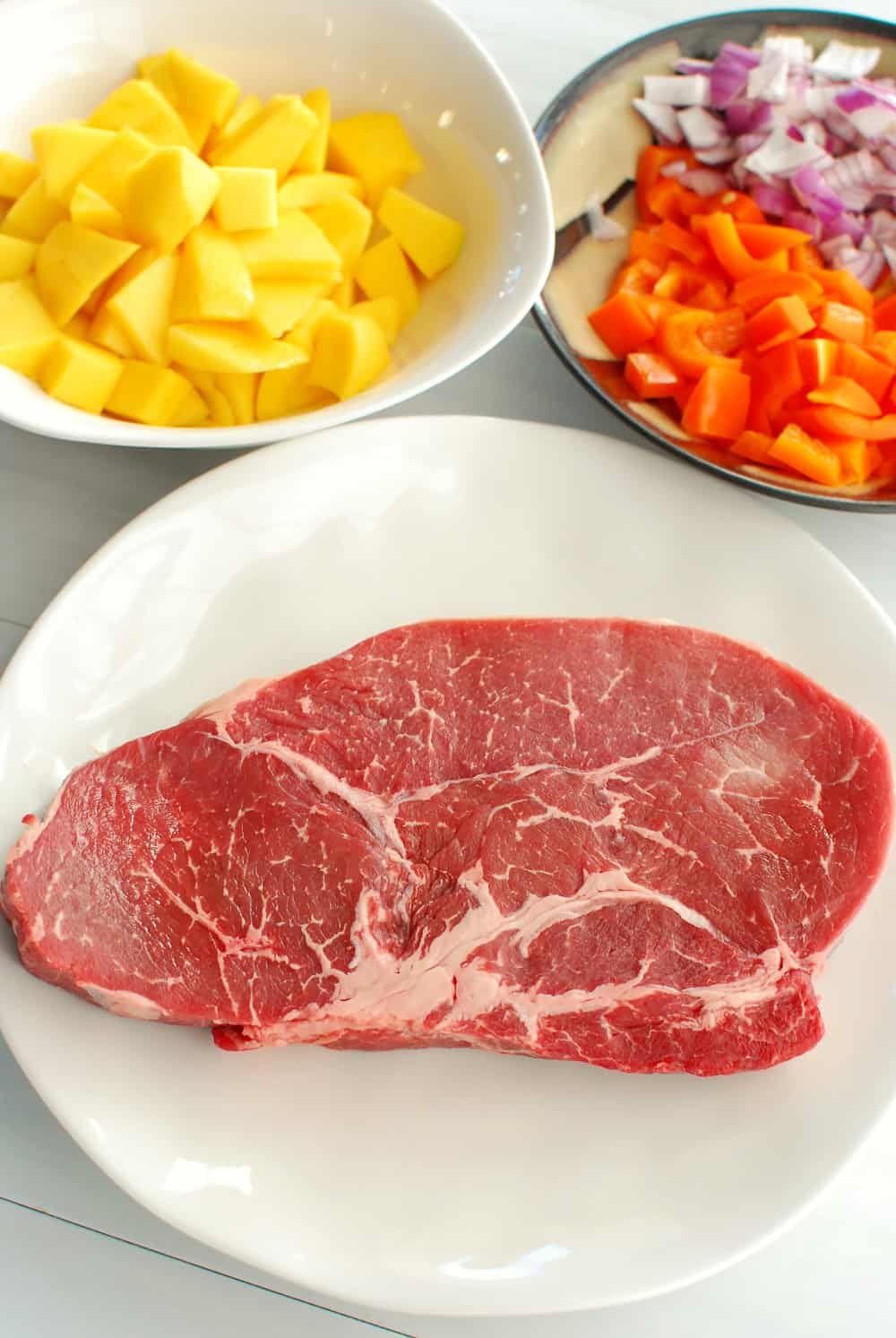 3) Black Beans
Beans, beans, they're good for your heart…you know the rest of the childhood favorite rhyme! 😉 That classic saying is not without truth though; beans are important for both digestive and heart health.
They have soluble fiber which may impact cholesterol (and also help feed gut bacteria), and contain potassium which may play a role in healthy blood pressure levels. For example, one meta-analysis concluded that diets with a high intake of pulses (beans, chickpeas, lentils, and peas) led to lower LDL cholesterol levels compared to control diets.
4) Mangos
Mangos are one of my favorite fruits because of their sweet, tropical flavor. But they're also packed with polyphenols, plant compounds that have beneficial effects in our body. Some of these polyphenols may play a role in heart health.
Mangos also contain potassium, which plays a role in blood pressure regulation. That, or the polyphenols, could have played a role in a 2017 study which found that daily mango consumption led to decreased systolic blood pressure in lean subjects.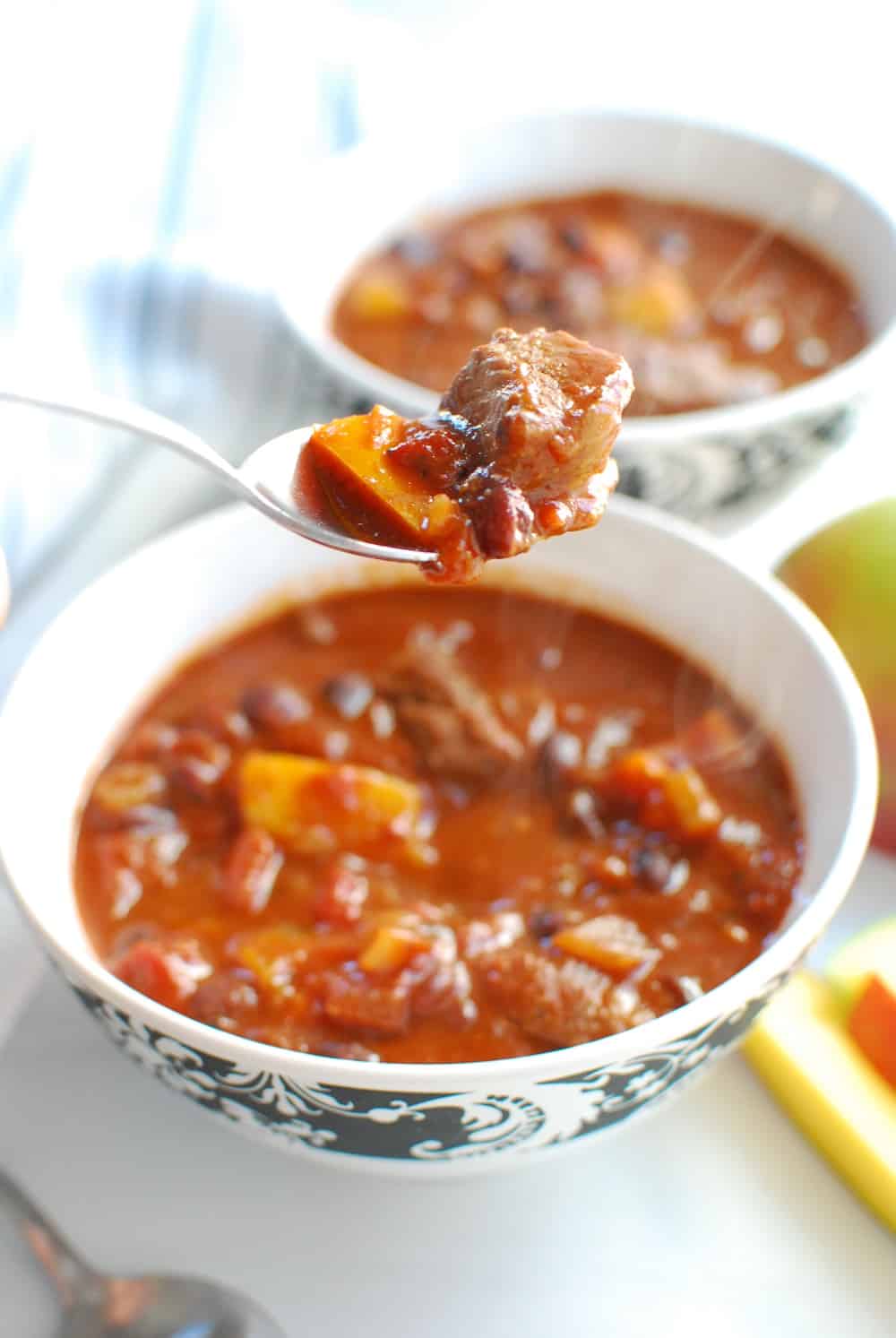 Have I convinced you to make this yet? I hope you get to give this dish a try ASAP! If you do, be sure to leave a recipe rating or comment below.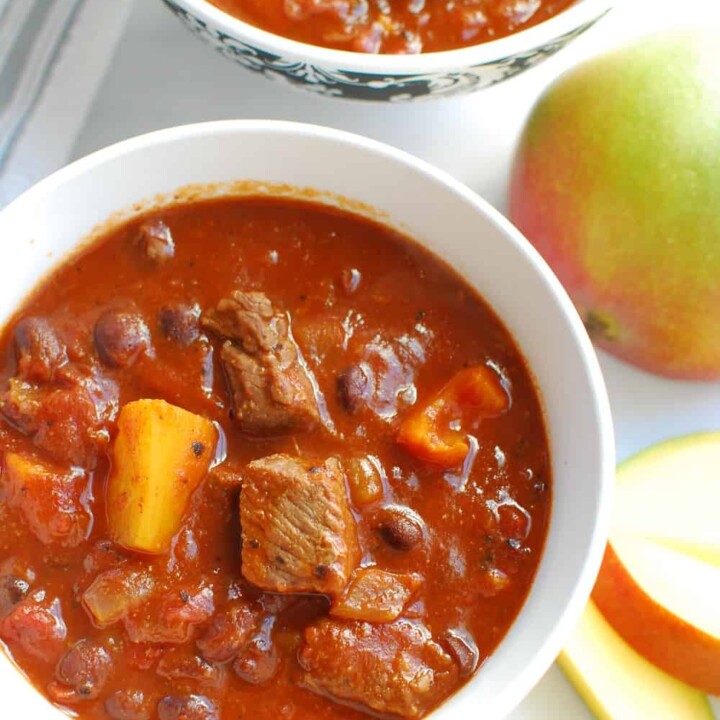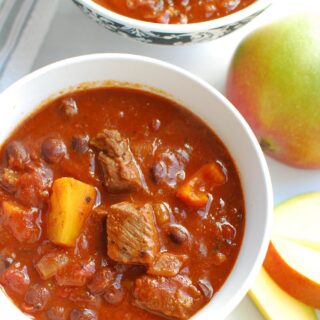 Steak and Mango Chili
This steak and mango chili is the epitome of cold weather comfort food, with subtle heat, savory elements, and a bit of sweetness to pull it all together.
Ingredients
Chili Seasoning Mix:
1 1/2

tbsp

chili powder

1

tbsp

cornmeal

1/2

tbsp

cumin

1/2

tbsp

cocoa powder

1/2

tbsp

paprika

1/2

tsp

coriander

1/4

tsp

pepper

1/8

tsp

salt

3

tbsp

hot water
Chili:
1

tbsp

olive oil

1

lb

top sirloin steak, visible fat removed, chopped into bite-size pieces

1/8

tsp

salt

1/8

tsp

pepper

1

medium red onion, diced

1

large bell pepper, diced

2

cloves

garlic, minced

1

tbsp

Worcestershire sauce

14.5

ounce

can fire roasted tomatoes

15

ounce

can tomato sauce

(if needed, low-sodium)

4

ounce

can green chiles

2

cups

beef broth

(if needed, reduced sodium)

15.5

ounce

can black beans

(if needed, no-added-salt, drained and rinsed)

2

mangos, chopped
Instructions
In a small bowl, mix all the spices for the chili paste along with the hot water. Set aside for now.

In a large pot, heat the olive oil over medium heat. Season the chopped steak with 1/8 teaspoon salt and 1/8 teaspoon pepper. Add the steak to the pot and cook for 2 to 4 minutes, until the steak is browned on the outside. Remove with a slotted spoon and set aside for now.

In the same pot, add the onion and bell pepper, and sauté for about 5 minutes over medium heat. Add the garlic and cook for another minute. Stir in the chili seasoning paste you made earlier, along with the Worcestershire sauce, and let it cook for around 30 seconds, becoming fragrant.

Add the tomatoes, tomato sauce, green chiles, beef broth, black beans, and mango to the pot, along with the steak you set aside. Simmer uncovered for 25 to 30 minutes, or until it reaches the consistency of your preference. Enjoy!
Notes
Notes: This recipe makes about 9 cups of chili, for six servings of about 1.5 cups each.
Nutrition analysis (approximate per serving with low sodium choices noted):
330 calories, 7.5 g fat, 2 g saturated fat, 0 g trans fat, 46 mg cholesterol, 530 mg sodium, 44 g carbohydrate, 12 g fiber, 23 g sugar, 25 g protein, Vitamin A: 71%, Vitamin C: 164%, Calcium: 14%, Iron: 29%, Potassium: 35%
Nutrition analysis (approximate per serving with regular sodium choices):
If regular sodium choices are used, the nutrition facts remain approximately the same except the sodium which increases to 1085 mg per serving.
Nutrition
Share: What's your favorite unusual ingredient to put in chili? If you tried this steak and mango chili, what did you think?
References:
Beef It's What's for Dinner. Beef as Part of a Heart-Healthy Lifestyle.
Cheng HM, Koutsidis G, Lodge JK, Ashor AW, Siervo M, Lara J. Lycopene and tomato and risk of cardiovascular diseases: A systematic review and meta-analysis of epidemiological evidence. Crit Rev Food Sci Nutr. 2019;59(1):141-158.
Fang C, Kim H, Barnes R, Talcott S, and Mertens-Talcott, S. Daily Mango (Mangifera Indica L.) Consumption for 42 Days Differentially Modulates Metabolism and Inflammation in Lean and Obese Individuals. The FASEB Journal. 2017: 31(1).
Ha V, Sievenpiper JL, de Souza RJ, et al. Effect of dietary pulse intake on established therapeutic lipid targets for cardiovascular risk reduction: a systematic review and meta-analysis of randomized controlled trials. CMAJ. 2014;186(8):E252–E262.
Masibo, M and He Q. Major Mango Polyphenols and Their Potential Significance to Human Health. Comprehensive Reviews if Food Science and Food Safety. 2008; 7(4).
Roussell MA, Hill AM, Gaugler TL, et al. Beef in an Optimal Lean Diet study: effects on lipids, lipoproteins, and apolipoproteins. Am J Clin Nutr. 2012;95(1):9–16.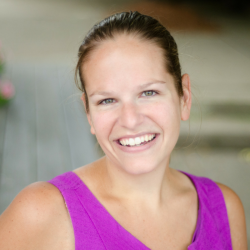 Latest posts by Chrissy Carroll
(see all)