This steak salad with blue cheese, butternut squash, and cranberries is ideal for a festive fall dinner! The bright-colored dish definitely embraces the flavors of the season. It makes a show-stopping salad that's great for your Christmas Eve dinner, a holiday get together with friends, or simply a regular, filling weeknight meal.
Disclosure: This post is sponsored by the Northeast Beef Promotion Initiative, a subcontractor to the Beef Checkoff. As always, all opinions are my own.
Ingredients to Nourish You
It's important for us to nourish our bodies year-round – but that couldn't be truer at this time of year.
November and December are packed with the hecticness of the holidays, and even if you love this time of year (as I very much do!) – it's still easy to get stressed out. By taking a step back and fueling your body with nutritious foods (along with fitting in a little fitness), you make yourself a priority and help take care of your body during this busy time.
This steak salad with blue cheese, butternut squash, and cranberries is a great way of fueling your body with winning ingredients. Just take a look at some of the benefits:
Lean beef – I use top sirloin steak for this salad, but you can also use tenderloin steak (aka filet mignon).  Both are lean cuts of beef, which by definition contains less than 10 grams of total fat and less than 4.5 grams of saturated fat per 100-gram (3.5 ounce) serving (1).  Leaner cuts are an excellent calorie-controlled way to pack in protein and iron, both essential for active women.
Butternut squash – This classic fall veggie is packed with beta carotene, the precursor to Vitamin A, which is essential for healthy vision and immune function.  It's also an excellent source of Vitamin C, and provides healthy energy-filled carbohydrates.
Cranberries – These tart little beauties are so underutilized!  While they are certainly a bit sour while fresh, roasting them with a little honey brings out their sweetness.  Cranberries are rich in antioxidants like phenols and anthocyanins, which have many health promoting effects – and these compounds may also be involved in exercise recovery after a tough session. (2, 3, 4)
Blue Cheese – Because blue cheese has that strong, bold taste, you're able to use less of it (compared to some other cheeses) while still adding a ton of flavor.  It also provides calcium, which is involved in bone health (super important for active women!).
With all these ingredients, this salad truly helps your body feel it's best!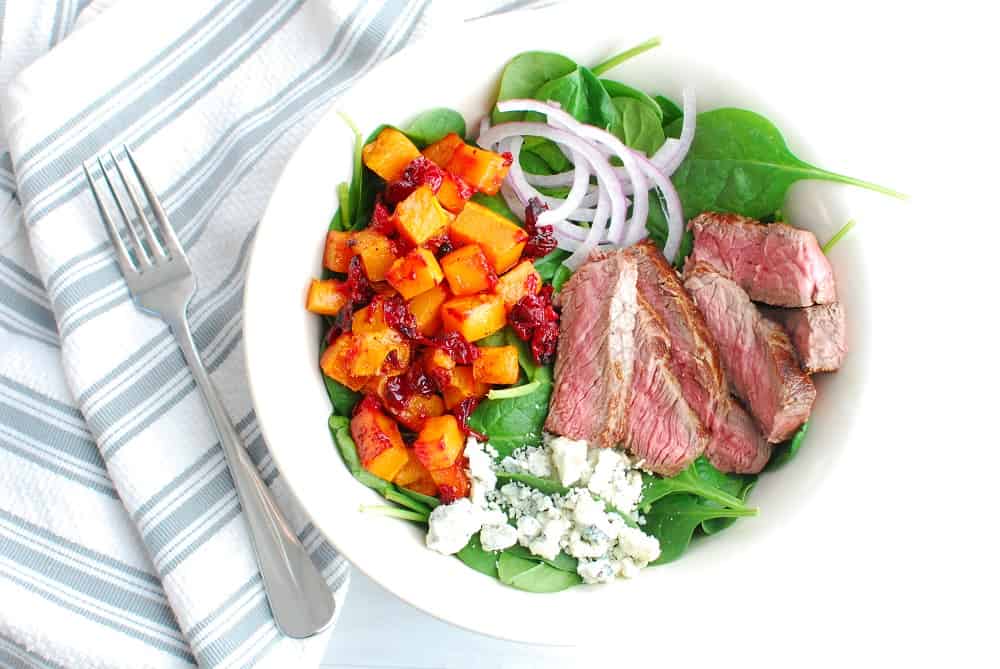 How to Make This Salad
At first glance it seems like there are a lot of steps to this salad, but it's actually a fairly simple recipe.
You'll start by preparing your squash and cranberries. For this part, you need:
Butternut squash
Olive oil
Salt
Cranberries
Honey
You want to peel your squash and then chop it up into small, half-inch size pieces. This will help them roast quickly and allow you to cook them with the cranberries (rather than having to roast them separately for different amounts of time). Here's about the size I used: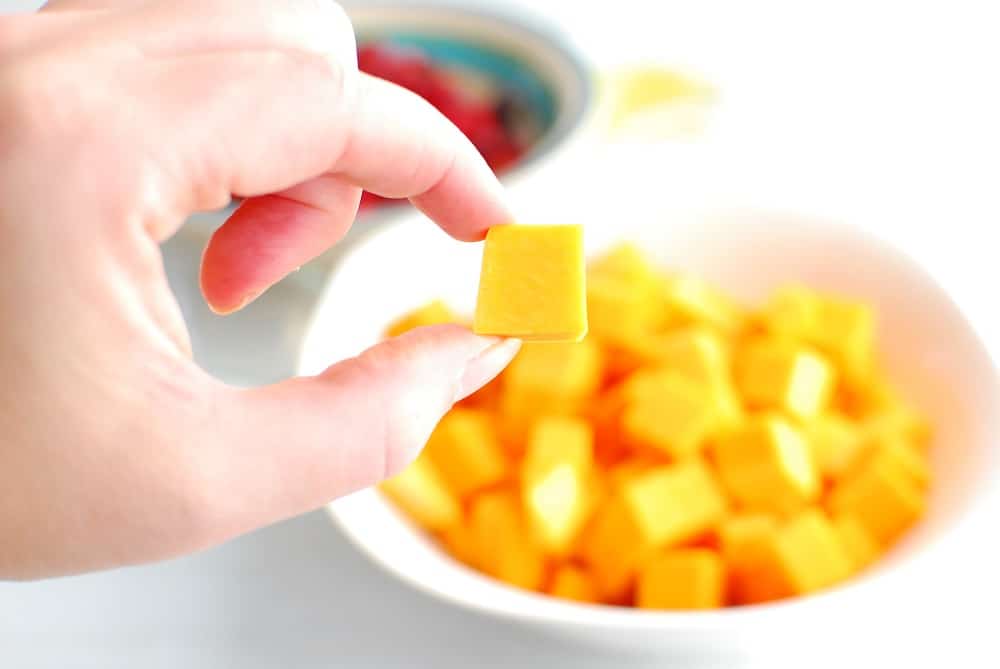 Keep in mind that most butternut squash will be larger than three cups worth. The one I purchased for this recipe yielded about 7 cups, so I set aside the extra 4 cups in the fridge to make soup with later!
Alright, once those are chopped, now you'll toss your squash in a bowl with some olive oil and salt, and spread that on a baking sheet.
Next, add the cranberries to the same bowl, and toss them with some olive oil and honey. One helpful tip – when you measure the oil first, it makes it super easy for the honey to slide out of the measuring spoon after!
Now spread these on the same baking sheet. Here's what it looks like going into the oven: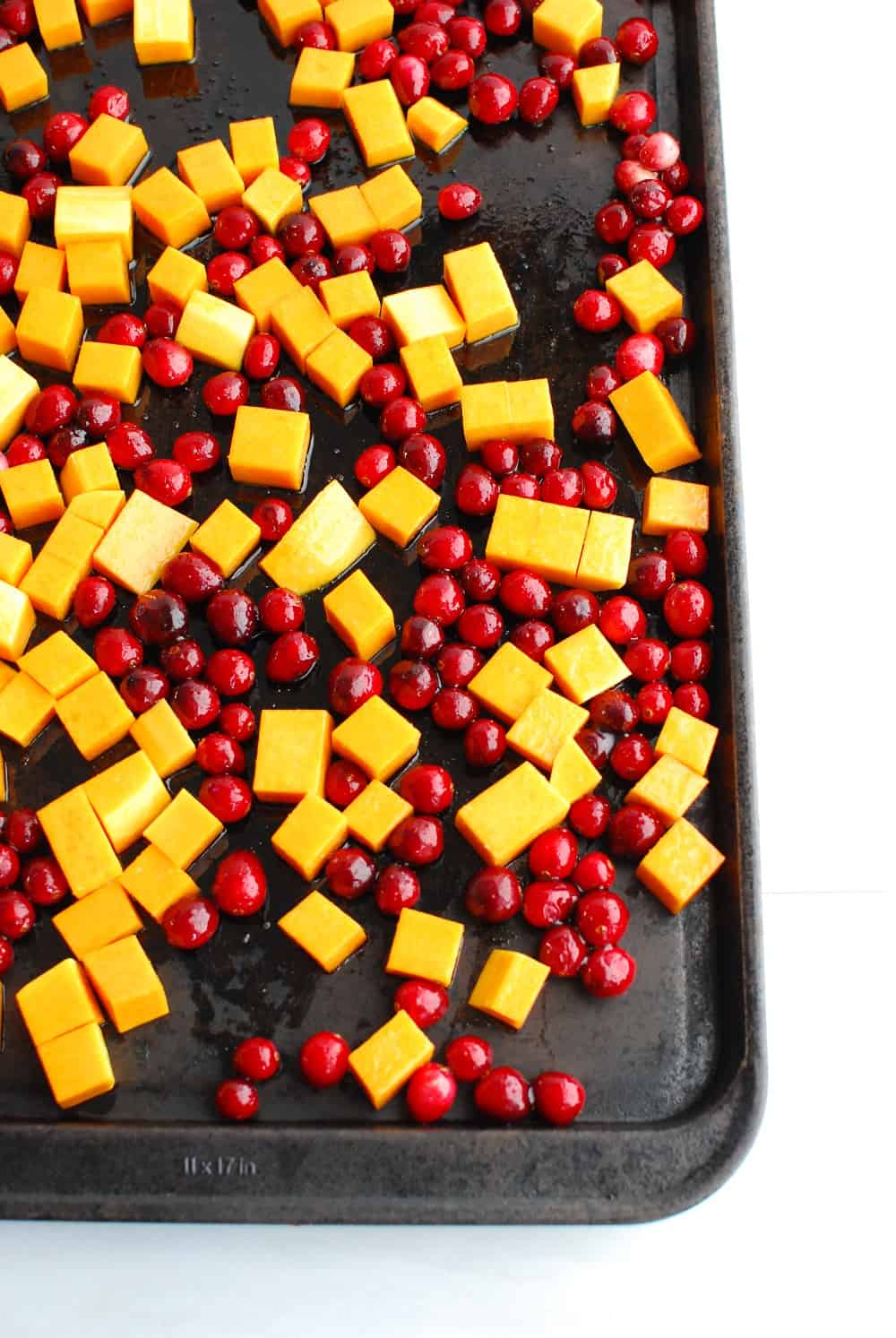 You'll bake that until the squash is tender and the cranberries have roasted and softened. You'll notice the cranberries are pretty well cooked and soft when done; that's great. (PS – some will probably stick to the baking sheet; just soak it after you're done if that happens!).
When they come out of the oven, drizzle a little more honey over everything and give it a good stir. Here's what it looks like when these are done: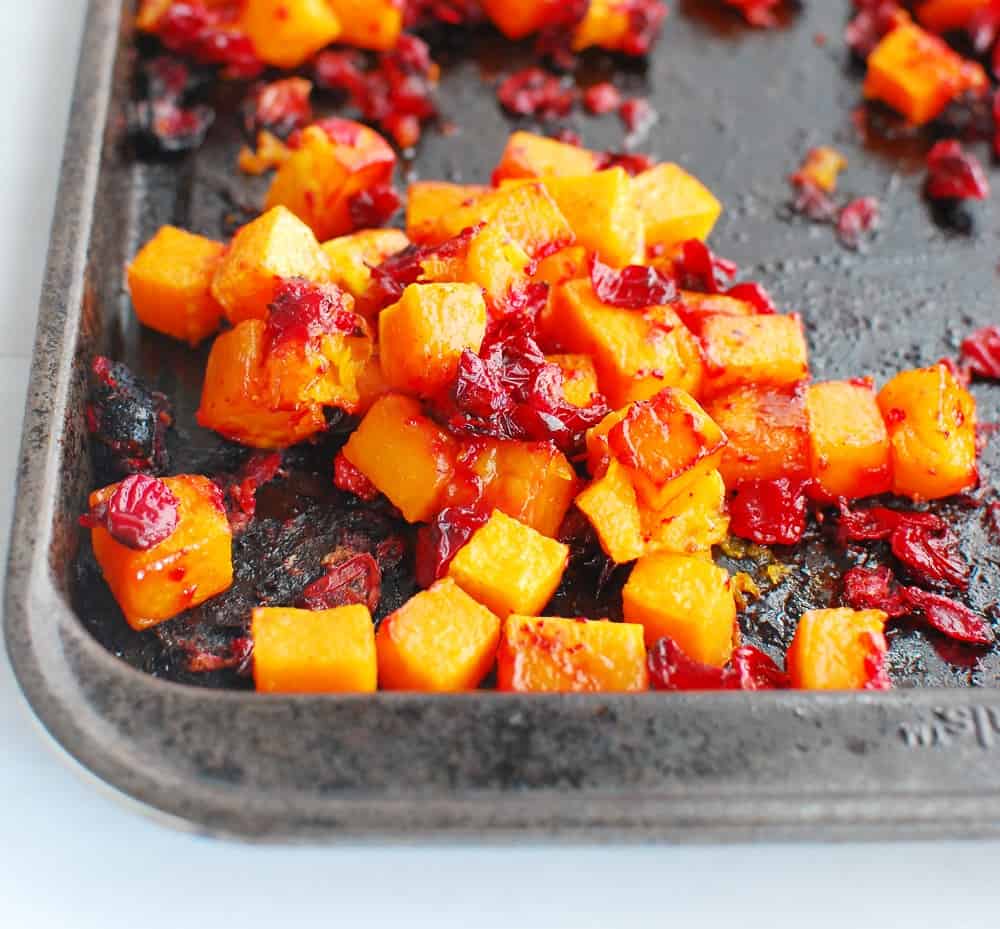 While your squash and cranberries are in the oven, you'll prepare the steak. For this, you need:
Top sirloin steak
Olive oil
Salt
Pepper
This recipe uses a foolproof cast iron skillet method that I use for pretty much any steak I buy. I swear, it works SO well!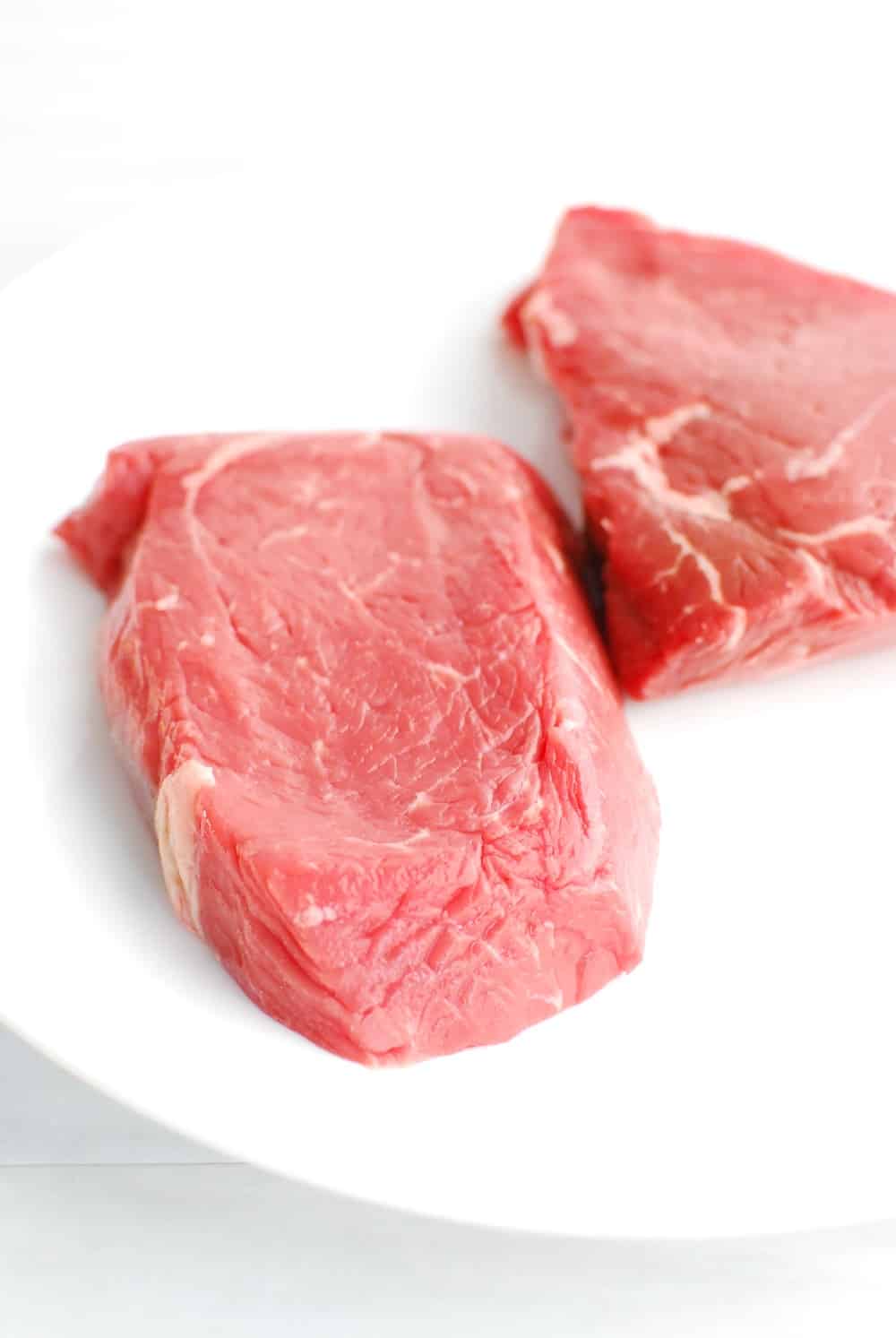 You'll heat a little olive oil in that cast iron skillet, and season your meat with salt and pepper. When the oil is hot, place the steak in the skillet. Leave it there cooking for five minutes without touching it. Then, flip it over and cook for 3-5 more minutes – lower end of the range for a thinner steak, and upper end of the range for a thicker steak. (If the steak is very thick, you may need to add a few more minutes).
When that time is up, remove the steak and place it on a plate. Cover that with tinfoil and let it rest for 10 minutes. Now your steak is cooked perfectly and ready to slice!
All that's left to do now is assemble your salad. You'll need:
Baby spinach
Blue cheese
Red onion
Cooked squash and cranberries
Cooked steak
Quick note – I used baby spinach here, but you can easily substitute any salad green that you'd like (for example, spring mix or baby kale).
You'll add your salad greens to a bowl or plate and top it with your squash, cranberries, sliced steak, red onion, and blue cheese. YUM!
From here, you can use your own dressing of choice (any kind of vinaigrette, like balsamic or maple, works well) – or you can whip up the easy vinaigrette I have below in the recipe card.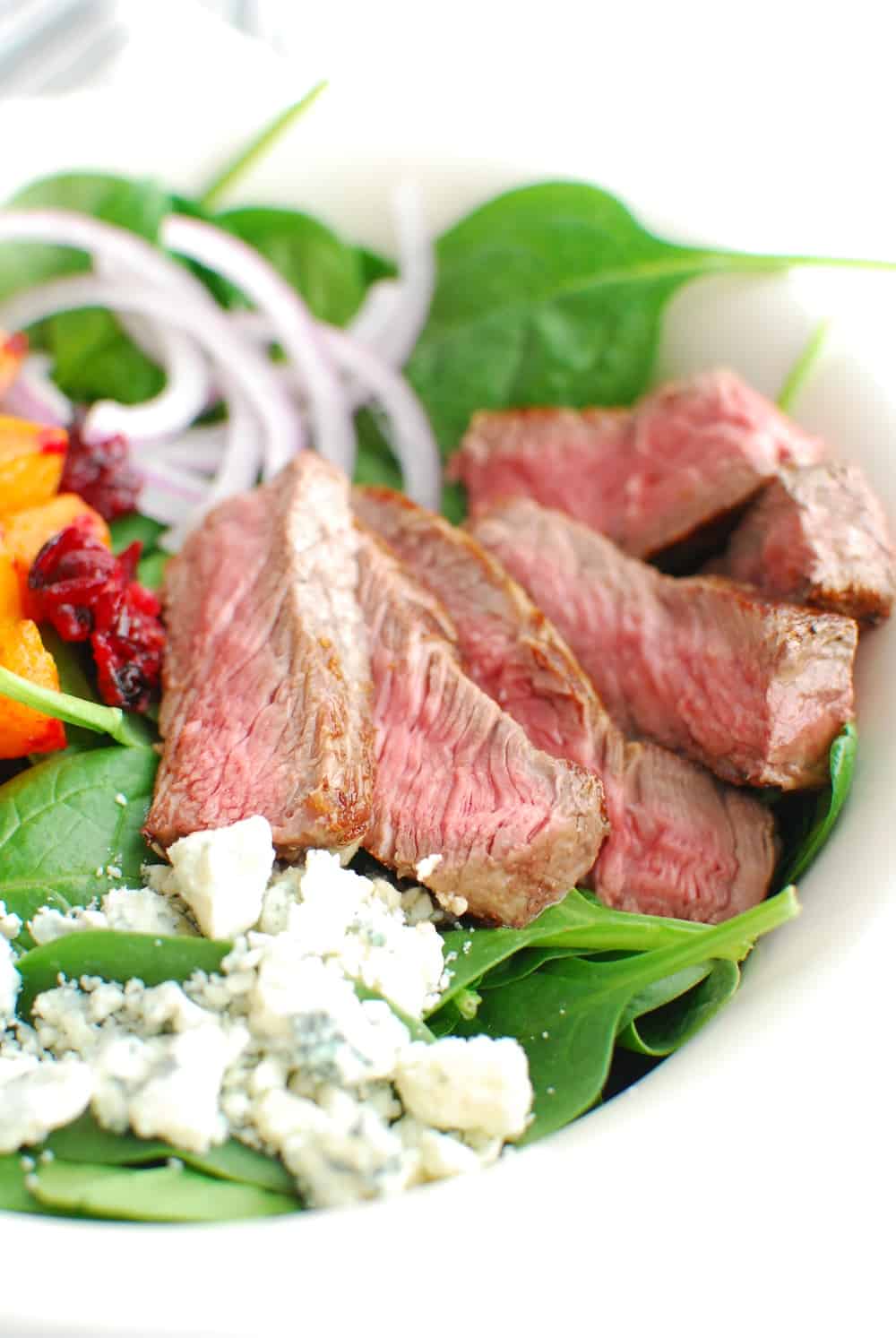 Other Steak Salad Combinations
One of my favorite things about salads? There are really endless combinations to what you can put in them! Here are a few other steak salad combos for meal time inspiration:
Caprese Steak Salad – Baby spinach, sliced steak, basil, tomatoes, sliced mozzarella, balsamic vinaigrette
Grilled Veggie Steak Salad – Mixed greens, grilled steak, grilled corn, grilled zucchini, grilled bell peppers, sliced tomatoes, dressing of choice
Steak Taco Salad – Green leaf lettuce, steak (seasoned with taco seasoning), beans, tomatoes, cheddar cheese, avocado, southwestern ranch dressing, crushed tortilla chips
Soy and Sesame Beef Salad – Mixed greens, cilantro, cucumber, pickled red onion, steak, soy and sesame dressing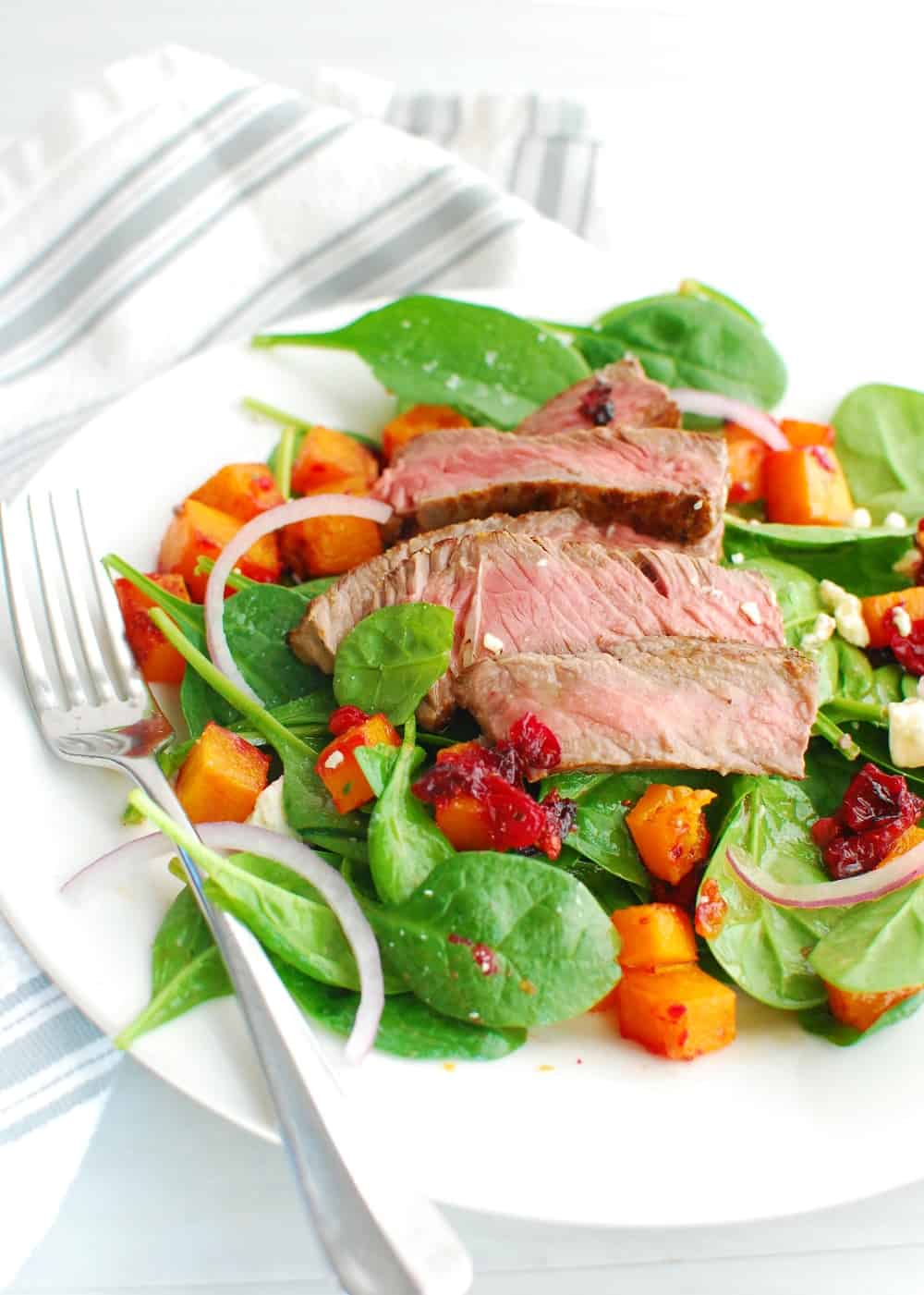 I hope you enjoy this steak salad with blue cheese, butternut squash, and cranberries! If you get a chance to try it, be sure to leave a recipe rating or comment below.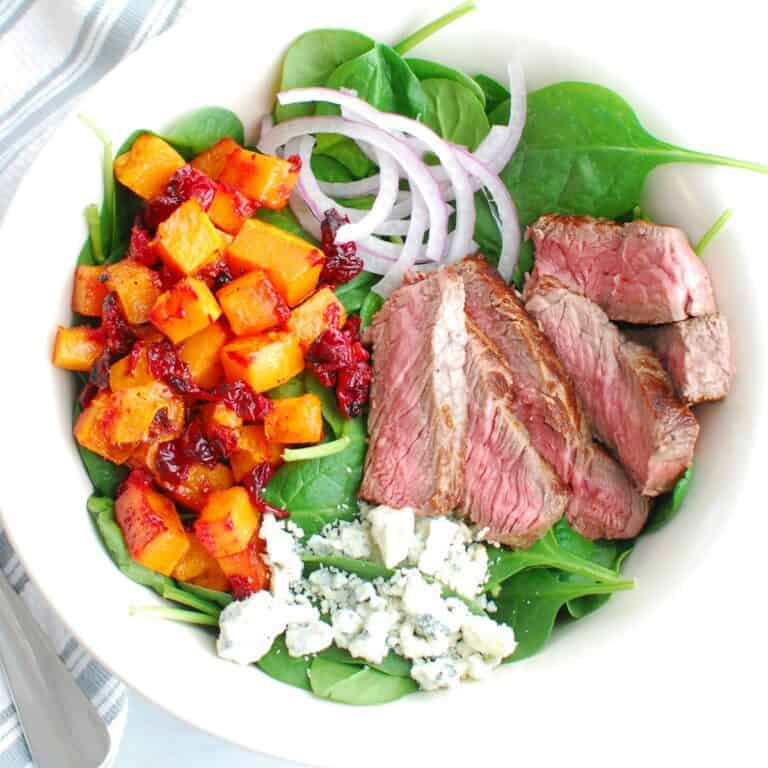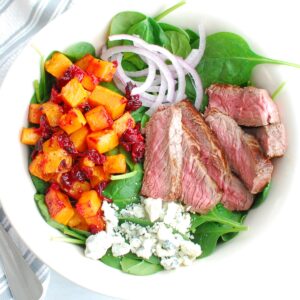 Steak Salad with Blue Cheese, Butternut Squash, and Cranberries
This steak salad with blue cheese, butternut squash, and cranberries is ideal for a festive fall dinner!
Ingredients
For Roasted Squash and Cranberries:
3

cups

peeled and chopped butternut squash, cut into 1/2-inch pieces

2

tbsp

olive oil, divided

1/4

tsp

salt

2

cups

fresh cranberries

2

tbsp

honey, divided
For Steak:
1

tbsp

olive oil

1

lb

top sirloin steak

(or tenderloin steak)

1/4

tsp

salt

1/8

tsp

pepper
For Rest of Salad:
5

ounce

package baby spinach

1/2

cup

blue cheese crumbles

1/4

cup

sliced red onion
For Dressing (optional):
3

tbsp

olive oil

2

tbsp

apple cider vinegar

1

tbsp

lemon juice

1

tbsp

honey

1

tsp

Dijon mustard

1/4

tsp

salt
Instructions
Preheat oven to 425 degrees.

In a bowl, toss the squash with 1 tbsp of olive oil and 1/4 tsp salt. Spread onto a baking sheet. In the same bowl, toss the cranberries with 1 tbsp oil and 1 tbsp honey. Add the cranberries to the baking sheet with the squash.

Place the baking sheet in the oven and bake for about 20 minutes, stirring once halfway through, until squash is tender. Upon removing from the oven, drizzle additional 1 tbsp of honey over the squash and cranberries, and give everything a good stir.

Meanwhile, as the squash and cranberries are cooking in the oven, prepare the steak. Season steak with 1/4 tsp salt and pepper.

Heat 1 tbsp olive oil in a cast iron skillet over medium heat. Place the steak in the pan and cook for 5 minutes on one side. Flip and cook an additional 3-5 minutes (less time for smaller pieces of steak, more time for larger). Remove from the pan and place on a plate covered with aluminum foil. Let rest for 10 minutes.

Add the baby spinach to a large serving bowl and toss in the squash, cranberries, blue cheese, and red onion. When steak has finished resting, slice it and add that to your salad.

Top with any dressing of your choice. If making the dressing shown here, just combine all dressing ingredients in a mason jar, give it a good shake, and pour over the salad. Enjoy!
Notes
Notes:
You can either put all the ingredients in a large serving bowl, or you can divide everything evenly among four plates for four servings.
Nutrition information (approximate per serving, includes dressing):
527 calories, 30.5 g fat, 8 g saturated fat, 750 mg sodium, 34.5 g carbohydrate, 5 g fiber, 18.5 g sugar, 31 g protein, Vitamin A: 293%, Vitamin C: 69%, Calcium: 22%, Iron: 22%
Nutrition
Feel free to pin this post to save for later!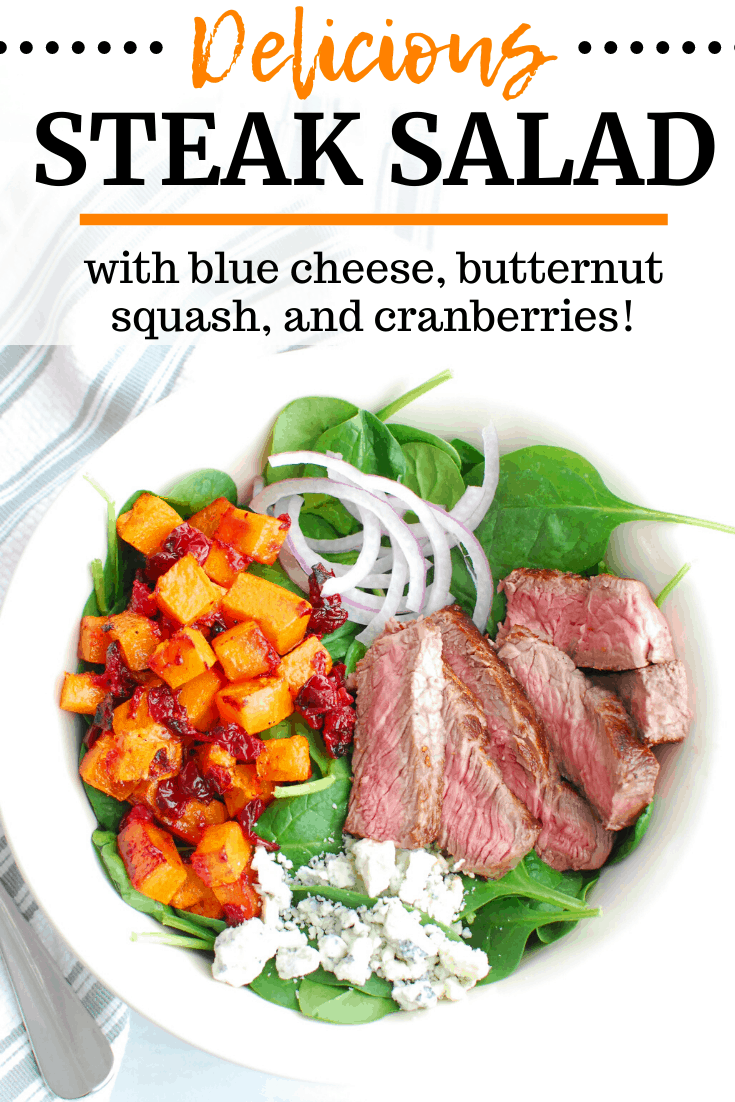 References:
1) Beef – It's What's for Dinner. Lean Beef – A Super Satisfying Balance of Taste and Nutrition.
2) Pingitore A, Lima GP, Mastorci F, Quinones A, Iervasi G, Vassalle C. Exercise and oxidative stress: potential effects of antioxidant dietary strategies in sports. Nutrition. 2015 Jul-Aug;31(7-8):916-22.
3) Pastor R, Tur JA. Response to exercise in older adults who take supplements of antioxidants and/or omega-3 polyunsaturated fatty acids: A systematic review. Biochem Pharmacol. 2019 Oct 3:113649
4) Lima LCR, Barreto RV, Bassan NM, Greco CC, Denadai BS. Consumption of An Anthocyanin-Rich Antioxidant Juice Accelerates Recovery of Running Economy and Indirect Markers of Exercise-Induced Muscle Damage Following Downhill Running. Nutrients. 2019 Sep 23;11(10).
5) Brkić D, Bošnir J, Bevardi M, et al. Nitrate in Leafy Green Vegetables and Estimated Intake. Afr J Tradit Complement Altern Med. 2017;14(3):31–41.
6) Jones AM. Dietary nitrate supplementation and exercise performance. Sports Med. 2014;44 Suppl 1(Suppl 1):S35–S45.
7) Gee LC, Ahluwalia A. Dietary Nitrate Lowers Blood Pressure: Epidemiological, Pre-clinical Experimental and Clinical Trial Evidence. Curr Hypertens Rep. 2016;18(2):17.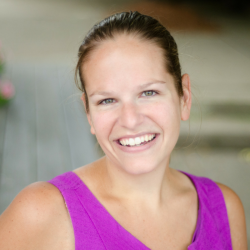 Latest posts by Chrissy Carroll
(see all)