If you need a new way to mix up your morning meal, try making this sweet potato brussels sprouts hash! It's a healthy veggie-packed breakfast that requires just a handful of ingredients and is super easy to make.
How to Make Sweet Potato Brussels Sprouts Hash
You can make so many different types of breakfast hash recipes, and they're all basically the same general idea. You want to chop up your ingredients, toss 'em in a skillet with some oil, and season it up. So easy.
For this sweet potato brussels sprouts hash, you're going to need just 6 ingredients:
Sweet potatoes
Brussels sprouts
Plantain
Olive oil
Salt
Pepper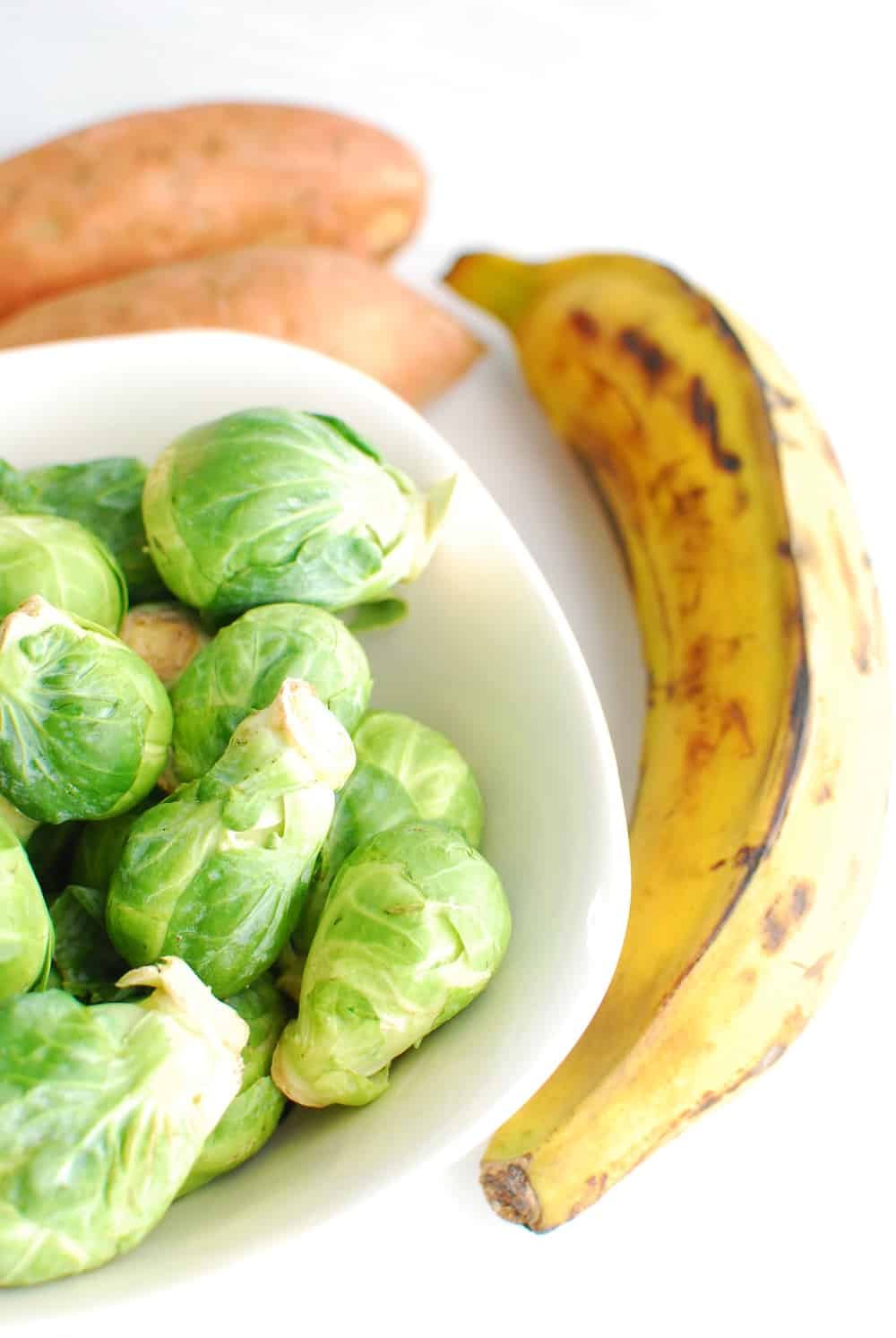 That's it!
To make this, you'll start with a trick I use whenever I cook up a potato hash: microwave the potatoes first! By microwaving them until they're just starting to get tender, you end up saving on cooking time and end up with the best texture. The microwave helps the flesh get tender, but when you throw them in the skillet afterward, the oil will help get that little bit of caramelization on the outside of the potatoes.
While your potatoes are microwaving, you'll sauté your brussels sprouts in a little olive oil. When those are starting to cook through, you'll add a little more oil and your plantains.
And then the last step is to add a little more oil and your chopped microwaved potatoes (leave the skin on when you chop 'em!), along with your salt and pepper. Cook it about 5 more minutes and you're all done!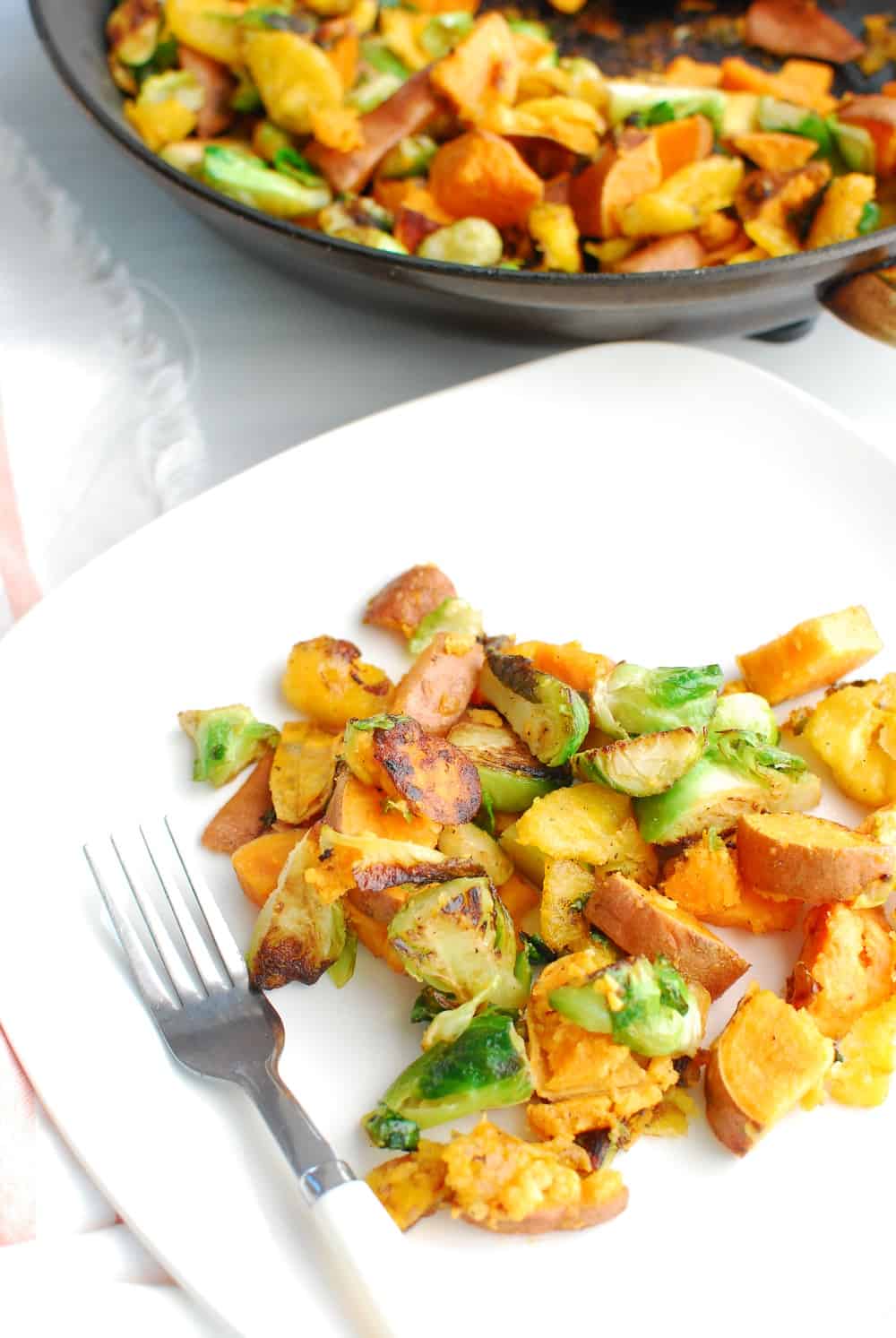 Why I Love This Meal for Active Women
This dish is packed with the healthy carbohydrates that your body craves to fuel your fitness routine. You see, when you're doing intense exercise, your body relies on stored carbs in your muscles. These carbs are stored in a form called glycogen, which provides energy for tough sprints, as well as part of the energy supply during long endurance races.
This recipe is a perfect example of healthy carbohydrates that you can eat anytime. There's no added sugar and no overly processed ingredients (though of course, those things are fine in moderation too). But I love that this recipe just highlights natural vegetables and fruits, giving your body the nutrient-dense food it needs.
This dish is also a good source of many vitamins, including packing in more than an entire day's worth of your Vitamin A needs (key for eyesight) and Vitamin C needs (essential for immunity). It also provides 25% of your daily potassium needs, an electrolyte you lose in sweat during your workouts, and one that's also involved in blood pressure regulation.
I love to top this with one or two eggs, which boosts the protein content of the meal and makes it a more complete dish!
Ways to Mix Up This Recipe
A breakfast hash offers infinite ways to mix things up. Here are just a few ideas:
Put an egg on it. Like I mentioned above, my favorite thing to do with this recipe is to put a fried egg (or two) on it. That runny yolk over the veggies? Yesssss please.
Add bacon to the dish. Cook the bacon first and set aside, then cook the veggies in the reserved bacon grease, decreasing the amount of olive oil you use (if any). When the veggies and fruit are done, chop up the bacon and mix that back in.
Use an apple. You can either use this in place of the plantain, or you can use it in place of the brussels sprouts if you want a sweeter breakfast hash.
Get creative with seasonings. I stuck with basic salt and pepper here, but you can use other seasonings like chili powder and cumin to jazz things up a little.
Add some ground turkey. I love making a breakfast hash with sweet potatoes, peppers, onions, and ground turkey – but you could also easily brown some turkey to add to this hash too.
I hope you enjoy this nutritious brussels sprouts sweet potato hash! If you get a chance to try it, be sure to leave a comment or recipe rating below. (PS – looking for another way to use sweet potatoes at breakfast? Try this sweet potato breakfast bowl, where you'll puree a sweet potato and top it with peanut butter, raisins, and nuts!).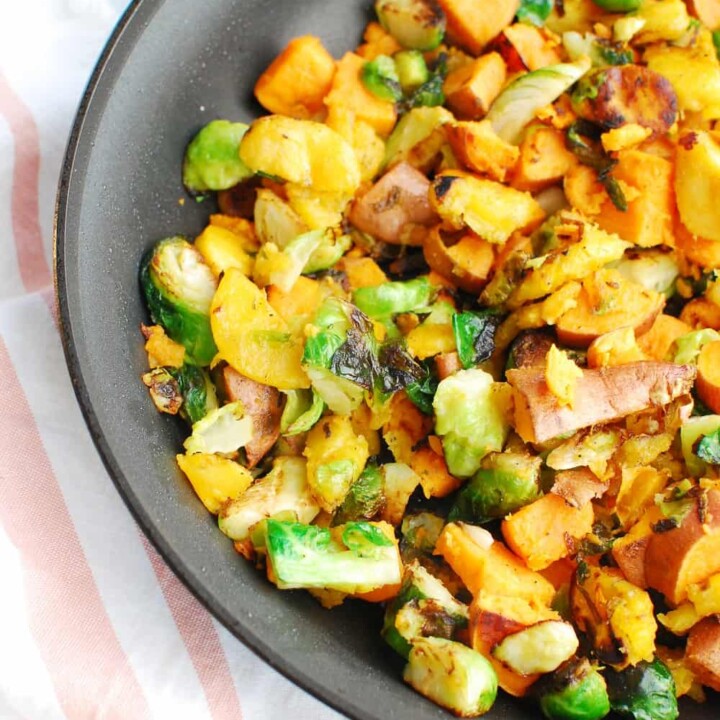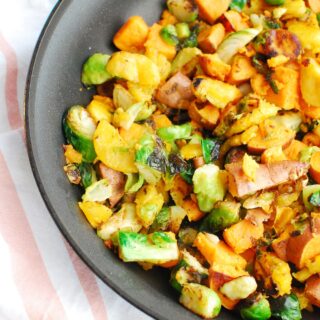 Sweet Potato Brussels Sprouts Hash
This sweet potato brussels sprouts hash with plantains is a delicious way to mix up your morning meal!
Ingredients
2

medium sweet potatoes

4

tbsp

olive oil, divided

(or avocado oil)

1/2

pound

brussels sprouts, quartered

1

ripe yellow plantain, halved the long way then sliced into ¼ inch pieces

1/2

tsp

salt

1/4

tsp

pepper
Instructions
Place the sweet potatoes in a microwavable safe bowl, poke a few holes in them with a fork, and cover with a damp paper towel. Microwave for 4 to 5 minutes, or until they're mostly tender. Chop into bite-size pieces.

Meanwhile, heat 1 tablespoon of the olive oil over medium heat. Add the brussels sprouts. Cook for about 6 minutes, until the outsides start to caramelize a bit.

Add another 2 tablespoons of olive oil to the pan and wait for 30 seconds. Then add the plantains. Cook for 3 minutes, stirring every minute, until the plantains have started to get a bit golden on both sides.

Add another 1 tablespoon of olive oil to the pan and wait 30 seconds. Stir in the chopped sweet potatoes, salt, and pepper. Continue cooking the hash for another 4 to 5 minutes, or until the brussels sprouts are tender.

Serve warm as-is, or add a fried egg or two on top. Enjoy!
Notes
Nutrition analysis (approximate per serving, does not include topping with eggs):  308 calories, 14 g fat, 2 g saturated fat, 46 g carbohydrate, 6 g fiber, 17 g sugar, 4.5 g protein, Vitamin A: 293%, Vitamin C: 105%, Calcium: 6%, Iron: 10%, Potassium: 25%
Nutrition
Share: What's your favorite kind of breakfast hash to make? If you tried this, what did you think?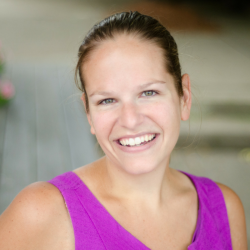 Latest posts by Chrissy Carroll
(see all)