Short on time, but looking for a balanced breakfast?  Set aside a few minutes on the weekend to whip up these vegetarian meal prep breakfast sandwiches!
Made with eggs, mushrooms, chives, and cheese, all loaded up on an English muffin, they are so tasty for an easy morning meal. You can prep them ahead of time, freeze them, and pull them out to microwave whenever you need a quick filling meal.
Disclosure:  This is a sponsored blog post on behalf of Bays English Muffins.
This post was originally published in 2018 and has been updated in 2022.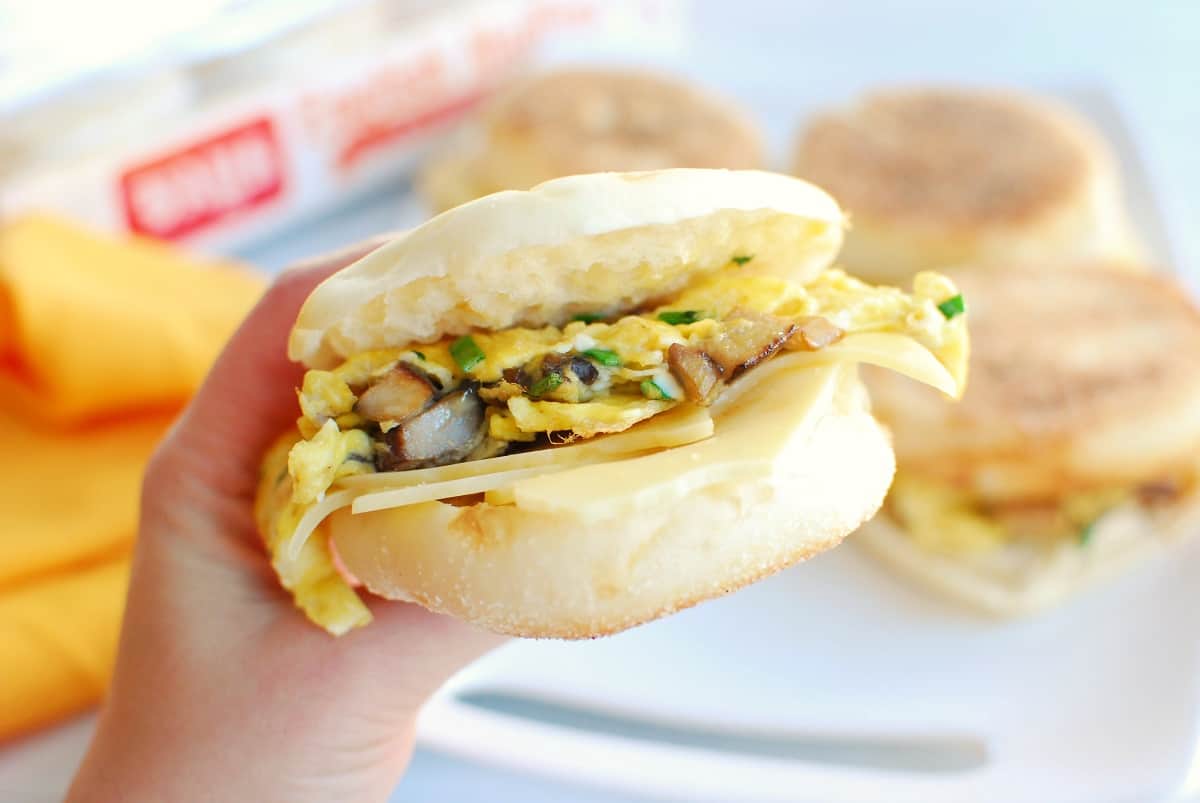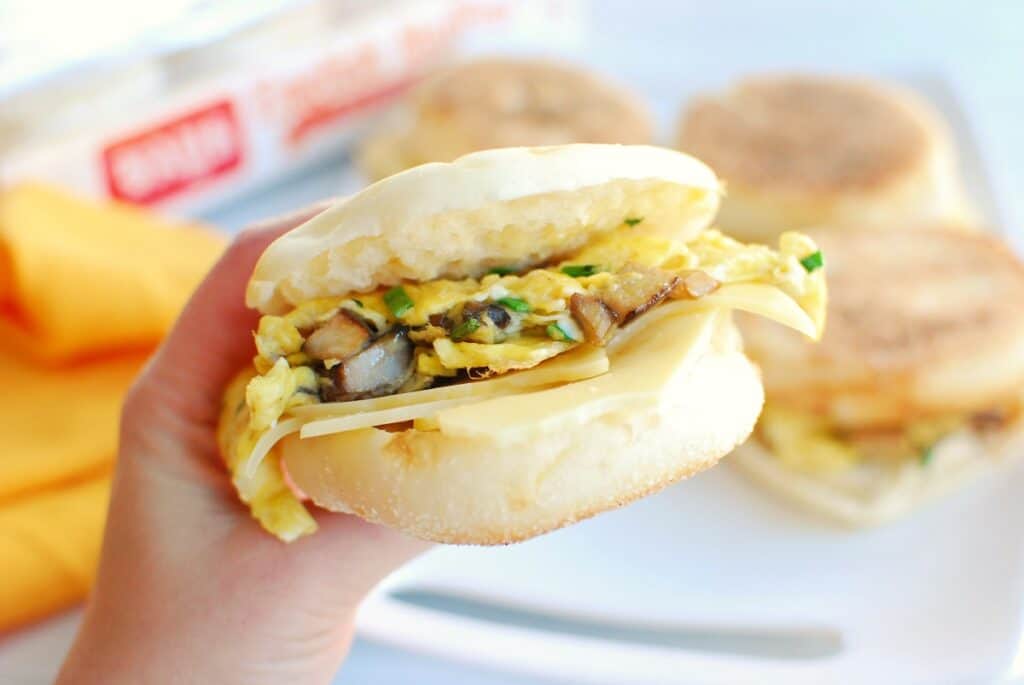 Why Make Meal Prep Breakfast Sandwiches?
I know y'all are probably as busy as I am.  Many of you are juggling kids, work, household responsibilities, your fitness goals….and oh yeah, making sure everyone gets fed.  Am I right?!
Meal prep dishes can be super convenient.  The premise is simple: take some time on the weekend (or whatever day off you have) to make some meals ahead, and it'll lighten up stress during the week.
Not only does it make mealtimes easier, but it also makes it easier to stick with any nutrition goals you have.  If you've got meals already made that fit your needs, you're less likely to turn to the snacky stuff when you're hungry.
(If you're looking for more meal prep ideas, I've got some great suggestion in this guide to athlete meal prep and this roundup of beef meal prep recipes).
Ingredients
Here's a photo of everything you'll need to make these sandwiches, along with some selected ingredient notes.
Mushrooms – I like baby bella mushooms for this, but you can certainly use white button mushrooms too.
Chives – These give a nice pop of mild oniony flavor. If you don't have any on hand, you can toss in some green onions instead.
English muffins – You can use any type of plain English muffin – white, whole wheat, or light! I used Bays English muffins when I made these; they're super fresh and kept in the dairy section at the grocery store.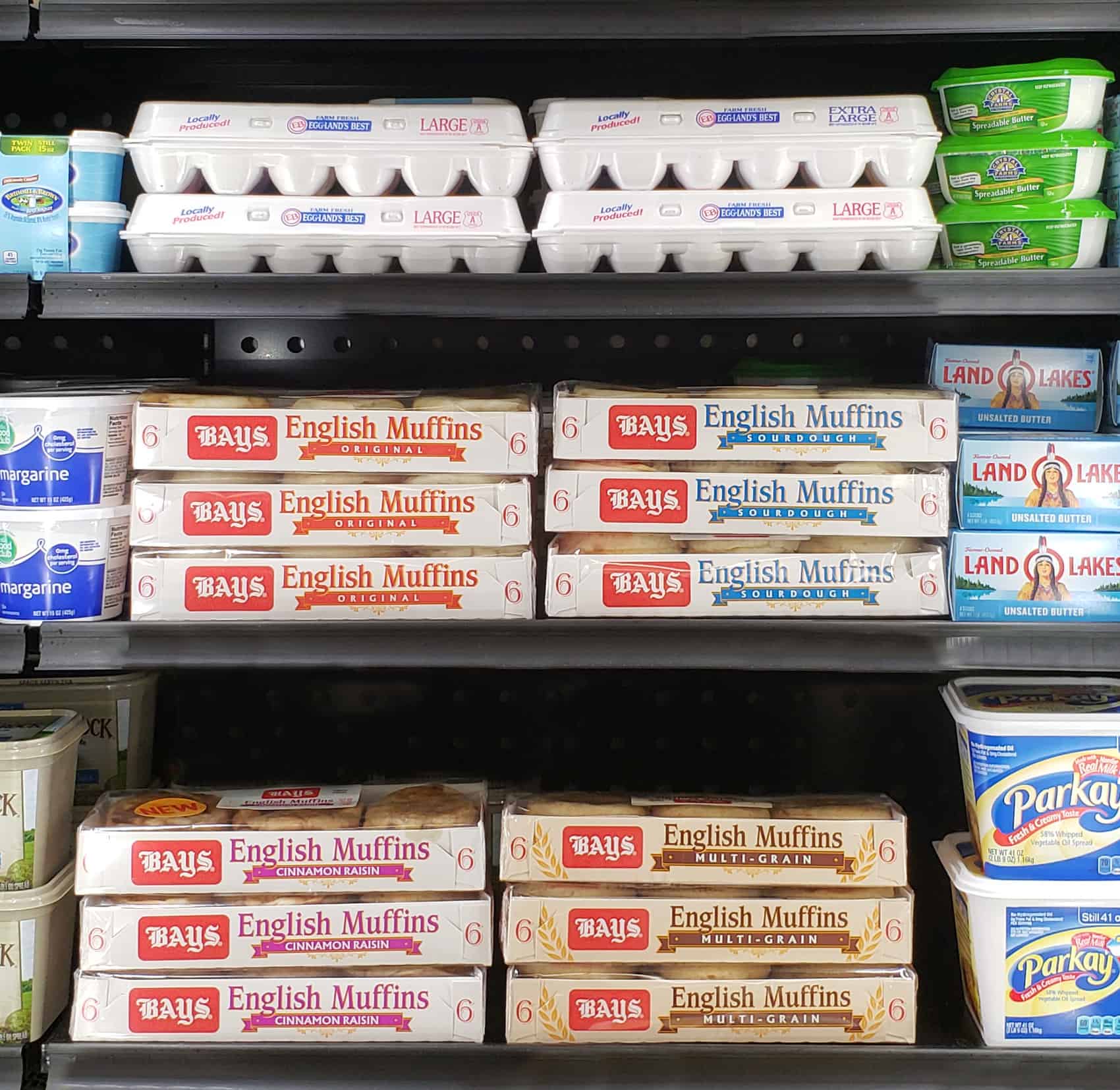 Instructions
You'll find full recipe instructions and amounts in the recipe card at the bottom of the post, but here's a helpful overview with photos.
Start by melting a little butter in a pan, then sautéing your mushrooms until they're tender.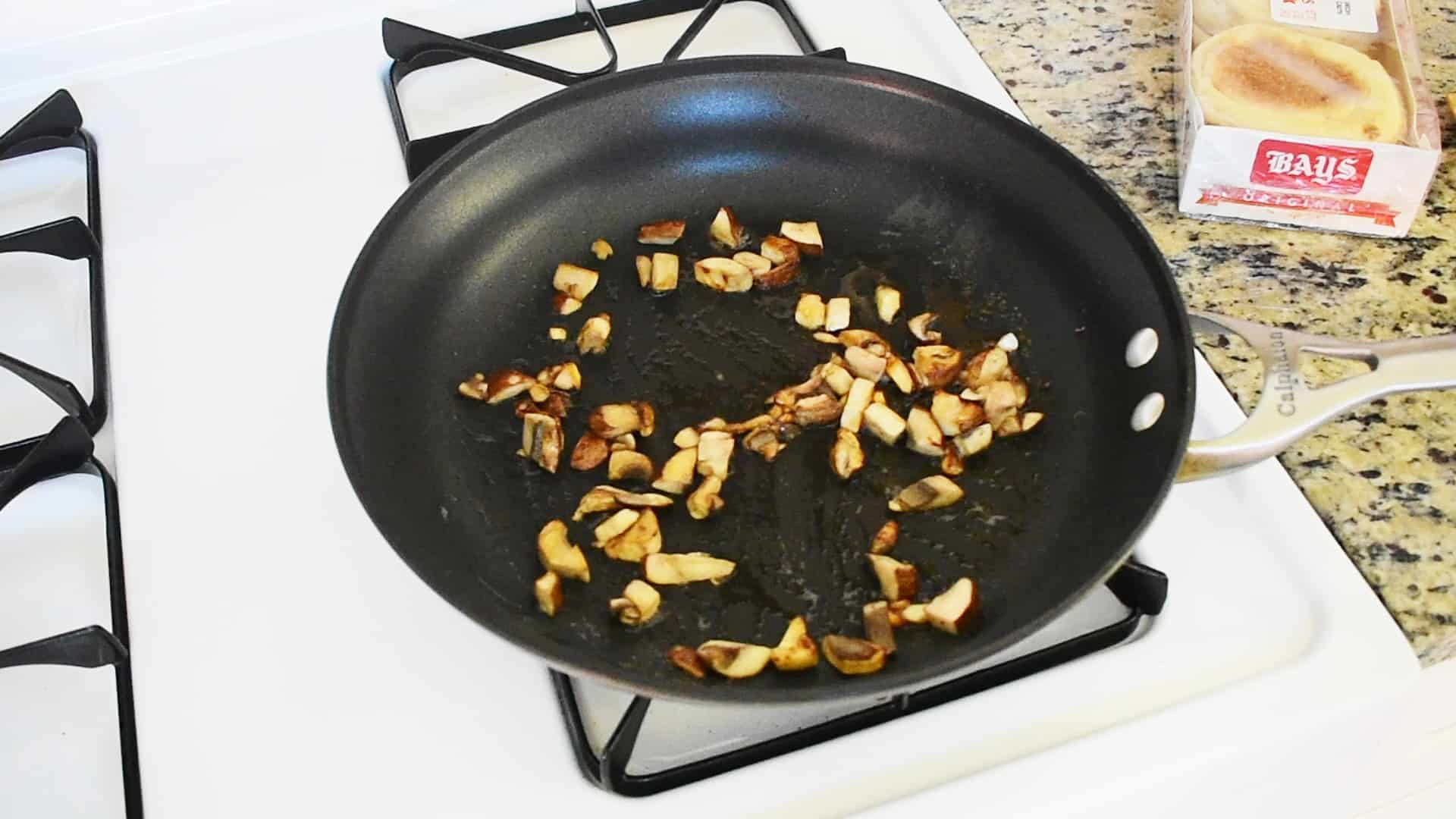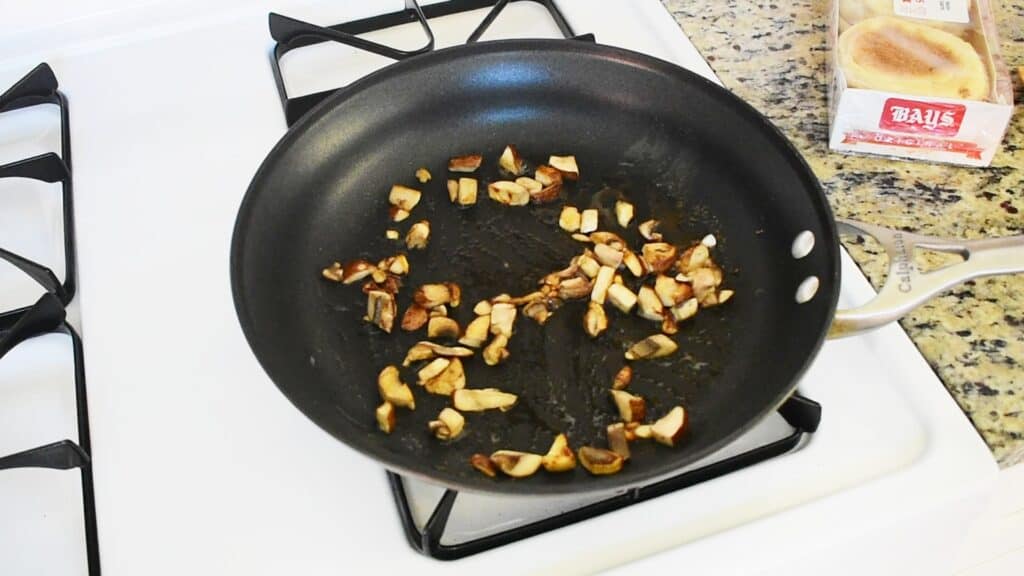 When they are, add in some scrambled eggs and chives, and cook for a few minutes, stirring often, until the eggs are cooked through.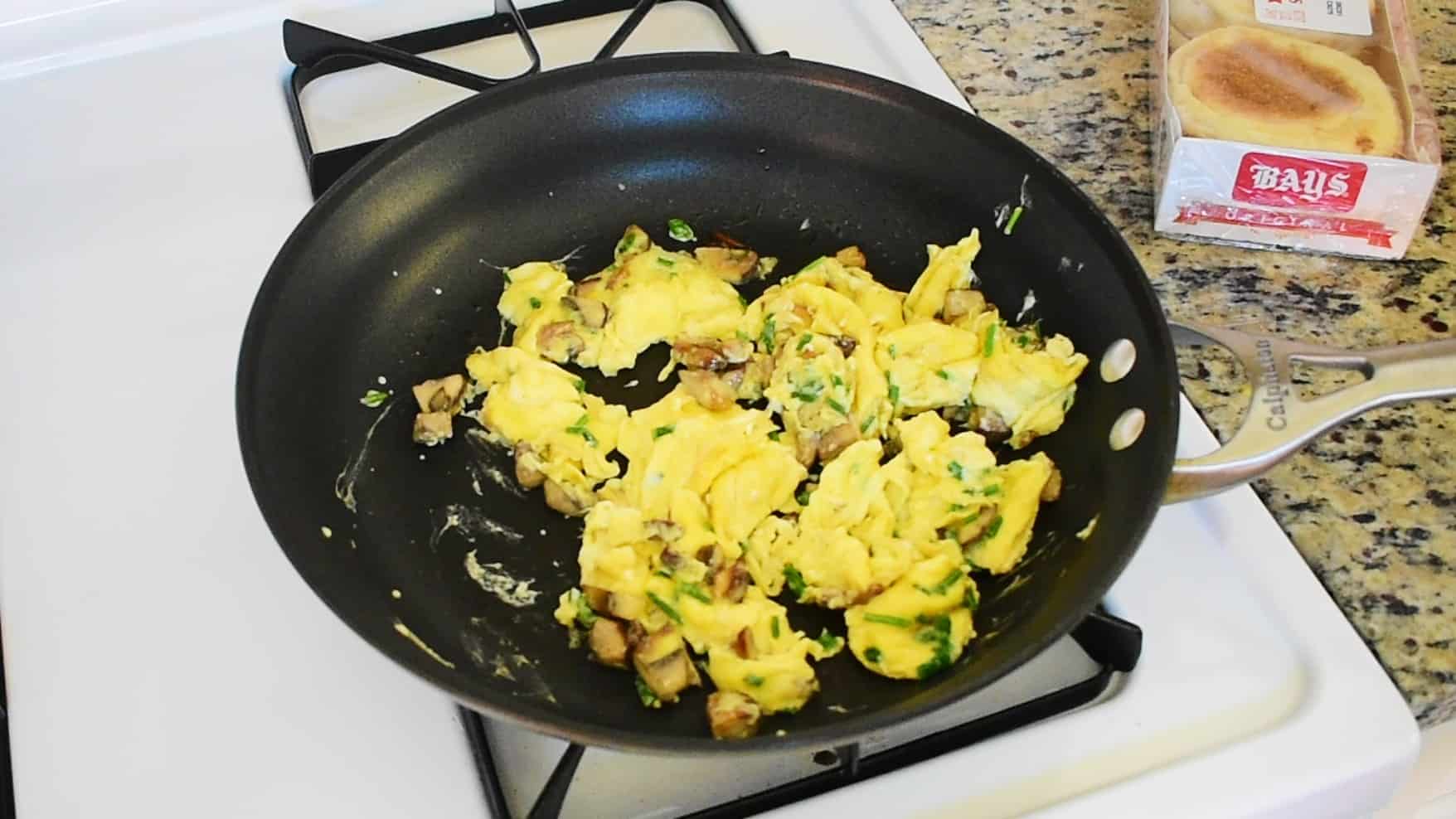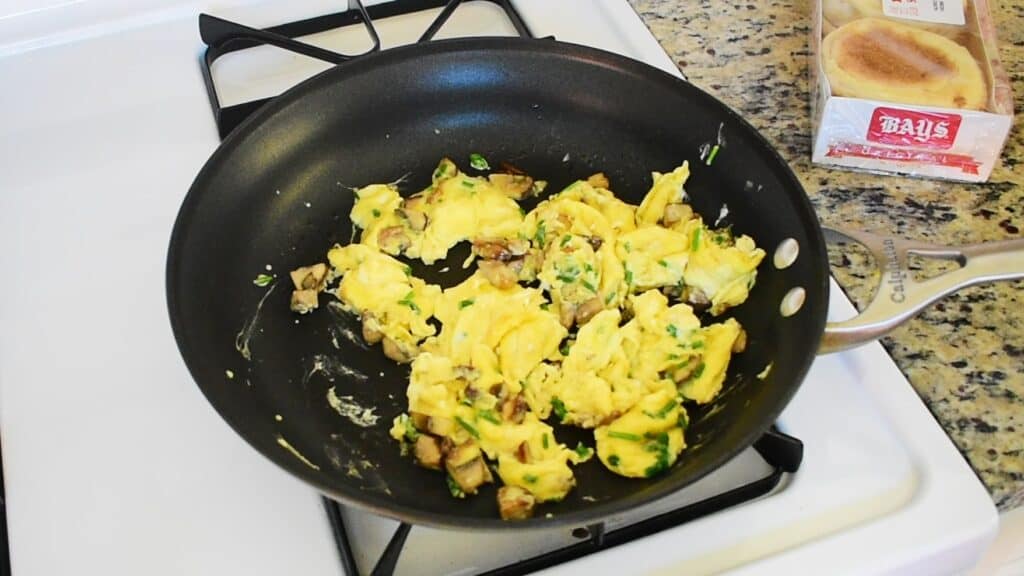 Remove that from heat and set aside. Now lightly toast the English muffins in a toaster, and add a smidge of butter spread on each one (optional but adds flavor).
Place a slice of swiss cheese on four halves, then distribute the egg and mushroom mixture evenly, and finish with the other half of the English muffin.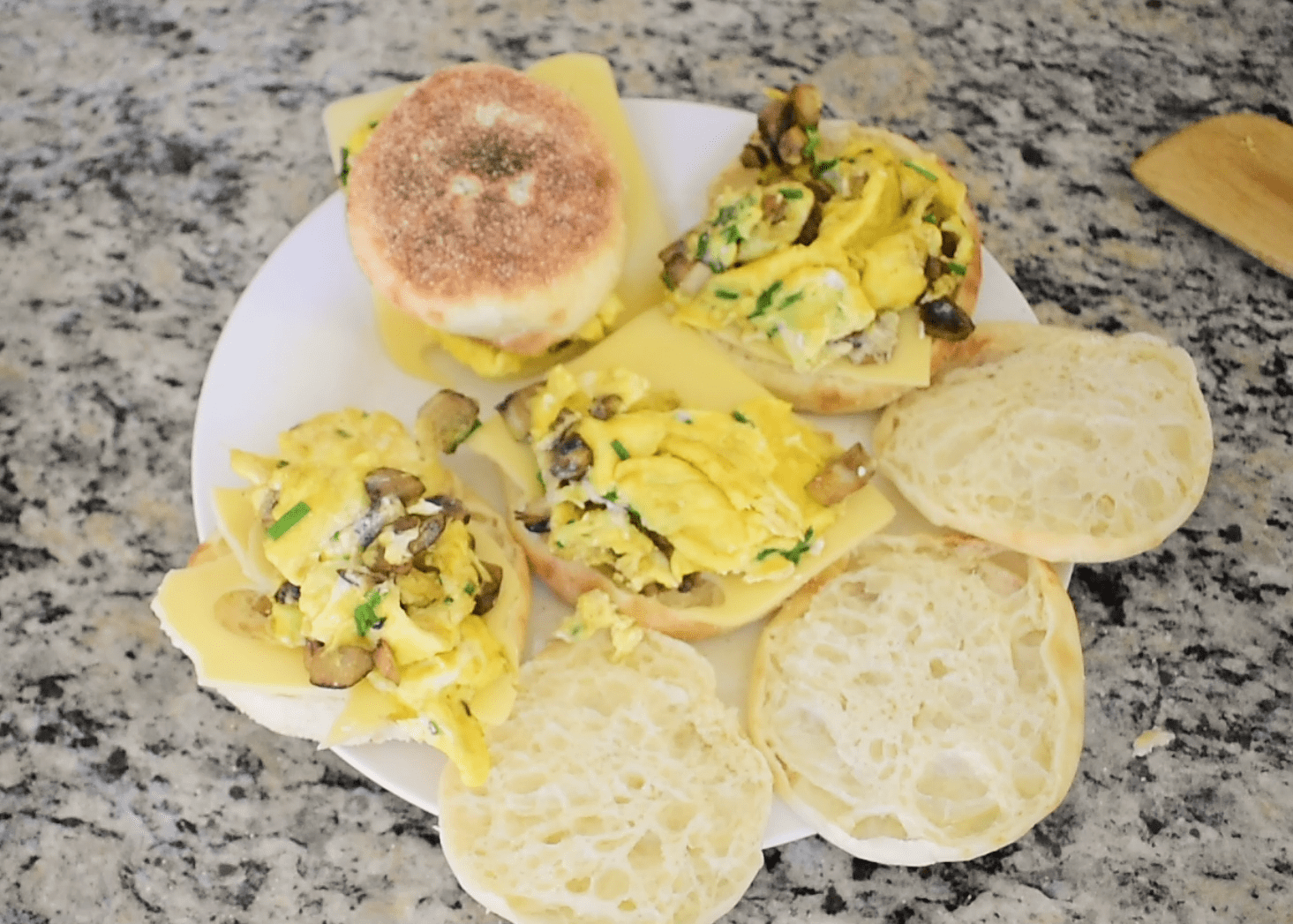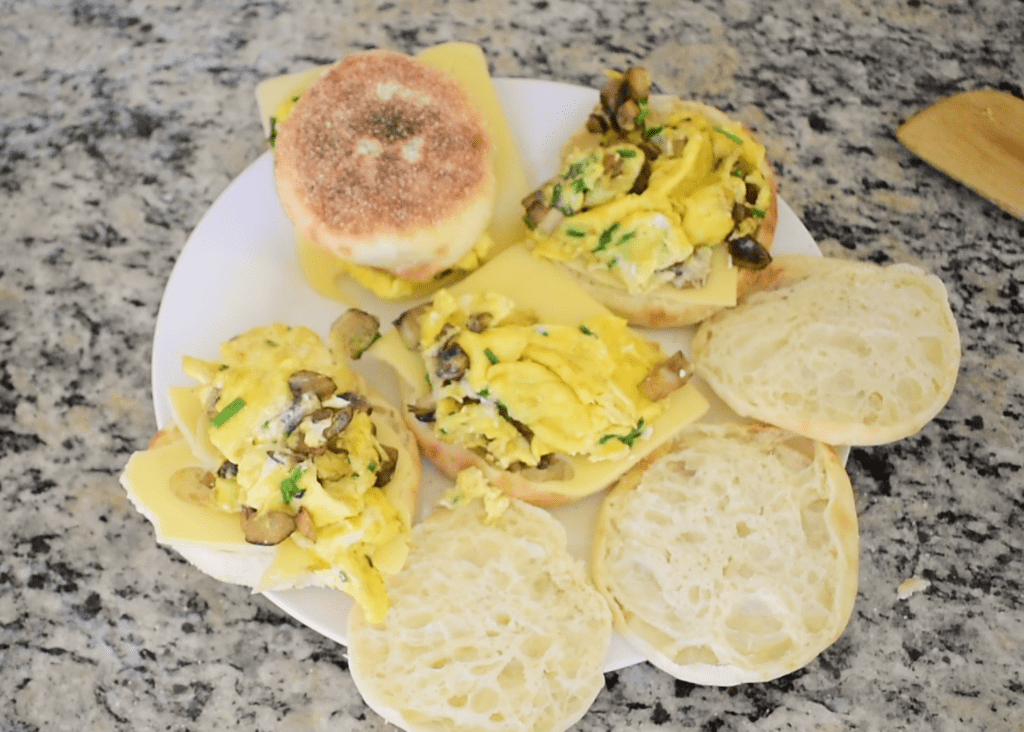 Wrap up your sandwiches individually in plastic wrap, and then place 'em all in a gallon size freezer bag. This helps keep the quality better (less risk of freezer burn).  It also helps hold everything together better (compared to just putting all of them in a big bag together where the filling might fall out or they might get stuck together).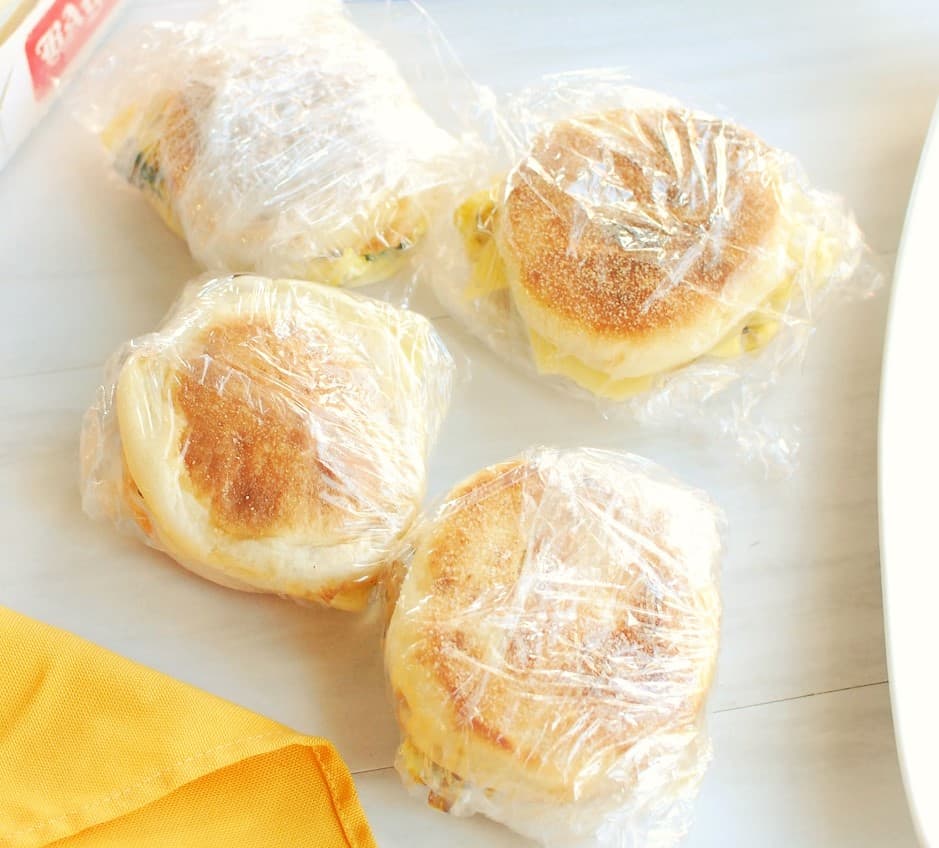 When you're ready to eat one from the freezer, unwrap it completely and place it on a paper towel on a plate in the microwave.  The paper towel will absorb any moisture as it heats up, and keeps the bottom from getting soggy.
Reheat in the microwave for 1-2 minutes.  Start with one minute, and increase in 20 second intervals until everything is heated through.  Doing it this way helps prevent it from overcooking when reheating.
Here's a helpful video demonstrating the step-by-step instructions.
Nutrition Benefits
These vegetarian meal prep breakfast sandwiches clock in right around 400 calories – and have a great balance of energy-rich carbs, satiating fat, and muscle-supporting protein.
Most people get plenty of protein throughout the day, but fail to get a good amount at breakfast.  Between the Bays English Muffin, the eggs, and the cheese, you've got just over 19 grams of protein in one vegetarian sandwich.
Recipe FAQ
Here are some common questions that may come up as you prepare this recipe:
Can you use different flavor combinations in freezer breakfast sandwiches?
Yes! Feel free to experiment with other combinations like spinach, roasted red peppers, and feta, or broccoli and cheddar. Just avoid including raw vegetables that have a high water content (like fresh sliced tomatoes) if you plan to freeze the sandwich.
What is the best type of bread for a meal prep breakfast sandwich?
English muffins work very well and hold up to reheating in the microwave. You can also try croissants or Hawaiian rolls too.
How long will freezer breakfast sandwiches stay good for?
Once frozen, enjoy within 3 months for best quality.
I hope you enjoy these egg, mushroom, & cheese meal prep breakfast sandwiches!  Be sure to leave a recipe rating or comment to let me know what you think.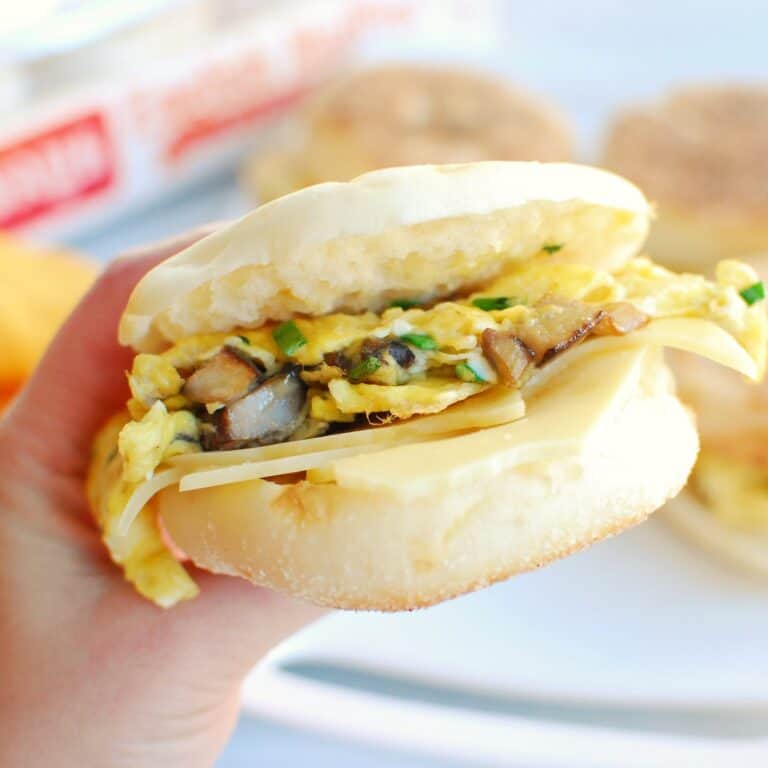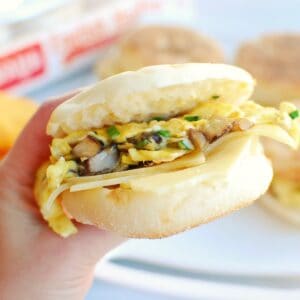 Vegetarian Meal Prep Breakfast Sandwiches
These vegetarian meal prep breakfast sandwiches are the best make ahead morning meal! Protein-rich eggs, savory swiss cheese, umami packed mushrooms – all on a delish English muffin. Freeze them to pull out anytime!
Ingredients
3

tablespoons

butter, divided into 1 tbsp + 2 tbsp (optional)

1

cup

chopped mushrooms

4

large eggs, beaten

1

tablespoon

chopped chives

4

BAYS English Muffins, any variety, split

4

slices

Swiss cheese
Instructions
Heat medium skillet over medium heat; melt 1 tablespoon of the butter. Add mushrooms; cook 3 to 4 minutes or until almost tender, stirring occasionally.

Push mushrooms to side of skillet; add egg and chives. Cook 2 to 3 minutes or until egg is almost set, stirring occasionally. Blend with mushrooms; continue cooking until egg is set.

Toast English muffins; spread with remaining butter (toasting and butter are optional, but makes it taste so good!).

Top bottoms of muffins with egg mixture and cheese; cover with tops of muffins.

If enjoying now, go ahead and eat!

If meal prepping for later, wrap each sandwich in plastic wrap and then place all sandwiches in a gallon size freezer bag. To cook from frozen, unwrap and discard plastic wrap. Place on a paper-towel lined plate in the microwave for 1 to 2 minutes, or until heated through.
Notes
Notes:
If you'd like, you can substitute another cheese, like cheddar cheese, for swiss!
Nutrition Facts (approximate per sandwich):
399 calories, 23 g fat, 12.5 g sat fat, 716 mg sodium, 30 g carbohydrate, 1.5 g fiber, 3 g sugar, 19.5 g protein, Vitamin A: 15%, Vitamin C: 1%, Calcium: 31%, Iron: 14%
Nutrition
Feel free to pin this post to share with others!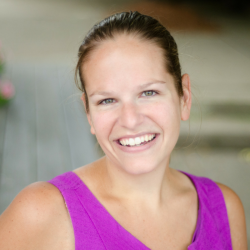 Latest posts by Chrissy Carroll
(see all)