When the days get busy, it seems like two things are often the first to drop off our to-do list – workouts and cooking. I know I've had those days where the end of the day hits, I'm tired and don't feel like cooking, and that takeout seems to be calling my name. One way to get around this conundrum? Meal prep ahead of time on the weekends!
I know weekly meal prep can be a bit of a hassle if you are not prepared to find recipes or if you are getting burned out from eating the same thing every week. That's where this post comes in with 16 different beef meal prep recipes.
All these recipes are awesome make-ahead meals. Cook 'em up one day and then set aside the rest for lunches or dinners later in the week. They are packed with flavor, nutrition, simple ingredients, and are easy to make.
Disclosure: This post contains Amazon affiliate links. As an affiliate, I earn a commission on qualifying purchases. In addition, the Northeast Beef Promotion Initiative, a contractor to the Beef Checkoff, is a client of mine – however this particular post is not sponsored.
Meal Prep Tips
If you're going to do meal prep ahead of time – whether with beef or any other food! – here are a few good tips before you get started:
Stock your kitchen with the right appliances. Many recipes that make food in bulk for meal prep are going to be made in either the slow cooker or the instant pot. This is simply because both of these can make quite large quantities of food at once.
Invest in some good meal prep containers. The more that we're hearing about plastics and potentially harmful effects, the more we've switched over in our house to glass containers for food storage. Even the American Academy of Pediatrics has recently taken a stance on this, stating "Since heat can cause plastics to leak BPA and phthalates into food, avoid microwaving food or beverages in plastic when possible." Of course, it's totally a personal decision, but if you want to try to move away from plastics too – here are a few good options on Amazon for glass containers:
Create a Pinterest board for recipe inspiration! Save all your favorite meal prep recipes to that particular board, that way on the weekend you can pull your favorites to cook.
If you crave variety, try stretching the same protein option across multiple meal ideas. The biggest challenge a lot of people face with meal prep is not wanting to eat the same lunch or dinner over and over again. I completely get that, because I'm the same way. Instead, try meal prepping a big batch of a certain protein, and then using it in new ways throughout the week. This still saves time but it makes meals more interesting. For example, a pot roast can be served with carrots and potatoes one night, sliced on sandwiches another night, and over a salad a third night.
When in doubt, prep with this formula: protein + vegetable + grain OR starchy vegetable OR fruit. Whether that's lemon chicken with green beans and roasted potatoes and green beans, steak on a salad with pineapple, or buffalo chickpeas over greens and quinoa – that formula can make it easy when you're short on recipes.
Of course, with the recipes below you won't even need to worry about that, because you've got tons of options! Enjoy 🙂
16 Amazing Beef Meal Prep Recipes
You will love this Sweet Potato Taco Bowl that Samantha has created. It's packed with healthy ingredients like lean beef, corn, cherry tomatoes, and beans – and it can be made in 30 minutes!
This is great for a quick weeknight dinner along with weekly meal prep. To meal prep future meals, prepare the recipe as-is except don't add the avocado. Save the avocado to add right before serving.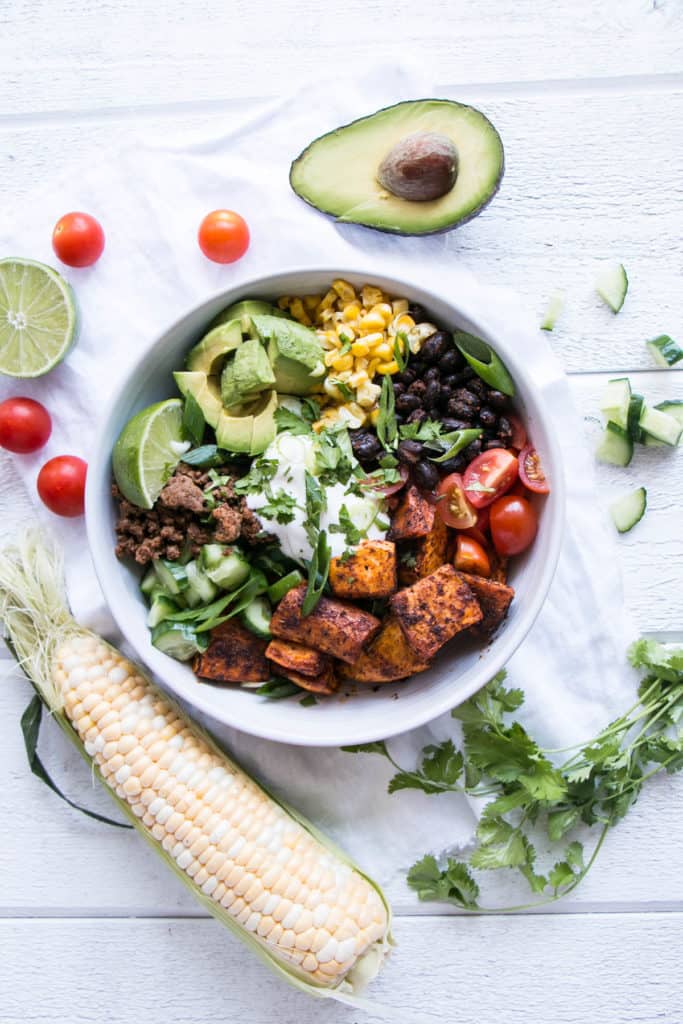 I'm telling you, you guys have not lived until you've had a Mississippi Pot Roast. I love this easy-to-make slow cooker dish!
This recipe is for the meat itself, so if you want to make it a full meal prep recipe – just be sure to also whip up an easy side(s) to go along with it. I'm personally a fan of some mashed potatoes or roasted potatoes to go alongside this, along with some sauteed green beans or asparagus. But you can decide what works best for you!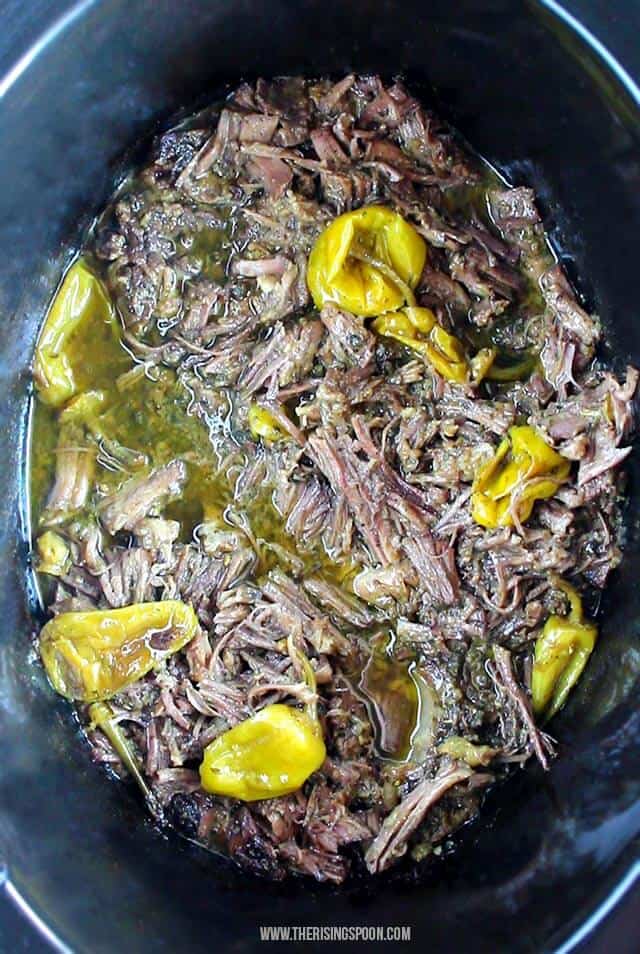 These Beef Kafta Meatballs that Julia is cooking are perfect for meal prep (or even an appetizer for a party). They are easy to make and packed with tons of spices. Once you make the meatballs, you can combine them with a grain + vegetable + cheese/sauce – and that will make for a total meal prep bowl! Here are some ideas:
Grains: brown rice, quinoa, bulgur, farro, amaranth, sorghum, couscous, etc.
Vegetables: tabbouleh, tomatoes, herbs, leafy greens (spinach, kale, arugula), bell peppers, carrots, cucumber, red onions, roasted cauliflower, etc.
Cheese/sauce: feta, tzatziki, hummus, oil and vinegar, Greek salad dressing, etc.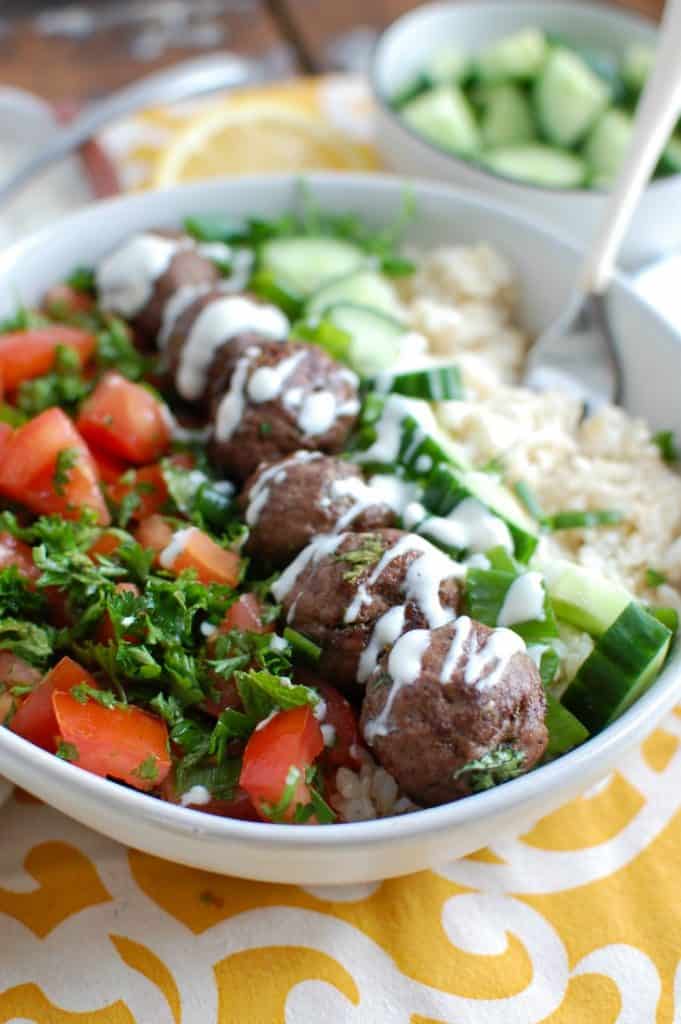 What a yummy bowl of Ground Beef Cabbage Soup! Maya has taken a simple ingredient list and is totally rocking it. She also tells you how to make the soup in the slow cooker, Instant Pot, or on the stove top – so you can cook it according to your favorite method.
Pro tip – when you're meal prepping soup, be sure to divide it into smaller single-serve containers when you're putting it away. This will help it cool down more quickly and preserve food safety.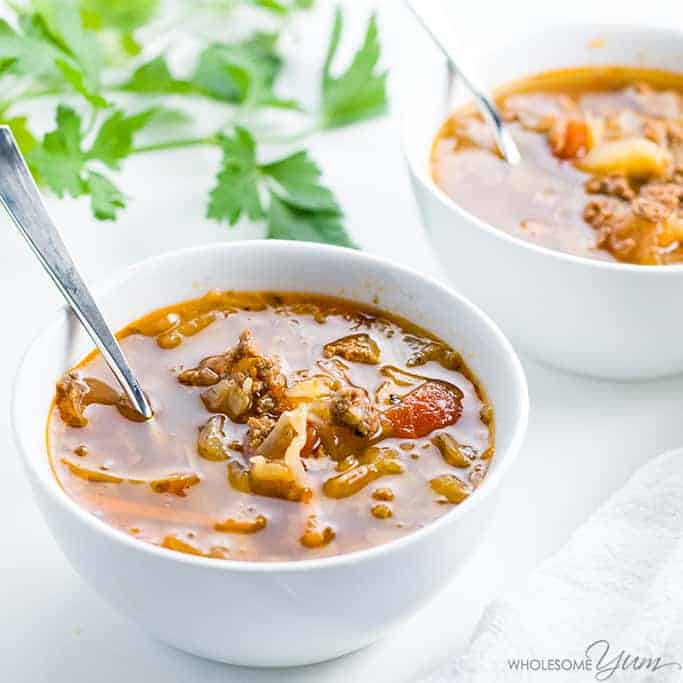 This is one of my favorite recipes to make – not only do you cook a big batch up in the slow cooker (hello, easy dinner) – but then you end up with tons of leftovers to use later on. Bonus – it's also budget friendly, and for those of ya'll with allergies, it's dairy free and soy free. I cook this one all the time and my family loves it.
To meal prep this recipe, I like to make a big batch of rice and beans along with fried plantains to go with it. You can divide that up into tupperware containers and eat it throughout the week.
If you'd rather just make the meat alone, that's fine too! You can use it later in the week for burritos, salads, tacos, or anything you might enjoy.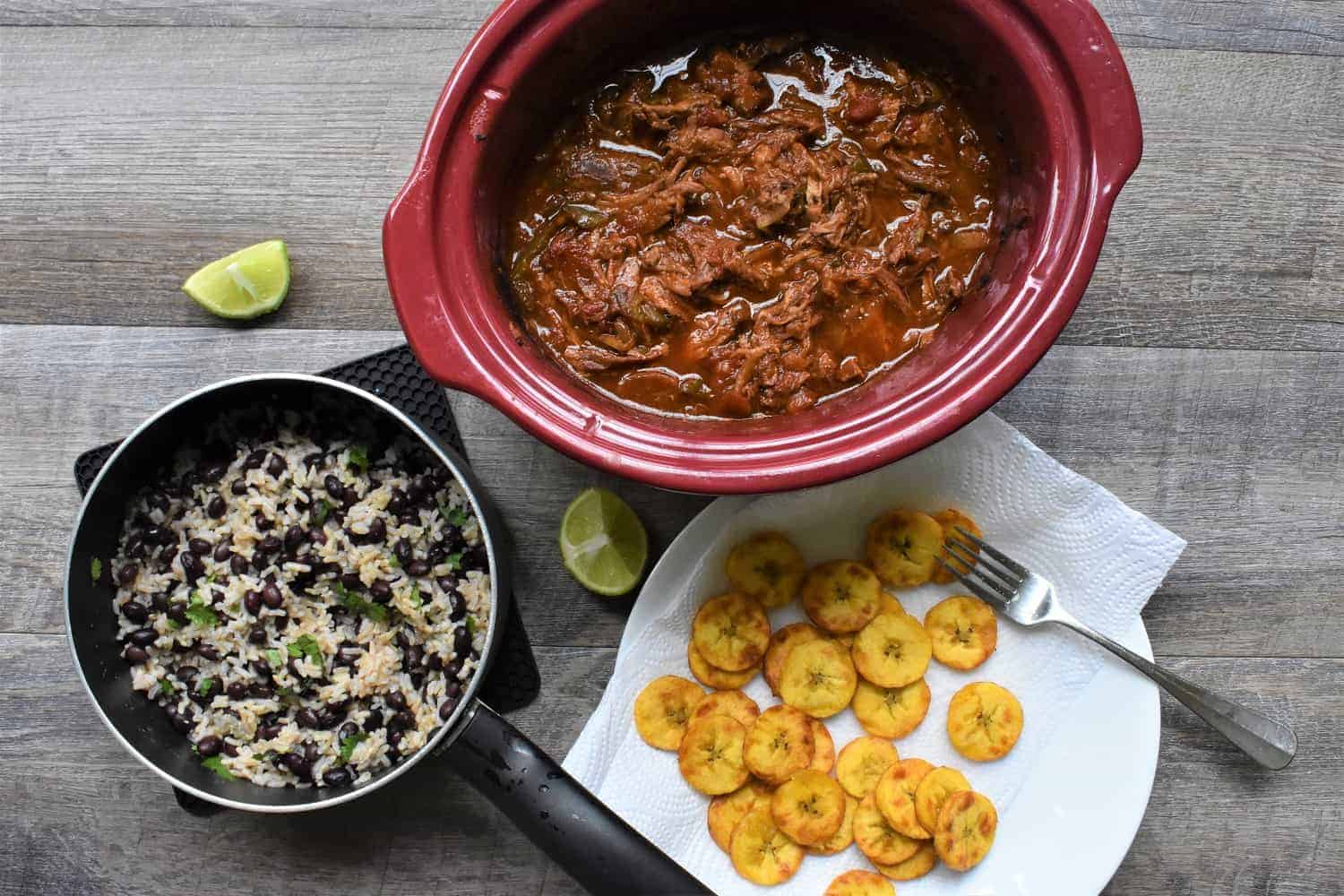 Maya is putting a Mexican twist on a traditional American dish. And as fancy as it sounds, it only takes 15 minutes to prep!
To make this as a meal prep recipe, you'll want to cook the meatloaf itself and then also make a side dish to go along with it. I like a big batch of yellow rice, Mexican cauliflower rice, a side salad, roasted potatoes, or roasted radishes. You can portion out a slice or two of meatloaf along with the side dish in your meal prep containers.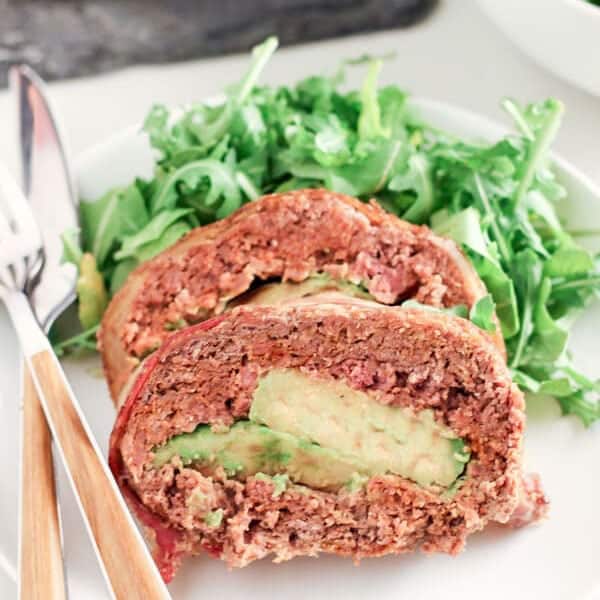 Ya'll know by now that curry is total comfort food for me. If you're in the mood for it too, you'll want to grab this recipe. These bowls can be prepped in 35 minutes, and is also naturally free of many (though not all) major allergens.
When I make this, I'll divide the curry beef into single servings, and then I always make sure to also have some freezer bags of cauliflower rice to throw it on top of!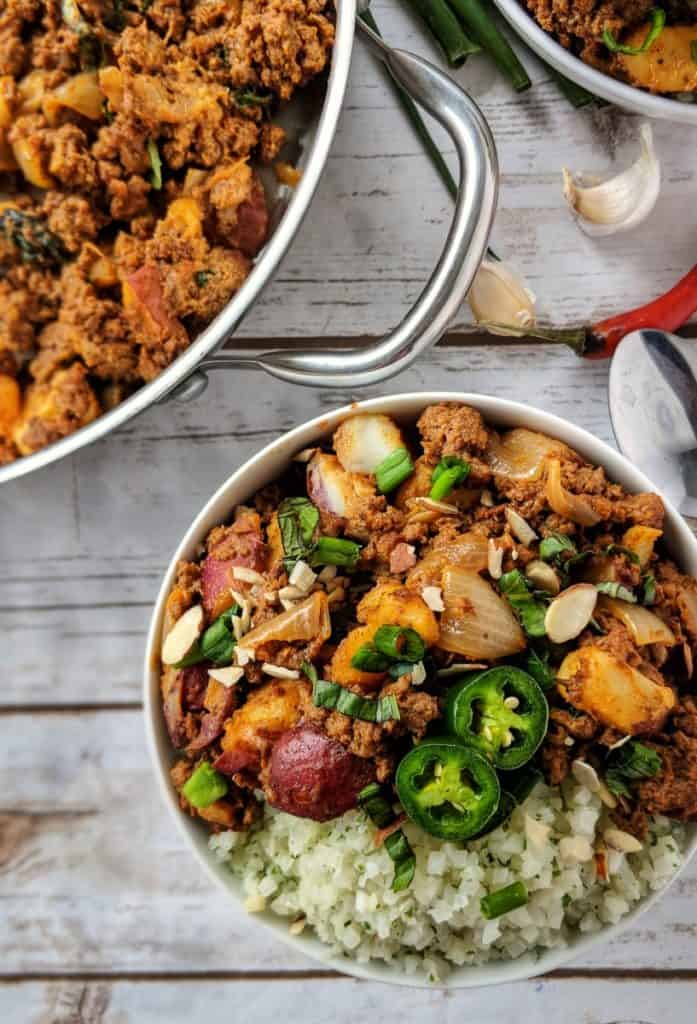 Like most people, if you are short on time you will fall in love with these 30-minute stuffed peppers. Another perk is that these can be made ahead of time then cooked when needed.
Between the pepper, rice, cheese, and beef, you've got a pretty complete all-in-one meal here that's perfect for a meal prep dish. Combine it with a side salad to add even more veggies!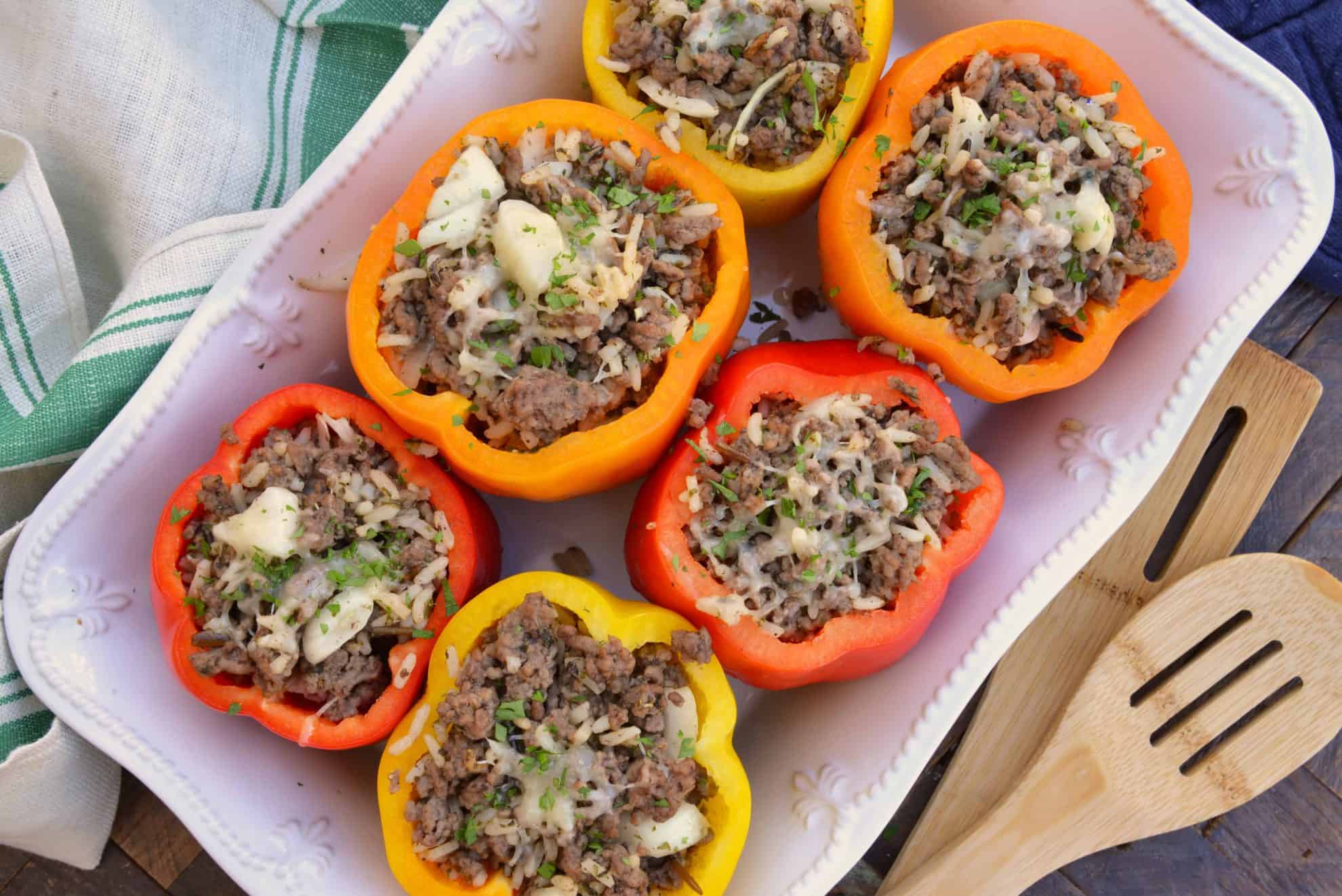 Who doesn't love a good casserole?! Bake this one pot, family-friendly meal on the weekend and then portion out leftovers for meals throughout the week. Leave the garnishes like avocado or sour cream off until the day you decide to eat it.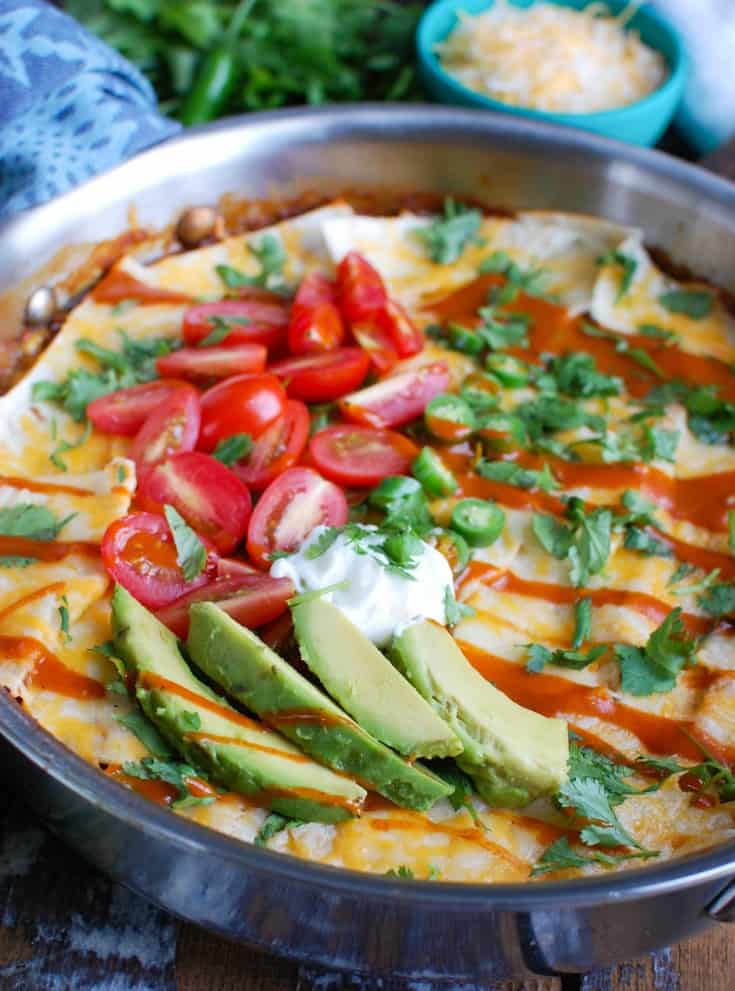 You will fall in love with the tasty flavors in this stir fry dish. For any of you low carb folks, this is a great choice – plus it's ready in 20 minutes and is a one pot meal! This is a great beef meal prep recipe to make on Sunday and portion out for lunches throughout the next few days.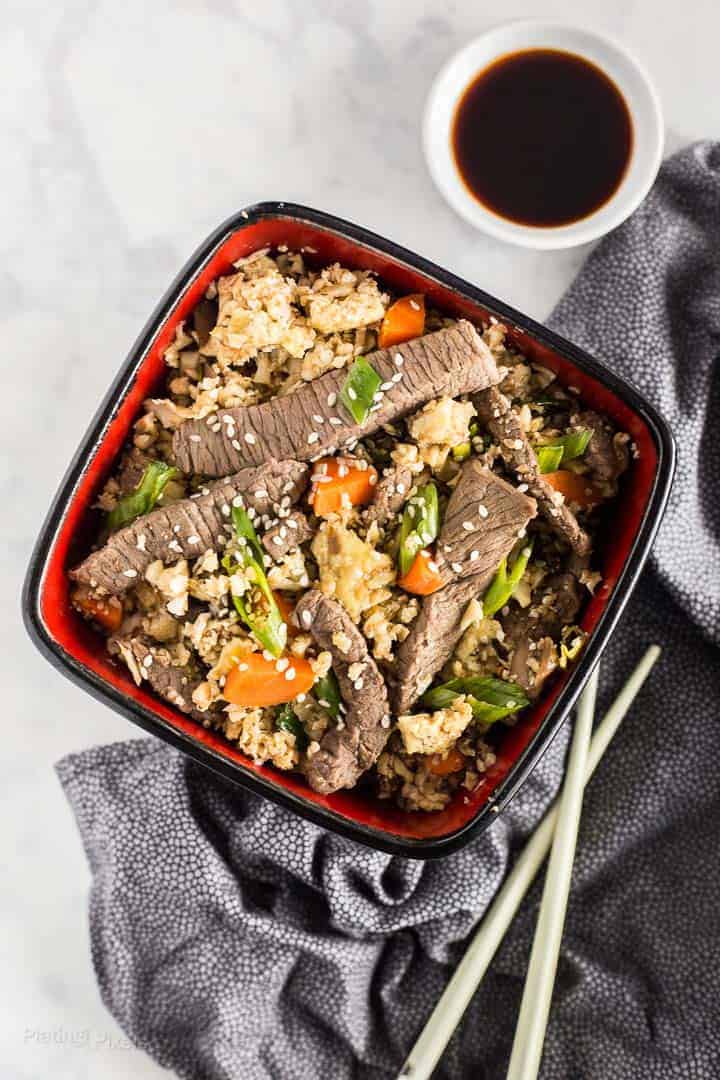 It's lasagna…no it's soup…no, it's a combination of both! 😉 This soup is very hearty, can be used as a freezer meal, and can be ready fast. Laura is really providing some delish ideas using her Instant Pot (I really need to finally learn how to use mine, haha!).
To meal prep this recipe, simply cook the soup and then portion it into single-serve containers. You'll likely want a side to go along with this for your meal prep so I also recommend making some portioned-out side salads, sauteed green beans, or just stocking up on a few extra bag of freezer veggies. That will help boost your veggie intake and round out the meal.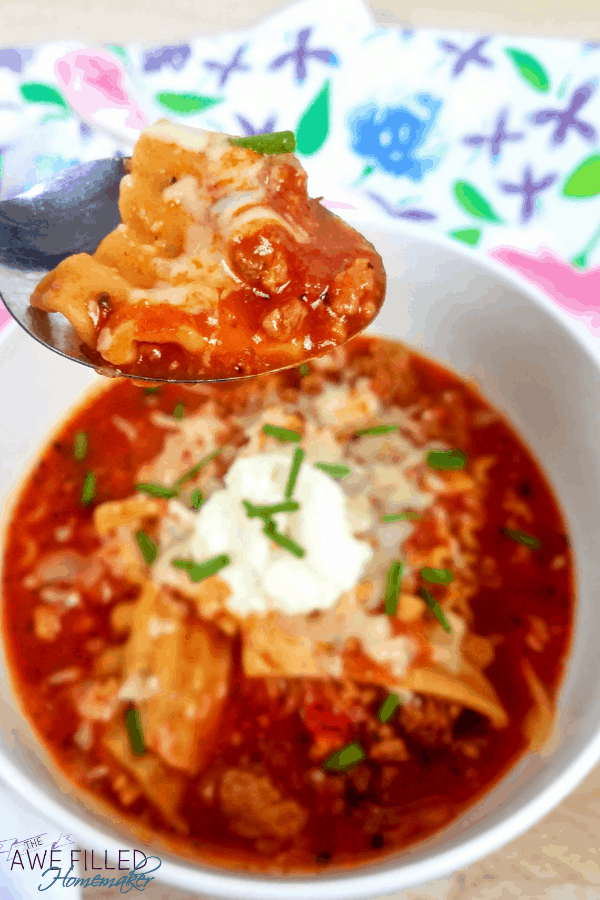 Here's another 30-minute meal to make your life a little bit easier. The recipe calls for white rice, but if you wanted to switch that out you could sub quinoa, cauliflower rice, or brown rice. This recipe is specifically designed to be a beef meal prep recipe, so it's very balanced and ready to portion out for your lunches or dinners!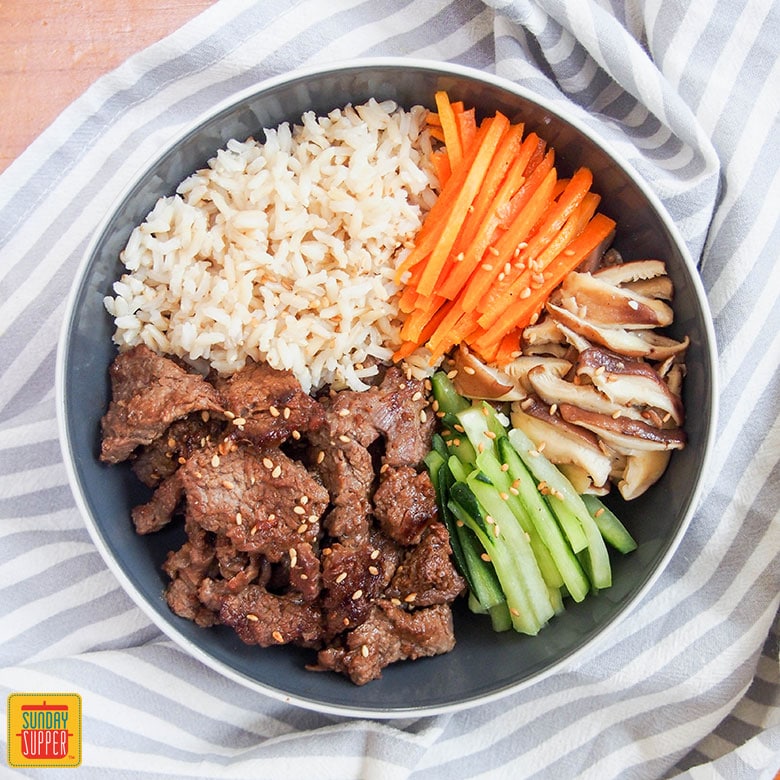 If your favorite college food was ramen, you are in luck! Ashley has spruced ramen up with this quick and easy beef meal prep. Plus the ramen noodles are super budget friendly, and a nice treat for athletes who need that balance of carbs along with their protein.
Pro tip: If you're making this ahead of time to eat later in the week, you want the noodles slightly on the al dente side so they don't get too soggy.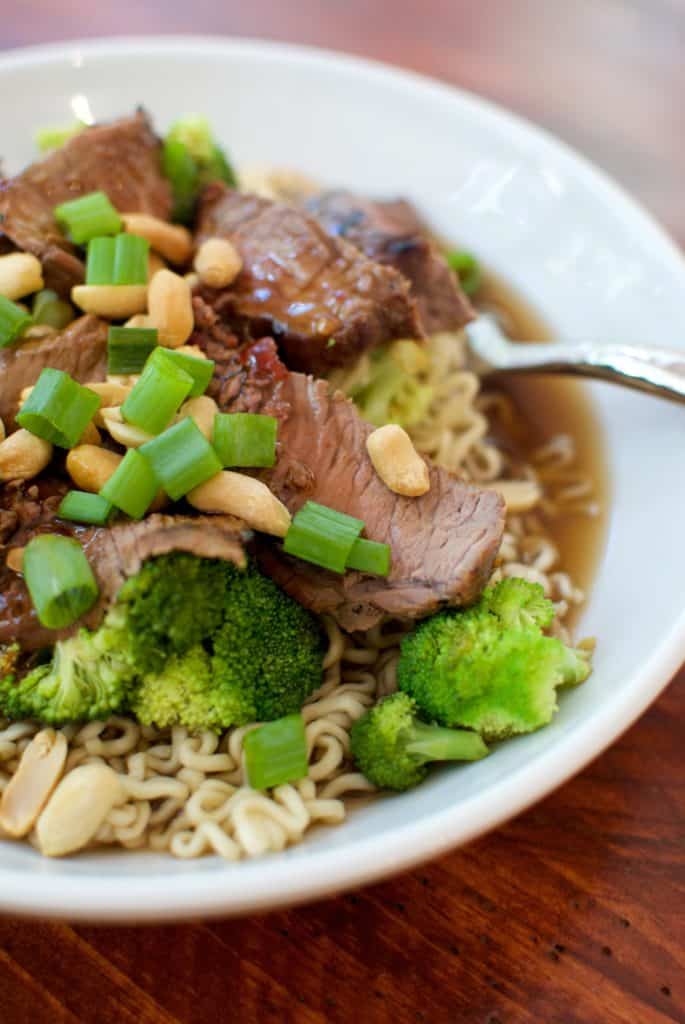 These tacos are a hit for meal prep! You can set it and forget the slow cooker with this one. Once you cook the meat, it is also freezer friendly for up to 6 months, so you don't have to waste any. It's perfect for pulling out of the freezer on a night you really don't want to cook.
The recipe here is for the meat itself, so for meal prep, you'll also want to stock up on the rest of the goods you need. There are several different meal prep ideas you could try with this:
regular tacos – hard shells or soft shells, lettuce, tomato, cheese, red onion
taco bowls – rice or cauliflower rice, beans, tomatoes, red onions, avocado, cheese
taco salad – salad greens, corn, beans, tomatoes, crushed tortilla chips to sprinkle on top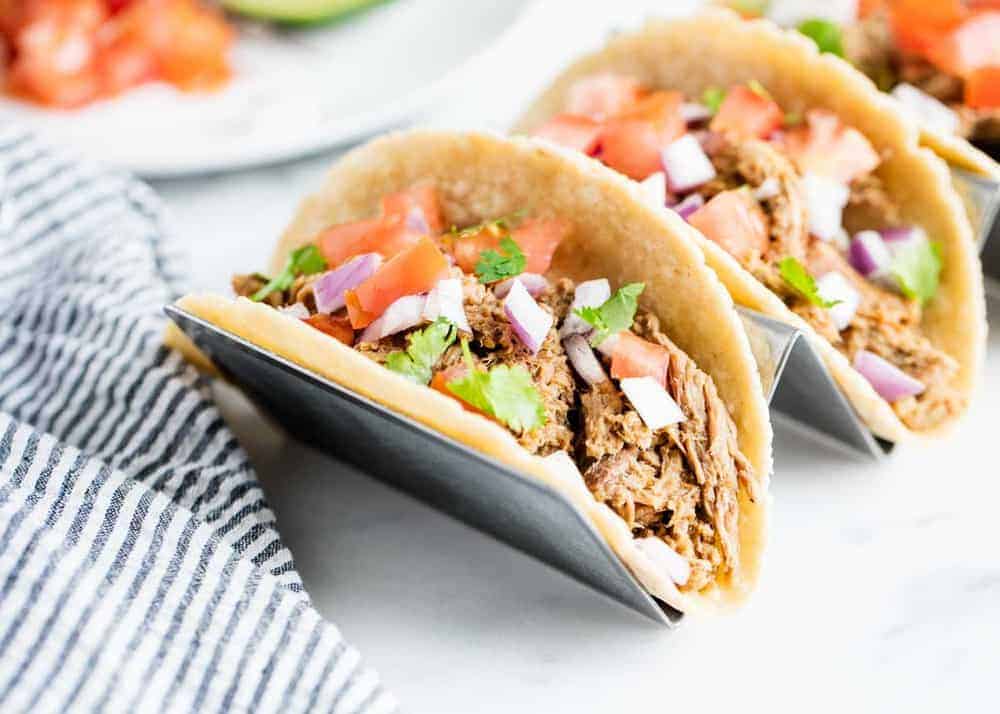 I love simple ingredient lists like this one! Plus, these boats are healthy but still hearty. This is a perfect recipe for summer when you might have an abundance of zucchini in the garden!
To meal prep this recipe, simply bake and divide into your preferred servings. Then just reheat in the microwave or oven.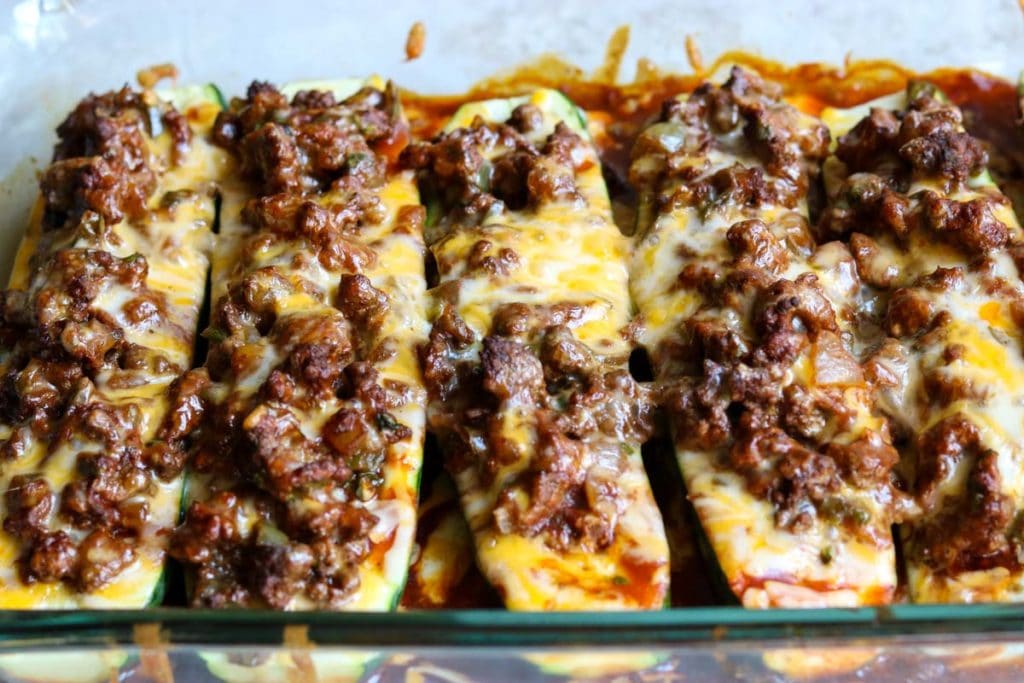 You know us runners love our pasta, so there's no doubt this recipe of Kelsey's is a fav for me. To step up the fiber a bit, you can use whole grain pasta instead of white pasta.
Once you've made the pasta skillet, I recommend dividing it into portion-controlled servings for meal prep, and then also preparing a veggie or salad to go with it.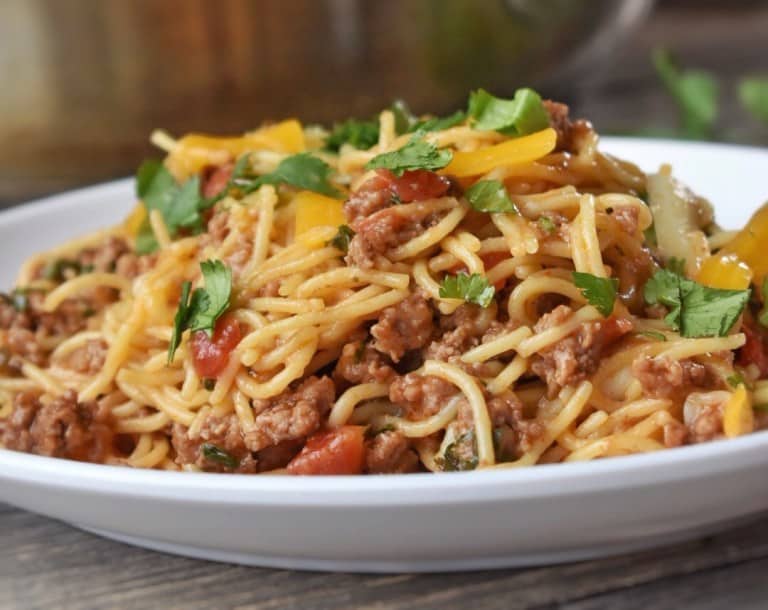 Let me know what you think after you have tried some of these amazing beef meal prep recipes! I would love to know which ones actually made your week easier and less hectic.
Share: Do you have any beef meal prep recipes that you are in love with? Which one is your absolute favorite?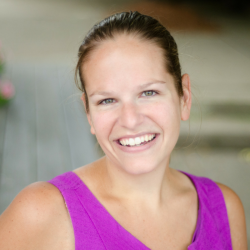 Latest posts by Chrissy Carroll
(see all)