This steak and shrimp stir fry is the ultimate surf and turf combo. Lean steak and jumbo shrimp are combined with veggies, then tossed in a delicious sauce for a flavor profile that hits on salty, sweet, and umami. Try this recipe the next time you're craving takeout!
Disclosure: This post is sponsored by the Northeast Beef Promotion Initiative, a subcontractor to the Beef Checkoff. As always, all opinions are my own.
Ingredients You'll Need
This dish seems like it requires a lot of ingredients, but most of them are for the sauce, and many of those are pantry staples.
As a heads up, you can totally use a store-bought stir fry sauce or teriyaki sauce if you'd prefer. It'll cut down on ingredients and preparation time. But this homemade sauce tastes really (really) good in this shrimp and steak stir fry, so I'd encourage you to give it a whirl.
Here's what you'll need for the sauce and why:
Reduced sodium soy sauce – Soy sauce isn't only for salty flavor, but also to add that fifth flavor profile called umami, which is a savory sensation. Using reduced sodium soy sauce helps keep the overall sodium in check for this recipe.
Pineapple juice – This adds sweetness and depth of flavor to the sauce.
Water – This helps create the right consistency in the sauce and ensures it's not overly concentrated.
Rice vinegar – This adds a pop of tanginess and acidity.
Brown sugar – While it sounds odd to add brown sugar to a savory dish, it helps balance out the saltiness of the soy sauce and adds depth.
Garlic – There is nothing like some minced garlic to add an extra layer of flavor to any dish!
Sesame oil – A little sesame oil goes a long way towards adding that earthy, nutty flavor to the sauce.
Red pepper flakes – Adding a quarter teaspoon of red pepper flakes gives just a slight hint of underlying heat. This amount makes a family-friendly dish (in my opinion). If you want more spice, bump this up.
Corn starch – Last but not least, corn starch in the sauce will help it thicken once it's poured into the hot skillet. This allows the sauce to better coat the ingredients, rather than just sitting at the bottom of the pan.
Outside of the sauce, you'll need these ingredients for the stir fry itself: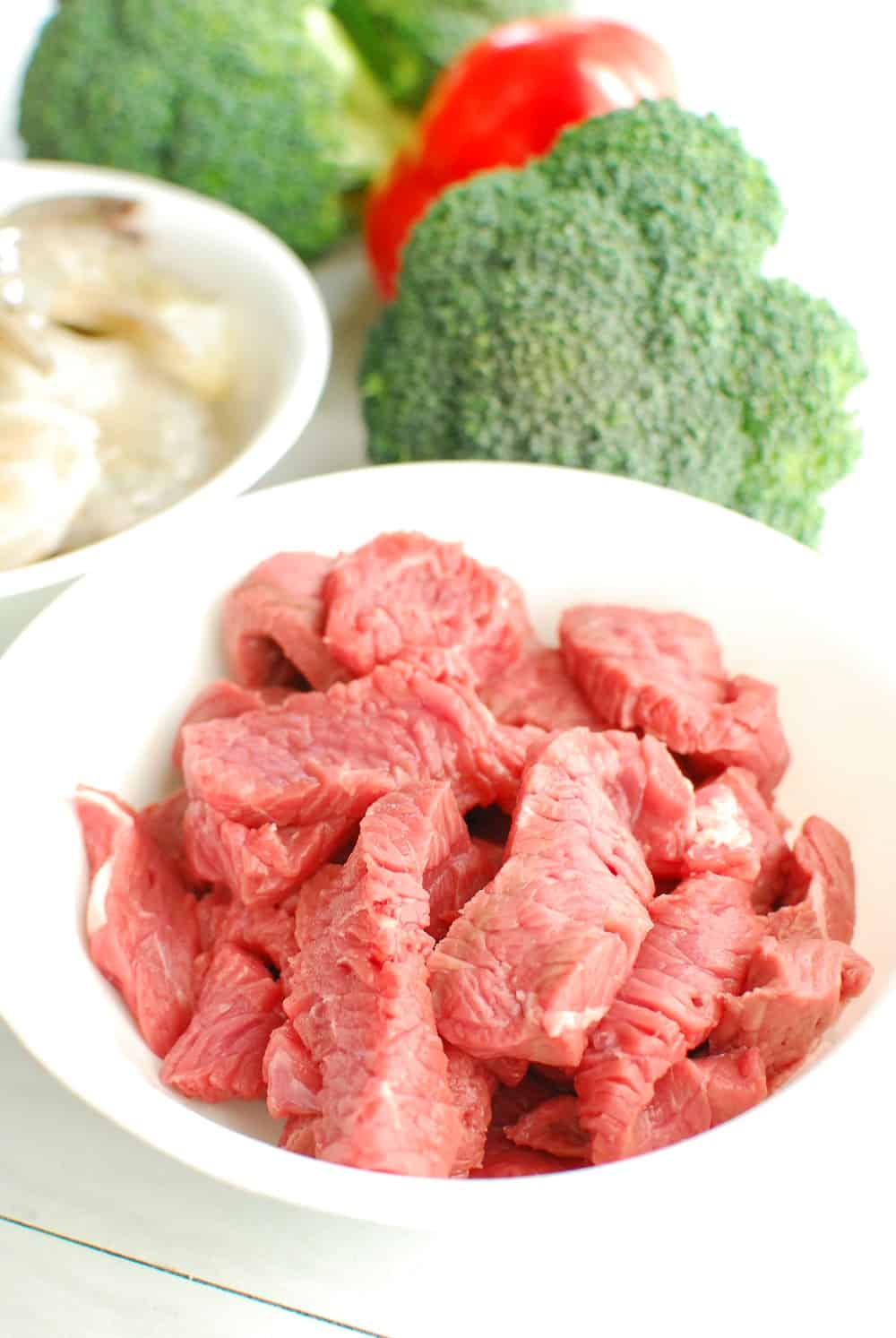 Olive oil – This is used to sauté your meat, veggies, and shellfish. Canola oil or avocado oil can also be used.
Top sirloin steak – This type of beef comes from the top part of the sirloin primal cut. It's an excellent option for nutritious meals since it's lean and a great source of protein, and works really well in stir fry.
Salt and pepper – For seasoning the meat.
Shrimp – Shellfish pairs surprisingly well with beef and is a nice way to add another taste and texture to the stir fry.
Red bell peppers – Red peppers are fully ripened, making them a bit sweeter than their green counterparts. That said, you can easily substitute any color bell pepper in this recipe.
Broccoli – I've loaded this up with broccoli, which is a good source of many vitamins, minerals, and fiber, as well as health-promoting phytochemicals.
Green onions – Also known as scallions, these provide a pop of mild onion flavor in the recipe.
Cooked rice – I personally love this steak and shrimp stir fry served over rice. I suggest brown rice, since it's a whole grain, but you can definitely sub with white rice if you prefer. Instant brown rice works really well here because you can prep it quickly while you're getting all your ingredients ready.
Step by Step Instructions
You'll find the full instructions and ingredient amounts in the recipe card at the bottom of this post, but sometimes seeing step-by-step photos and tips can be helpful.
Start by prepping all your ingredients. Cut all your veggies, slice and season your steak, peel your shrimp, mix all the sauce ingredients, and make sure your rice is cooked and ready. It may feel like a lot of prep, but once everything is ready to go, the cooking process for the stir fry actually moves very quickly.
When everything is prepped, it's time to start cooking. Heat up some of your olive oil, and then toss your steak in. You want to stir it occasionally, so all the sides get browned. If sliced thinly, it will cook quickly – you'll only need a couple minutes.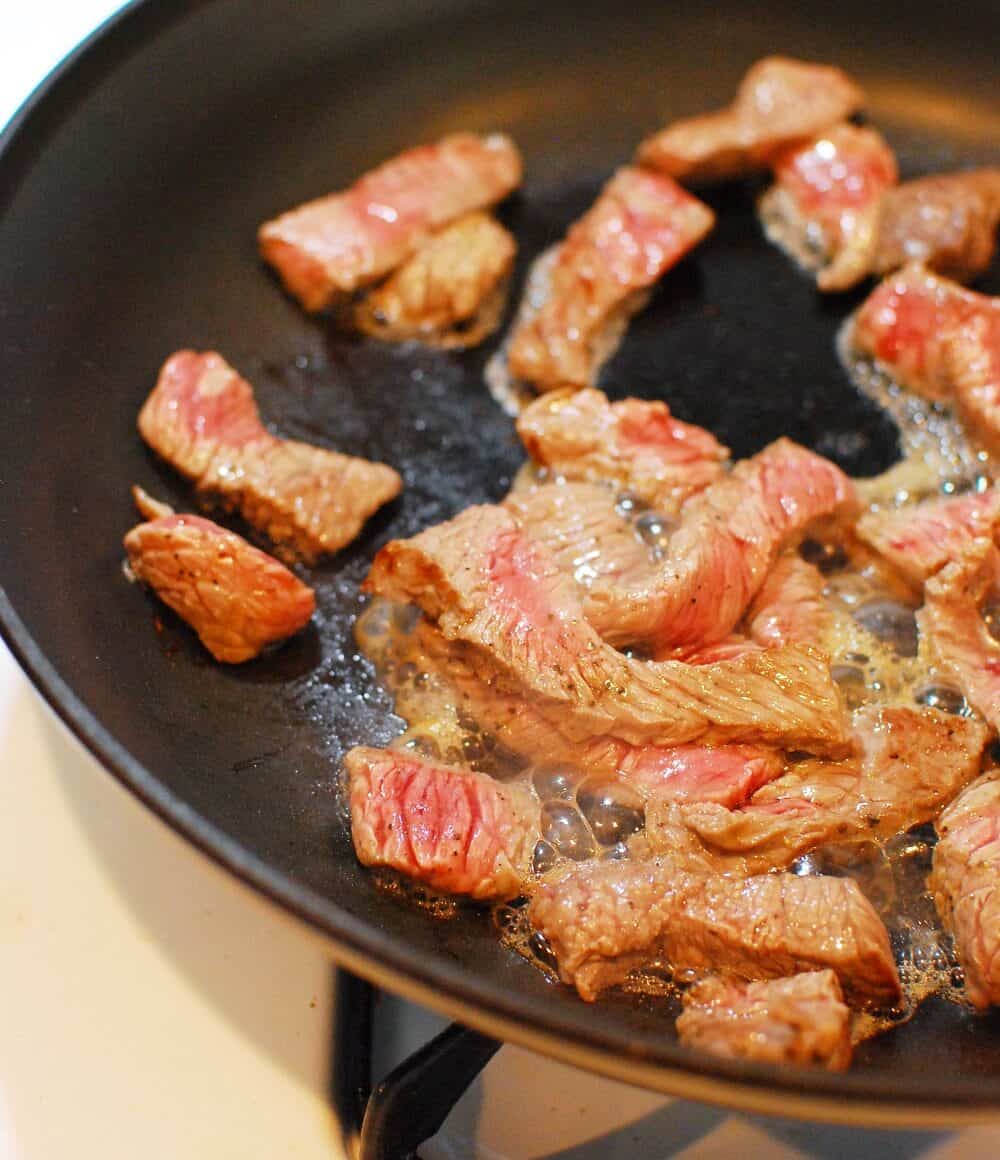 Remove the steak and set it aside, and then heat up a little more oil. Now it's time to cook your veggies.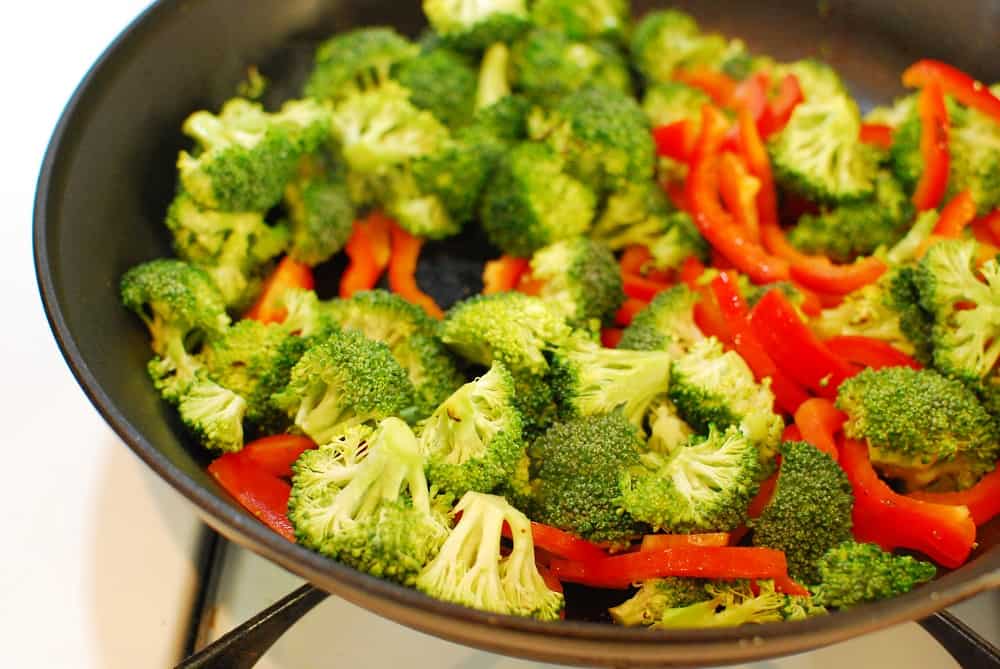 When the veggies are crisp-tender, push 'em off to the sides of the skillet to clear a little space. Here, you'll heat up the last of your olive oil, and then you'll toss your shrimp in there.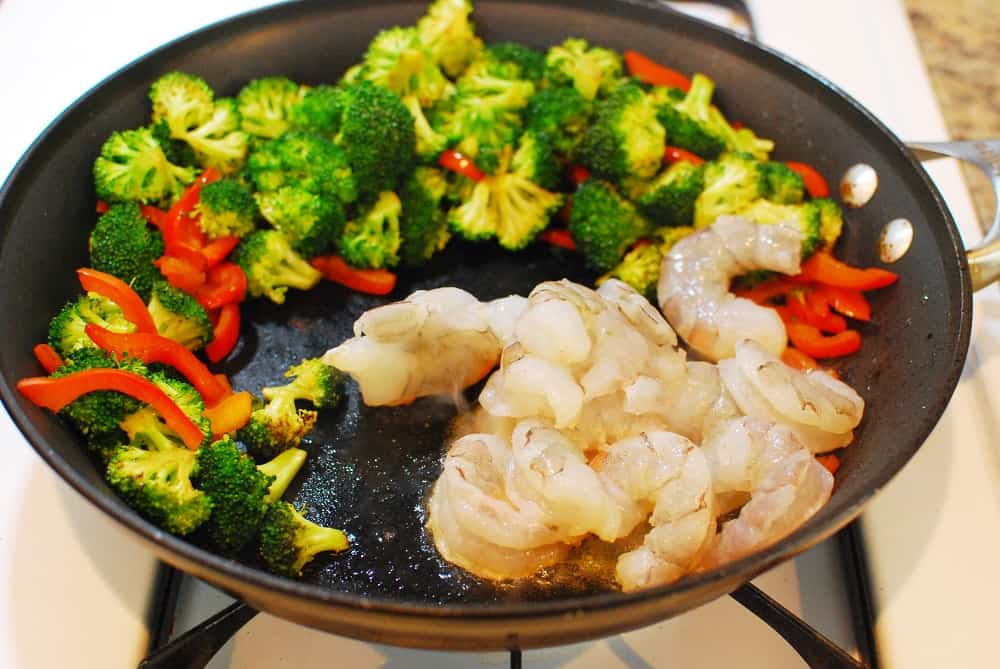 Shrimp cooks pretty quickly, so keep a close eye on it. When it's almost done cooking, you want to toss your beef back in the skillet along with the green onions and sauce. Stir up everything and continue cooking another couple minutes, so that the beef is thoroughly heated and cooked, the shrimp is fully cooked (which means it's pink/opaque throughout) and the sauce has thickened up a bit.
Now all that's left to do is serve it over some rice, dig in, and enjoy!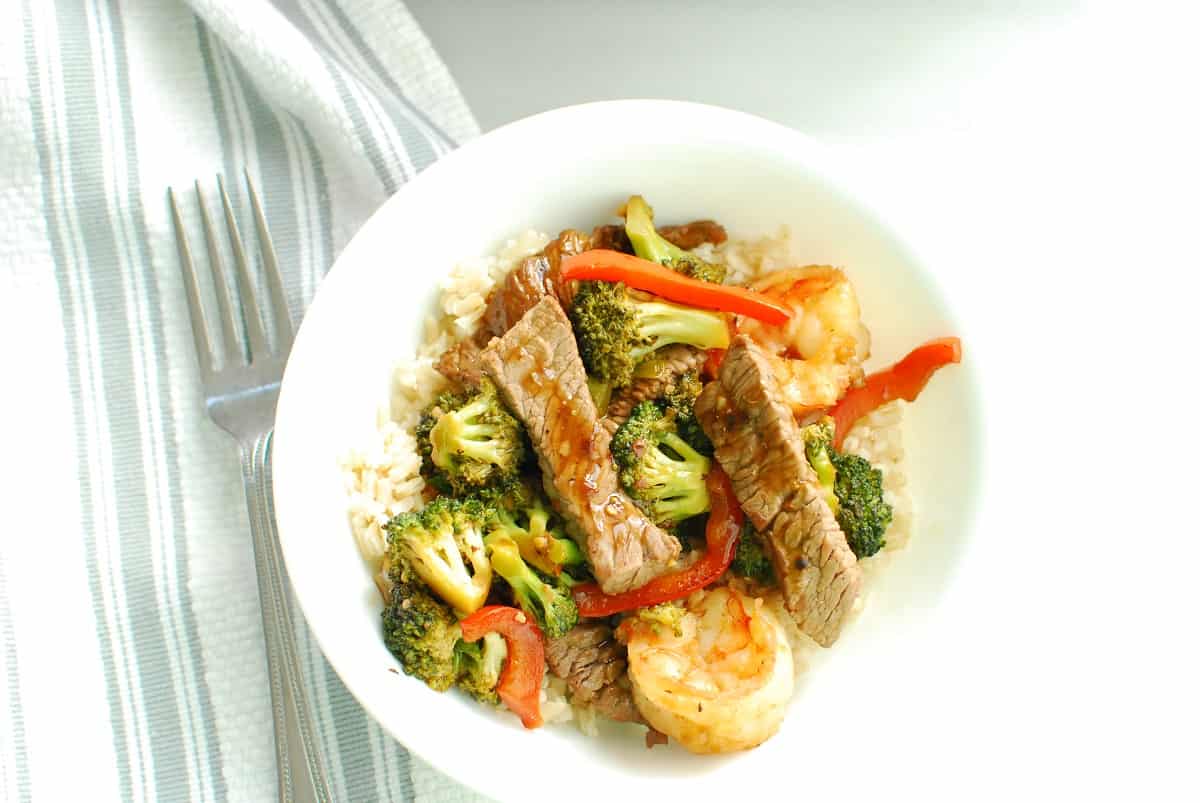 Nutrition benefits
This recipe is an awesome choice for active women – or anyone that wants a delicious stir fry recipe.
It clocks in right under 500 calories, which is generally a nice portion size for most women – but the portions of rice and/or stir fry can easily be adjusted to suit whatever your needs are.
The veggies and brown rice provide healthy carbohydrates to fuel your fitness activities, while the steak and shrimp provide protein for muscle repair and recovery.
Some people are surprised that steak can fit into a balanced diet – but proper portions of lean beef can actually be quite beneficial, thanks to that high quality protein mentioned above, as well as micronutrients like iron. (You can find a list of all the different lean cuts here if you're curious about which to choose!)
Plus, research like the BOLD (Beef in an Optimal Lean Diet) Study has shown that when lean beef is included in a diet rich in vegetables, fruits, whole grains, nuts and beans, there can even be favorable changes in cardiovascular risk factors. The key is the overall balance of the diet, which is why I love to pair beef with lots of veggies and whole grains, like in this recipe.
When you combine these different food groups together, you get meals that provide a ton of vitamins and minerals. For example, a serving of the stir fry with rice provides…
20% of the daily value for iron, key for athletes as it's involved in helping your body transport oxygen
31% of the daily value for potassium, an electrolyte that's involved in heart and muscle contractions, as well as blood pressure regulation
55% of the daily value for zinc, needed for a healthy immune system
More than 100% of the daily value for Vitamin C, which helps maintain healthy tissues and supports the immune system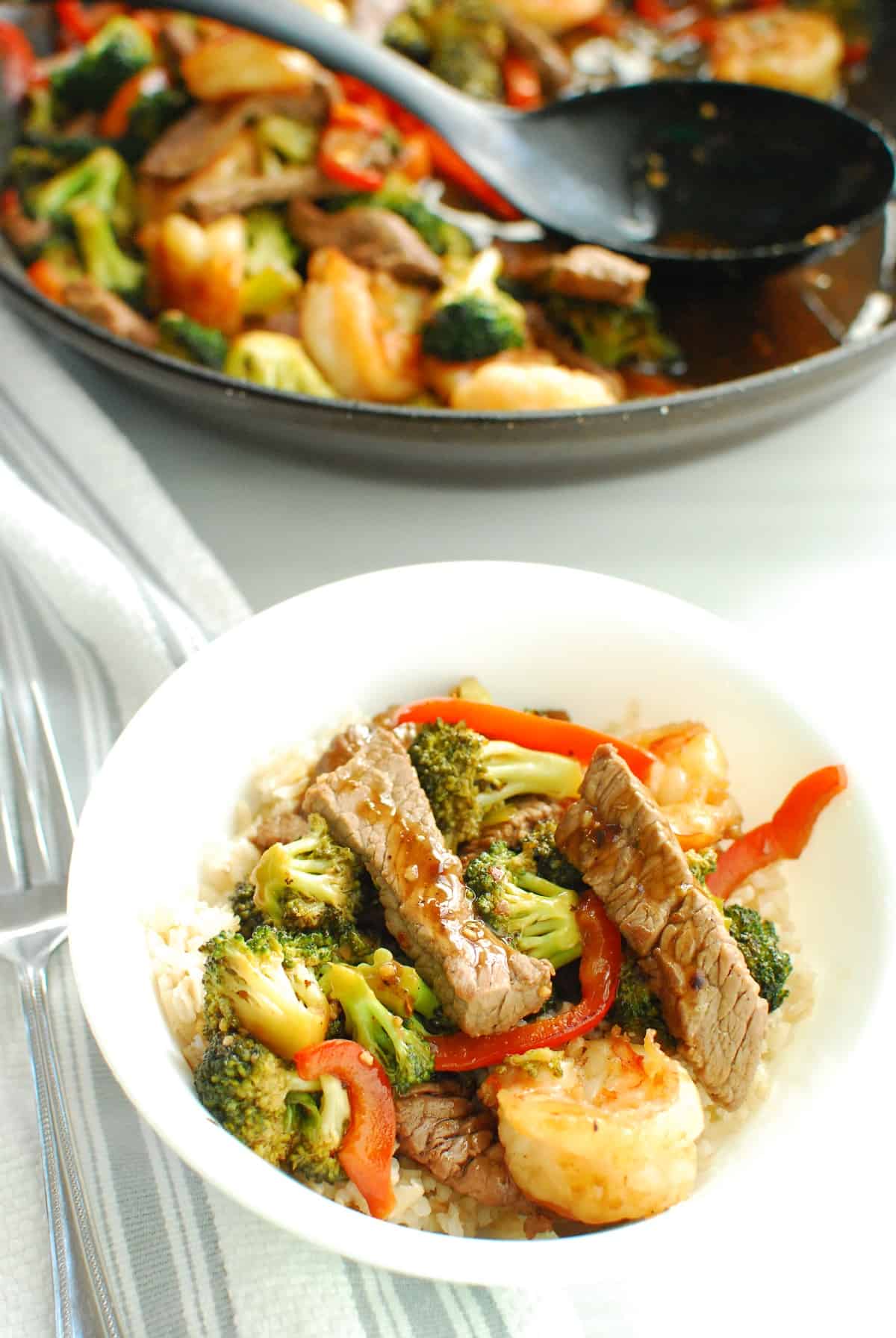 Recipe FAQ
What other cuts of beef can you use in stir fry? If you can't find top sirloin at the store, tri-tip steak or sirloin tip steak are similar lean cuts that also work for this recipe. You can also check out this list of beef cuts that are recommended for stir fry.
Do you have to serve this over rice? Nope! You can eat it as-is, or you can also serve this over rice noodles, soba noodles, cauliflower rice, or spiralized zucchini.
Can you make this recipe gluten free? Just substitute gluten-free tamari for the soy sauce. Also, double check the rice vinegar – as long as it's only produced with rice, it should be gluten free, but occasionally it can come from a mixture of grains. Everything else in this recipe does not contain gluten ingredients.
Can you make this recipe soy free? Substitute coconut aminos for the soy sauce, and reduce the brown sugar to 1/2 tbsp (as coconut aminos are naturally sweeter).
I hope you enjoy this recipe – if you get a chance to try it, please feel free to leave a recipe rating or comment below.
PS – Looking for more delicious beef recipes? Try our steak and mango chili or our air fryer beef roast!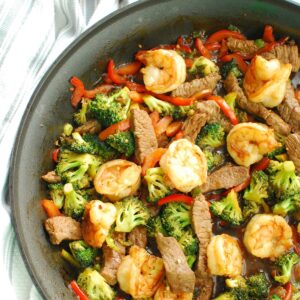 Steak and Shrimp Stir Fry
This steak and shrimp stir fry is the ultimate surf and turf combo. Lean steak and jumbo shrimp are combined with veggies, then tossed in a delicious sauce for a flavor profile that hits on salty, sweet, and umami.
Ingredients
For the sauce:
¼

cup

reduced sodium soy sauce

¼

cup

pineapple juice

2

tbsp

water

1

tbsp

rice vinegar

1

tbsp

brown sugar

2

tsp

minced garlic

1

tsp

sesame oil

¼

tsp

red pepper flakes

(or more for added heat)

2

tsp

corn starch
For the stir fry:
1 ½

tbsp

olive oil, divided

¾

lb

top sirloin steak, sliced into thin strips

⅛

tsp

salt

⅛

tsp

pepper

¾

lb

shrimp, peeled, deveined, tails removed

1

red bell pepper, thinly sliced

5

cups

broccoli florets

2

green onions, finely chopped
For serving:
3

cups

cooked brown rice

(or white rice)
Instructions
Combine the ingredients for the sauce in a medium mixing bowl and whisk together until well-combined.* Set aside for now.

Heat 1/2 tbsp olive oil in a large non-stick skillet over medium heat.

Season steak with salt and pepper. Add to the skillet and cook for about 3 minutes, stirring occasionally, until steak is browned on all sides. Remove the beef from the skillet and set aside for now.

Add another 1/2 tbsp olive oil to the skillet, and let it heat up for a minute. Add bell pepper and broccoli and cook for about 4-5 minutes, or until both veggies are starting to get crisp-tender.

Move the veggies towards the side of the skillet, creating a little empty space. Add the last 1/2 tbsp of olive oil to that space and let heat up for about a minute. Add the shrimp to the space in the pan and cook for about 2-3 minutes, stirring occasionally, until almost cooked through.

Return the beef to the pan, then stir in the green onions and sauce mixture, tossing everything in the pan to combine. Cook for about 2 minutes, until everything is warmed, shrimp is fully cooked (pink and opaque throughout), and the sauce is slightly thickened.

For each serving, portion out 3/4 cup cooked rice, along with 1/4 of the pan of completed stir fry mixture.
Notes
*This is a lightly sauced stir fry.  If you prefer a lot of sauce (for example, if you love the rice to be fully coated), double the sauce ingredients.  Similarly, if you use extra meat or seafood, you'll want to double the sauce.
Sirloin tip steak or tri-tip steak would also work in this dish in place of top sirloin steak.
I used jumbo shrimp in this recipe, but extra large or large also work well.
Portions (of rice or stir fry or both) can be increased for athletes with higher calorie needs.
Nutrition analysis (approximate per serving): 492 calories, 11.5 g fat, 2.5 g saturated fat, 680 mg sodium, 54 g carbohydrate, 5 g fiber, 9 g sugar, 43.5 g protein, Vitamin D: 0%, Calcium: 11% (138 mg), Iron: 20% (3.5 mg), Potassium: 31% (1437 mg), Vitamin C: 134% (121 mg), Zinc: 55% (6 mg)
Nutrition
Share: What are your favorite ingredients to put in a stir fry dish?
Don't forget to pin this post to refer to later and share with others!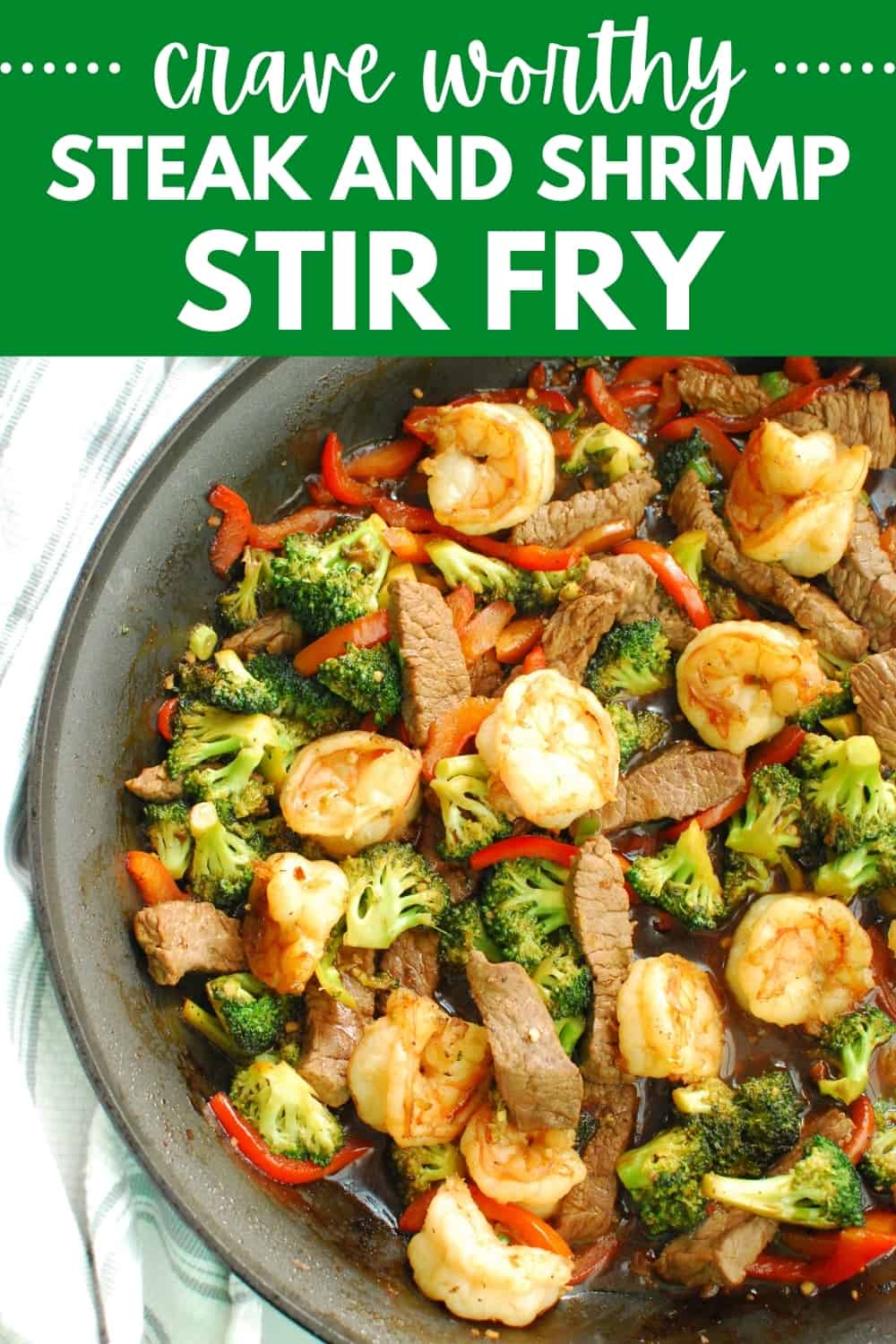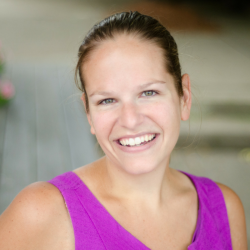 Latest posts by Chrissy Carroll
(see all)