This air fryer beef roast is a delicious main course for your holiday – or anytime! – dinner. You only need a few simple ingredients to create this flavorful roast, with a tasty rosemary crusted outer layer and a flavorful protein-rich interior.
Disclosure: This post is sponsored by the Northeast Beef Promotion Initiative, a subcontractor to the Beef Checkoff. As always, all opinions are my own.
Why use an air fryer?
During a year when most of us are preparing smaller holiday dinners (thanks 2020) – the air fryer is such a convenient tool to have in the kitchen. It uses forced hot air to cook food quickly, resulting in recipes that are usually done equivalent to (and with some dishes, faster than) a standard oven.
It also imparts a great texture, and is perfect for making smaller immediate-family-sized servings, from roasts to potatoes and beyond.
Plus, it frees up the oven for anything else you want to cook simultaneously. For example, maybe you've got a pie that you want to bake at the same time so it's ready by the end of dinner, and it needs a different temperature than your roast. You can cook your roast right in the air fryer and save that precious oven space for your dessert.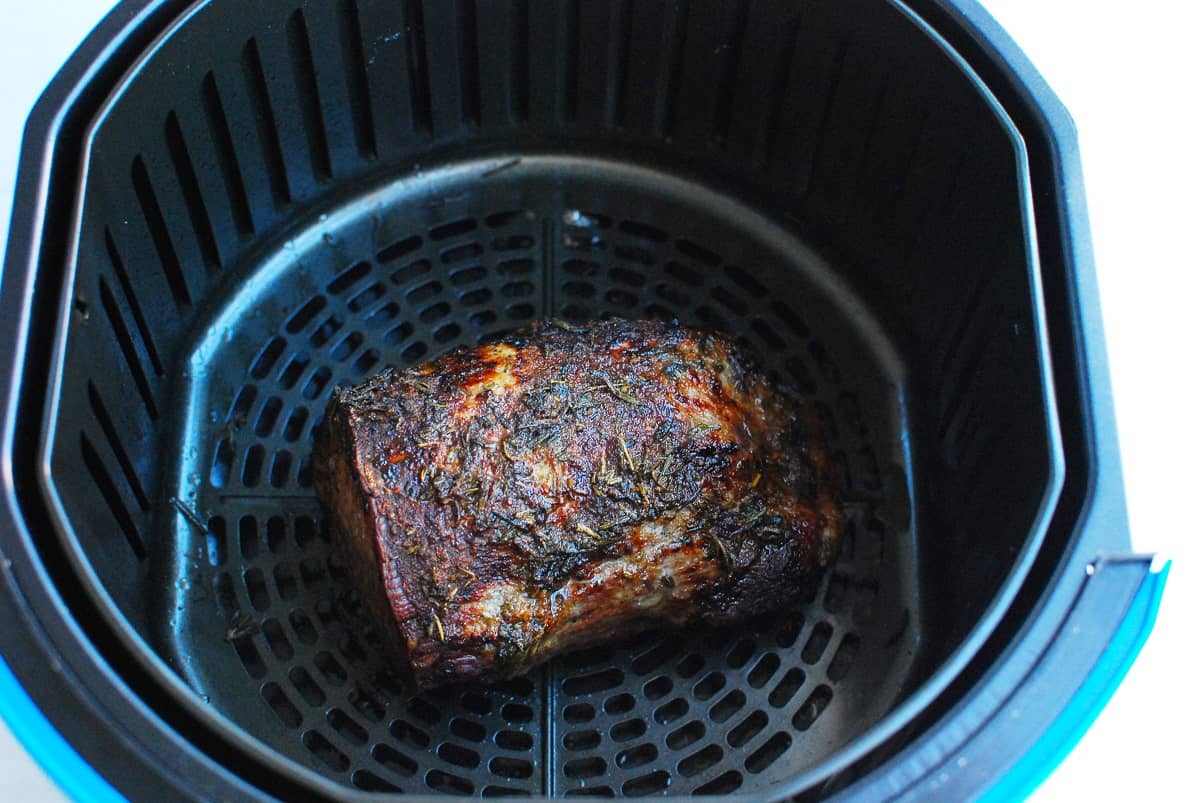 What you'll need to make this roast
This main dish is so simple – here's an overview of the ingredients and why you'll use 'em:
Eye of round roast – This is one of my favorite cuts of beef. It comes from the rump and hind leg area. These are muscles that get used a lot, so the meat is quite lean and an excellent source of protein.
Olive oil – Not only does it help the seasonings stick, but it can also help develop a sear on the outside of the meat in the air fryer.
Rosemary – This herb adds a delightful woody, evergreen-like flavor to the outside of the roast. It's great in the winter, especially at a holiday meal.
Garlic powder, salt, and pepper – Seasoning, of course!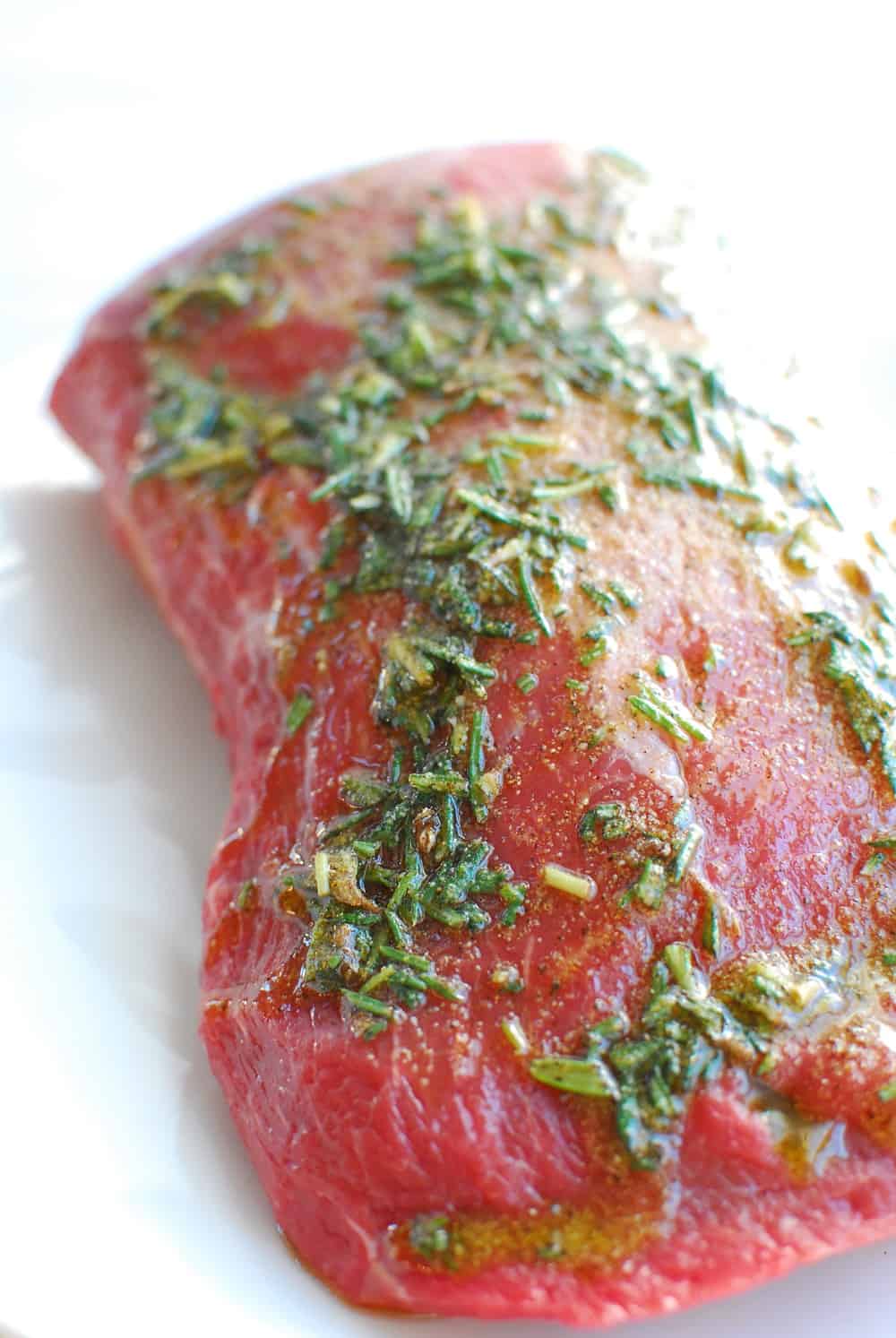 That's it – those ingredients are all you'll need. (See, told ya it was simple!). Once you've got everything ready, you'll rub the roast down with the oil and seasonings, and then pop it in the air fryer. Easy peasy!
Recipe FAQ
Here are some common questions that may come up as you prepare this recipe:
What other roasts can you use? If you can't find an eye of round roast, you can also use a bottom round roast or top round roast.
Do you need to preheat the air fryer? I do not preheat mine, as it heats up quite quickly to the proper temperature. If you find that recipes you've made in the past without pre-heating tend to be undercooked, though, then you can certainly take the time to preheat the air fryer for 5 minutes while you're prepping the roast.
Do you need to spray the air fryer basket? Nope, you shouldn't need to – most air fryer baskets are nonstick.
What can I do with leftovers? If you've got leftovers, here's my two favorite ways to use them: 1) slice up the roast into pieces and add it to this fall steak salad (in place of the steak), or 2) chop up the beef roast and add it to a breakfast hash with potatoes, peppers, onions, and plantains.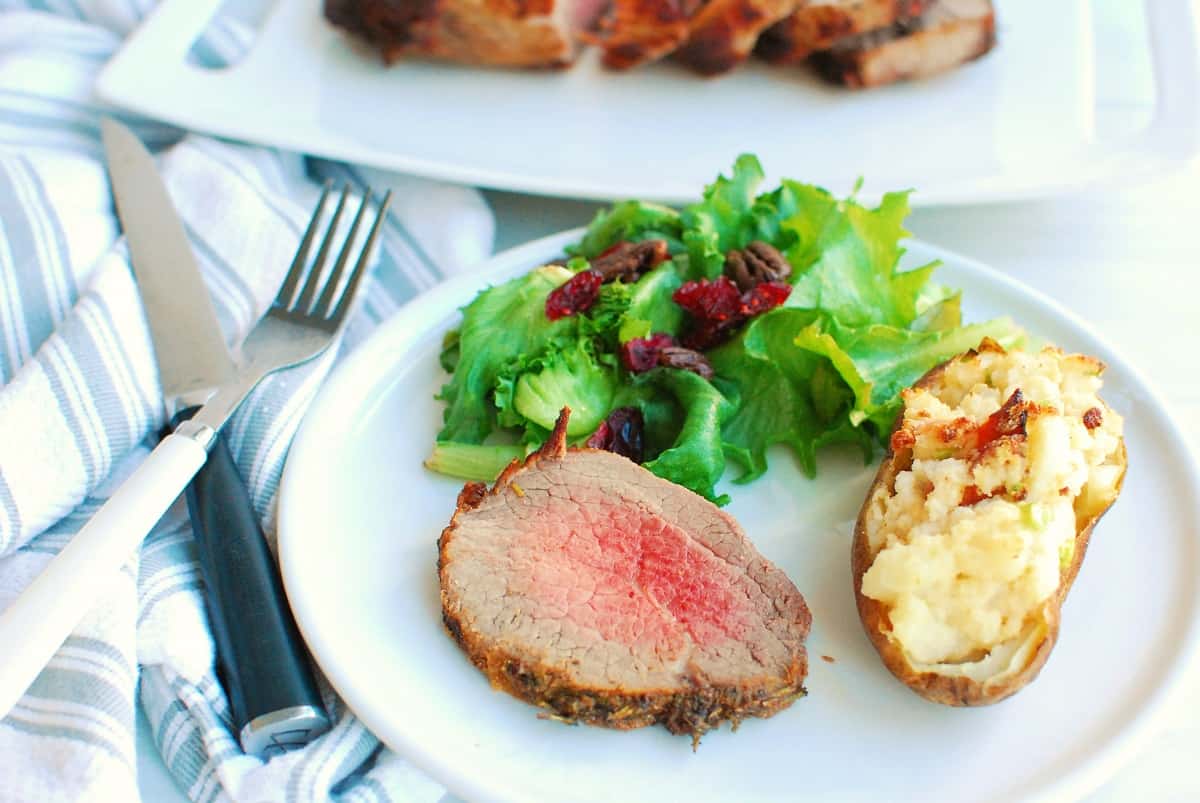 Nutrition benefits
First off, I don't recommend obsessing over the nutrition of your holiday plate. Holidays happen once a year, and it's what you do in between the holidays that's important – not necessarily what you eat on Thanksgiving day or Christmas Day.
That said, this air fryer beef roast is also a great option for a regular weeknight dinner – so I wanted to point out a few nutrition benefits!
To start this recipe is an excellent source of protein, providing 26 grams, which is key for muscle repair and recovery after tough workouts. Protein also helps with satiety, keeping you satisfied and full longer.
It's also a calorie-controlled main course, with just 169 calories per piece. Add in a delicious starch and some nutrient-packed veggies, and you've got yourself a well-rounded meal!
You'll also get 14% of your daily iron needs in a serving, which is especially important for athletes. Iron is involved in helping transport oxygen in the blood to your muscles. Too little iron in your diet can lead to fatigue during workouts.
Side dish suggestions
Clearly, you'll want to pair this air fryer beef roast with some tasty sides, so here are a few suggestions:
Of course, you don't need to get fancy with sides either. A standard baked potato and a side salad are equally delicious and easy to throw together!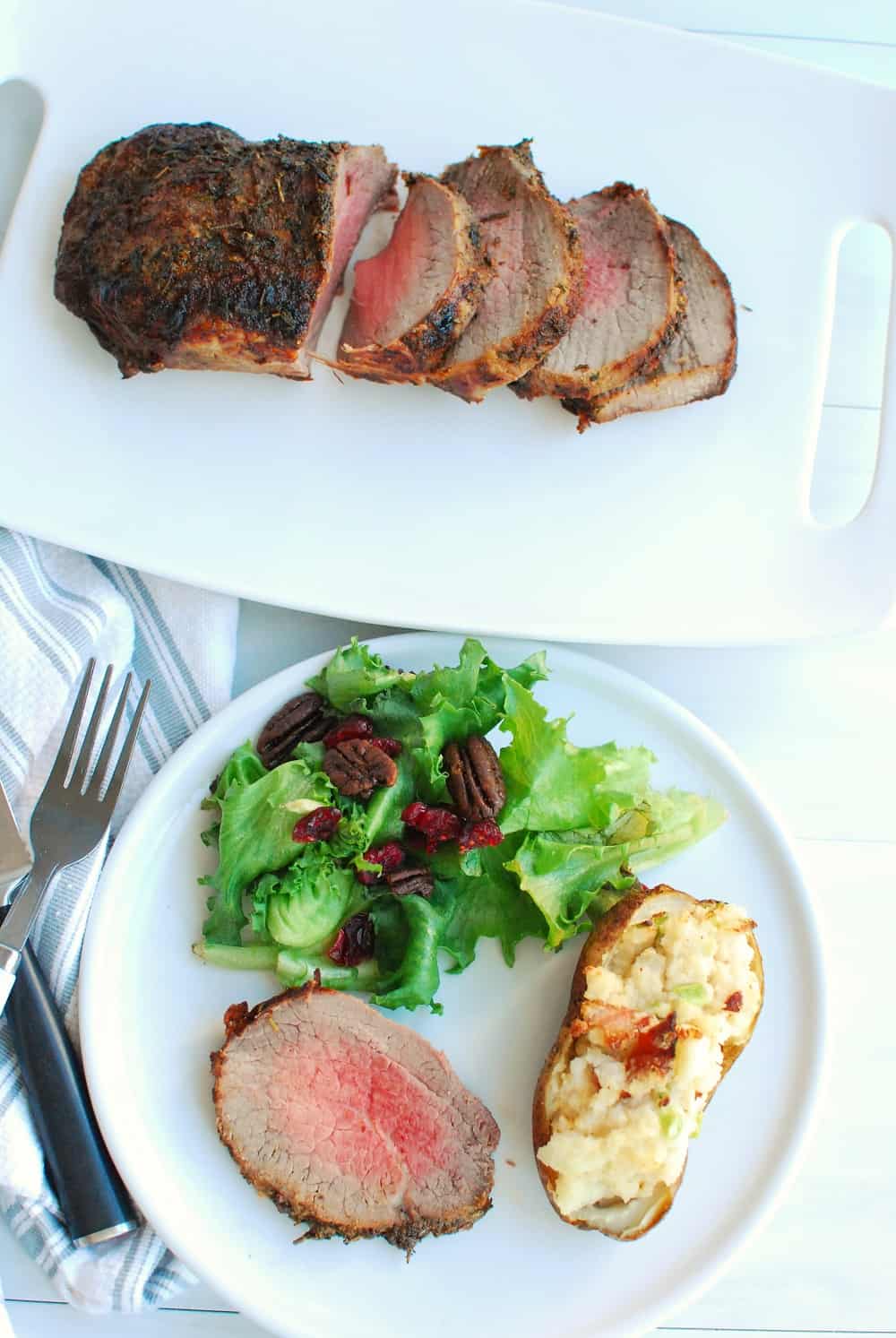 I hope you enjoy this air fryer beef roast. We actually had this on Thanksgiving for an unconventional meal, and it was just perfect. If you get a chance to try it, please feel free to leave a recipe rating or comment.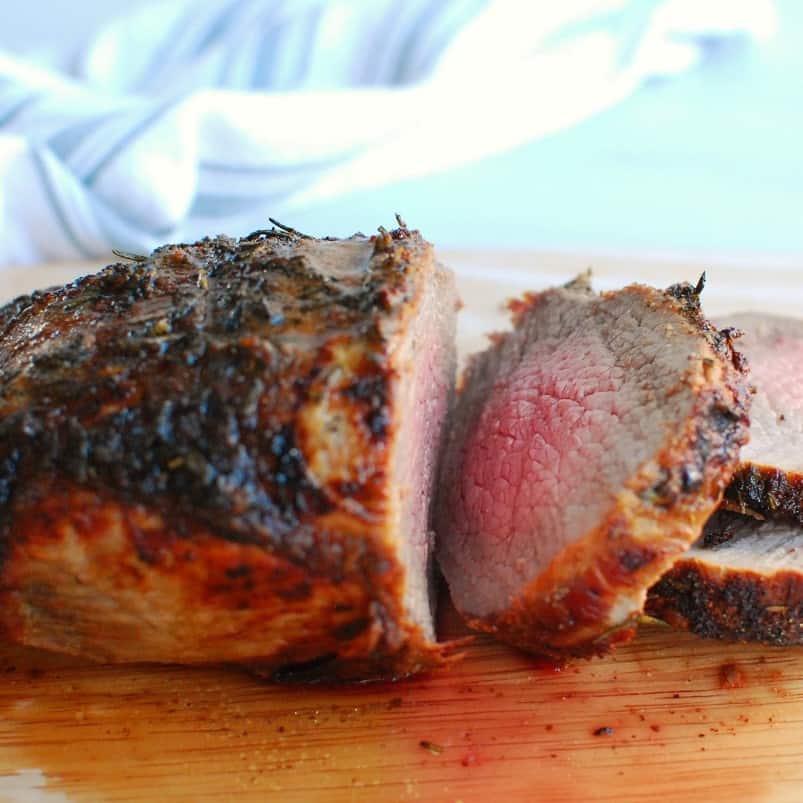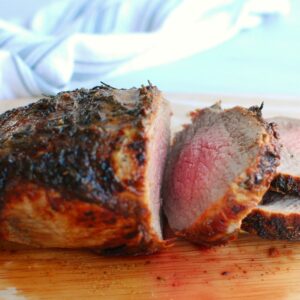 Air Fryer Beef Roast
This air fryer beef roast is a tasty main course, with a delicious rosemary crusted outer layer and a flavorful protein-rich interior.
Ingredients
2

lb

eye of round roast

1 1/2

tbsp

olive oil

1 1/2

tbsp

chopped fresh rosemary

1/2

tsp

garlic powder

1/2

tsp

salt

1/4

tsp

freshly ground black pepper
Instructions
In a small bowl, combine the olive oil, rosemary, garlic powder, salt, and pepper. Rub the mixture on the roast.

Place the roast in the air fryer. Air fry at 400 degrees F for 15 minutes, then change the temperature to 250 degrees F and air fry for another 55-60 minutes, or until the internal temperature of the meat hits at least 135-140 degrees.

Remove the roast and let sit another 10 minutes on a carving board, tented with aluminum foil. The roast temperature should continue to rise, reaching an internal temperature of 145 degrees – if it is lower than that, return to the air fryer for another 5-10 minutes at 250 degrees F, then retest.

Slice the meat and enjoy!
Notes
A 2-pound raw beef roast will end up being approximately 26 ounces of cooked meat. This provides 8 servings of approximately 3.25-ounces each.
If you're short on time, you can also do this "quick cook method":  Air fry at 400 degrees F for 30 minutes, then let sit in the air fryer for 5 minutes without opening. Remove to a carving board, tent with aluminum foil, and let rest for 10 minutes (at which point it should reach an internal temperature of 145 degrees). I prefer the texture on the method in the directions above, but this is also an excellent option when you're pressed for time.
Nutrition analysis (approximate per serving): 169 calories, 6.5 g fat, 1.5 g saturated fat, 215 mg sodium, 0.5 g carbohydrate, 0 g fiber, 0 g sugar, 26 g protein, Vitamin D: 0%, Calcium: 2% (24 mg), Iron: 14% (2.5 mg), Potassium: 9% (404 mg)
Nutrition
Share: What's your favorite dish to cook in the air fryer? If you tried this roast, what did you think?
PS – Don't forget to pin this post so you can refer back to this post and also share with others! 🙂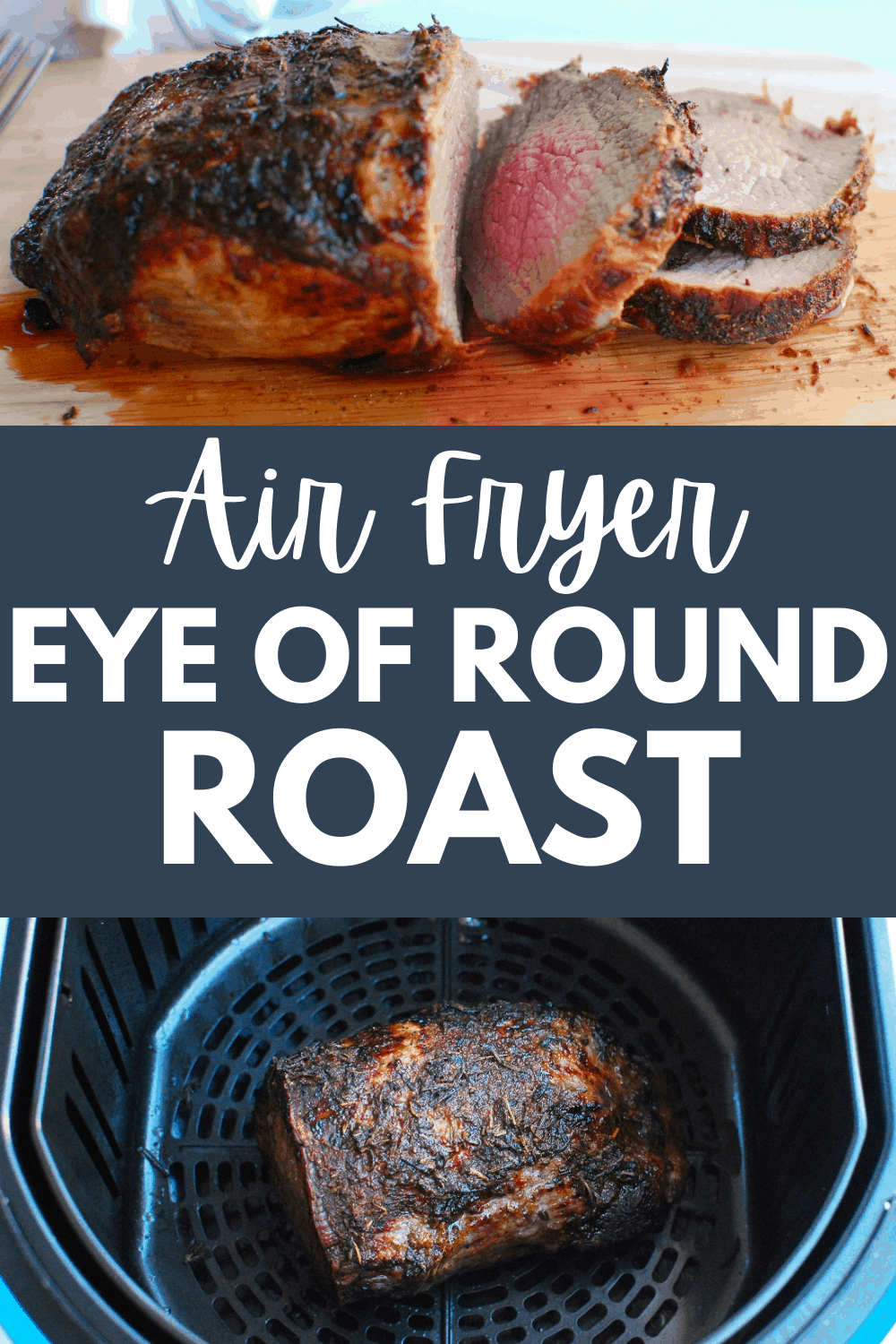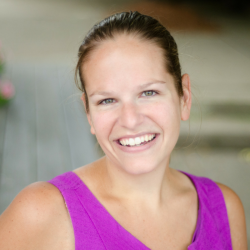 Latest posts by Chrissy Carroll
(see all)