My son has gotten a bit pickier with his food the last few weeks (as is to be expected from most 15 month olds) but he is absolutely obsessed with these honey mustard carrots. I mean, seriously obsessed. He would eat an entire pan of them.
That said, I would too. They are that good.
It's not even like this is some kind of revolutionary recipe. It's just 4 common ingredients – carrots, oil, honey, and spicy mustard. But when you mix them all together and roast them until the carrots are tender and those sugars start to caramelize, it's like vegetable crack.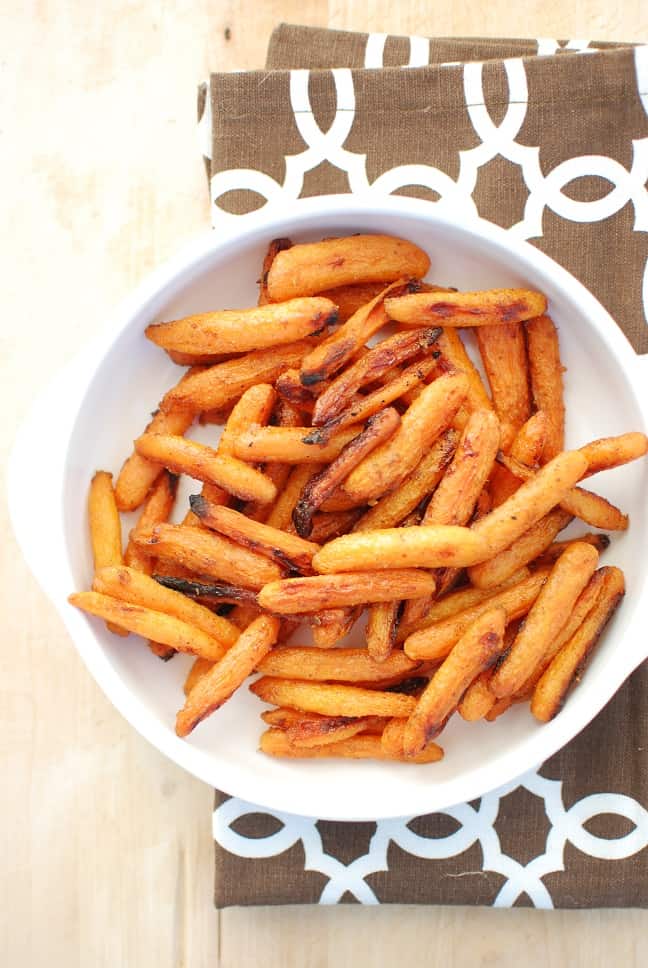 These make a perfect side dish to almost any meal. Breaking out some burgers? Perfect! Roasting some pork? Work as a side for those too! BBQ chicken? These will pair nicely with that as well.
For the athletes in the crowd, I love these as a side (or if you're like me, a snack!) because it's a nice source of healthy carbs that are full of some fiber and vitamins. There is a little added sugar, but it's relatively minimal.
And this side dish works for almost all dietary limitations. It's dairy free, gluten free, and – as long as you buy a safe mustard – it would be free of the top 8 allergens (as always, check labels though to make sure). If you're vegan, you can sub out agave nectar for the honey to create an animal-free version.
[Tweet "These honey mustard carrots are a tasty side dish for kids & adults alike!"]
Let's recap:
4 ingredients.
Almost no prep time before cooking.
Ah-mazing results.
Kid-approved.
Great for athletes.
Meets dietary limitations.
Yahoo! Ready to eat? I am!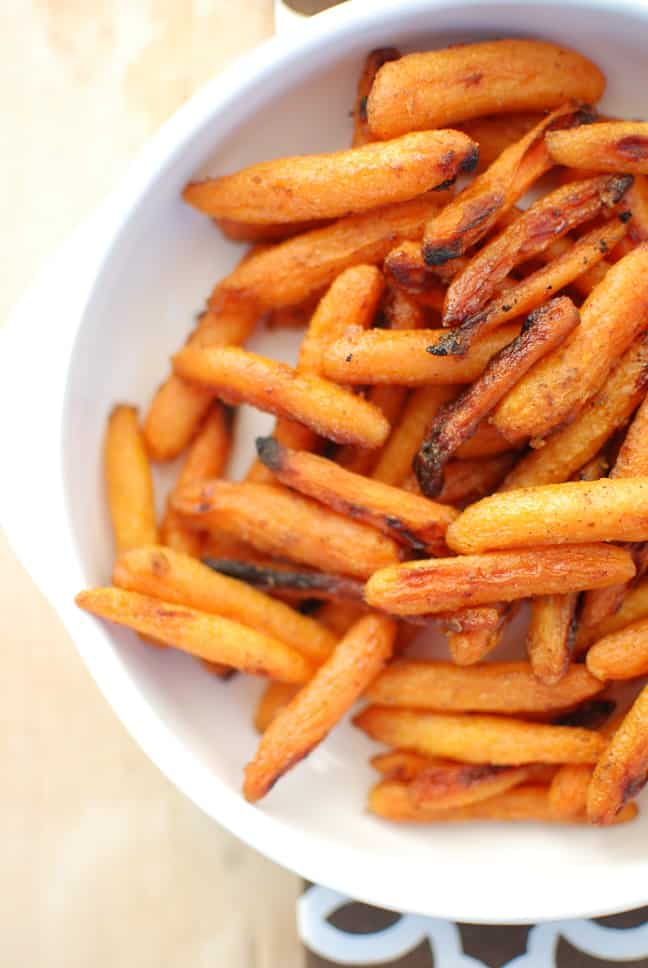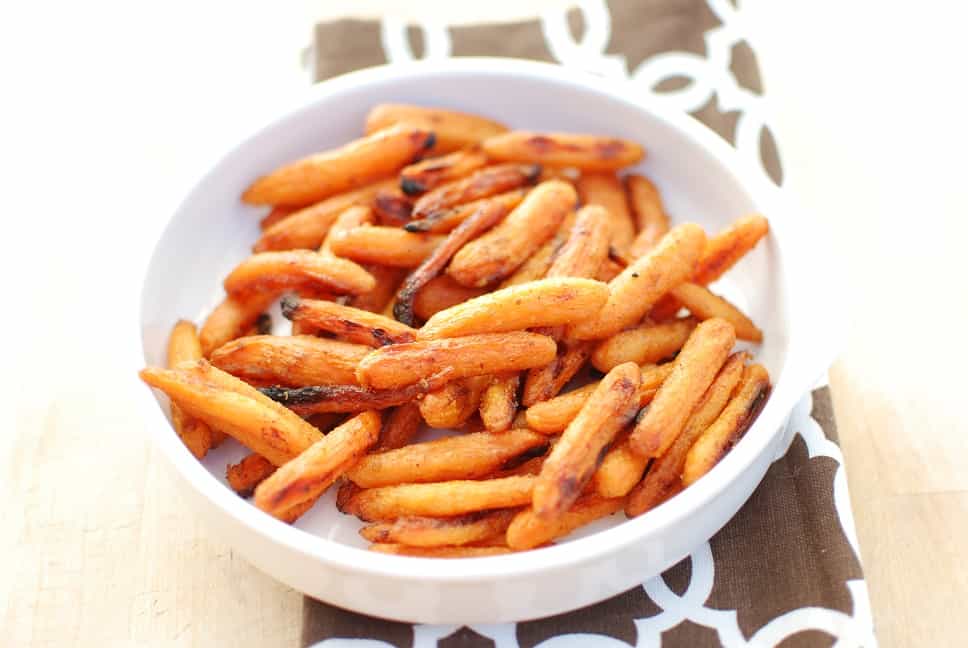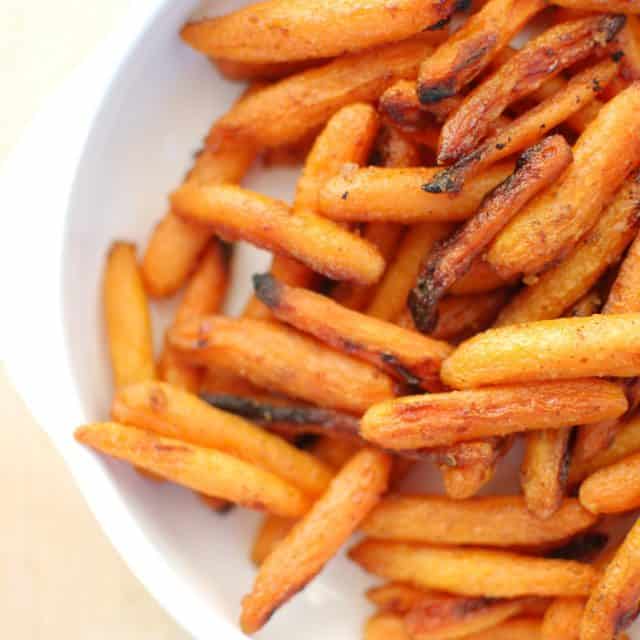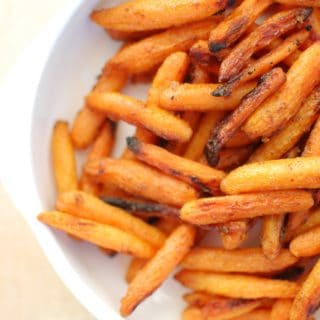 Honey Mustard Carrots
These honey mustard carrots are an addictive vegetable side dish, sure to be enjoyed by kids and adults alike!
Ingredients
1

lb

baby carrots

1 package or sliced regular carrots

1

tbsp

oil of choice

I typically use olive or canola

1

tbsp

honey

1

tbsp

spicy brown mustard
Instructions
Preheat oven to 425F. Place all ingredients in a 9x13 baking dish and toss together to distribute evenly. Roast for approximately 60 minutes, or until carrots are tender. Yum!
Notes
Notes:
Because of the high heat of cooking, you might get some of the honey mustard sticking to your dish. I have the best luck using a clear glass baking dish for this, and I soak it after if needed. I've never had a problem getting it clean after soaking!
Nutrition analysis:
90 calories, 4 g fat, 203 mg sodium, 15 g carbohydrate, 3 g fiber, 1 g protein; Vitamin A: 309%, Vitamin C: 5%, Calcium: 4%, Iron 6%
Nutrition
Share with me: What's your favorite veggie side dish? Do you love these honey mustard carrots?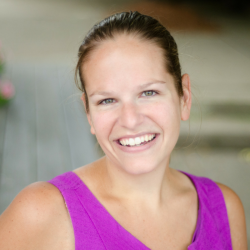 Latest posts by Chrissy Carroll
(see all)