This slow cooker shredded beef is an inexpensive, hearty dish that the whole family will love. Chuck roast is cooked along with peppers, onions, and a hearty tomato-forward sauce. The result is perfect for tacos, rice bowls, sandwiches, and more!
Disclosure:  This post is sponsored by The Beef Checkoff.  As always, all opinions are my own.
Note: This post was originally published in 2018 and has been updated in 2022.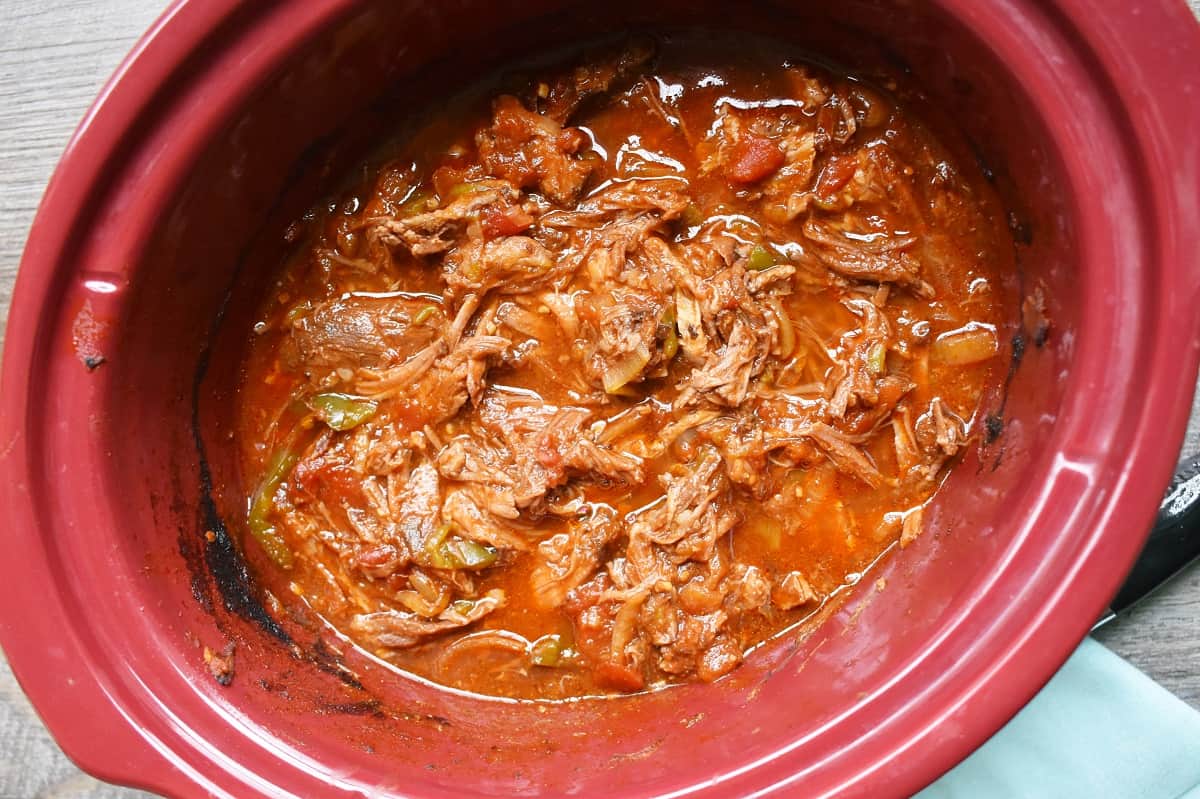 Why you'll love this recipe
Need an excuse to whip this up? Here's a bunch of reasons why you'll love it!
Made in the slow cooker! In the winter, it's wonderful having a cozy warm meal ready when you return from work. And in the summer, it's nice to avoid heating up the oven!
Nutrient-dense meal. You'll get high quality protein and iron from the beef, along with Vitamin C and lycopene in the tomatoes. Combine the meat with a good source of healthy carbs and some veggies and/or fruits, and you've got a great recovery meal after a workout.
Minimal ingredients. This meal relies on simple ingredients – pantry staples like canned tomato products, and common on-hand fridge items like onions and bell pepper. No searching for fancy or uncommoon products!
Money-saving meal.

This recipe uses chuck roast – an inexpensive cut of meat that helps you stretch your food budget further.

Plus, you'll get about 8 servings from this dish, depending on the exact size of the chuck roast used – talk about great yield from a recipe! [Read more: How to save money on beef.]
How to Use Slow Cooker Shredded Beef
Once you've made the basic recipe, you can use the meat in a variety of ways.  The most common way we use it is served alongside rice and beans.  I love it this way, especially after a long workout.  You've got your protein from the meat, and lots of healthy carbs in the rice and beans.
If you use instant brown rice and canned beans, this only takes a few extra minutes too.  Make the instant brown rice according to package directions, and stir in a small handful of cilantro, a little lime juice, and the can of black beans.  Then just add the meat on top of the rice!
If you've got a few extra minutes to spend in the kitchen, I also love adding some fried plantains to the bowl.  To make these, just heat some oil of your choice and add a sliced plantain to the pan.  Cook for a few minutes on each side (you want them to be yellow with spots of golden brown on each side).  Remove from the oil and toss with a little salt. 
They make a perfect accompaniment to create a more complex flavor profile in the dish!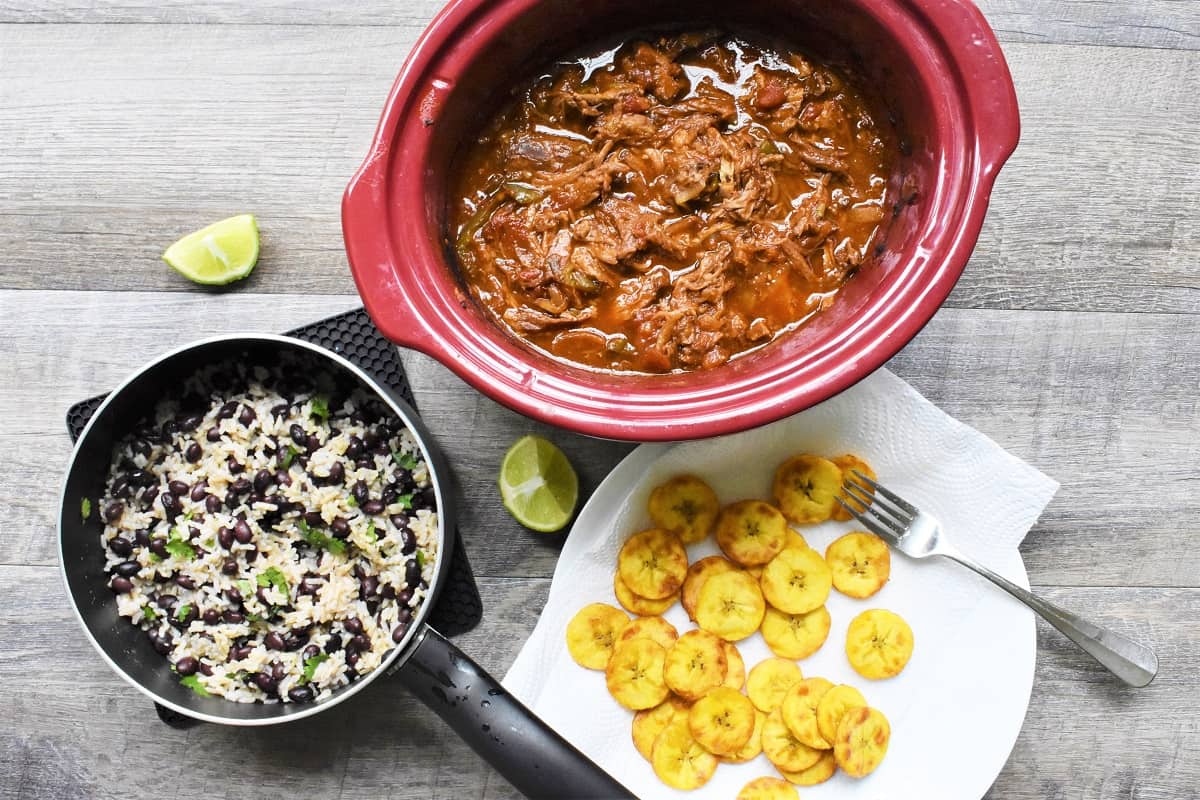 Of course, there are plenty of other ways you can serve your shredded beef too:
Instead of serving it over rice, try it with other grains like quinoa.
Add it to tortilla chips along with a bunch of different vegetables and some cheese for loaded nachos.
Use it as a substitute for other meats in a taco or burrito recipe.
Add the shredded beef to a broth-based stew with potatoes and carrots.
Serve it over boiled mashed plantains.
Toss it on a hoagie roll for an easy sandwich, and serve with a side salad.
Recipe FAQ
Here are some common questions that may pop up as you prepare this slow cooker shredded beef:
How should you store leftover shredded beef?
Store leftovers in the refrigerator for up to 4 days. Reheat in the microwave, or in a small pot on the stovetop.
Can you freeze shredded beef?
Yes! Freeze extra cooked shredded beef in freezer-safe food storage containers or zip top bags. Pull it out the day before you plan to use it and defrost it in the refrigerator overnight.
How do you know when slow cooker shredded beef is done cooking?
The meat should fall apart when torn with a fork. If the meat is not shredding easily, it needs more time in the slow cooker. Leave it in for another hour, then check again.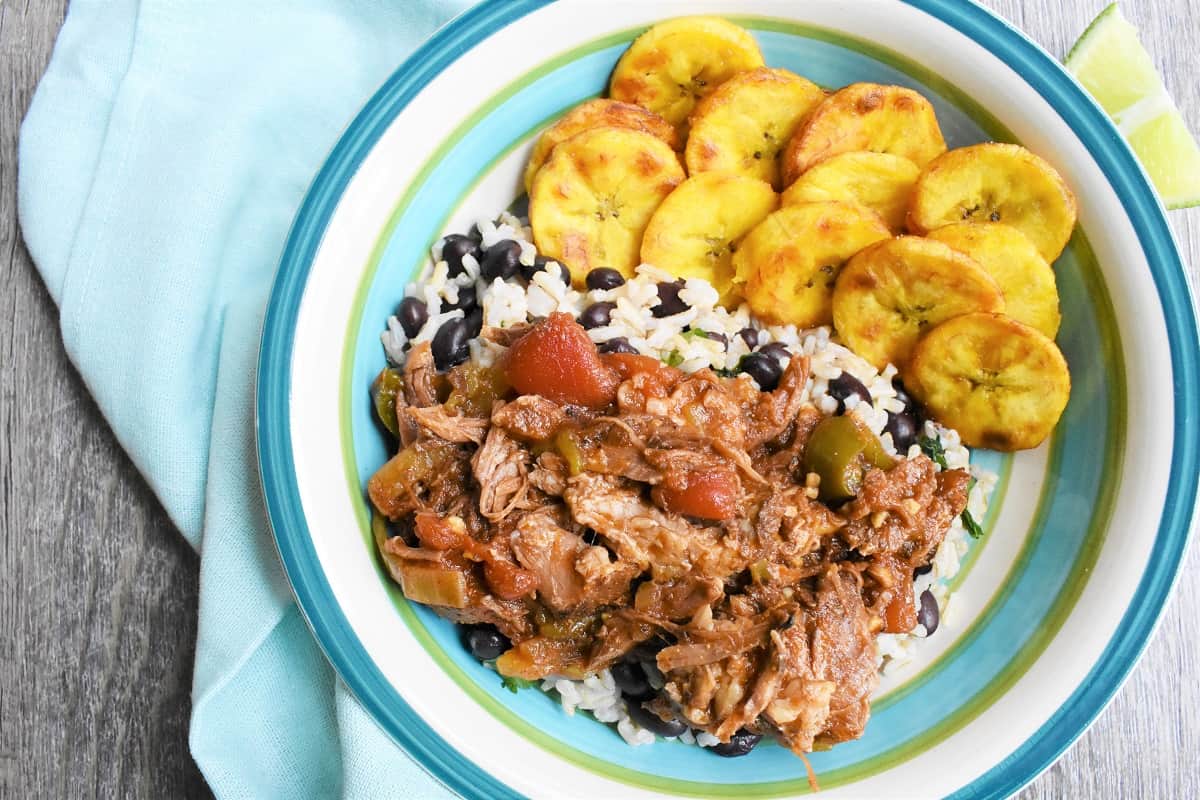 More Slow Cooker Beef Recipes
If you're looking for more beef recipes that use the slow cooker, try out one of these tasty options:
Now grab your slow cooker, get to cooking, and be sure to let me know how you like it in the comments! Recipe ratings are also always welcome.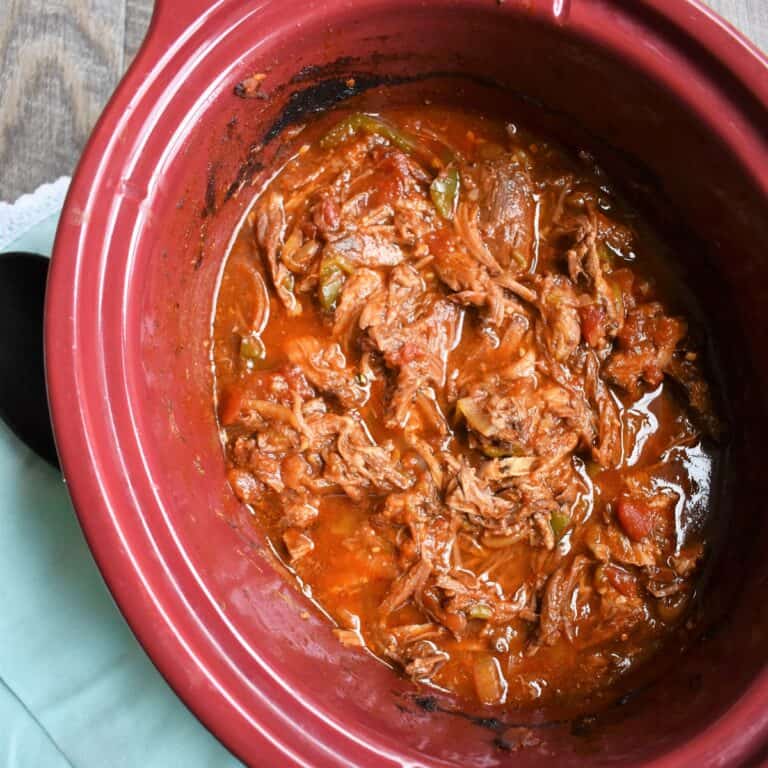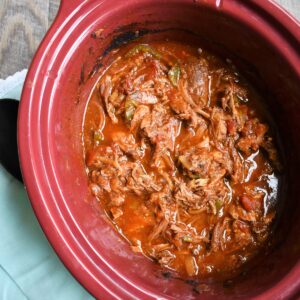 Slow Cooker Shredded Beef
Slow cooker shredded beef is an inexpensive, hearty dish that the whole family will love. Made with chuck roast, this is rich and flavorful!
Ingredients
2

lb

chuck roast

(2 to 2 ½ pounds works well in this recipe)

1

medium yellow onion, sliced

1

large bell pepper, sliced

4

oz

can green chiles

2

tsp

minced garlic

8

oz

can tomato sauce

⅓

cup

tomato paste

(about half a can)

14 ½

oz

can diced tomatoes

(no added salt)

1

tbsp

apple cider vinegar

1

tbsp

cumin

1

tsp

salt
Instructions
Place everything in the crockpot. Cook on low for 8-9 hours.

Shred meat with a fork and place back in the sauce. Let sit for about 15 minutes – then enjoy however you like!
Notes
This recipe makes 8-10 servings; the nutrition analysis below is based on 8 servings.
Feel free to double up on the onion and bell pepper to create a more veggie-rich meal.
The meat should fall apart easily when shredded with a fork. If it feels tough, it needs extra time cooking. (Try keeping it in the slow cooker for an extra hour).
Nutrition analysis (approximate per serving):  316 calories, 20 g fat, 8 g sat fat, 0 g trans fat, 105 mg cholesterol, 595 mg sodium, 10.5 g carbohydrate, 2.5 g fiber, 6 g sugar, 24 g protein, Vitamin D: 0%, Calcium: 4%, Iron: 18%, Potassium: 16%
Nutrition
Feel free to pin this post to save for another day.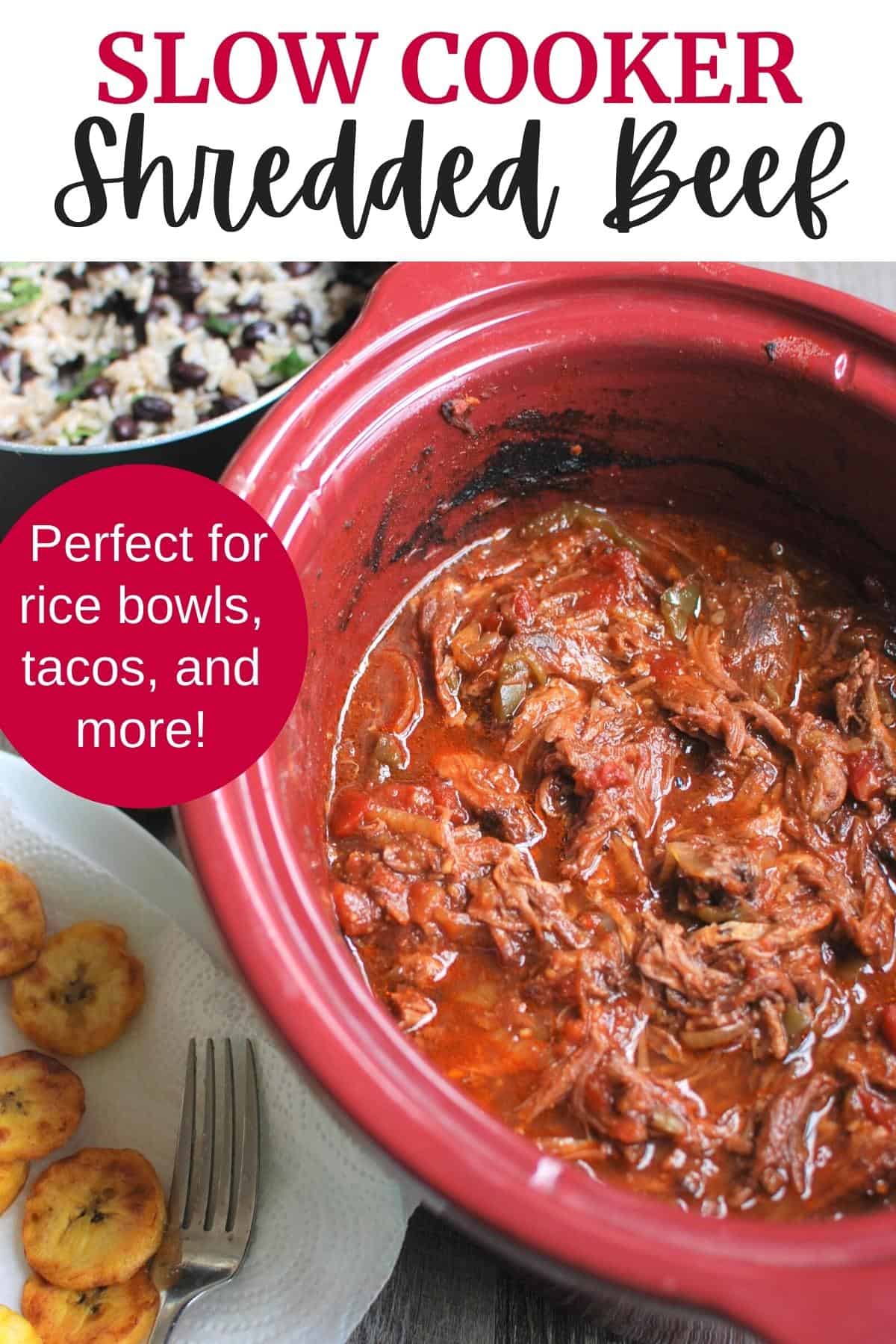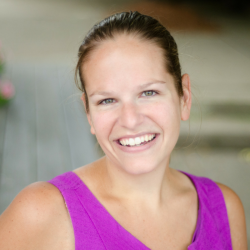 Latest posts by Chrissy Carroll
(see all)