Who doesn't love a warm bowl of chili on a cool fall night?!  This chipotle chili is packed with nutritious ingredients and makes a hearty, filling dinner.  And it's a one pot meal, which means less clean up afterwards!
Note: This post was originally published in May 2015 and has been updated in September 2021.
Ingredients
Here are all the ingredients you'll need, along with selected ingredient notes:
Ground Beef – I prefer leaner ground beef for this recipe, like 90/10 or 93/7.  Using these means you usually don't have to deal with draining them after browning, as less grease is released into the pan.  Plus, as an RD, I like that those are healthier options than the choices with more fat.  That said, you can feel free to use whatever ground beef you personally prefer!
Chipotle Peppers – You'll typically find these wherever ingredients for tacos and enchiladas are in your grocery store (sometimes called the "international" aisle). They come canned in adobo sauce. They pack some heat, so feel free to adjust the amount you use based on your spice preferences.
Bell pepper – Any color can be used for this recipe.  I ended up with a ton of yellow and red bell peppers in my last Flashfoods box, so I went with yellow the day I photographed it.  (PS – I LOVE the Flashfood app for saving on groceries.  If you haven't tried it yet, feel free to use my referral code for a $5 credit on your first $10 order – code CHRI2VVQP)
Step by Step Instructions
You'll find the full recipe card with amounts and instructions at the bottom of this post, but here's a helpful overview with photos.
Start by heating the oil in a pot, then adding the onion and pepper. You want to cook them until they just start to get tender and the onions are a little translucent.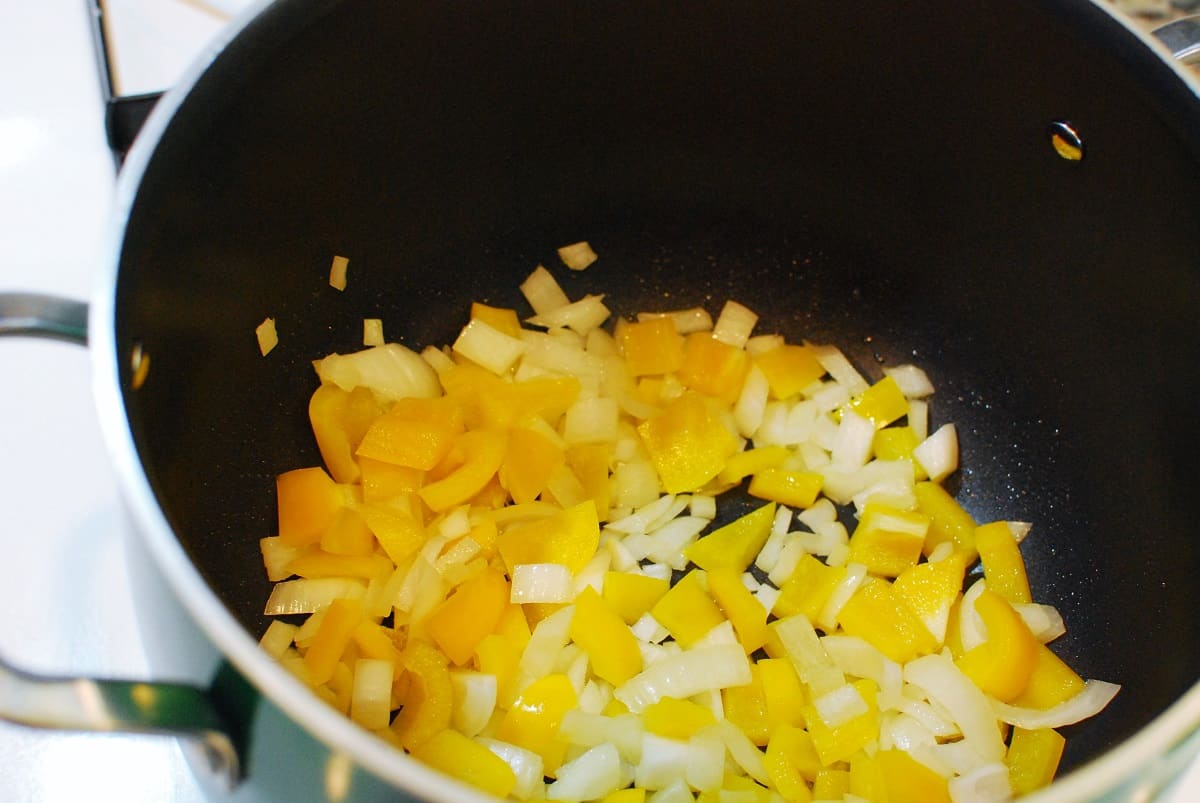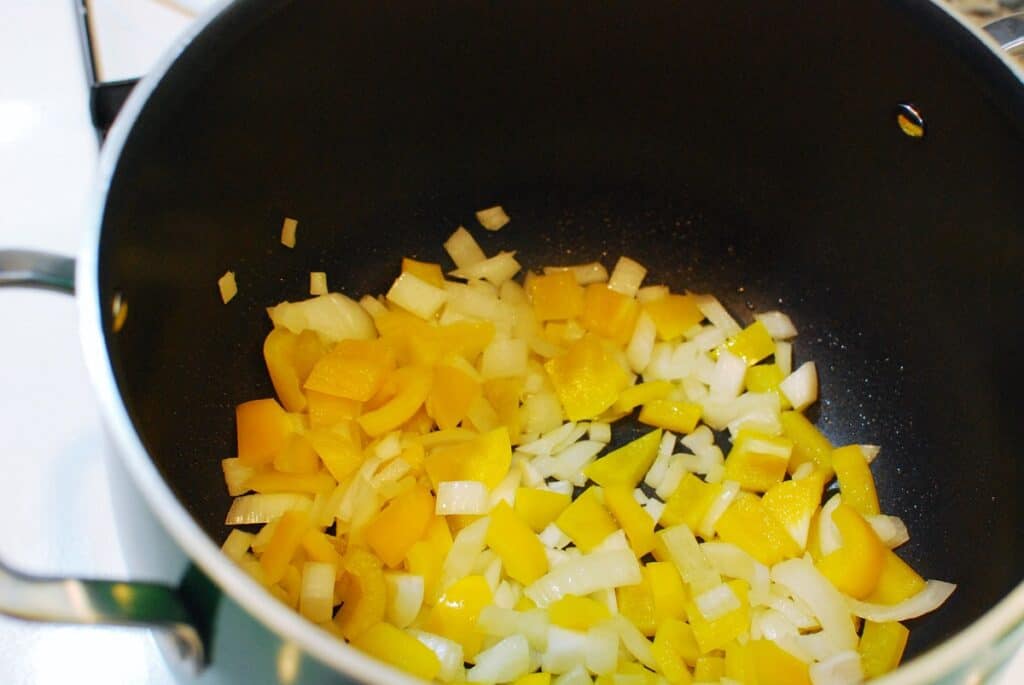 Then, add the ground beef to the pot, cooking until it's browned. Depending on the type of ground beef you're using, you may need to drain off some fat at this point. (If you use 90/10 or 93/7, you shouldn't need to drain anything).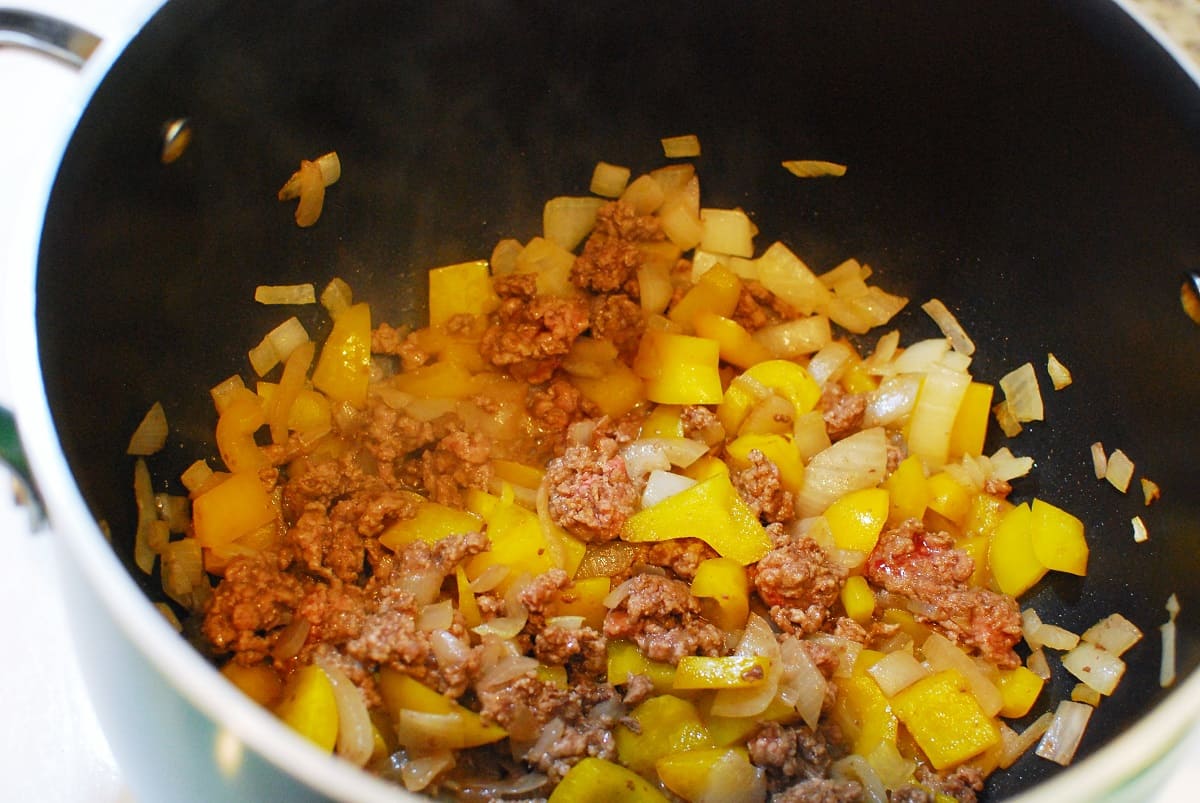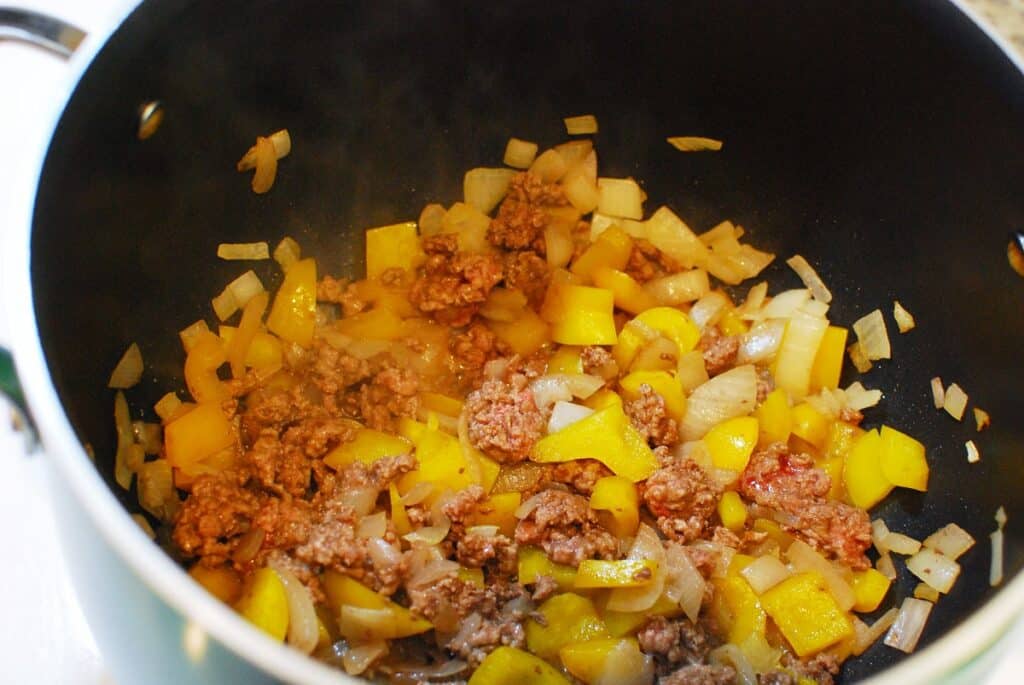 Next, stir in the garlic, spices, and chipotle peppers with adobo. Remember, chipotles are spicy, so if you're not used to using them, start with one. You can always taste the chili after it simmers for a few minutes to add extra if you want to kick it up a notch. But better to start light on the spice and adjust, than to have too much spice and have to fix it.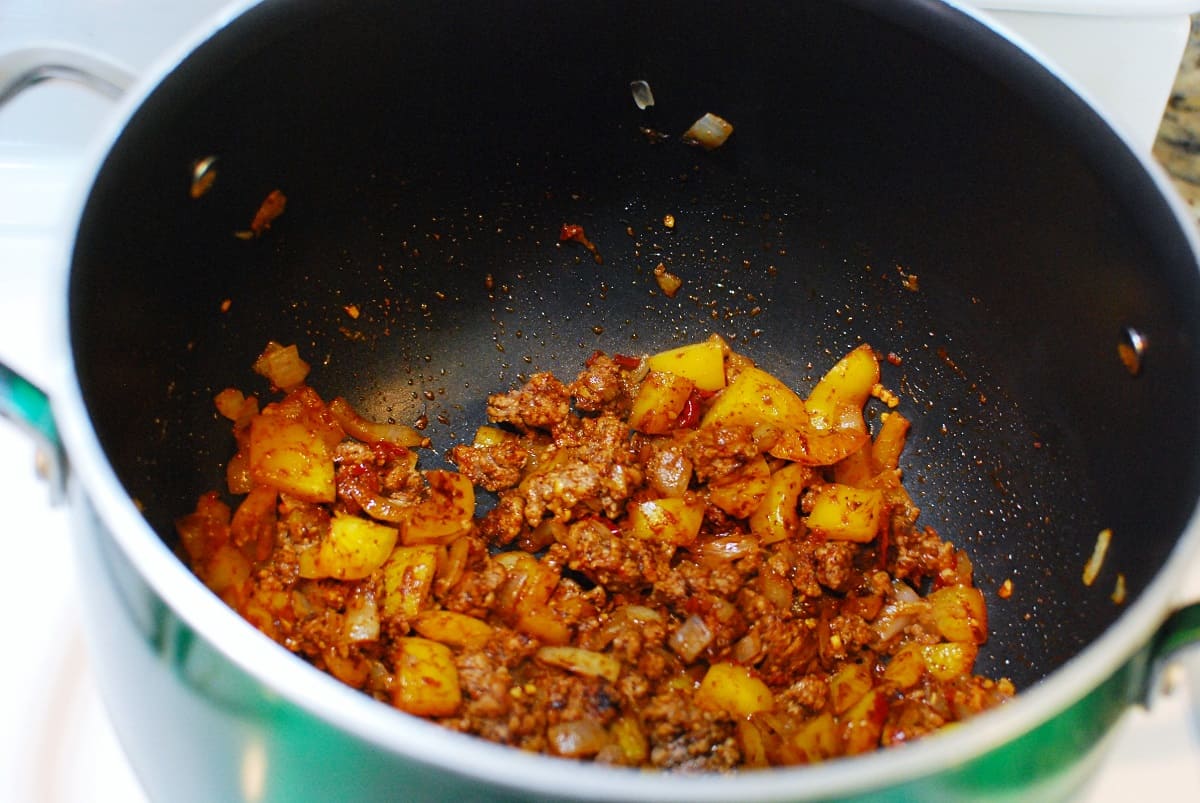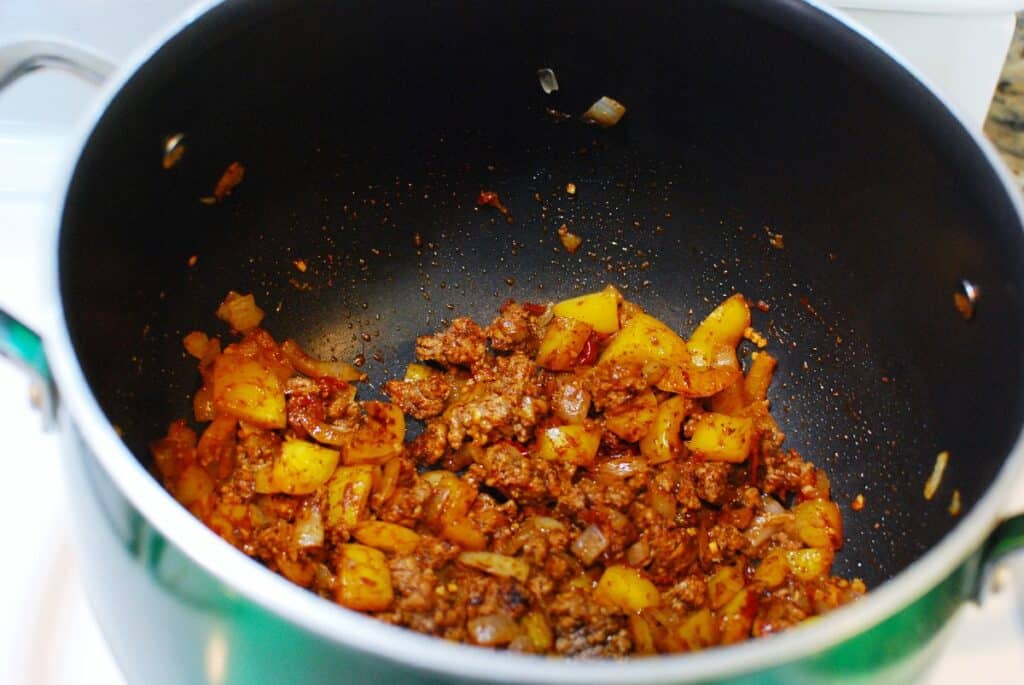 Add the beans, tomatoes, and tomato sauce.  Now all you have to do is simmer for 10 minutes.  It's such a quick and easy recipe!
Note that this chili does tend to be thicker than other recipes – my family prefers it that way. But you can always thin it out a bit with some broth if you need to.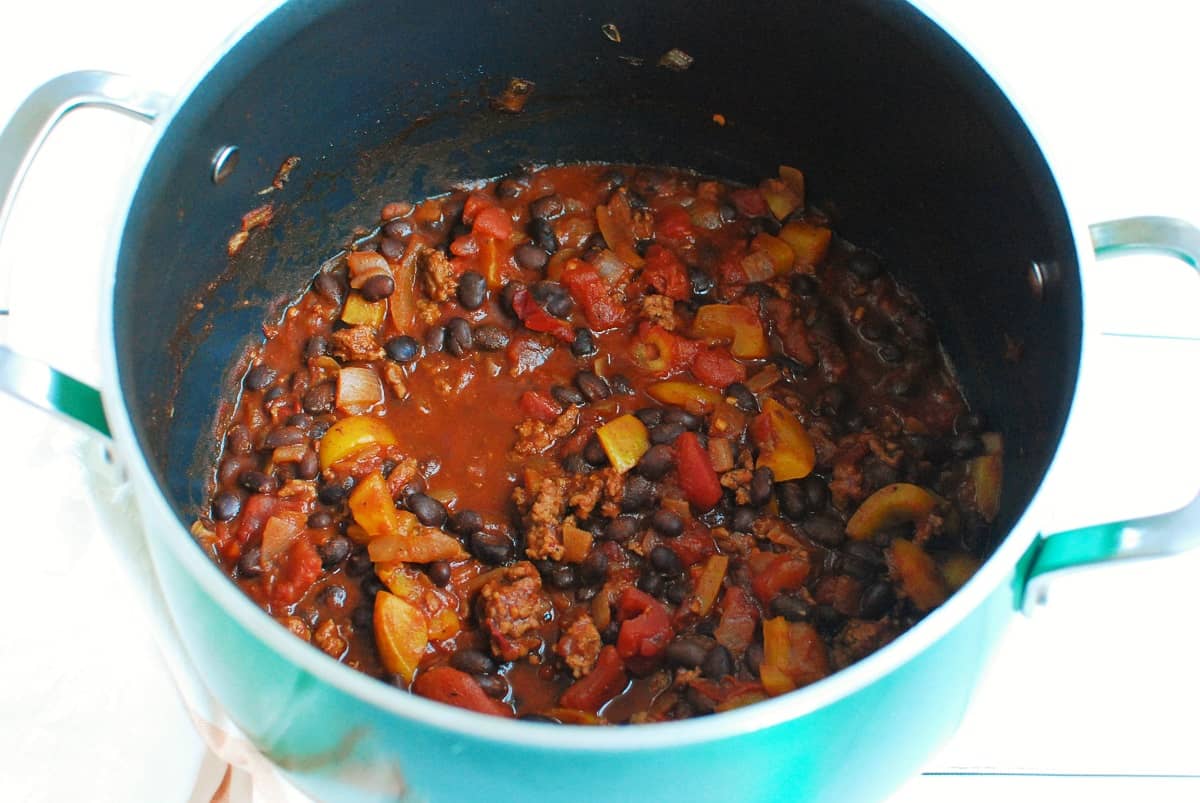 If you'd like, you can add optional toppings like scallions, cheddar cheese, or crushed tortilla chips.
Recipe FAQ
Here are some common questions that may come up as you prepare this recipe:
What side dishes go with chipotle chili?
Cornbread, homemade tortilla chips, breadsticks, and baked potatoes are all excellent options.
How do you make chili less thick?
If you prefer a thinner chili, add beef broth to the recipe until it's your desired texture.
How do you fix chili that is too spicy?
If you added too many chipotle peppers and the chili is too spicy, try adding additional diced tomatoes along with some tomato sauce and/or beef broth.  This will stretch out the chili a bit and should make it slightly less spicy.  You can also add some sour cream to your bowl; the dairy will help tame the spice.
What should you do with extra chipotle peppers?
Portion out the extra chipotle peppers with adobo sauce into a few small ziptop bags, and freeze these. Then they're ready the next time you need just one or two for a recipe.
Nutrition Benefits
As a dietitian, here are some of my favorite nutrition highlights for this chipotle chili:
Rich in iron:  One serving of chili contains 38% of your daily iron needs.  Iron is important for your body's ability to carry oxygen to your muscles.  Getting too little can cause you to feel tired and not perform well in your workouts (source).
Packed with protein: You'll get 28.5 grams of protein in a bowl of this chili, key for muscle repair and recovery after a workout.
Excellent source of potassium:  One serving contains 26% of your daily potassium needs.  Potassium is involved in muscle and nerve contractions, as well as regulating blood pressure (source).
Filled with fiber:  Did you know most people fall short on their daily fiber needs?  With 18.5 grams of fiber per bowl, your digestive system will thank you!  Fiber helps keep you regular and feeds the good gut bacteria (source).
More Chili Recipes
Looking for more chili recipes to make this year? Try one of these tasty options:
Chipotle Apple Turkey Chili – Everyone is always surprised by this recipe – apples in chili?!  But it packs incredible flavor and is a great way to use ground turkey.
Steak and Mango Chili – Apparently, I love fruit in chili.  This steak and mango combo is the perfect balance of sweet, savory, and spicy.
Butternut Squash and Quinoa Chili – This vegan recipe is a great healthy choice for active women (and families!), packed with squash, quinoa, black beans, and pinto beans.
I hope you love this tasty beef and bean chili.  If you get a chance to try it, please feel free to leave a recipe rating or comment below.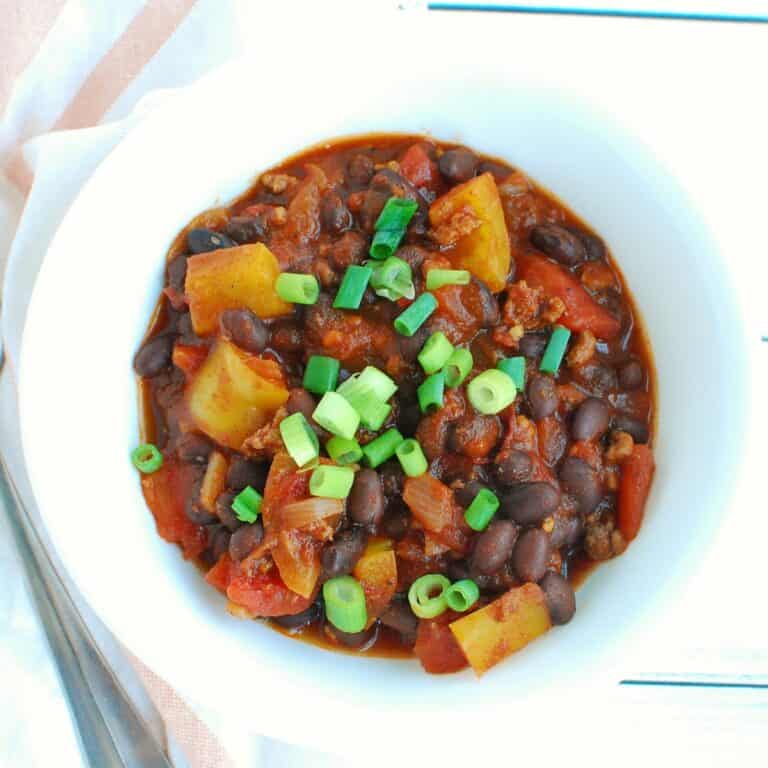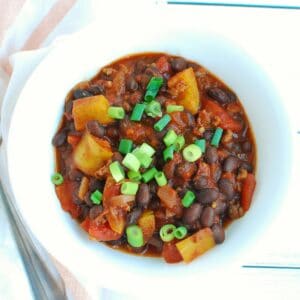 Chipotle Chili
This chipotle chili has the perfect subtle heat, and is packed with nutritious ingredients.
Ingredients
½

tablespoon

olive oil

1

yellow onion, diced

1

bell pepper, diced

½

pound

90/10 ground beef

(or whatever ground beef you prefer)

2

teaspoon

fresh minced garlic

1

tablespoon

chili powder

1

teaspoon

cumin

1

teaspoon

paprika

½

teaspoon

black pepper

2

canned chipotle peppers, minced

(you can use between 1 to 3 chipotles – adjust per spice preferences!)

1

tablespoon

of the adobo sauce from the canned chipotles

2

cans black beans (15 ounces each) drained and rinsed

14 ½

ounce

can diced tomatoes, undrained

8

ounce

can low-sodium tomato sauce
Instructions
In a large pot, heat the oil over medium heat. Add the onion and pepper and cook for 4 minutes, until just starting to get tender.

Add the ground beef and continue to cook for 6-7 minutes, until just about browned. (Drain any excess fat if needed).

Stir in the garlic, chili powder, cumin, paprika, pepper, chipotle pepper(s), and adobo. Cook for 1 minute, stirring well.

Add the beans, tomatoes, and tomato sauce. Simmer for 10 minutes, then serve! You can add optional toppings like scallions, cheddar cheese, or tortilla chips if you'd like.
Notes
If the chili is too thick for your liking, just add a little beef broth.
If you prefer a meatier chili, use 1 pound of ground beef and 1 can of beans, rather than the amounts listed here.
Nutrition analysis (approximate per serving): 381 calories, 10 g fat, 3 g saturated fat, 750 mg sodium, 47 g carbohydrate, 18.5 g fiber, 8 g sugar, 28.5 g protein, Vitamin D: 0%, Calcium: 13%, Iron: 38%, Potassium: 26%
Nutrition
Share:  What's your favorite kind of chili? If you tried this recipe, what did you think?
Feel free to pin this post to share with others!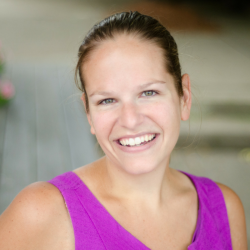 Latest posts by Chrissy Carroll
(see all)