Want to start your day off on a delicious and healthy note? If so, try this smoked salmon breakfast toast! Not only does it taste great, but this breakfast is packed with protein, healthy fats, and fiber to keep you full and energized all morning long. And aside from toasting the bread, there is no cooking involved (whoop whoop!).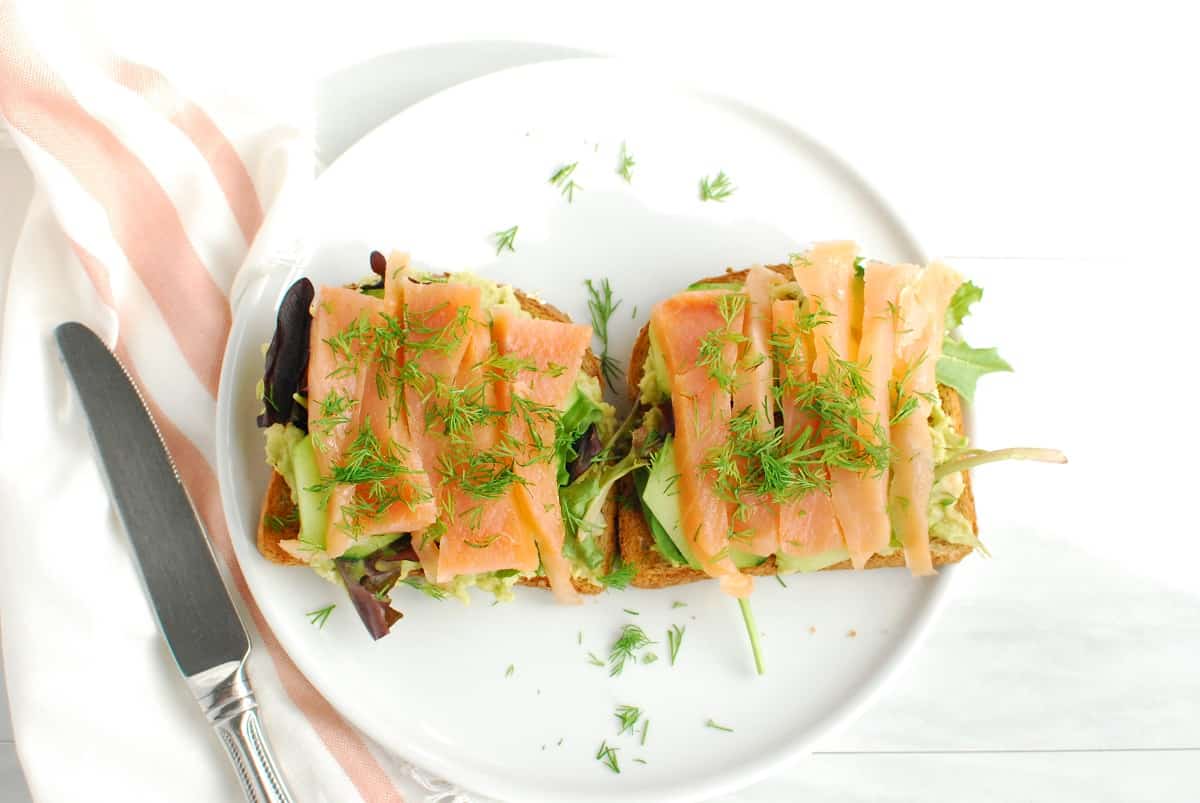 Ingredients
Here's a photo of everything you'll need to make this recipe, along with selected ingredient notes: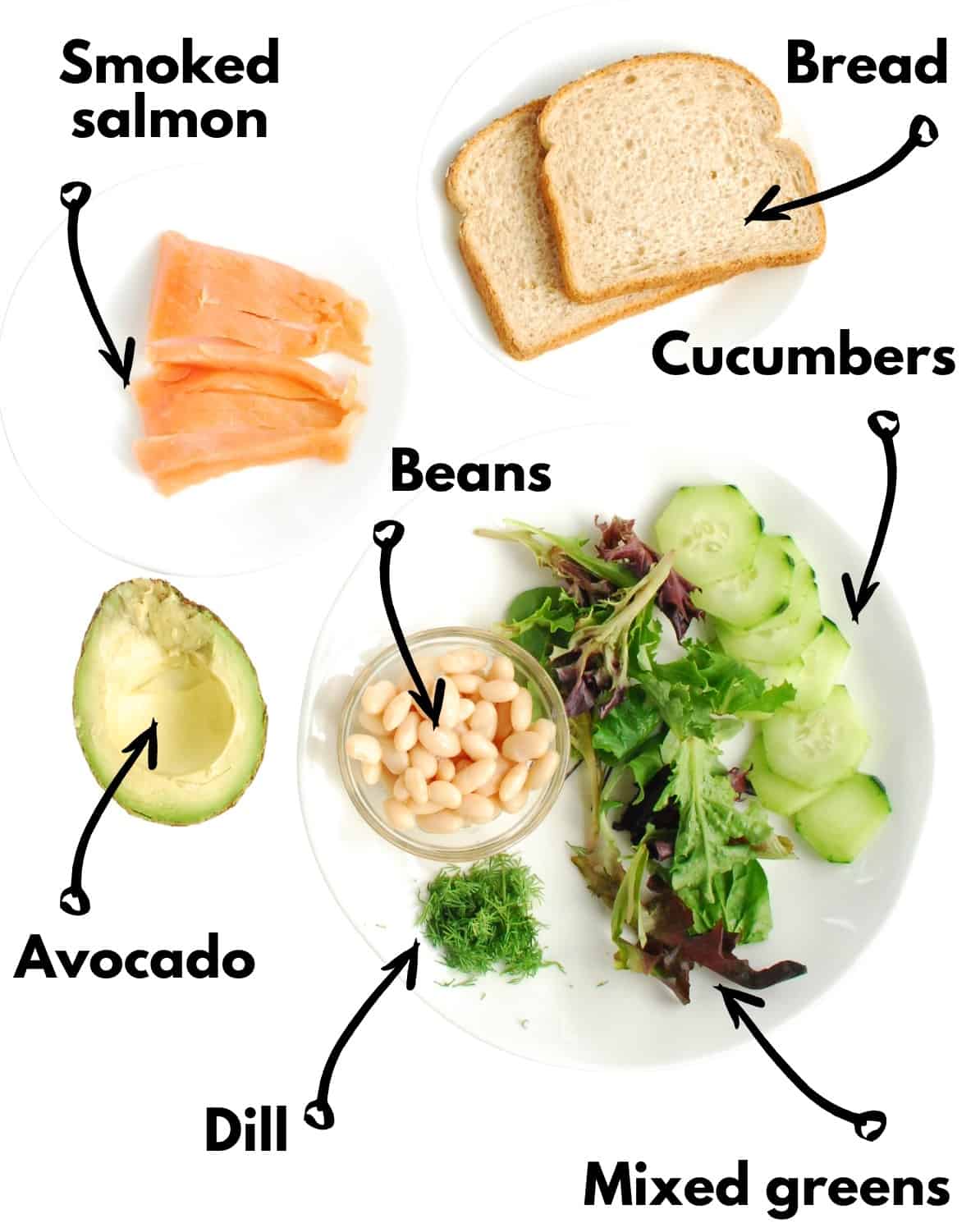 Bread – For this recipe, I recommend looking for a bread that's got a couple grams of protein and fiber per slice. I enjoy Dave's Killer Bread Good Seed Thin Sliced Bread, which has 6 grams of protein and 6 grams of fiber in two slices. I also like Sara Lee Delightful Multigrain Bread, which has 5 grams of protein and 5 grams of fiber in two slices (on my current package – I know the online nutrition facts say 3 grams of fiber; not sure which is currently accurate). But either lends itself to boosting the nutrition of your breakfast toast and helping you feel full. You can also choose any bread that you prefer to make this (sourdough, rye, another whole grain option, etc).
Smoked Salmon – You'll typically find smoked salmon by the fish section of your supermarket in the refrigerated case, or occasionally by the produce section.
Avocado – Choose a ripe avocado. It should be somewhat soft to the touch when you press the outside (but not mushy from the outside).
Instructions
You'll find the full recipe instructions and amounts in the recipe card at the bottom of the page, but here's a helpful overview with step-by-step photos. This recipe couldn't be easier, though!
Start by mashing together the avocado and white beans until well combined.
Next, toast your bread to your desired toastiness. 😉 (The bread pictured below is the Sara Lee variety that I mentioned above).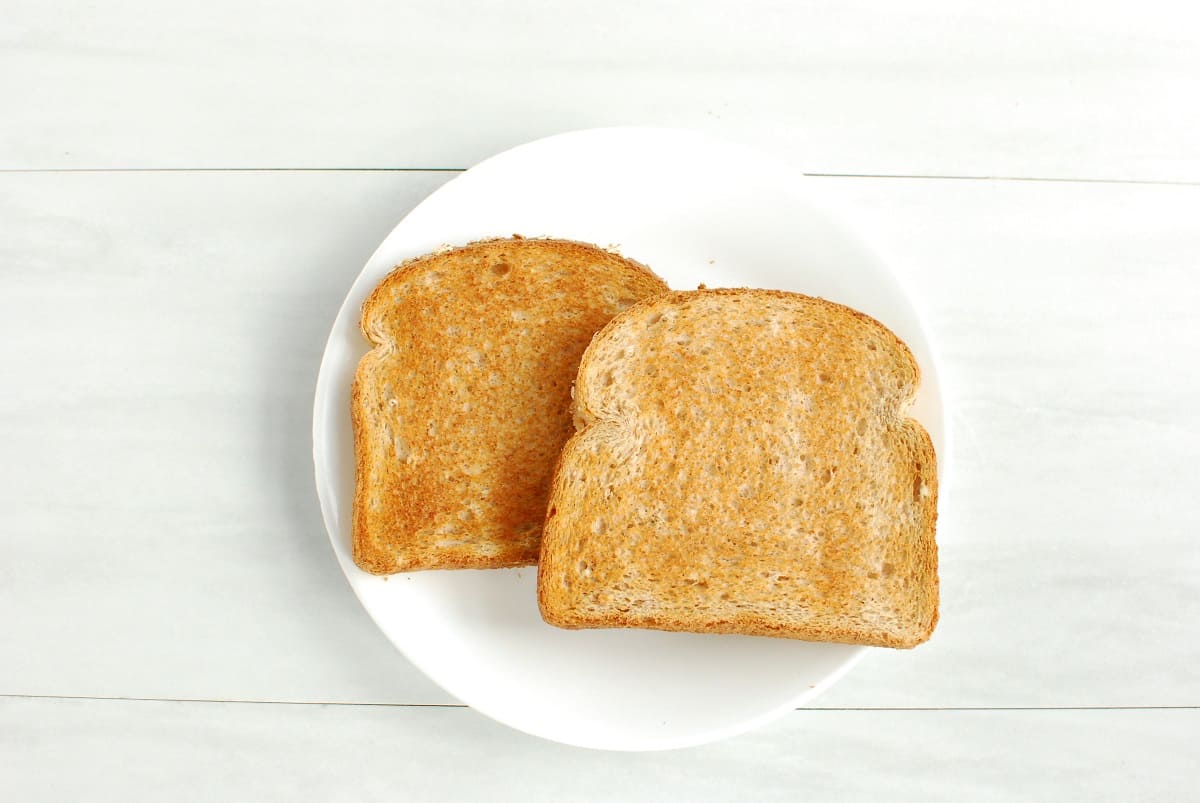 Spread the avocado/bean mixture onto the slices of bread.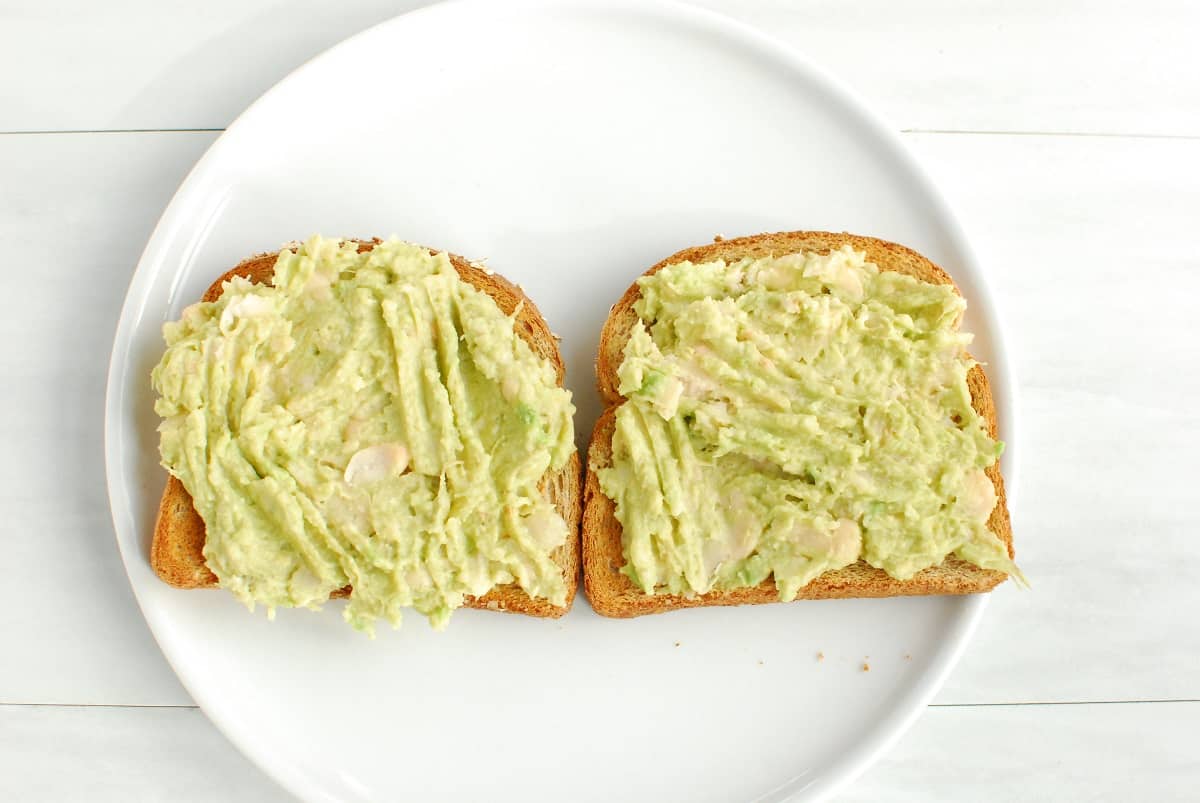 Now add the mixed greens, cucumber, and smoked salmon. Sprinkle with the dill (if using) and boom! Breakfast is done.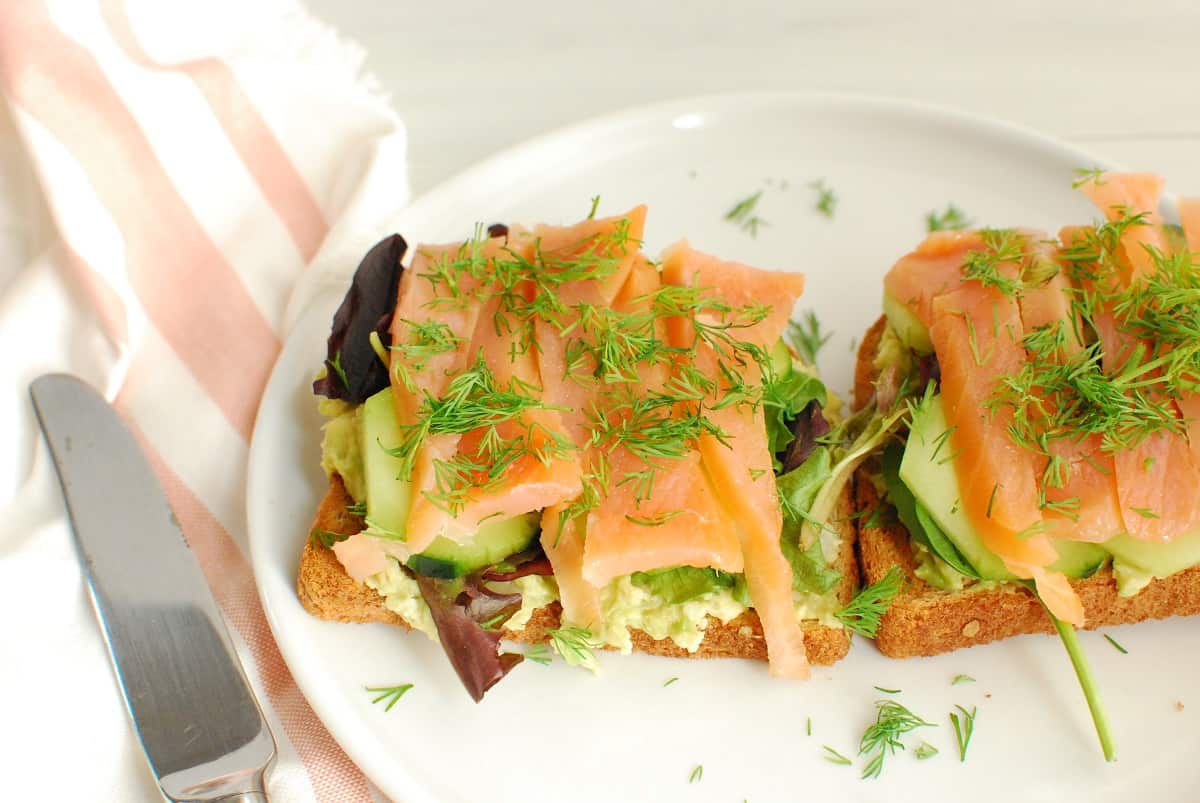 Recipe FAQ
Here are some common questions that may come up as you prepare this recipe:
Can I use canned salmon instead of smoked salmon for breakfast toast?
Smoked salmon gives the dish a unique flavor and texture, and is recommended. If you only have canned salmon on hand, though, you can use it – but the toast will taste different. Be sure to drain well before adding to the toast.
Can I add other toppings to salmon breakfast toast?
Yes! The recipe is very versatile, so feel free to get creative. For example, instead of mixed greens and cucumber, you could add arugula and tomatoes. Or instead of spreading on mashed avocado and beans, you could try topping with cottage cheese or light cream cheese for the creamy component.
What are some other ways to use smoked salmon?
You can add smoked salmon to scrambled eggs, create a fish dip, top deviled eggs, use it in place of Canadian bacon in eggs benedict, or add it to a savory puff pastry recipe.
Nutrition Benefits
As a dietitian in the running and triathlon world, here are some of the reasons I love this recipe…
Packed with protein. Because you're combining smoked salmon, white beans, and bread that contains some protein – you're treated to 23 grams of protein in the breakfast recipe. This is a great for supporting muscular health and your fitness goals.
Provides nutritious carbs. Carbohydrates play a key role in providing energy for intense workouts. This breakfast provides nutritious carbs from whole grains, beans, and veggies.
Full of fiber. Between the bread, veggies, and avocado, you're looking at around 15 to 17 grams of fiber in this breakfast (specific numbers vary based on the choice of bread). That's incredible! Considering 95% of Americans don't meet their fiber needs, this breakfast is a great choice to get you towards your goals. Fiber is important for digestive health, blood sugar regulation, healthy cholesterol levels, and helping you stay full longer.
Good source of magnesium. This breakfast provides approximately 18% of your daily magnesium needs, which is involved in anything from energy production to possible roles in exercise recovery.
Excellent source of iron and potassium. These two nutrients are essential for active women. Iron is involved in transporting oxygen to your cells, key during a workout. And potassium is an important electrolyte in the body, as well as important for blood pressure regulation. This breakfast provides 25% of your daily iron needs and 23% of your daily potassium needs.
More Healthy Breakfast Recipes
If you're looking for more healthy breakfast recipes, try one of these other tasty options:
I hope you get a chance to try this smoked salmon breakfast toast. It is one of my favorite Sunday morning breakfasts because it just feels fancy, yet is so simple to make. If you get a chance to try it, feel free to leave a recipe rating or comment below.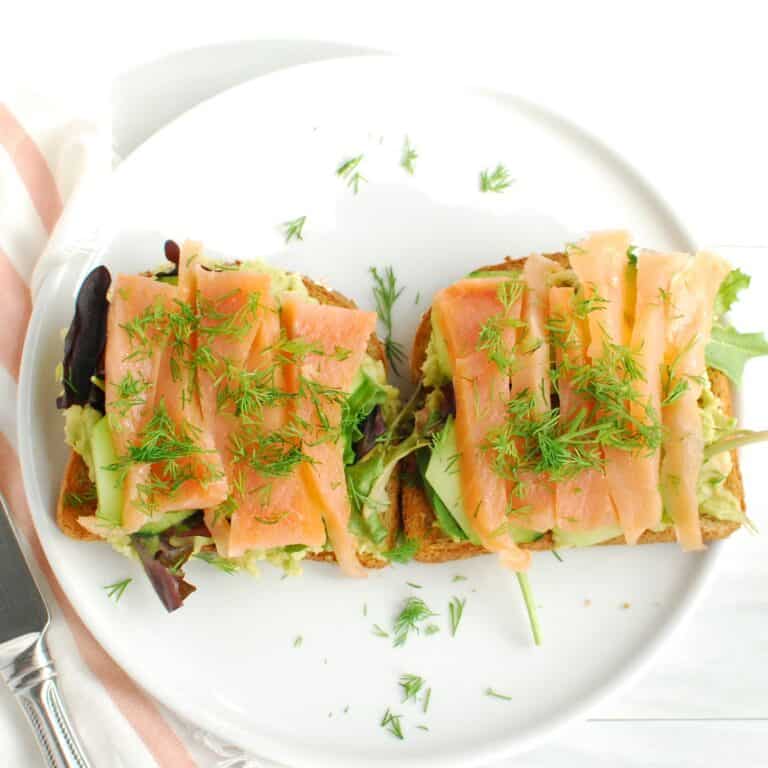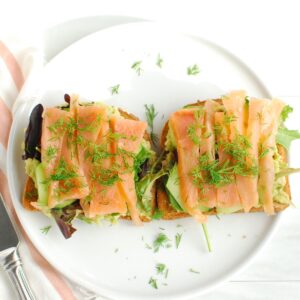 Healthy Smoked Salmon Breakfast Toast
Start your day off on a delicious and healthy note with this smoked salmon breakfast toast! Load up two slices of bread with an avocado and white bean mash, veggies, smoked salmon, and top it all of with a sprinkle of fresh dill.
Ingredients
½

medium avocado, peeled and pitted

⅓

cup

white beans, drained and rinsed

2

slices

nutritious bread

(i.e. higher protein and/or higher fiber option*)

⅓

cup

mixed greens

(packed)

⅓

cup

sliced cucumber

1 ½

oz

smoked salmon

1

tbsp

fresh dill

optional
Instructions
In a bowl, add the half an avocado with the white beans. Mash with a fork until well combined.

Toast the bread until it is golden brown.

Spread the mashed avocado and bean mixture on each slice of toast.

Top with the greens, sliced cucumber, and smoked salmon. Sprinkle the dill on top if using.
Notes
For this recipe, I like using either Dave's Killer Bread Thin Sliced Good Seed Bread or Sara Lee Delightful Multigrain bread.
If your avocado is large, you can use

⅓ rather than ½.

Feel free to load up extra veggies on your toast if you've got the space – I try to get as much as I can fit on the bread!
The nutrition analysis below assumes you're choosing a bread with approximately 70 calories per slice that contains a couple grams of fiber and protein per slice. Higher- or lower-calorie breads, or options without fiber/protein, will change the nutrition analysis slightly.
Nutrition analysis (for entire recipe): 448 calories, 21 g fat, 3 g saturated fat, 870 mg sodium, 50.5 g carbohydrate, 17 g fiber, 5.5 g sugar, 23 g protein, Vitamin D: 11%, Calcium: 6%, Iron: 25%, Potassium: 23%, Magnesium: 18%
Nutrition
Share: What's your favorite healthy breakfast? If you tried this recipe, what did you think?
Feel free to pin this post to save for later!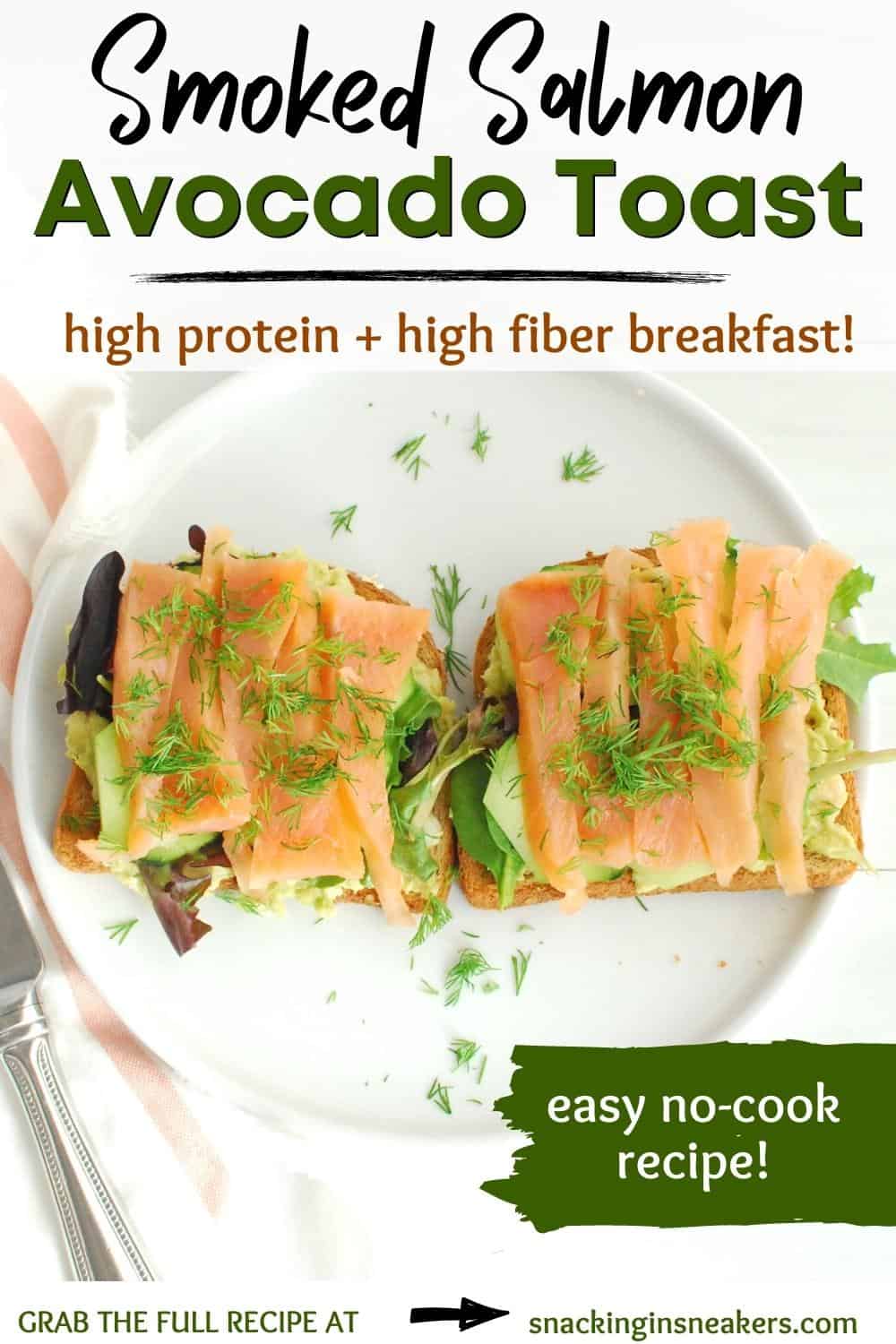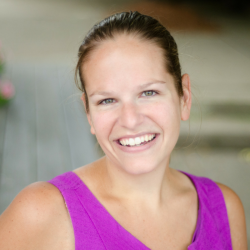 Latest posts by Chrissy Carroll
(see all)