Try a new spin on your morning meal with this healthy breakfast skillet! This dish is veggie-packed and filling, but of course has still got tons of flavor (thanks to just a smidgen of bacon and your favorite southwestern spices). Once you try this meal once, you'll want to make it every week.
Why I love this recipe for active folks
This recipe has a great blend of eggs (for protein and healthy fats), bacon (for flavor!), and veggies (to help bulk it up and add lots of vitamins and minerals). In particular, the produce in this meal offers some health-promoting benefits:
Radishes – These (along with other cruciferous ones) contain a certain compound that may (though is not proven to) have cancer prevention properties (here's an interesting study on this).
Avocado – Contains heart-healthy fats that help with satiety, in addition to potassium (a key electrolyte for athletes)
Bell peppers – A great source of Vitamin C to promote immune health, and also many antioxidants (which promote health and may be important to training adaptations for athletes).
The result is a dish that clocks in at under 300 calories, yet doesn't leave you feeling hungry an hour later.
As an aside, I know some will have pushback that this is not "healthy" because there's bacon in it. If that's your view, by all means – leave out the bacon and just sauté the veggies in oil! I personally believe a little bacon can fit into a healthy dish, and provides a ton of flavor. You'll end up with the equivalent of just one slice of bacon per serving of the dish.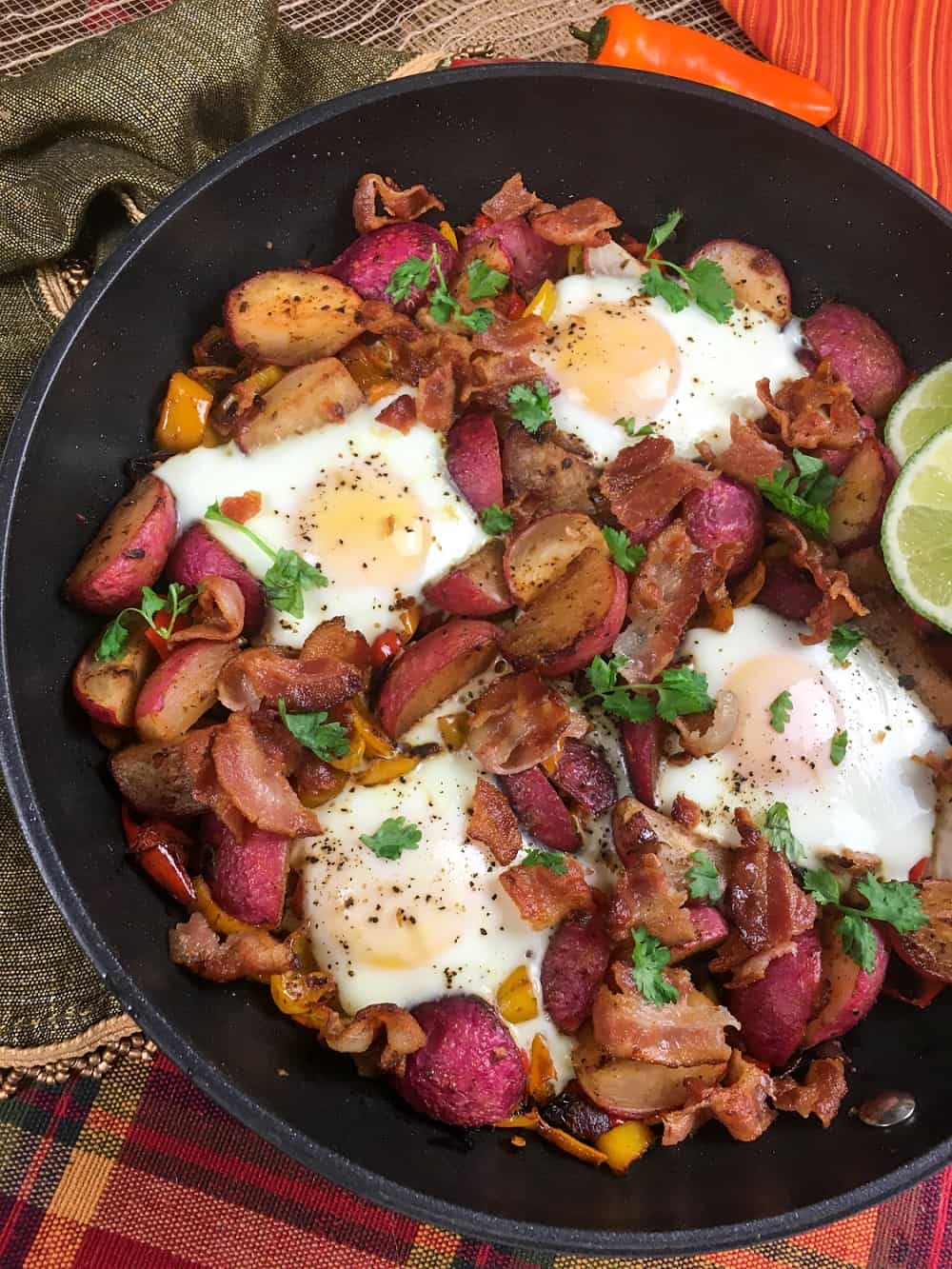 How do you make a healthy breakfast skillet
Alright, ready to get cooking?! This dish is really easy to make – here's what you'll need:
Bacon
Red onion
Radishes
Olive oil or butter (if needed – see instructions)
Bell pepper
Spices – cumin, chili powder, salt, and pepper
Eggs
Cilantro
Avocado
To start, cook up your bacon and then set it aside to cool. When it's cool, crumble it up (you'll add it back to the pan later).
Leave the bacon grease in the pan, as you'll use it next to sauté the radishes and onion. It helps add a lot of flavor to those veggies!
If you've never used radishes before, you can find them at any major supermarket. They're small, round, and circular. To use them, you'll just want to scrub them, trim off any excess plant material, and then quarter them for this recipe.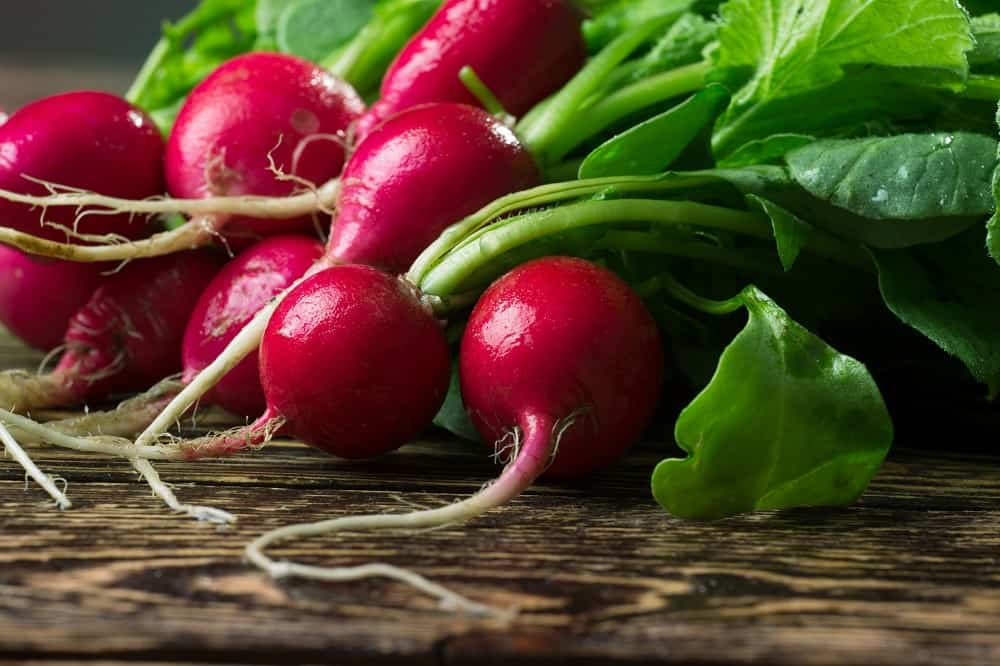 They are generally sold in 16-ounce bags, so you'll use half that for today's dish. Save the rest – I personally love raw radishes sliced and dipped in hummus!
Once those radishes and onions have cooked for a bit, just take a quick look at the pan to see if it needs any additional oil or butter for cooking your peppers. If so, add it now – if not, just add the peppers straight in. Cook those for a few minutes.
Now it's time for those southwestern seasonings! Chili and cumin add a lot of flavor, along with the standard salt and pepper.
Next up – crack the eggs into the skillet. You'll want to cover the skillet and let the eggs cook for a few minutes until they reach your desired doneness. My vote is always for a runny yolk but you make 'em however you like of course! 😉
Lastly, top everything off with your bacon, cilantro, and avocado. Yum!
As a bonus, you can also meal prep almost all of this (leaving out the avocado until the day you plan to eat it because of browning). Just make it then pull out a serving the next few mornings and microwave to re-heat.
Ways to Mix It Up
You can experiment with different ways of making breakfast skillets according to the flavors and ingredients you love. For example…
You can swap out the radishes for potatoes on days where you need a higher carb breakfast (like before or after a tough workout).
If you tend to need more food at breakfast, you can always add extra eggs or avocado to make a serving more calories – or just double up on the servings.
If you've not a bacon fan, just leave that out and use oil to sauté your veggies instead. Or, if you still want some meat in there, swap out the bacon for ground turkey or ground beef.
Change it up completely! Try a spinach and mushroom skillet with eggs and feta, or try a taco skillet with seasoned beef, tomatoes, eggs, lettuce, and avocado.
Other Healthy Breakfast Ideas
If you need some more healthy breakfast inspiration, be sure to check out one of these tasty ideas from the blog: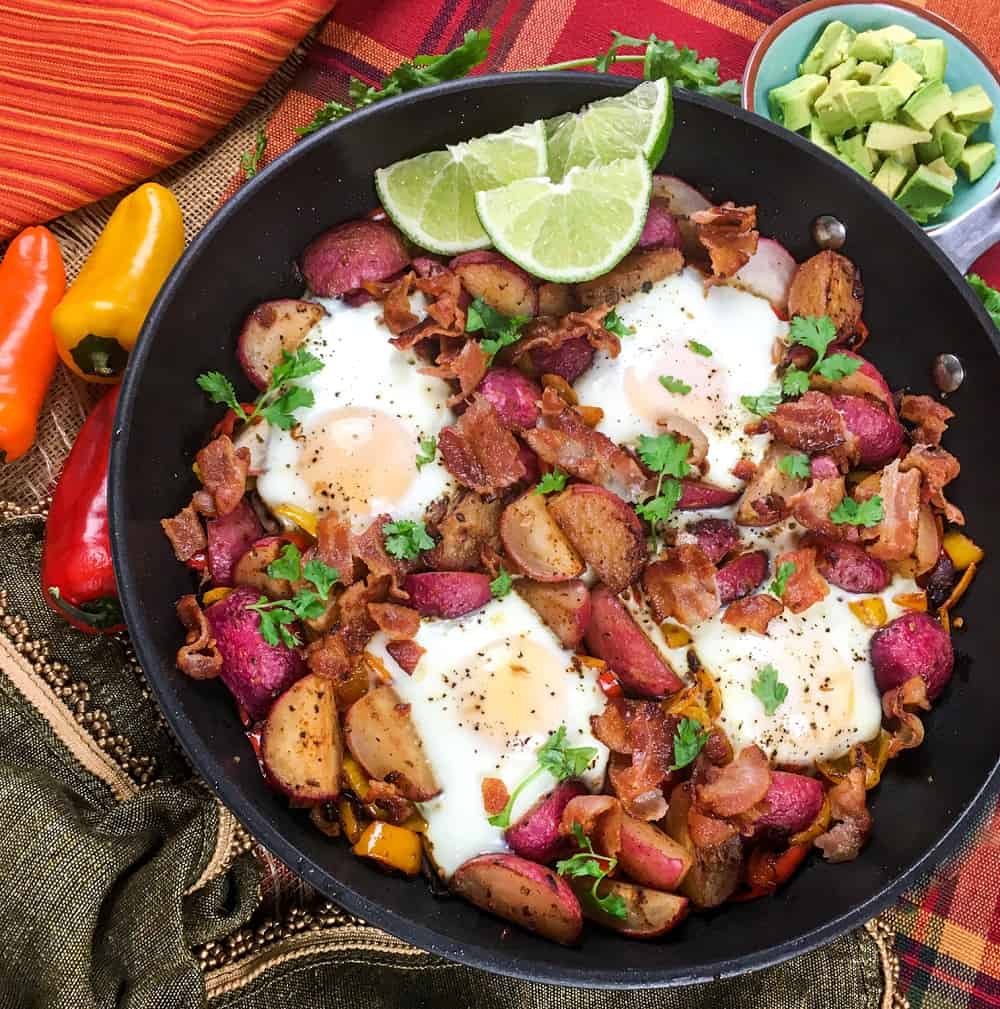 Alright, there you have it! I hope you enjoy this healthy breakfast skillet – if you get a chance to try it, please feel free to leave a comment or recipe rating.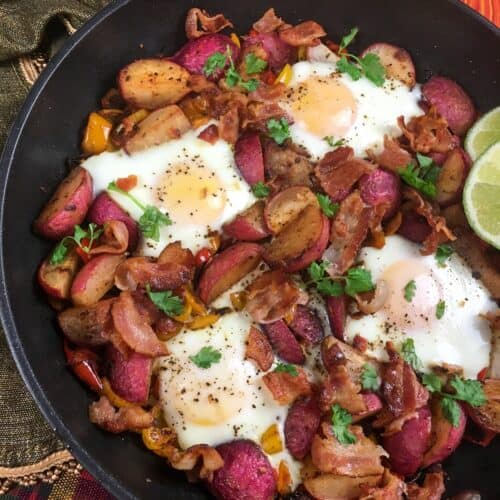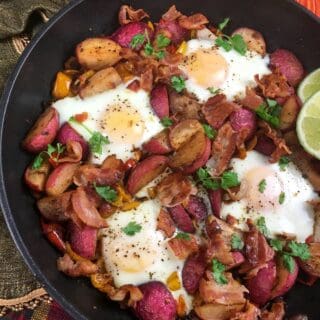 Healthy Breakfast Skillet
Try a new spin on your morning meal with this veggie-packed healthy breakfast skillet.
Ingredients
4

strips

thick-sliced bacon

1

medium red onion, chopped

8

ounces

radishes, rinsed, trimmed, and quartered

1/2

tbsp

olive oil or butter

(if needed)

2

medium bell peppers, chopped

1/2

tsp

ground cumin

1/2

tsp

ground chili powder

1/4

tsp

salt

1/4

tsp

black pepper

4

large eggs

1/4

cup

fresh cilantro, chopped

1

large avocado, chopped
Instructions
In a large skillet, cook the bacon until crisp. Remove the bacon and set aside on a plate, leaving the grease in the skillet. When the bacon is cool, crumble or chop it.

Add the radishes and onion to the skillet with the bacon grease, cooking over medium heat. Cook for about 4 minutes, until the onions start to get soft and the radishes start to develop a little color.

If the pan is getting dry, add the 1/2 tablespoon of butter or olive oil (if there's still enough bacon grease, you can proceed without). Add the peppers to the pan and cook for another 4 minutes.

Stir in the cumin, chili powder, salt, and black pepper. Create 4 wells in the veggies and crack an egg into each. Cover and cook until the eggs are cooked through, about 3 to 5 minutes.

Remove from heat. Top with the crumbled bacon, cilantro, and avocado. Enjoy!
Notes
Nutrition analysis (approximate per serving): 263 calories, 18.5 g fat, 5 g saturated fat, 460 mg sodium, 12.5 g carbohydrate, 6 g fiber, 3.8 g sugar, 12.5 g protein, Vitamin A: 16%, Vitamin C: 106%, Calcium: 6%, Iron: 9%, Potassium: 19%
Nutrition
Share: What's your favorite way to start the day? If you tried this healthy breakfast skillet, what did you think?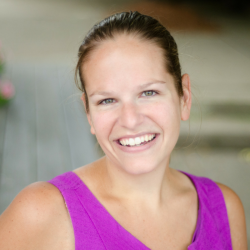 Latest posts by Chrissy Carroll
(see all)