Craving a hot drink to warm you up on a cold winter day? Feeling a little under the weather and want something soothing to sip on? Try this hot watermelon lemonade with honey and cinnamon! It's sure to be your favorite drink this season.
Disclosure: This post was sponsored by the National Watermelon Promotion Board. As always, all opinions are my own.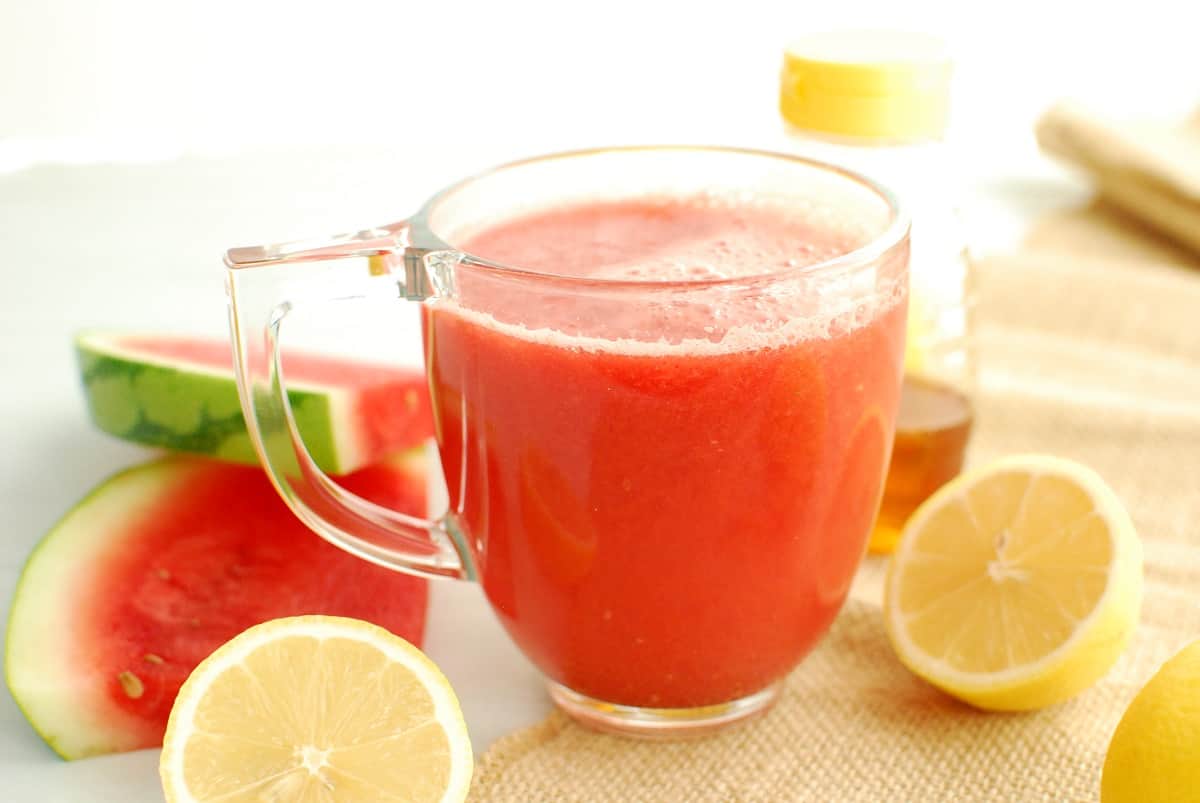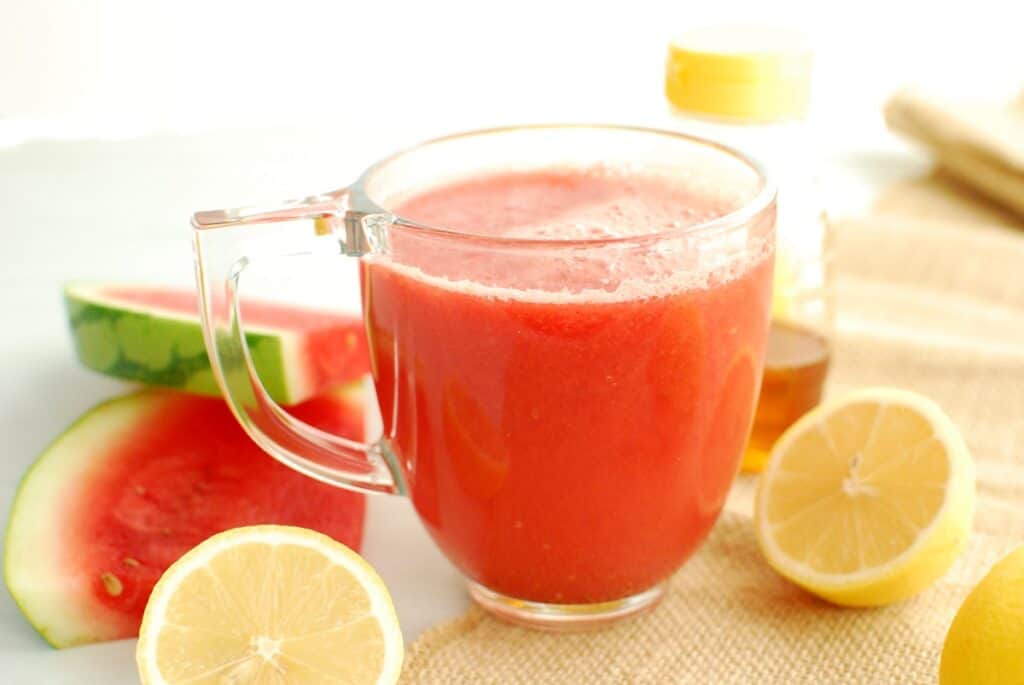 Ingredient Benefits
Here's a photo of everything you'll need to make this recipe – just a few simple ingredients: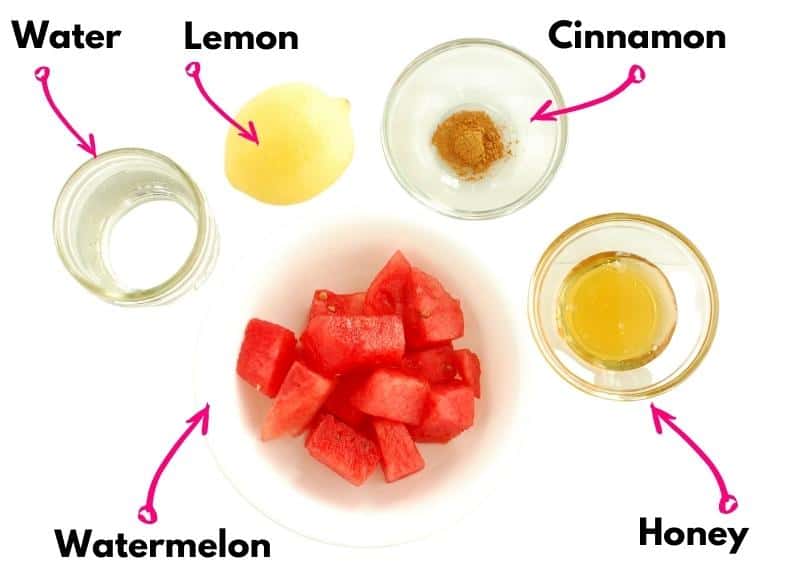 As mentioned, this is a wonderful drink to sip on when you're feeling under the weather (it's that time of year, am I right?!). Remember, there's no food that's going to cure an illness. But this tasty drink may support your body and subjectively help with the way you feel, thanks to its power-packed ingredients and soothing warm temperature.
Let's look at the breakdown of each ingredient:
Watermelon: As an excellent source of Vitamin C, watermelon is a great base for this lemonade. It helps naturally sweeten the drink, and the Vitamin C supports a healthy immune system. In fact, this watermelon lemonade provides 30% of your daily Vitamin C needs. Watermelon is also 92% water, which provides hydrating fluid.
Honey:  A 2018 review concluded that honey probably relieves cough symptoms in children (compared to no treatment or certain medications). In fact, the CDC even states "Use honey to relieve cough for adults and children at least 1 year of age or older."  (Just remember not to serve honey to babies under a year old, as it increase the risk of infant botulism.)
Lemon: Lemon juice contributes some Vitamin C to this drink along with the watermelon, and adds that classic tartness to this drink.
Water:  Staying hydrated is important all the time, and especially if you're feeling under the weather. Plus, the act of heating up the drink is beneficial. For example, a 2008 study found that hot liquids improved subjective measures of nasal airflow, and provided temporary relief from more common cold symptoms compared to room temperature liquids.  And the CDC recommends warm beverages when dealing with a sore throat.
Cinnamon: During the winter, is there anything better than a little hint of this aromatic spice?! There's nothing magical about the cinnamon in this drink, but it does boost the flavor profile.
Instructions
This single-serving recipe couldn't be easier to make. You'll find full ingredient amounts and instructions in the recipe card below, but here's a helpful overview with photos.
Start by placing your chopped watermelon in a blender cup (or regular blender). Turn it on and blend for about 30 seconds, or until the watermelon is juiced.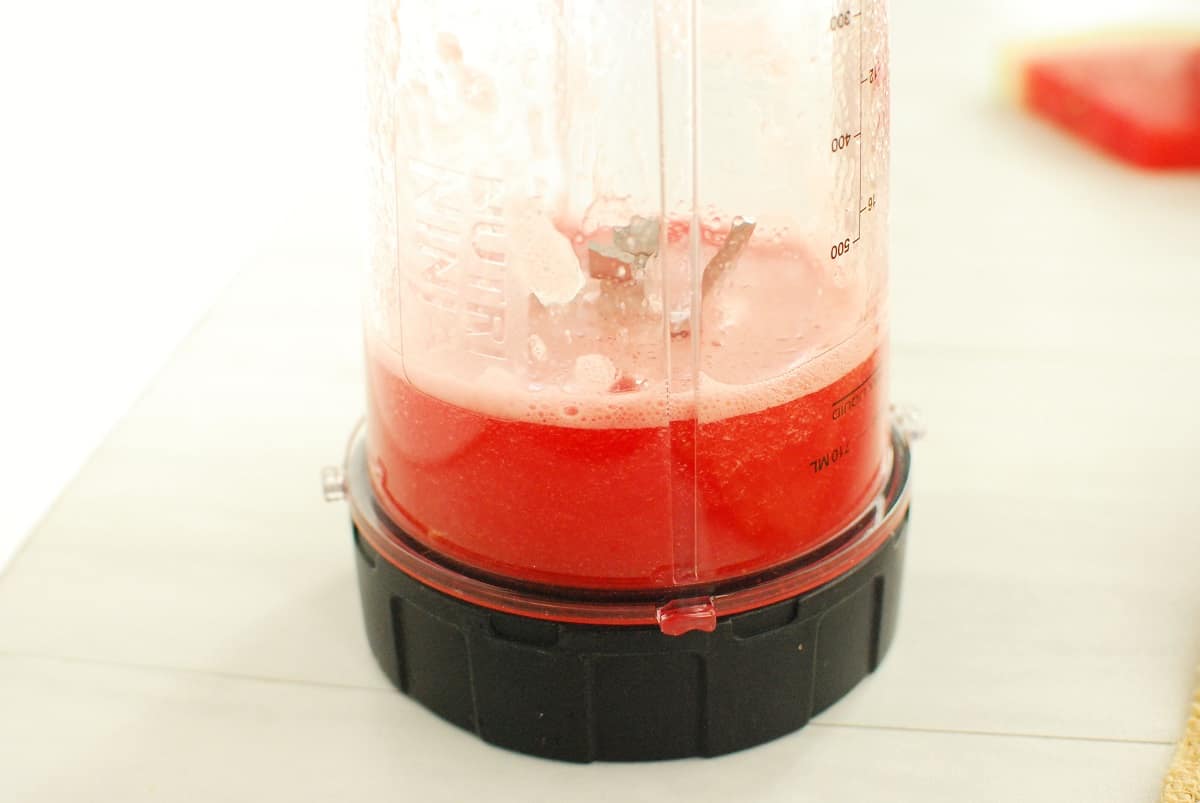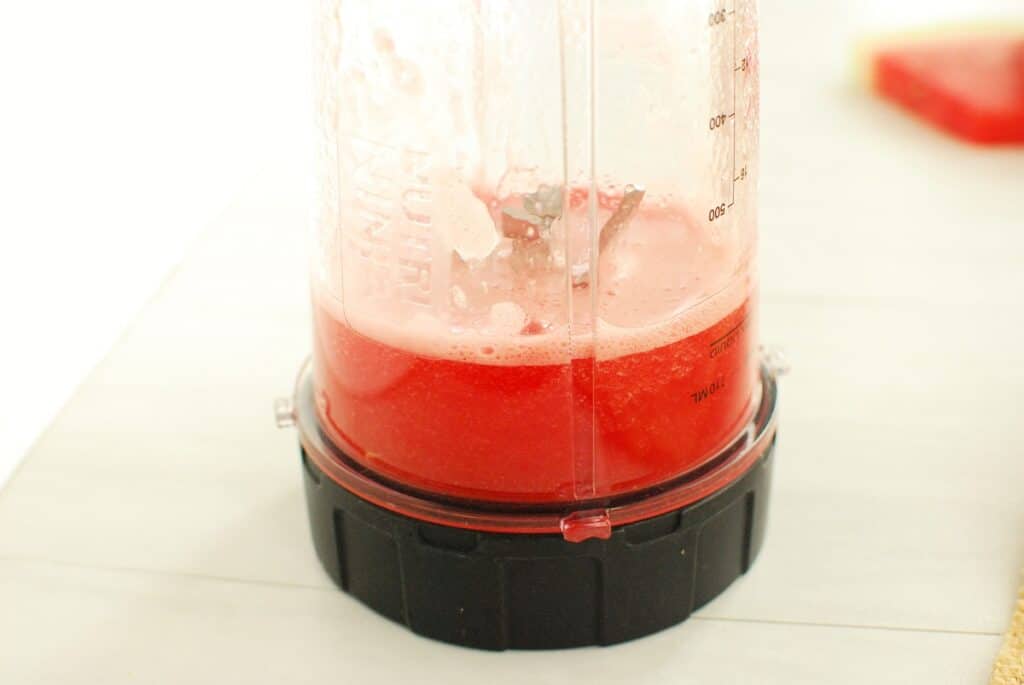 Pour that in a mug and set it aside.
Next, take your water, lemon juice, honey, and cinnamon, and combine it all in a small pot. (Yes, the cinnamon gives it a brown color initially – it looks weird but don't worry about it!)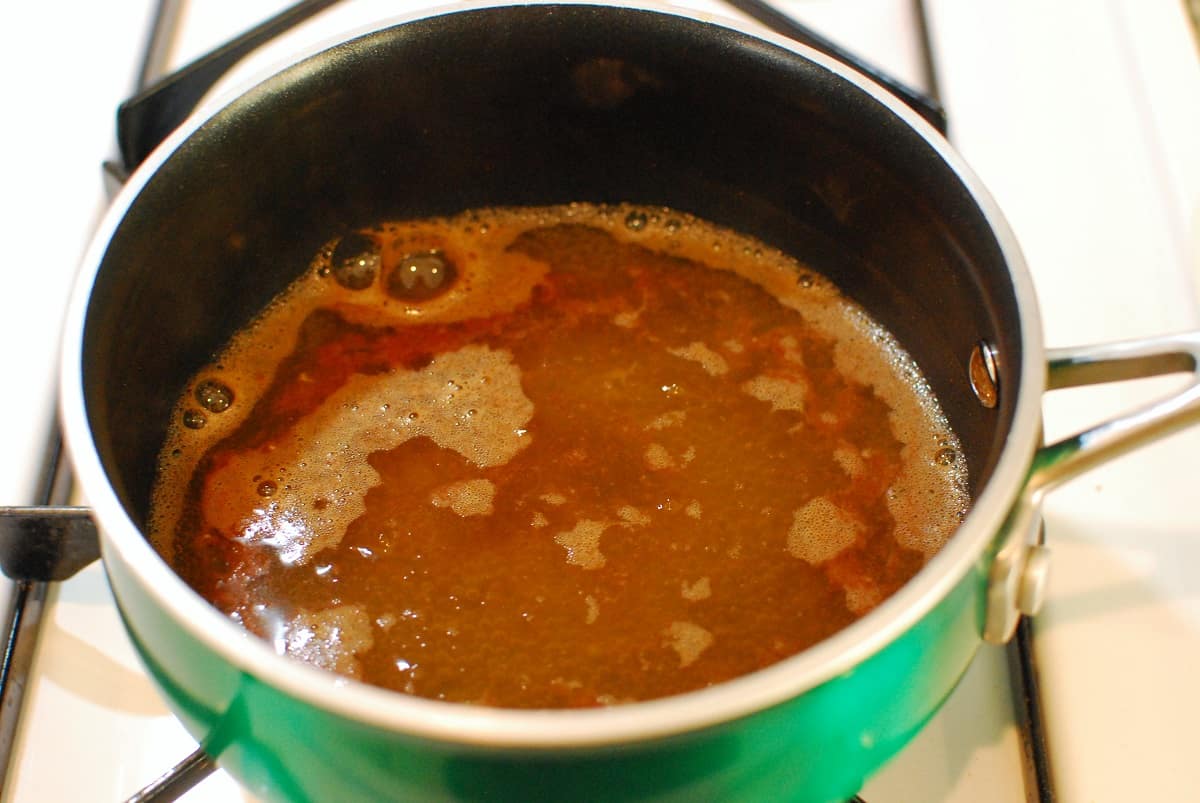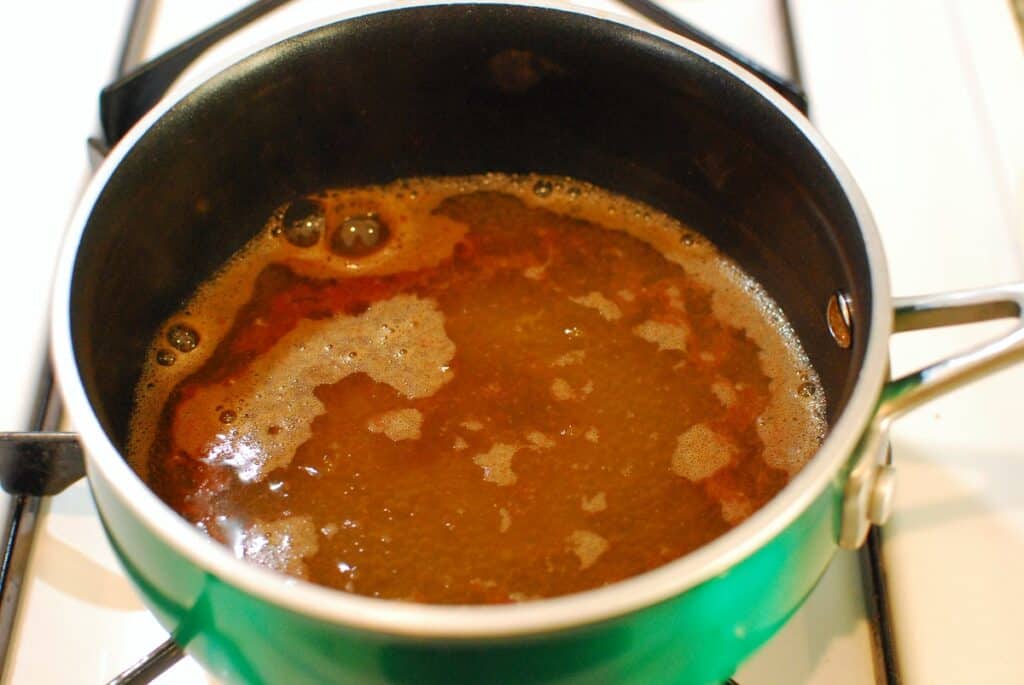 Bring that to a boil and then pour it into your mug with the watermelon juice.
That's it! Easy peasy.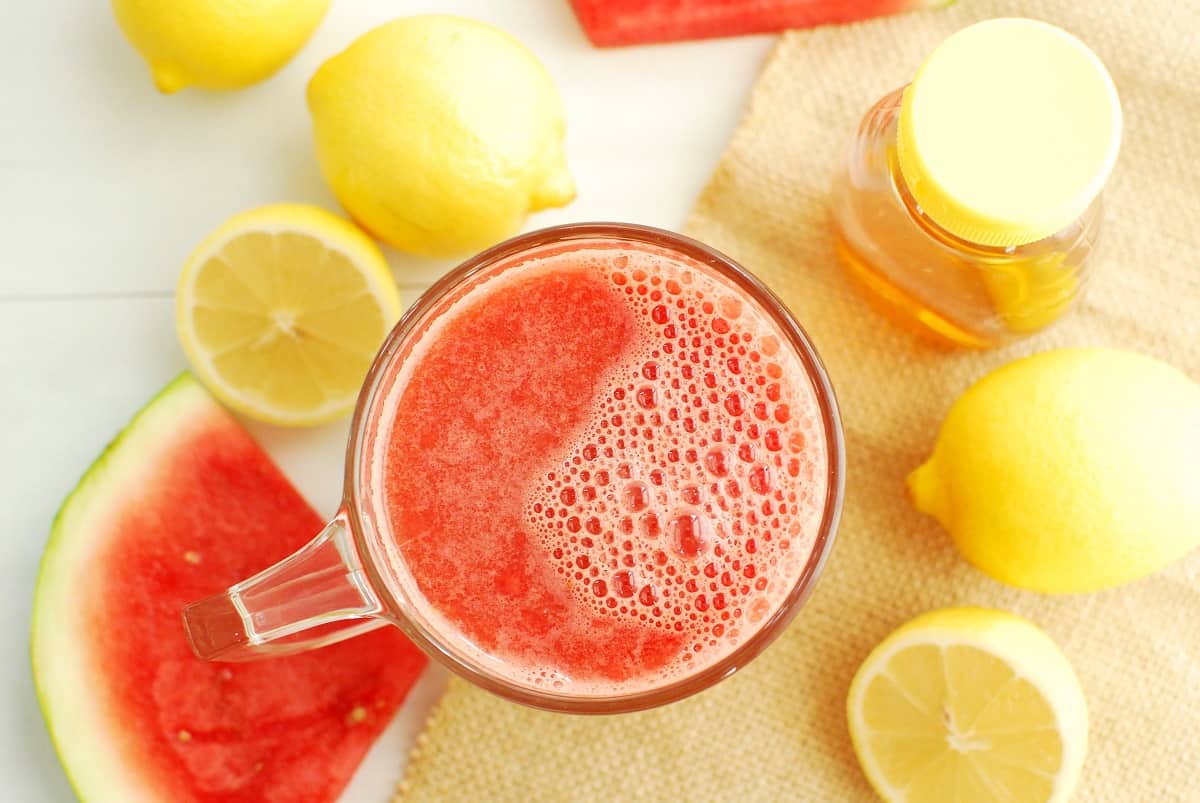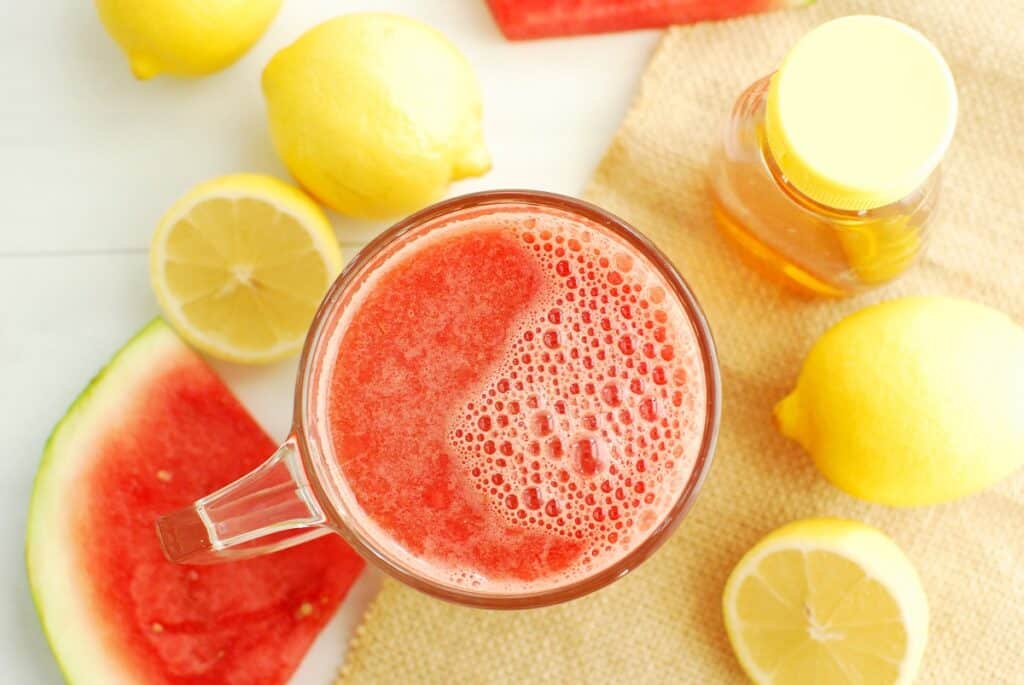 Recipe FAQ
Here are some common questions that may arise as you prepare this recipe:
Can you serve this lemonade recipe cold?
Sure! Feel free to make it as directed but serve over ice to cool it down.
Is there a substitute for honey in lemonade?
Honey is a key ingredient in hot lemonade and offers a few benefits compared to refined sugar, particularly when you're not feeling great. However, if you don't have any on hand, you can easily substitute granulated sugar or pure maple syrup in this recipe.
Can you spike hot lemonade?
Yes! If you'd like to spike this drink, try adding an ounce of dark rum or whisky.
This lemonade is tart – how do you sweeten it more?
If you prefer a sweeter drink, feel free to stir in an extra teaspoon of honey.
More Watermelon Recipes
Once you've cut up that watermelon for you drink, you'll have plenty more to snack on – or make one of these tasty recipes.
I hope you enjoy this easy warm watermelon lemonade recipe! If you get a chance to try it, feel free to leave a recipe rating or comment below.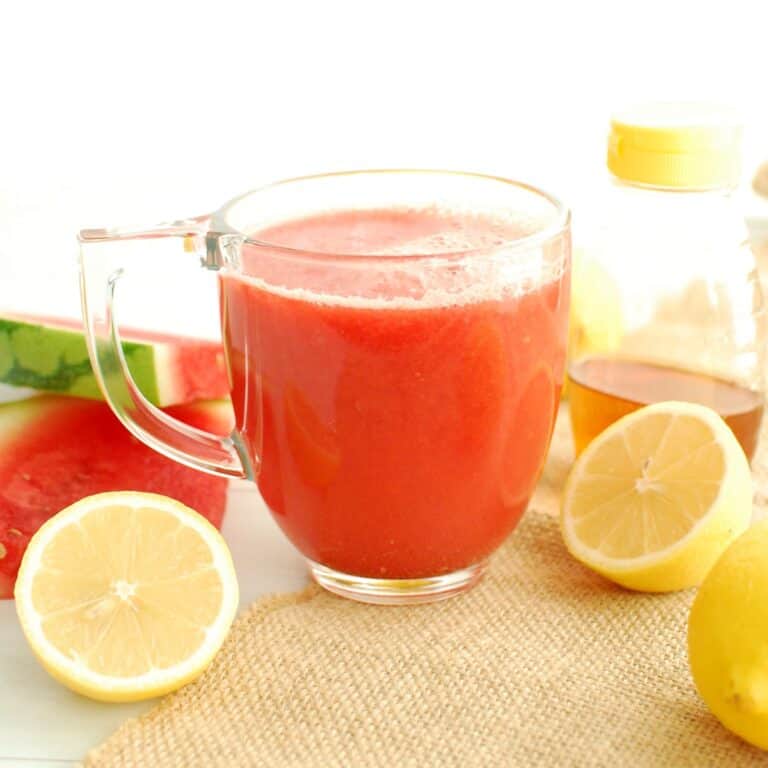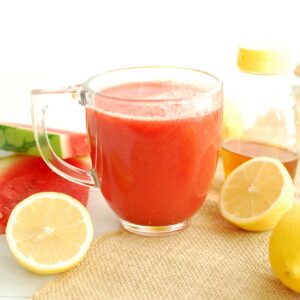 Hot Watermelon Lemonade with Honey and Cinnamon
This hot watermelon lemonade is filled with soothing ingredients that are perfect for a chilly day or when you're feeling under the weather.
Ingredients
1

cup

chopped watermelon

⅔

cup

water

1

lemon, juiced

1

tbsp

honey

½

tsp

cinnamon
Instructions
Place the watermelon in a blender cup or regular blender. Blend for about 30 seconds, until the watermelon is juiced and smooth. Pour into a mug and set aside for now.

In a small pot, combine the water, lemon juice, honey, and cinnamon. Bring to a boil, then remove from heat and pour into the mug.

Let cool a few minutes until the lemonade is at a comfortable temperature to sip on. Enjoy!
Notes
If you'd like a perfectly smooth texture to your lemonade, you can strain the watermelon juice through a fine mesh sieve. I do not find this necessary, but feel free to do so if it suits your textural preferences.
Nutrition analysis (approximate): 106 calories, 0.5 g fat, 0 g saturated fat, 3 mg sodium, 28.5 g carbohydrate, 1 g fiber, 24.5 g sugar, 1 g protein, Vitamin D: 0%, Calcium: 1%, Iron: 2%, Potassium: 4%, Vitamin C: 30%, Vitamin A: 19%
Nutrition
Share: What's your favorite way to enjoy watermelon? If you tried this recipe, what did you think?
PS – Feel free to pin this post to share with others!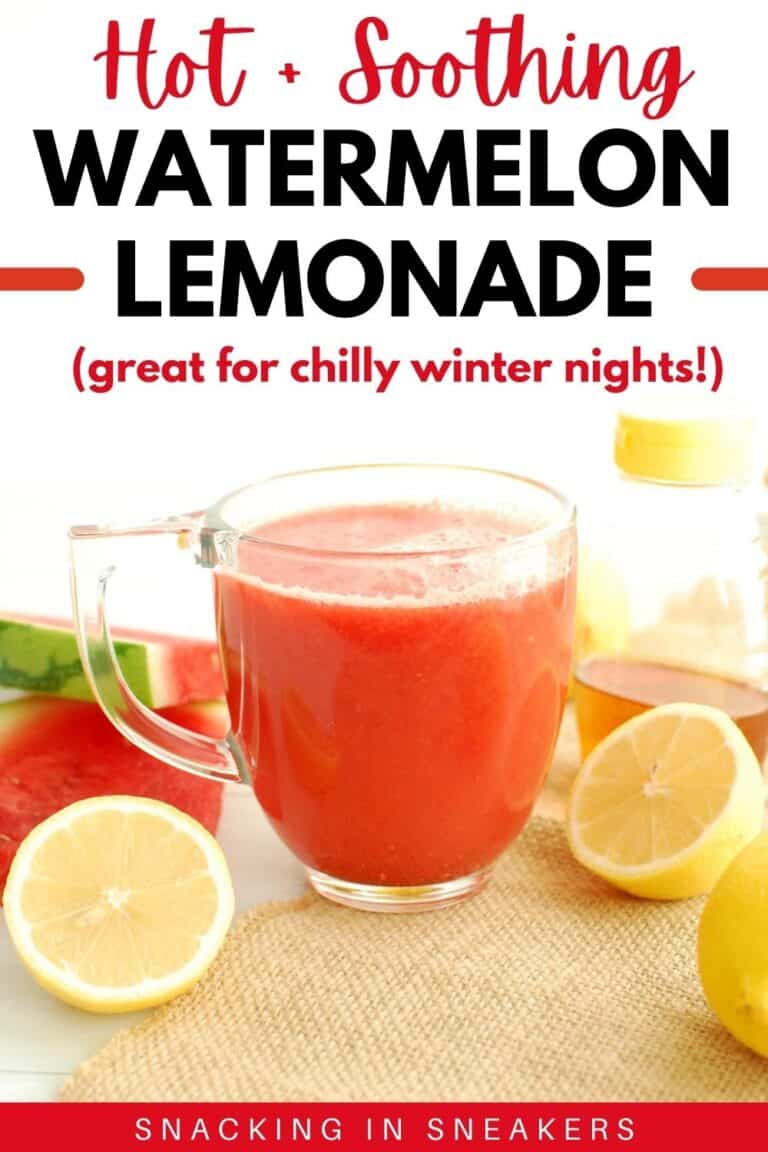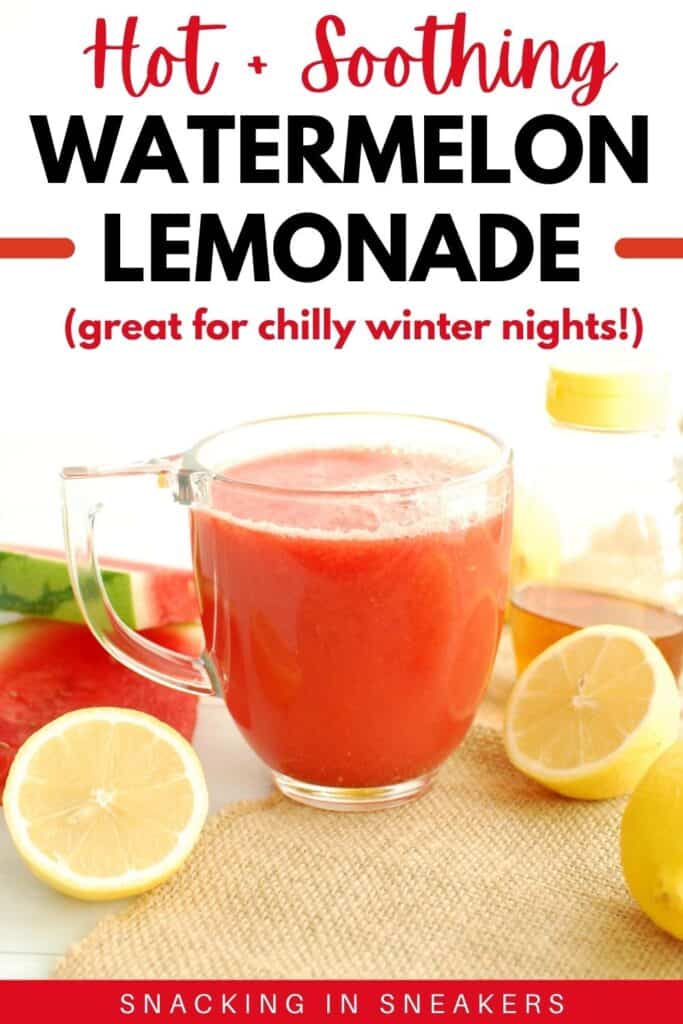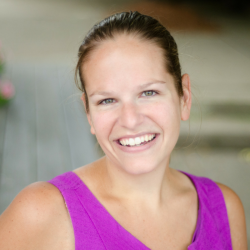 Latest posts by Chrissy Carroll
(see all)