This coconut curry shrimp ramen bowl is the ultimate comfort food!
Ramen – the quintessential college food. Ironically, I was actually never a big ramen person while I was in college. Boston University had a pretty impressive dining hall selection, as well as student center where I could use my dining points on things like D'Angelos and Starbucks. And some place that made these reallllly good honey wheat bagels that I ate far too many of. There were a lot of tasty options so I never had to resort to the 10 cent packages of ramen out of necessity like some other college students.
That said, there is some delicious flavor in those bad boys! But the nutrition profile – namely sodium – leaves quite a bit to be desired. In fact, one full block of ramen packs in about 1600 mg of sodium, which is almost a whole day's worth. And a block of noodles isn't always super satisfying with the lack of veggies and protein.
So today, I've created an upscale coconut curry shrimp ramen bowl to knock your socks off. The dish is packed with flavor and just screams cool weather comfort food. Yet it still clocks in at under 450 calories per serving, includes 19 grams of protein, and is lower in sodium (under 650 mg per serving – considerably better than 1600!).
[Tweet "A better for you ramen?! Yes, please! Check out this coconut curry shrimp ramen!"]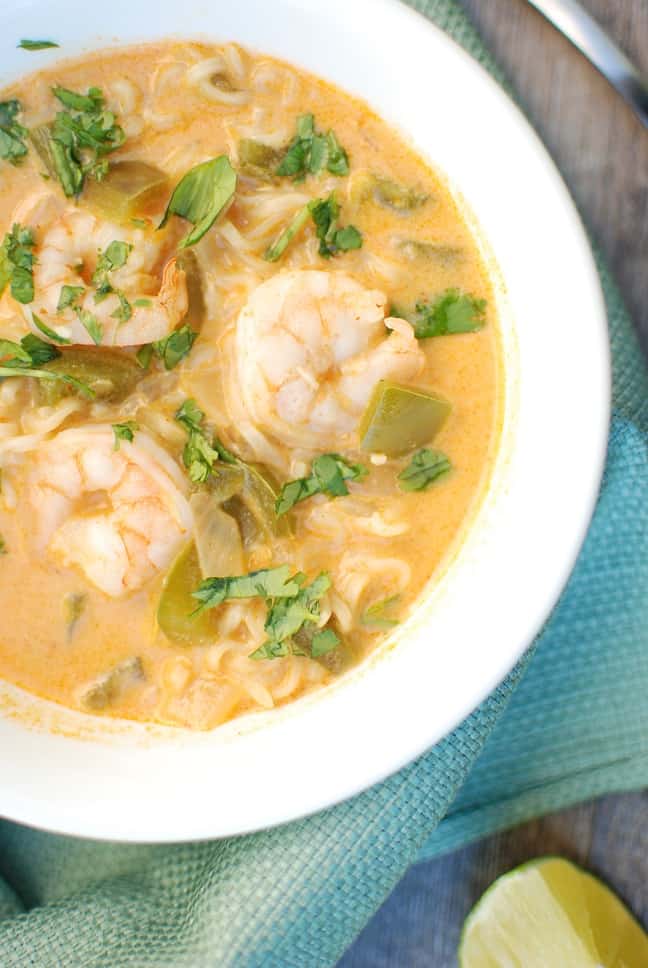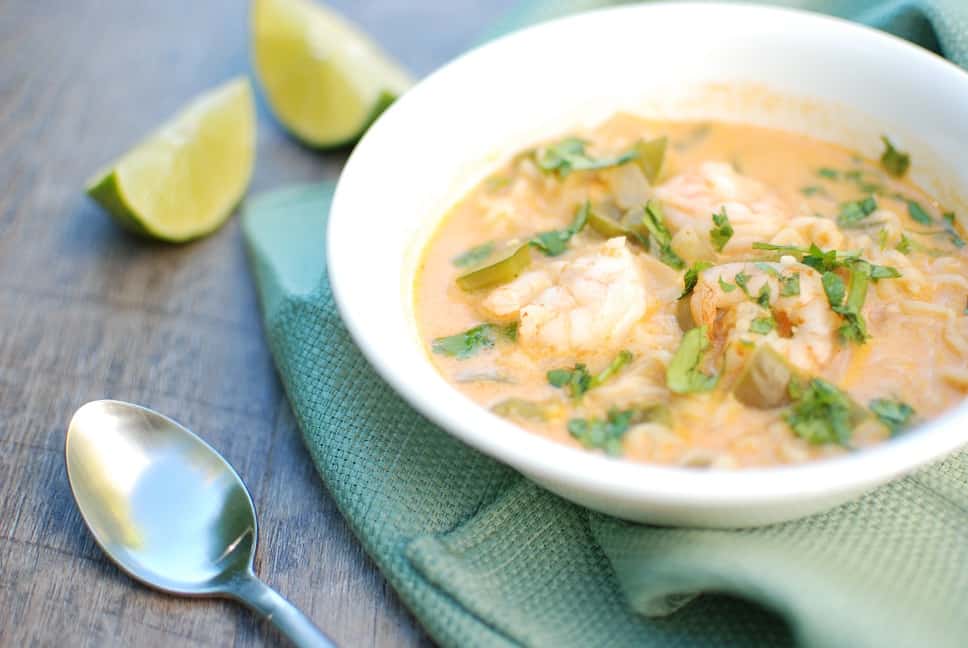 It's relatively simple to make and comes together in under 30 minutes. I did use the package of ramen noodles themselves in this recipe (but got rid of the flavor packets where almost all the sodium comes from). While these noodles aren't super healthy –they're typically fried in oil – we only use 1 block split among multiple servings so I didn't mind using them in that case. If you'd rather not, you could easily substitute some rice noodles in this soup instead.
This coconut curry shrimp ramen bowl has got to be one of my very favorite recipes to date. Especially since we've had some chilly weather the last two weekends. Curling up to a bowl of this while snuggled under a blanket is just divine. I mean, just look at these pictures…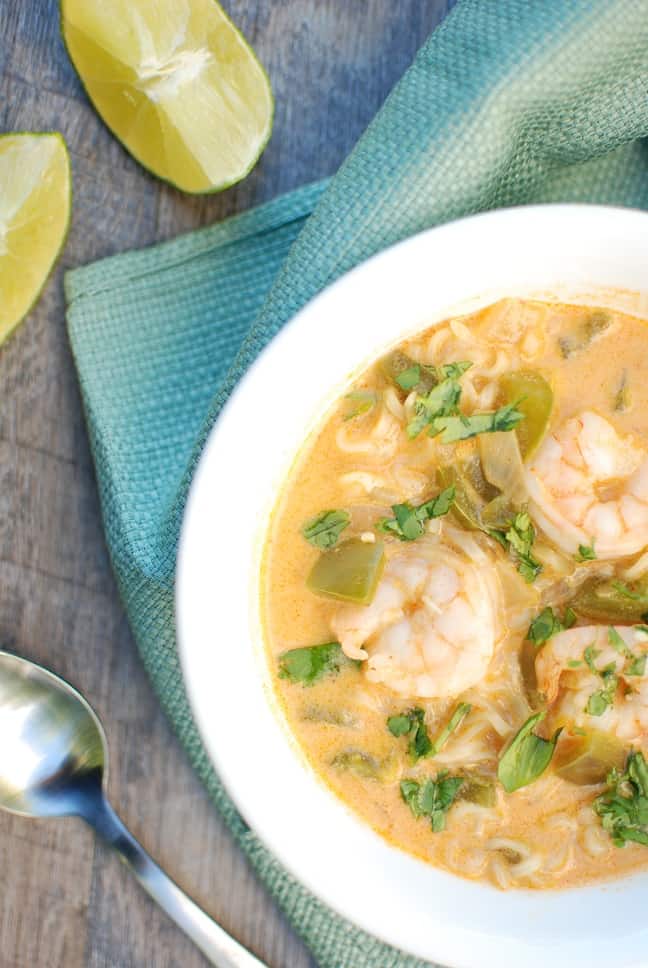 And this dish was a winner with the whole family. If you are making it for kiddos, you can veer on the lower end of the curry paste for less spice; if it's just for the adults you can pump it up with a bit more.
I hope you'll give this shrimp ramen bowl a try asap, and be sure to come back here and let me know what you think.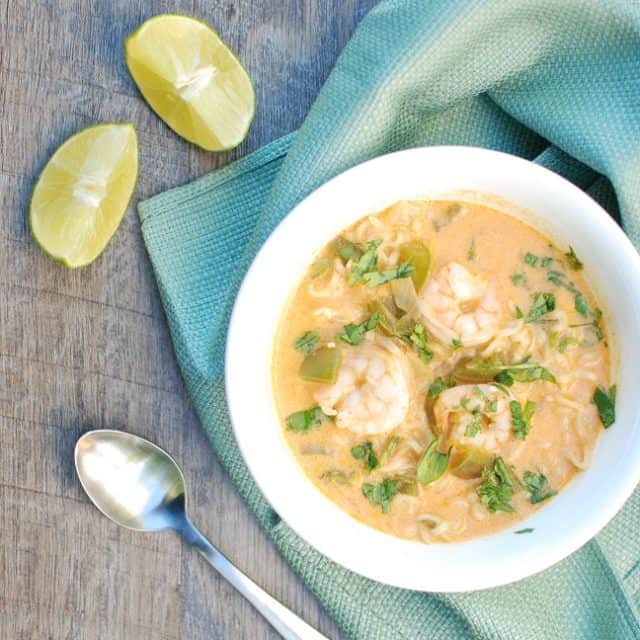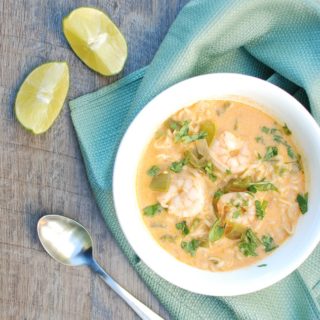 Coconut Curry Shrimp Ramen Bowl
Looking for a healthier - but flavor-packed - take on ramen? Try this coconut curry shrimp ramen bowl!
Ingredients
1

tbsp

olive oil

1

onion, diced

1

bell pepper, diced

2

cloves

garlic, minced

1.5 to 2

tbsp

red curry paste

(depending on level of spice you prefer)

2

cups

lower sodium chicken broth

15

oz

can coconut milk

1

pound

large shrimp, peeled and deveined

1

package ramen noodles

(flavor packets discarded)

½

lime

¼

cup

chopped cilantro
Instructions
Heat olive oil in stock pot. Add onion and bell pepper and cook for approximately 5-7 minutes, until softened.

Stir in garlic and cook for another minute.

Add red curry paste. Cook for 1-2 minutes, stirring frequently, until it becomes fragrant.

Add chicken stock and coconut milk. Simmer for 5 minutes.

Add shrimp to the pot. After 3-4 minutes, add the ramen noodles to the pot as well (just the noodles – toss the flavor packets). Cook for an additional 3-5 minutes, until shrimp is opaque and ramen noodles are soft.

Add the juice from ½ of a lime to the pot and garnish with cilantro.
Notes
Nutrition facts (approximate per serving; assumes 4 servings):
481 calories, 29 g fat, 20 g sat fat, 694 mg sodium, 25 g carbohydrate, 2 g fiber, 4 g sugar, 30 g protein, Vitamin A: 14%, Vitamin C: 70%, Calcium: 10%, Iron: 43%
Nutrition
Share with me: Were you a big fan of ramen in college? Do you ever make ramen bowls like this at home? What did you think of this coconut curry shrimp ramen?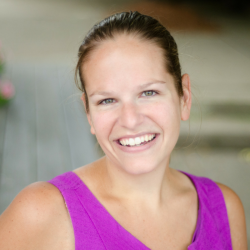 Latest posts by Chrissy Carroll
(see all)