The fall season is all about sweaters, cooler nights, and of course – eating soup! Soups are filling, cozy, and perfect for cooler fall and winter nights. Today I've rounded up 10 delicious fall soup recipes for you to add to your meal plan.
One of the best things about soup is that it forces you to slow down. These days, we're all rushing from one thing to the next, and that includes scarfing down meals quickly. Unfortunately, that's not ideal for your body. You want to savor the meal you're eating (because it will taste delicious!) and also honor your body's hunger/fullness cues. Because it's hard to chug down soup quickly, you're forced to slow down and relax while eating it – which is great!
Since fall is the perfect time to gather your soup recipe list, here are a few great recipes that will keep you warm during the cool nights both now and throughout winter.
10 Delicious Fall Soup Recipes
Maybe I'll finally get over my fear of the instant pot and make this recipe in it…or, let's be real, maybe I'll just follow the stove top directions. 😉 This recipe is full of healthy ingredients like tomatoes, lentils, and sweet potatoes, and is both gluten free and vegan for anyone whose got specific dietary needs.
Do any of you buy celery with the intention of snacking on it, but then you forget about it for a while? (No? Just me?). This is a great way to use up extra celery that you've got sitting around. This recipe is also vegan friendly and takes less than 30 minutes.
With the perfect blend of sweetness thanks to the pumpkin, apple, and coconut milk – this quick and easy recipe is a great way to warm up during the fall. It's also a healthy soup recipe that fuels your body with nutritious ingredients.
Turkey pot pie is often a favorite for many during the colder winter months, but have you ever tried it as a soup? This delicious recipe combines all of your favorite flavors in soup form, and you can top it off with biscuits for the full pot-pie-esque experience.
If you're looking for a great way to use that leftover turkey, this easy turkey noodle soup may be the perfect way to do so. Keep this on hand for when you've got Thanksgiving or Christmas leftovers. I love that this recipe comes together in just 30 minutes.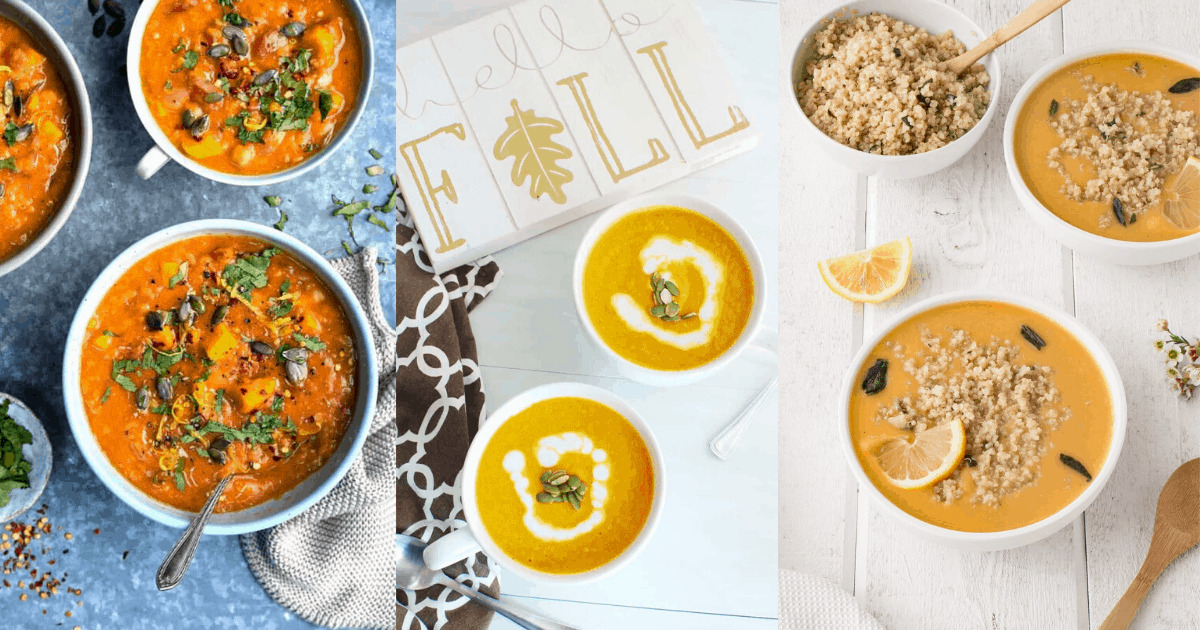 Made with just 5 ingredients, this roasted cauliflower soup is tasty. Roasting any vegetable helps caramelize their natural sugars and bring out their sweetness, which makes for amazing flavor as a side dish or when blended into a soup.
We're always looking for new recipe ideas to try and I can't wait to test out this orzo and tomato soup. I love that it also has chickpeas in it to boost the fiber and protein content.
You don't normally see sausage in a cabbage soup, but with this recipe the two come together to make a delicious soup that can be enjoyed throughout the fall. Plus, I love that this is a budget-friendly recipe as both of these key ingredients are typically inexpensive.
Caramelized onions, cheese, toasted baguette slices…what could be better?! Seriously, french onion soup is my favorite soup to order when out at a restaurant – but I also love making it at home from time to time too.
You've gotta have a butternut squash soup recipe on hand for the fall! This version has a silky base topped with an herby quinoa mixture to add a little texture. You can make it on either the stovetop or in the instant pot.
Share: What's your favorite fall soup recipe? If you tried one of the options above, what did you think?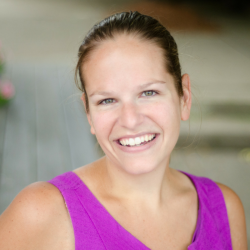 Latest posts by Chrissy Carroll
(see all)