Slow cooker Cuban shredded beef – also known as ropa vieja – is an inexpensive, hearty dish that the whole family will love.
Disclosure: This post is sponsored by The Beef Checkoff. As always, all opinions are my own.
The term ropa vieja literally means "old clothes", affectionately given to this meal since the shredded beef and vegetables slightly resemble a tattered pile of rags. I know – not the most appetizing name given to a recipe, but the taste and yield make up for it. 😉
One of my favorite things about this dish is that it's made in the slow cooker. There's nothing like having a warm, hot meal ready for you when you walk in the house at dinnertime. (Especially up here in the Northeast when winter seems to drag on forever, and it's cold and dark come dinner time!)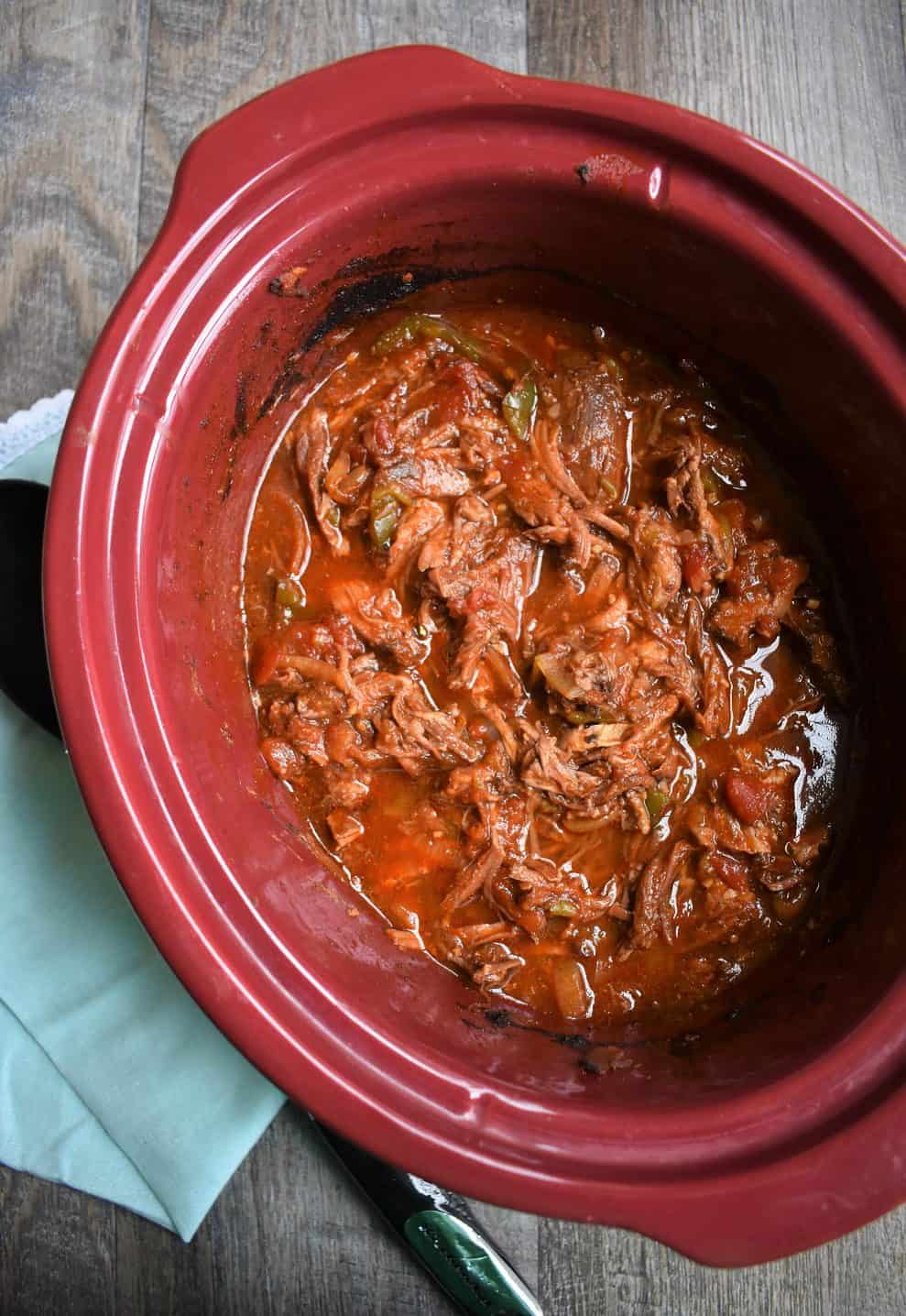 Plus, this Cuban shredded beef fits perfectly with the National Nutrition Month theme of "Go Further with Food". Here's why it stands out:
Nutritionally, you'll get high quality protein and iron from the beef, along with Vitamin C and lycopene in the tomatoes. Combine your ropa vieja with a good source of healthy carbs and you've got a great recovery meal after a workout.
It's pretty minimal as far as ingredients go, relying on pantry staples like canned tomato products, and common on-hand fridge items like onions and bell pepper.
You don't have to purchase any fancy or uncommon ingredients for this recipe. That means no food waste from random, half-used ingredients hanging around your kitchen.
This recipe uses chuck roast – an inexpensive cut of meat that helps you stretch your food budget further. Though traditional Cuban shredded beef uses flank steak, we're mixing it up here to give you an ideal, budget-friendly choice for the slow cooker.
You'll get about 8-10 servings from this dish, depending on the size of the chuck roast used – talk about great yield from a recipe! Eat it up with your family that night, then freeze the remaining beef in freezer-safe bags or containers. That way, you can pull it out on a night you don't feel like cooking. Bam – dinner for another night and no food waste!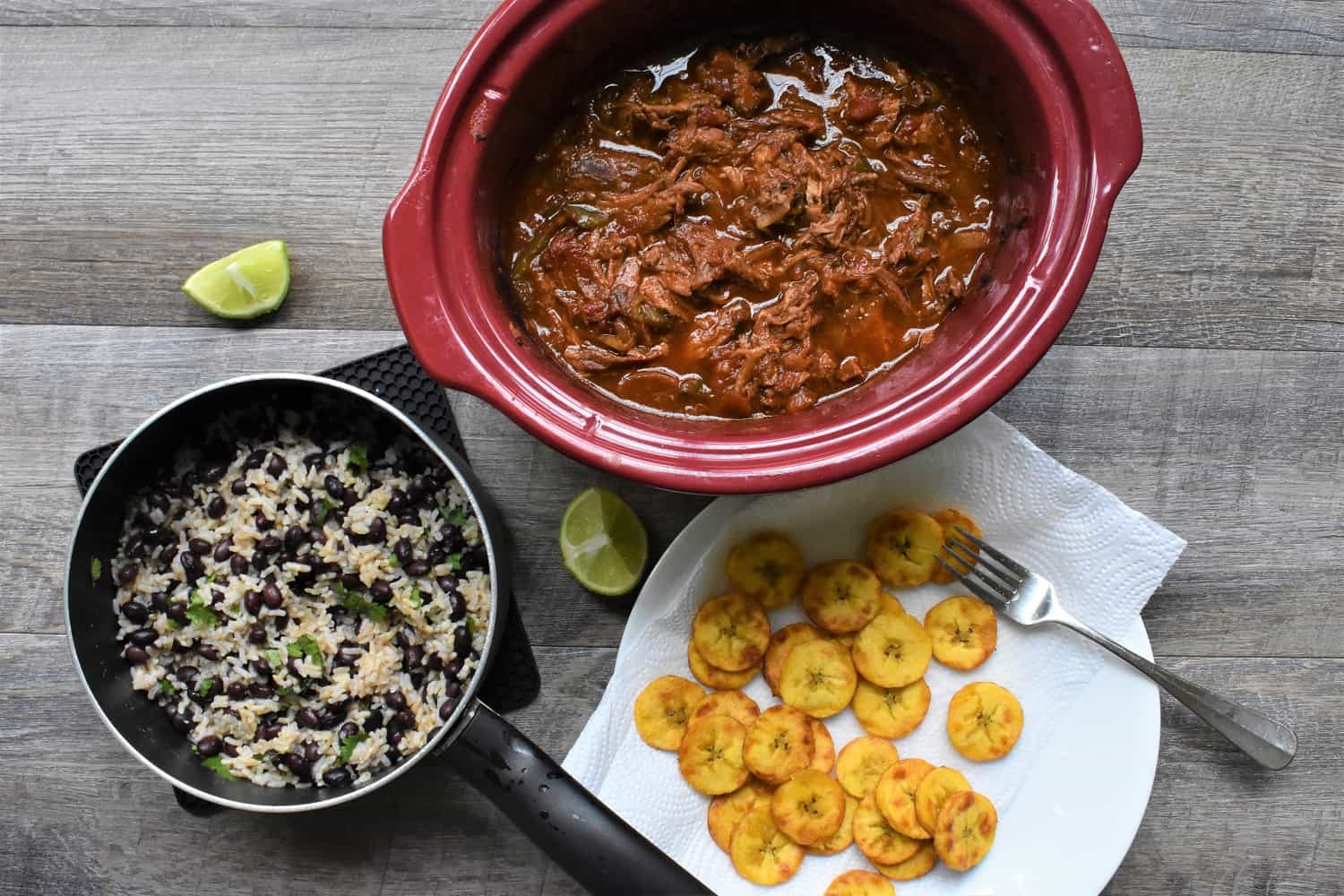 Once you've made the basic recipe, you can use the meat in a variety of ways. Probably the most traditional is served alongside rice and beans. I love it served this way, especially after a long workout. You've got your protein from the meat, and lots of healthy carbs in the rice and beans.
[Tweet "Slow cooker cuban shredded beef + rice, beans, + plantains = ultimate post-run meal!"]
If you use instant brown rice and canned beans, this only takes a few extra minutes too. Make the instant brown rice according to package directions, and stir in a small handful of cilantro, the juice from one lime, and the can of black beans. Then just add the meat on top of the rice!
If you've got a few extra minutes to spend in the kitchen, I also love adding some fried plantains to the bowl. To make these, just heat some oil of your choice and add a sliced plantain to the pan. Cook for a few minutes on each side (you want them to be yellow with spots of golden brown on each side). Remove from the oil and toss with a little salt. They make a perfect accompaniment to create a more complex flavor profile in the dish!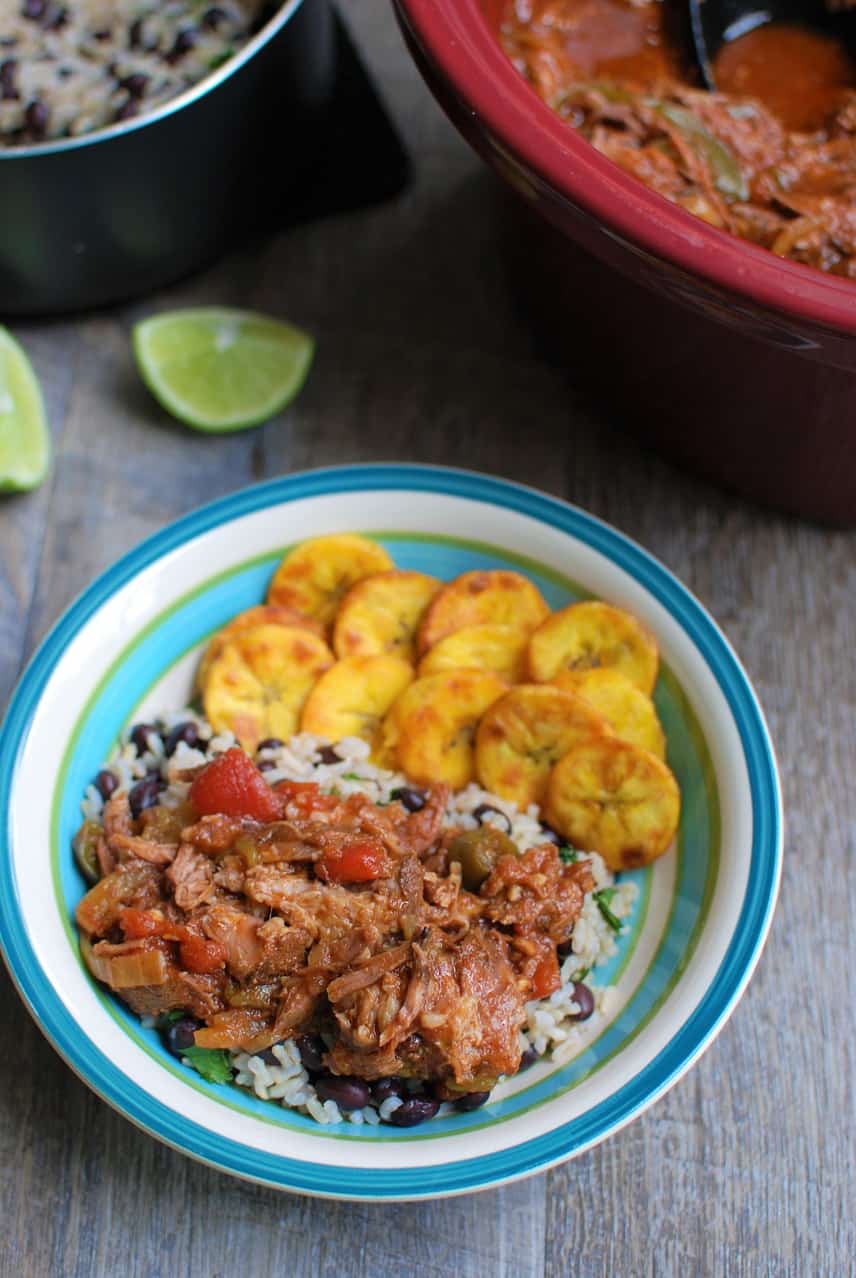 Of course, there are plenty of other ways you can serve your Cuban shredded beef too:
Instead of serving it over rice, try it with other grains like quinoa.
Add it to tortilla chips along with a bunch of different vegetables and some cheese for loaded nachos.
Use it as a substitute for other meats in a taco or burrito recipe.
Add the shredded beef to a broth-based stew with potatoes and carrots.
Serve it over mangu (boiled mashed plantains).
Now grab your slow cooker, get to cooking, and be sure to let me know how you like it in the comments.
PS – If you haven't yet entered the giveaway to score an amazing prize pack (which includes an Omaha steaks gift card), be sure to head over here and enter today.
PPS – You can join me on Facebook this Friday, 3/16 at 9:30AM – I'll be going LIVE showing you just how easy it is to make this dish and sharing some beef nutrition facts!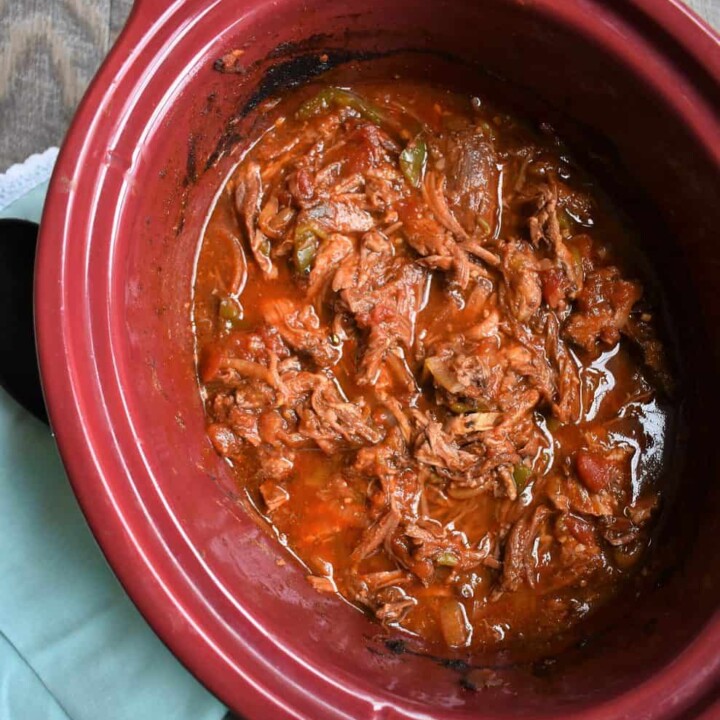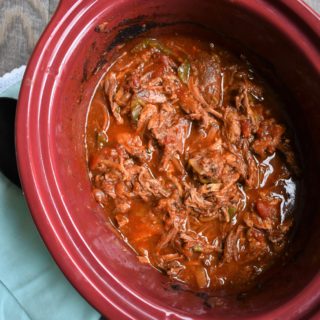 Cuban Shredded Beef (Ropa Vieja)
Slow cooker Cuban shredded beef – also known as ropa vieja – is an inexpensive, hearty dish that the whole family will love.
Ingredients
2 to 2.5

lb

chuck roast

1

small onion

sliced

1

bell pepper

sliced

4.5

oz

can green chiles

2

tsp

minced garlic

8

oz

can tomato sauce

1/3

cup

tomato paste

(about half a can)

15

oz

can diced tomatoes

(no added salt)

1

tbsp

apple cider vinegar

1

tbsp

cumin

1

tsp

salt
Instructions
Place everything in the crockpot. Cook on low for 7-9 hours.

Shred meat with a fork and place back in the sauce. Let sit for about 15 minutes – then enjoy however you like!
Notes
Notes:
This is dairy-free and soy-free (great for MSPI moms). It is also paleo-friendly and Whole-30 friendly if served without the rice/beans. You can serve it instead with just fried or mashed plantains.
Nutrition analysis (approximate per serving):
284 calories, 18.5 g fat, 7.5 g sat fat, 0 g trans fat, 67 mg cholesterol, 456 mg sodium, 7.5 g carbohydrate, 1.5 g fiber, 4 g sugar, 21.5 g protein, Vitamin A: 7%, Vitamin C: 36%, Calcium: 5%, Iron: 17%
Nutrition
Share with me: What's your favorite budget-friendly meal to make with chuck roast? Have you ever had ropa vieja before? What would be your favorite way to serve slow cooker Cuban shredded beef?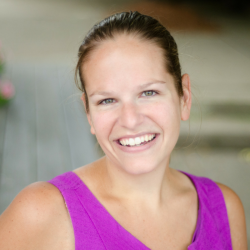 Latest posts by Chrissy Carroll
(see all)