If fall is your favorite season, than look no further for an appropriate fall themed workout to challenge you!  I put this fall circuit workout together for a group the other day and we had a lot of fun with it.  It's challenging but you can easily modify it as needed to fit your needs.
You'll want to start with a 5 minute warm up of your choice, which can be something simple like a quick walk or a comfortable jog, or hopping on the elliptical if you're indoors at the gym.  You'll then do each exercise listed as many times as you can in 60 seconds, followed by about 20-30 seconds of rest before moving onto the next exercise.  Once you get through all 7 exercises, repeat the circuit once more.  This will be about a 25 minute workout including the warm up.  If you want a longer workout, add in a third round.
The only piece of equipment you'll need for this is a resistance band, and a set of cones if you have them.  If you don't have a set of cones, that's no problem – you can create a course for a cone weave using whatever you have lying around (pillows, boxes, cans, etc).
Here you go! (be sure to read below the image for links to "how-tos" for each exercise  and modification suggestions for each):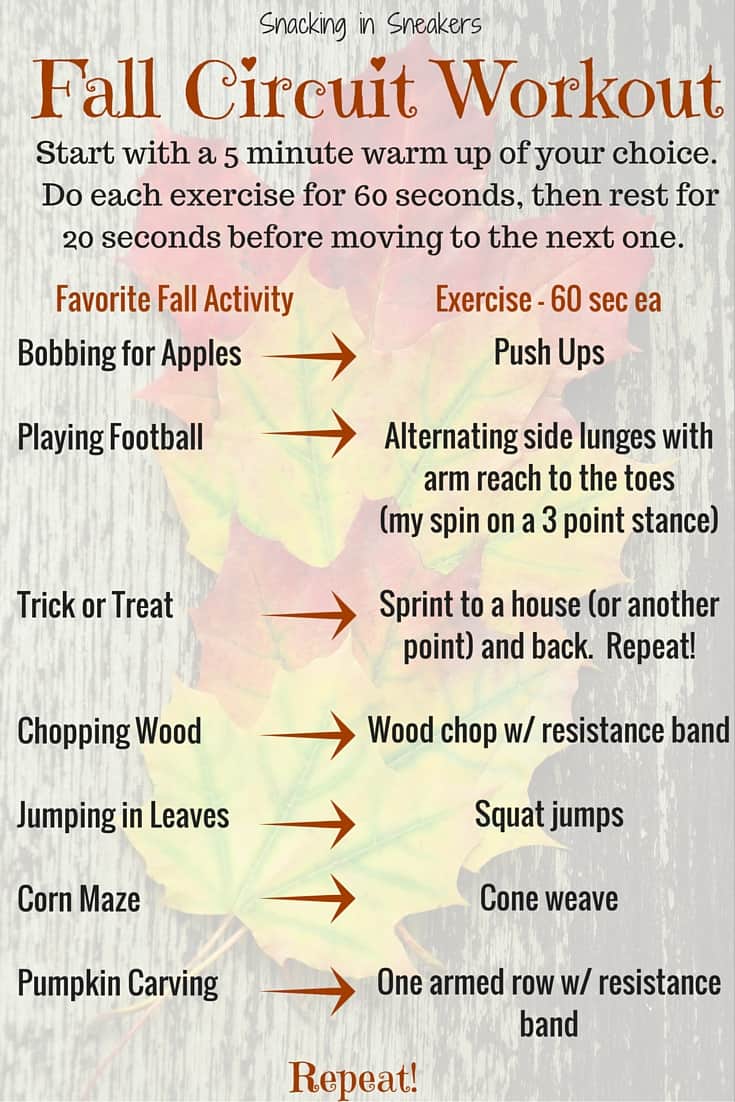 If you're not sure about how to do specific exercises, here are some images or videos of each to help you out:
Sprinting (no image for this one, just run!)
Wood Chop – High to Low or Low to High
Cone Weave – Set up 6-8 cones in a row, each fairly close together (maybe 2-3 feet in between).   Move as quickly as you can weaving between the cones.  When you reach the end jog forward about 20 feet then jog back to the start and repeat.  (In the third image on this page, you're aiming for the set up on the left of that picture).
Exercise Specific Modifications:
Push-Ups – Modified on knees or against a wall/tree
Alternating Side Lunges – Don't bring arm towards the ground; Don't lunge as deep
Sprinting – Jog or Fast Walk
Wood Chop – Can choose from low to high OR high to low; Use easier resistance band
Squat Jumps – Squat halfway rather than to parallel; Don't do dynamic jump and instead just come up to standing
Cone Weave – Jog or Fast Walk
One armed row – Use easier resistance band
Overall Modifications:
Can reduce each exercise time from 60 seconds to whatever is reasonable for you
Can increase rest time between exercises
Share with me:  Are you as excited about fall as I am?!  Have you ever done a fall-themed workout?  What's your favorite way to work out this time of year?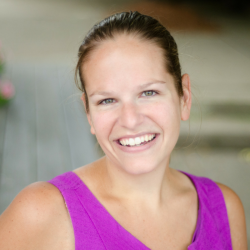 Latest posts by Chrissy Carroll
(see all)