Sweat and Smiles – what a great name for a workshop focused on fitness activities for kids! I attended this workshop at IDEA World and wanted to share some of the information I learned. Even if you're not in the fitness field, there are plenty of opportunities for those passionate about fitness to promote fun exercises for kids. Think of all the different settings this is useful – schools, after-school programs, daycare settings, at-home(hello, snow days), etc.
Before I delve into some of the physical activities and games, I wanted to touch on the WHY. WHY is it important to get kids moving? Here are some staggering statistics that the speaker, Brett Klika from SPIDERfit kids, shared about kids and exercise:
Nearly 30% of kids are overweight or obese

Approximately 70% of kids don't get the recommended one hour of physical activity each day

70-80% of kids that participate in organized sports drop out by the age of 14 or earlier

Just 4% of schools have daily physical education
What does this mean? Many kids aren't exercising, and those that are most likely play sports and will at some point probably drop out.
Kids just aren't playing anymore for exercise. It seems that the days are gone where you got home from school and played street hockey or tag outside with friends. If you have kids who do this, yay! But many kids aren't, and replace this playing with sedentary activities. In fact, average estimates for screen time (tv, computer, and video games) among school age kids in the US are now around 7-8 hours a day. This is likely somewhat inflated because it probably includes lumped hours of multitasking (like 2 hours surfing the internet while watching TV for 2 hours turns into 4 hours of screen time) – but even if it's somewhat inflated, it still way exceeds the 2 hour total recommended limit.
While I strongly believe parents should encourage kids to play outside – I don't think that's going to solve our problem completely. Think about kids that are left alone afterschool, or kids that live in areas where it may not be safe to play alone outside.
Because of these issues, we also need to start promoting fun exercises for kids in new ways, whether that's in a greater commitment to physical education in the schools (and not "we're going to play kickball and if you don't want to play just sit on the side"), innovative before and after-school programs (like BOKS, for example), or community fitness programs.
This doesn't mean structured "training" programs with kids. We definitely want to put the "play" back into childhood fitness. Let's just offer it in a defined setting though (like the school or community center) so that more kids and parents have the chance to get involved.
That's what the Sweat and Smiles session was all about – using games and play to get kids moving. It also focused on physical activities that really target motor skills and coordination. We ran through a lot of the fitness activities for kids ourselves (and yes, it's just as fun as a grown-up).
Here are 5 fun exercises for kids…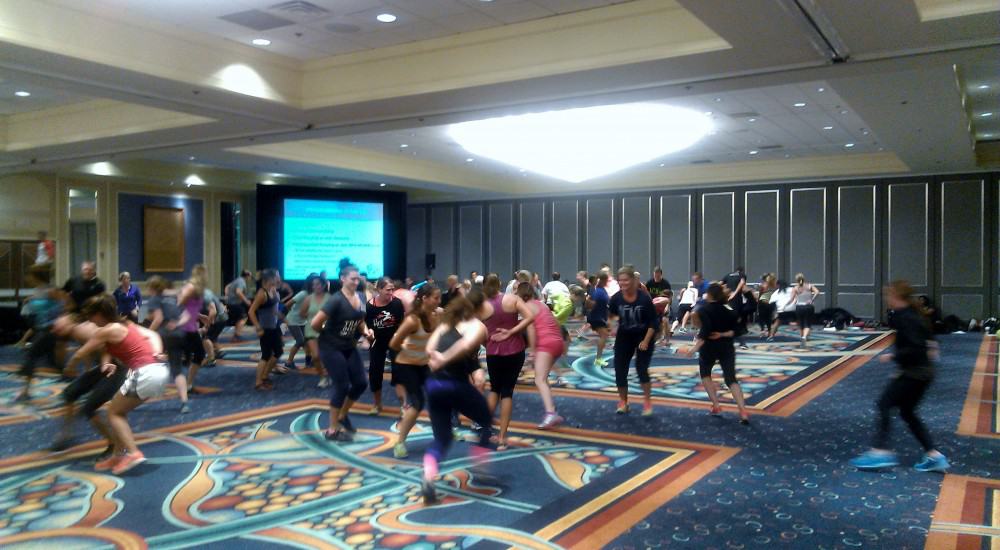 1. Clothespin Chase Game
We each got a clothespin and tagged it on our shirt. You had to go around to as many people as possible and try to get their clothespins and pin them to your shirt. The person with the most clothespins at the end is the winner.
2. Partner Jumps
We paired up and then were challenged to demonstrate jumping a short, then medium, then long distance. We had to synchronize with our partner and try to jump the same distances at the same time next to each other, without talking. Think about the skills used – estimating distance, working as a team, movement in different directions – there's a lot going on here.
3. Skipping Game
It's amazing how many kids lack the basic skill of skipping (which is actually important for coordination and running). In this game, we had to skip but couldn't do more than two skips in the same direction. It was fun with so many people around the room, trying not to hit anyone else as we continuously changed directions.
4. Shark Chomp Game
We had to run and huddle into groups of a certain number, and if you were left without a group the shark might come and "chomp" you. We did groups of 6, 3, 5, and 2.
5. Circuit Challenge
We broke into groups and did a circuit that included a minute or two of each of the following:
a. Throw a medicine ball in the air, spin around, and catch it.
b. Use an agility ladder.
c. Take 3 giant steps back from a cone, then try to hop 5 equal size jumps and land right at the cone.
d. Hit a balloon in the air with your right hand, left hand, right foot, left foot. Depending on skill level, kids can then add in spins, twists, etc to make it tougher.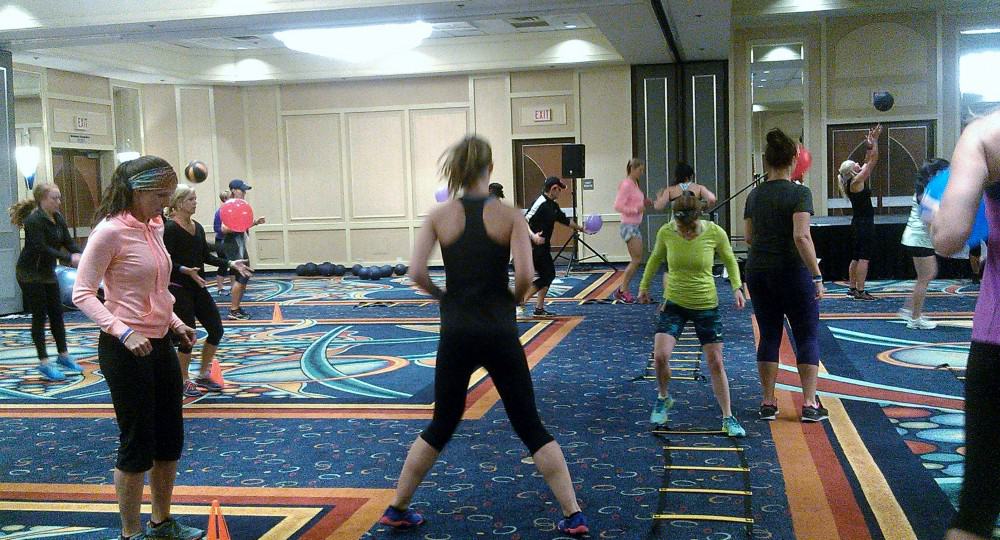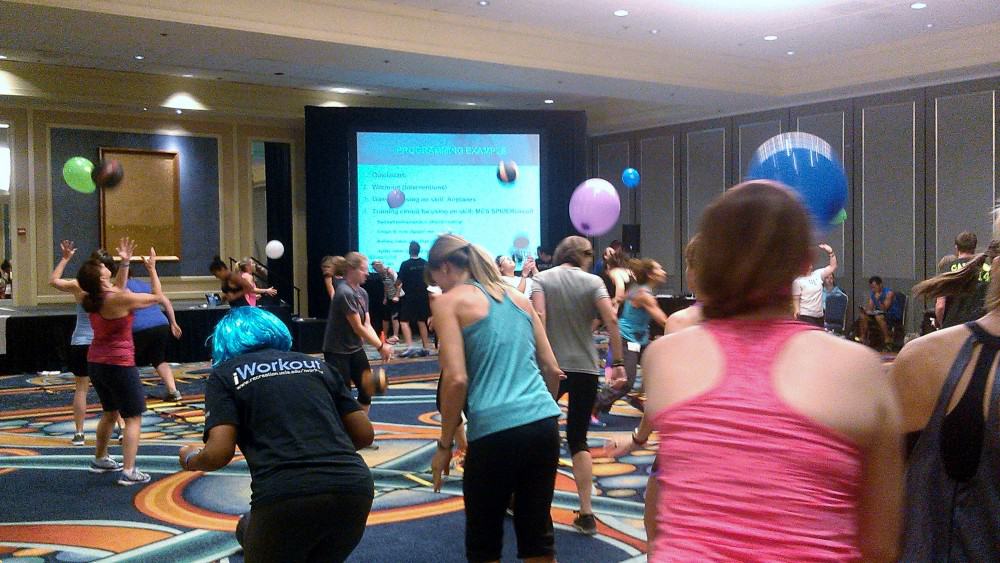 You can see all of these activities involve cardiovascular and/or muscular fitness, as well as coordination, but in a fun non-intimidating way. I loved it!
If you're passionate about kids fitness, check out local kids fitness programs and see if you can work or volunteer with them (like BOKS or Girls on the Run). Or, consider starting your own program to help local kids! Are you a personal trainer? Consider checking out the resources at SPIDERfit or those available through your certification organization (like ACE or ACSM).
Share with me: Do you work with any kids fitness programs? What are your favorite fun exercises for kids?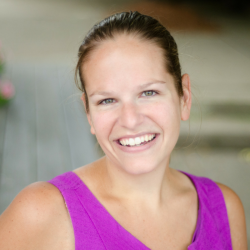 Latest posts by Chrissy Carroll
(see all)