Happy New Year! Find 5 Healthy Eating New Year's Resolutions that you can stick to all year long.
Disclosure: This post was sponsored by StarKist as part of an Influencer Activation for Influence Central and all opinions expressed in my post are my own.
The start to the New Year always feels exciting. It's a time to reflect back on the last year and how you can live more fully in the coming year; a clean slate on which you can scribe your future. I really love that fresh start.
And obviously so does a lot of the country, as it's a prime time to set resolutions and goals. Eating better and losing weight are two of the most common resolutions that are set each January, yet most people don't stick with changes long enough to meet their desired outcomes.
While I haven't been able to find too many actual research studies on this, it's thought that anywhere from 55% (source) to 92% (source) of people fail to stick with their resolutions by the 6 month mark.
A lot of factors influence the success versus failure – personality, support system, type of goal, time management, etc. As an RD, one of the biggest areas that I see people falter is in ambiguity about their goals.
For example, "I want to eat healthier" is super vague. What does healthy eating mean to you? How will you know if you are eating healthy? What happens if you go out to eat? What happens if you make a mistake and eat a whole plate of pie?
Instead, I recommend getting super specific about your goal – and make it a small, realistic change. To help you out, I'm breaking down 5 healthy eating new year's resolutions. All of these are ways that you can "eat better", but in a more precise and achievable way. Once you've gotten in the habit with one or two of these, go ahead and layer on more. Just don't try to do everything at once, because most people become overwhelmed that way.
5 Healthy Eating New Year's Resolutions You Can Stick To!
[Tweet "Want to eat better in the New Year? Find 5 achievable healthy eating resolutions to choose from!"]
1. Eat seafood twice a week.
Approximately 80-90% of Americans don't meet the current guidelines to eat seafood twice a week. Yet seafood is packed with protein, rich in omega-3 fatty acids, and is a good source of Vitamin D.
This year, make it a goal to eat seafood twice a week. Or if you're not eating any at all right now, perhaps you start with once a week and then work your way up.
One of my favorite ways to eat more seafood is to use StarKist Selects E.V.O.O pouches. Both tuna and salmon are available in convenient tear open pouches – so much easier on the go when you don't need a can opener! And I love the focus on simple, nutritious ingredients in these pouches. The only thing you'll find is tuna or salmon, olive oil, and salt.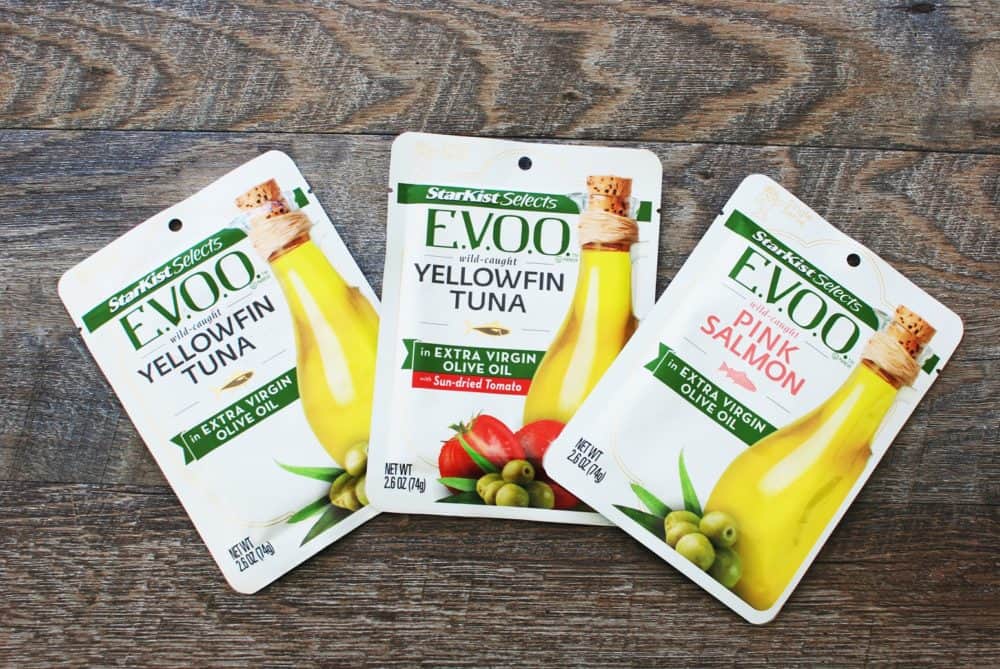 For a simple start to eating more seafood, just toss one of these pouches on top of a salad, add it to a sandwich, or simply eat it as a snack. Or get a bit more creative with one of these tasty ideas!
Tuna and garbanzo bean salad (coming soon to the blog!)
2. Include one polyphenol-rich food every day.
Polyphenols are a class of chemical compounds that have health benefits in our body. Depending on the type, research has shown an impact on anything from cardiovascular health to anti-inflammatory benefits to cancer prevention.
Luckily for us, the best sources of polyphenols are also some of the tastiest foods out there. And isn't is fun to choose a resolution where you add something in, rather than cut something out?!
Here are some great polyphenol-rich foods to include regularly:
Raspberries
Blueberries
Cranberries
Strawberries
Pomegranate
Green tea
Black tea
Dark chocolate
Cocoa powder
Soy
Red wine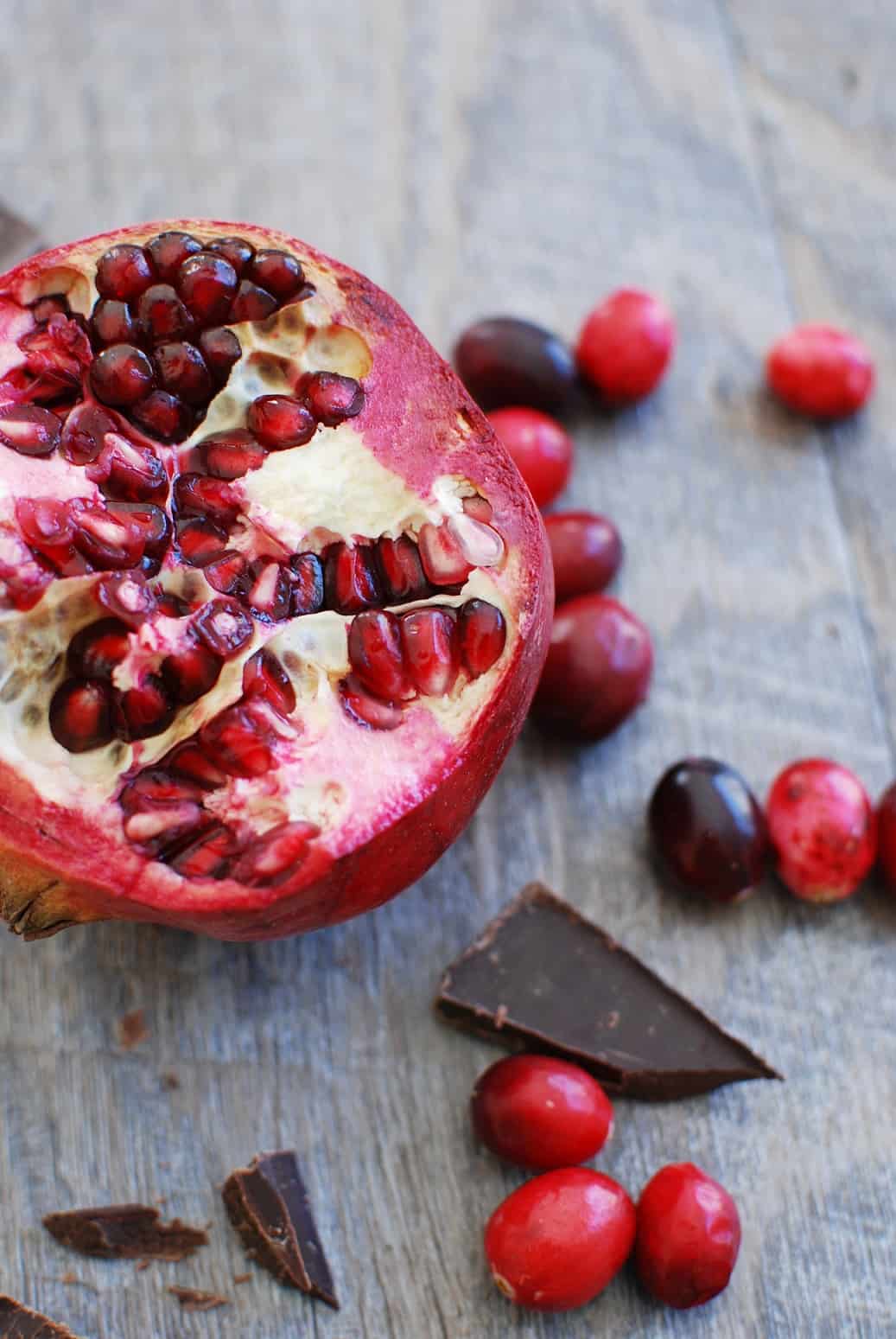 3. Pack in at least 20 grams of protein at lunch.
I find that sometimes when women are trying to lose weight, they often bring skimpy salads to eat for lunch. That's fine – vegetables are always a good thing! – but the lack of protein and satiating fats can make you feel hungry an hour later.
This year, make it a goal to build most of your lunches with at least 20 grams of protein. Not only will it help keep you full longer, but adequate protein is key for preserving muscle mass when trying to lose weight. It also is essential for recovery from all your workouts!
You can certainly start with those salads since they're a great vegetable base – but boost that protein with some grilled chicken, steak, or one of the StarKist Selects E.V.O.O salmon or tuna pouches.
And of course, you can mix some other lunch ideas in there too so you don't get bored! Anything with a good serving of protein-rich foods (like fish, beef, turkey, chicken, beans, lentils, cottage cheese, greek yogurt, soy, etc) will do!
4. Create a meal plan for the week – and stick to it.
You know the saying – failing to plan is planning to fail. It's so true, especially for healthy eating. I'm sure I'm not the only one that has forgotten to plan a dinner, only to end up swinging through a fast food joint because I'm hangry.
Instead, sit down on the weekend and plan out all your meals. Here are some tips that I think make this process easier: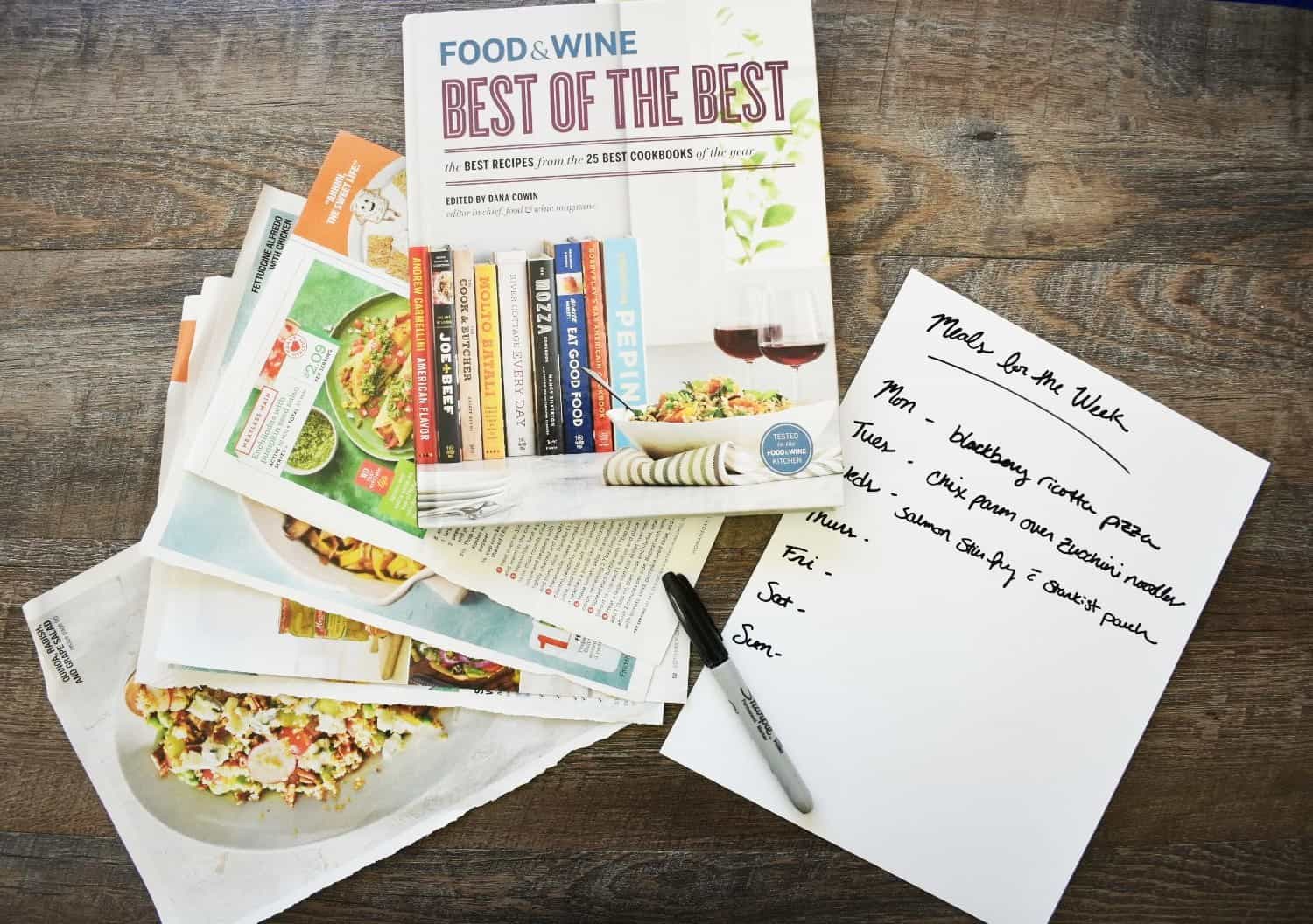 –> Include a mixture of new and tried & true. You might be feeling all ambitious with the start of the new year and decide you're going to make all these amazing Pinterest-worthy dishes. But if that hasn't been your normal routine, you can burn out quick. Instead, try one or two new things each week, and use the rest of your days to stick with tried & true favorites.
–> If budget matters to you, plan around the sales for the week at your grocery store. Think of ways you can utilize those sale items in multiple ways. For example, if apples are super cheap this week, perhaps you eat them as snacks, you make some baked apples for dessert one night, and you eat them on a salad another day.
–> Remember that you don't have to eat a specific meal on a specific day if you're not in the mood for it. That's probably the biggest piece of resistance I get. Instead, look at this as a pool of options for the week. If you planned for a tuna zoodle casserole on Monday but you're really in the mood for Thursday's turkey burgers, swap 'em around.
–> Stock "back-up" meals in your pantry & fridge/freezer. These refer to those 10 minute meals I can make when I'm too lazy to make what I've actually planned. 😉 I generally have these things in stock in the house, so it's easy to default to them. Three examples of my go-to dishes:
Rice and beans: instant brown rice, canned black beans, canned tomatoes, and avocado
Salmon stir fry: instant brown rice, frozen vegetables, StarKist Selects E.V.O.O salmon pouches, and soy sauce or teriyaki sauce
Cottage cheese pancakes (yum, breakfast for dinner!): I mix cottage cheese, oats, eggs, vanilla, and cinnamon in a blender and make pancakes with it – so good.
5. Fill up on at least 25 grams of fiber each day.
This idea for the list came up at a lifestyle/fashion influencer event, believe it or not. One of the other bloggers started chatting with me about a nutrition podcast she listened to. She was surprised at just how important fiber is, yet how so many people fall short. It hit me that this would make a great addition to this list of healthy eating new year's resolutions!
The current recommendations for fiber are between about 21 and 38 grams a day depending on your gender, age, and calorie intake. Yet the average American only gets about 14 grams per day, falling significantly short of the guidelines.
You're probably well aware of the digestive benefits of eating more fiber, but there are other reasons to add more to your diet too. Fiber helps you feel full after a meal, and that satiating effect can be important for weight maintenance. As a former professor of mine used to say, "fiber fills you up before it fills you out"!
Fiber is also involved in regulating cholesterol, and soluble fiber in particular is important for a heart-healthy diet.
Where can you get more fiber? Here's a list of some top whole food choices:
Beans
Lentils
Artichokes
Raspberries
Blackberries
Pears
Bran flakes cereal
Shredded wheat cereal
Chia seeds
Flax seeds
Broccoli
Peas
Dried figs
There you have it – 5 healthy eating new year's resolutions that you can stick to! I hope these have made you think about your food goals in the new year, and left you with some practical, actionable steps to take to eat better.
Share with me: Which of these healthy eating new year's resolutions will you try? Do you have another new year's resolution related to eating better that I didn't mention?
PS – Don't forget to check out the StarKist site for some great healthy recipes and products to help with many of these resolutions!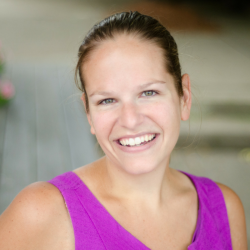 Latest posts by Chrissy Carroll
(see all)