Have you decided to challenge yourself to completing a full Ironman this year?! Go you! Training for a long course race like this is a big commitment, but if you stick with training consistently – you'll get to that 140.6 finish line successfully. And to help you out, we've got a free 36 week Ironman training plan!
That's right, in just a little over 8 months, you can bring yourself from a base fitness level all the way to swimming 2.4 miles, biking 112 miles, and running 26.2 miles. I know you can do it! 🙂
This training plan was produced in partnership with Multisport Mastery. If you're looking for more individualized help (especially as an intermediate or advanced athlete), definitely reach out to them. You can find additional details about their coaches at the bottom of the post!
Here's everything you need to know to use this Ironman training plan:
You can find a link to download the training plan towards the bottom of this post, but please remember to read all this key info before downloading it!
Who is this training plan for?
This plan is designed for first-time Ironman triathletes, helping to bring you from a base fitness level to Ironman ready. A minimum level of fitness in each discipline is necessary to successfully begin this plan.
Athletes who have already completed an Ironman – but have not done so in a while, or perhaps had their base fitness drop a bit – are also welcome to use this plan.
Intermediate or advanced long-course athletes may wish to find more intensive plans or work one-on-one with a coach for individualized guidance.
What fitness level do I need prior to starting a 36 week Ironman training plan?
You should be currently exercising at least 4 hours per week regularly. Here are the minimum requirements by discipline that we recommend for starting this plan:
Swimming: capable of swimming 1500 yards/meters
Cycling: able to cycle 30 minutes continuously at a steady pace
Running: able to run 30 minutes continuously in a session
Disclaimer: I am not a physician. Always check with your doctor prior to starting any new exercise program.
What are the phases in this training schedule?
The plan is broken into three phases plus a taper, though you don't necessarily see these labeled on the training schedule:
Base Period – Weeks 1-13
Build Period – Weeks 14-24
Peak Period – Weeks 25-33
Taper – Weeks 34-36
The base period is designed to accumulate general fitness and aerobic capacity. The build period is designed to elicit training that more completely matches with the race you're training for – in this case, longer workouts as you're training for an Ironman. The peak period (which is a bit longer in this plan that some other plans) is designed to get your body at race shape (without stressing it too much of course). The taper is a considerable drop in training volume that feels counterintuitive but is necessary to allow your body to arrive at the starting line feeling "fresh".
What is the time commitment for this plan?
This plan includes nine workouts per week – three swim workouts, three bike workouts, and three run workouts. On several days, you'll do workouts from two disciplines that day. This helps ensure you get the correct amount of activity from each discipline, and also leaves Mondays open for rest days.
During the Base Period (weeks 1-13), weekly volume ranges from approximately 4 to 8 hours.
During the Build Period (weeks 14-24), weekly volume ranges from 10 to 14 hours.
During the Peak Period (weeks 25-33), weekly volume ranges from 14 to 19 hours.
During the Taper (Weeks 34-36), weekly volume ranges from 9 and 13 hours.
What do all the workout codes mean?
For each day on the plan, you'll see codes for each workout. Generally, the codes correspond to a specific workout that you can find in the later pages which are categorized by swim, bike, and run workouts.
For example, the Week 1 bike workout on Wednesday is labeled as 30 TEMPO-A. If you go to the list of bike workouts, you'll see that this means the following workout:
10 minutes building Z1-Z2
5X(30 sec. Z4 @ 100+rpm/2:30 easy)
5 minutes cool down Z1-Z2
All you have to do is just match the codes to the appendix of workouts.
Some workouts may not be coded, and may just say something like 30 Z1, which would mean 30 minutes at Zone 1. (*see note about intensity below)
What do the zones (Z1, Z2, etc) mean?
The zones (Z1, Z2, Z3 and Z4) are on the plan to indicate an intensity level.
In relation to Rate of Perceived Exertion on a scale of 1-10, where 1 is laying on the couch and 10 is an all-out sprint, use the following guidelines to interpret the intensity recommendations in the training plan:
Bike/Run Workouts:
Z1 = Very easy, can speak in full sentences; RPE 6
Z2 = Moderate, can carry a conversation, but requires focus; RPE 7
Z3 = Up-Tempo, can only speak in short phrases; RPE 8
Z4/Best Effort = Can't talk at this level; RPE 9-10
You'll also see IM Pace/Effort listed for some workouts, which refers to the pace or effort intended for Race Day
Swim workouts have slightly different pacing, as indicated by easy/moderate/fast:
Easy: RPE 5-6
Moderate = RPE 7
Fast = RPE 8-10
Race Simulation Workouts:
Race Simulation workouts (denoted as RS in the training plan) are included at Week 13, Week 23 and Week 29.
Week 13 is an Olympic-distance race simulation
Week 23 is a half Ironman-distance race simulation
Week 29 is a final dress rehearsal including a 1.5-mile swim, 70-mile bike, and 16-mile run.
Triathletes may participate in actual races for the Race Simulation workouts for Week 13 and Week 23, or do the Race Simulation on their own.
Race Simulation workouts should be approached as a dress rehearsal for race day. You should keep transition times at a minimum going directly from swim to bike to run; use the gear you intend to race your Ironman with; and follow your Ironman nutrition and hydration plan.
The purpose of these Race Simulation workouts is to work through any preventable issues prior to race day and practice in-race nutrition and hydration. The timing of the Race Simulation workouts in relation to the broader training plan is such that it allows you to continue to tweak your nutrition, hydration and gear choices in additional long training sessions prior to race day.
Swim Session Notes:
The swim session workout key is provided in the plan. You can use the workouts as written for yards or meters, depending on the size of your pool.
Swims are divided into 4 Types: Technique (TECH); Strength (ST); Endurance (E); and OWS (Open Water Swim).
Use the following rest times for swim workouts:
Between 25's: 10 seconds
Between 50's: 15 seconds
Between 75's: 15-20 seconds
Between 100's: 20 seconds
Between 150-250's: 30-45 seconds
Between 300+: 45-60 seconds
Cycling Session Notes:
The cycling session workout key is provided in the plan. Rides are divided into 3 Types: Tempo (TEMPO); Recovery (Z1 only); and Endurance/Long (Z1/Z2).
Long rides should be done outside as much as is practical and on terrain that closely resembles the race course. Think of long rides and bricks as race simulations. Practice nutrition and hydration, as well as gear choices.
After the Base Period, Bricks (denoted as BR) are added to some of the Tempo and Endurance/Long rides. In each brick session, quickly transition from bike to run (ideally 3 minutes or less between completing the bike portion and starting the run portion)
Run Session Notes:
The run session workout key is provided in the plan. The focus of Ironman training is on building the aerobic engine and endurance, therefore the majority of workouts, especially run sessions for beginners, are primarily in Z1/Z2.
Runs are divided into 4 Types: Easy (Z1/Z2); Strength (ST); Brick (BR); and Endurance/Long (Z1/Z2). Strength sessions are introduced during the build and include intervals in Z3/Z4 and at IM race pace. Brick runs should be done in Z2 or at IM race pace.
Your free 36 week Ironman training plan!
Here's your beginner ironman training plan – just click here (or on the image below) to download the plan out for your own personal use.
*Please note, this plan is not to be distributed on other websites or used for commercial purposes.*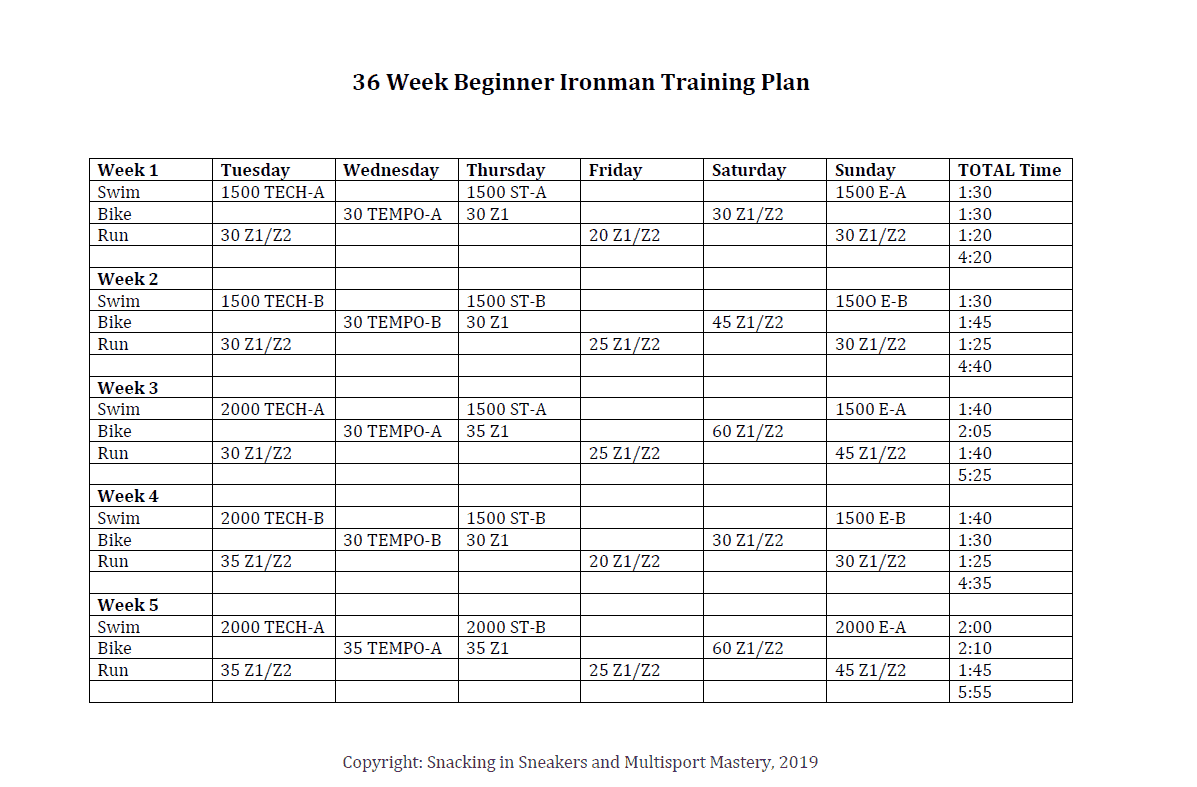 There you have it! Everything you need to know to rock out your first full Ironman finish. Now print out that plan and get to training! 🙂
This plan was produced in partnership with Multisport Mastery. Multisport Mastery coaches specialize in individualized performance plans for multisport athletes of all abilities. Whether your goal is to run a marathon, compete in a triathlon, ride in a week-long cycling event or finish an Ironman, they offer customized coaching to bring out the best in each athlete no matter who you are or where you want to go.
Share with me: Are you training for your first Ironman? What race are you hoping to do? If you used this 36 week Ironman training plan, what did you think?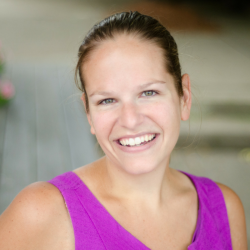 Latest posts by Chrissy Carroll
(see all)