If you've been doing sprint or Olympic distance triathlons for a while, you may be thinking about taking the plunge and tackling a 70.3. It's definitely a great way to challenge yourself in your triathlon journey. With this free beginner half ironman training plan, you'll be sure to cross that finish line successfully!
This training plan was produced in partnership with Jon Fearne of E3Coaching. If you're an intermediate or advanced athlete that needs a little extra guidance, feel free to reach out to them.
Getting Started with the Beginner Half Ironman Training Plan
You can scroll to the bottom of this post to view and print the training plan, but be sure to read over these important tips and key workout descriptions prior to starting training.
What is a half ironman?
If you're searching for a training plan, you probably already know this. But just in case, a half ironman consists of a:
1.2 mile swim
56 mile bike ride
13.1 mile run
Who is this training plan for?
This plan is ideal for those looking to complete their first half ironman. It is not meant for advanced athletes looking to PR.
Ideally, you will have either previously taken part in sprint or Olympic distance races – or you have never done a triathlon but have a very solid background of swim, bike, and/or run.
What level of fitness do I need to start?
**Disclaimer: I am not a physician. Always check with your doctor prior to starting any new exercise program.**
In order to begin training, you should currently be exercising at least 3 to 4 hours per week regularly. You should be free of any injuries that affect your ability to train.
You should also have the following base for each discipline:
Swimming: capable of swimming comfortably for 30 minutes
Cycling: able to cycle 60 minutes continuously at a comfortable pace
Running: able to run 40 minutes continuously
Schedule FAQ
What is the schedule like?
This plan is spread across the 20 weeks to allow you to progress while minimizing the risk of overtraining and injury.
You are looking at between 5 and 6 days a week of training sessions. The plan follows a common pattern where there is a 3-week build in training, followed by a recovery week.
As far as the week itself, you can move sessions around within the week as needed to fit around work and family. However, when possible try to leave the weekend sessions as-is on the schedule. They're focused on endurance and recovery and work well in the order listed.
What are the yellow highlighted training sessions?
On most weeks of the plan you'll notice one highlighted session. This is your "I need to miss a session" session. Life can sometimes get in the way and I believe in removing stresses caused by missing a session (guilt stress can add fatigue; we don't want that).
Why aren't there more swim workouts?
As most of a half ironman race is made up of the bike and run segments, the workouts are more heavily weighted towards those disciplines for this beginner plan. Remember, the purpose of this plan is to just get you across that finish line successfully (not necessarily to have you breaking records).
This plan assumes basic distance swimming ability, and includes 1 to 2 workouts each week to improve distance capacity and form.
However, if you currently feel swimming is your "weak link", you can adjust the plan to include an extra swim each week. Or, take a few weeks prior to starting this plan to work more heavily on swimming (perhaps doing 3 days a week of swimming) – then begin this plan.
Zone-Based Training Guidelines
This plan uses zone-based training guidelines. Please read this section so you understand how to set your zones.
Step 1: Lactate Threshold Field Test
The very first workout in this plan is conducting a lactate threshold field fitness test. This will allow you to set your heart rate zones for the rest of the plan.
Note that different coaches use different methods to determine zone training. That means if you look at one training plan or book (even within this site!) the specific zone numbers may vary a bit. Just keep that in mind if you're comparing workouts from different plans.
Here's how to do your field test:
Warm up at a comfortable pace for 10-20 minutes. After you warm up, complete a 30-minute run at the best possible speed you know you can maintain for all 30 minutes. Use your heart rate monitor to calculate the average heart rate from minute 10 to minute 30 of this run. (Yes, this means you ignore the first 10 minutes of data). If you don't have a heart rate monitor, take your heart rate manually at 10 minutes and again at 30 minutes, then take the average.
You can learn more about lactate threshold field tests in this post. (Note the zones used in that post are a little different than this plan).
The average heart rate you'll take during this time is your threshold heart rate.
Step 2: Set Zones
Then, use these calculations to create your heart rate zones for this plan given your threshold heart rate above.
Zone 4 – Sub-Max efforts (100-105% threshold heart rate), RPE = 8 to 9
Zone 3 – Tempo (about 90-98% of threshold heart rate), RPE = 7 to 8
Zone 2 – Base Endurance (about 80-88% of threshold heart rate), RPE = 6
Zone 1 – Recovery, anything lower than base (generally around 67-76% threshold heart rate), RPE = 5 to 6
Much of the training in this plan occurs in Zone 2, known as Base Training. This is your endurance realm; you build your engine here. When working in this zone you are able to hold a conversation.
From there, the next level is tempo training. This is the high end of endurance, normally just below or around threshold. After that is submaximal training, used in this plan as wake up intensity sessions.
Alternative method: RPE
If you don't have a heart rate monitor or don't want to measure heart rate, you can train by using the RPE (rate of perceived exertion) listed next to the zones above. On a scale of 1-10, where 1 is laying on the couch and 10 is an all-out sprint, you can get a feel for where each of these workouts should fall.
Workout Descriptions
In a second, you'll see a breakdown of discipline specific workouts. First, there are a few workout terms that apply to multiple disciplines:
Positive form: This means training while being aware of your movement, like how you are holding your posture. On the run, it means things like good knee lift, heel flick, head looking forward and back straight. On a bike, pelvis rolled forward glutes pushed out, straight back and not too much weight through our arms.
Brick session: One discipline straight into the next (bike to run, swim to bike)
Run Workouts:
Most runs in the plan are easy to understand time-based runs with a particular zone (generally zone 2). There are a few other workouts you'll see:
Hill Rep Run, Control Effort: This session is about building your base fitness by slowing down. It may mean you walk at times but watch your effort and make sure you stay at RPE 6 / Zone 2 on the climbs.
Tempo Runs: Whatever the duration, allow a 10 minute warm up (RPE 6 / Zone 2) and 10 minute cool down on each end. The tempo portion is held in the midsection at zone 3 RPE 7-8.
Bike Workouts:
Similar to the runs, many bike workouts are simply time-based with a particular zone. You may see workouts that call for a mixture of zones.
Here are some other workouts you might see:
Alternating Zones 2 and 3: These are generally listed for the long bike rides. Switch between a zone 2 ride for about 30 minutes, then zone 3 for about 20 minutes. Adjust as needed. If too difficult, you can switch to a zone 2 ride for the entire duration.
50% standing, 50% seated bike session – On any hills you ride half seated and half standing.
Over geared ride – On any hills you put the bike into a harder gear than you would normally use and work your muscular strength to get up the hill. Make sure you make it hard for yourself.
Sprint for signs – Start by riding at a good pace (RPE 7). Choose a sign and put a max effort in (RPE 9-10) until you reach it then back to normal pace. Try and do at least 4 efforts in the session.
Pedaling focus – Do not worry about intensity effort, but instead focus on smooth technique. Your workout might look something like this:
5 Min warm up easy gear high cadence
30 seconds left leg only
30 seconds right leg only
4 min both legs
1 min left leg only
1 min right leg only
3 min both legs
90 seconds left leg
90 seconds right leg
2 mins both legs
Repeat set again.
10 mins both legs easy spin
Swim Workouts:
Some swims are focused on distance, others are focused on technique, and others on speed. Also, some of the swim workouts are specific to open water. Try to get into open water a few times to practice.
Here are a few of the key factors in the swim workouts:
Rest periods: Rests after any main efforts are between 30-60 seconds depending on your recovery. Use 10 seconds rest between drills.
Drills: High elbow (thumb to thigh), closed fist and catch up. For drills, follow 25m of each then last 25m is normal crawl (totalling 100m). Repeat this 5 times (500m total of drills).
Open water sighting (in pool or outdoors): Following a 10-minute warm up, you will focus on forward sighting every 5th stroke. Lift head while lead arm is extended, looking forward for approximately 2 seconds (as if looking for buoy). Do 20 minutes of continual swimming applying this method, then go back to normal comfortable swimming.
Swim starts: Your event may have you start from deep water, or standing on a beach or in shallow water. It makes sense to practice different starts (fun session!):
10 min warm up
500m drills
Deep water start, deep end of pool treading water then go flat out for 10 meters, easy to end of pool. Shallow water start floating in ready position feet up behind you then go again 10 meters flat out then easy.
Repeat for 400m
Cool down easy swim to finish.
Other Workouts:
Stretching routine: Focus on all major muscle groups and look to hold each stretch for at least 20 seconds. It can help to follow a full-body stretching video (for example, on YouTube) as you get started in order to get into the routine.
Core workouts: There are several quick core workouts that are used throughout this plan. Here is each one. That said, you are welcome to sub-in your own favorite core exercises that you enjoy. The key is simply to make sure you're incorporating some core training regularly.
Core 1
10 x sit ups or crunches
10 x push up (can adapt to knee push ups)
20 seconds plank
Repeat 4 times through. Take approximately 30 seconds rest between.
Core 2
10 x Russian twist
10 x push ups
10 x sit ups or crunches
30 seconds plank
Repeat 3 times through. Take approximately 30 seconds rest between.
Core 3
10 x double shoulder width push ups
10 x Russian twist
10 x push ups
10 x sit ups or crunches
30 second plank
Repeat 2 times through. Take approximately 30 seconds rest between.
Core 4
10 x push ups
10 x sit ups or crunches
10 x double shoulder width push up
10 x twisting sit ups
Repeat 3 times adding 2 extra to each exercise on each new repetition. Take approximately 30 seconds rest between.
Core 5
12 x push ups
12 x sit ups or crunches
12 x double shoulder width push ups
12 x Russian twist
30 second plank
Repeat 3 times. Take approximately 30 seconds rest between.
Day Before the Race Workouts
Pre swim: If possible at event venue, check out swim start and do a 10 minute swim in this area with a few 60 second zone 4 efforts.
Pre bike: Do an approximate 20-minute ride with a few zone 4 efforts to wake the body and mind up, ideally from the transition area.
Pre run: Do a 10-minute run, ideally from the transition area, to sure you are happy with entry and exit and that legs are working.
Also: Walk around and make yourself familiar with it. There is nothing worse than coming in after your swim and wondering "where is my bike?!". We do these short sessions to wake mind and body up and prepare ourselves for the big day.
Download your free beginner half ironman training plan
Phew – I know that's a lot of info, but it's all really good background and key workouts that you'll need to know to train! The essential info from above is also in the download, but this page contains additional helpful info, so it may be worthwhile to bookmark it.
Now, here's your 20 week half ironman training plan – just click here or on the photo below to download and print the plan out for your own personal use.
*Please note, this plan is for personal use only and should not to be distributed on other websites or used for commercial purposes.*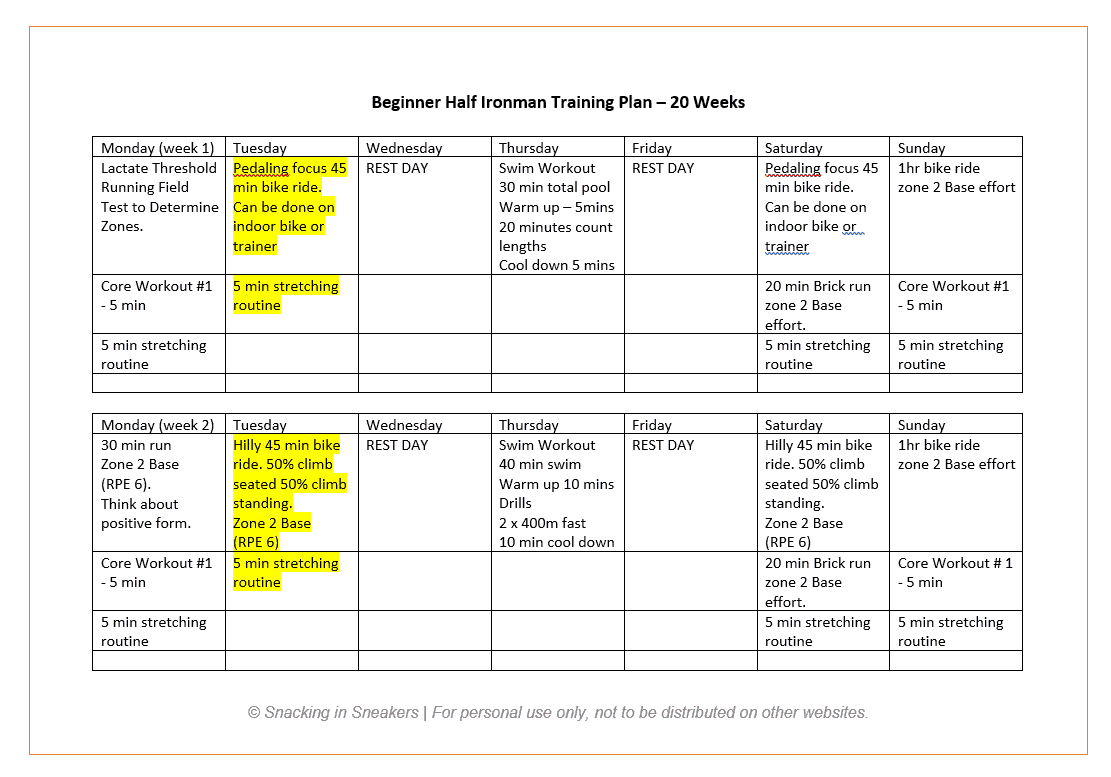 Share: Are you excited to train for a 70.3? If you used this beginner half ironman training plan, what did you think?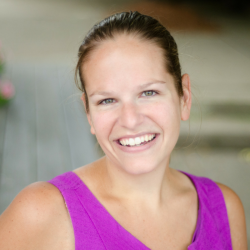 Latest posts by Chrissy Carroll
(see all)