The holidays are approaching and it's time to start your shopping.  If you've got a triathlon-loving family member or friend on your shopping list, you'll find tons of great ideas on this list of the 36 best gifts for triathletes.
Whether you need something that's around ten bucks for your triathlon club's white elephant gift, or you're looking for a bigger-ticket item for the hubby or wife – you'll find awesome ideas on this list.
This post was originally published in 2018 and is updated every year.  It was last updated in May 2023.
36 Best Gifts for Triathletes
*Disclosure – Some of the brands below provided samples. In addition, some of the links are Amazon affiliate links. As an Amazon affiliate, I earn commissions on qualifying sales.
Don't have time to read? My top 3 gift recommendations are:
Want all the details and helpful gift information for multiple options? Here are all the options…
Budget-Friendly Triathlon Gifts
If you're looking for gifts under $25-30, this section has some great options. (*Note product pricing and availability may change; in general these items may fall in this price range.)
1. Swiftwick Socks
These have been a standard on my gift recommendations pretty much every year – and for good reason. Their socks are some of the best quality that I've come across, with a fabric blend that holds tight to the feet to prevent blisters. They also maintain their quality for years – not like other socks that you wear for a few runs and they're already stretched and thinning out.
I'm partial to their Vibe Zero variety (pictured above), but have also heard great things about the Aspire Zero socks.
In 2020, they also launched their Pursuit Four Ultralight, a performance sock made with merino wool. Merino wool is great as it pulls moisture away from the feet, and has temperature regulating properties to keep feet warm in the winter and cool in the summer. It's another great option to try out, especially for any winter cycling.
2. Triathlon Training and Nutrition Books
I've previously talked about my favorite triathlon training books, so I won't go into a ton of detail here. But whether you're buying a gift for a new triathlete or you're buying one for an experienced athlete looking to PR – there is a book to fit their needs.
Here are some of my favorites:
(Don't forget to read this triathlon book post if you want more details on many of these!)
3. Race Belt
A race belt is used to attach a bib number, making it easy for a triathlete to quickly snap it on for their run. There are also versions for training that come with a pocket for things like a phone and keys. You can grab either type on Amazon from a variety of sellers.
I like the Synergy Running/Triathlon Race Day Number Belt (pictured above) for a very simple belt that is used just for attaching your race number.
If you want a belt that also has a little pouch (good for carrying keys, salt tabs, phone, etc) – then you might grab the Fitletic Neo Race Belt instead.
4. Body Glide
This stuff is the athlete's secret weapon against chafing! Body Glide is a must have for pretty much any runner and triathlete, and clocks in super inexpensive. It's a great stocking stuffer and something that almost every triathlete will end up using at some point during their training and racing.
5. Fueling Products
When training or racing over an hour, it's important for athletes to take in some fuel. This will help your triathlete power through their race, providing extra energy to the muscles. Fuel products are inexpensive and make great gifts for triathletes, because you know they'll get used! Here are a few examples:
If you don't want to order online, you can also find many of these (and more!) at any local running or multisport store.
6. Compression Socks
While the research isn't quite clear on a performance benefit for running in compression socks, there is a lot of research supporting better recovery with compression socks.
I like these Sumarpo socks. They have both low cut and knee-high socks, and they're both ultra lightweight and comfortable.
The Physix Gear Compression Socks are also very reasonably priced and highly rated on Amazon – perfect for an athlete new to compression gear.
If you know someone who's very serious about their compression socks, you may want to see if they have a particular brand they prefer.
7. Triathlon Inspired Jewelry
From a 140.6 bracelet to a triathlon pendant necklace, these gifts are easy, inexpensive ways to show your love for a triathlete. It's also awesome to commemorate an event, like if the athlete in your life just completed a certain race distance.
I love the bangle bracelet pictured above, which contains the swim/bike/run pendant along with pendants with a silhouette of each discipline.  You can find a ton of different options on both Amazon and Etsy these days.
8. Reflective Vest
For many of us, training has to take place on the periphery of the day – either before the sun rises or after it sets. Keep your athlete safe while running in the dark with a reflective vest so that cars can see them.
(PS – Want to know why I recommend the two pack? If one gets wet from sweat or rain, you've got a dry backup to use in case the other doesn't try quick enough.)
9. Pull Buoy
Essentially an infinity-shaped piece of foam, this TYR pull buoy is used for swim workouts. The swimmer places the pull buoy between the legs and then focuses on only using the upper body to power the swim. It's great for improving upper body strength and working on form, and one of the best inexpensive gifts for triathletes out there.
10. Swim Buoy
A swim buoy is different than a pull buoy; it offers a visual safety float that can help others see where you are in the water. For open water swim training, I like having this on me so that those on land can see where I am (in the event of an emergency or anything like that).
This T6 20L Swim Buoy is pretty inexpensive and I might not fully trust it to keep gear dry inside — but if all you're using it for is a safety beacon, it's a perfect budget-friendly gift option.
11. Swim Goggles
Clearly, any triathlete is going to need a quality pair of goggles. (I have forgotten them twice for training swims at a local pond, and let me tell you – there is something very creepy about swimming like that, haha).
Everyone's face shape is a bit different and certain googles may work for one person and not another. But one option that would make a great gift are the Aegend swim goggles, available on Amazon. They're inexpensive and have great reviews. Most users say they are comfortable and don't fog up – super important! Plus, they offer UV protection for the eyes.
12. Lock Laces
Lock laces are an elastic shoelace that keeps your shoes at the optimal tightness. They have just enough elastic give in them that you can quickly put the shoe on without damaging the heel. A lot of athletes love these because they make transition quick, as you don't have to waste the minute tying your sneakers.
13. Water Bottle (that fits a bike holder)
Any triathlete knows hydration is important, both on an everyday basis and during their rides and runs.
These NGN sport water bottles are the perfect size at 24 ounces to include on the bike, and you can order them in different color combinations to match the bike. It's a squeeze and squirt style bottle that's really easy to drink from on the bike, and it also doesn't leak all over the place.
14. Scale Swimming Training Books
This product and is such a fun, unique gift for triathletes! The company produces waterproof swim workout books with a built in stand so you can place the book poolside with your workout. They offer beginner, intermediate, and proficient versions of the books with different workouts based on fitness level. It's a great option for athletes that want some variety in the pool (and perhaps, like me, are forgetful about their workout once they hop in the water, haha).
Moderately Priced Triathlon Gifts
Looking for something around $25 to $100? Check out one of these gift options! (*Note product pricing and availability may change; in general these items may fall in this price range.)
15. Noxgear Tracer360
If you want to take a step up from the basic reflective vests mentioned earlier, try something like the Noxgear Tracer360. This is a brightly lit, color-changing safety vest. Because of the electronic lighting, it keeps runners highly visible to cars on the road for up to a mile away! It can be used in in all weather and fits over any outfit.
16. Trailblazer Ponytail Hat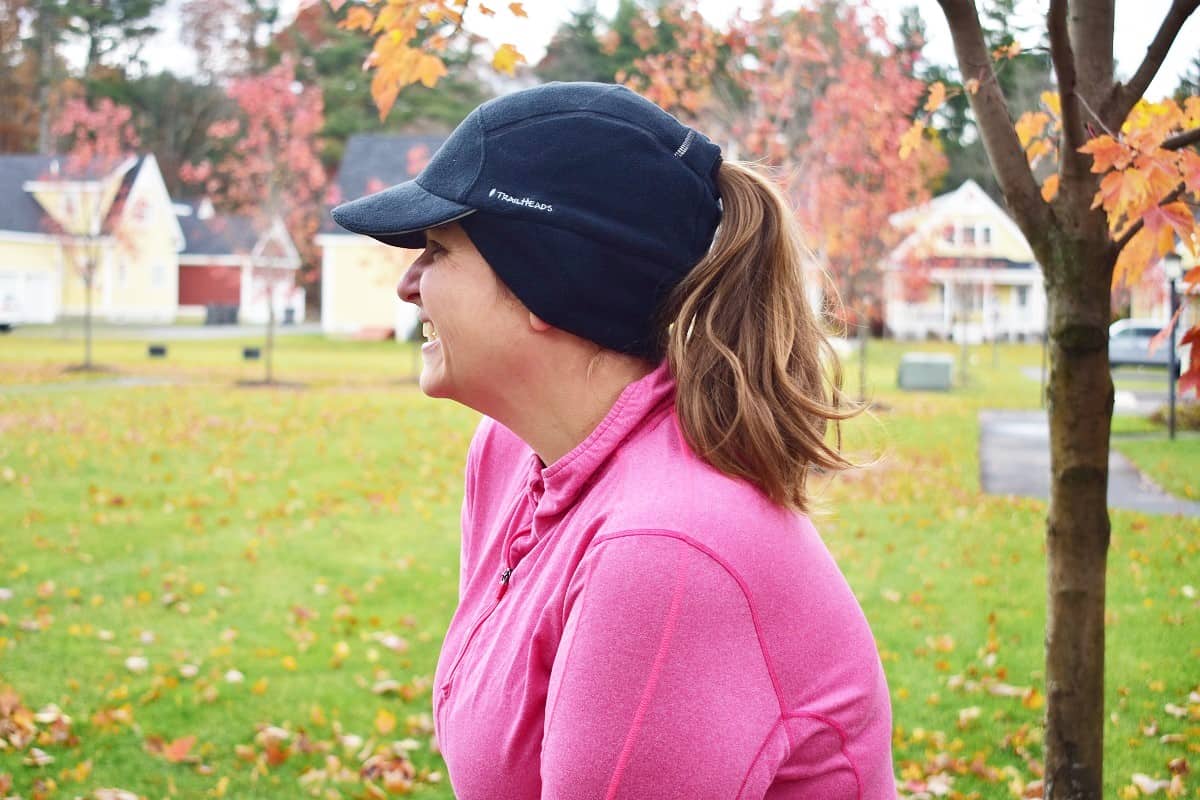 Does the triathlete in your life train throughout the winter? If so, this is a great gift!
This fleece baseball style hat has a hole to pull your ponytail through, letting your run comfortably while still keeping your head snug. Plus, it has drop-down fleece that covers your ears as well.
It's by far one of my very favorite pieces of winter training gear!
Buy the Trailblazer Ponytail Hat.
17. Oofos Flip Flops
Ooofos are kind of like the official flip flop of the triathlon community. 😉 They provide far more support than the average flip flop, and are perfect for walking around post-race while you wait for the awards ceremony.
Many runners and triathletes that suffer from issues like plantar fasciitis also find relief in wearing these at home rather than walking around barefoot.
On a personal note, my husband and I both own a pair – they're so insanely comfortable!
18. Foam Roller or Massage Roller
This year I've been trying to be better about things like stretching and foam rolling after training, in order to keep the muscles limber and prevent stiffness. (You can check out more deets on foam rolling over in this post about tight calves and runners).
Foam rollers are larger and use your entire body's weight as the resistance on which to roll against. You can get a standard basic foam roller (pictured above) which is essentially just a long foam oval, or you can get a vibrating foam roller which some people may find helpful.
Massage rollers (like the one pictured below) are generally a stick that you roll along the muscles, using your arm strength to create pressure as you push it down along the muscle.
Either of these can be a great gift for triathletes! The foam roller is probably a bit more versatile as far as use, while the massage roller is way more travel friendly for athletes that fly a lot.
19. Bagel Delivery
Y'all, us triathletes (well, most of us 😉 ) love our carbs. Not only are bagels delicious, but they help to fuel those long weekend training sessions and are great for race mornings. If you've got a triathlete in your life that is in the midst of a heavy training season, consider sending them some authentic NY bagels, delivered right to their door.
My mom ordered this for me for Christmas one year and let me just say – BEST. GIFT. EVER. I'm not sure where she ordered them from, but I found a place called NY Bagels and Buns that has great reviews.
20. Medal Rack
Has the triathlete in your life been racking up race medals? Many of us end up socking these away in a drawer, but it's much more fun to be able to display them! Gift your triathlete with a medal rack to let them hang up their bling and show off all that hard work.
The rack above is my customized Team Beef one (the running team I'm on) – but there's tons of options you can order on Amazon. Here are two of my favorites:
There are also companies that make custom medal holders. Try looking at Etsy or some of the online sellers that do this – as a note, I don't have experience ordering customized ones, but I'm sure you can scope out the reviews for the company you're hoping to use!
21. Race Registration
Gifts for triathletes don't have to be gear. You can also go for something less tangible, but still oh-so-appreciated – like a race registration. Some race companies (especially those that put on multiple events) may offer gift certificates so that the recipient can select an event of their choosing.
Or, if you know your pal has been talking about doing a particular race but hasn't yet signed up, you can give 'em a Visa gift card that covers the registration cost with a note about the intent. Depending on the race, you could be looking at anywhere from $50 for a local sprint tri to several hundred for a long course race – but figured I'd keep it in this section since most sprints will run under or around $100.
22. Gift Certificate for an Hour Massage
Depending on where you live, a 60-minute massage may range from around $50-60 up to $200+ dollars. In most locations, though, it will average around $75-90. After all that hard work training, nothing feels as amazing as a relaxing massage. This is pretty much always on my wish list!
23. Triathlon Team Membership
With the sport of triathlon growing each year, so do the number of triathlon teams around. For example, did you know Massachusetts now has more than 40 triathlon teams in the state?!
Maybe your athlete would appreciate meeting new people and receiving some guidance from a team environment. Teams often have coached workouts during the on-season, such as a track workout or a guided bike ride. You're able to utilize the team programming as much or as little as you'd like in most cases.
24. Triathlon Wall Art
I created this set of digital art prints (using artificial intelligence!) for my home office and loved them so much, I decided to package 'em together and sell them. You can purchase the digital downloads for just $12.95 for the set of 3 (but I'm including them in the this section of the gift guide to account for your printing costs afterwards).
They come in a variety of sizes (16×20, 8×10, 18×24, 12×16, 11×14, and 16×16). Download the size you prefer, then get them printed at any location of your choice – like Walgreens, Staples, VistaPrint, or any local printer. The printing costs can vary quite a bit depending on same-day vs shipped, matte vs glossy, size of the print, etc.
(Pro tip – keep an eye out for Walgreens photo deals as they offer them frequently. I was able to get all three printed out for less than $20 total when they offered a 70% off deal.)
Luxury Triathlon Gifts
If you've got more than $100 to spend, here are some great luxury gift ideas. (*Note product pricing and availability may change; in general these items may fall in this price range.)
25. Roll Recovery R8
This is a new addition to the list, and one that we personally got last year. Think of the Roll Recovery R8 as a hybrid between a foam roller and a true deep tissue massage. It's a spring configured tool that has a dual roller set up, so when you use it on your muscles, it puts a lot of pressure on both sides.
You can use it across lots of body parts like your calves, quads, and hamstrings. Because of the spring configuration, the device applies all the pressure. You don't have to rely on your body weight or using your upper body to "roll" along it like a normal foam roller; instead you just sit and use it on the muscles. It's less "work" than a normal roller and is great for stiff muscles!
26. Hypervolt Massage Gun
Massage guns have become more popular the last few years, and for good reason. Percussive therapy (a fancy way of referring to the concurrent vibration and massage that these guns use) creates deep bursts of pressure to the muscles.
This may (though is not proven to yet) help reduce delayed onset muscle soreness (DOMS). Interestingly, it also may be a useful strategy for warming up before a race, since it promotes circulation and stimulates the muscles and nerves.
Out of all the ones on the market right now, I think my favorite is the Hypervolt massage gun. It's compact, quiet, and has several speeds along with varying head attachments for different muscle groups.
27. Tri Suit
A tri suit is either a one-piece or two-piece set of clothing which is made with fabric that quickly dries. It can be worn during all portions of the race, including the swim.
If you're going to get this as a gift, just keep in mind you really need to have a solid idea of sizing for your athlete. As a heads up, most triathlon gear for women is sized a bit small, so keep that in mind (for example, my tri suit is actually men's sizing rather than women's, specifically because I'm curvy and it fits me better!).
If you're not sure on the sizing, I'd recommend maybe giving a gift certificate to put towards a tri suit.
My personal favorite tri suit that I've owned came from Fusion, but they recently just exited the US market. Here are a few other places where you can order high quality tri suits:
28. Maloja Gear
Maloja produces high quality cycling and running gear (as well as skiing attire if you do that in the off season!). I love that their products are functional and stylish – think modern, not loud, and likely to be loved by any athlete.
Pictured above is an older model jersey that I've had for a few years (the OrtensiaM.AOP cycling jersey). I love the bright yellow color and fun print. It's lightweight and breathable – great for summer.
But where I think Maloja excels is in their winter gear; you can find some amazing baselayers and winter jackets for cycling if you plan to ride throughout the cold months.
One tip – In general, I find the sizing of European brands runs a bit smaller than the US brands. I think Maloja's gear is a bit more generous than some other European brands but you still may want to order a size up.
29. Therabody Recovery Air Prime Compression Massage Boots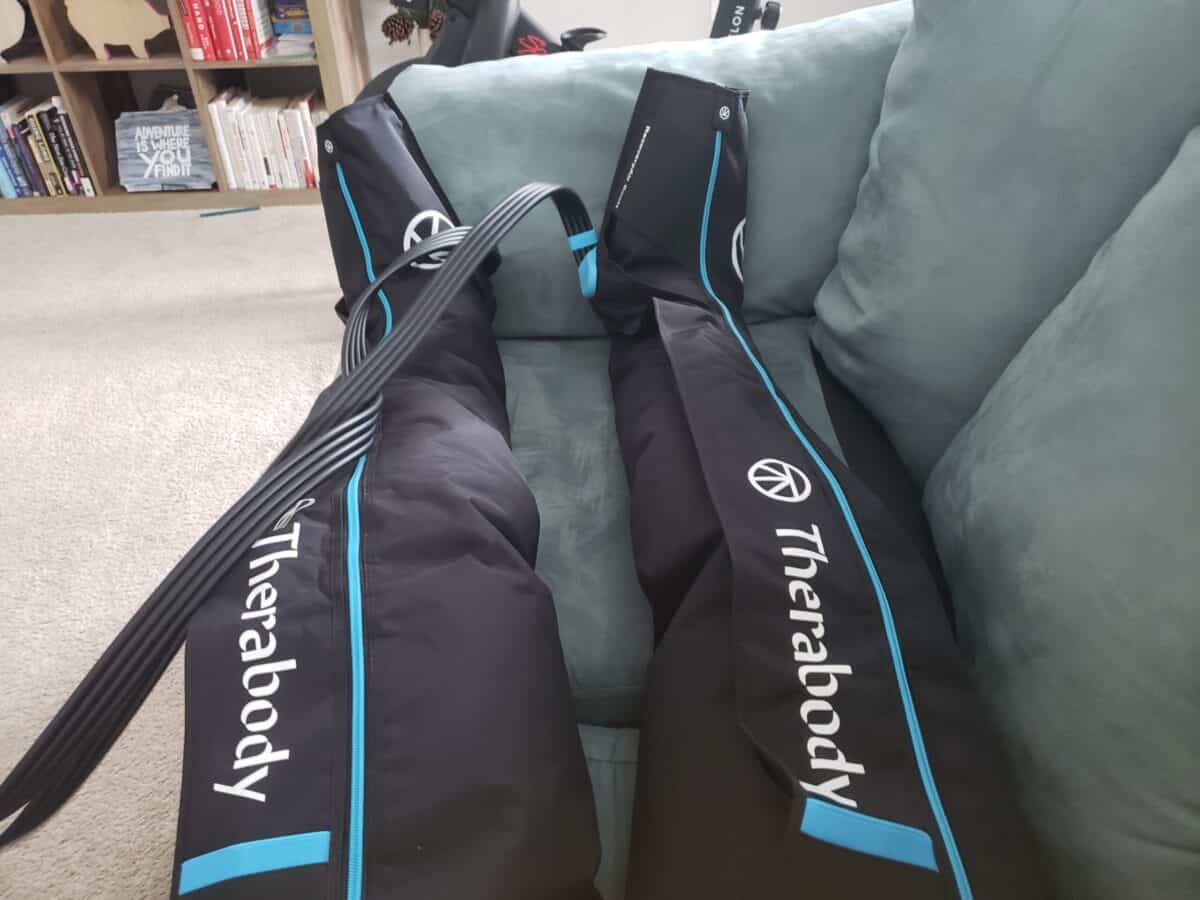 These devices are pricey, but feel amazing for recovery. They offer sequential compression – picture a giant blood pressure cuff that squeezes lightly, starting at your feet and working your way up to your thighs.
I have a pair, and my legs subjectively feel fresher the next day for my workout when I use it (whether that's a true effect or my imagination, I don't know – but I'll take it!).
This brand in particular is super easy to use right out of the box, and is also relatively quiet (it's got a humming noise, but nothing too loud – you can definitely watch TV with them on).
Be sure to take a look at their sizing guide and order appropriately to make sure it's fitting the person you're purchasing for.
Buy Therabody Compression Massage Boots.
30. T-Shirt Quilt
If you know of an athlete that's been racing for a while, odds are they've got an overflow of t-shirts from races. Why not get them a gift certificate for a company like Project Repat, which makes custom quilts from old t-shirts. It's a great way to turn a bunch of old shirts into a cozy blanket (perfect for winter up here in the Northeast)!
The one above is a Project Repat quilt that was made for a blogger pal of mine, Kim from Kooky Runner – you can read more about her experience getting a t shirt quilt made in this post.
31. Gift Certificate to a Local Multisport or Running Store
When you aren't sure exactly what the triathlete in your life would like, nothing is better than a gift certificate to a local multisport store or local running store.
Multisport stores carry gear for all three disciplines; running stores tend to focus on (like it sounds) running.
While you can obviously choose any denomination you'd like, I'm including this in the pricier section since it's always nice to get a big 'ol $100 gift card. That can go a long way towards a pair of shoes, a new cycling jersey, or a basket full of smaller goodies.
32. Bike Helmet
If the triathlete in your life is still using an older, cheaper bike helmet – maybe it's time for an upgrade. While all bike helmets have to meet safety recommendations regardless of price, the more expensive helmets will generally offer a better fit, both in terms of comfort and aerodynamics.
The Giro Vanquish MIPS Adult Aero Cycling Helmet comes highly rated. Most athletes who have reviewed note that it's a comfortable fit and is great on windy days thanks to it's aerodynamic design. It also has a visor to help keep the sun out of your eyes and your vision clear.
You can also browse through a local multisport store or bike shop to see if any helmets jump out at you, and get tips from their employees on the best option for your budget.
If you want to order online but you are looking for other options than the choice above, check out this post from Tri Gear Lab with more details about some of the top bike helmets for triathletes.
33. Triathlon Transition Bag
A transition bag is used to carry all of your gear to and from the transition area at the race. While your athlete can use a regular 'ol duffel bag, some of the tri-specific bags have features like sections for the helmet or waterproof linings for packing your wetsuit post-race.
This Zoot transition backpack-style bag is rated highly, and they also make a duffel bag version too.
(There are some other less expensive versions on the market, so be sure to peek around what's available if your budget is a little lower.)
34. Bike Box or Bag
If you're breaking out the big bucks for a family member, and you know that they are planning to travel often for races – consider gifting them a bike box or bike bag. These are used for flying with a bike so that you can check your bike as luggage.
You'll probably want to be relatively close to the person as you'll need to a) know that they feel comfortable breaking down and reassembling their bike, and b) sniff out their preferences for a soft-case bag versus a hard-shelled box. They'll run you a few hundred dollars at a minimum, so it's an investment you want to make sure is the right one.
For hard-shelled cases, I've heard amazing things about Bike Box Alan. For a soft-shelled bag, most of the Evoc bags (pictured above) have come up with positive reviews in triathlon groups and on Amazon.
35. Triathlon Watch
A great watch can be a useful tool for athletes – and these days, they keep growing in features. Not only can they count mileage but some can keep track of things like heart rate, estimates of lactate threshold, zone based training metrics, and more.
You'll want to think about what your recipient would need in a watch, their level of tech-saviness, and your budget when buying one. On the pricier end, something like the Garmin Forerunner 945 (pictured above) is a highly rated choice. It has a more accurate heart rate sensor than some other watch models, a fairly long battery life, and some fancier features like accident detection and training load focus.
On the less expensive end, something like the Garmin Forerunner 45S will give a less competitive or newer athlete the main features they need – GPS and heart rate monitoring while running or cycling. (This is the watch I personally own and while it'd be fun to test the fancier gear, I also don't feel like I *need* it at this point.)
36. Personal Coaching
If you know an athlete that's looking to take things to the next level in 2023 – yet hates spending money on themselves – consider investing in a coach for them. Coaching will not only provide an individualized training plan, but will also provide the accountability and support to help the athlete excel.
Coaches are also ideal for that person that's been talking about maybe-possibly-sorta-one-day wanting to do a triathlon – but has been scared to take the leap. It will give them the little kick they need.
There you have it!  My 36 top picks for the best triathlon gifts this holiday season.  I hope this list gives you shopping inspiration for those triathletes on your list!  Don't forget to pin this post so you can refer to it later.