Healthy calf muscles are clutch for any runner. They are involved in powering your stride when going uphill, as well as halting your stride on a downhill or to stop short for an object or person in front of you.
Strong and flexible calves will help you meet your running goals. Weak or tight calves can lead to improper form and contribute to common injuries, like shin splints or Achilles tendonitis.
Let's break down everything you need to know about preventing and treating tight calf muscles.
Disclosure: This post is sponsored by Vibrollie. As always, all opinions are my own.
Disclaimer: This should not be construed as medical advice. If you have any medical questions, please visit your doctor.
What are the calf muscles?
What we think of as the "calf muscle" in our lower leg is actually made up of two muscles: the gastrocnemius and the soleus.
The gastrocnemius is the larger of the two muscles. If you flex your calf, the gastrocnemius is the muscle that you see underneath your skin.
The soleus is a muscle that lies underneath the gastrocnemius. It is flatter and smaller.
What causes tight calves after running?
For most people, tight calves after running are simply related to the demands that repetitive running motions place on them, and not stretching them out properly afterwards. This can easily be addressed with regular stretching and foam rolling.
It could also be related to ramping up your intensity or your long run mileage too quickly. Following a gradual training plan and ensuring you have a few drop-down weeks (weeks in your training plan where you pull back a bit on mileage) can be helpful in these scenarios.
For other people, tight or sore calves may be indicative of improper running form. If you find it to be a continuous problem, you may want to have a gait analysis done. A lot of physical therapy offices that specialize in runners will offer this type of service. I even had a treadmill running analysis done at a recent race expo.
And while not related to running, you may also want to take a look at your everyday life. Calf tightness can be related to frequent high heel use, since the elevated heel keeps the muscle in a shortened state throughout the day.
If the issue is more of a pain sensation, rather than a tightness, it could be a more serious issue like a calf strain. In this case, see your doctor for their advice.
What causes calf tightness while running?
If you're experiencing a general mild calf tightness while running, it's likely related to the reasons above. It could also be related to not giving yourself enough recovery time between runs.
If it's a more spasmodic type of tightening, though, it could be cramps. Muscular cramping is due to neuromuscular fatigue – in other words, your nerves and muscles are just tired.
There are a few ways to address calf cramping if you find it happening often on your runs:
Take a look at your training schedule. Under-training and then going on challenging long runs can make it more likely that you'll cramp. Be sure that your training volume is appropriate for your race distance.
Anecdotally, take a look at hydration and electrolytes. Interestingly, research does not support these as causes of cramping during exercise for most people. However, ask a room full of runners and at least one or two people will tell you that drinking more water or adding extra sodium helped them with cramping. Since there's no harm in paying more attention to hydration and electrolytes, it's worth seeing if it helps despite the lack of scientific evidence.
Try pickle juice, mustard packets, or hot shots. All of these products either contain high amounts of vinegar (pickle juice & mustard) or pepper (hot shots). The thought is that when these ingredients hit the back of your tongue, they send a signal to your nerves to relax your cramping muscle. (Read more about pickle juice & runners here).
Stretch. If you're cramping during a training run or race, step to the side for a few seconds and see if stretching out the calf helps to relax it and let you run comfortably again.
Stretches for tight calves
Odds are most athletes do not put enough focus on stretching and flexibility. Lack of stretching is probably the most common cause for tight calf muscles. Static stretching is great for the calves and can be easily incorporated after your runs. Simply practice the stretches below and hold them for about 20-30 seconds each.
1. Standing straight leg stretch against a tree/wall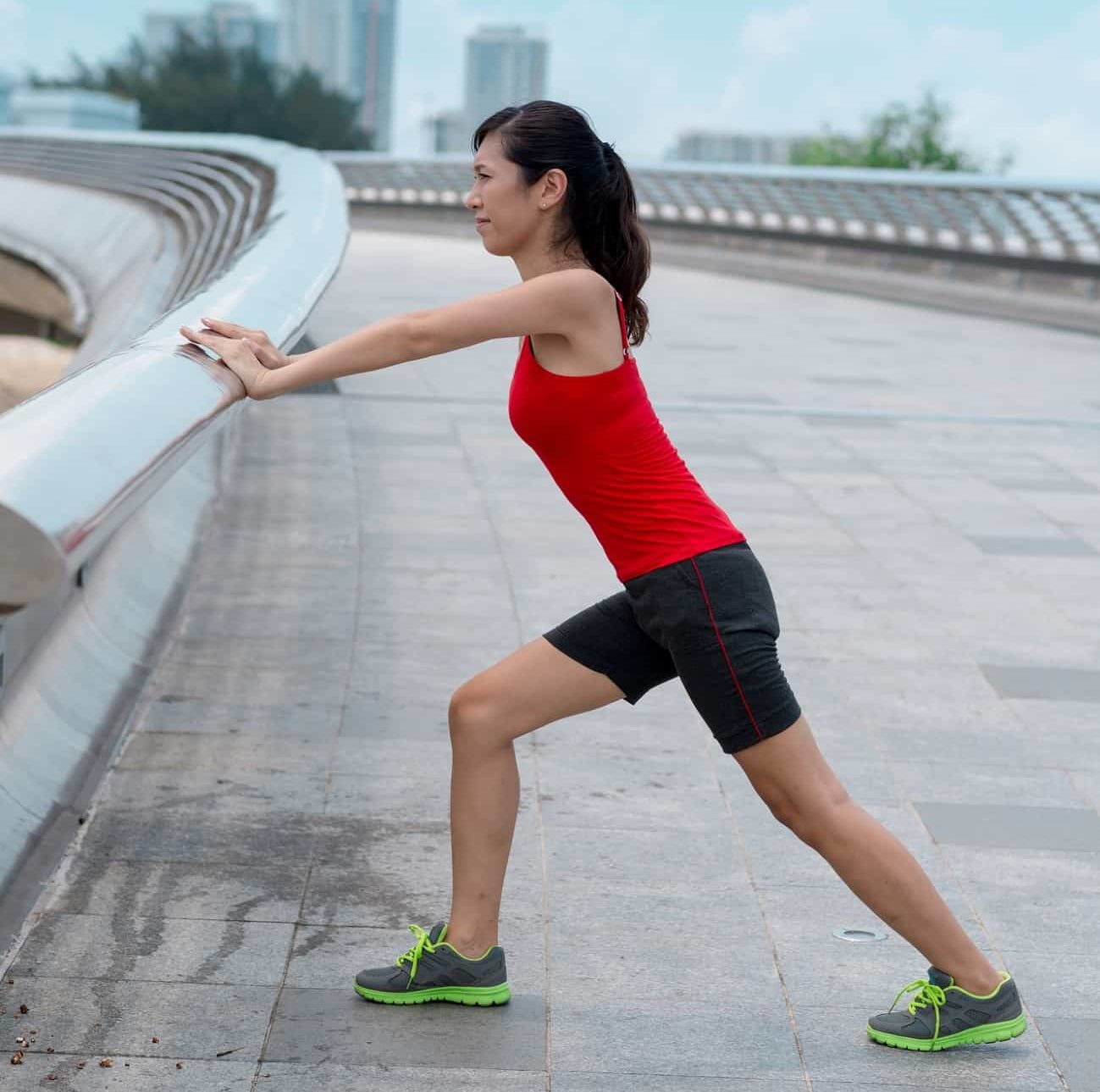 Stand facing a wall or tree with your hands pushing against it. Step one of your legs back. The leg closest to the wall/tree should be bent, while the leg that's back should be kept straight. "Lean in" to the wall so that you feel a stretch in the calf. Hold, then repeat on the opposite leg.
2. Standing bent leg stretch against a wall
Very similar to above, but in this case you're going to keep your back leg a bit closer with your knee bent. This helps to target the soleus rather than gastrocnemius muscle.
3. Downward facing dog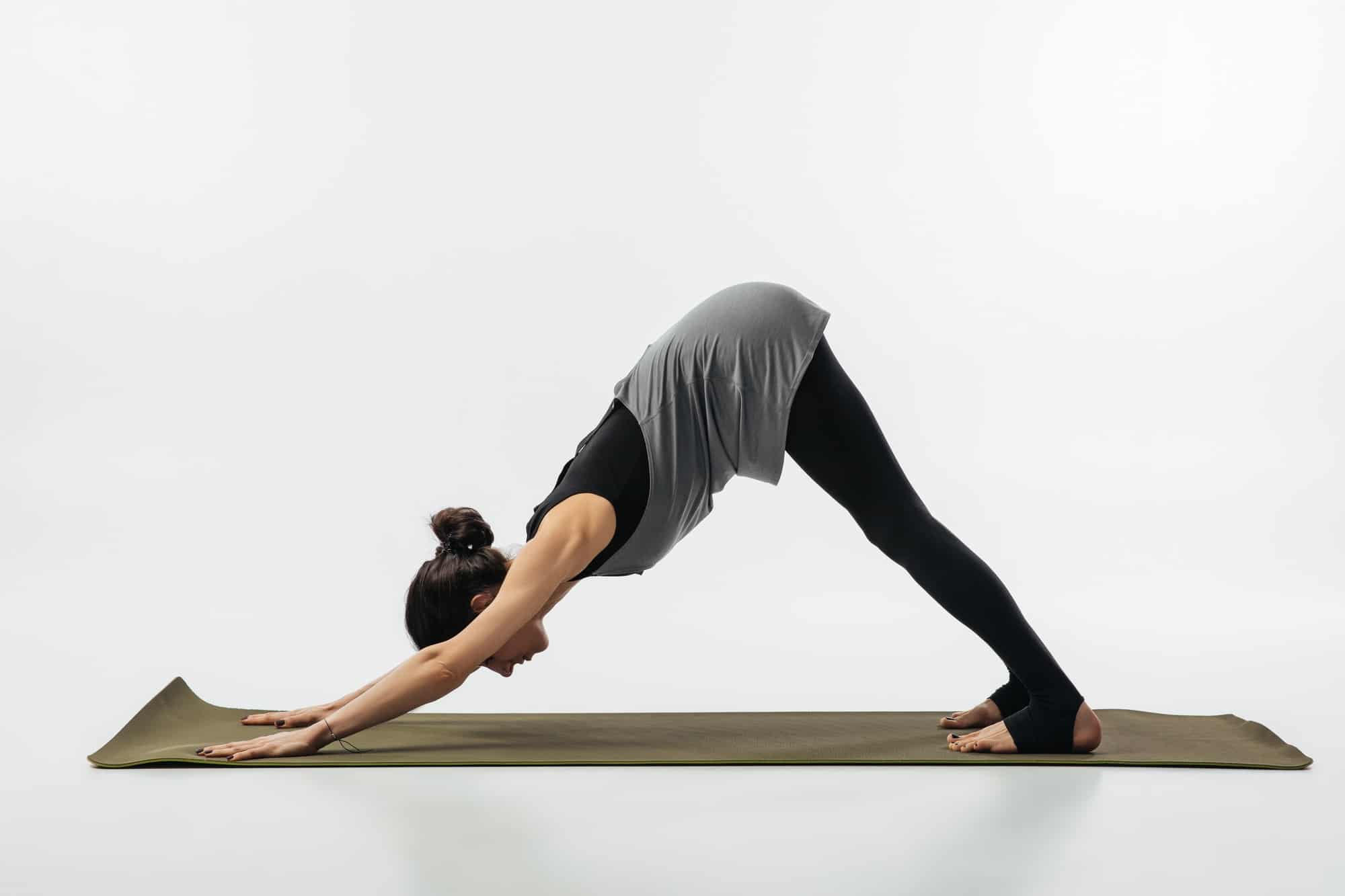 This yoga position is great for runners as it helps to stretch both the calves and hamstrings. Start by sitting on your knees and placing your hands on the ground in front of you. Walk your legs back until the knees aren't bent, so that your body is in an inverted "V" shape. You'll feel the stretch all along the backs of your legs. You can alternate shifting weight between the sides of your body and pushing one heel into the ground.
4. Seated calf stretch with a strap
Sit with your legs out in front of you. If it's more comfortable, you can keep one leg bent. Use a strap to loop around your foot and pull towards you. You should be placing pressure on the foot and bending it towards your body, stretching the calves and hamstrings.
5. Wall stretch
While standing, place one foot's toes against a wall while keeping the heel on the ground. Your other foot should be flat on the ground. Flex the foot against the wall so you feel a stretch in the calves.
Foam rolling for tight calves
While once a tool only found in physical therapy offices and athletic training facilities, foam rollers have made their way into the mainstream – and for good reason. Foam rollers can be used in conjunction with traditional static stretching to help alleviate soreness with tight calves and increase flexibility.
Here are just a few examples of recent research on foam rolling:
A relatively new entry to this market is the vibrating foam roller. To be honest, my first thought was skeptical – can vibration really do anything different? But some newer research suggests that it might be even more effective than a standard foam roller!
While the research is still in its infancy, one study found that foam rolling the quadriceps with vibration led to increased pain tolerance and better knee range of motion compared to a standard foam roller. Not specific to the calves, but certainly plausible that it could provide the same benefits on multiple muscle groups! (And other studies looking solely at vibration therapy show some promising results as well, including benefits like reduced pain perception from DOMS).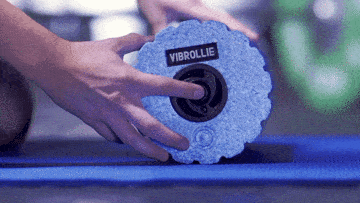 I'm personally excited about the Vibrollie, a new vibrating foam roller that includes four different speed settings.
This is a feature that I think has been missing from some of the other options available. Everyone's personal tolerance to vibration can vary, so offering a range – with the lightest speed generating 2,900 vibrations per minute and the highest at over 4,000 – is a winning attribute of this product. The founder actually worked with personal trainers and physical therapists to help develop these speed settings.
The other thing I'm excited about is the convenient size. It's 11.5 inches long and under 6 inches wide, which makes it easy to toss in a suitcase or carry-on bag for traveling. That's key for all of you who like to travel for destination races!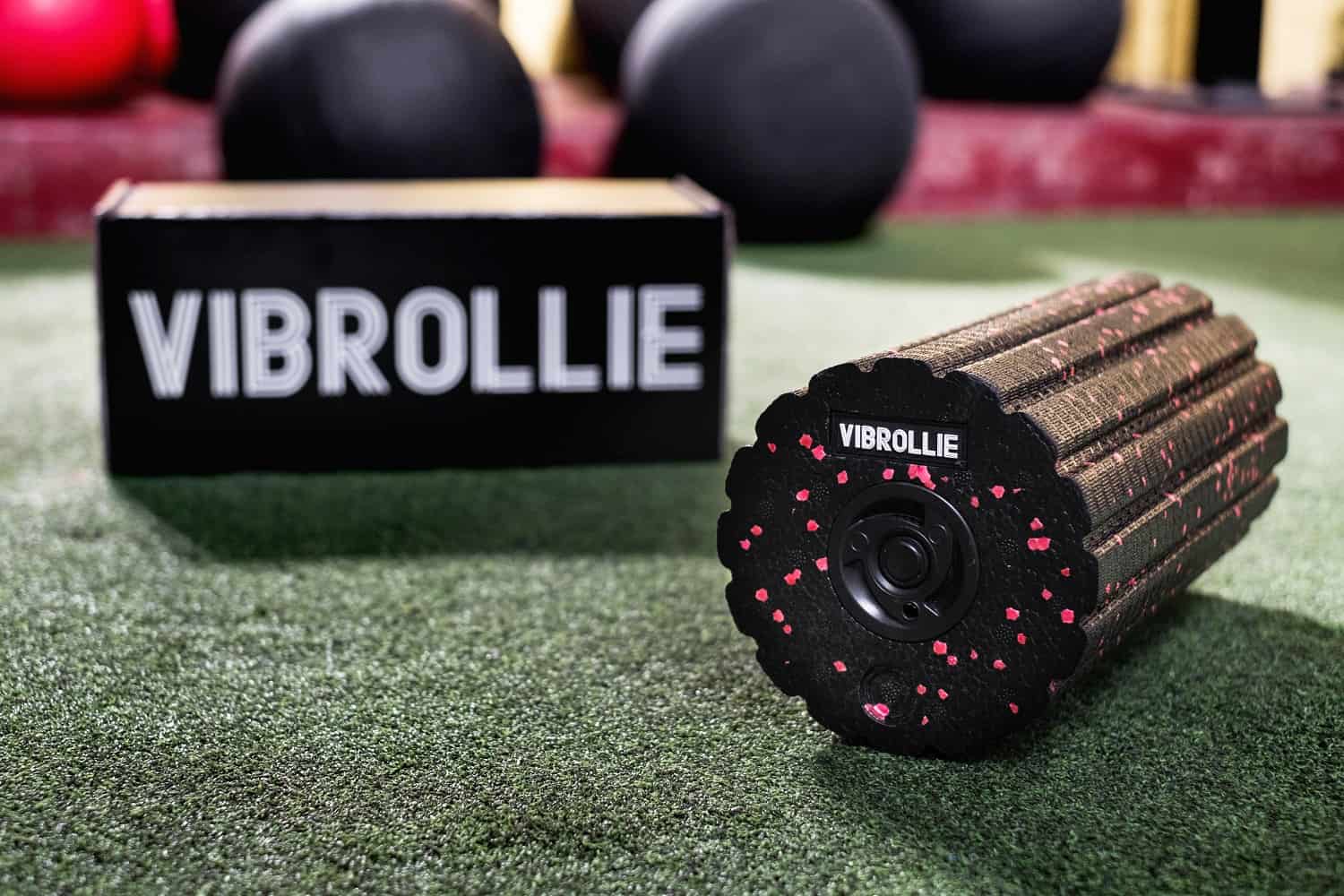 Once you've got your foam roller, here are two different ways to use it for the calves:
1. Full calf roll with leg crossover
Sit with your legs extended. Place the foam roller under your calves. Cross one leg over the other, and hold your body up with your arms behind you, gently rolling your calves over the foam roller.
2. Rotated calf roll
Sit with one leg bent at the knee, and the other leg fully outstretched and rotated slightly inward. Place the roller under the straight leg, and lean back using your arms to support you. Roll this inner side of your calf back and forth. You can modify this by rotating the leg slightly outward as well.
Here's a great video that demonstrates these along with a few other foam rolling techniques:
Strength exercises to help your calves
If you have weak calf muscles, you'll likely experience more tightness and soreness after a run compared to someone with stronger calf muscles. Stretching and foam rolling can help with the tightness that occurs, but it's also smart to work from the other angle and start to strengthen those muscles ahead of time.
Here are some ideas for strength exercises for your calves:
1. Calf raises off of a step
Stand on the edge of a step with your heel hanging off the back. Raise yourself up onto your tip-toes, then slowly lower yourself back down.
2. Standing calf raises with dumbbells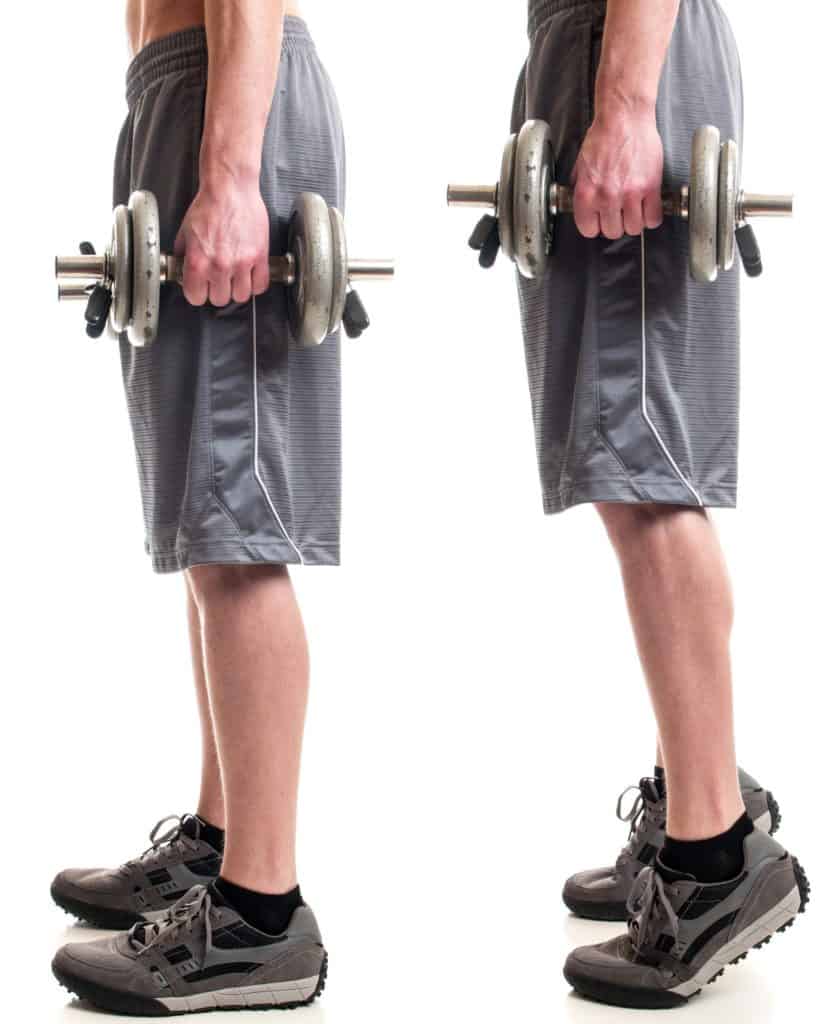 Stand straight, holding dumbbells in each hand. Raise yourself up onto your tip-toes, then lower yourself back down. You can do variations on this by making it a single leg exercise rather than a double leg exercise.
3. Tiptoe Walk
Stand on your tip toes and walk for 30-60 seconds without letting your form drop. If this is too easy, you can add dumbbells to hold on to at your sides as you're walking.
Should you see a doctor for sore or tight calf muscles?
If there's pain or soreness that's altering your running stride, and/or it's bothering you in everyday life, it's a good idea to see your doctor. They will be able to rule out more serious issues (like a calf strain) or refer you to a physical therapist who can help demonstrate exercises one-to-one.
Share with me: Have you struggled with tight calf muscles during or after running? Which of these tips do you think you'll implement to help with your tight calves? Are there any other tips you have to share for tight or sore calves?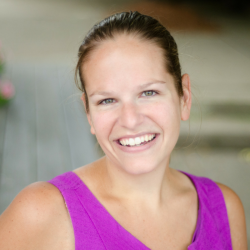 Latest posts by Chrissy Carroll
(see all)