Protein is a key nutrient for triathletes – it helps with muscle repair and recovery so you can train hard again tomorrow. While whole foods should always make up the base of your diet, sometimes it can be challenging to meet your needs. Whey protein is one option that can help bridge this gap, especially in the post-workout time frame. Learn more about your protein needs and tips about whey protein for triathletes in this post.
Disclaimer: This post was written by Chrissy Carroll, RD and USAT Level I Triathlon Coach. It is for informational purposes and does not constitute individualized nutrition or medical advice. For any personal nutrition questions, please visit your doctor or dietitian.
Why do triathletes need protein?
Protein is a building block for muscles. It also helps in repairing cells, producing hormones and enzymes, keeping you satisfied and full after meals, and (in certain situations) can act as an energy source for the body.
It's important to get enough protein as an athlete because it helps with muscle recovery, repair, and growth, which are all needed after training hard.
A few studies indicate post-workout protein may also help with reducing muscle soreness, though this is much more inconsistent and may be limited to certain population groups. Meta analyses indicate that this benefit may be more likely to occur when proper recovery protein is consumed after daily training sessions (and less likely to be important for sporadic training or recreational exercisers).
What types of protein should triathletes eat?
There are two main types of protein: plant-based protein and animal-based protein:
Plant-based: Just like it sounds, this comes from plants. You can find it in foods like soybeans, beans, lentils, and nuts.
Animal-based: These proteins come from meats like beef, chicken, or fish, as well as eggs and dairy products.
Either of these can be used to meet your needs on a daily basis. While years ago it was thought that you needed to combine two plant proteins at the same time to form a "complete" protein, we now know that as long as you're getting a variety over the course of the day, you should meet your needs just fine.
(That said, having a complete protein or combination of proteins with different amino acid profiles does become more important in the post-workout time frame. This is because certain amino acids – namely BCAAs – are very involved in workout recovery).
How much protein do triathletes need?
When it comes to protein needs, triathletes require more than the average person because of the frequency and intensity of their workouts. It's challenging to come up with a set amount for every athlete, as a weekend warrior training for a sprint distance event will have different needs than a competitive athlete training for an Ironman.
While a sedentary person only needs about 0.8 grams of protein per kilogram, and a recreational exerciser may need around 1-1.2 grams per kilogram – it's recommended that triathletes get at least 1.2 to 1.4 grams per kilogram. In fact, recent research suggests that 1.8 grams per kilogram may be a more accurate representation of athlete needs.
(Yes, the nutrition field often speaks in kilograms, which can be confusing. For reference, 1 kilogram = 2.2 pounds).
Some athletes may fare better going up to 2 grams per kilogram if they are trying to lose any weight at the same time as training. (Weight loss can lead to reduced muscle mass, but research has shown maintaining high protein intake can help alleviate some of that loss).
For a 75 kilogram (165 pound) athlete, that would be about 90 grams of protein on the low end (1.2 g/kg) up to 150 grams on the high end (2 g/kg).
This range may sound high, but it can definitely be done with all whole foods. Here's an example of a meal plan that contains approximately 100 grams of protein:
Breakfast: Two scrambled eggs with a slice of whole wheat toast, a banana, and a glass of milk (24 grams)
Post-Workout Snack: 3/4 cup greek yogurt topped with berries and granola (18 grams)
Lunch: Salad topped with 4 oz salmon, sliced pear, diced bell pepper, walnuts, and dressing; roll with butter; small brownie. (26 grams)
Snack: Apple with 2 tbsp peanut butter (6 grams)
Dinner: Whole grain pasta with red sauce and lean beef meatballs; roasted broccoli. (25 grams)
In addition to meeting your overall needs, you should also consider protein timing. Most athletes get plenty of protein at dinner, but fall short in their protein at breakfast. For optimal muscle health, try to space your protein intake out relatively evenly throughout your meals (but don't get overly concerned in this, especially if you're a recreational athlete).
You should also aim to include some protein along with adequate carbohydrates in the post-workout time frame when possible. This is more important for elite athletes and those doing 2-a-day workouts, but even if you don't fall into these categories, it can still be helpful to include a post-workout snack if you aren't planning on eating for a few hours.
What is whey protein?
Whey protein is often sold as a supplement and marketed towards athletes.
It is derived from dairy. Milk and other dairy products contain two categories of protein – casein and whey. A whey protein powder only contains the latter.
Whey is often considered a 'fast' protein as it is digested and absorbed rapidly in comparison to other protein sources.
This type of protein powder also provide an optimal balance of amino acids, including the branched chain amino acids (leucine, isoleucine and valine). In fact, it's one of the best sources of leucine, providing about 2.5 grams per serving. Leucine is involved in recovery muscle protein synthesis after an endurance exercise session.
Types of whey protein powders
Disclosure: This section contains Amazon affiliate links. As an affiliate, I earn a commission on qualifying purchases.
There are three different types of whey protein powders you may find on the market:
Whey concentrate – After the whey is separated from the casein, it undergoes a filtration process which results in whey concentrate. This makes up many of the products on the market today.
Whey isolate – With additional refinement, whey isolate can be created. This means there's about 90% protein in the final product. There are also lower levels of lactose compared to a whey concentrate.
Hydrolyzed whey – This form is exposed to a process, essentially pre-digesting the whey before consumption, that can make it easier for you to digest than other forms.
Most athletes will fare well with whey concentrate or whey isolate. Whey isolate may be a better choice if you're lactose intolerant.
I don't personally see a need for hydrolyzed whey for triathletes, as it's usually pricier than the other forms. Some people anecdotally say that hydrolyzed whey may be easier on the stomach than other forms, though research doesn't necessarily back this up. There is also one small study that indicated hydrolyzed whey may lead to more fat loss, but this was in college-aged resistance trained males, so hard to extrapolate that data to others.
It's worth noting that some people sometimes experience stomach upset when they start using whey. However, using smaller scoops at first, or trying a whey isolate instead of concentrate, may help alleviate these issues.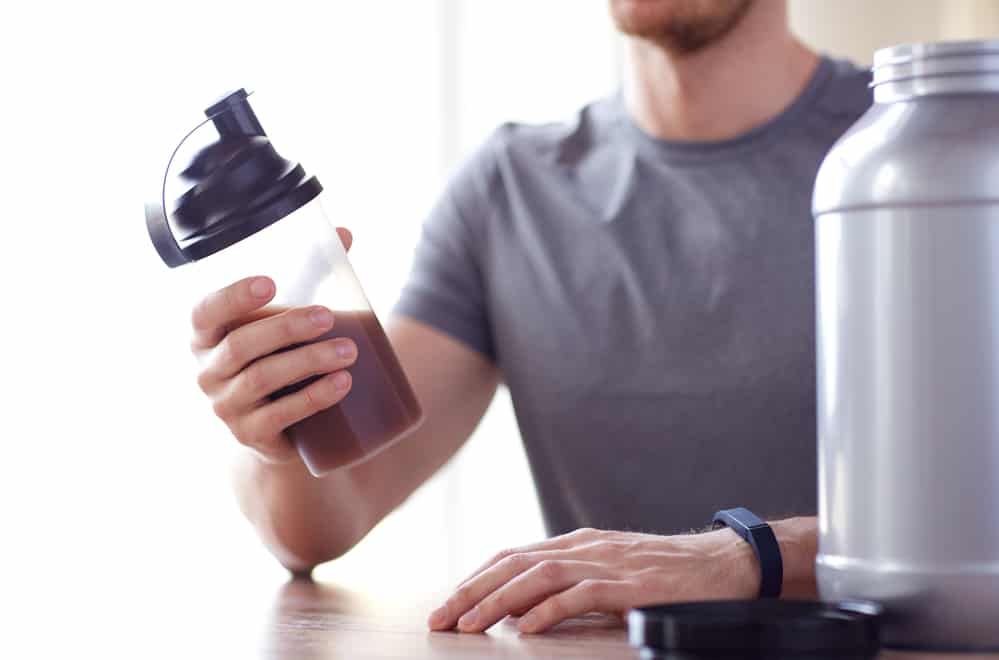 Should triathletes use whey protein?
While whole foods should make up the base of any healthy diet plan for athletes, sometimes athletes may struggle – particularly in the immediate post-workout phase.
After a long or intense workout, triathletes should aim to get in carbs and protein within 30-60 minutes to support recovery – particularly if completing 2-a-day workouts or training at a highly competitive level.
Some athletes have a hard time getting down a meal that close to finishing a workout. If that's the case, making a smoothie with whey protein is an easy way to meet your needs.
Whey is relatively inexpensive and is also a complete protein (meaning it has all the essential amino acids to support muscle health), which makes it a nice choice for this post-workout time frame.
Whey protein contains about 24g of protein per scoop, which is usually the size recommended for a post-workout shake. Different brands will offer different amounts – some as low as 18g or 20g and others up to 32g. The amount does vary by whey's flavor and the size of the scoop, but most whey protein powders contain at least 20 grams of protein in one scoop/packet.
This post-workout whey may have some benefits. For example, a study among elite runners found that whey protein helped improve physiological adaptations and also improved performance in one type of subsequent event. Among physically active females in another study, whey protein supplementation helped reduce indicators of muscle damage and improve recovery.
Remember that as an endurance athlete, it's important to supply your body with carbohydrates too after a long run or ride. Combining mostly carbs along with some protein is key.
Generally, you want to aim for a 3:1 to 4:1 ratio of carbs to protein – for example, around 25 grams of protein plus 75-100 grams of carbohydrates. (You don't need to get caught up in this ratio if you're a recreational athlete, though. Just aim to get some carbs and some protein into a meal or snack.)
For example, you can easily make a post-workout smoothie with frozen bananas, milk, whey protein, greens, and peanut butter for a carb and protein rich snack.
What should you consider when buying whey?
If you decide to buy whey to include in your training diet, be sure to consider the following when making a purchase:
Type of whey – As mentioned earlier, a whey concentrate or isolate can both be great products. Those with lactose intolerance may fare better with an isolate.
Flavor preference – Chocolate or vanilla are popular flavors, but you can also find more out-of-the-box options like birthday cake or mocha. Unflavored varieties are also available for those who prefer that.
Sweetener preference – Many whey products on the market these days are sweetened with sucralose (an artificial sweetener) or stevia (a natural alternative sweetener). You can occasionally find whey sweetened with regular sugar too. There are also unsweetened varieties available.
Sourcing preference – Most whey comes from conventional dairy production, which means the cattle are mostly fed grass but may have grain in their diet as well. There are grass-finished whey protein powders on the market now too, which means the cattle are exclusively fed grass. While grass-fed milk may have a slightly different nutrition profile (slightly more beneficial fats) – it is likely to be a moot point in whey protein powders where the product is mostly just the filtered out protein. Of course, you can choose whichever you prefer.
Price point – Different brands have different price points. Just because a brand is more expensive, doesn't necessarily mean it's better.
Third party certifications – If you're competing at a college or elite level, you should choose products that are NSF certified or Informed Sport Certified. These organizations provide testing to help ensure there are no banned substances in your supplements.
What if you're dairy free?
Some people do not eat dairy in their diets – whether for medical reasons or personal beliefs. If that's the case, there are some great alternatives to whey.
Plant-based protein powders include soy, hemp, rice and pea. If using a plant-based protein powder, I typically recommend looking for a plant blend or plant complex. This usually provide a more balanced amino acid profile that comes closer to weigh than any one plant protein alone.
Overall, though, if you can eat dairy products, whey is usually the best choice for a high-quality post-workout protein powder.
A Final Word
No matter what, remember that protein supplements are not a substitute for whole foods. A balanced overall diet is by far the most important part of a triathlete's nutrition plan. And many athletes can fully meet their needs (both on a daily basis as well as in the post-workout time frame) through food alone. But for triathletes who need a little extra protein after a workout, whey protein can be a good choice.
Share: Are you a triathlete that uses whey protein? What has been your experience with it?
Feel free to pin this post to share with others! 🙂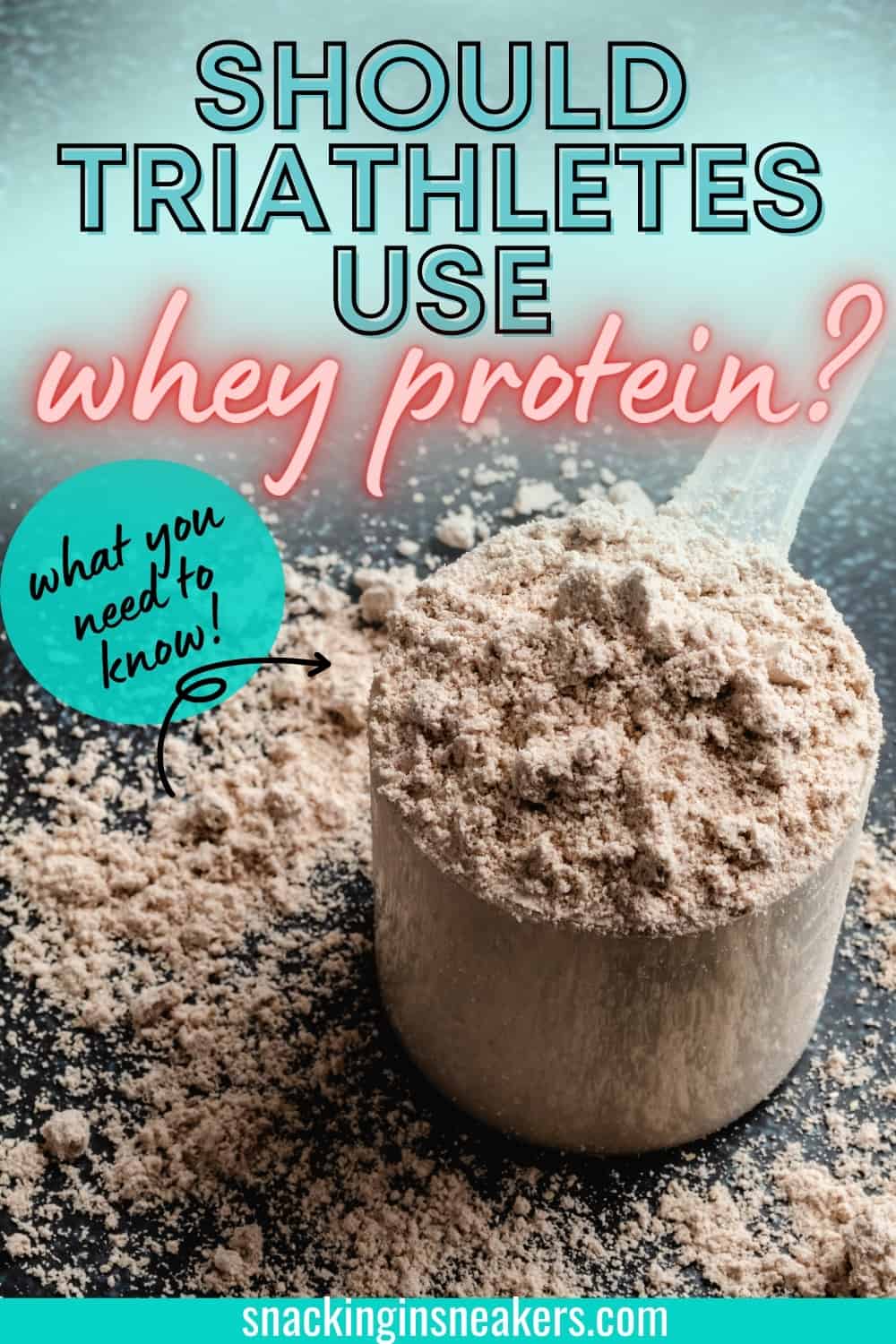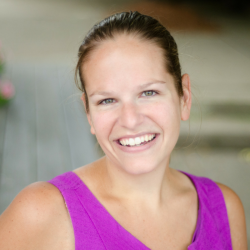 Latest posts by Chrissy Carroll
(see all)