Percussion massagers – also called massage guns – are one of the newest tools that athletes can use to recover from their workouts. These hand-held devices are a great way for fitness-focused folks to relieve muscle tension and soreness. But what do you need to know before buying this innovative new tool? Read on below to find out more about massage gun benefits (and risks!) – as well as tips for purchasing one.
Disclaimer: This post was written and reviewed by Chrissy Carroll, Certified Personal Trainer, USAT Level I Triathlon Coach, and RRCA Running Coach. It is for general information only and is not intended to be individual training or medical advice. For questions about whether a massage gun is right for you, consult your doctor or physical therapist.
Disclosure: This post contains Amazon affiliate links. As an affiliate, I earn a commission on qualifying purchases.
What is a massage gun?
It may look like something that belongs in a tool box, but a massage gun is a great addition to your gym bag. It utilizes percussion therapy, which combines vibration and massage to create deep, pressured bursts to the muscles. The head of the massage gun moves back and forth very quickly to produce the pressure, which may create a "rippling" effect as you're using it.
Most massage guns come with several different attachment options to use for the head. These offer the ability to create different types of pressure and sensations.
For example, my Hyperice Hypervolt comes with 5 different head attachments:
Cushion- This attachment is usually best for beginners. It's softer with a large surface area, and has more give to it.
Foam Ball – The foam ball attachment is slightly denser than the cushion attachment, but has the same surface area. It delivers a bit of a firmer massage and is good for large muscle groups.
Fork– The fork attachment has two prongs (think of a fork in the road). Hypervolt recommends using this on "paraspinal muscles, upper traps, forearms, and ankle/calves (without making contact with the achilles tendon)."
Flat Head – This attachment is round but flat (as opposed to the foam ball, which is round and spherical). It's hard plastic, which makes it tougher than the foam ball, so it provides more pressure. It works well on large, dense muscle groups – think your hamstrings or glutes.
Bullet– This attachment is the smallest of them all, and is usually used for small muscles or hard to reach areas.
Different massage guns will have different names for their head attachments and may feature other types too, but the ones above are quite common.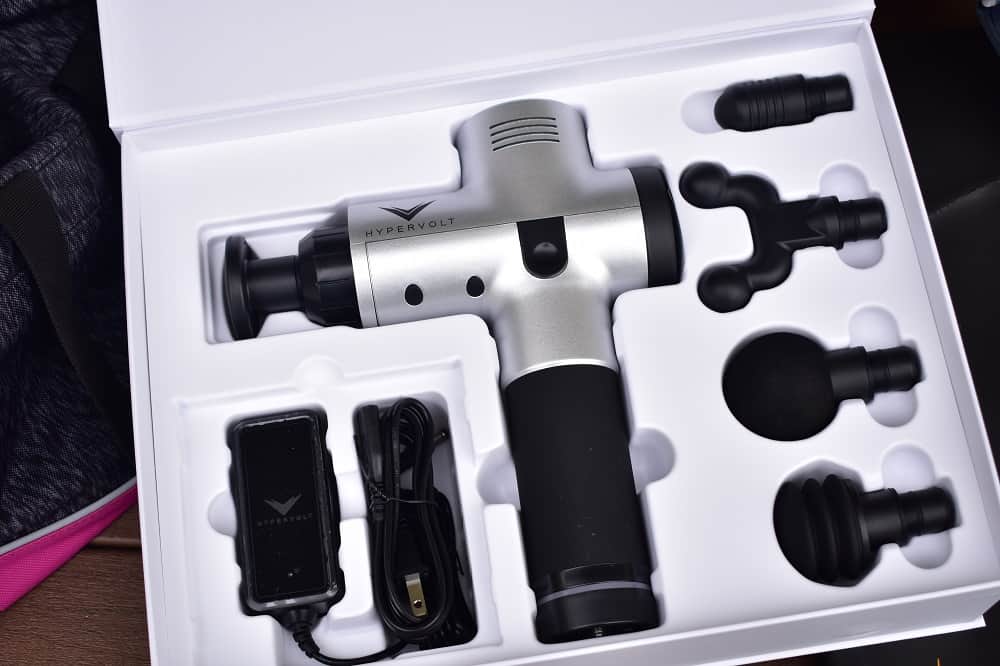 Benefits of massage guns
A massage gun has many benefits for runners, triathletes, gym-goers, and other athletes. Here are the five main benefits:
1. Reduce DOMS.
DOMS stands for Delayed Onset Muscle Soreness. This condition occurs after exercise, and can cause pain (most common), as well as swelling, stiffness, or tenderness. According to ACSM, you'll usually notice symptoms of DOMS around 12-24 hours after exercise, with symptoms lasting 24-72 hours after that.
DOMS can be caused by any type of exercise, though it's more common after exercises that have eccentric contractions (contractions where the muscle is lengthening). These include strength training (like the lowering phase of a bicep curl) or running downhill. DOMS can also occur during other exercises though, especially for those who are new to the activity.
Using a massage gun may reduce the pain associated with DOMS.
There's not a lot of research that has been done about massage guns in particular because they're new to the market, but there have been some studies on adjunct methods that are promising.
For example, a study in the Journal of clinical and diagnostic research concluded that vibration therapy may help reduce DOMS. Similarly, significant research has linked traditional massage therapy to reduced DOMS (source 1, source 2, source 3). In fact, one study estimated that it reduced DOMS by about 30%. In addition, a meta-analysis on foam rolling also concluded that type of post-workout recovery helped reduce muscle pain perception.
While none of these studies are on a massage gun itself, it's certainly plausible that massage guns could promote less soreness and better recovery, as a massage gun is similar to these other methods.
2. Helps you warm up.
Perhaps even more interesting than it's role in recovery is the possible role of massage guns in warm ups.
One study in the Journal of sports science & medicine looked at the impact of the Hypervolt massager on calf range of motion as well as maximum voluntary contraction (MVC) torque of the plantar flexor muscles. The authors found that using the massage gun led to more flexibility in the muscles without any loss of strength, and as such, recommended possible use in a warm-up regimen.
They concluded that the changes in range of motion were likely due to decreased muscle stiffness and decreased perception of pain following use of the percussion massager.
The vibrations from the massager may also improve circulation. This stimulates blood flow which can improve pliability and oxygenation of those muscles – the first of which may help warm up the muscle and reduce injury risk, and the later may help prepare the body for the demands of the upcoming workout.
Percussive therapy can also help stimulate the nervous system and address barrier trigger points in muscles. All of these could help get your muscles primed and ready for your sweat sesh.
Of course, the research on using a massage gun as part of your pre-workout routine is still tentative at best, but it's worth exploring personally to see if it helps you.
3. Easier to target specific areas.
While a foam roller is an excellent inexpensive tool for self-myofascial release (SMR), it can be difficult to target specific areas.
For example, if you're struggling with tightness in a certain muscle group in your upper back, a foam roller may not be the best option. A massage gun with various attachments can target those more specific areas and provide relief where it's needed most.
Similarly, foam rollers can be a bit awkward for new users. People new to them may not understand how to correctly roll on them to achieve optimal pressure. Also, sometimes people with larger body shapes or those who are para-athletes may have difficulty finding the right positioning for foam rolling.
On the flip side, massage guns are easy to use and you have a variety of attachments to target different areas. They may be less intimidating than foam rolling for certain people, and lead to more consistent use.
As an aside, foam rollers are also larger and less convenient to carry, which can be challenging for travel. Massage guns are easily portable and can be used anywhere – at the office, on vacation, while watching TV, etc.
4. Less expensive than regular massages.
Regular massage therapy can be expensive, generally clocking in somewhere between $70-$110 per hour-long session.
Massage guns, on the other hand, generally clock in somewhere between $50 to $600. Most higher-quality models will run around $200-300.
Yes, that may be a bit pricey. But if you use it regularly, it's certainly less expensive than paying for a full-body massage every week.
Regular massages by a trained professional are still an excellent part of a recovery and wellness routine, and we are not suggesting that a massage gun replace that completely. However, using it as an adjunct to massage therapy may help you reap benefits without wreaking havoc on your wallet.
(As an aside, a massage gun may make an excellent choice for those who do not personally like massages because they do not find relaxation in being touched by another person.)
5. Feels good.
Perhaps the best benefit of a massage gun? It feels good!
Don't get me wrong, sometimes it can feel a bit uncomfortable too (that "hurts-so-good" sensation). This is particularly true if you're using higher vibration speeds and/or head attachments that are denser.
But for the most part, a massage gun can feel like a treat to your tired, achy muscles.
You can use it as a reward to yourself after tough workouts. Are your calves tired from all that marathon training? Are your quads sore because you just started a new lower body superset workout? A few minutes with the massage gun can be soothing and relaxing.
As a personal anecdote, I use mine regularly right now as I'm training for a 6 hour running race, and it has made such a huge difference in how my muscles feel each day!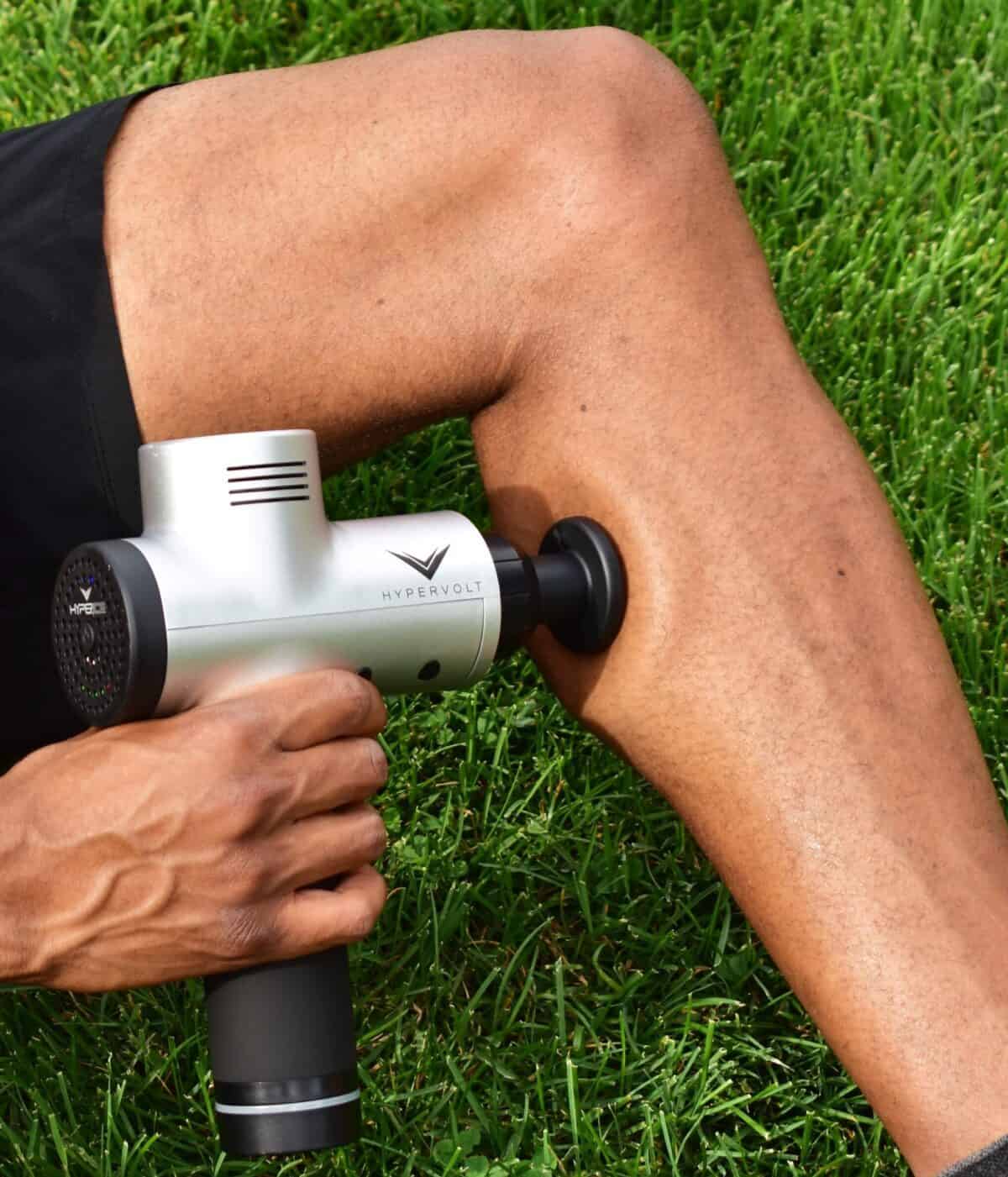 Risks of massage guns
While massage guns have many benefits, there are also some risks to be aware of:
Discomfort: While the majority of people enjoy massage guns, they can be a bit uncomfortable for some. Those with sensitive skin or those who are more prone to pain may experience discomfort during use, or soreness after use.
Oversensitivity: Some report feeling oversensitive after using a massage gun. If this occurs, it may be best to not use it as part of your warm-up routine, and instead save it for post-workout.
Risk of injury or muscle damage: Massage guns do have the potential to cause damage if used incorrectly. This includes applying too much pressure, overuse, or applying pressure to incorrect spots. For example, a 2021 case study found improper use of a massage gun led to rhabdomyolysis, a serious condition characterized by the breakdown of damaged muscle fibers and the release of those components into the blood stream. If you notice any bruising or significant pain while using a massager, it's a signal you may be risking injury and should stop.
Contraindicated with certain medial conditions: Massage guns are not recommended for those with certain medical conditions, such as peripheral neuropathy, muscular dystrophy, and certain autoimmune conditions. You should also avoid use if you have certain injuries like muscle strains or broken bones. In addition, do not use a massage gun during pregnancy unless your doctor has given you the go-ahead.
Lastly, remember that massage guns are not a miracle cure. They may help with recovery, pain reduction, and warm ups – but they are not going to fix major injuries. Never try to self-treat an injury that is changing your running stride or lifting form, or is causing pain. Always consult a doctor if you have questions about an injury or using a massage gun.
Tips for buying and using a massage gun
If you decided to purchase a percussion massager, here are some helpful tips for getting started:
When deciding on a massage gun, take a look at the specifications. For example, some massage guns offer different levels of percussion, while others may only have one setting. You may want to a product that offers various head attachments, but perhaps the cheaper models only come with one. Weigh all your options.
Read reviews. The best way to get an idea of what people think about a product is by reading reviews. You can find fitness gear review sites on the internet, check out reviews on Amazon, or you could also ask around for recommendations from friends and family members.
Review the manufacturers instructions and/or videos. While these products are very simple to turn on and use, the instructions will often give you details on how to use the different head attachments, safety tips to prevent injury, and other helpful advice.
Start on the lowest speed. Higher speed settings often result in more discomfort; some people will love these high speeds while others won't want anything stronger than low vibration.
Work in sections. Massage guns are great tools because they can quickly work through tight or stiff spots in your shoulder blades, back, hamstrings, quadriceps, calves…the list goes on! Give yourself enough time to work through these different areas. When using as a warm-up tool, be sure to focus on the muscle groups you're preparing to use in your upcoming workout.
Don't overuse it. It's important that you use your massage gun for short periods of time, so as not to overstimulate muscles or cause discomfort in any one area.
Recommended Product
I'm a big fan of the Hyperice Hypervolt massage gun. I've used it for the last year and a half, and love it. Here are a few of my favorite aspects of the product:
3 speed settings (though I only ever use it on the lowest!), offering up to 3200 percussions per minute.
5 different head attachments, offering a variety of different massage techniques.
Rechargeable and lasts up to two hours on a single charge.
Compact size and easy portability–the entire device only weighs 2.5 pounds (and is TSA-approved for carry-on luggage).
Quiet experience – you can use it during your post-workout Netflix binge without having to blast the volume.
If you want to grab one, the Hyperice Hypervolt Massage Gun is available on Amazon, where you can read more reviews from other customers.
You can also check out the wide variety of other massage guns on Amazon – they have several at a lower price point which may also appeal to you.
The Final Word
Massage guns are all the buzz these days (pun intended), and for good reason. This tool can be used as a pre- and post-workout option, making it an excellent addition to your arsenal of fitness gear. While tools like foam rollers offer some of the same benefits as a massage gun, their manual nature and larger size aren't as convenient. If you exercise regularly and have some extra cash to spare, a massage gun is a great investment!
Feel free to pin this post to share with others! 🙂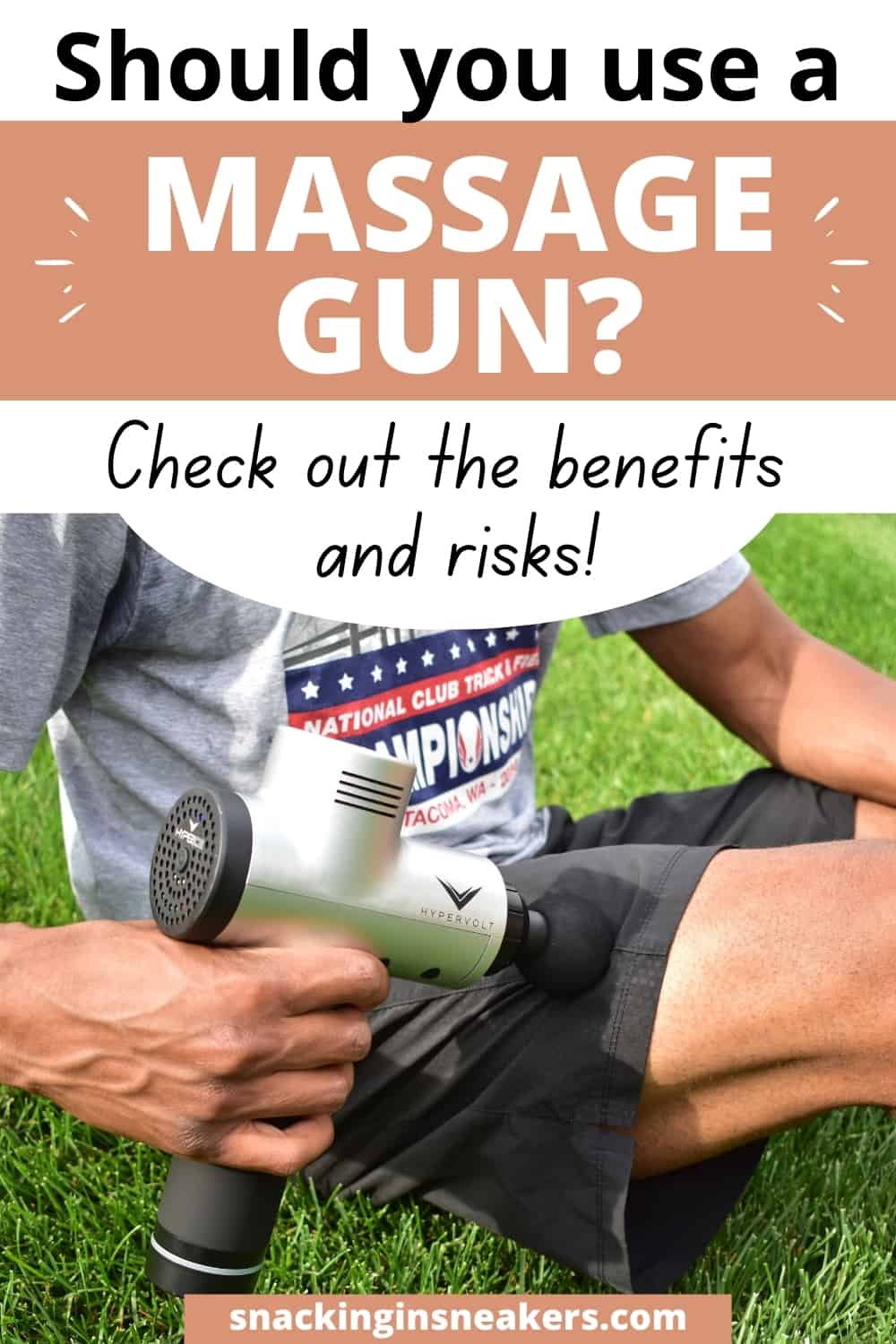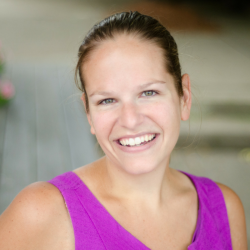 Latest posts by Chrissy Carroll
(see all)