When I posted about my injuries on Monday, it reminded me that I had some great info in my book about nutrition for injuries.  I decided to pull some tips out of there for today's post.  While your doctor or physical therapist will take care of the medical and physiological side of recovery, there are a few nutrition tips that can help with proper recovery as well.
1.  Balance those calories.
Injuries make me sad.  Cookies make me happy.  Therefore, I should eat cookies during an injury to improve my mood!
Don't you wish nutrition worked that way? 😉
While your body does need additional calories above a sedentary baseline to support recovery, most people need fewer calories during an injury because they're just not as active as they previously were.  This means you probably will not be able to eat the same diet you were eating during training since your physical activity level is lower.  Try to balance eating enough to support the recovery process but not eating so much that you start to gain weight.
2.  Include protein at each meal.
Protein is involved in recovery, repair, and strengthening in injuries that involve muscle groups.  While research is unclear on the exact amount to support healing, we do know that the body only optimally uses 20-30 grams at a time to support muscle repair and recovery.  Because of this, it's wise to include protein-rich foods spaced evenly throughout the day for maximum impact.
If you have a ligament or tendon injury, you should know that protein has not been shown in research to help with collagen synthesis. However, you may participate in physical therapy for recovery with these types of injuries, which sometimes involves strengthening the muscles around those areas.  Because of this, it is important to get adequate protein intake with these injuries as well.
3.  Meet your vitamin and mineral needs.
Consider these essential vitamins and minerals that may play a role in injury recovery:
Vitamins C and E have been shown in research to reduce inflammatory markers following surgery for ACL injuries.
Calcium and Vitamin D intake are particularly important for stress fractures, as they are involved in bone health.
Zinc and Vitamin A are also micronutrients involved in immune responses.
In addition, one study found that current vitamin and dietary status, reflecting long term habits, may be an important contributor to post injury recovery.  This means a balanced diet each day now could help you bounce back from an injury later!
4.  Opt for omega-3's.
Omega 3's are a type of fatty acid that are through to be anti-inflammatory and may help with the recovery process.  You can find them in foods like…
Fish (and Fish Oil Supplements)
Algae Supplements
Walnuts
Flax Seeds
Chia Seeds
The specific type of oils in fish is more effectively used than other sources like flax or chia, but if you don't eat fish – then it's fine to focus on those plant-based sources.
5.  Avoid excessive alcohol.
Put down the pumpkin beers, my friend!  OK, not completely, but hear me out.  Alcohol is thought to hinder muscle building in the recovery process and may contribute to increased muscle loss (especially during an injury, which requires immobilization for a period of time).  It's wise to avoid excessive intake during an injury.  So 1 shipyard pumpkinhead = A.OK; a 6 pack = No go.
Share with me:  Do you have any tips for recovering from an injury?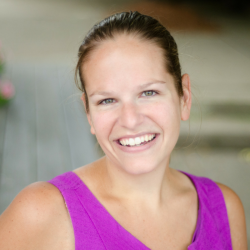 Latest posts by Chrissy Carroll
(see all)