If you're looking for a new fitness challenge, why not consider training for an Olympic distance triathlon? Whether you've never done any triathlon race, or you've done a few sprints but have never tried the Oly distance yet – this free 12 week Olympic triathlon training plan will help you cross that finish line successfully!
Getting Started FAQ
If you scroll all the way down, you'll find the downloadable training plan at the bottom of this post. But please read all the info in here first! It will help you assess if you're ready to start this training plan and share important explanations for some of the training sessions.
Who is this plan for?
This plan is ideal if you fit one of these personas:
You're an active individual who works out regularly and feels comfortable swimming, biking, and running – but you've never done a triathlon.
You're a sprint distance triathlete that wants to increase training and try an Olympic distance race.
You've done Olympic distance races in the past but didn't do any structured training – and want a plan to follow this time.
If you're an advanced athlete looking to PR, this is probably not the best plan for you – you'll want something a bit more intense.
Similarly, if you're just getting started with exercise, I'd recommend building a base first, and then trying something like our 12 week sprint triathlon training program. After that, jumping to this one or our 16 week Olympic plan would be a great next step!
What fitness level do I need prior to starting?
**Disclaimer: I am not a physician. Always check with your doctor prior to starting any new exercise program.**
You should be currently exercising several days per week, and have a solid base fitness level that you've developed over at least a few months.
Here are the minimum requirements by discipline that we recommend for starting this plan:
Swimming: capable of swimming 1000 yards/meters
Cycling: able to cycle 60 minutes continuously at a steady pace
Running: able to run 45 minutes continuously in a session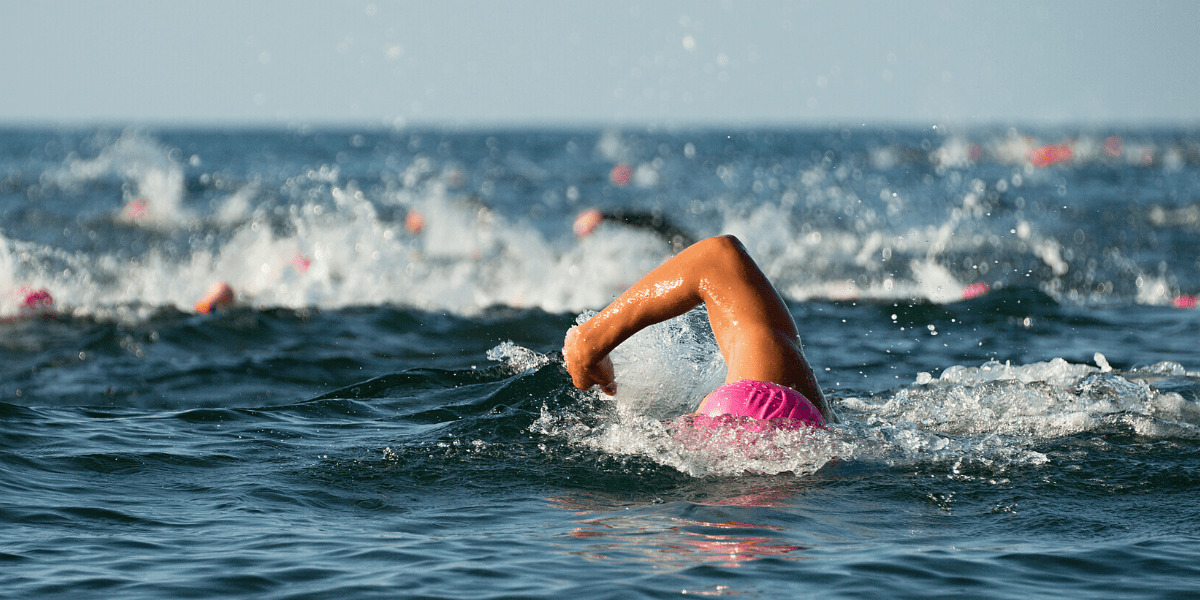 Training & Workout FAQ
What is the schedule like?
This training schedule includes 6 days of training each week. Mondays are always a rest day (though this can be adjusted as needed to a day that works for your schedule).
The training sessions are comprised of two swim workouts, two run workouts, and two bike workouts each week.
Zone-based training guidelines
The zones on the plan should guide the intensity level of your workouts.
Some workouts have zone guidance; others should simply be done at your best effort for the distances (for example, on the track intervals, run at a pace that's challenging yet attainable for the distance listed).
In relation to Rate of Perceived Exertion on a scale of 1-10, where 1 is laying on the couch and 10 is an all-out sprint, use the following guidelines to interpret the intensity recommendations in the training plan:
Zone 1 – Recovery, anything lower than base (generally around 67-76% threshold heart rate), RPE = 5 to 6
Zone 2 – Base Endurance (about 80-88% of threshold heart rate), RPE = 6 to 7
Zone 3 – Tempo (about 90-98% of threshold heart rate), RPE = 7 to 8
Zone 4 – Sub-Max efforts (about 100-105% threshold heart rate), RPE = 8 to 9
Zone 5 – Max Effort, RPE = 9 to 10
*Note – This zone framework should be used specifically for this plan. Different coaches use different definitions of zones, so always be sure to read what those are on a plan-by-plan basis. Some of our plans are developed with fellow coach friends, so that is why you may see variation from plan to plan.
Much of the training in this plan occurs in Zone 2, known as Base Training. This is your endurance realm where you build up your endurance fitness. Certain workouts involve speed or power work, where you'll notice different zones listed.
(PS – If all the talk about zones seems too overwhelming for you, don't worry – just do most of your workouts at a steady pace, and add in some intervals on one or two workouts each week. You got this!)
Workout Descriptions
Some workouts in the 12 week Olympic triathlon training plan are denoted with a lengthier description at the bottom, while others can be interpreted as-is based on what is in the box. Here's some quick notes to help you understand what the workouts mean:
Run Workouts
One run workout each week is a steady state run done in Zone 2, with the purpose of increasing your run endurance.
The other run workout each week is an interval workout focused on increasing speed. On the speed workouts, you'll notice "WU" denotes warm up and "CD" denotes cool down. Both should be done at a comfortable pace.
Some of the speed workouts will be listed as intervals – for example, 3×1200 with 5-8 minutes walking between. That means you would do the 1200 meter interval at your best effort for that distance, then walk to recover, and repeat that cycle again twice more.
These are easiest done on a track. That said, 1200 meters is 0.75 miles, so you can also just build these into an outdoor route you like to run.
Other run workouts will be tempo intervals, which include longer 10 minute bouts of intense effort, repeated a few times.
Bike Workouts
One cycling workout each week is a steady state endurance workout done in Zone 2, with the purpose of getting you comfortable on the bike for long periods of time.
The other workout each week is focused on intensity, either with power or tempo intervals. These workouts alternate between high intensity and recovery.
Swim Workouts
The swim workouts in this plan can be done based on yards or meters, depending on the size of your pool.
In the plan, here's terms to be aware of:
WU = Warm up. This should be done at a comfortable pace.
CD = Cool down. This should be done at a comfortable pace.
Drills = swimming while specifically focusing on different aspects that will help improve form (see below)
Main set = The bulk of your swim workout, typically working on endurance or speed. Between the reps in the main set, rest for about 10-15 seconds.
Swim Drills Info:
Drills refer to swimming a certain amount of time while working on a specific swim skill or weakness. For the most simplistic way to approach this, think about different isolating movements for those drills – like focusing the first 25 on your kick, the second on arm movement, the third on your catch, and the fourth on breathing correctly. For more advanced beginners, try these different types of drills, focusing on what you feel your weaknesses are:
Kick focus – work on flutter kick using kickboard
Form focus – work on overall form using pull bouy
Brick Workouts:
Brick workouts are a back-to-back bike and run workout. They're included during the build period to teach athletes how to transition from bike to run (you need to get used to that "jelly legs" feeling and figure out how to power through!).
You'll see these denoted in the plan where there is a Saturday bike ride followed by a "transition run" – that means you should run immediately off the bike.
There are also two specific "Brick Transition" Workouts in the last week of the plan.
Your Free 12 Week Olympic Triathlon Training Schedule!
Alright, now that you've read up on all the plan details, you're ready to get started! Much of the essential info from above is also in the download, but some of it is not – so be sure you pin or bookmark this page so you can return here if you run into any questions.
Here's your 12 week Olympic training plan – just click here or on the photo below to download and print the plan out for your own personal use.
*Please note, this plan is for personal use only and should not to be distributed on other websites or used for commercial purposes.*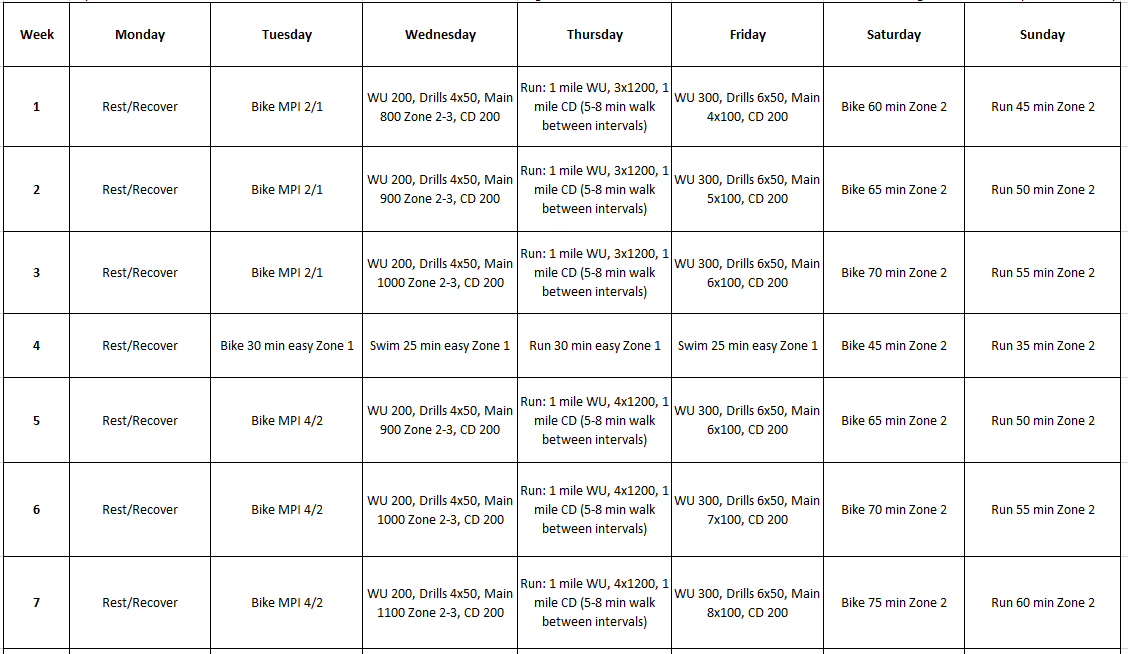 There you have it! Everything you need to know to train for your first Olympic triathlon in just 3 months. You got this. 🙂 If you have any questions along the way, don't hesitate to ask in the comments below.
Share with me: Do you have any questions about this training plan? What race are you hoping to do?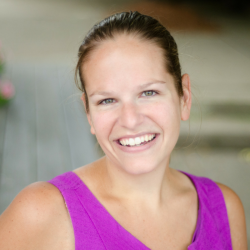 Latest posts by Chrissy Carroll
(see all)