Proper nutrition can help make or break your triathlon. Luckily, a sprint distance triathlon is short enough that you don't have to worry too much about fueling during the event. However, paying attention to your diet leading up to the event and putting a few key tips into place on race day will have you crossing the finish line like a champ.
Here are quick & easy recommendations for optimal sprint triathlon nutrition…
This post has been written and reviewed by Chrissy Carroll, RD, USAT Level I Short Course Triathlon Coach. It is for informational purposes only and should not be construed as individual nutrition advice. Consult an RD with any specific nutrition questions.
Note: This post was originally published in 2015 and has been updated in 2023.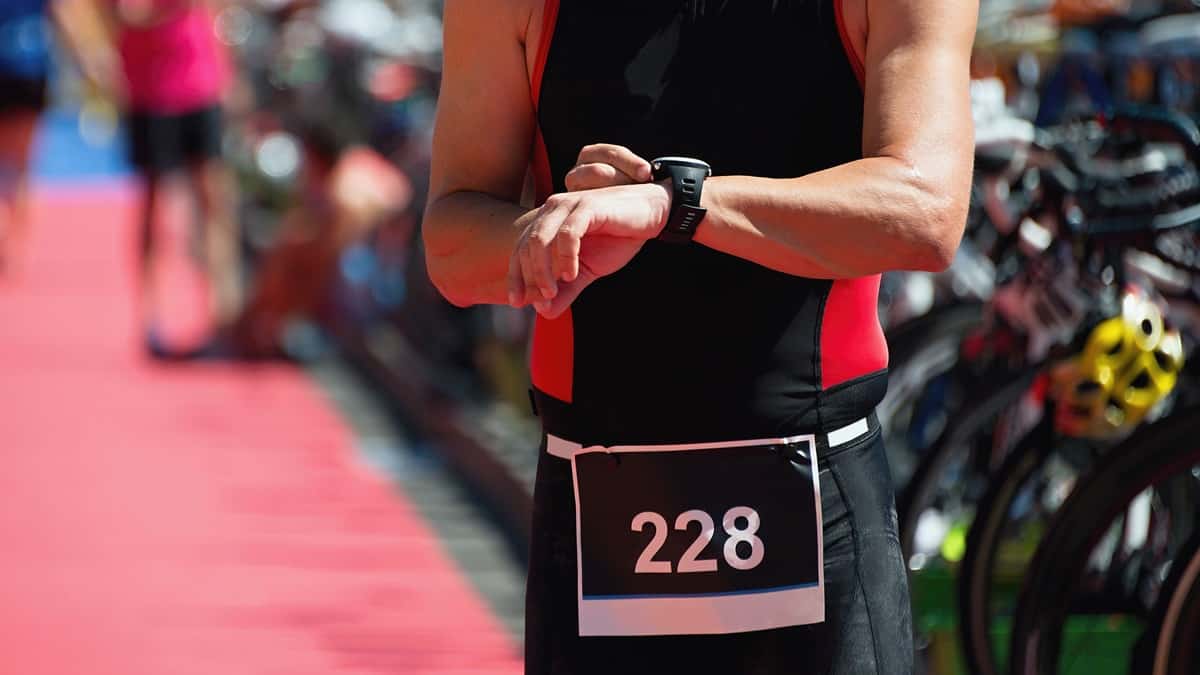 2-3 days before your sprint triathlon
You may be wondering if you need to carb load in the days before a sprint distance triathlon, and the answer is probably not.
Carb loading is only beneficial for events that last more than 1 hour and 30 minutes. Many folks completing a sprint distance triathlon will be clocking in somewhere between 1 hour and 15 minutes to 2 hours (obviously with a little less or more time for competitive athletes and slower athletes, respectively).
So even though some athletes may be a smidge over that 1 hour and 30 minute mark, carb loading is still probably not necessary for this distance event. (Once you get up into long course triathlon, like half Ironman and Ironman, it becomes important though).
However, you do want to ensure that your meals feature a balanced plate with some type of healthy carbohydrates. In other words, you don't need to go carb-crazy, but now is not the time to begin a low-carb diet. Build a plate that includes some grains, fruits, vegetables, legumes, and/or dairy products as part of your meals (alongside high quality protein and healthy fats).
In these days leading up to your race, try to also stick to familiar foods that you know sit well in your stomach. It's all about foods that nourish your body and will get you to race day with a happy belly.
The day before the race
The day before your race, be sure to hydrate throughout the day. You don't need to drink excessively, but sip water or an electrolyte drink frequently, especially if the forecast is looking warm for race day. It can help performance to show up to a race properly hydrated.
As far as food, continue to stick with normal portions of foods that sit well in your stomach. Sometimes athletes will load up on huge meals the day before a race for "extra energy" – but this will just make you feel bloated and uncomfortable.
Instead, just eat normal sized portions of familiar foods.  Include some easily digestible carbohydrates in your meals that day. Avoid overdoing it on any one specific food leading up to the race, which can cause gastrointestinal problems.
Race day morning
Woohoo – it's game time, baby!
The morning of your race, eat a fueling breakfast. Choose a meal that has easily digestible carbohydrates, and avoid too much fat or fiber (both of these can cause digestive issues on the course). 
Here are some race day breakfast ideas:
Bagel with light cream cheese
Cereal and 1% milk with fruit on the side
Sandwich with a little peanut butter, banana, and honey
Oatmeal with fruit
Clif bar and some sports drink
Just be sure whatever breakfast option you choose is something that you practiced with during training.
Try to plan breakfast timing similar to how you did during training too. For example, if you normally eat about 2 hours before your workouts, but on race day you eat 4 hours before – you might find yourself with low energy levels on your big day! 
If you need to eat further out because of travel to the race, that's fine – but consider bringing a small snack to eat or sports drink to drink about an hour before.
You might also consider including coffee before your race that morning (if you know you tolerate coffee), as caffeine is a performance enhancer for endurance athletes.
Also, be sure to continue to hydrate – but don't overdo it, especially in the two hours before the start time. If you're guzzling water or sports drink in that 2-hour window, you'll likely arrive at the swim start with a full bladder.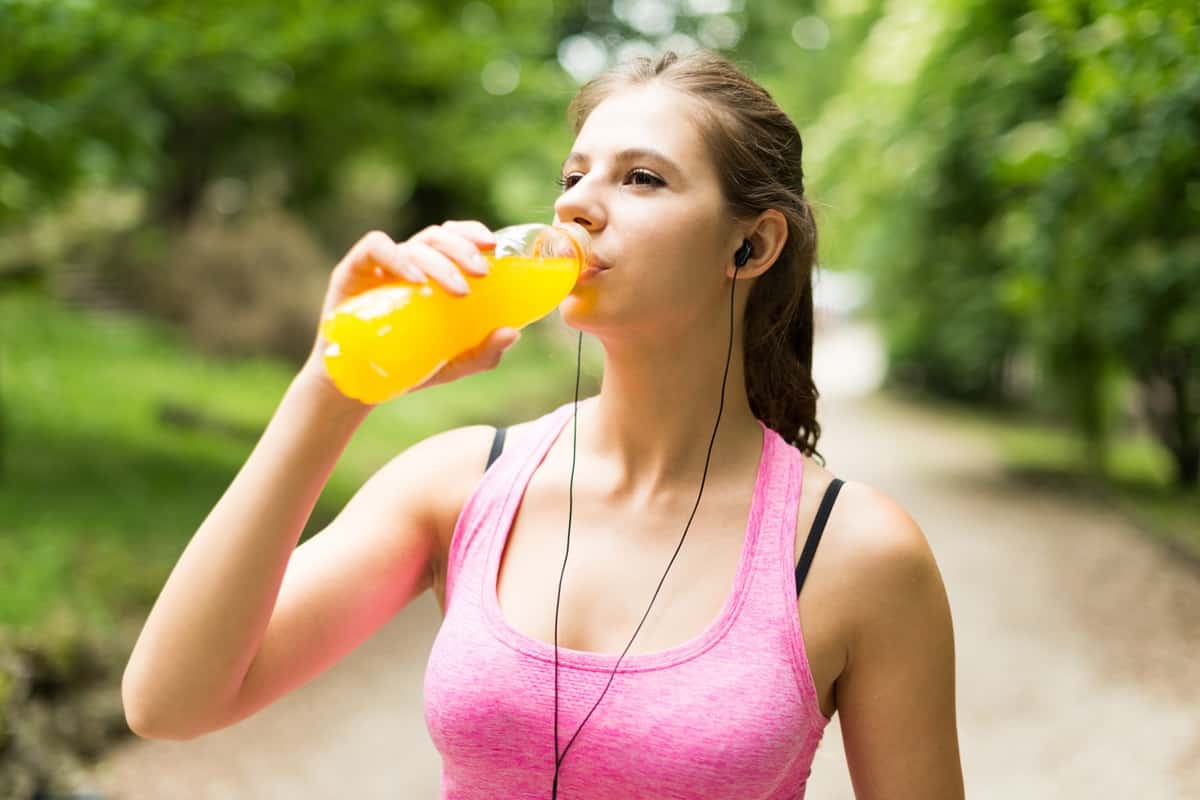 During the sprint triathlon race
Generally, triathletes should take in some fuel on the course if they'll be exercising for longer than around 75 minutes. Some sprint distance triathletes won't exceed this; many recreational athletes will be slightly over.
But even if you'll be on the course for less time, research has shown that just experiencing the taste of fuel in the mouth may improve performance in shorter duration exercise.
As such, most athletes would benefit from taking some swigs of a sports drink on the bike. Most athletes don't need much more than this for a sprint distance event. Sports drinks are nice, as they combine carbohydrates, electrolytes, and fluid into one simple solution!
If you prefer, you could use another choice instead – like a gel or a handful of raisins – during the bike portion. Be sure to drink some electrolyte drink or water with these.
Like everything else, you want to practice using any fueling products during training if you plan to use them on race day.
As far as hydration goes, drink fluids to according to thirst during the race. If you'll be out on the course for longer than an hour, or if it's hot outside, be sure your beverage contains electrolytes (sodium in particular) rather than just drinking plain water (as an alternative, you could use a fuel source with electrolytes or an electrolyte tab).
After the race
It's time to celebrate – you did it! But before you guzzle down a post race brew, try eating something with carbs and protein. This will help your muscles recover more quickly, especially since you were likely pushing yourself at a higher intensity in the race compared to training. 
Share:  How do you handle nutrition during a sprint distance triathlon?  What's your favorite drink choice on the bike?  
Feel free to pin this post to share with others!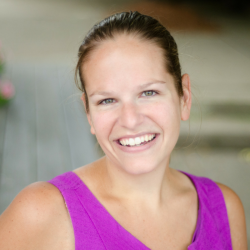 Latest posts by Chrissy Carroll
(see all)