Craving a flavorful, nutrient-packed lunch or dinner? Try this easy Mediterranean flatbread! It's done in under 20 minutes and is super filling. Plus, all you active ladies and gents will love this as a great recovery meal option after a tough workout.
How to make it
To make this flatbread, you'll want to stock up on some simple ingredients: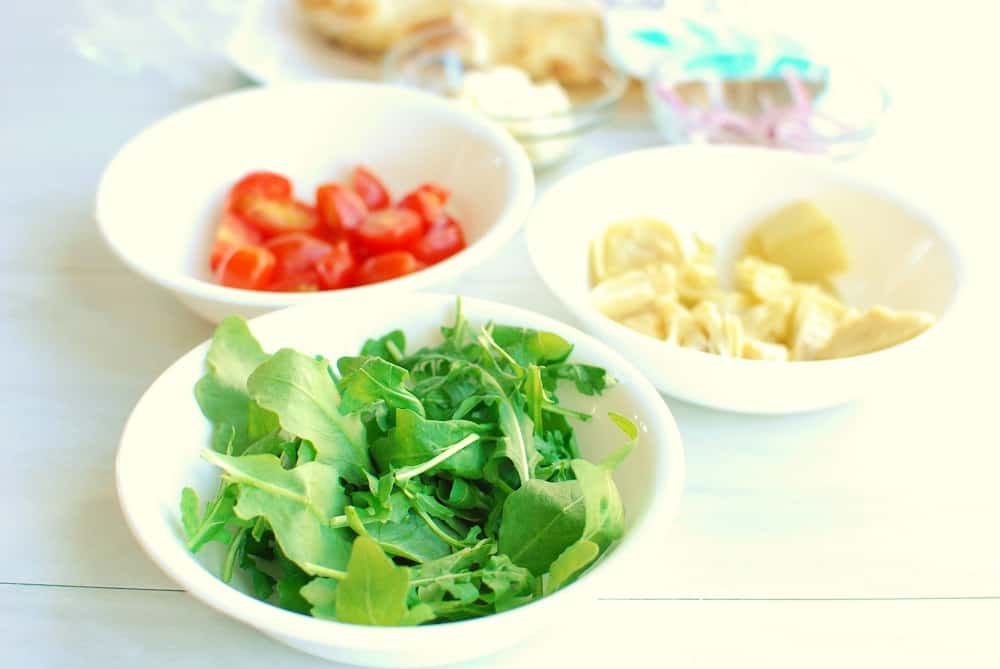 Roasted garlic naan (get a medium-size one, not the giant ones – unless you're super hungry 😉 ) *Note that naan is not traditional Mediterranean, but this is just my own spin on things! You can go traditional with pita, laffa, lamejun, or another option – totally you're call.
Arugula
Cherry tomatoes
Canned artichoke hearts
Red onion
Feta
Oregano
Olive oil
Fully cooked Mediterranean-style meatballs (or sausage; optional on either)
For the meatballs, I used Applegate Well Carved Turkey and Veggie meatballs. I learned about 'em in a nutrition meeting this week (and got a box to sample) and dug the concept. It's a blended meatball that combines meat with veggies and grains/legumes.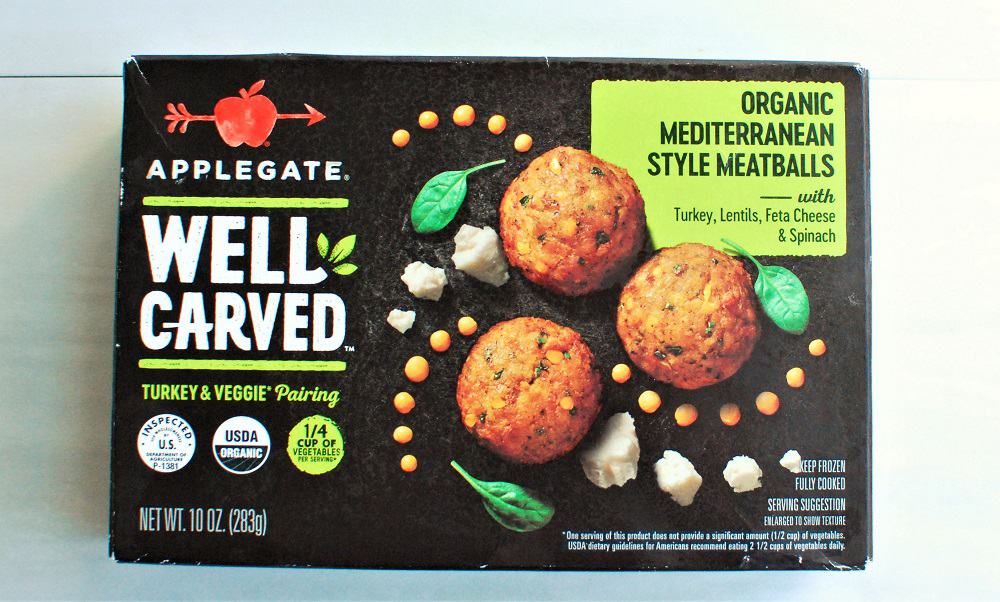 If you don't have those on hand, you can use any other Mediterranean style fully cooked meatball. I like fully cooked for this because it makes the dish come together really fast; great for all of us during this busy season of life!
You can also leave the meatballs off and just do a veggie-focused flatbread; just keep in mind you'll lose most of the protein in this dish if you go that route without adding another protein source in.
Okie dokes – once you've got your ingredients, you're going to load up your naan with the arugula, tomatoes, artichokes, red onion, feta, oregano, and olive oil. Pop that in the oven.
While that's baking for a few minutes, just heat up your meatballs in the microwave. Then slice 'em up.
When your Mediterranean flatbread is done in the oven, add the sliced meatballs on top and get ready to dig into deliciousness! See, couldn't be easier, right?
Recipe FAQ
Here are some questions that may come up as you prepare this recipe:
Can you use other breads besides naan? Sure! You can make this on a tortilla, on pita bread, on pizza crust…whatever floats your boat. I like the roasted garlic naan as it pairs well with the other flavors in this dish.
Can you make a homemade flatbread? Feel free to use a homemade flat bread or pizza crust instead of buying pre-packaged naan. The later just keeps this recipe quick and simple.
What if you don't like artichokes? I recommend substituting roasted red peppers and/or olives instead.
Can you make this dish gluten free? Yep – you'll just need to find a gluten free naan, pita, pizza crust, or other flatbread to use as the base. The meatballs I used here were already gluten free, but if you choose a different brand you'll need to double check them to ensure they do not contain gluten.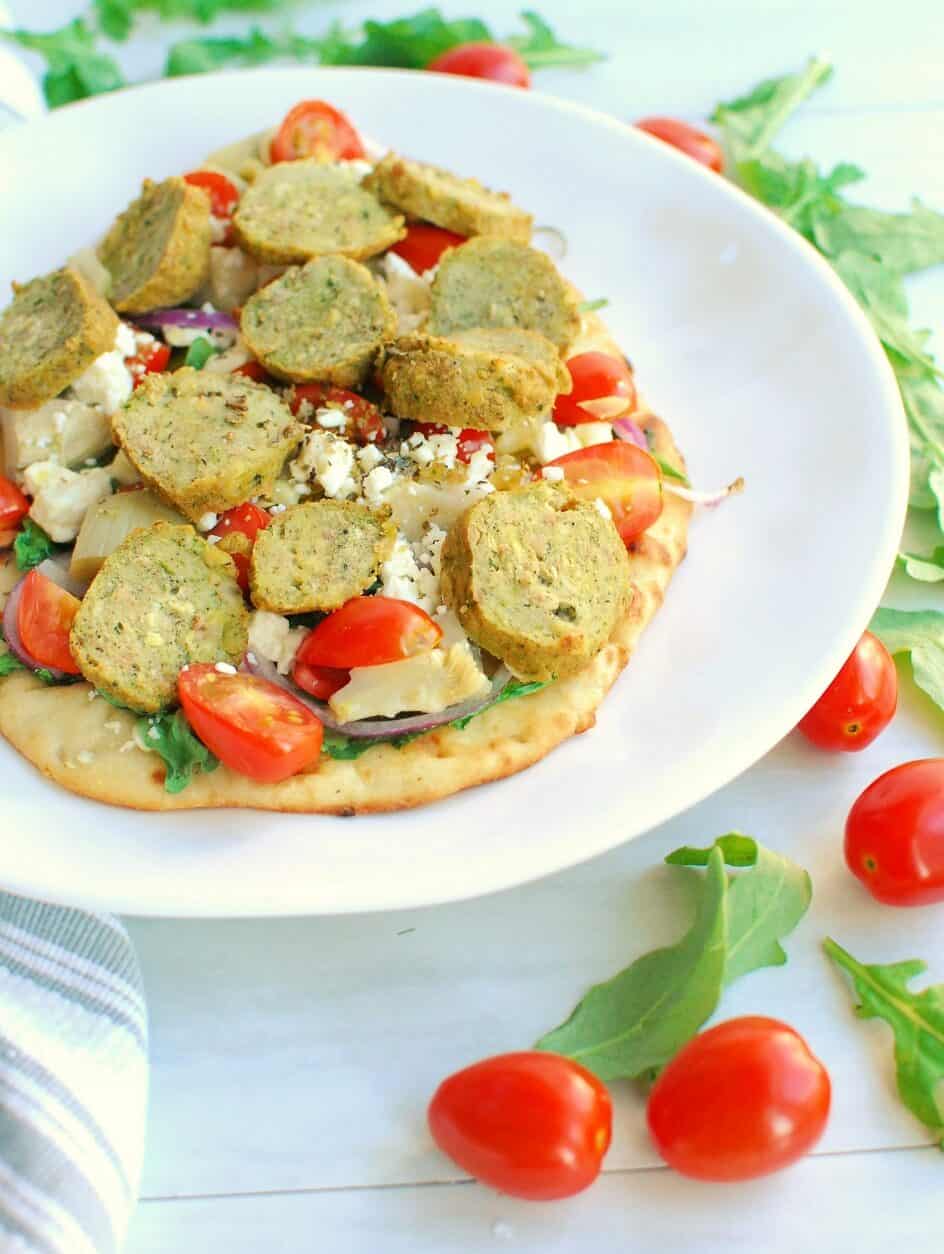 Nutrition benefits
I know I've got a lot of runners and triathletes here, so let me tell ya, this is a bomb recovery meal. Just imagine coming in from a cold run or ride, and heating up this Mediterranean flatbread – yum!
Not only is it delicious, though, but it's rich in both carbs and protein, which are both important in the recovery period. The carbohydrates help to restock your muscles with energy, while the protein starts the muscle repair and recovery process.
It's also a good source of many micronutrients. For example:
Iron – This flatbread contains 32% of your daily iron needs. Iron is involved in transporting oxygen throughout the blood to your muscles, so it's a must-have for runners.
Calcium – You'll get 20% of your daily calcium needs with this dish, essential for bone health.
Vitamin C – With 16% of your daily Vitamin C needs, this flatbread helps support your immune system.
One heads up though – this meal is a bit high in sodium. If you've got any conditions that require a low-sodium diet, you may want to make some modifications to this based on your needs. For most healthy individuals, though, it's fine to include a high-sodium meal here or there if the rest of your week is balanced. 🙂
I hope you enjoy this recipe as much as I do. If you get a chance to try it, feel free to leave a recipe rating or comment below. And feel free to get creative based on what you have on hand – maybe you use mozzarella instead of feta, or use sun dried tomatoes instead of fresh. This recipe is very versatile!
(PS – Looking for more flatbread or pizza recipes? Try our maple apple bacon pizza too!)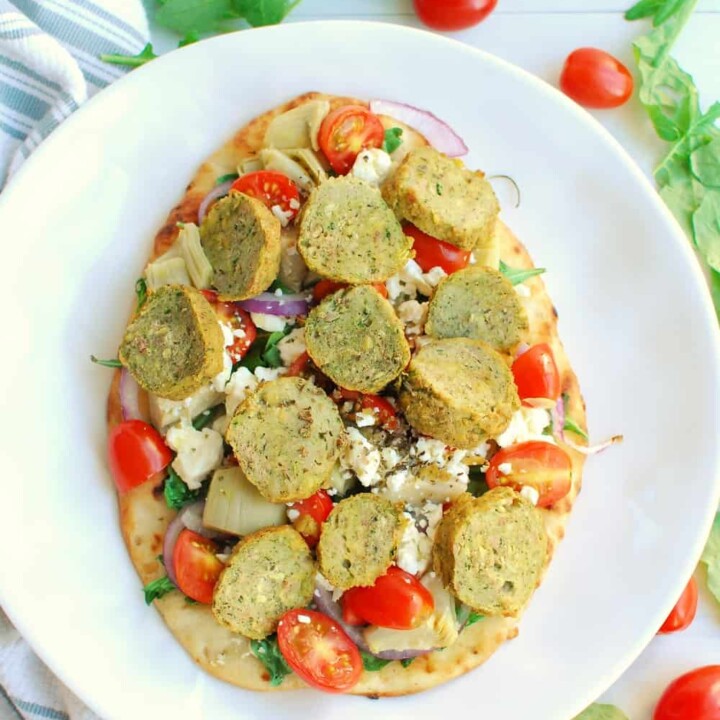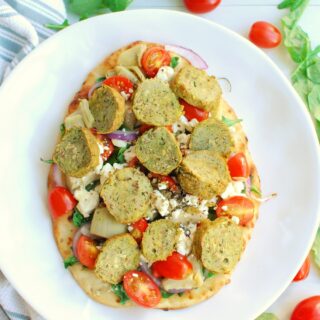 Easy Mediterranean Flatbread
This easy Mediterranean flatbread is a simple, flavorful, and quick meal.
Ingredients
1

medium-size roasted garlic naan

(I recommend Whole Foods 365 Brand, as it's a bit smaller than some of the others on the market)

1/2

cup

arugula

1/3

cup

cherry tomatoes

1/3

cup

canned artichoke hearts

1/8

cup

thinly sliced red onion

2

tbsp

feta

1/8

tsp

oregano

1

tsp

olive oil

3

Applegate Well Carved Turkey and Veggie meatballs

(or another fully cooked Mediterranean-style meatball or sausage; optional)
Instructions
Preheat the oven to 400 degrees.

Top the naan with the arugula, cherry tomatoes, artichoke hearts, red onion, and feta. Drizzle with the teaspoon of olive oil and sprinkle with the oregano.

Bake for 4-5 minutes, or until the naan has crisped up a bit on the bottom and all ingredients are warm.

Meanwhile, place the meatballs in a microwave-safe bowl and cover with a paper towel. Microwave for 75-90 seconds, or until hot throughout. Let stand for a minute, then slice into bite size pieces.

After you remove the flatbread from the oven, add the chopped meatballs on top and enjoy.
Notes
To make gluten free, use a gluten free naan, flatbread, or pizza crust.
This recipe makes one big single-serving flatbread. The nutrition analysis below is based on that. However, you can also split this recipe to share, and pair it with a side dish.
Nutrition analysis (for entire recipe): 546 calories, 22.5 g fat, 6 g saturated fat, 1550 mg sodium, 62 g carbohydrate, 4.5 g fiber, 10 g sugar, 25.5 g protein, Vitamin D: 0%, Calcium: 20%, Iron: 32%, Potassium: 12%
Nutrition
Share: What's your favorite easy-to-make lunch?
PS – Don't forget to pin this recipe to refer to later!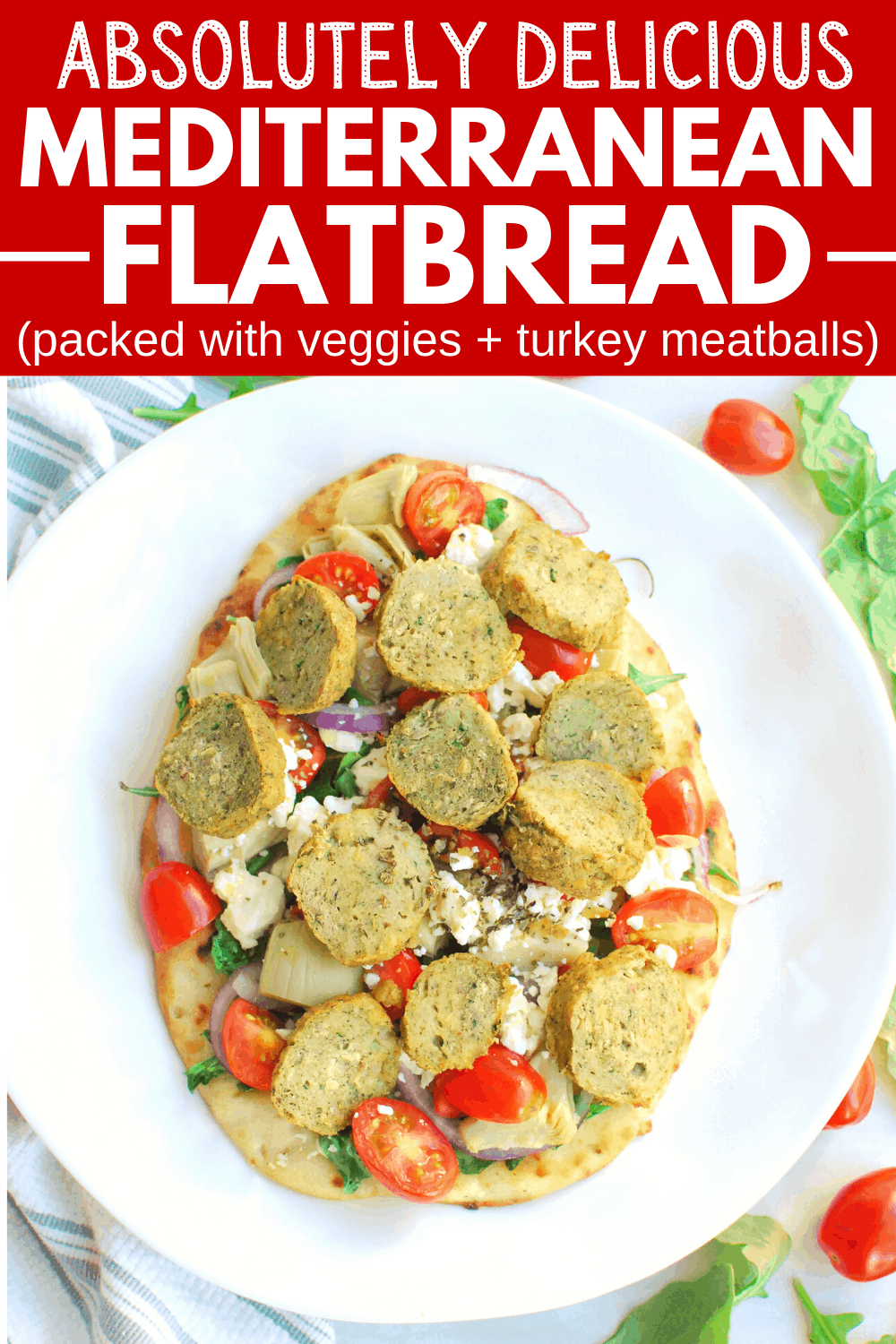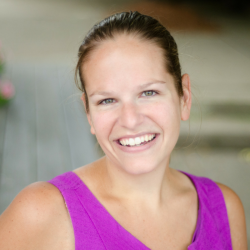 Latest posts by Chrissy Carroll
(see all)