This tortilla pizza is the epitome of fall flavors, featuring fresh sliced apple and pure maple syrup! Combined with salty bacon, peppery arugula, and rich mozzarella cheese – it's a flavor combination that everyone will love.
And since this is made on a tortilla, there's no time spent making dough or flatbread. It takes just a few minutes to throw together your toppings onto the tortilla, making for a weeknight meal that's done in under 20 minutes. Think of it as the "grown up" version of your childhood favorite, those English muffin pizzas!
How to make this tortilla pizza
You'll only need a handful of ingredients to create this delicious dish:
Bacon
Tortilla
Olive oil
Mozzarella cheese
Apple
Arugula
Pure maple syrup
You'll start by cooking up your bacon, in whatever way you prefer. I toss it in a skillet for a few minutes on each side. When it's done, let it cool down and then crumble it or chop it up.
Once your bacon is done, you'll also want to make sure your mozzarella and apple are sliced up. I used a ball of fresh whole milk mozzarella because that's what I had on hand, but you can also use shredded mozzarella (whole or part skim works).
Now you'll start to prepare your tortilla. You'll want to use flour tortillas for this recipe – both whole wheat and white tortillas are great for this recipe. I use the 8-inch diameter one, but if you want to do a big 'ol pizza you can use those giant burrito size tortillas.
Pop it on a baking sheet in the oven for a few minutes so it starts to crisp up. This step is helpful so that the "crust" is truly crispy and doesn't get soggy.
Then remove it and drizzle or brush it with a little olive oil. After that, you'll add your mozzarella, apple, arugula, and drizzle just a little maple syrup on top.
Toss it back in the oven for 5-6 minutes, and you've got a fresh thin crust pizza ready to enjoy!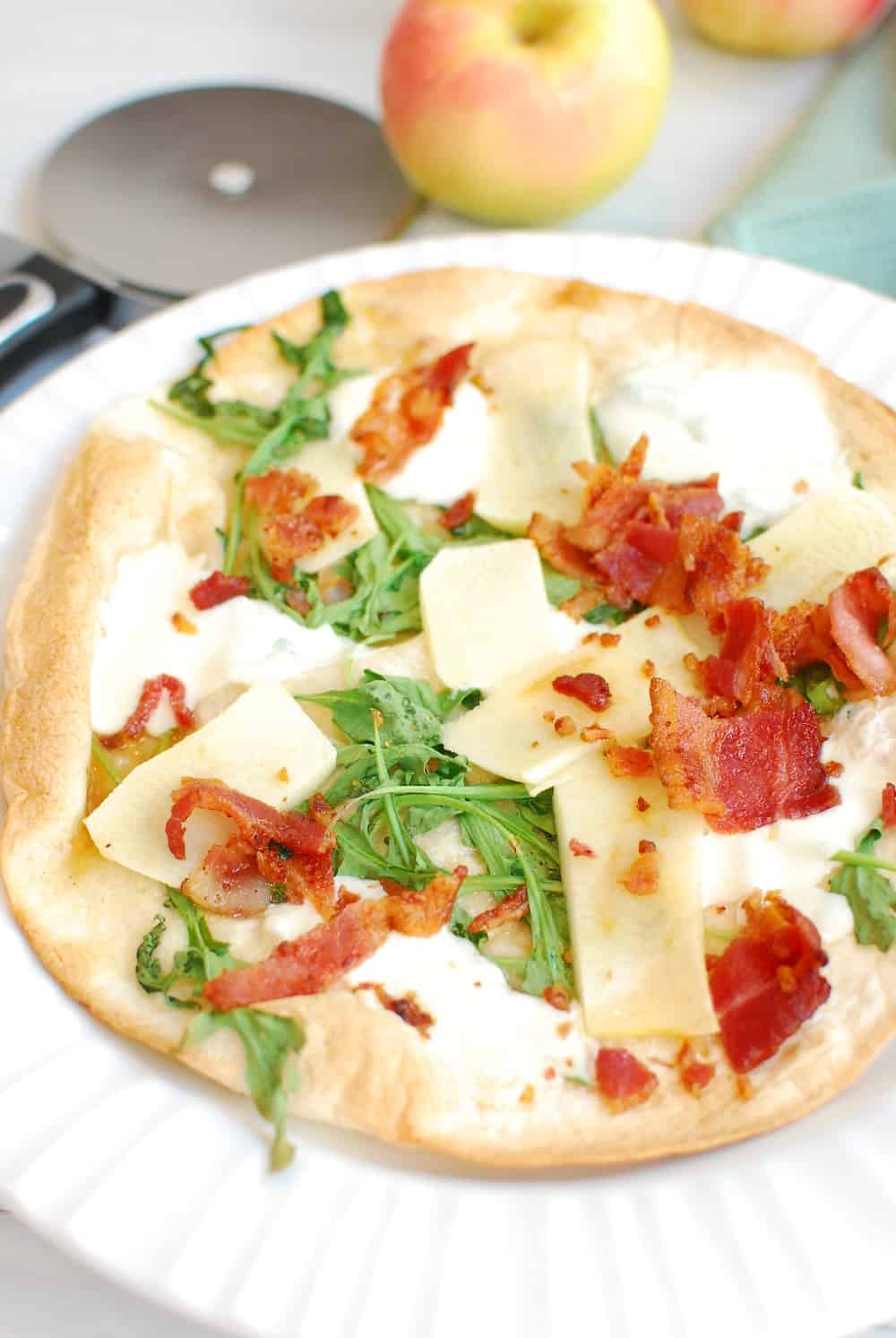 Nutrition information
Now, this might not be a salad or packed with veggies, and I fully acknowledge that fact. But I love indulgent dishes like this that still fit into a balanced meal plan.
Using a tortilla acts as a natural portion control solution – but is also big enough that you feel like you are eating a nice size pizza! In this case, the tortilla pizza clocks in at just 458 calories for the whole thing. Yep, a lovely cheese pizza – just for me. (Home Alone reference anyone?!)
It's got a good balance of fat, carbs, and protein that is highly satisfying and will keep help keep you full.
And I like that it uses produce which you can find locally in the Northeast in the fall, like apples and arugula. We just went apple picking the other day and have a ton to enjoy, so it's great to have recipes like this that are more savory versus sweet treats.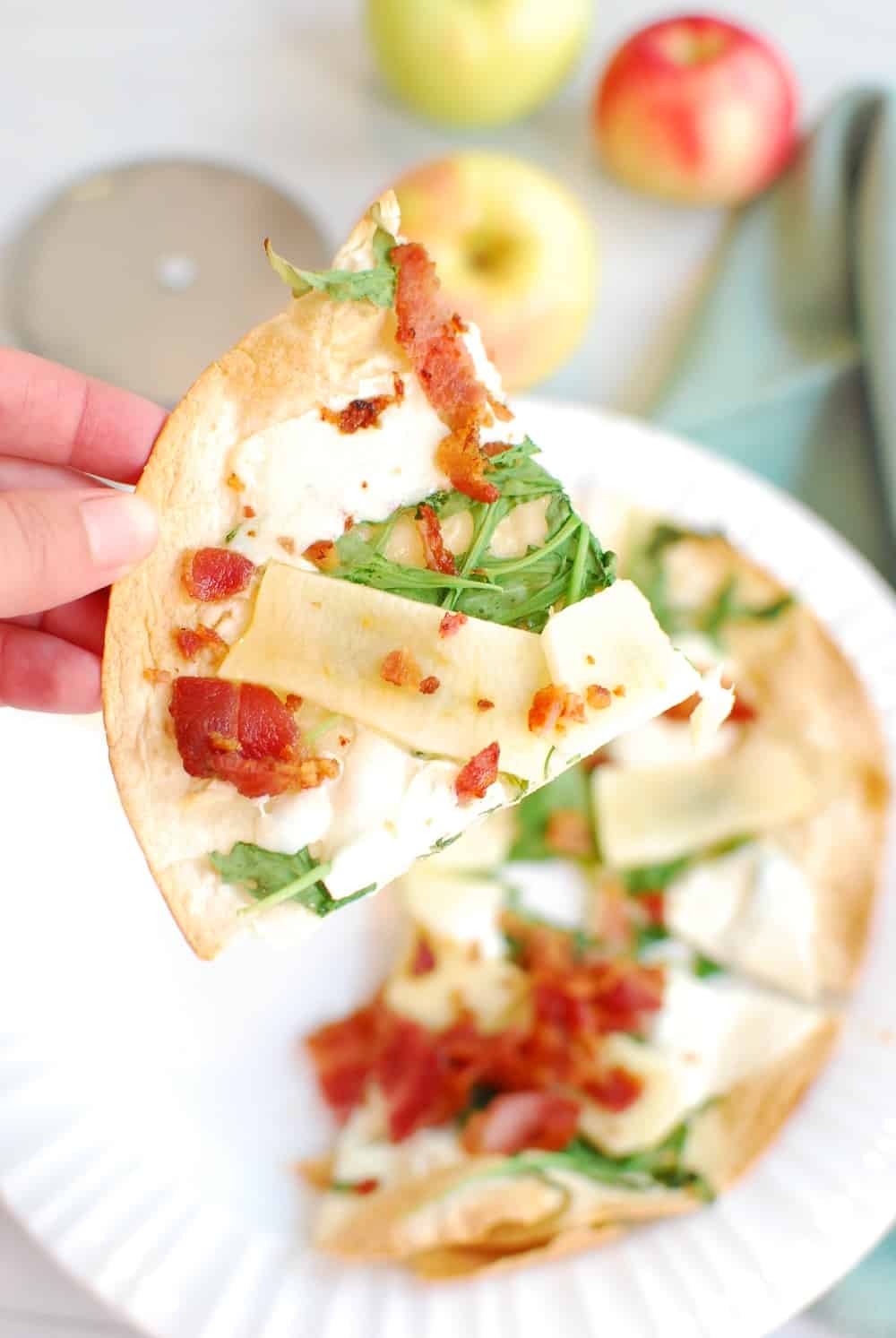 Other tortilla pizza ideas
Want more quick tortilla pizza ideas for busy nights? Try one of the flavor combinations below. Remember to pre-bake the tortilla for a few minutes before adding these toppings.
Traditional: tomato sauce, mozzarella cheese
Hawaiian: tomato sauce, mozzarella cheese, ham, pineapple
Veggie pesto: pesto, mozzarella, broccoli, spinach
Getting figgy with it: figs, caramelized onions, tomatoes, arugula, balsamic, mozzarella, gorgonzola
Blackberry: blackberries, mozzarella, basil, optional balsamic
BBQ chicken: bbq sauce, cooked chicken, mozzarella, red onions, cilantro
Greek: pesto, feta, tomatoes, roasted red peppers, olives
(And of course, if you're just looking for other super quick dinner ideas, try this chickpea tuna pita salad or this Korean ground beef bowl.)
Time to get cookin'! I hope you get a chance to try this maple apple bacon tortilla pizza. If you do, be sure to leave a comment or recipe rating letting me know your thoughts.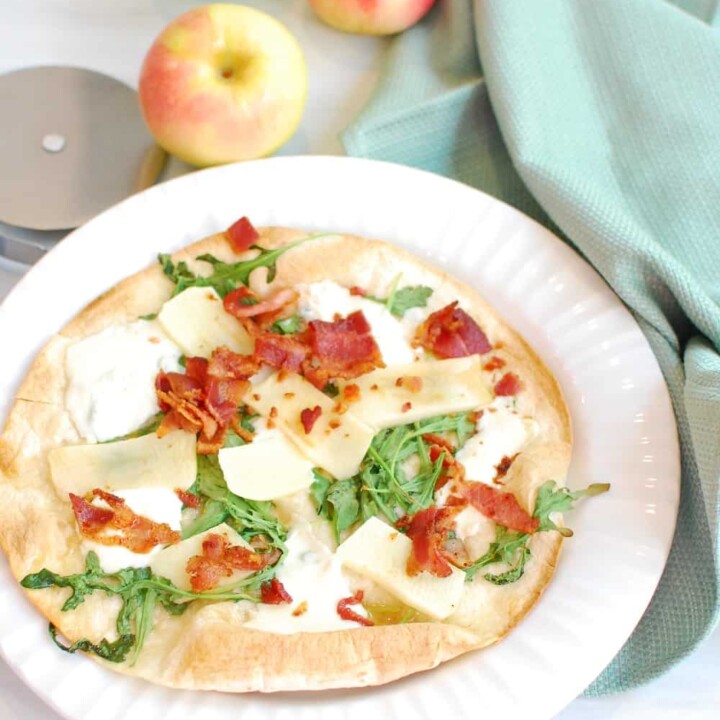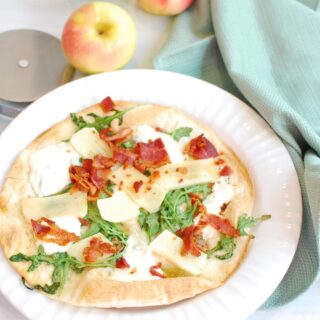 Maple Apple Bacon Tortilla Pizza
This maple apple bacon tortilla pizza is the epitome of fall flavors and comes together in just a few minutes!
Ingredients
2

slices

bacon, cooked and crumbled

1 8-

inch

flour tortilla

1

tsp

olive oil

1.5

ounces

mozzarella cheese, sliced thinly

½

apple, sliced thinly

½

cup

arugula

1

tsp

pure maple syrup
Instructions
Preheat oven to 400 degrees.

Meanwhile, cook bacon in a skillet according to package directions. Set aside until cool, and then chop or crumble.

When oven is preheated, place the tortilla on a baking sheet in the oven for 3-4 minutes, until tortilla starts to crisp up.

Remove baking sheet from the oven and drizzle about 1 tsp of olive oil over the tortilla. Use the back of a spoon to spread it over the tortilla.

Add the rest of your toppings – mozzarella cheese, sliced apple, arugula, and maple syrup – to the tortilla. Place the baking sheet back in the oven for 5-6 minutes, until the cheese is melted. Enjoy!
Notes
Nutrition analysis (approximate):
458 calories, 24.5 g fat, 10.5 g saturated fat, 930 mg sodium, 40.5 g carbohydrate, 3 g fiber, 14.5 g sugar, 19 g protein, Vitamin A: 12%, Vitamin C: 8%, Calcium: 35%, Iron: 13%
Nutrition
Share: Have you ever made a tortilla pizza? What's your go-to topping combo?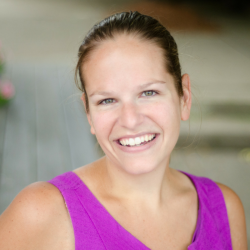 Latest posts by Chrissy Carroll
(see all)