This heat wave has got me looking for any meals that don't mean turning the oven on – are you with me? Time to break out one of my go-to no-cook favorites: this chickpea tuna salad with pita and avocado.
Now, if you're looking for that vegan tuna salad made out of chickpeas – this is not it, haha. This has actual tuna in it, because I'm all about seafood these days. (But if you are looking for the vegan stuff, there's plenty of recipes online where you can find it!).
Instead, this chickpea tuna salad is a very simple salad recipe that combines a bunch of nutritious ingredients:
Tuna – rich in omega-3s and protein. I like using the pouches of Starkist EVOO tuna in this recipe because the olive oil helps "dress" it, but you can use any can or pouch of tuna that you'd like.
Chickpeas – rich in healthy carbohydrates, fiber, and provide some protein as well.
Avocado – perfect for adding healthy fats.
Whole wheat pita – adds healthy carbohydrates and another textural component.
Celery and red onion – extra veggies and added crunch!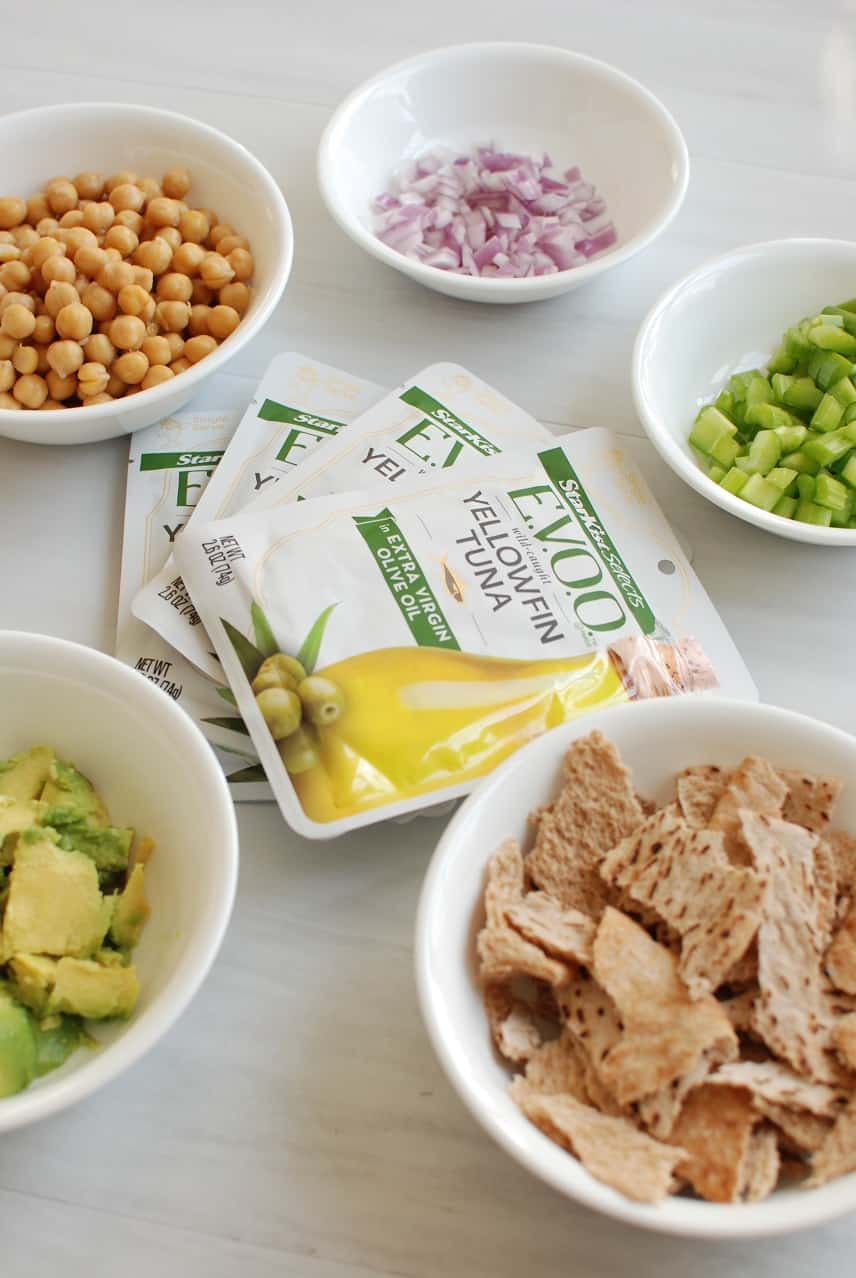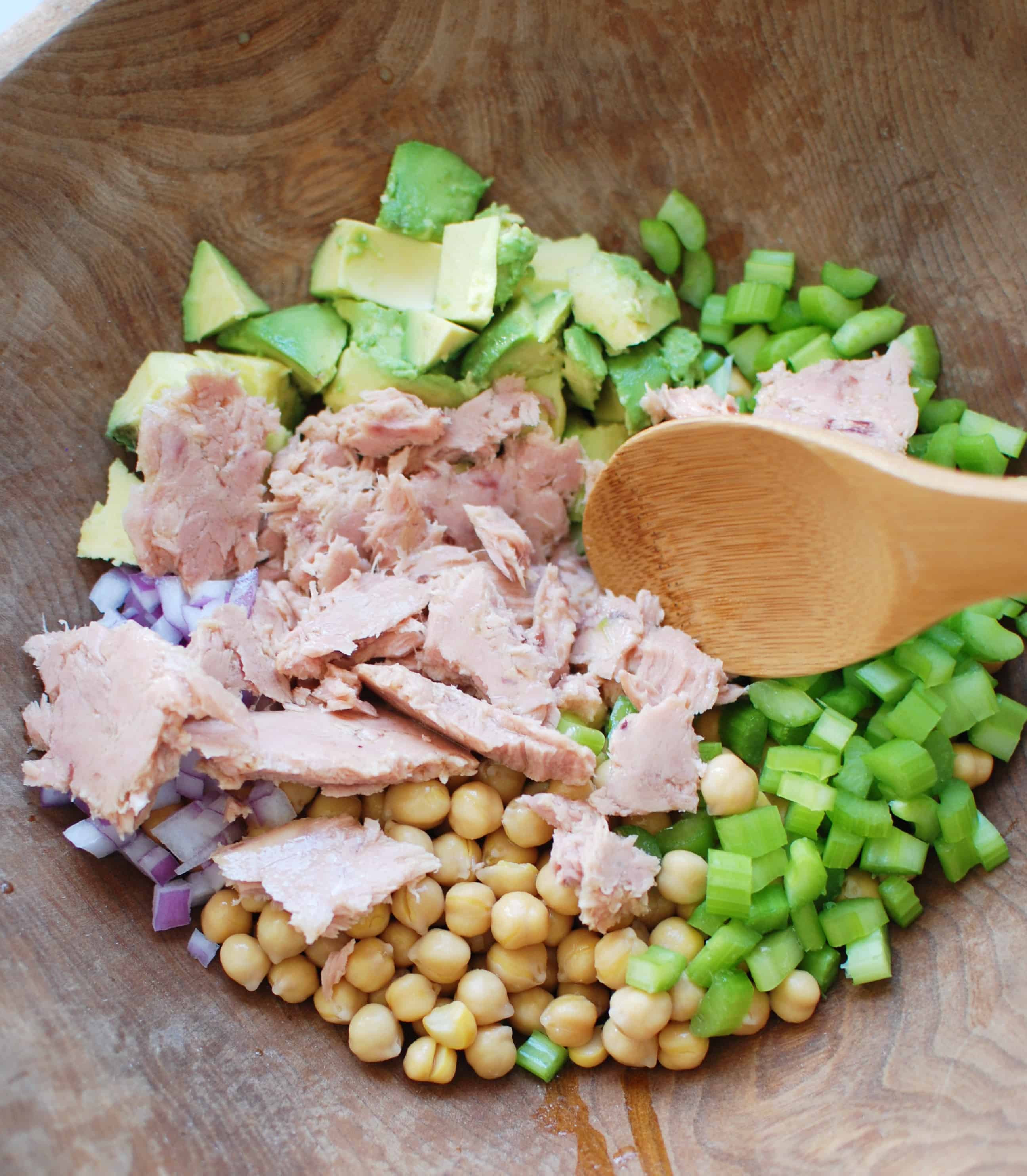 There's no cooking at all involved and you can toss this together in about 10 minutes flat. It's perfect for a nutritious family dinner, or to pack with you for a healthy lunch at work.
Why you should be eating more seafood:
This chickpea tuna salad is a great way to start working your way towards eating seafood twice a week. Did you know the Dietary Guidelines recommends 8 ounces of seafood a week for optimal health? A 2017 JAMA review estimated that almost 8% of cardiometabolic deaths could be related to low seafood omega-3 intake. And a 2006 JAMA review attributed 17% of overall mortality to inadequate seafood intake.
For all the runners and triathletes out there, there might be additional benefits to seafood intake for you as well. It's a great source of protein that's ideal for muscle repair and recovery. And the omega-3s might play a role in reducing inflammation – key for recovering from injuries or helping with lingering joint pain from issues like arthritis.
I hope you'll give this recipe a try to boost your seafood intake! Be sure to pin it for later, and once you make it – come back and let me know how you liked it.
PS – Looking for more seafood recipes? Try seared scallops with grapefruit brown butter, coconut curry shrimp ramen, or spicy tuna sushi bowls!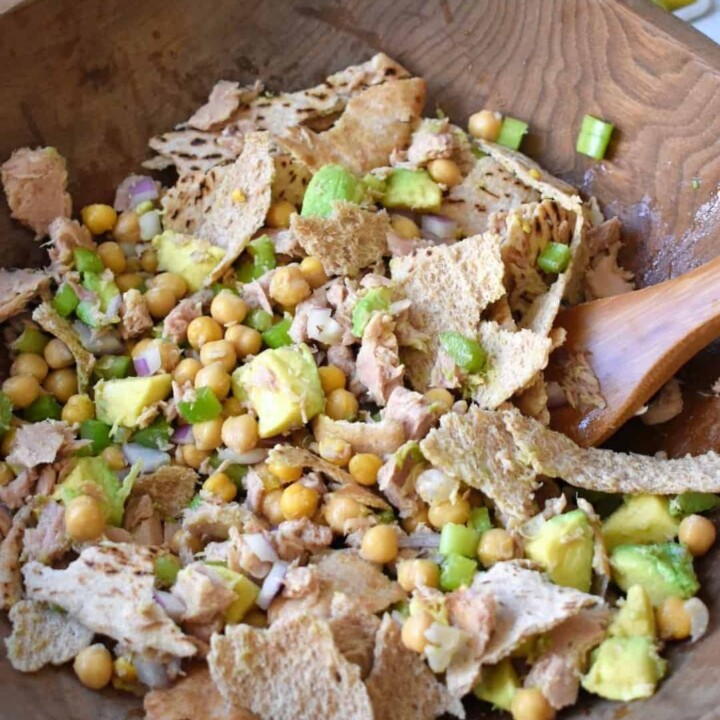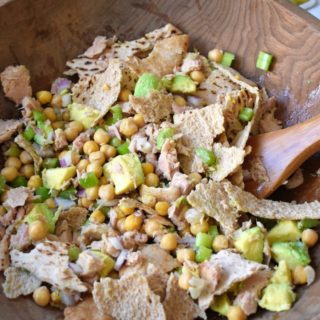 Chickpea Tuna Salad with Pita and Avocado
This chickpea tuna salad makes a perfect no-cook lunch or dinner! Packed with omega-3s and protein, this will be your go-to quick & easy meal.
Ingredients
15.5

ounce

can of chickpeas, drained and rinsed

1/3

cup

red onion, diced

3

stalks

celery, chopped

1

avocado, chopped or sliced

1

whole wheat pita, torn into pieces

3

pouches

StarKist Selects E.V.O.O yellowfin tuna

(or any pouches/can of tuna that you'd like*)

1/8

tsp

salt

(or more to taste)

1/4

tsp

pepper

1

lemon, quartered
Instructions
Combine all the ingredients in a large bowl and mix together. Serve each bowl of salad with a wedge of lemon, and squeeze lemon juice over the salad right before eating. Enjoy!
Notes
Notes:
If you use tuna that does not come packed in oil, drizzle a little olive oil into the salad before you eat it.
Nutrition analysis (approximate per serving):
405 calories, 18 g fat, 3 g sat fat, 650 mg sodium, 40 g carbohydrate, 10 g fiber, 2 g sugar, 22 g protein, Vitamin A: 5%, Vitamin C: 31%, Calcium: 6%, Iron: 15%, Potassium: 21%
Nutrition
Share with me: What did you think of this chickpea tuna salad? Do you eat seafood twice a week? What's your favorite way to get enough seafood in your diet?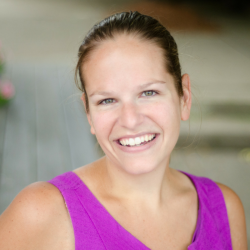 Latest posts by Chrissy Carroll
(see all)