Craving a dinner that's a perfect blend of comfort food and nutrition? Try this monkfish curry! Monkfish is a meaty fish that pairs so well with the flavors of green curry paste, coconut milk, ginger, and lemongrass.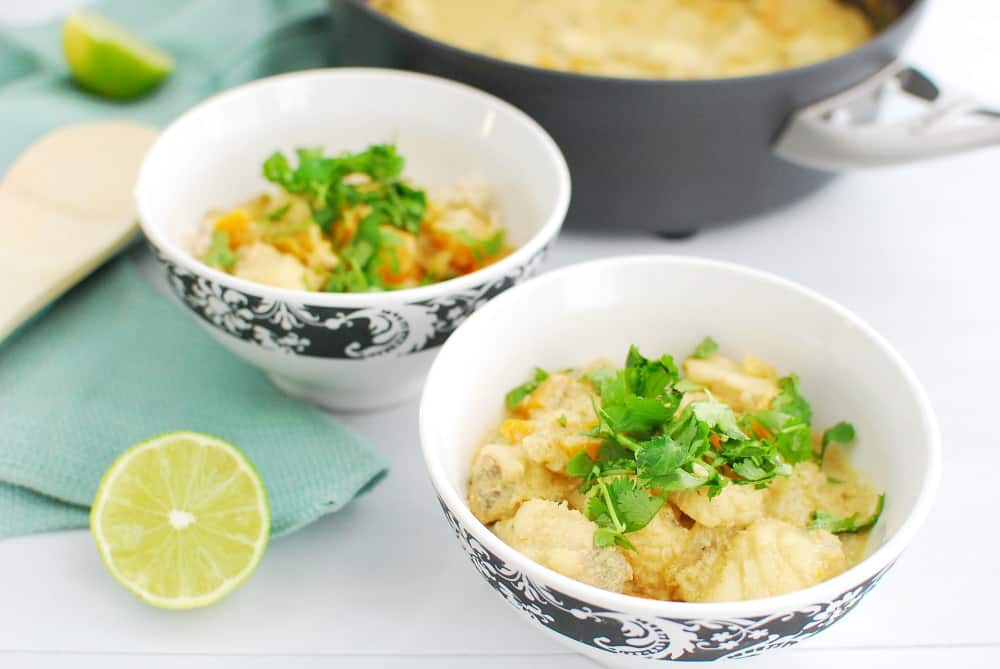 What is monkfish and where can I get it?
Apparently, monkfish is not known for being the prettiest fish in the sea…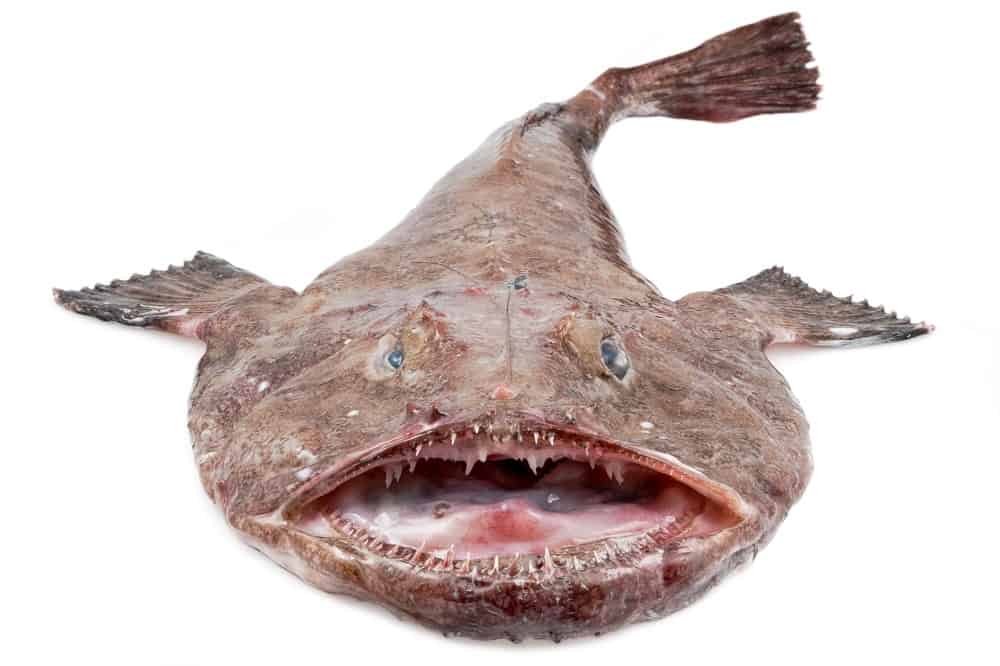 But the meaty texture of the fish has earned it the title "poor mans lobster" – and I think that's perfect nickname. The monkfish tail is the only part sold, and has a very mild taste with a firm texture that lends itself to cooking in a variety of ways.
As far as sustainability, the NOAA states that monkfish is a "smart seafood choice" and that the population level is currently above target levels.
For those of you in the Northeast, as I mentioned I got mine from Walden Local's meat delivery share which is now offering fish too. They only allow fish with NOAA target populations above sustainable levels and only purchase from fishermen here in the North Atlantic.  If you want to try it, you can use that referral link for free bacon and eggs with your first share.
Of course, you can also grab monkfish from your local grocery store or fish market! Or, look into other seafood-specific CSAs that are local to you.
How to make monkfish curry
This recipe is actually really easy – and quick! – to make!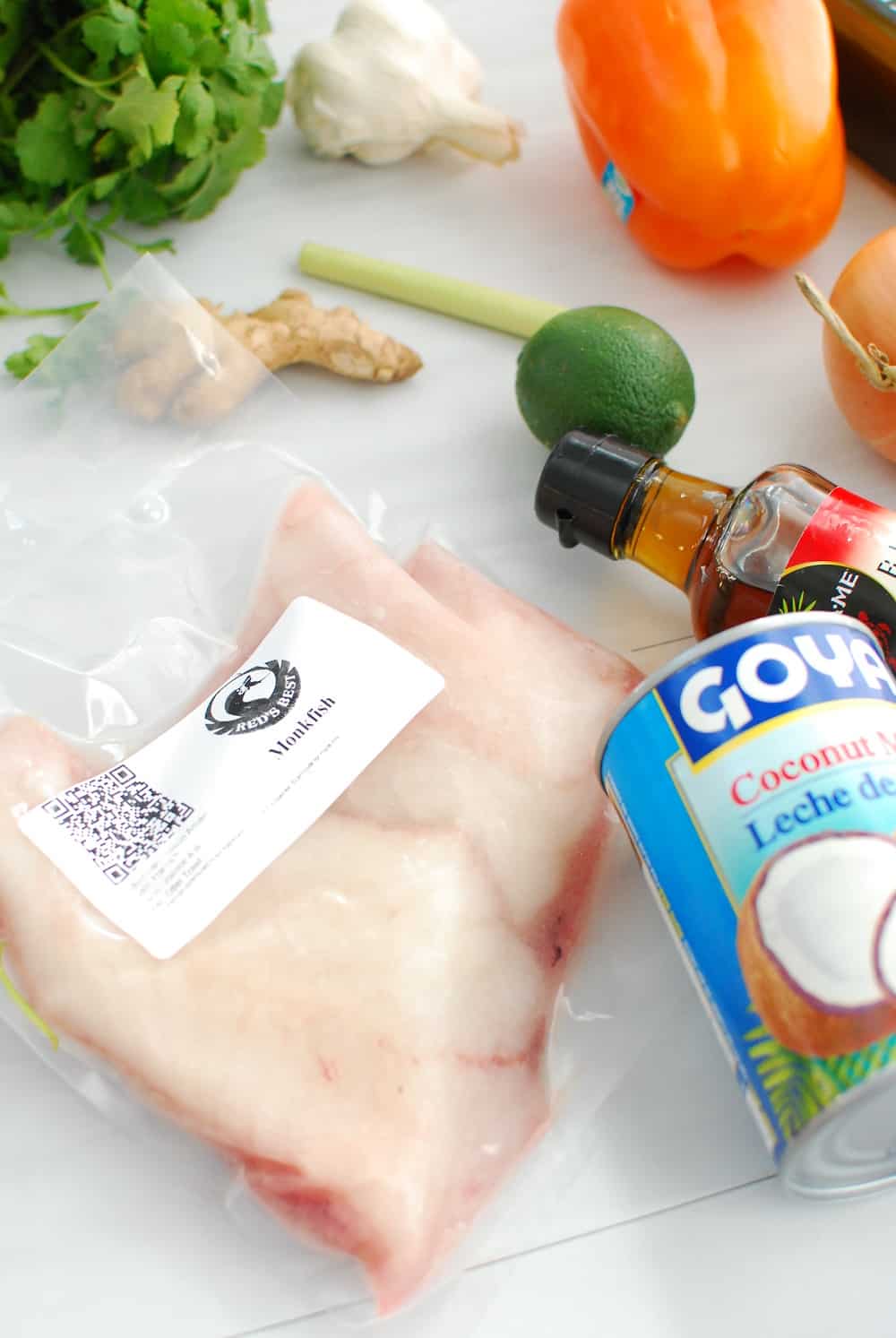 You'll saute up some onion and bell pepper in a pan until the veggies start to get tender. Then, you'll add in all your aromatics – ginger, garlic, lemongrass, and green curry paste. Give it all a good stir, and then add in your coconut milk.
From there, you'll chop up your monkfish in chunks and add it right into your curry. You essentially cook the fish by poaching it in the coconut curry, which means it ends up super flavorful.
When the fish is cooked, add in a little fish sauce for flavor and a little lime juice for a pop of acid.  Serve it over some instant brown rice and you've got a balanced meal that was done in under 40 minutes!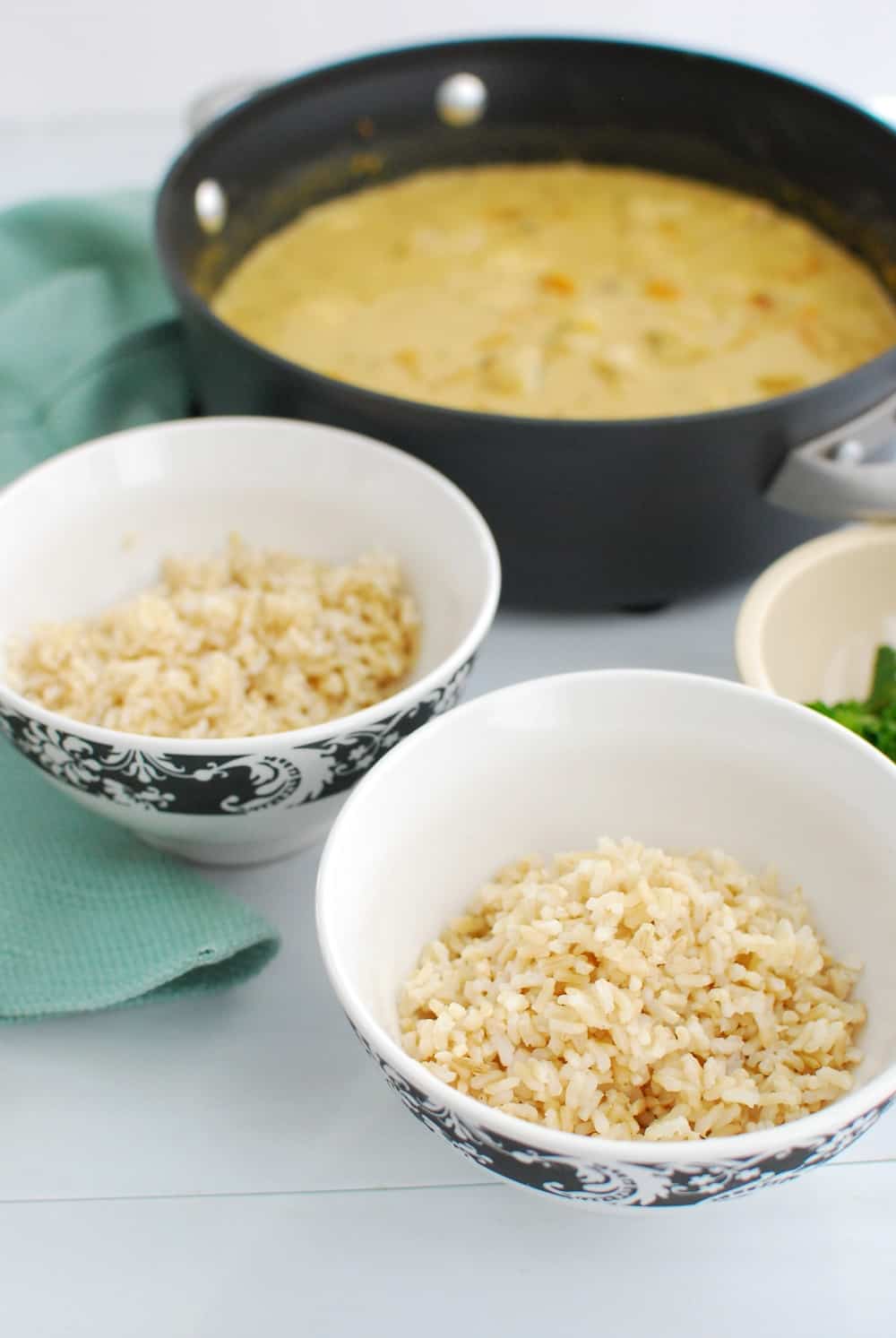 How can you tell when monkfish is cooked through?
It can be a little tricky to tell if monkfish is cooked through fully if you're not familiar with it. Monkfish is very firm, so it doesn't flake the same way as white fish does.
According to most fish-focused websites, you can insert a sharp knife into the fish when you think it's ready. The flesh should feel springy, and when you pull the knife out, it should be hot.
You can also can insert a meat thermometer into the thickest part of your cubed fish and see if it's reached 145 degrees.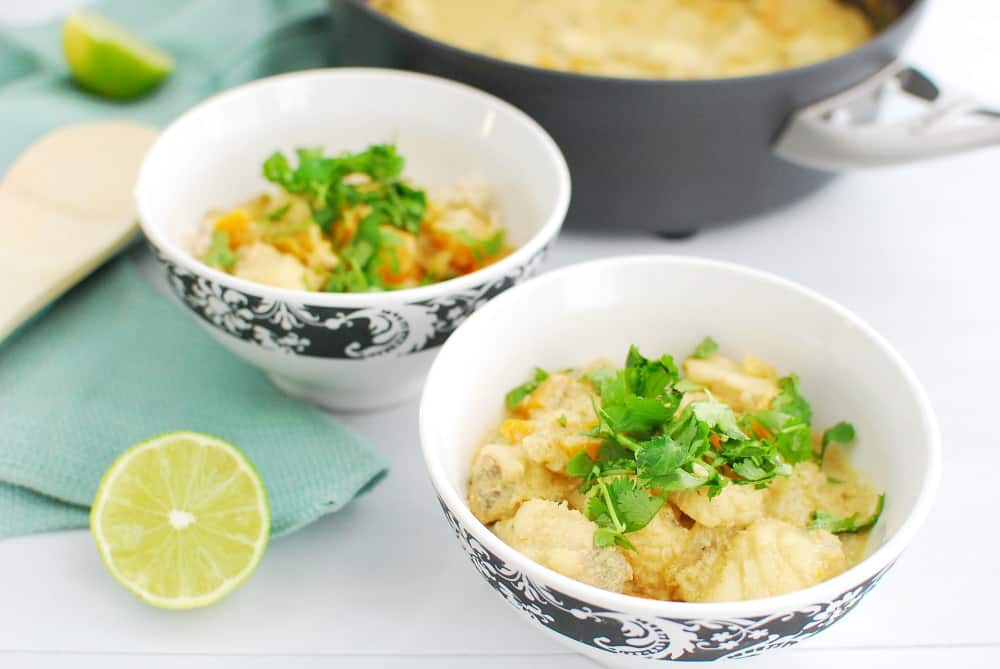 Nutrition Benefits
One of the things I'm most passionate about is showing people that nutritious food can still taste amazing – and this monkfish curry definitely achieves that goal. 
For active people in particular, it's so important to fuel your body with nutritious food that's going to fuel your fitness goals – but also to satisfy your palate and belly! I think sometimes we get caught up in the fuel side of things (which is of course super important) but people sometimes negate the pure enjoyment of eating, and I am all about that too.
OK, back to nutrition – this recipe is wonderful blend of carbs, protein, and fat that will keep you full and satisfied for hours. It's a powerhouse of vitamins and minerals. You'll get 20% or more of your daily needs for all these:
Vitamin A – important for growth and vision
Vitamin C – key for immune health
Niacin – involved in many functions
Vitamin B6 – involved in many functions
Iron – key for transporting oxygen; especially important for female athletes
Magnesium – involved in muscle and nerve function, as well as regulating blood pressure
Potassium – plays a role in heart and muscle contractions, as well as regulating blood pressure; another one really important for athletes
Selenium – involved in metabolism, thyroid health, and immune health
Pretty cool, right?!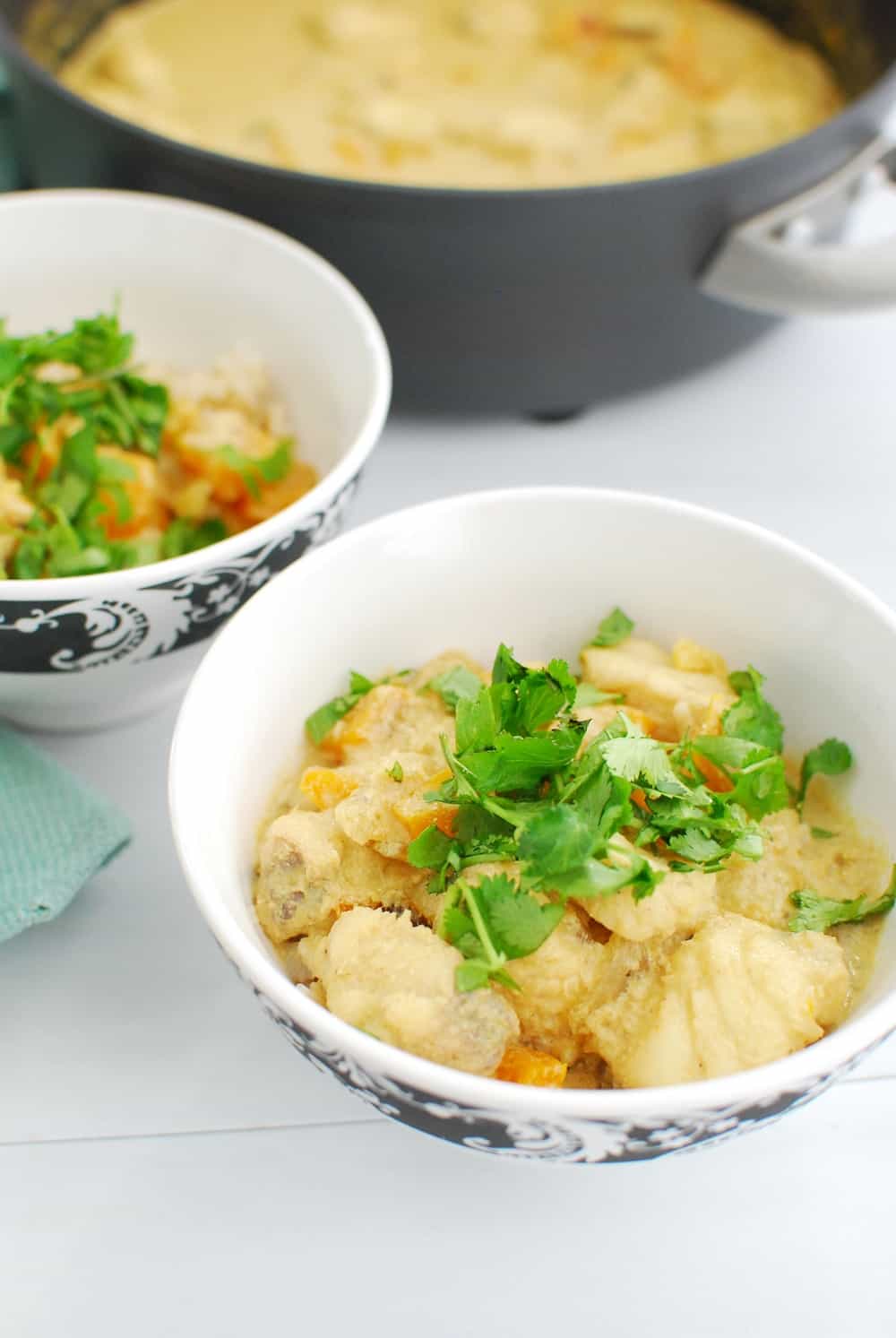 Looking for more monkfish recipe ideas?
Get your full fix of monkfish dishes with these delicious recipes:
I hope you enjoy this monkfish curry as much as my family does! If you get a chance to try it, feel free to leave a recipe rating or comment below.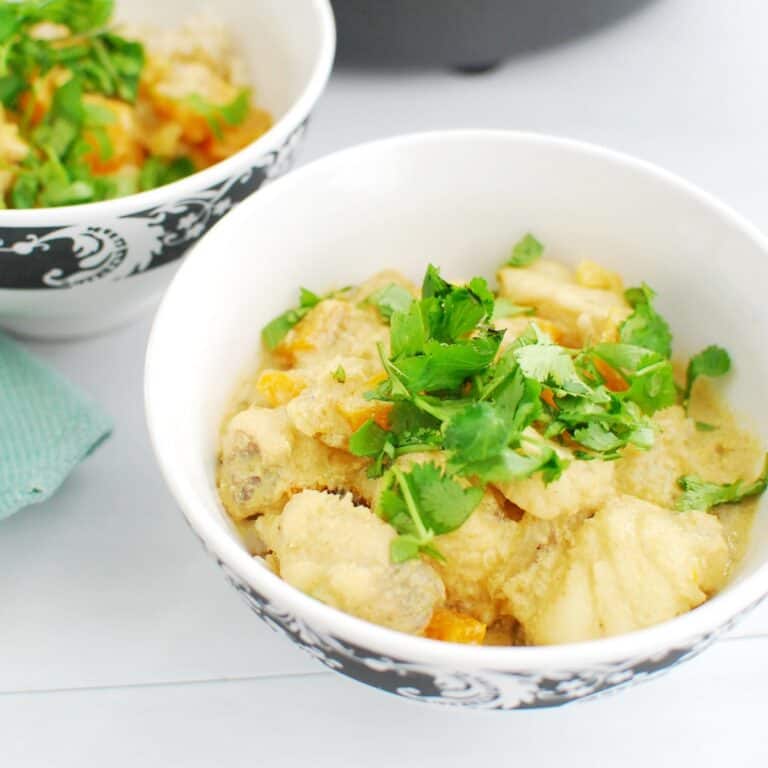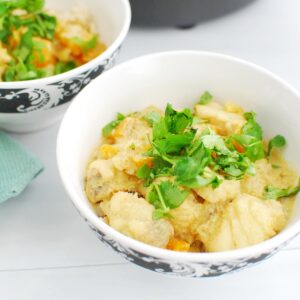 Monkfish Curry
Monkfish curry is so flavorful! Monkfish is a meaty fish that pairs well with ginger, lemongrass, and green curry paste.
Ingredients
For curry:
1

tbsp

olive oil

1

small onion, chopped

1

bell pepper, chopped

2

cloves

garlic, minced

2

tsp

ginger, minced

3

inch

piece of lemongrass, sliced very thinly

2

tbsp

Thai green curry paste

13 ½

ounce

can coconut milk

1

lb

monkfish cut into 1-inch pieces

1

tsp

fish sauce

3

limes, divided

¼

cup

cilantro, chopped
For serving:
2

cups

dry instant brown rice
Instructions
Prepare instant brown rice according to package directions. Set aside for now.

Meanwhile, in a large sauté pan, heat olive oil over medium heat. Add the onion and pepper, and cook for about 4-6 minutes until vegetables start to become tender.

Add garlic, ginger, lemongrass, and green curry paste. Give everything a good stir and cook for another minute.

Add the coconut milk and cook for 2 minutes.

Add the monkfish and simmer for 8-10 minutes, until monkfish is cooked through.

Add the fish sauce along with the juice from one lime, then remove from heat.

Serve monkfish curry over rice. Garnish with cilantro, and serve with additional lime wedges to squeeze on immediately before eating.
Notes
Nutrition analysis (approximate per serving):
515 calories, 27 g fat, 18.5 g sat fat, 336 mg sodium, 48 g carbohydrate, 5 g fiber, 4 g sugar, 22 g protein, Vitamin A: 28%, Vitamin C: 119%, Calcium: 5%, Iron: 26%, Potassium: 24%
Nutrition
Feel free to pin this post to share with others!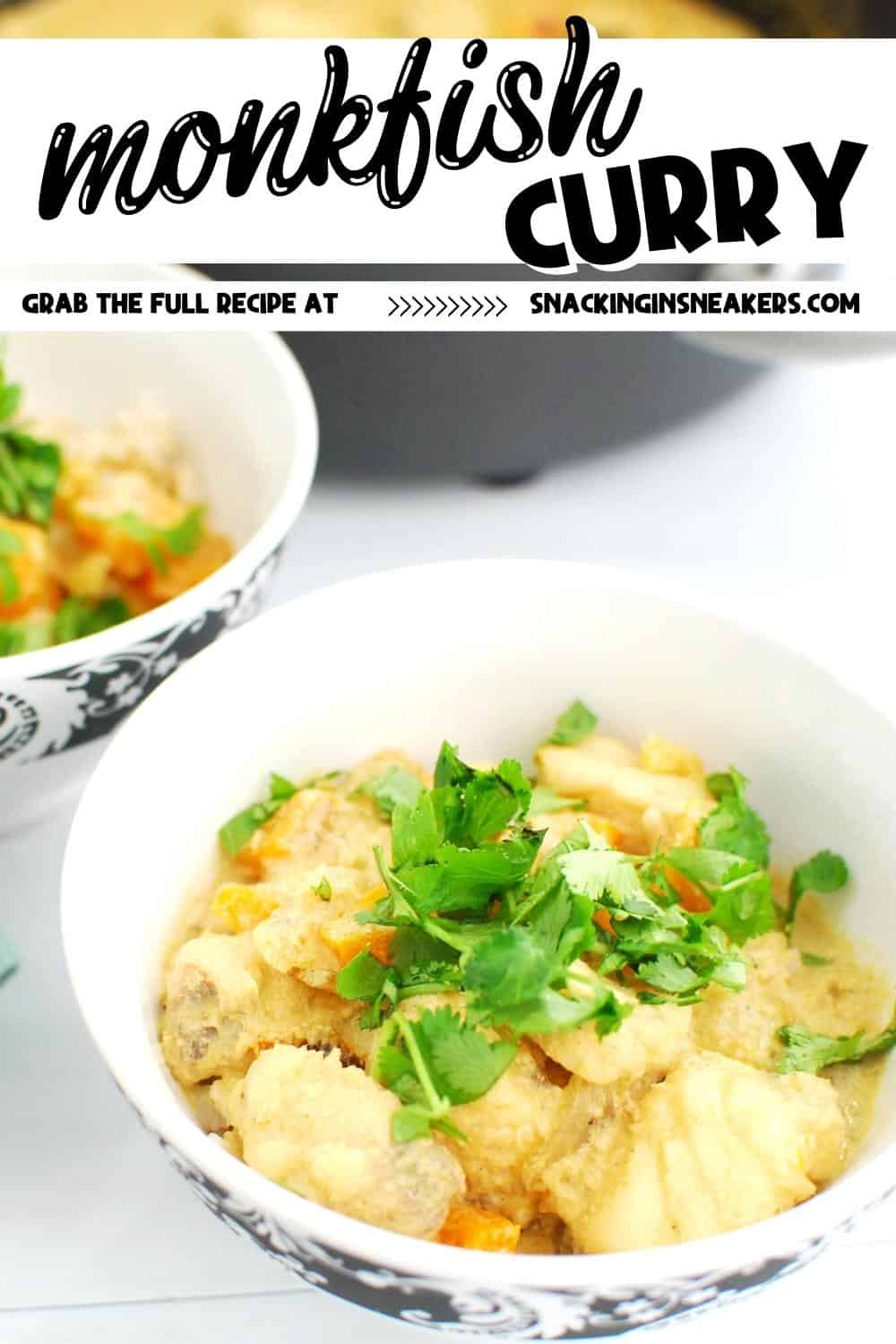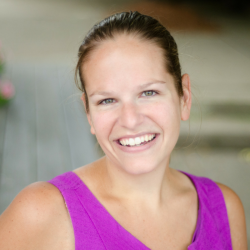 Latest posts by Chrissy Carroll
(see all)