If you're craving a delicious pasta dish with a nutritional boost, look no further than this pesto salmon pasta! With only 8 simple ingredients, this meal is easy and quick to make, but no one else will have guessed that based on the flavor that's packed in there. And since it uses canned salmon (though fresh can also be used – see the tips!), it's easy to always have the ingredients on hand to whip up this tasty meal.
Using Canned Salmon
I'm a big fan of keeping canned fish – like salmon and tuna – in my pantry, for a few reasons. Canned fish is shelf-stable, which is great during times where you can't get to the grocery store often, or when there is some instability in grocery store stock (which many of us experienced in 2020!).
It's also relatively inexpensive, with most cans of fish only costing about $1-3 each. And since it's packed with protein and healthy fats, this makes it a great cost-efficient product for people on a tight budget.
Sometimes, people struggle with what to make using canned fish, since admittedly – the taste is a little different compared to fresh. That's where this pesto salmon pasta comes into play. The notes of fresh basil in the pesto along with salty parmesan cheese help to add a ton of flavor to the pasta, and let the canned salmon naturally weave its way in there without overpowering it.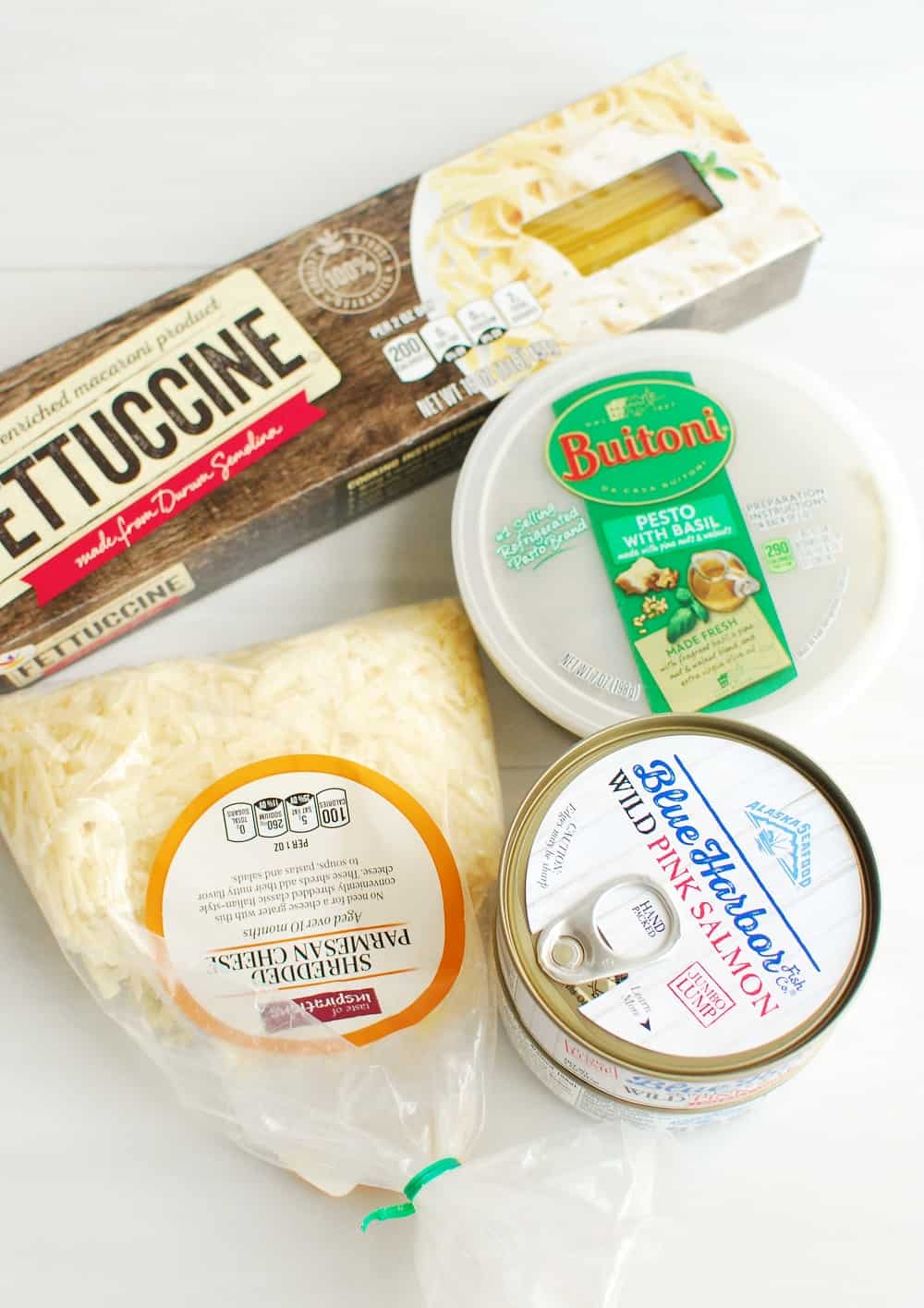 Pesto Salmon Pasta Tips and FAQ
Why doesn't this recipe add salt? You'll notice that I didn't include salt in this dish, and that's because there was already salt added to the pesto I purchased as well as the canned salmon, and because Parmesan cheese is naturally salty. However, if you find that it needs extra seasoning, feel free to salt to taste! You may need to add a pinch especially if you're using homemade pesto.
What's a good side dish? This meal is pretty hearty as-is, but some roasted asparagus or roasted broccoli works well as a side dish if you'd like to add one.
How long can you store pesto pasta in the fridge? I recommend eating this within 3 days of making it for best quality. You can reheat it in the microwave.
Can you use fresh salmon instead of canned? Sure! This can be a great way to use leftover salmon from the night before. Or, to use fresh salmon that you just bought, I'd recommend roasting it in the oven while you're getting your pasta going on the stove top. This way, you get both things cooked at the same time, then proceed with the rest of the recipe. To cook the salmon in the oven, preheat it to 400F. Place the salmon in tin foil, and season with salt, pepper, a drizzle of olive oil, and a few lemon slices. Seal the foil tightly and bake for about 20-25 minutes, or until it's cooked through. Then use the cooked salmon in the recipe as written.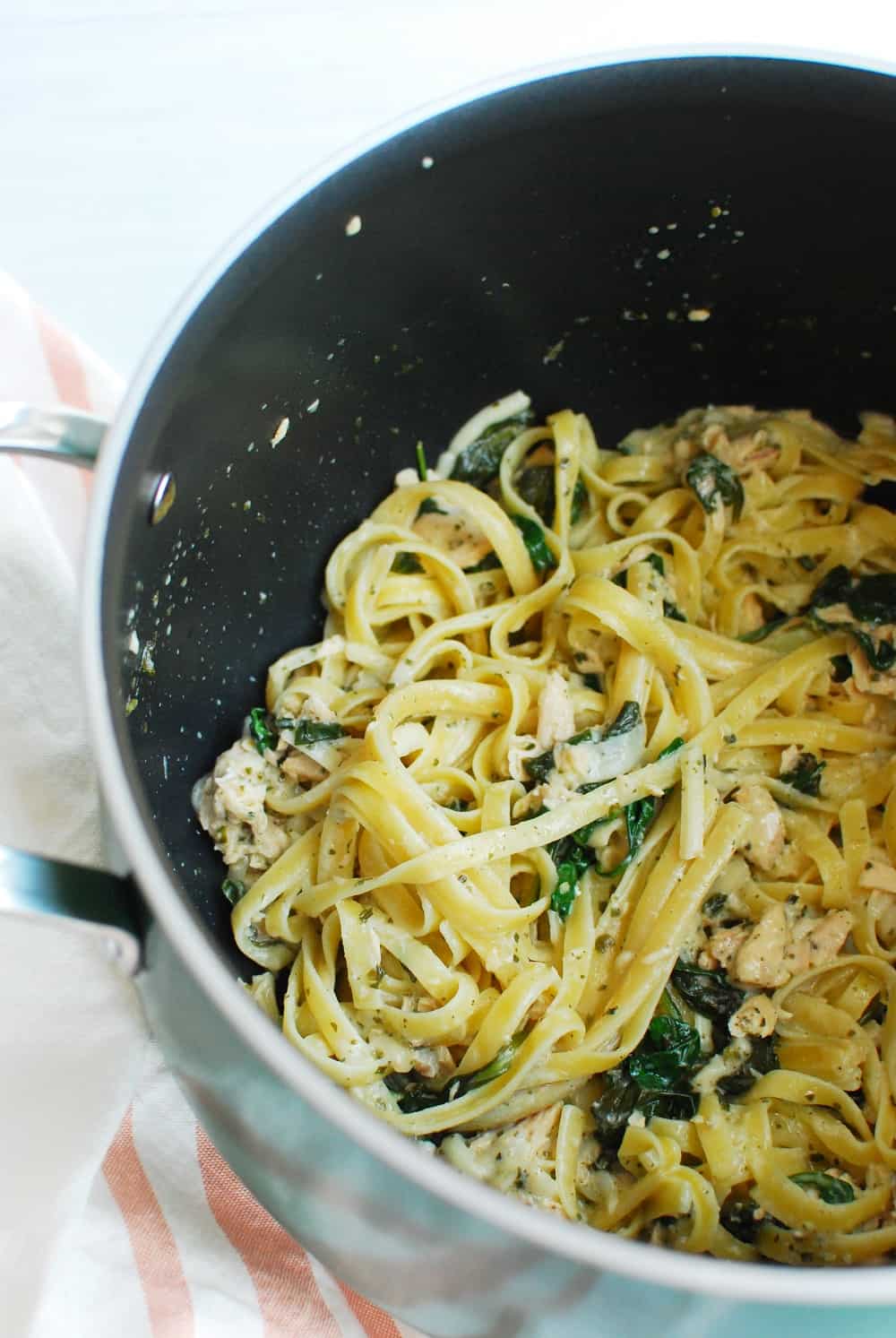 Nutrition Benefits
This pasta dish is a slam dunk for active women. It's got the carbohydrates the body needs to fuel activity, along with enough protein to support muscular health.
But that's not all. Because we're using fish in this recipe, you also get a great dose of omega-3 fatty acids. Omega-3's play a role in supporting heart health, joint health, and cognitive health. And they also may be important for exercise performance – for example, a 2019 review in Research in Sports Medicine concluded:
"Based on available information, there is some scientific evidence that n-3PUFA supplementation may improve endurance capacity by reducing the oxygen cost of exercise. Moreover, several studies report a benefit of n-3PUFA supplementation in promoting recovery from eccentric-based muscle damaging exercise."
Of course, that looks at supplementation rather than food sources, but it's promising to think that getting enough omega-3s in our meals might help too.
And last but not least? Vitamin D, my friends! A serving of this pesto salmon pasta packs in 50% of your daily D needs, which is involved in immune and bone health. And just like with above, some research also suggests Vitamin D may be involved in athletic performance. A 2009 review article concluded that athletic performance declines when an athlete is deficient in Vitamin D and that Vitamin D is associated with musculoskeletal performance in older adults.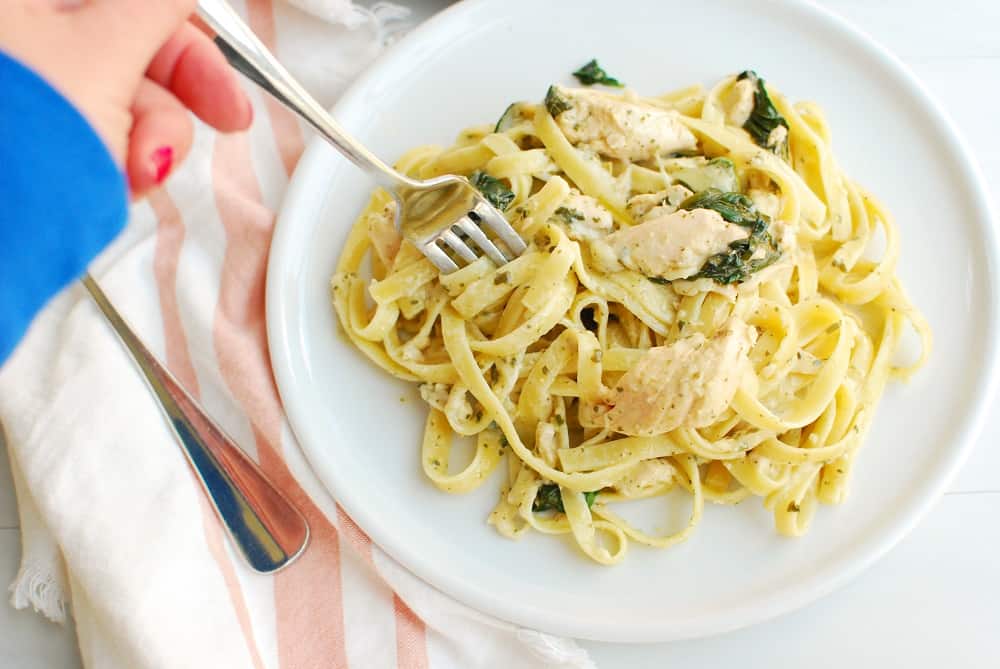 Other Canned Salmon Recipes
If you need some other ways to use your canned salmon, here are a few of my favorite ideas that I stumbled across online:
I hope you enjoy this canned salmon pasta as much as my family did! If you get a chance to try it, feel free to leave a recipe rating or comment below.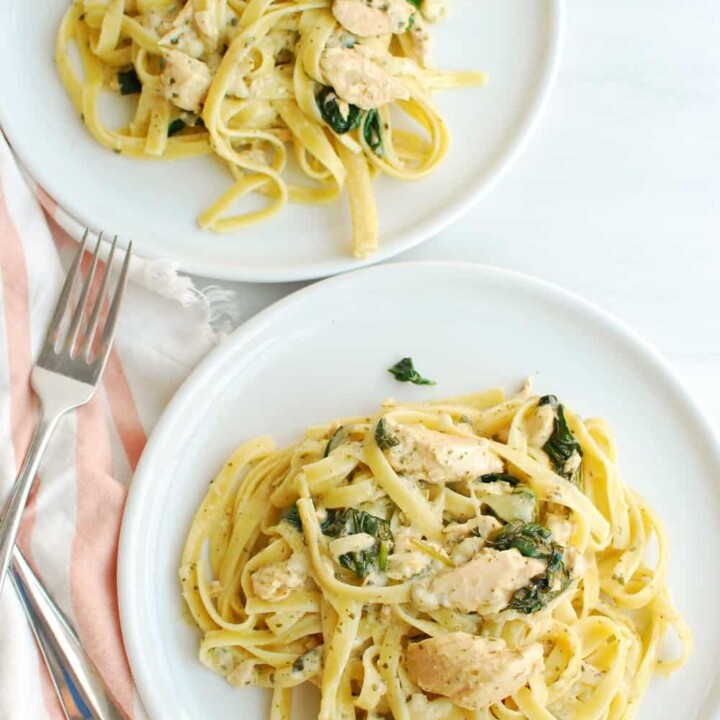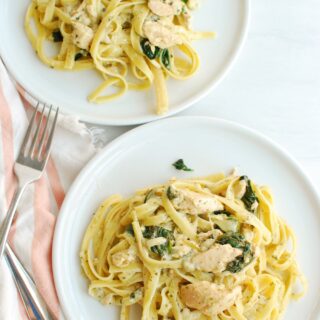 Pesto Salmon Pasta
This pesto salmon pasta is packed with flavor, yet super easy to make! And it's a delicious way to use canned salmon (or fresh).
Ingredients
8

ounces

dry fettuccine

(half of a 16-ounce box)

1

tbsp

butter

3

cups

baby spinach, packed

1/4

cup

white wine

(or chicken broth)

1/3

cup

pesto

1/4

cup

plain nonfat greek yogurt

1/2

cup

shredded Parmesan

2

5-ounce

cans salmon, drained
Instructions
Bring a large pot of water to a boil. Add the fettuccine, cooking pasta according to package directions (usually around 9 to 11 minutes). When done cooking, pour into a colander to drain the water, and set aside for now.

In the same pot over medium heat, add the butter, spinach, and wine. Cook for 2 to 3 minutes until the spinach is wilted.

Turn the heat to medium-low. Stir in the pesto and yogurt and cook for one minute. Add the pasta back to the pot, along with the parmesan and salmon. Cook for another minute or so, tossing everything together, until all ingredients are coated in the sauce and everything is warm. Serve immediately.
Notes
Notes:  I used store-bought pesto for this, which combined with the parmesan, was enough salt for me. However, you can season with salt and pepper as desired to taste.
Nutrition analysis (approximate per serving):  442 calories, 16.5 g fat, 6 g saturated fat, 630 mg sodium, 45.5 g carbohydrate, 2.5 g fiber, 3 g sugar, 26.5 g protein, Vitamin A: 55%, Vitamin C: 13%, Calcium: 26%, Iron: 20%, Vitamin D: 50%, Potassium: 12%
Nutrition
Share: What's your favorite pasta recipe? If you tried this, what did you think?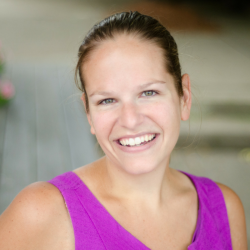 Latest posts by Chrissy Carroll
(see all)