I received this fun little Valentine's graphic from another dietitian a few years ago, and I love it.  It summarizes my beliefs about food, fitness, and feeling good about yourself – all in one cute little wish.
Why not practice some self love on Valentine's Day (and beyond)?  Let's stop beating ourselves up and start taking care of ourselves.  Here are some tips related to the concepts mentioned in the image…
Love yourself by feeding your body with foods that nourish
Do you ever notice how when you eat a lot of not-so-healthy foods – cookies, cakes, fast food, or similar items – that your body just feels crappy?  It's like that old adage – you are what you eat – or in reality, you feel like what you eat. 
Many unhealthy food options are high in refined carbohydrates, which may lead to blood sugar spikes followed by rapid drops.  They're also typically high in sodium, which can lead to bloating and affect your blood pressure.  And they're lacking all the good stuff we need, like vitamins, minerals, and phytochemicals, that keep your heart, muscles, skin, hair, and much more in tip-top shape.
Now, I'm not talking about the occasional mini box of chocolates or a little cup of ice cream (or the homemade strawberry shortcake I plan to make for my hubby for dessert tomorrow).  A healthy diet can totally include treats in moderation, and I love them as much as the next person!
I'm talking about when you get on those "shame spirals" of eating crappy food, and then saying "well, I have already been eating 'bad', so I might as well just keep eating that way."  Before you know it a week has gone by, but the thing is, you don't feel better – you feel worse.
This Valentine's Day, how are you feeling about the foods you're putting into your body?  Are you showing your body love by fueling it with lots of fruits, veggies, and other nutritious options?  Or have you been neglecting it a bit with not-so-healthy choices?  If you admit to falling into that later category, don't beat yourself up – instead, plan to take action.  Set aside some time this weekend to sit down, plan your meals, buy some groceries, and set yourself up for better nourishment.
Love yourself by participating in exercises that energize
I really believe that everyone can find some type of exercise or physical activity that they enjoy.  Maybe you won't be head-over-heels in love with the activity, and it might take a little willpower and motivation to get you moving, but there is some activity out there for everyone that leaves you feeling exhilarated and energized when you've finished it.
For me, there's nothing better than crossing the finish line of a road race or triathlon.  Do I always wake up excited to go train?  (Heck) No!  It takes some whining and self talk sometimes to finally get me out on the road ("Chrissy, just get out of bed, you could have been done by now!").  But once I'm out there, I enjoy it and always feel good afterward.
What activities make you feel great?  What leaves you smiling after you complete it?  Are you prioritizing those in your life?  Are you showing yourself some self love by regularly including them?
If you're new to fitness or are struggling to think of some ideas that you may enjoy, here are a few suggestions (from the basics to the more creative):
Running (try signing up for a road race or group running program)
Cycling
Swimming
Yoga
Pilates
Weight lifting (consider a personal trainer if you need help)
Zumba
Boxing
Cross fit
Snowboarding/skiing
Kayaking
Surfing
Paddleboarding
Trampoline classes
Rock climbing
Belly dancing
Pole dancing
Hula hooping (there are even classes for this now!)
Trapeze lessons
Love yourself with thoughts and words that strengthen you, not ones that harm you
We all are guilty of saying negative things about ourselves at some point.  And sometimes, this can be a good indicator that you're tired of the status quo and you're ready to change something.  But continuously talking negative about your body doesn't serve in your best interest.  Confidence is a beautiful thing, and exuding it at any body size or shape can be the difference between frumpy versus fabulous.  And if you're not happy with something on your body, take positive action steps to change it – but appreciate yourself and the hard work you're putting in along the way, not just when you reach your end result.
So I hope this Valentine's Day brings an opportunity to focus on self care – whether it's through eating healthy foods, exercising, or treating yourself to a break from negative self-talk.  Cheers to loving yourself enough to make those positive choices and stay healthy!
Share with me:  How will you practice self love on Valentine's Day?  (My plan – hit up a morning zumba class!)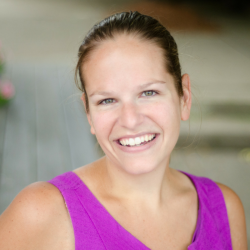 Latest posts by Chrissy Carroll
(see all)