Pumpkin greek yogurt bark is where it's at this fall. Fo' real.
Over the winter, I got some giant cans of pumpkin pie puree on clearance for 1 CENT. Yes, not 1 dollar – that's 1 cent. Of course, I bought about 10, because why not? They're a penny! I set those babies aside in my pantry and figured I'd break them out in the fall. And now that autumn has pretty much arrived, I decided to take those cans outta the back of the closet and get to cookin'.
Pumpkin greek yogurt bark seemed like the perfect way to use up some of the puree. A few weeks ago I came across a strawberry blueberry greek yogurt breakfast bark on Go Eat & Repeat and thought a) this girl is brilliant – how fun is this?!, and b) I can totally make my own fall version of this recipe. So I did! It's delicious and both kids and adults will love it.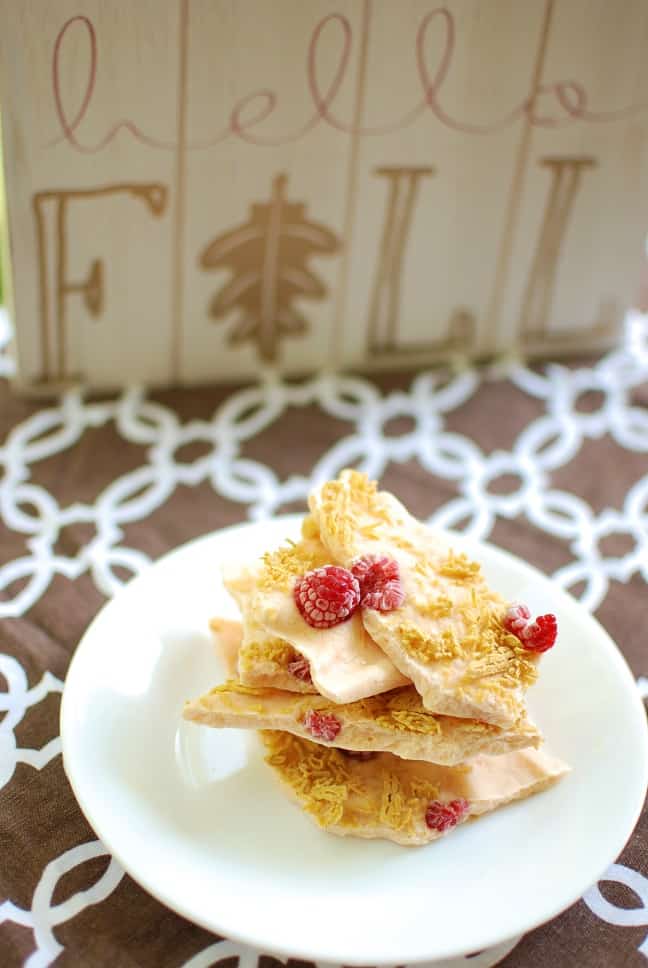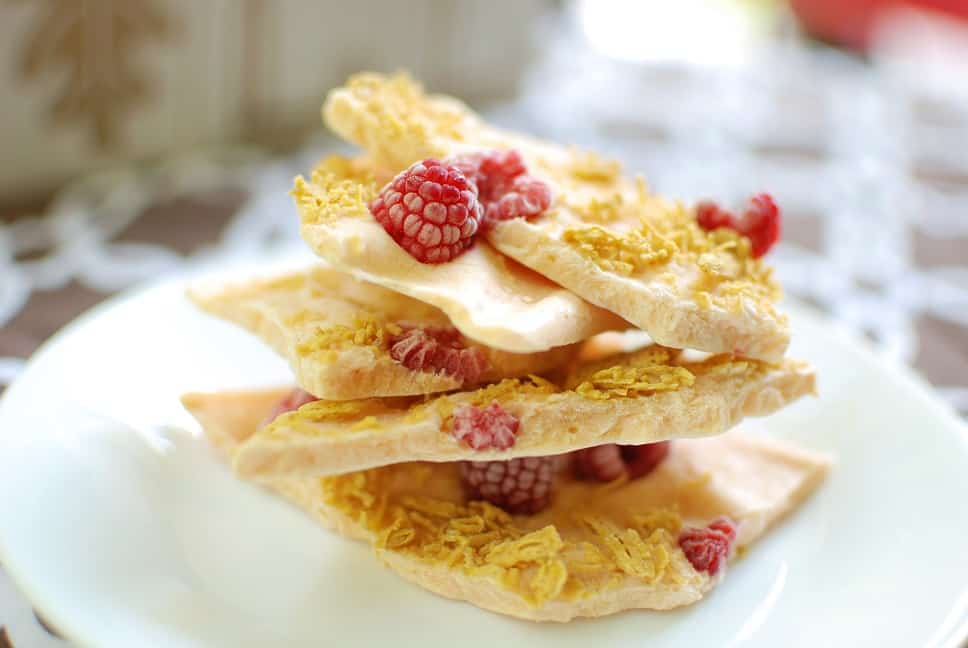 I know what you're thinking: Is it a frozen treat for dessert? Is it a breakfast? Is it a snack? That's the beauty of this recipe friends – it can be all of them. I've broken the nutrition facts down for you based on a snack-sized portion. This baby clocks in at just 133 calories and packs 9 grams of protein per serving!
[Tweet "Hello, fall! This pumpkin greek yogurt bark is a perfect fall snack – with 9 g of protein!"]
This recipe also makes a fabulous recovery snack. Just think about it – you're coming in from a long weekend run and it's still a kinda warm outside. You're all sweaty and want something refreshing to eat. If you've made these ahead of time, you can quickly pull them out of the freezer to munch on and replenish those muscles! They've got both carbs and protein to help to maximize your recovery.
And to top it off, this is seriously easy to make. You mix the greek yogurt and canned pumpkin pie puree together, spread it on some wax paper on a baking sheet, and sprinkle the toppings on. I used some oat squares cereal (aka the generic version of Life, haha) and fresh-picked raspberries (we love going to the local farm and picking each week!) for toppings. But you could use anything that floats your boat – other berries or fruit, granola, flax or chia seeds, etc.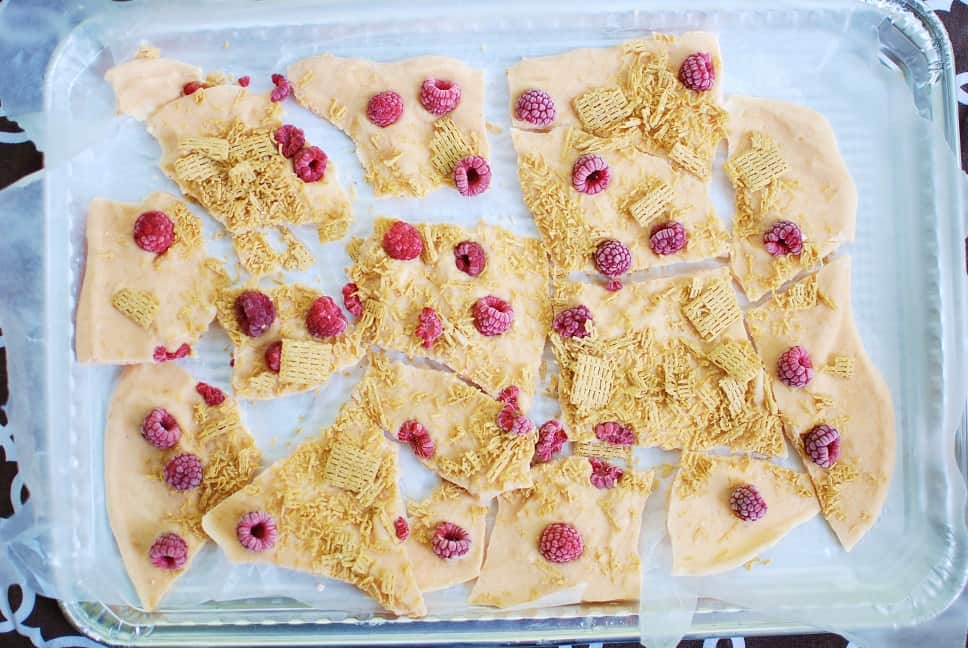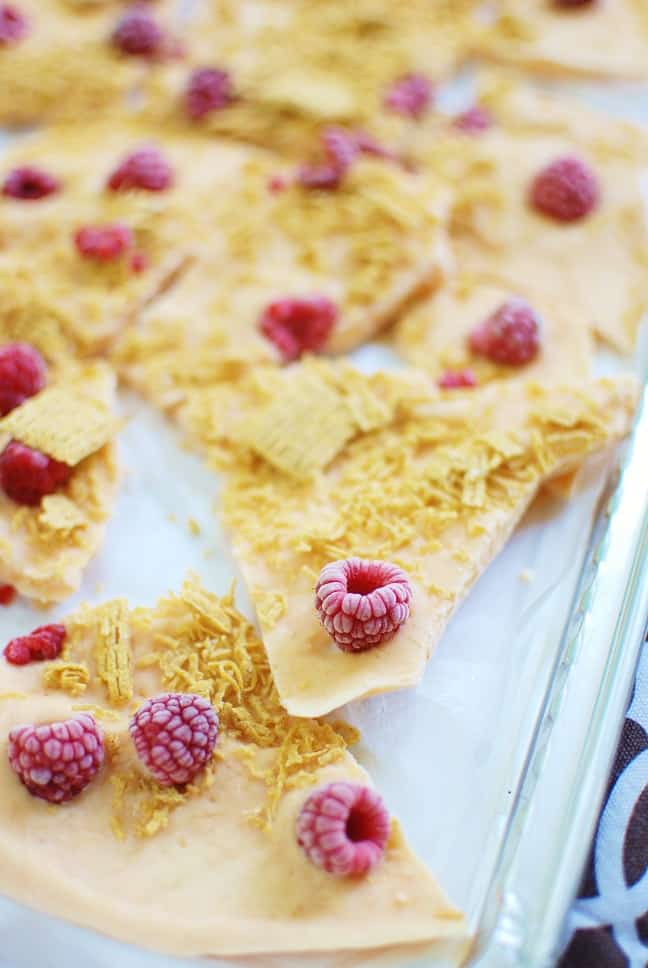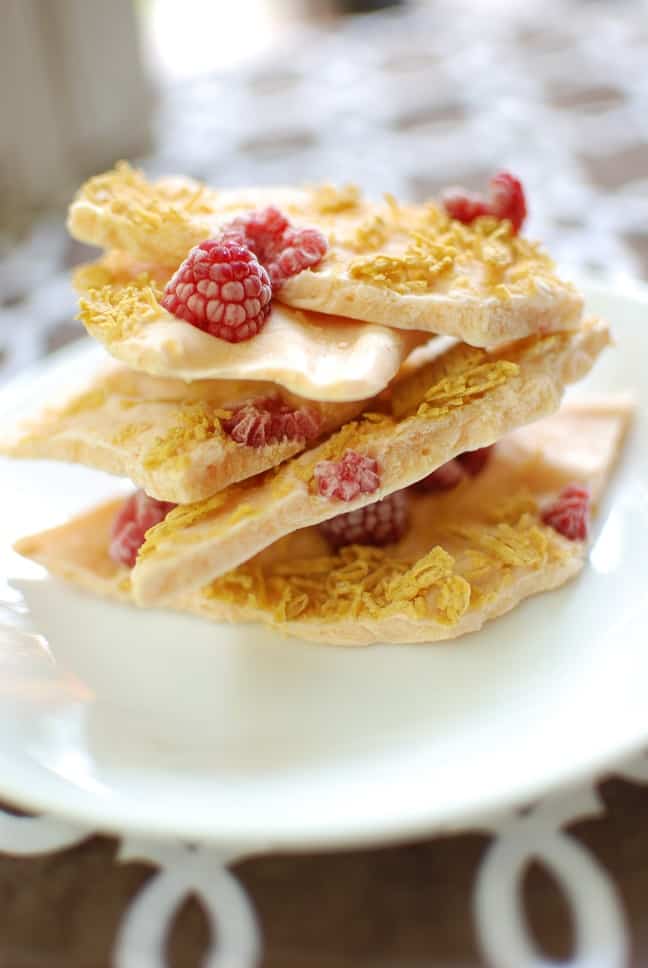 So to summarize: easy to make, healthy, tasty, good for kids and adults alike and works as a recovery snack. Need I say more?! Try this pumpkin greek yogurt bark asap! 🙂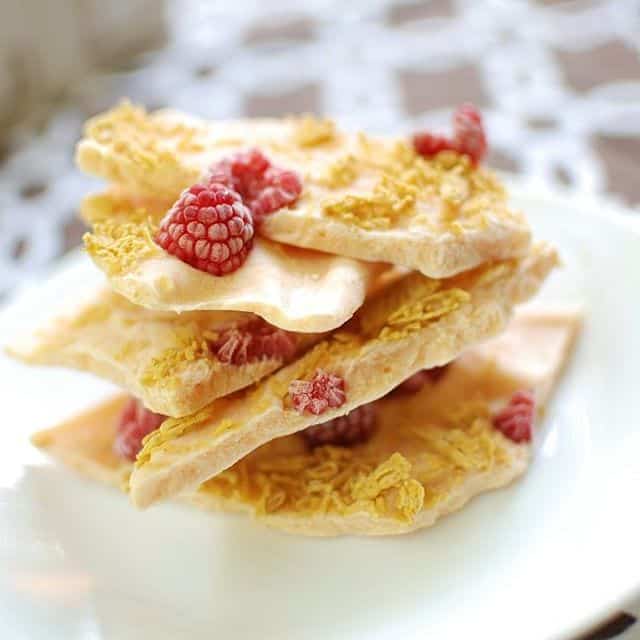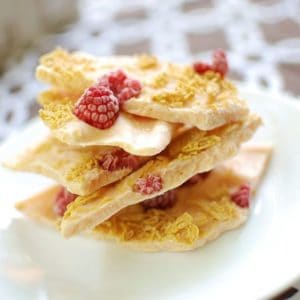 Pumpkin Greek Yogurt Bark
Enjoy a healthy fall treat with this delicious pumpkin greek yogurt bark.
Ingredients
1.5

cups

plain nonfat greek yogurt

1/3

cup

canned pumpkin pie puree

(OR 1/3 cup pumpkin puree + 1-2 tbsp maple syrup + cinnamon)

3/4

cup

crushed oat squares cereal

3/4

cup

raspberries
Instructions
Mix yogurt and pumpkin pie puree together in a bowl.

Spread wax paper over a baking sheet, and then spread yogurt/pumpkin mixture over the wax paper. Sprinkle cereal and raspberries on top.

Freeze for 2 hours, then break into pieces. Enjoy right away, or place into a container or zip lock bag for storage in the freezer!
Notes
Quick tip:
If you keep this out at room temperature, it will melt back down to regular yogurt consistency, so enjoy within 10 minutes of removing it from the freezer.
Nutrition Facts (approximate per serving):
133 calories, 1 g fat, 123 mg sodium, 22 g carbohydrate, 4 g fiber, 9 g sugar, 9 g protein; Vitamin A: 37%, Vitamin C: 11%, Calcium: 14%, Iron: 15%
Nutrition
Share with me: Are you embracing the arrival of fall? What's your favorite pumpkin treat to make? Have you ever tried greek yogurt bark?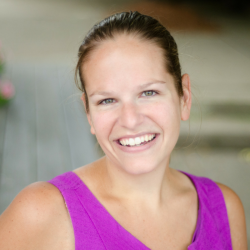 Latest posts by Chrissy Carroll
(see all)