Compression socks are certainly trendy in the running community, with athletes across the country sporting the knee-high attire. But when it comes to running with compression socks, the question is – do they actually do anything?
You might be surprised that most research suggests the answer is "not much" when it comes to running performance. But don't skip over them just yet! There definitely appear to be some benefits when it comes to recovery.
Let's break it all down…
What are compression socks?
If you've never used compression socks, you might be wondering what they actually are. Just like it sounds, they're a knee-high sock that applies compression – or in other words, they squeeze your calves a bit. Because of this, they feel tighter than normal socks.
The thought is that the compression applies pressure to the blood vessels, and should help blood circulate through the legs a bit better. The pressure is generally graduated compression, meaning it's a bit tighter at the ankle and a bit looser towards the knee.
Compression socks are actually quite common in the medical community, often used by people that have blood circulation issues where blood tends to pool in the extremities.
Some athletic manufacturers have taken this concept and ran with it, claiming that compression socks will help circulate blood faster on a run and improve oxygen delivery to the muscles. I don't personally think this has been proven for running performance yet (as you'll see in the research below) – but the socks have shown a benefit for recovery, which is where I think their real value is.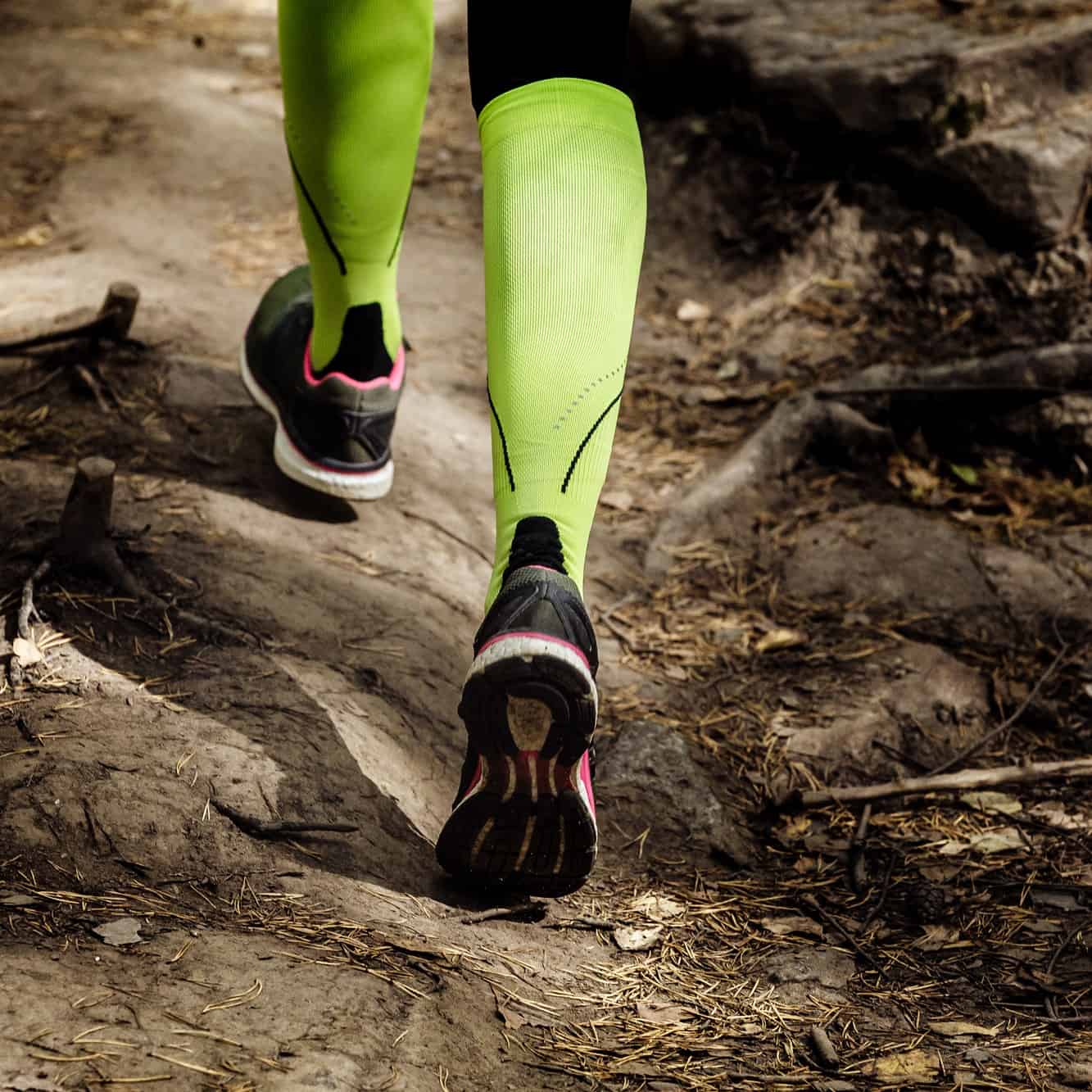 Compression socks and running performance
Studies on running with compression socks and correlations to performance have been controversial, with some studies suggesting small possible benefits. However, it appears that as of now, the majority of the research does not support a performance benefit.
Here are a few highlights from recent studies:
In other words, it appears that compression socks are probably unlikely to help you run faster or prevent muscle damage during a training run or a race.
Of course, that's what the science says. Plenty of runners are die-hard fans and will tell you anecdotally that they think compression socks make a difference. If that's you, by all means, go with what you feel works for you!
Compression socks and recovery
Here's the exciting stuff though – there seems to be consistent research suggesting that compression socks helps with recovery time. There are a few studies that may not support it, but in contrast to the performance hypothesis, the majority of recovery research suggests a benefit.
Here are a few highlights from recent studies:
These are quite impressive benefits that you might get from a simple inexpensive pair of compression socks! It certainly seems worthwhile to try 'em out post-run and see if you notice any benefits (like decreased soreness, fresher legs on the next days run, etc.).
Best Compression Socks for Running
Disclosure: This contains affiliate links. As an Amazon affiliate, I earn a commission from qualifying purchases. This does not change your user experience in any way.
If you're looking to purchase compression socks for running recovery, Amazon has a ton of great options. Here are my top 5 picks:
These are one of the best-selling compression sock options on Amazon, which come in a variety of colors at a very reasonable price.
These compression socks are highly reviewed as well, with reports that they have a comfortable fit and help wick sweat away from the feet/legs while running.

With over 1900 reviews and a rating above 4 stars on Amazon, these socks have been well-loved by fellow customers. You can find them in an array of colors and styles, including this fun polka dot pair.

While most of the versions above offer compression in the 20-30 mmHg range, this pair is a bit less intense at 15-20 mmHg. If you've tried other compression socks and felt like they were just too tight and uncomfortable, this would be a good option to test out instead.

If you don't want to go with a full compression sock, you can try a calf compression sleeve.  This is a great option if you often get a mismatch between the foot size and the way the rest of the calf sleeve fits (for example, if you always have to order a larger sock to fit the calves but you end up with too much material in the foot area).  I love these bright pink ones.
 
Share with me:  Do you go running with compression socks?  Do you feel like they help you with either performance or recovery?
Feel fee to pin this post to refer to later.