Seafood can be a bit intimidating to cook – but not with this scallops and grits recipe! The scallops are seared on the stovetop in just a few quick minutes, then placed on a bowl of cheesy grits – all topped off with balsamic cherry tomatoes. It sounds fancy, but you'll only need a few simple ingredients and less than a half hour to make this flavorful, healthy dish.
Why this meal is a nutritious choice
Seafood, including scallops, is an excellent source of protein. It also contains omega-3 fatty acids, which may play a role in anything from cognitive development to cardiovascular health. Even though scallops aren't as great a source of omega-3s as fatty fish like salmon, they still do contribute some omega-3s to your day.
This dish in particular pairs the scallops with grits and cherry tomatoes – both sources of carbohydrates to help fuel your fitness activities.
Overall, you end up with a balanced meal that is filling, clocks in at just 440 calories, and provides a wide variety of vitamins and minerals.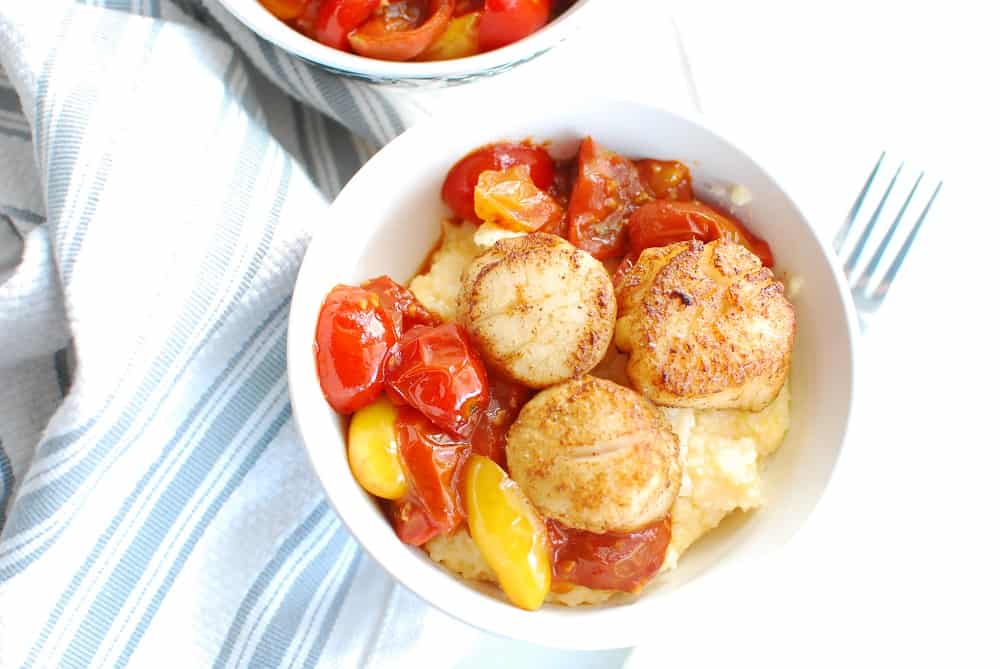 How to make scallops and grits
There are three main parts to this recipe – cooking the grits, searing the scallops, and preparing the tomatoes. Don't get overwhelmed by this. It sounds like a lot but each of these is done very quickly.
To start, all you're going to do with your grits is make four servings according to the package directions. Then just stir in some cheddar cheese until it's melted throughout.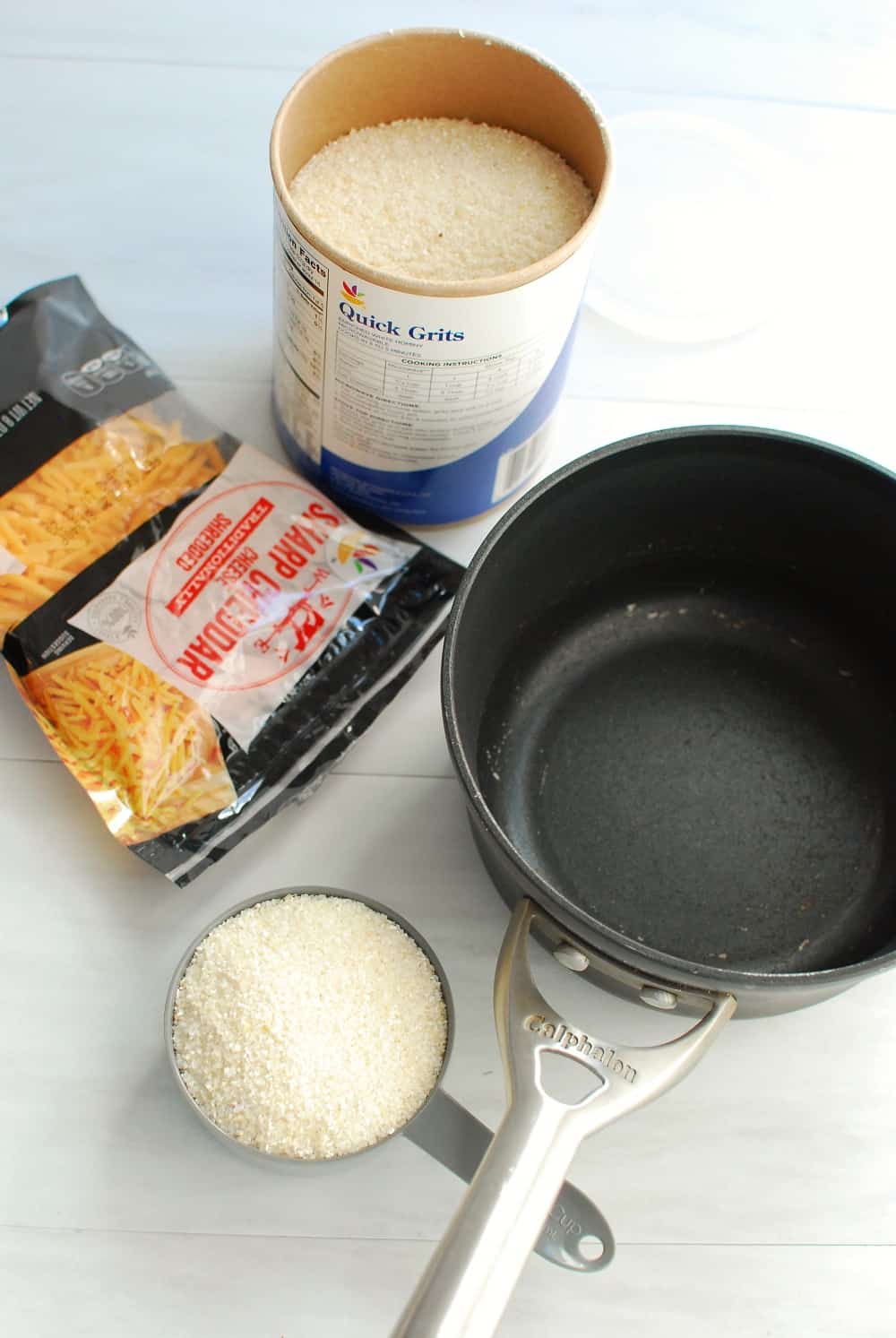 If you want thinner grits, you can add a little more liquid at this point too to create the right texture. Using quick grits, this part of the meal comes together in about 5-7 minutes.
Once your grits are done, you'll move onto the scallops. You'll season 'em up with Cajun seasoning (or plain 'ol salt and pepper works too!) and then cook them in a hot skillet with butter. Scallops only take a few minutes to cook.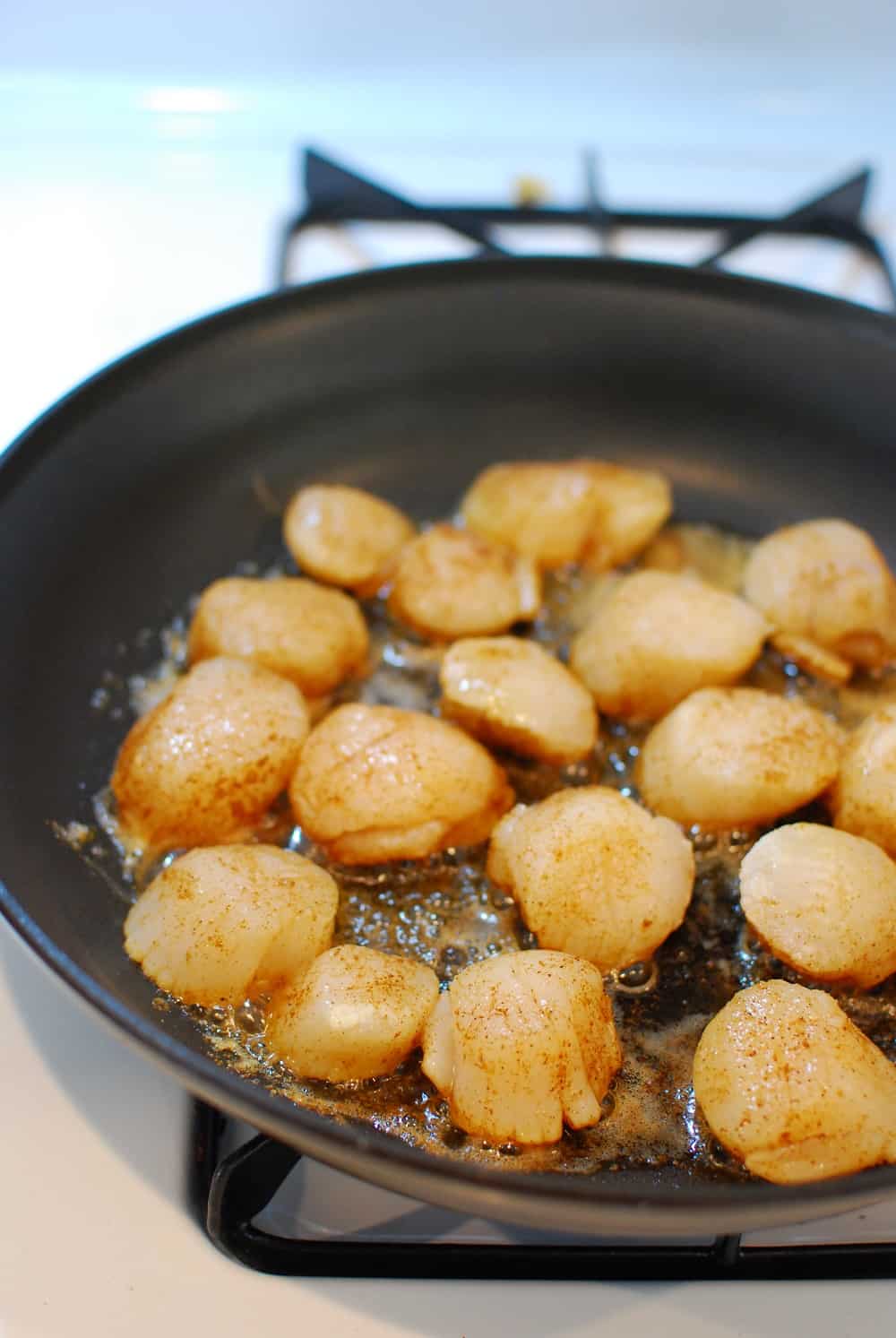 When the scallops are done, you'll set 'em aside on a plate and move onto making your tomatoes in that same skillet.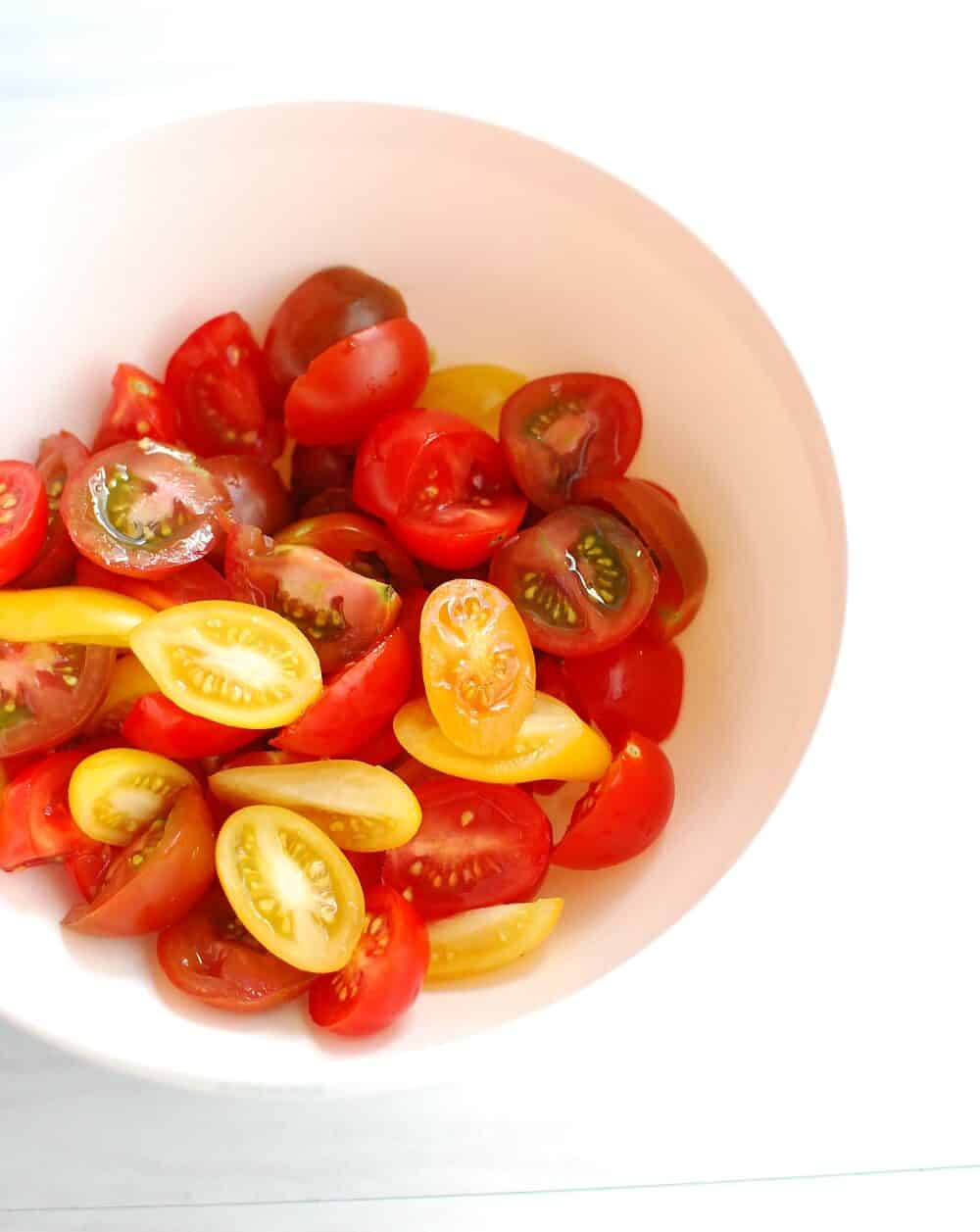 You'll heat up a little more butter, and saute a little garlic until it's fragrant. Then you'll add the rest of your tomato ingredients – cherry tomatoes, tomato paste, honey, and balsamic vinegar. Cook it for two more minutes and boom – all done.
All that's left to do is plate everything up and enjoy!
Helpful Recipe Q&A
Here's a few common questions that I anticipate might come up as you prepare this:
1. How do you know when scallops are done?
Scallops cook incredibly quickly. When searing, you're looking at about 3-4 minutes of total cooking time. You'll know they're done when they're a light golden brown on each side and opaque on the sides in the middle.
Some people do prefer them still slightly translucent when cut down the center. Even Alton Brown's food network recipe suggests this. I personally and professionally prefer opaque throughout (both from a textural standpoint and a food safety standpoint).
If you're not sure if your scallops are done, take a larger one from your batch and cut it in half. Does it seem like it's still completely raw inside? If so, leave the rest on for another minute or two. Is it very white and getting tough to easily slice with a fork? You might be overcooking; pull 'em off the heat.
2. Can you use frozen scallops?
Yes! To use frozen scallops, you'll want to thoroughly defrost them (you don't want the middle to still be solid ice when you put them in the pan, or they'll cook unevenly).
You can defrost them in the fridge for about 8 hours, or overnight.
Or you can defrost them under cool (not warm) running water in a colander in the sink. Place 'em in a resealable plastic bag and let the cool water run down over that. Move the scallops around every few minutes so that it helps the water reach all parts of them and helps them defrost quicker. It takes around 10-20 minutes depending on the size of your scallops.
Avoid thawing scallops in the microwave like you might do for other meat – they're very delicate and it is more likely that you'll ruin them in there.
3. What's the difference between quick grits and regular grits?
Quick grits are simply cut into smaller pieces than regular grits, making them quicker to cook. If you want to use regular grits, you can certainly do so – just keep in mind the amount of grits as well as water is typically in different proportions. That's OK, though – just follow the package instructions for four servings.
4. Can you use regular tomatoes or canned tomatoes?
Sure! I personally love cherry tomatoes, because they're sweet. We always use the "Wild Wonders" packages of tomatoes that come in different colors which adds visual appeal to meals. But you can just as easily chop up some large tomatoes or use canned tomatoes instead.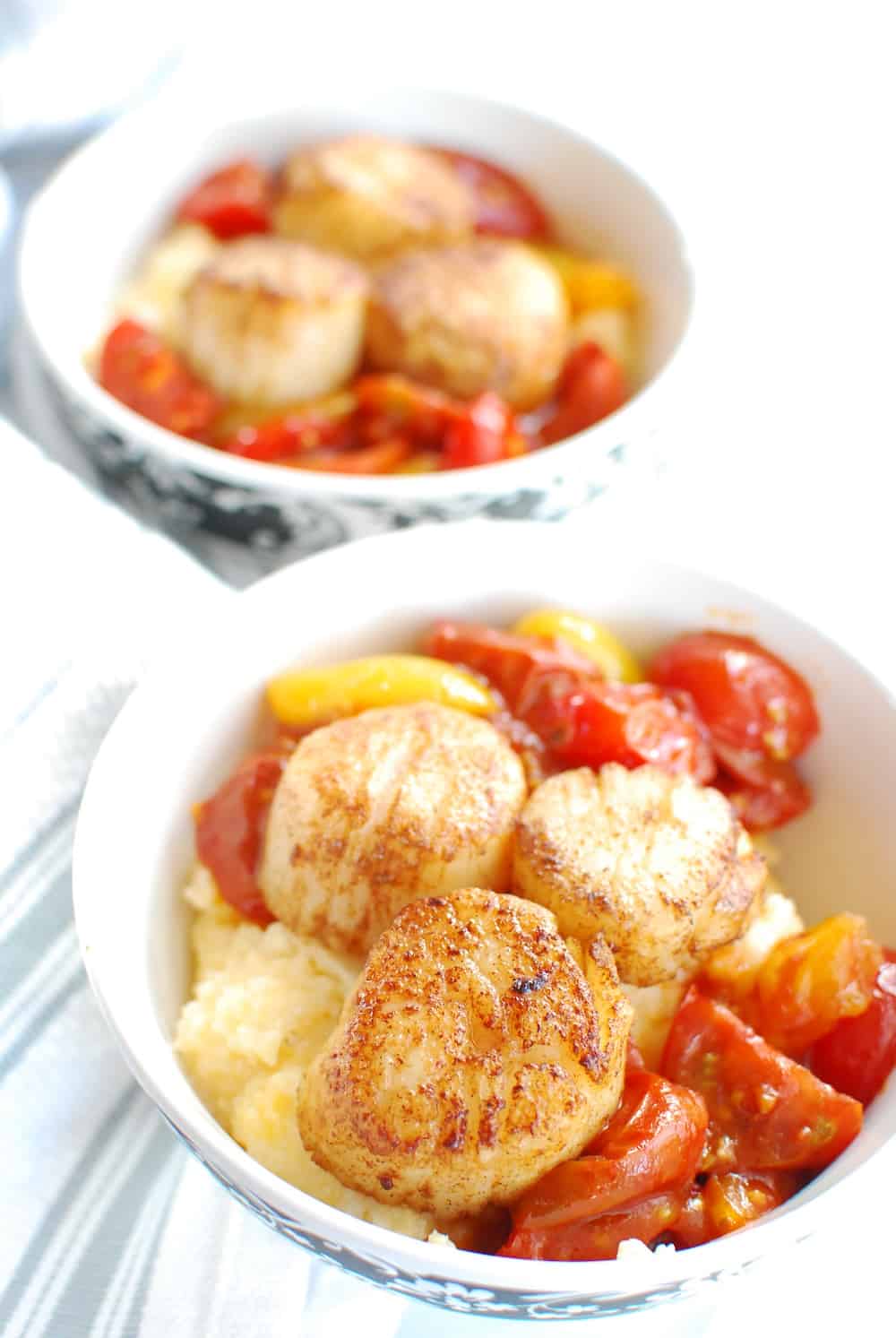 I hope you found these tips helpful, and I hope you'll take the time to try out these scallops and grits! If you do get a chance to try, be sure to leave a comment or recipe rating below letting me know your thoughts.
PS – Looking for more scallop recipes? Try my seared scallops with grapefruit brown butter sauce!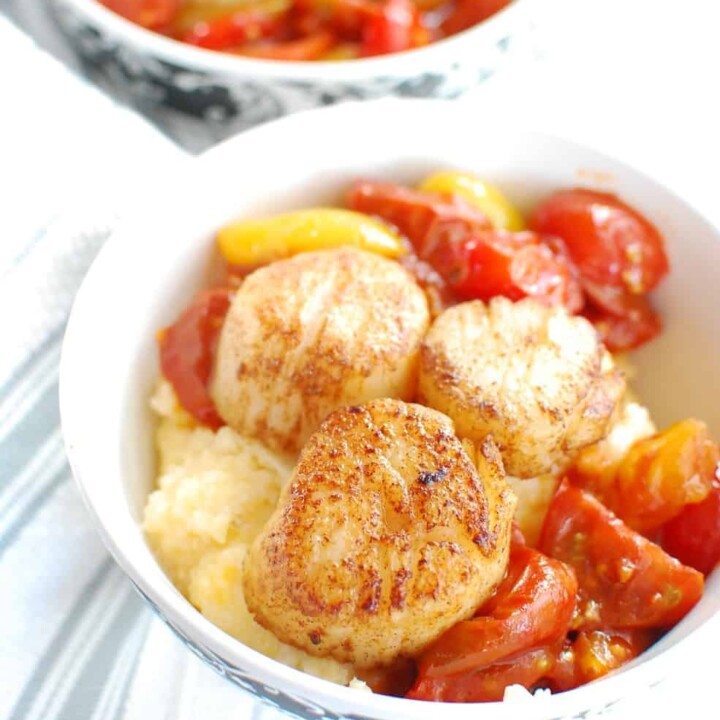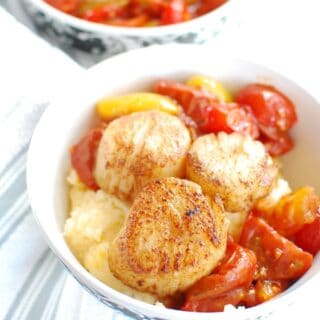 Scallops and Grits with Balsamic Cherry Tomatoes
These scallops and grits are the perfect weeknight seafood dinner!
Ingredients
For the grits:
3/4

cup

quick grits*

3

cups

water*

(or stock)

1

cup

shredded cheddar cheese
For the scallops:
2

tbsp

butter

1

lb

sea scallops

1

tsp

Cajun seasoning
For the tomatoes:
1

tbsp

butter

1/2

tbsp

chopped garlic

2

cups

cherry tomatoes, halved or quartered

1

tbsp

tomato paste

1/2

tbsp

honey

1

tbsp

balsamic vinegar
Instructions
Cook the grits with water (or stock) according to package directions to make 4 servings of grits (my package called for 3 cups water for 3/4 cup grits – but be sure to check the proportions on your label). When done, stir in cheddar cheese. If you need to thin out the grits at all, add a few splashes of water, stock, or milk. Set aside for now.

Next, prepare the scallops. Heat the butter over medium-high heat until it starts to slightly brown. While you're waiting, dry the scallops with paper towels and then season with the Cajun seasoning.

Place the scallops in the pan and cook for two minutes on the first side. Flip and cook on the other side for another 1-2 minutes, depending on the size of the scallops.

Using tongs, remove scallops and set aside on a plate for now.

Return the same skillet over medium-heat, and start to prepare your tomatoes. Heat the additional 1 tbsp of butter, and add in the garlic. Let cook for about 30-60 seconds, until garlic is fragrant.

Add the remainder of the ingredients for the tomatoes, and let cook for 2-3 minutes over medium heat, until everything is well combined.

Divide the grits evenly into four servings, and top with the tomatoes and several scallops on each. Enjoy!
Notes
Notes:
Quick grits generally have a lower grit:water ratio compared to traditional grits. If making traditional, be sure to follow the instructions on the box for the proper water amount – it may be more like 4 cups water and 1 cup grits. No matter what type you're using, simply follow the package directions to prepare 4 servings of grits.
Nutrition analysis (approximate per serving):
440 calories, 19.5 g fat, 11 g saturated fat, 740 mg sodium, 41 g carbohydrate, 3 g fiber, 6.5 g sugar, 24.5 g protein, Vitamin A: 31%, Vitamin C: 26%, Calcium: 23%, Iron: 11%
Nutrition
Share: What's your favorite way to enjoy scallops? Have you ever tried scallops and grits?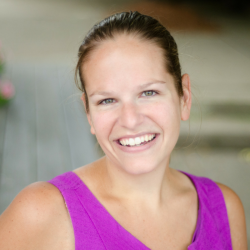 Latest posts by Chrissy Carroll
(see all)