Do you ever see someone's meal and think "how are they going to be full with just that?!" I don't at all mean that in a judgmental way; rather just in a surprised way. I think my reaction is a combination of the fact that in this country we've been chronically exposed to really large portions, but also because the hubby and I tend to eat quite a bit since we stay pretty active.
The problem, of course, is that if I eat big portions of heavy, calorie-dense foods – I'll start to gain weight and feel uncomfortable. So there's a careful balance between eating enough to fuel activity, yet staying at a comfortable weight.
That's why I love meals like these spaghetti squash taco boats. You get a giant portion, yet it's still under 400 calories (woowoo!). Plus, there's less than 10 ingredients in this easy recipe.
[Tweet "With less than 10 ingredients, healthy spaghetti squash taco boats make an easy + tasty dinner!"]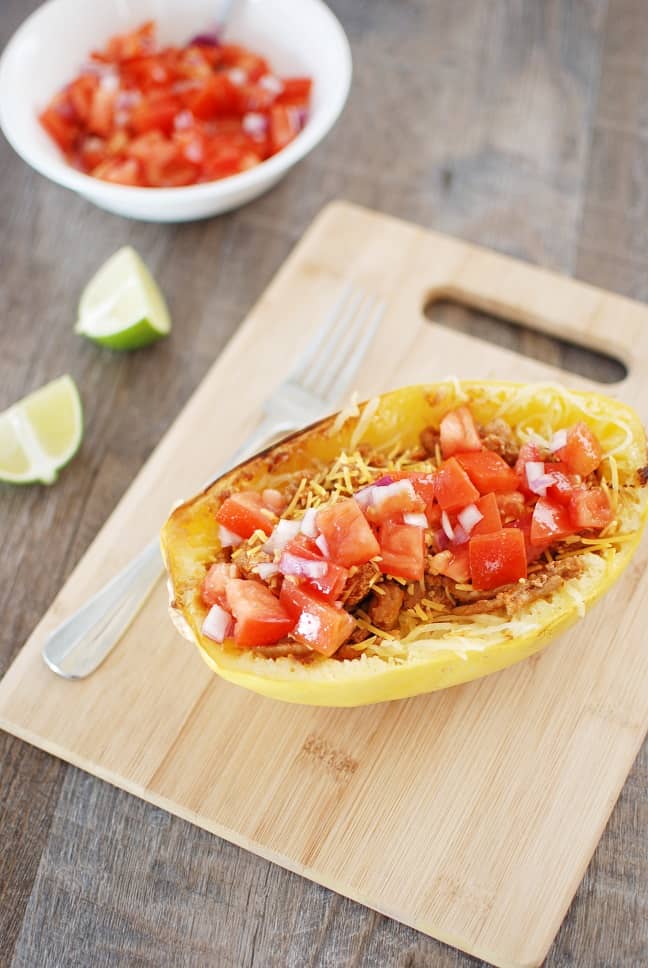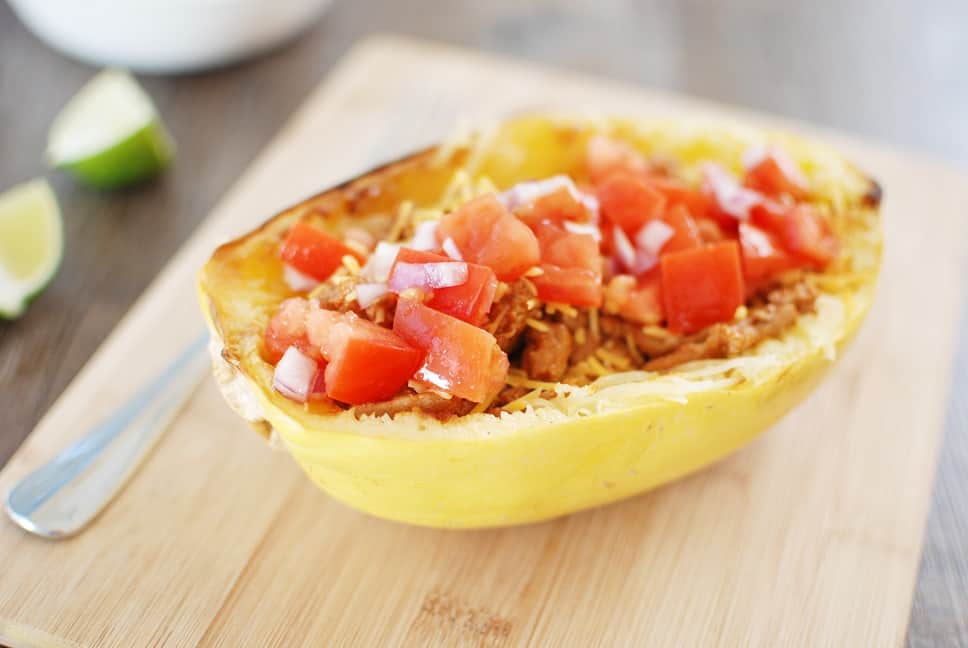 If you've never had spaghetti squash before, you'll quickly see that it's named that way since the squash forms strands like "spaghetti." Don't get me wrong, the texture is different. It's not like you could switch this for pasta and no one would notice. But this stuff is amazing because it's versatile for use in many types of recipes, and it's super low in calories. One cup has just 40 calories, compared to about 200 calories in a comparable serving of pasta.
In this case, the squash becomes a perfect vessel for taco fillings. Rather than using shells or tortillas a la traditional tacos, I'm boosting the veggie content by serving 'em in the spaghetti squash. This means a big ol' filling serving for your meal that still fits perfectly with your fitness goals.
Plus, these spaghetti squash taco boats can be modified to fit many dietary needs. If you're dairy free, you can leave out the cheddar cheese (and add in some instead avocado for healthy fats). If you're gluten free, you can make this by grabbing gluten-free taco seasoning or making your own seasoning. If you're vegan, you can skip the ground turkey and cheese, and instead use seasoned black beans for your filling.
As a helpful note, at the time of writing this recipe, Ortega taco mix was free of gluten, dairy and soy. (I used it all the time when I was dairy-free for nursing). But you can also easily make your own mix.
Enjoy this yummy meal!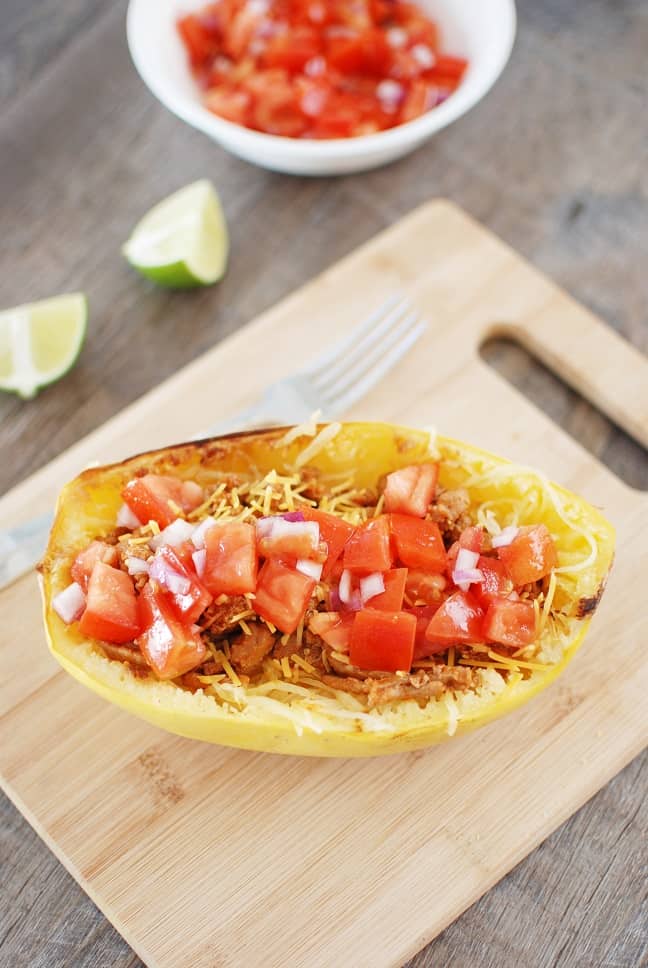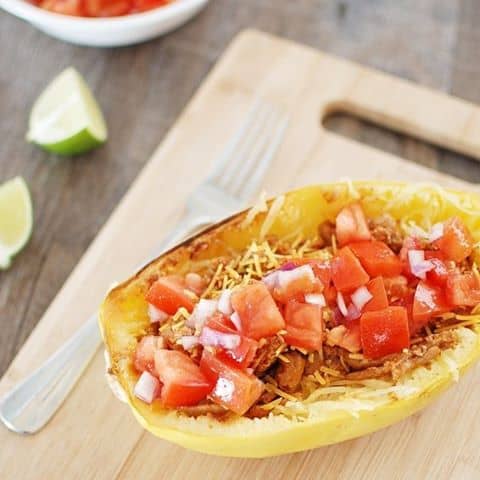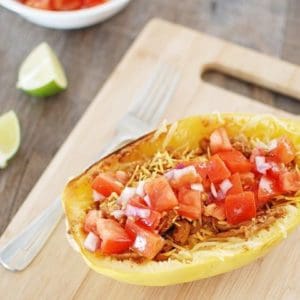 Spaghetti Squash Taco Boats
Put a healthy spin on Taco Tuesday with these spaghetti squash taco bowls!
Ingredients
2

spaghetti squash

2

tsp

olive oil

1

lb

ground turkey

1

packet taco seasoning

(preferably lower sodium; if gluten-free or dairy-free be sure to look for clearly labeled variety OR make your own)

1/2 to 2/3

cup

water

(according to taco seasoning directions; if using homemade seasoning skip or use a few spoonfuls)

1 1/2

cups

chopped tomatoes

1/4

cup

finely diced red onion

1

lime, juiced

1/2

cup

shredded cheddar cheese

(optional)
Instructions
Preheat oven to 375 degrees.

Slice both spaghetti squash in half. Scoop out and discard the seeds. Rub the olive oil on both the inside and outside of the squash, then place cut side down on a baking sheet. Bake for 40-50 minutes, or until a fork easily pierces the outside skin of the squash.

Meanwhile, brown ground turkey in a skillet over medium-high heat. Stir in taco seasoning and water (add amount of water called for on taco seasoning directions) and cook for another few minutes, until the mixture has thickened and all the meat is well coated. Remove from heat.

In a bowl, mix tomatoes, onion, and juice of the lime to create an easy salsa. Set aside for a moment.

When spaghetti squash has finished cooking, let cool for a few minutes. Then take a fork and scrape down the inside of each squash, creating long strands of "spaghetti".

Divide the ground turkey, salsa, and cheddar evenly among the four halves. Enjoy!
Notes
Nutrition facts (per serving):
365 calories, 17 g fat, 6 g sat fat, 430 mg sodium, 28 g carbohydrate, 2 g fiber, 3 g sugar, 26 g protein, Vitamin A: 22%, Vitamin C: 36%, Calcium: 20%, Iron: 16%, Potassium: 23%
Nutrition
Share with me: Have you ever made spaghetti squash taco boats? Do you love tacos? What's your favorite way to use spaghetti squash?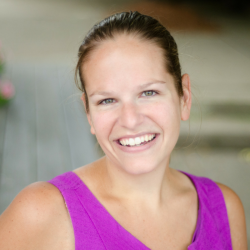 Latest posts by Chrissy Carroll
(see all)