Have you ever thought about signing up for your first triathlon, but have let your fears get in the way? It's time to squash those fears and sign up for that race! I've outlined 5 of the most common objections that I hear from people who haven't yet taken the plunge to do their first triathlon, and how to move past each of these.
[Tweet "Thinking about signing up for a tri, but nerves got the best of ya? Read this post!"]
5 objections for signing up for your first triathlon – and how to move past each one:
1. "I'm afraid of the swim."
When most people envision a swim start at a triathlon, they're picturing the massive Ironman swim starts. While it's true that you may occasionally catch an elbow or light kick, for the most part local races are far less stress-inducing than what you see on TV. First, check if your local tri offers a "newbie" swim wave, which means you'll be in the water with other folks who are new to the sport. No matter what wave you end up in, you can ensure the least amount of chaos by seeding yourself in the back of the group, in the corner furthest from the first bouy. It may not be "optimal" for time – but this gives you some breathing room as you start to swim and get into the flow of things.
Now of course, if you can't actually swim yet – that will require a little more work in advance. But there's nothing that says adults can't take swimming lessons! Find lessons at a facility like the YMCA or find an independent swim coach to help you get more comfortable in the water. Remember that most sprints are only a 1/4 to a 1/3 mile swim, so you don't have to cross the Atlantic here. As my husband says, you just need to "not drown" and be able to get yourself from point A to point B through the water.
2. "I don't have money for fancy gear."
There's a lot of fancy gear out there, and don't get me wrong – some of it is pretty darn cool. But for your first triathlon, you really don't need much. Essentials include a bathing suit, googles, some type of bike, a bike helmet, and sneakers. That's pretty much it.
I did my first sprint triathlon on a mountain bike that I borrowed from a friend. Said bike had a warped back tire which caught the brake pad every rotation. Was it frustrating getting up those hills? Heck yes. But it cost me nothing to use. Until you know that you love tris and want to keep doing them, save the money on the fancy gear and just stick with what you have.
3. "What if I come in last place?!"
When I talk to women who are thinking about tackling their first triathlon (or their first road race), this is one of the most frequent objections that comes up. Admittedly, it was my biggest fear the first time I raced. What I've learned is two-fold.
First, it's probably unlikely that you will come in last place. I think many of us have a tendency to overestimate our fears and underestimate our speed.
Second, if you are a slower athlete and you do take last place – who cares?! I've been at two races where I've finished in the last three people. In one of them, they actually thought I was the last person, so I got a pretty amazing welcome wagon party into the finishing corral. You are out there doing what most people at home don't have the courage to do, so who cares if you finish 50th or 500th?
4. "I don't know how to train for a tri."
Well you're in luck, because yours truly is a USAT Level I Certified Coach! 😉 In all seriousness though, there are a TON of great coaches out there. Find one you mesh with – someone who will understand your fears and concerns and motivate you to push past that for greatness. Working 1-1 with a coach will get you a customized training plan, of course, but even more importantly is it provides ongoing support and accountability.
If you don't want to invest in a coach, though, you can also find plenty of free beginner sprint triathlon training plans on the internet. I've also put together a roundup of 5 great triathlon training books that might be helpful!
5. "I'm nervous about the time commitment to train for a race."
We all have the same 24 hours in a day, right? It's how we prioritize using them that makes us all different. Ironman athletes have the same amount of time as the rest of us, yet they prioritize their training and balance it surrounding work and family life. Training for a sprint race for your first triathlon can be done with far less training time over a couple of months, and is totally feasible to fit into your normal routine. For most beginners, you might be looking at 5-6 days a week of training – about 30-45 minutes most of those days with maybe 1 or 2 days that have a longer workout in the 1-1.5 hour range.
I'm not saying you have to train for a race of course. If you decide this isn't a priority for yourself, that's cool. It's not for everyone. But if you want to do it, just know that I bet you can finagle your schedule a bit to fit in those workouts.
There you have it – now squash those fears and sign up for your first race! 🙂
Share with me: Have you ever done a triathlon? If so, what are your tips for those who might be nervous about signing up for their first triathlon? If not, what's stopping you?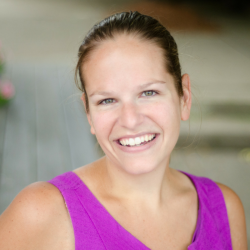 Chrissy Carroll is a Registered Dietitian and USAT Level I Triathlon Coach. She specializes in sharing nutrition and fitness tips, as well as recipes, for runners, triathletes, and active women.Chrissy holds a Bachelor's Degree in Nutrition, a Masters Degree in Public Health, and is also an ACSM Certified Personal Trainer.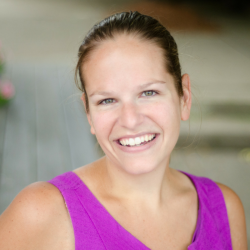 Latest posts by Chrissy Carroll (see all)