Is anyone else getting a big influx of wedding invites?  It seems like this must be a big year for a lot of my friends and family!  I'm really excited for the ones I'll be able to attend, and a little sad for the ones that are out of town that I probably won't.
I really love weddings – or any type of big event with a dance floor for that matter.  Back in high school, I used to be a banquet waitress, and for the most part it was a blast.  Weddings, reunions, birthday parties, you name it – you were always serving to fun music and it was a pretty enjoyable time.
So in the spirit of the recent wedding invites I've gotten, I've put together the "Wedding Song Workout" for you.  All those songs that most people hate but I love, compiled into one 25 minute workout for you. 😉
And I swear, this isn't just to make you laugh.  Despite the somewhat silly looking dances, you can actually burn a considerable number of calories dancing.  A 150-pound person will burn anywhere from 300-600 per hour, depending on the speed and intensity – i.e doing a sad side-step because someone forced you out there versus taking your spot as the "front row ho" at Zumba class (a term affectionately taught to me by another Zumba instructor, haha!).
Plus, these type of exercises are actually good for brain function.  Because you must think about the routine and what step comes next, it helps keep your brain in tip-top shape.  In fact, one study found that dancing was associated with a reduced risk of dementia as people age.
Wedding Songs Workout Routine
Below you will find the 6 songs for this workout.  I've included instructional videos for some that will help you learn the steps if you're not familiar with them, as well as the actual music video (or just the song).  Once you know all the steps, play the music videos in a row using this helpful playlist and complete the dances.  The whole routine will take you about 25 minutes when running through the songs back to back, and you should burn about 200-300 calories depending on your weight and your intensity of dancing!
1.  Cupid Shuffle – 4 min
This one is pretty easy to learn so it's perfect as a warm up.  There are just 4 basic steps that are repeated throughout.  The first video clip is instructional if you're not familiar with it, and the second video clip is for the music video.


2.  Cotton Eyed Joe – 3 min
This one will really get your heart pumping!  Take a look at the first clip for an instructional video to learn the moves, then use what you learned by blasting the music video.


3.  Electric Slide – 4 min
Probably the most famous wedding line dance song!  Here's the Music video (the steps are pretty clear in the video if you don't know this one, but I'm assuming just about everyone probably does).

4.  Jump on It – 6 min
If you're like me, you probably know this routine best from the scene in the Fresh Prince of Bel-Air – added in the first video clip below for a little walk down memory lane.  Follow along with them if you need to learn the basic dance for the chorus.  Then click on the second video is for the full song.  There's no official dance that goes with the verses in-between, so just freestyle those parts!  Dance it up or add in some strength training moves like squats and push ups.


5.  Wobble – 4 min
My favorite of all the newer choreographed dance songs!  Of course, at an actual wedding, there's some lyrics that might make your grandma blush – but I love it. Instructional video first if you need it, then full song is in the second video.


6. Cha Cha Slide – 4 min
This is an easy one that really doesn't require instructions.  If you don't know the steps to this one, just follow what the lyrics say and watch them do the moves in this music video.

As a reminder, here's a link to the playlist with all 6 songs in YouTube that you can bookmark for your workout!
Share with me:  What's your very favorite wedding line dance song?  Did I miss any good ones in this workout mix?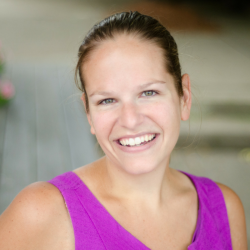 Latest posts by Chrissy Carroll
(see all)